This article could just as easily been called "The Home Cook's Fear of Improper Seasoning Leading to Jeer Inducing Food or Possibly Heart Attacks."
Seasoning is the topic that comes up most often in the emails I get so I know it's a vulnerable area for many home cooks out there.  And it certainly doesn't help matters when most recipes contain mysterious, vague phrases like "Taste for seasoning" or "Salt to taste".  What exactly does that mean?!  Just tell me how much salt to use!!
It's true, there's an art to seasoning and many will find this intimidating.   But it turns out that tackling the inexact science of seasoning will uncover a blessing.  You'll quickly find that you already have everything you need to make lip-smacking, jaw-dropping food in your home kitchen, i.e. you've got your palate.  You've been eating every day for your entire life and your palate is already an expert at knowing what it craves, now it's just a matter of putting it to work.
Simply add in a few simple facts and tips, along with a couple new habits, and you'll find that seasoning food becomes a golden opportunity to upgrade your kitchen.  And luckily most upgrades come with dinner included.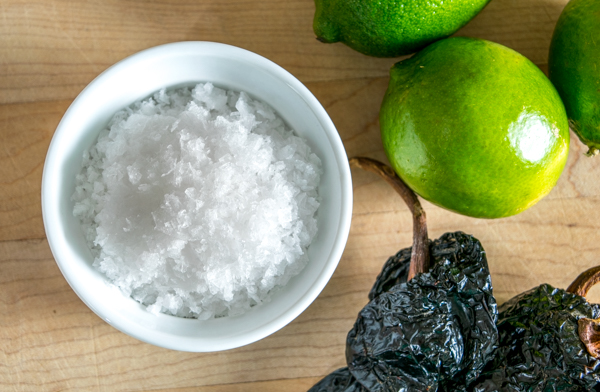 What is Seasoning?
This past week I've been binge watching the latest season of MasterChef UK (here) and the most common critique is the lack of seasoning -- with zero advice on ways to fix it.
While the term 'seasoning' can sometimes refer to the entire flavor profile, spanning sweet-salty-sour-bitter, it's the salt that will affect the flavor of the dish the most, and when MasterChef hopefuls get blasted for lack of seasoning it's always the salt amount to blame.
Sure, you can make improvements in your cooking by exploring the other tastes, but it's salt that has the ability to transform your kitchen the most.  That's what we'll be focusing on today.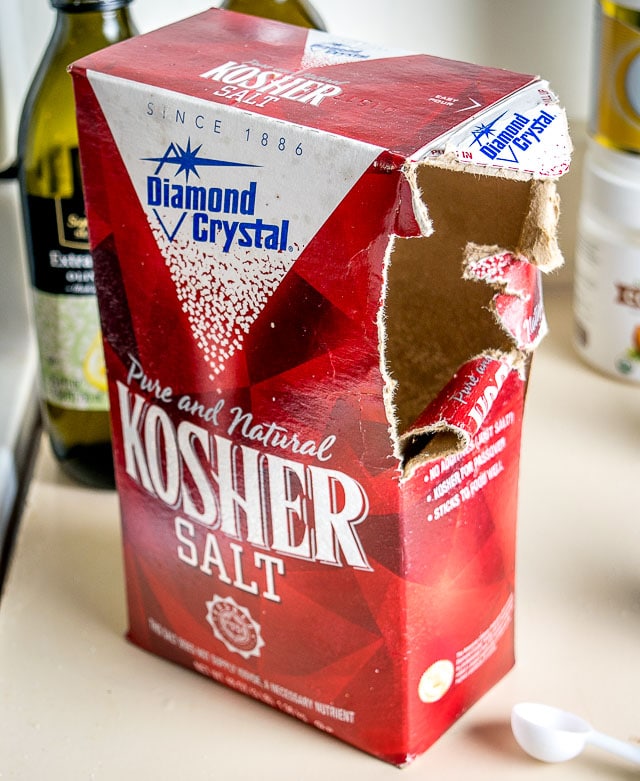 What exactly does salt do?
Salt is food's biggest cheerleader, lifting and elevating the flavor of food all without trying to change it.  Like the perfect partner.  But how does it do that?
First consider that flavor is a combination of both taste and aroma.  Salt naturally suppresses bitter flavors and at the same time it enhances aromas.  So it has the ability to lower unpleasant tastes and amplify the natural aromas of the food being seasoned.  That's a double whammy that can be scientifically summed up by saying 'it makes things taste better.'
Sodium also happens to be one of the essential minerals we need to survive, and since the body doesn't store it readily we need to consume it to keep functioning at full capacity.   Triple whammy!   That's great news for any of you out there that have daily guilt about eating salt (Mom?).
So if the massive intelligence that governs the body's processes has us craving salt in our foods, does that mean it's the food itself that's tasting good or is it the body that's making the food taste good?  And how long is a piece of string?
In a nutshell, we need salt to live.  And while no one can agree on nothing when it comes to a recommended daily intake, a good reference point is 2000 mg per day.  This is essentially 1 teaspoon of salt.  It doesn't sound like much, but keep in mind only a portion of the salt added to dishes makes its way into your stomach.
And while nutritional recommendations are beyond the scope of this post, I do think it's worth re-evaluating the link between sodium intake and blood pressure from a more comprehensive perspective.  (See here and here.)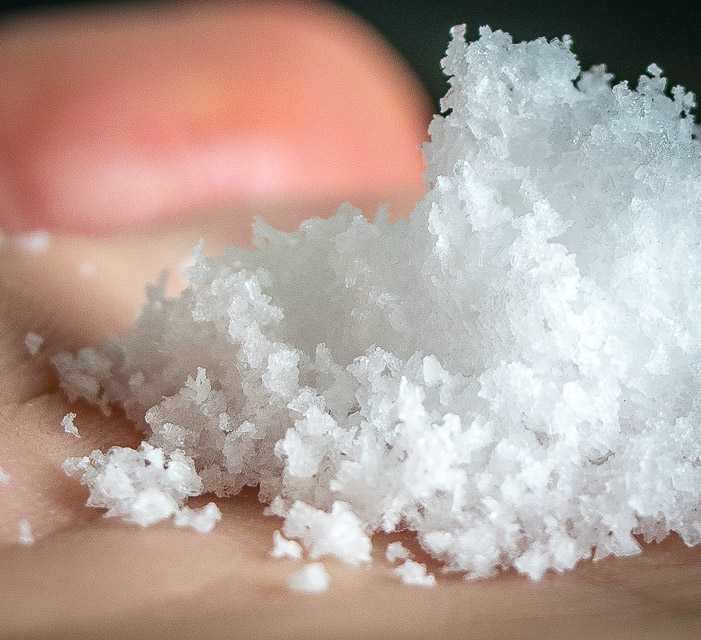 Okay enough science, let's eat something!
Guacamole is the perfect candidate to prove the selfless nature of salt.  Salt doesn't want your food to taste salty, it wants your food to taste better.
And you don't have to worry about finding the exact perfect amount of salt for each dish, you're just trying to find that range where the salt maximizes the flavor of the dish (or sauce, or veggie).  Just get close enough and good things will happen.
The world's simplest recipe for guacamole (and arguably the best) is avocado, onion, lime juice and salt.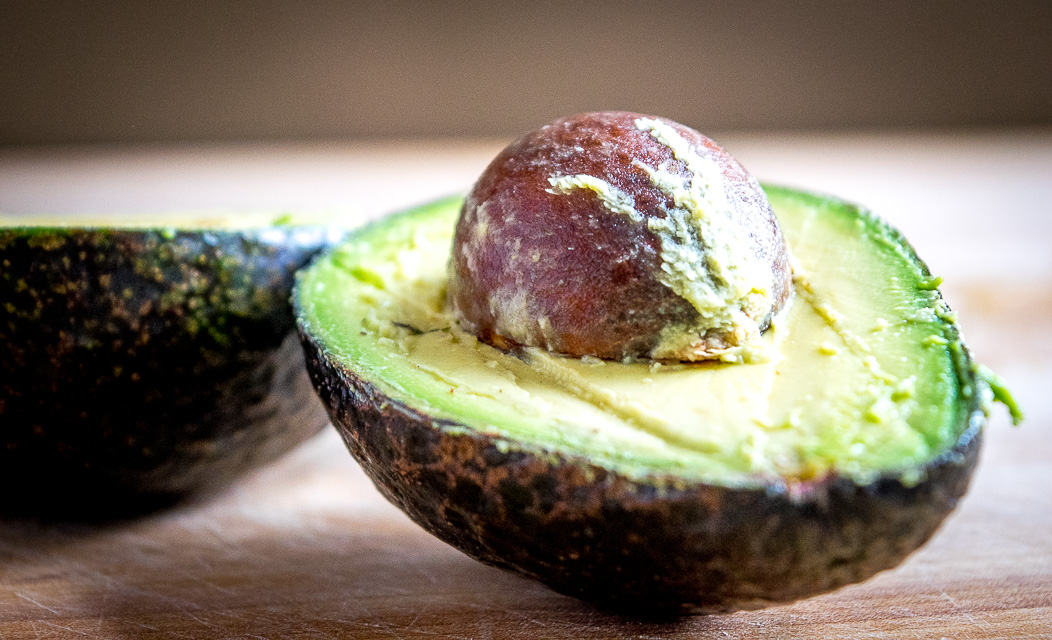 Finely chop 1-2 tablespoons of onion.  Smoosh it with the back of a fork and add it to a mixing bowl along with the juice of half a lime and a ripe avocado.
Combine well but don't add any salt yet.  And now take a taste.
Tastes strange right?  Now add 1/4 teaspoon of salt and take a taste.  Better?
Add another 1/4 teaspoon of salt (so that's 1/2 teaspoon total) and take a taste.  Taste salty?
People will usually start to balk around 1/2 teaspoon of salt, complaining that it's starting to taste too salty.
That range, somewhere around 1/4 teaspoon of salt per avocado, is where the salt makes your Guac taste best without it tasting salty.  Getting your  food in that range is the elusive art of seasoning.  Easy right?
I know what you're thinking...I wish I could see this in the form of a graph.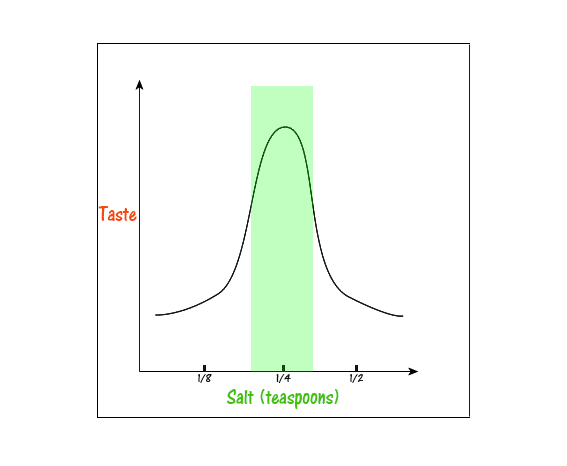 In the above pic the green box is the range where a single avocado Guac tastes 'right', or 'good' to me.   Anything beyond that and it will start to taste salty.  (Keep in mind that palates differ and yours might shift the green box a smidgeon in either direction.)  Your job is to get into the green box -- it doesn't need to be exact, just get in the range and good things will happen.
Knowing that there is a range of salt level that foods prefer is a great liberator.  Don't sweat finding the exact point, just get in the green box and all will be well.  I also find it comforting knowing that the palate has a built-in shutoff valve that will tell you when there is too much salt.
P.S. if you're stuck with a salty batch of Guac on your hands, simply add another avocado to dilute the salt, and then season to taste (doh!).
So how much salt do foods typically need?
Like the avocado, most foods will have a preferred range of seasoning.  Getting familiar with the ranges for various foods will help expedite the cooking process.
It's also worth noting that there aren't that many natural foods that come pre-stocked with sodium.  Yes, you'll find sodium in bacon, anchovies, capers, etc. but the vast majority of meats and veggies will need some seasoning to really come alive.
This is easily accomplished by taking the season-as-you-go approach.  By seasoning the various elements before and during the cooking process you'll mostly be there by the time you are ready to eat, and you'll probably end up using less salt overall when the individual elements are properly seasoned along the way.
Here are some common salt ranges to keep in mind to help with this.  Once you start using a few of these ranges, and developing a few of your own, the whole process will become second nature.
First up is meat.  Typically you'll need 1 - 2 teaspoons of salt per pound of raw meat, seasoned before cooking.
Each pound of vegetables will crave approximately 1 teaspoon of salt.  If using significantly less than a pound just be sure to add a small pinch!
Each quart of water (4 cups) used to cook pasta craves 1-2 tablespoons of salt.
A starting point for soups and sauces is using 1 teaspoon of salt per quart, but of course this is highly dependent on the dish.
Liquid for brining will use approximately 1 cup of salt per gallon of water.
Pizza dough will need at least 1 teaspoon of salt per 2 cups of flour.
Does it matter what type of salt I use?
Yes, it does matter what type of salt you use!
Table salt typically has additives and sometimes anti-caking agents so it's not ideal for flavor seasoning.  Kosher or sea salt are more commonly used to make things taste good.
Diamond Crystal is popular with chefs and foodies because it has coarse crystals and doesn't contain additives.
You'll find boxes of it in most supermarkets and it's cheap too.
You might also hear of people raving about finishing salts like Maldon or Fleur de Sel.  These are literally the upper crust of the salt world; they have a flaky structure that helps them cling to food.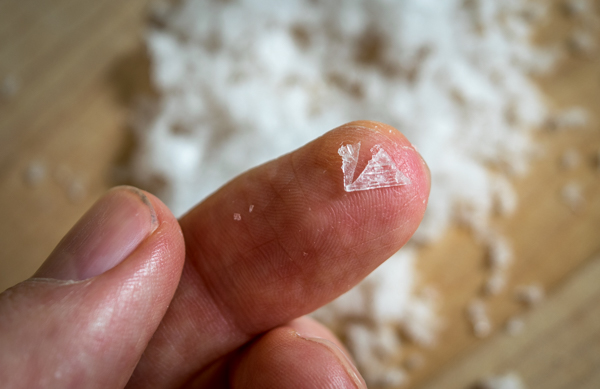 I rarely use the finishing salts, not only because they are more expensive, but also because it doesn't seem like they are much of an improvement over a standard Kosher salt.
There's also another reason why Diamond Crystal is popular with chefs and foodies -- you can see it when you season!  Coarse crystals can provide visual confirmation that table salt can't provide.
Yes, that means you are soon to be one of those kitchen pros that disperses salt from a few feet above the dish.   To do that, you're going to need one item that will instantly improve your kitchen area, one of these dudes:
A simple salt bowl next to the stove is the perfect reminder to season as you go and they make it super easy to grab a pinch when you need it.
You can get them cheap on Amazon or you can simply use a small plate or bowl.
Speaking of pinches, I wanted to show you how many pinches of salt are in a single teaspoon in hopes of getting you to fearlessly season as you go.  Here's a typical pinch of salt that I am constantly adding to onions that are cooking, or to tomatoes, or to salsas and sauces.
And here's what 20 of those pinches adds up to:
Together, these 20 pinches come in at just under a single teaspoon of salt.  That's a lot of pinches you can add to your food and still keep you in the (currently) accepted realm of recommended daily sodium intake.
Final tips
Okay, ready to do some cooking?  I hope so!  Here are the key points to keep in mind as you unleash your upgraded kitchen to your family and friends:
Season as you go!  If you season the elements along the way then there's a good chance that the dish is already properly seasoned when you get around to "Take a final taste for seasoning".  There's also a chance that you'll use less salt when you season as you go because some of the flavors will already have had time to develop.
Try out some Kosher or sea salt if you don't have any in your kitchen yet.  And keep a salt bowl close to the stove so that it's easy to add a pinch at a time.
Keep in mind that most foods have a range of salt amount that will make them taste right to you.  Don't fret about finding the exact perfect amount of seasoning, just get comfortable using the appropriate range for your foods and dishes and lots of good things will happen.
Don't worry about making mistakes or overseasoning.  When you overseason and something tastes too salty then you just found the upper end of the range!  Sometimes you can dilute the seasoning by increasing ingredient amounts, i.e. if your guacamole comes out way too salty then add more avocado.
You can season dishes and meals as well as the finest restaurants in town and still be in the 'safe' range of daily sodium intake.  If you use fresh ingredients and season as you go, I think you'll find that you can make things taste right/good without saltbombing them.
Okay enough chatting, time to eat!  I hope this post clarified some gray areas and hopefully you'll enter your kitchen with some newfound vigor.  And some salt.
Buen Provecho.
Still hungry?!
Want to receive Mexican Please recipes via email when they are posted?  Sign up below to subscribe.  All recipes are spam free.