These Poblano Breakfast Potatoes are perfect for lazy mornings.  Chop 'em up, throw 'em in the oven, and 30-40 minutes later you'll  have a batch of scrumptious papas that will instantly rescue any grumpy heads in the house.
You can also use them as an alarm clock because the smell of roasting poblanos will act like a magnet for any morning zombies still hibernating.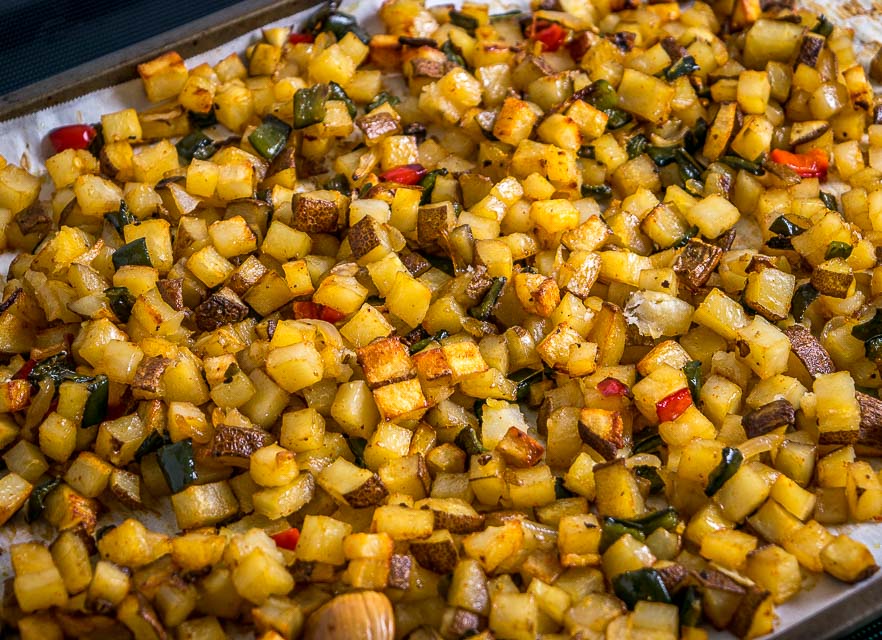 Poblano Breakfast Potatoes
If you're new to poblano peppers you're in for a treat as they are easily one of the most versatile peppers in Mexican cuisine.   Here's how they stack up against jalapenos and serranos: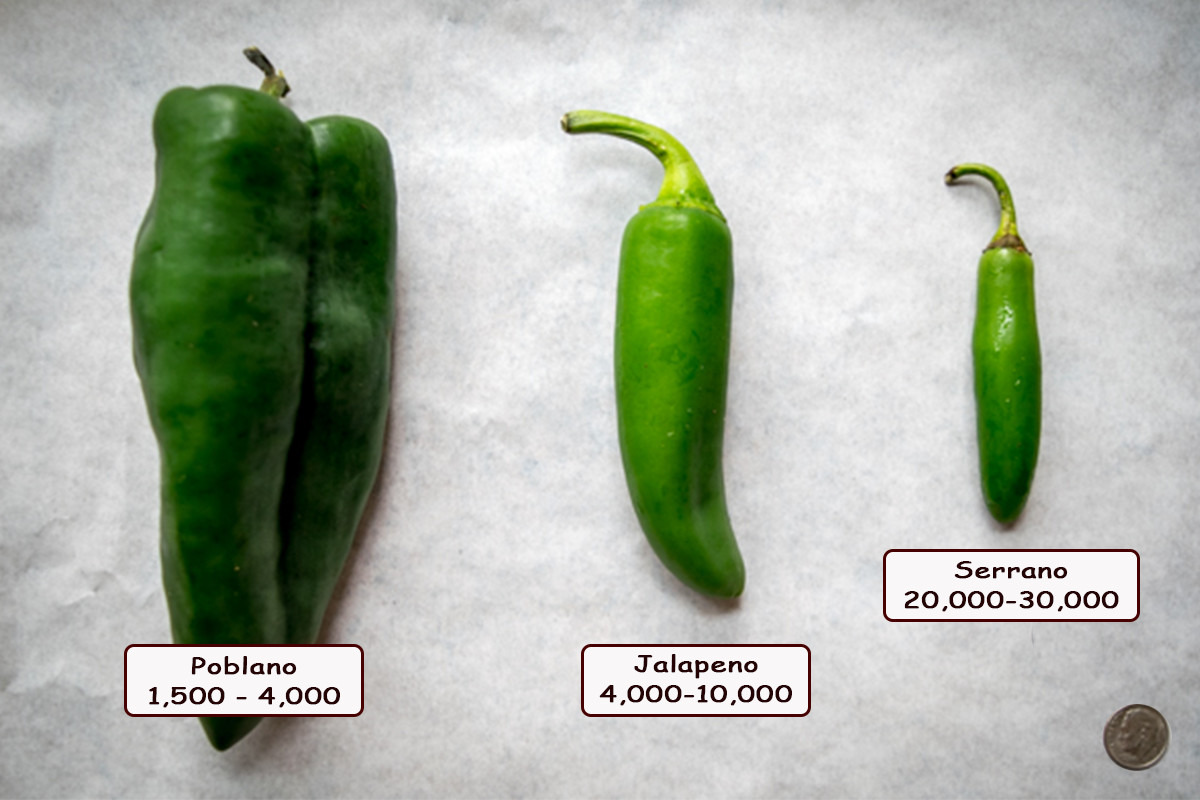 The number below each chili is their Scoville rating; this is essentially a gauge of their heat level.   As is usually the case, the smaller the pepper the hotter it gets -- notice how mild the poblanos are compared to the serranos.
Roasting the poblanos before use is essential as this gives them a rich, complex flavor that raw poblanos can't come close to matching.  There are numerous ways to roast poblanos but the oven is usually the easiest (and laziest).    And since we want to use the oven to bake our morning batch of papas this will double as the roasting period for the poblanos.  Perfect!
You'll need about 2 lbs. of potatoes for this recipe; for this batch that worked out to 2 large Russet potatoes.  Feel free to use other varieties if you don't have Russets on hand.
I tend to chop up the potatoes smaller than most as they'll cook quicker that way.  One way to get there is to cut them in half and then quarter them vertically.
I usually discard that outside sliver of skin to make chopping easier.  Somewhere between 1/4" and 1/2" chunks seems to be the sweet spot for this recipe.
I like this dish best when the potatoes are the star so I usually  cut the poblano and onion a bit smaller than the potatoes.  Be sure to discard the poblano seeds.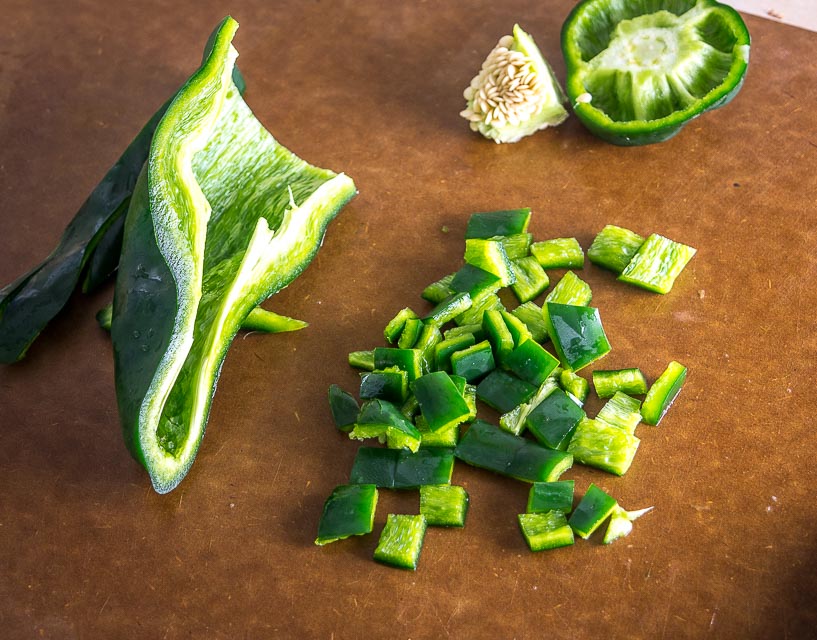 Then it's just a matter of combining everything in a mixing bowl and coating it with a thin layer of oil.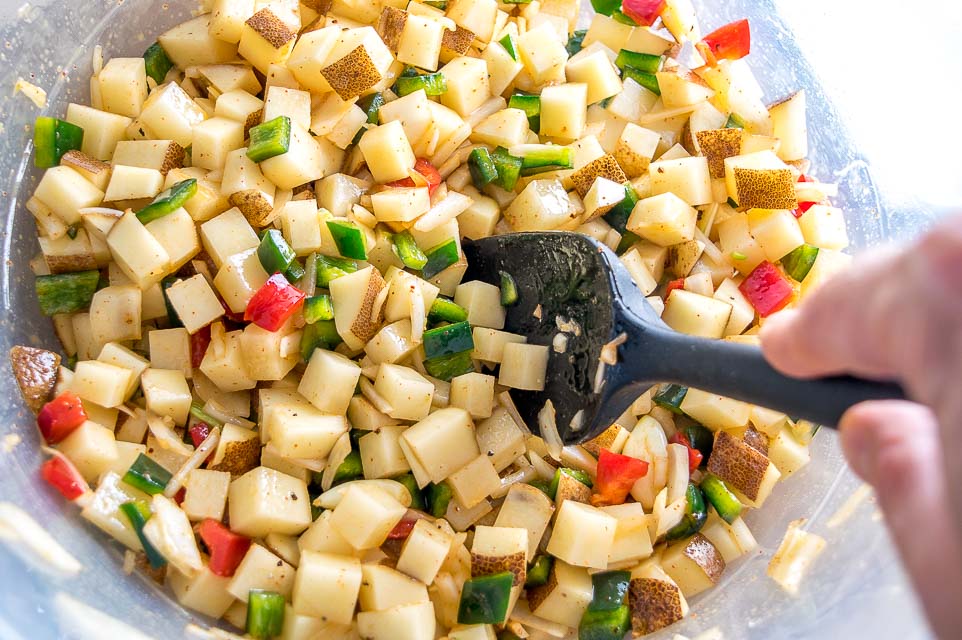 So in the above pic you've got:
2 potatoes
1 poblano
1/2 onion
4 whole, peeled garlic cloves
2 tablespoons olive oil
1 teaspoon salt
freshly cracked black pepper
a leftover sliver of red pepper that needs a home (not required)
I also add a pinch of this chili powder: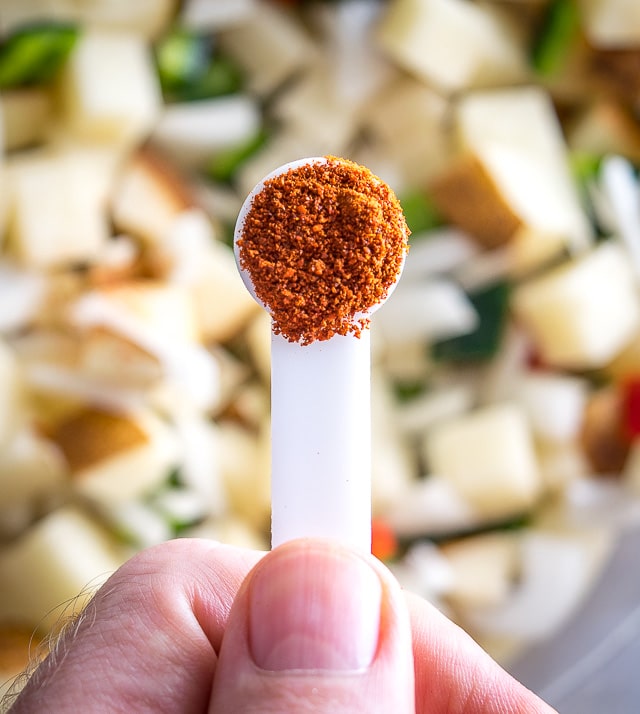 This is ground New Mexican chili that has some zing (more details on it here).  This is a good way to ratchet up the heat and make a more fiery batch but it's definitely optional.
Note:  lately I've been adding whole, peeled garlic cloves instead of mincing them up.  If you do this just remember to take them out after baking.
Spread this mixture onto a baking sheet.  The potato sides facing the pan will crisp up the most so try to spread them into an even layer as much as possible.
Keep in mind that parchment paper works great for cleanup purposes, as pictured above, but you'll get a slightly crispier batch if you cook them directly on the baking sheet (at the cost of an angry cleanup).  I guess it mostly depends on how you're feeling in the morning.  I think the parchment paper version still has great flavor so I usually default to using that method.
Bake them at 425F for 30-40  minutes, giving them a good stir about halfway through.  Here's what they looked like after 20 minutes.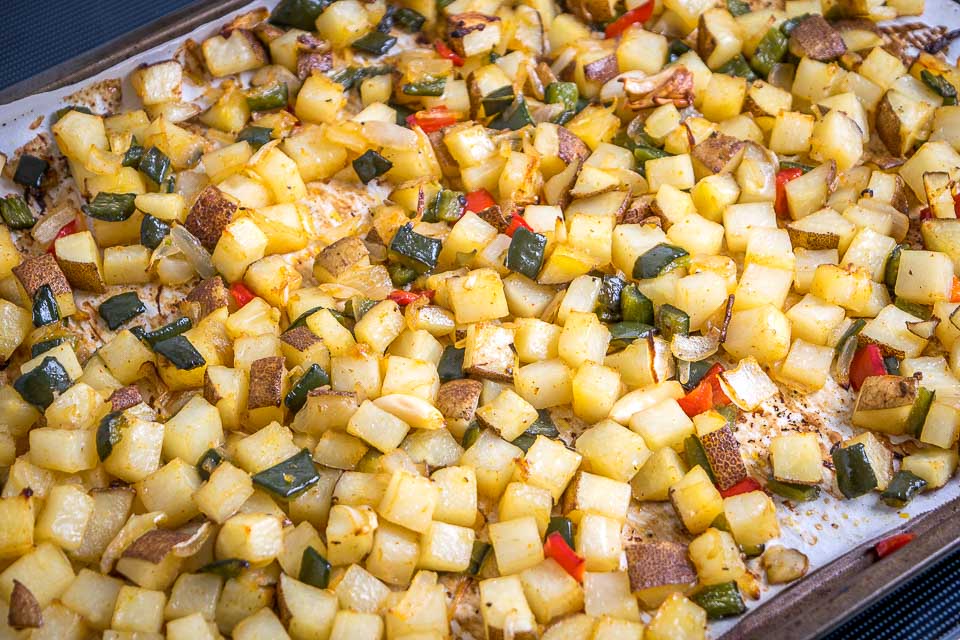 Not pictured is the heavenly smell wafting through your house.
And another 20 minutes later (so 40 minutes total for this batch):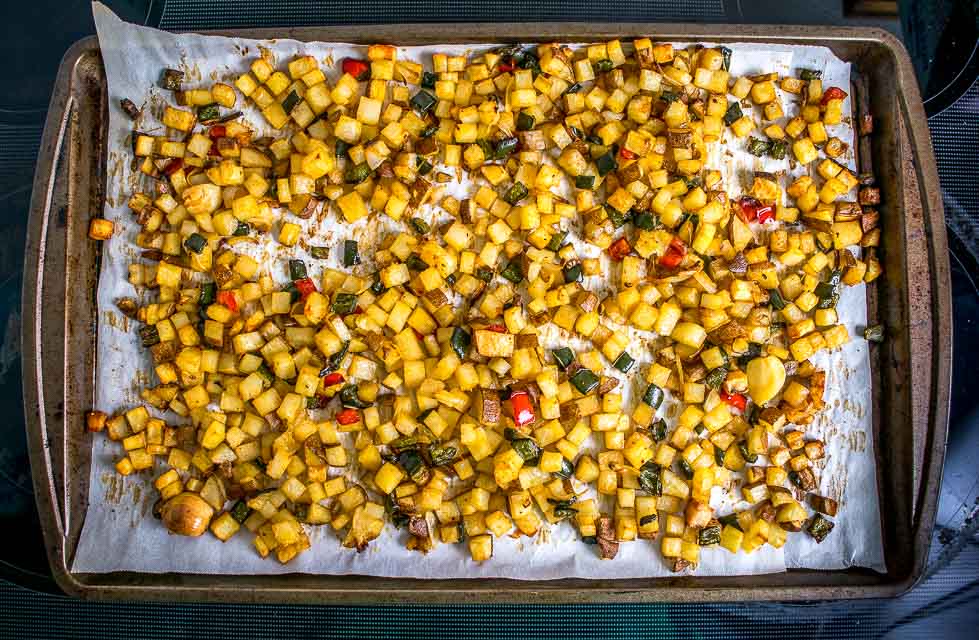 Nice!  Starting to wake up a bit?
Definitely take a final taste for salt level as they really come alive when properly seasoned.   I added another generous pinch of salt to this batch and they were delish.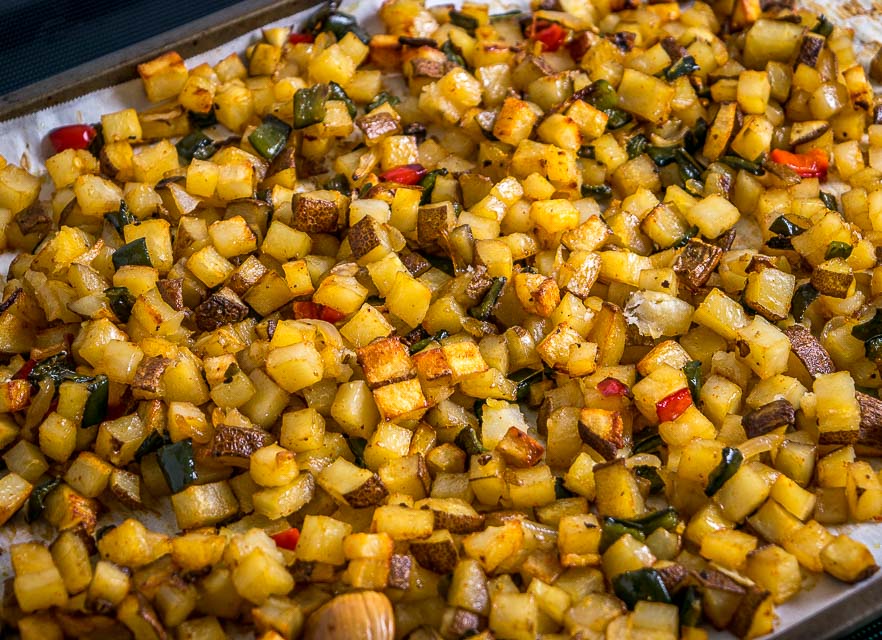 Yes, these Poblano Breakfast Potatoes will work great in tacos or burritos, but to be honest I like them best when served up humbly next to some eggs and a few drops of Valentina.
What sounds good to you?
Buen Provecho.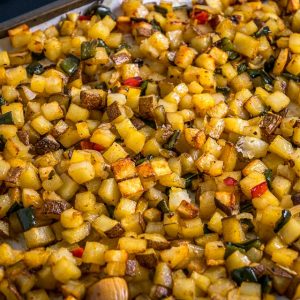 Poblano Breakfast Potatoes
Despite being hands off these Poblano Breakfast Potatoes have incredible flavor. Chop 'em up, throw 'em in the oven, and 30-40 minutes later breakfast is served. So good!
Print
Pin
Rate
Ingredients
2

potatoes

1

poblano pepper

1/2

onion

4

garlic cloves

2

tablespoons

olive oil

1

teaspoon

salt (plus more to taste)

freshly cracked black pepper

1/2

teaspoon

hot chili powder (optional)
Instructions
Preheat the oven to 425F. Give the potatoes and poblano a good rinse.

Dice up the potatoes into bite sized chunks, somewhere between 1/4" and 1/2" wide. Dice up the poblano and 1/2 onion into slightly smaller sized chunks (be sure to discard the poblano seeds.)

In a mixing bowl combine the potatoes, poblano, 1/2 onion, 4 whole peeled garlic cloves, 2 tablespoons olive oil, 1 teaspoon salt, and freshly cracked black pepper. You can optionally add 1/2 teaspoon of hot chili powder.

Spread the mixture into an even layer on a baking sheet. (I line the baking sheet with parchment paper for easier cleanup but cooking them directly on the pan will crisp them up more.)

Bake at 425F for 30-40 minutes, stirring them at least once while they are baking.

Take a final taste for seasoning. I added another generous pinch of salt to this batch. Serve immediately.
Notes
I used 2 Russet potatoes but feel free to substitute what you have on hand -- 2 Russet potatoes is approx 2 lbs. worth. 
I usually add whole, peeled garlic cloves to avoid burning the garlic i.e. instead of minced garlic.  If using this method be sure to remove the garlic cloves before serving.
Like this recipe?
Click the stars above to rate it or leave a comment down below! @mexplease
Our latest recipe is a batch of epic Chicken Tacos.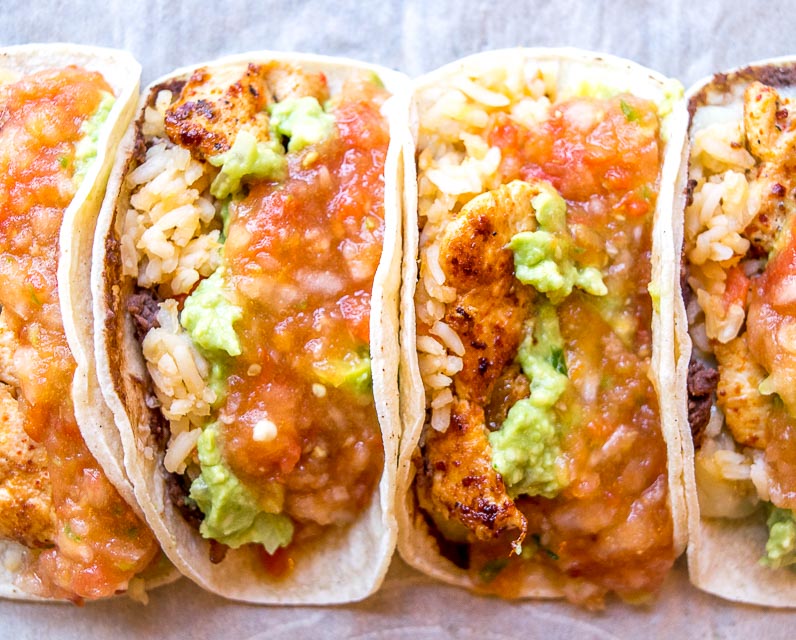 Still hungry?!
Want to receive Mexican Please recipes via email when they are posted?  Sign up below to subscribe.  All recipes are spam free.