This simple version of Mexican Rice doesn't want you to stress over the cooking time.  Or worry about the flavor.  Or fret over the fluffiness.
It just wants a backburner where it can disappear for 20 minutes and do its own thing.
So we'll let it.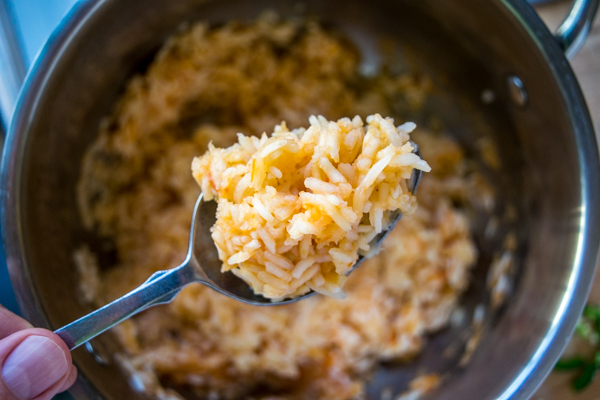 Arroz Rojo Mexican Rice Recipe
Yes, there are more complex variations of Mexican Rice that we'll explore soon, but those variations all stem from this simple recipe.  More often than not, I revert to this stress-free version because it is remarkably good despite a minuscule ingredient list: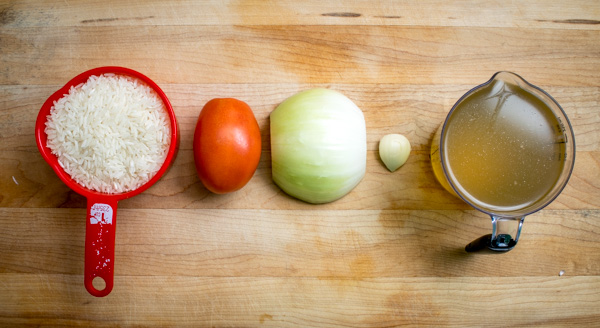 1 plum tomato (use 2 if they are small).  ½ small white onion.  1 clove garlic, peeled.  2 cups chicken stock.  1 cup long grain rice.  ½ teaspoon salt.  1 Tablespoon vegetable oil.
A good quality stock is the hidden driver of this recipe.  Traditional versions use chicken stock, but you can use vegetable stock and get a similar result.
Start by roasting the tomato in the oven for 15 minutes or so at 400F.  This will lower the acidity and make it sweeter.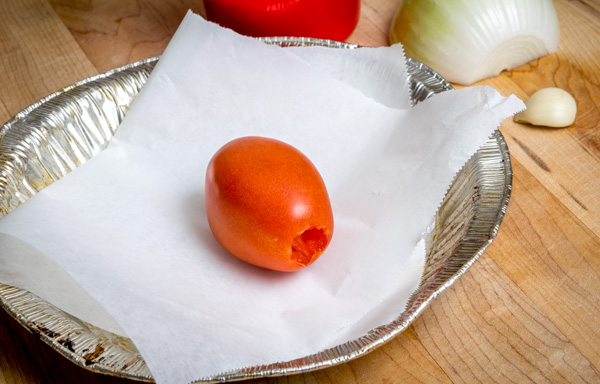 While the tomato is roasting, heat a dollop of oil in a saucepan on medium-high heat and add 1 cup of rice.
Stir frequently until the rice is opaque and turning light brown.  This pilaf style of cooking prevents clumping and also helps the rice absorb flavor.
Put the roasted tomato in the blender along with the ½ onion and garlic clove.  If it won't blend right away you can add a couple tablespoons of the stock to get it started.

Add the puree from the blender to the rice and cook  until some of the moisture from the puree is absorbed into the rice, 3-5 minutes, stirring regularly.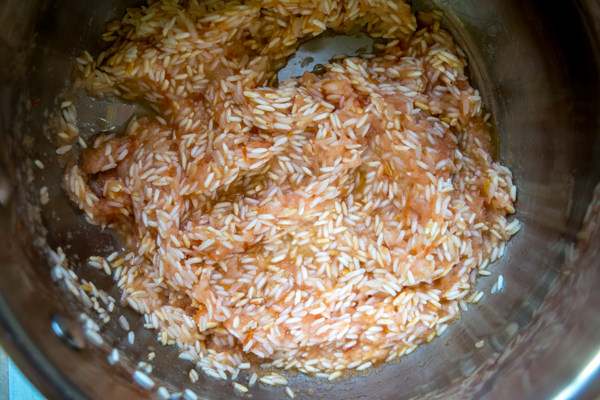 Add the stock to the rice along with ½ teaspoon of salt.
Note: Arroz Rojo is hyper-sensitive to salt amount.  Start by using ½ teaspoon at this point and consider adding more after cooking.  Getting the right amount of salt for your tastebuds takes some tasting.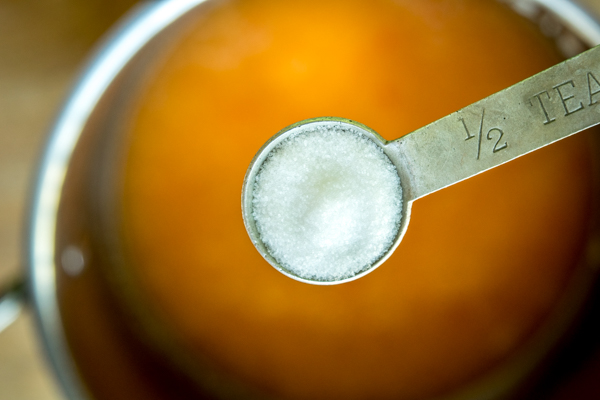 Stir well, bring to a light boil, and then let it simmer on medium-low heat until most of the liquid is absorbed into the rice.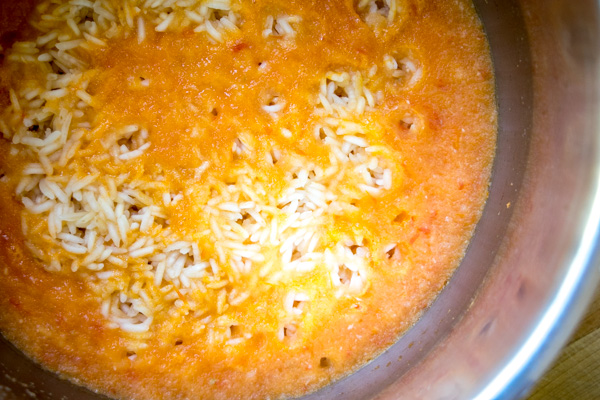 Turn off heat and cover, letting it rest in its own steam for 5-10 minutes.
Salt to taste.
It will come out looking like this: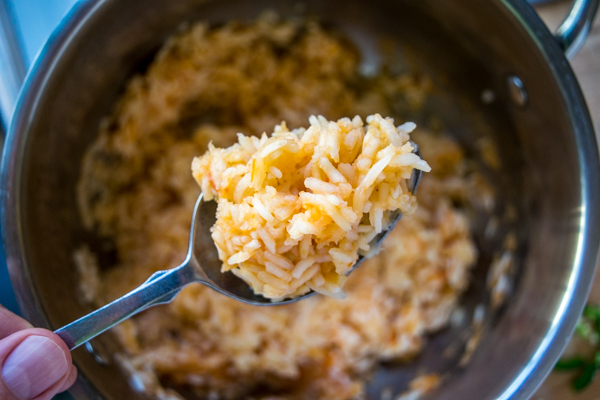 You'll be surprised how much flavor this unassuming spoonful of rice has, almost like it's saying "See, I told you so."
Turn this into your default version of Mexican Rice and you'll always have the option of serving it with your favorite dishes.  Just give it a burner and some space and it'll be there for you each and every time.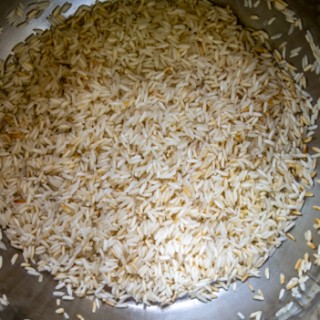 Arroz Rojo -- Simple Mexican Rice
This hands-off Mexican Rice wants to be your default rice for all your favorite Mexican dishes.
Print
Pin
Rate
Ingredients
1

cup

long grain rice

1

tomato

1/2

small white onion

1

garlic clove

2

cups

chicken stock

(or vegetable stock)

1/2

teaspoon

salt

1

tablespoon

oil
Instructions
Roast the tomato in the oven at 400F for 10-15 minutes

Add a dollop of oil to a saucepan on medium-high heat

Add the rice and stir frequently until opaque and golden brown

Add the roasted tomato to a blender along with the 1/2 onion and garlic clove

Pulse blend. Add a couple tablespoons of stock if it won't blend at first

Add the tomato puree to the rice and saute for a few minutes

Add the stock and 1/2 teaspoon salt

Stir well

Bring to a light boil, then simmer on medium-low heat until most of the liquid is absorbed

Turn off heat, cover, and let sit in its own steam for 5-10 minutes

Salt to taste
Notes
Try to use the highest quality stock you can get your hands on.  (Note: the stock article is not part of the Cooking Course and will contain ads.)
This dish is hypersensitive to salt amount so it takes some tasting to get it right for your tastebuds.
Like this recipe?
Click the stars above to rate it or leave a comment down below! @mexplease
I serve this easy Mexican Rice with Ancho Chicken Enchiladas and also our Red Sauce Enchiladas.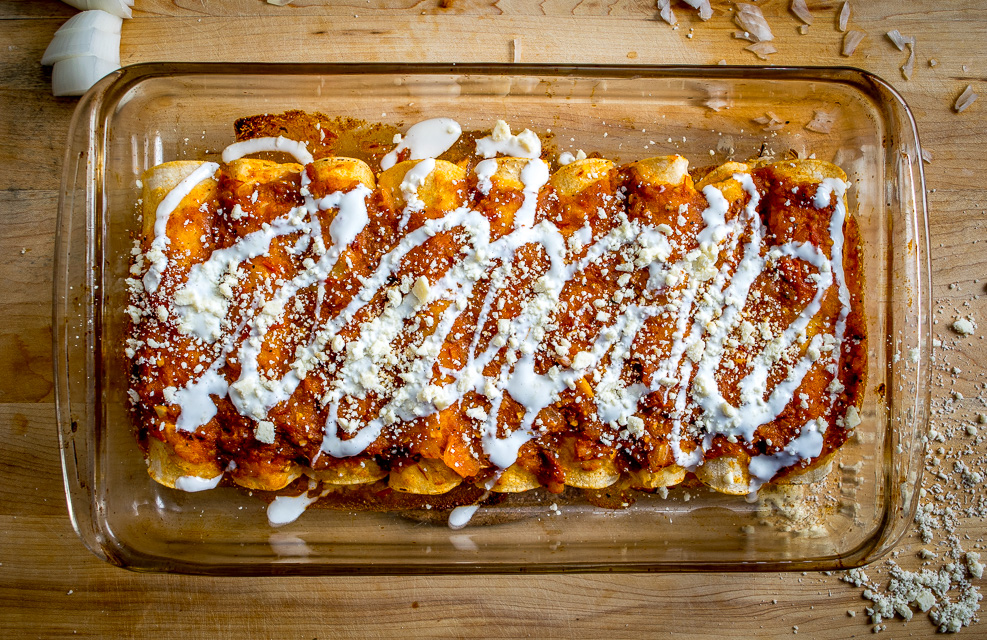 Just swap out the blender puree to get a version of our Mexican Green Rice.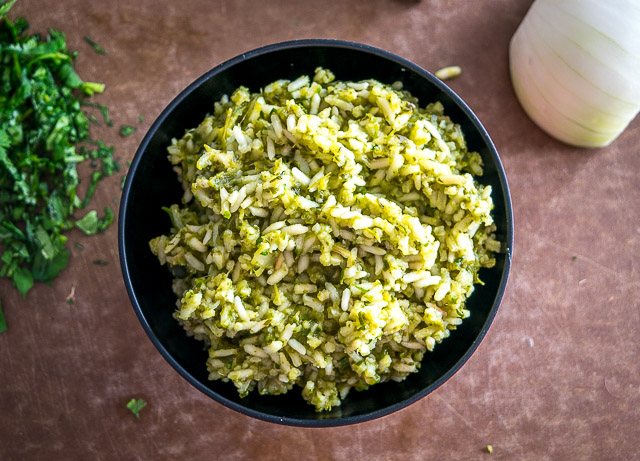 Still hungry?!
Want to receive Mexican Please recipes via email when they are posted?  Sign up below to subscribe.  All recipes are spam free.