This is my go-to recipe for red sauce enchiladas.  Fast, incredible flavor, and stress free to make.  Sound too good to be true?
Don't let the simple ingredient list deceive you.   The combo of roasted tomatoes, cumin, and chipotles in adobo creates a where-have-you-been-all-my-life flavor that is far superior to anything you can get at your local Mexican joints.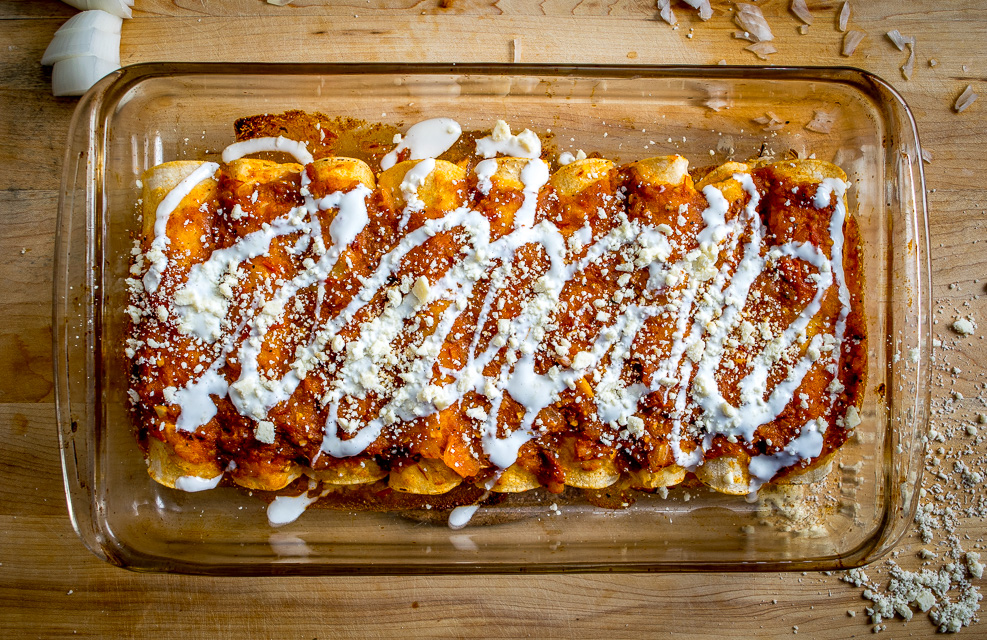 Red Sauce Enchiladas Recipe
First things first.  If you have enchilada sauce in a can somewhere in your pantry, start by placing that can at the very bottom of the nearest trash receptacle.
Then get three tomatoes roasting in the oven at 400F.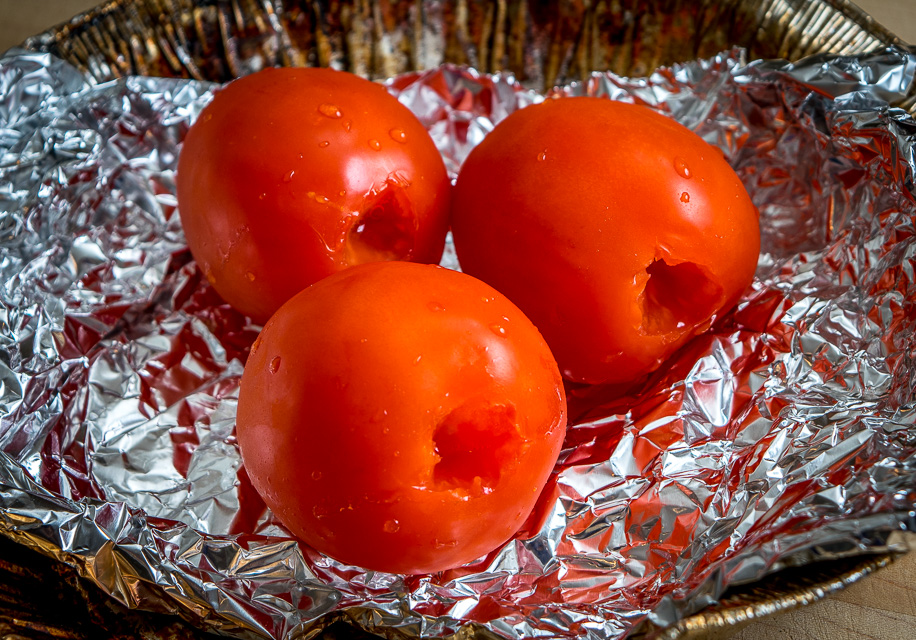 And saute 1/2 an onion and 3 garlic cloves in a dollop of oil.  You can chop roughly as all of this is going in the blender eventually.
You've got options for the chicken.  Rotisserie chicken will work if you want to streamline this recipe even further, or you can poach a chicken breast for 15-20 minutes in simmering water.  That's what I did for this batch.
Okay, in about 10-15 minutes the tomatoes will be roasted 'enough'.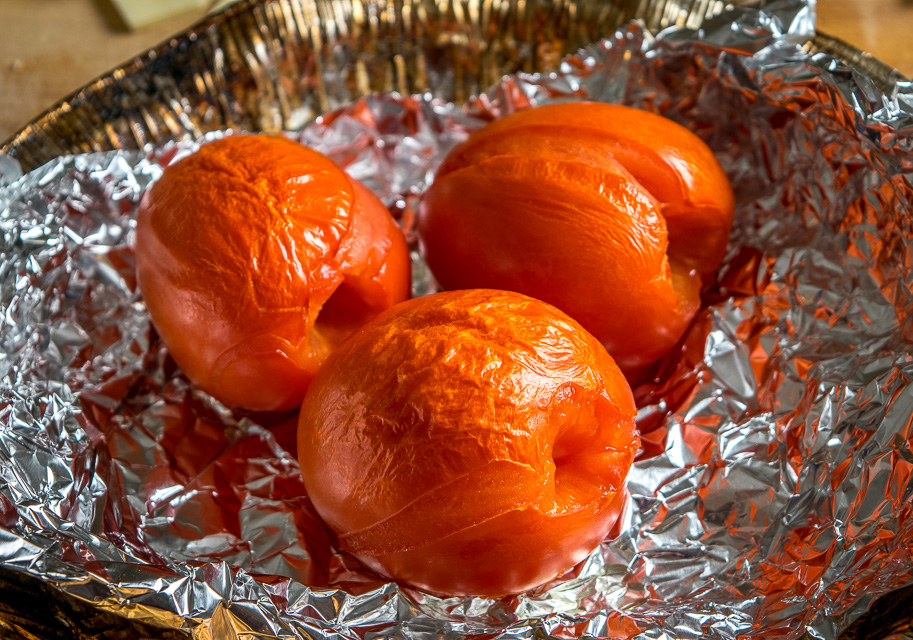 Add them to the onions along with 3 chipotles in adobo, 1 Tablespoon adobo sauce, 1/2 teaspoon cumin, 1/2 teaspoon salt, 1/4 teaspoon oregano, 1 cup stock, and some freshly ground pepper.
If you're new to chipotles in adobo you can find them in the Latin goods section of most grocery stores.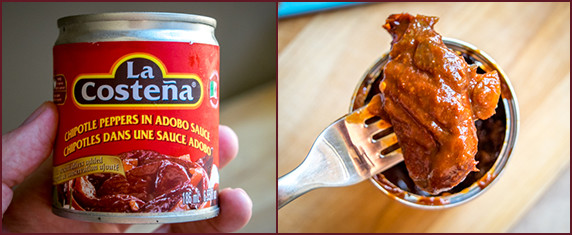 1-2 Tablespoons of chili powder would be a viable substitute for the chipotles in adobo, but I think it's worth it to keep a few cans of the chipotles in adobo on hand for recipes like this one.   They create a rich, complex flavor that is hard to duplicate.
After the mixture comes to a uniform temp (2-3 minutes), add it to a blender and combine well.  Return to saucepan and simmer on mediumish heat.
Take a taste for seasoning.  For this batch I added another pinch of salt and another pinch of oregano.
Also note that using 3 chipotles in adobo creates some real heat.  If you want a less spicy dish you can dial back and use only 1 or 2 chipotles.
After warming up the tortillas (I used the oven for a couple minutes), add a dollop of the enchilada sauce to a plate.  Dredge a tortilla in it and flip.  This ensures you have some of the delish sauce inside each enchilada.  Fill with chicken, cheese, and a few bits of raw onion.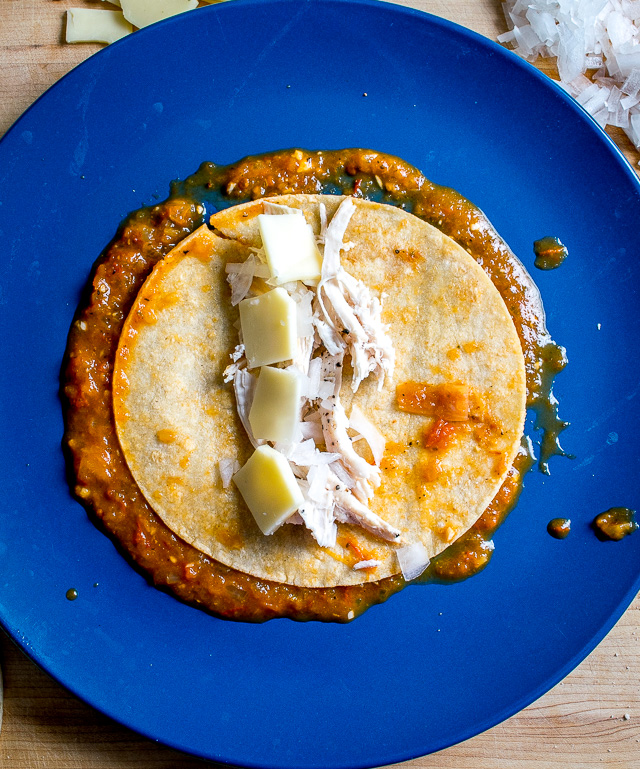 Roll tight and place on a baking dish.  You can line the bottom of the baking dish with some enchilada sauce to prevent sticking if you want.
Cover the enchiladas with the remaining sauce and give 'em a jiggle so the sauce seeps in between them.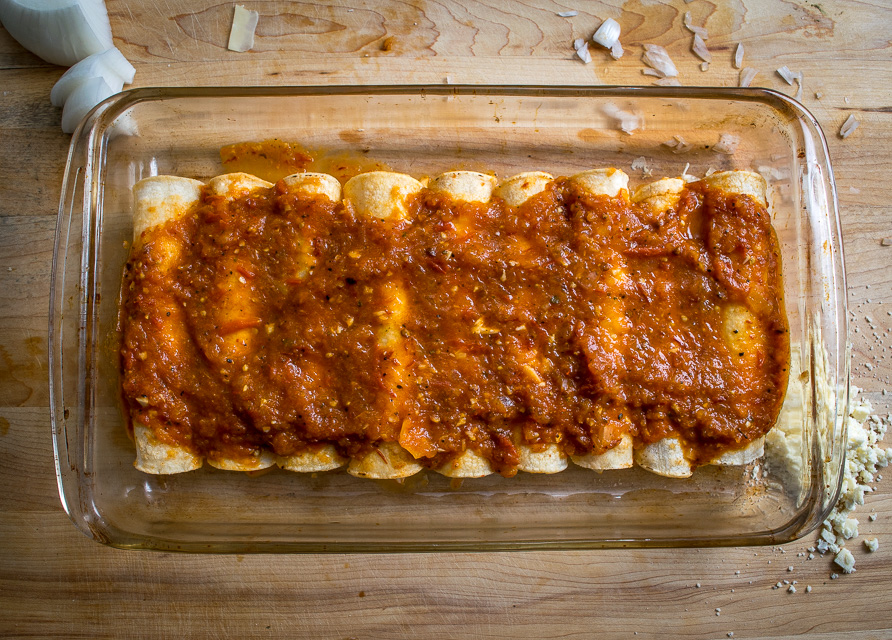 Bake at 400F for 8-10 minutes, or until you can't wait anymore.
You've got lots of choices for garnish.   Of course, it's tough to beat some Mexican Crema and a sprinking of Cotija cheese.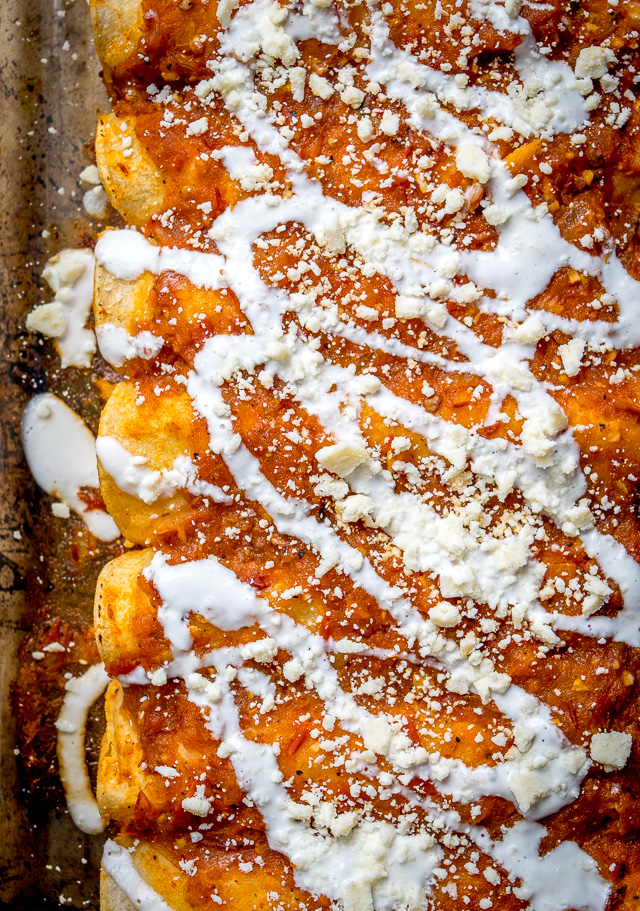 Mexican Rice and a basic Guacamole also work really well with the flavor of this dish.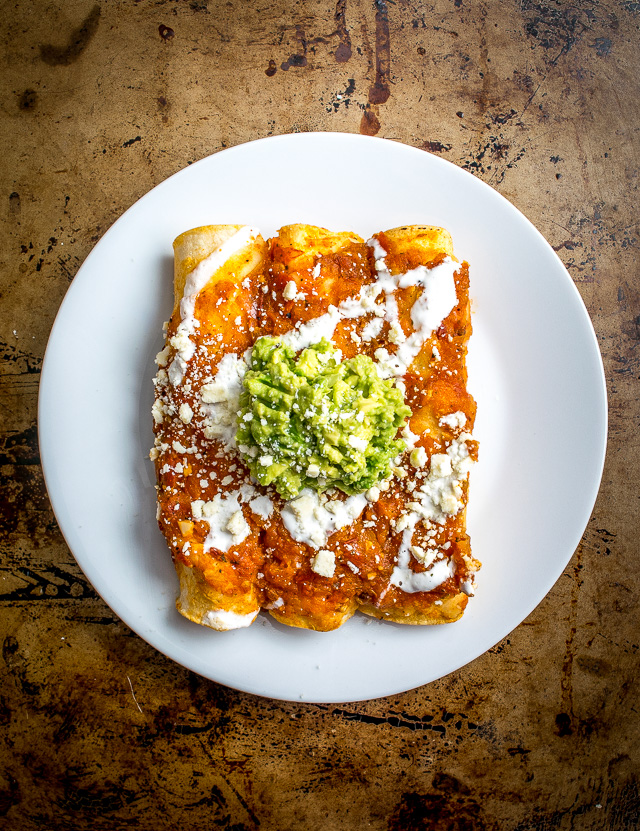 So good!
Please oh please give these Red Sauce Enchiladas a try if you've never made your own enchilada sauce before.  By keeping just a few ingredients on hand you'll always have the option of eating the best Mexican food in town in less than 30 minutes.
Buen Provecho.
P.S. Once you are comfortable making enchiladas in this style you can swap out some ingredients to make our Colorado Enchiladas and Enchiladas Suizas.