If you're walking around Cozumel it won't be long before you come across one of these:
Locals sell roasted chickens for 80-100 pesos each ($4-6), typically served with rice or pasta.
North of the border, interpretations of these quick meals can vary quite a bit.  But they all fall under the enchanting nomenclature of roadside chicken.
One pan Chili-Crusted Roadside Chicken
For anyone stuck in the doldrums of winter, a roasted chicken infused with the flavors of Mexico can make these roadside stands feel much closer than a distant photograph.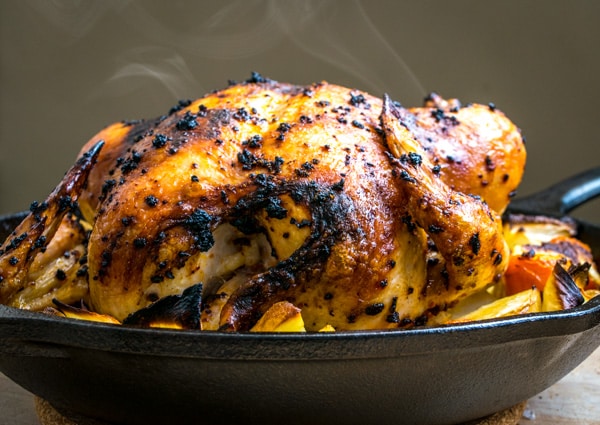 The goal here is to build a vibrant chili paste that you can quickly throw together when you want a hands-off approach to dinner, i.e. letting the oven do the hard labor.  So no time-consuming marinades here, just a lively coating to give the bird a hint of the buen comida.
To make it even easier, we'll turn it into a one-pan meal by layering a cast iron skillet with some roughly chopped vegetables.
That's 1 onion, 2 carrots, and 2 potatoes drizzled with oil and seasoned with salt and freshly ground pepper.  (Feel free to use your preferred potatos and veggies here.)
I'm using ancho and morita dried chiles for the rub.
Moritas are smoked jalapenos and they'll give the chicken a smoky kick that works well with the milder ancho chile.
(Note:  the ancho and moritas will make about 3 tablespoons of fine powder.  If you don't have access to these peppers a standard chili powder combined with a chipotle powder would give a similar result.)
After de-seeding the chiles, roast them in the oven for a minute or so to enhance their flavor.
Grind them up using a spice grinder or blender.
Add to a bowl along with 1/2 teaspoon cumin, a dash of onion powder, and generous dashes of salt and freshly ground black pepper.
Add 2 tablespoons of oil and mix well (I used olive oil).
After patting the chicken dry with paper towels, use your hands to thoroughly coat the chicken with the chili paste.  Try to get some inside the skin where available.
Nudge the chicken into the bed of vegetables until it finds a sturdy home.
Cut a whole garlic bulb in half and place inside the cavity of the bird (and confirm that there's no bag of giblets inside.)
Roast at 400F for 60-75 minutes.
When the inner thigh reads 150-160F it's done cooking.  You can also pry the leg from the breast and test if the juices are running clear when pierced.  If the juices are pink return to the oven.
When done, let the bird rest on the counter before eating, around 5-10 minutes.  This will help keep it moist inside.
The blackened bits of ancho pepper dotting the skin are delicious so try to get a few of those in your first bite.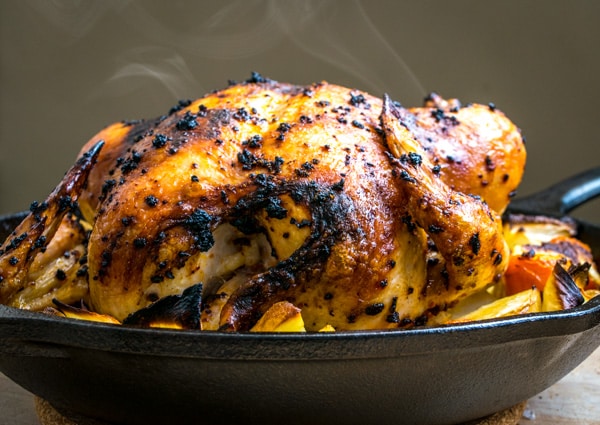 Te gusta?
That'll be 80 pesos amigo.
(Note:  I used 2 morita chiles in this version and the heat was mild-medium.  If you prefer the spicier side then you can add an extra morita, or other source of heat).
Mexican Roadside Chicken
This spicy roadside chicken is one of the simplest ways to make a Mexican-infused one pot meal.
Print
Pin
Rate
Ingredients
1

whole chicken

1

onion

2

carrots

2

potatoes

1

ancho chile

2

morita chiles

1/2

teaspoon

cumin

dash onion powder

2-3

tablespoons

oil

1

garlic bulb

salt

freshly ground pepper
Instructions
After rinsing the vegetables, roughly chop them into 1/2 inch sized chunks

Season with salt and pepper. Drizzle with oil

Use the vegetables to form a layer in a cast iron skillet (or roasting pan).

De-stem and de-seed the chiles.

Briefly roast the chiles in the oven (or flash them on a hot skillet)

Grind the chiles using a spice grinder or blender

Add ground chiles to a bowl along with 1/2 teaspoon cumin, dash onion powder, salt, freshly ground pepper, and 2-3 tablespoons of oil. Mix well.

Pat the chicken dry using paper towels

Thoroughly rub the chili paste into the chicken, getting under the skin when possible.

Slice an entire garlic bulb lengthwise and place inside the cavity of the chicken

Confirm there are no giblets inside the cavity of the chicken

Roast at 400F for 60-75 minutes until inner thigh temp reads 150-160F or the juices of the inner thigh run clear when pierced.

When done, let rest on counter for 5-10 minutes before eating
Notes
If your bird is splaying open you can use kitchen twine to tie the legs together.
Double the moritas (or other heat source) if you prefer things on the spicier side.
Like this recipe?
Click the stars above to rate it or leave a comment down below! @mexplease
Got ancho chilis handy?  Try making Ancho Chicken Enchiladas.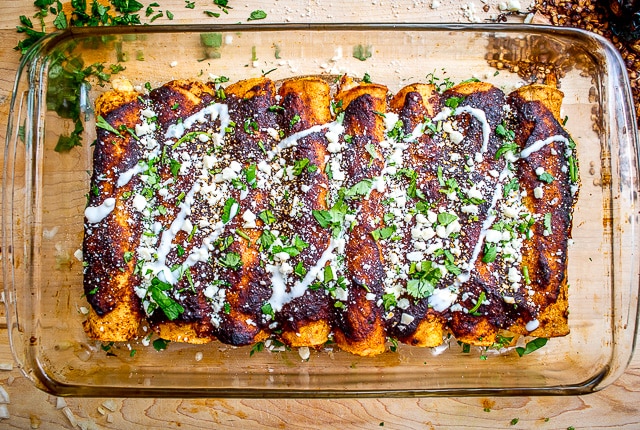 Still hungry?!
Want to receive Mexican Please recipes via email when they are posted?  Sign up below to subscribe.  All recipes are spam free.