Somehow, some way, I will go months without making breakfast burritos.
And then I start gobbling them up every week because I can't get enough of them 🙂
These Vegetarian Breakfast Burritos are the latest binge and I hope you try them out! Loading a breakfast burrito with freshly chopped Pico de Gallo is a real treat and that's the key to these morning delights.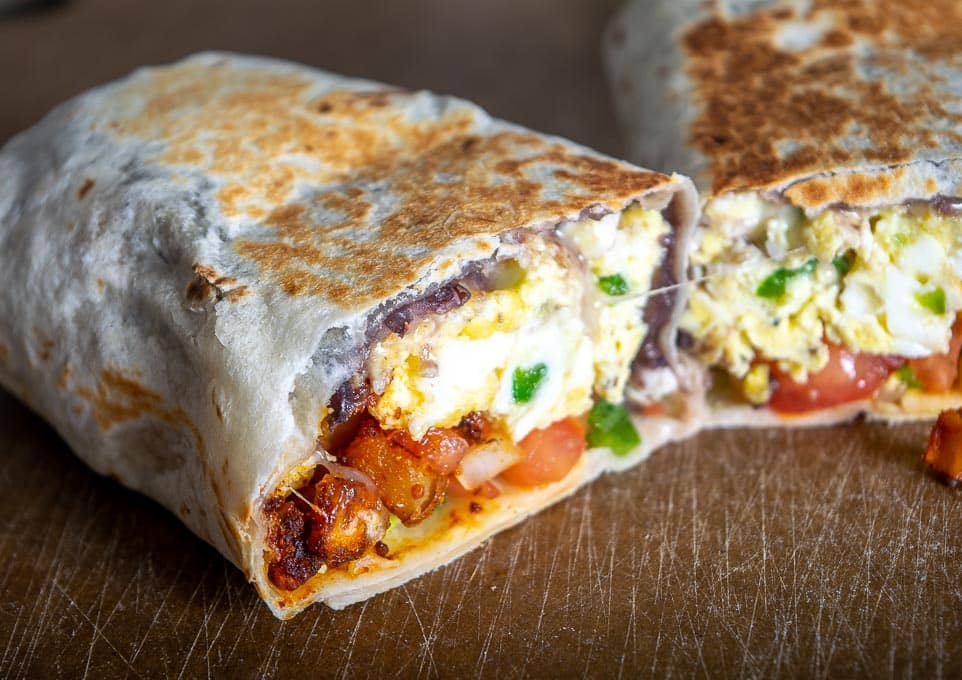 How To Make Vegetarian Breakfast Burritos
The potatoes take the longest so we'll start with that.
I usually cube a potato and toss it with olive oil, salt, and some good chile powder: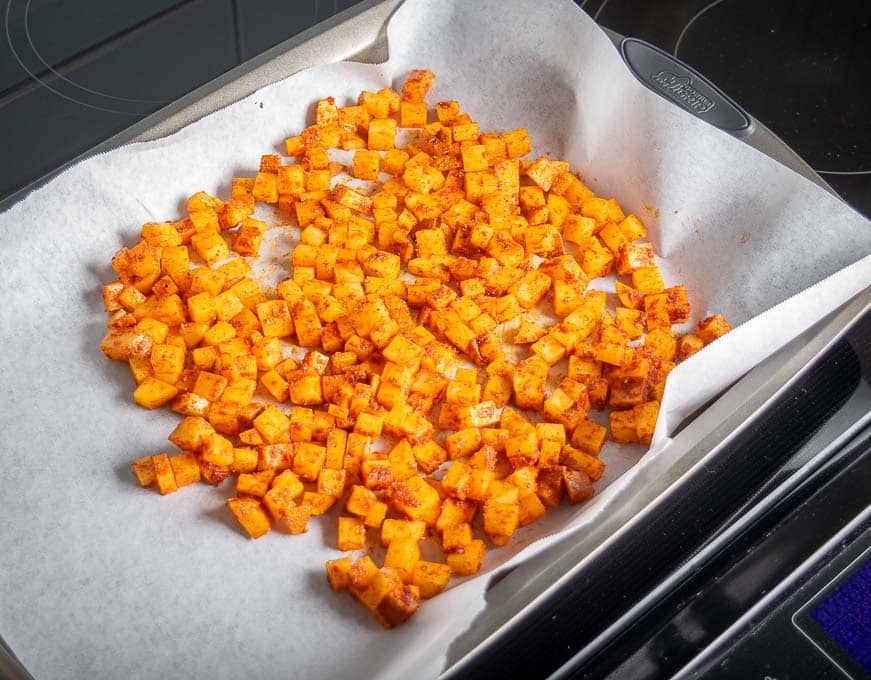 And then plop them in the oven (400F) for about 30 minutes or until I need them.
I like this hands-off approach to the potatoes and it's perfect for lazy weekend mornings, but you are welcome to cook the potatoes with your preferred method.
Note: try to use pure chile powder if coating your potatoes with it. More tips on using pure chile powders.
Once the potatoes are in the oven you can chop up a batch of Pico de Gallo.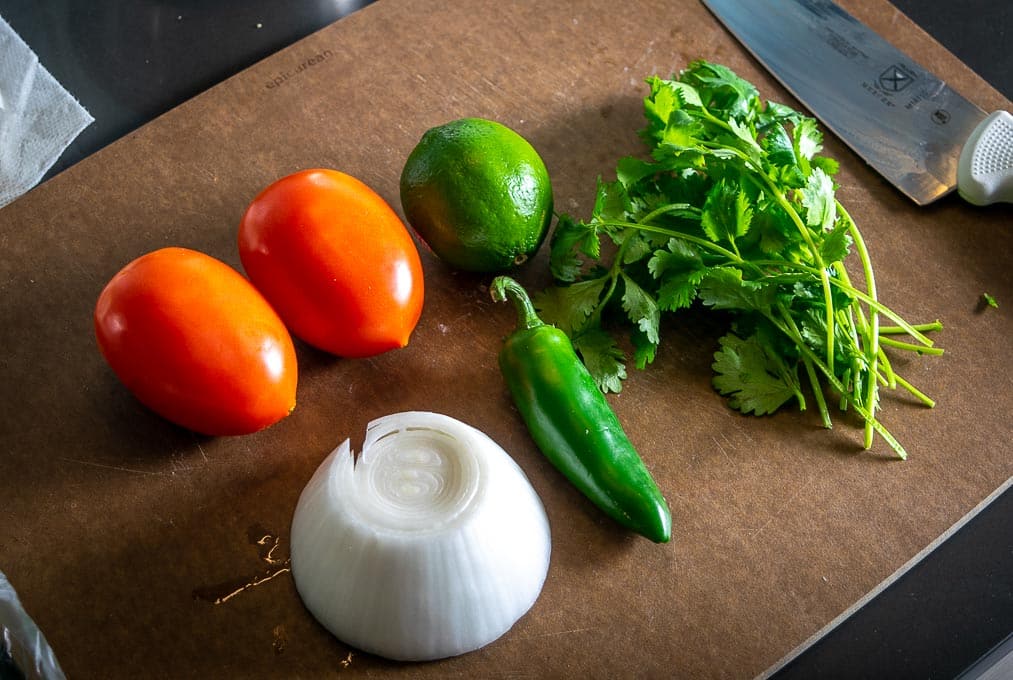 The vibrancy of freshly chopped Pico is a perfect fit for breakfast burritos. I used to add all these elements separately, but then found that it's easier, and tastier, to just make Pico!
Here's what you'll need:
2 plum tomatoes
1/2 small onion
1 jalapeno (or serrano)
15-20 sprigs cilantro
juice of 1 lime
1/4 teaspoon salt (plus more to taste)
It's super easy to make too -- just give it all a good chop and take a final taste for seasoning. Easiest Way To Chop Cilantro -- Use the Stems!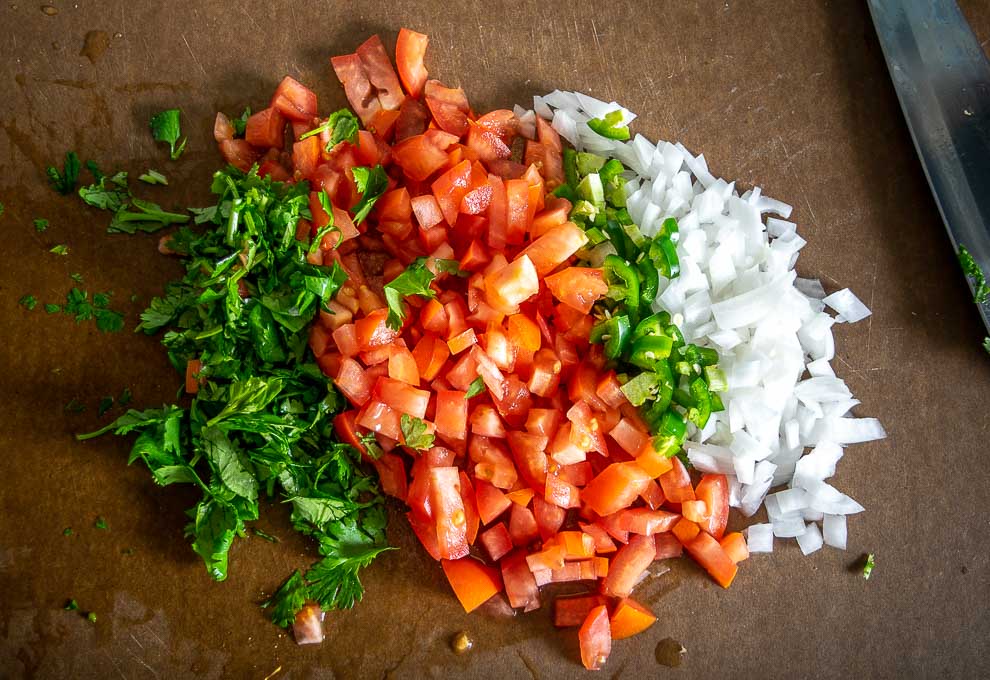 A quarter teaspoon of salt usually does the job, but you can always add another pinch of salt or lime if you think it needs it.
Note that if you use the whole jalapeno it will be spicy! For a milder version you can use just half of the jalapeno, or even less if you are sensitive to spicy foods.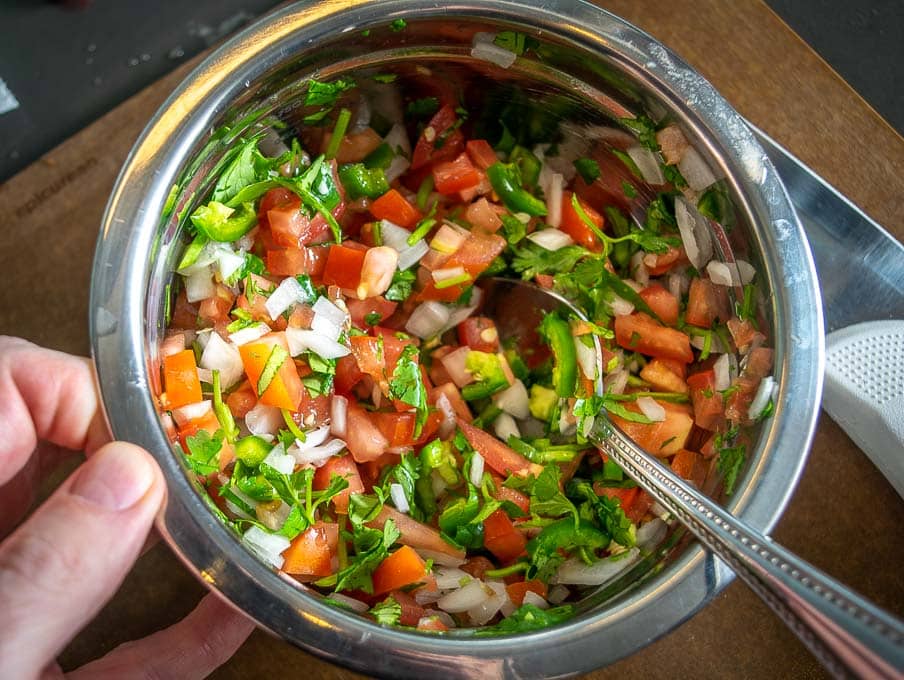 There is plenty of leeway on the beans so don't sweat them too much.
I pulled a single cup of the Improvised Pot Beans from the freezer and mashed 'em up.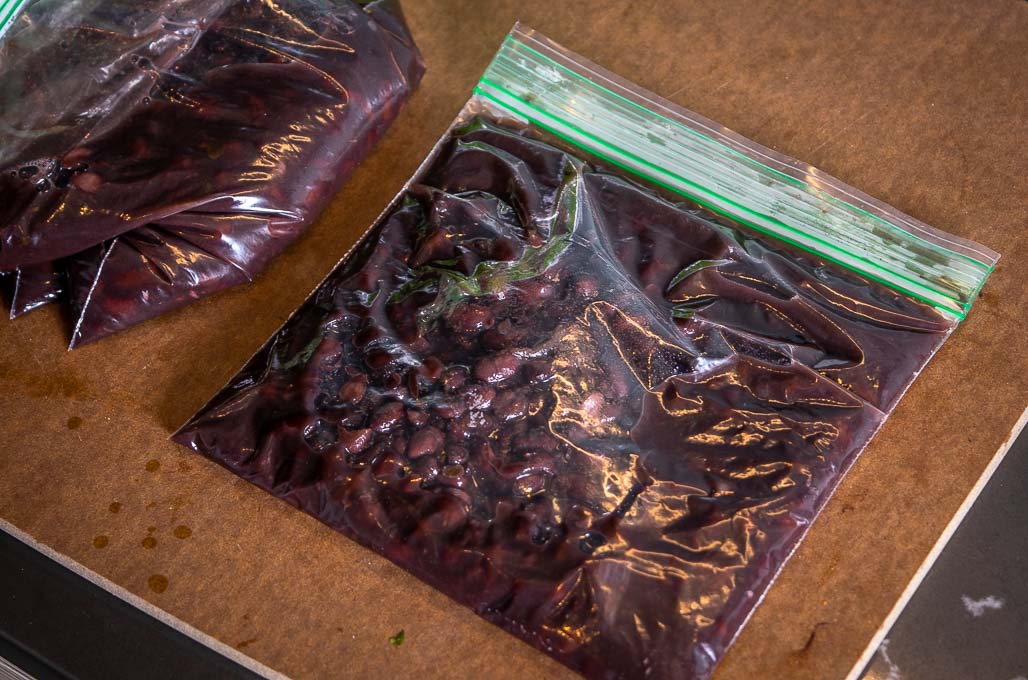 But you are welcome to use whole, canned beans if that's what you have available. Don't worry about flavoring the beans as these burritos get the bulk of their flavor from the Pico.
I usually chop up a bit of onion and jalapeno for the eggs, something like this: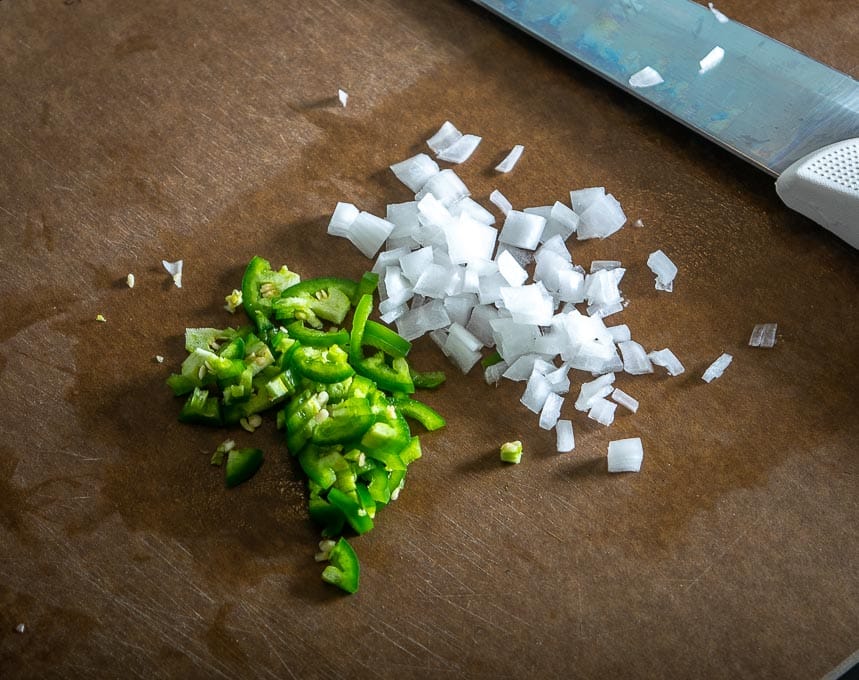 And then cook this onion and jalapeno in some oil and butter over medium heat.
Once the onion has softened you can add 8 whisked eggs -- that'll be plenty for 4 loaded burritos.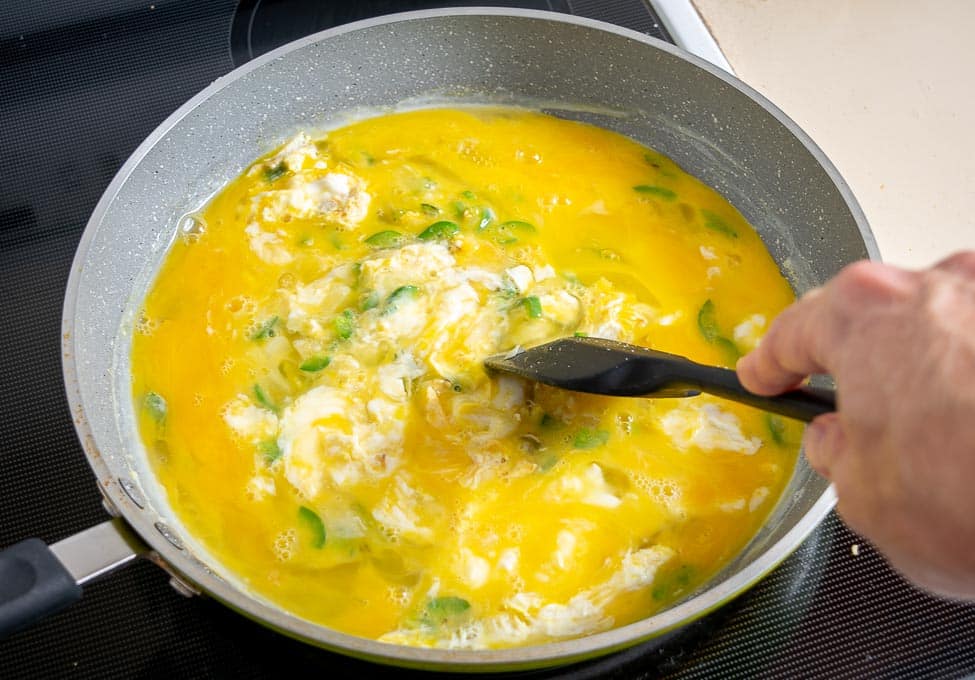 As the eggs finish cooking you can pull out the potatoes.
Here's how this batch looked after 30 minutes in the oven: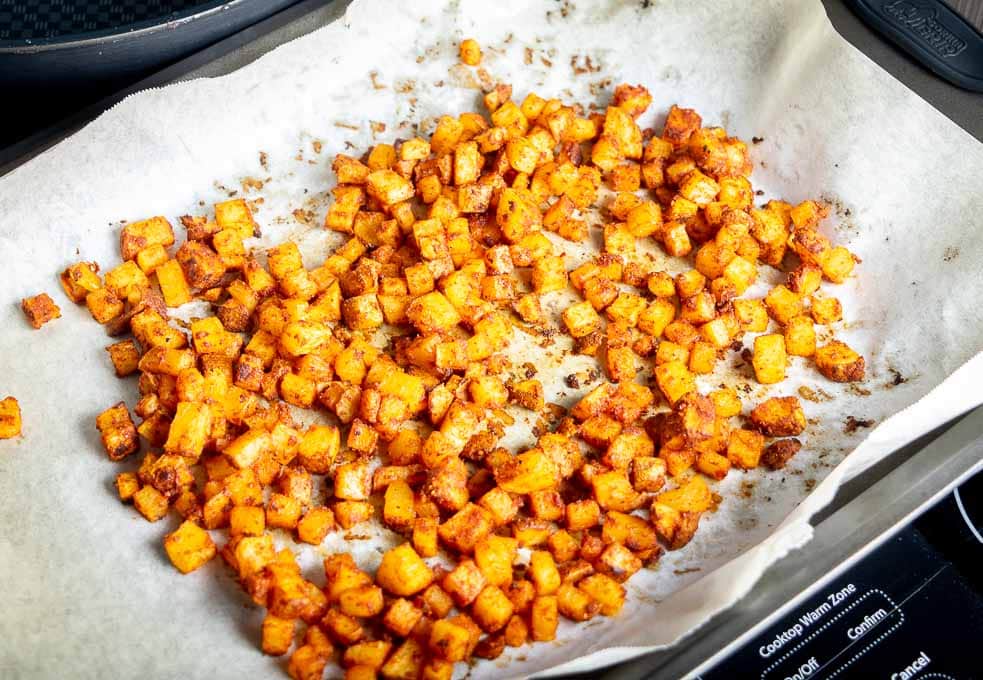 Perfect!
And now it's just a matter of building your breakfast burrito masterpiece.
Get a burrito-sized skillet warming up over medium heat. I usually plop the flour tortilla in the skillet for few seconds to wake it up -- this makes it easier to roll.
Then we'll add a thin layer of beans along with plenty of shredded cheese: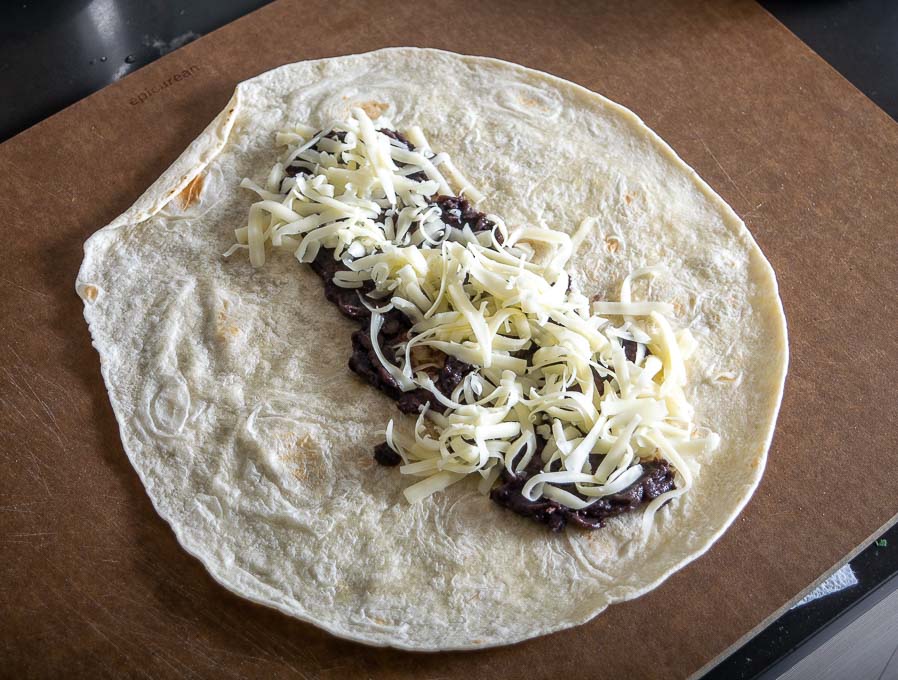 And then load it up with the other fixings:
the scrambled eggs
the roasted potatoes
your freshly chopped Pico de Gallo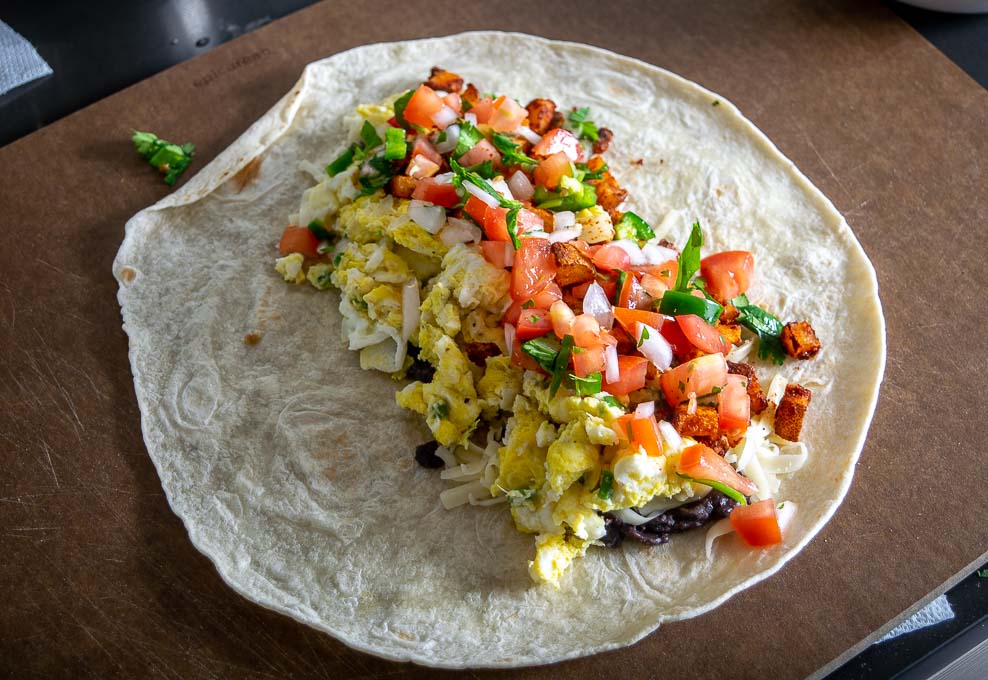 Tuck in the ends and roll tight. Tips on rolling a burrito.
And be sure to give your burrito 30-60 seconds per side in the dry skillet.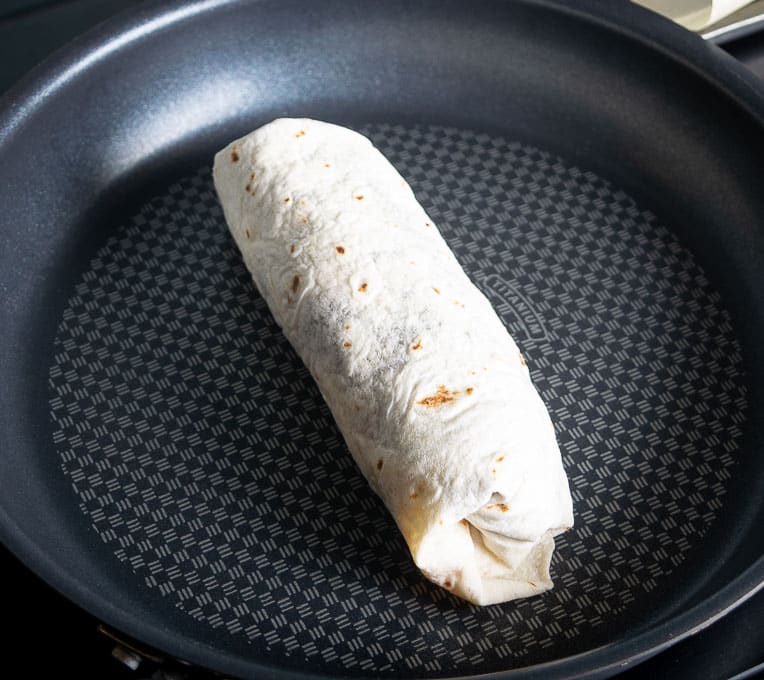 This final step is crucial as it will melt the cheese and crisp up the tortilla.
When the tortilla is getting light brown spots you'll know the cheese is melted and it's time to chow down!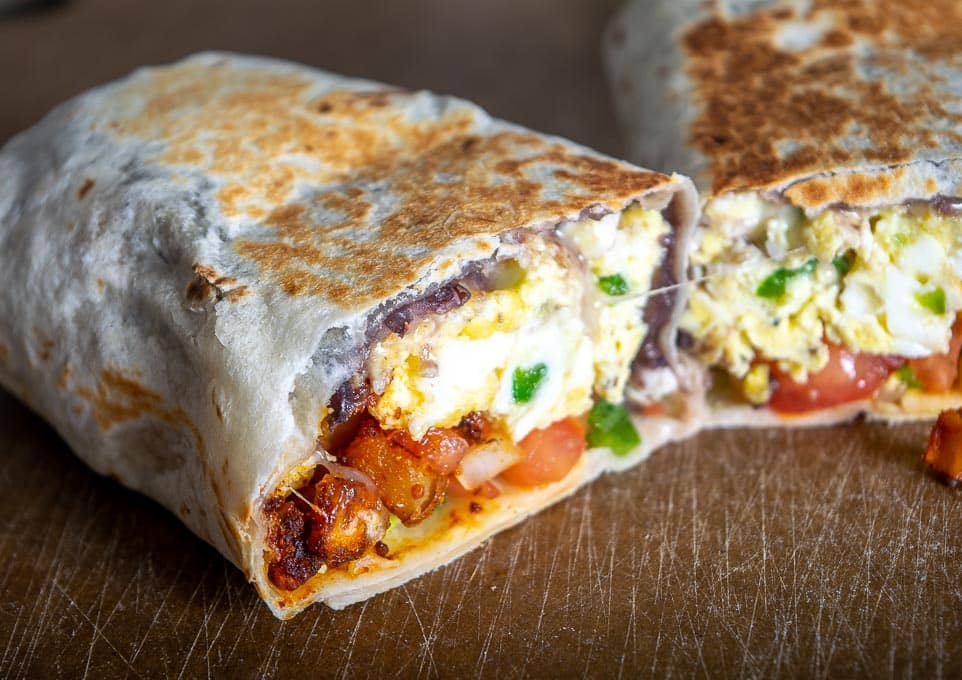 Yum!
The fresh pop of the Pico is the perfect complement to the warm, cheesy, beany eggs. Sold!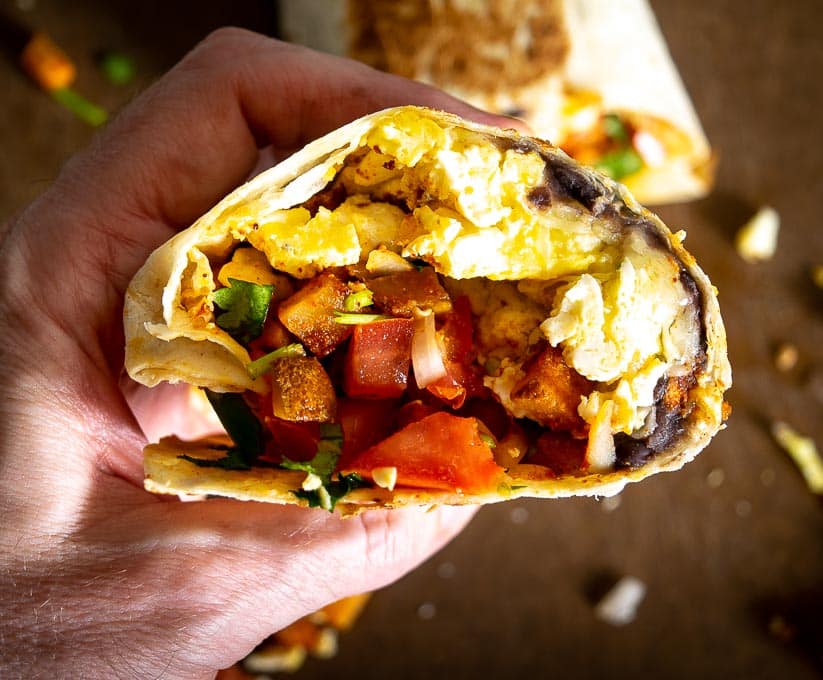 There is no way I am going months without breakfast burritos ever again 🙂
And yes, you could always add some homemade Salsa to your burritos, but I find that you don't really need it when loading them up with fresh Pico.
Give 'em a try next time you've got a lazy morning on hand and let me know how it goes.
Buen Provecho.
Want the latest recipe? Click your favorite social media from these options and follow me: Instagram, Facebook, Pinterest, TikTok, YouTube.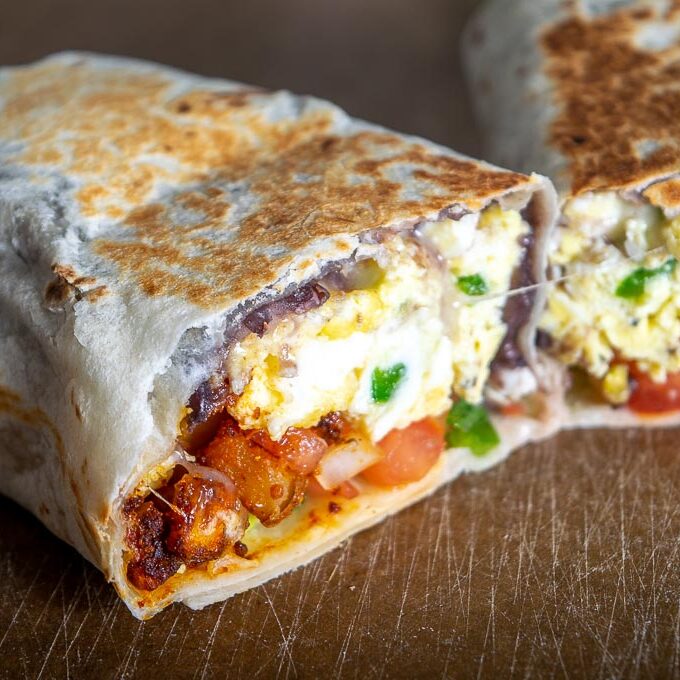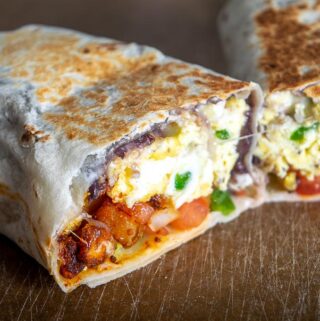 Vegetarian Breakfast Burritos
I can't get enough of these Vegetarian Breakfast Burritos!  Loading them with fresh Pico de Gallo is the key so please don't skip that step!
Print
Pin
Rate
Ingredients
8

eggs

4-5

flour tortillas (burrito-sized)

1

cup

beans (refried or whole)

1

potato

2

cups

shredded cheese

1

tablespoon

chile powder (for the potatoes, optional)

1-2

tablespoons

finely chopped onion, for the eggs

1-2

tablespoons

finely chopped jalapeno, for the eggs

olive oil

salt
For the Pico de Gallo:
2

plum tomatoes

1/2

small onion (white or yellow)

1

jalapeno (or serrano)

15-20

sprigs

cilantro

juice of

1 lime

1/4

teaspoon

salt (plus more to taste)
Instructions
Cube the potato and add to a mixing bowl along with: 1 tablespoon chile powder (optional), freshly cracked black pepper, a glug of olive oil, and a generous pinch of salt. Mix well and then form a single layer of the potatoes on a baking sheet (I use parchment paper to prevent sticking). Bake them in the oven (400F) for 30 minutes or until you need them. I usually give them a stir about halfway through the baking period.

For the Pico de Gallo, give the tomatoes, jalapeno and cilantro a good rinse and peel the onion.   Finely chop the 2 tomatoes, 1/2 onion, and jalapeno into 1/4" sized chunks.  Finely dice the cilantro.   Combine it all in a mixing bowl and add 1/4 teaspoon salt and the juice of a 1 lime.  Mix together well and taste for seasoning, adding more salt and lime if necessary.

For the eggs, start by finely chopping some onion and jalapeno, 1-2 tablespoons of each. Cook the onion and jalapeno in some oil (or butter, or both) over medium heat. Once the onion has softened you can add 8 whisked eggs along with a pinch of salt. Cook the eggs over medium heat until cooked through, stirring regularly.

Shred 2 cups of cheese -- I used Jack for this batch.

Feel free to use your choice of beans. I mashed up a single cup of these Pot Beans, but you can also use whole, canned beans for this recipe. When using canned beans I usually drain and rinse them.

To assemble the burritos, start by pre-heating a large skillet over medium heat. I usually plop the flour tortilla in the skillet for a few seconds before building them -- this will make the burrito easier to roll. Each tortilla gets a thin layer of beans, plenty of cheese, a couple scoops of the egg mixture, roasted potatoes, and plenty of the freshly chopped Pico de Gallo. Tuck the ends in and roll tight. Cook your burrito in the dry skillet over medium heat until light brown spots are forming on the tortilla, approximately 30-60 seconds for each side. Serve immediately.

Picky note: the Pico de Gallo will have some liquid in the bowl from the tomatoes and lime juice. I usually make an effort to limit the amount of this liquid in the burritos as it will sog them up. You can accomplish this by using a fork or slotted spoon to add the Pico to your burritos.

For leftovers, I usually build burritos with everything except the Pico de Gallo. I like to keep the leftover Pico in a separate tupperware container in the fridge. Wrap leftover burritos in foil and store them in the fridge. To reheat, bake them in the oven (400F) for 20-30 minutes and then add in the Pico de Gallo at the very end, right before chowing down.
Notes
I usually twist off and discard the bottom, thicker portion of the cilantro, but use the upper stems that holds the leaves together. 
Like this recipe?
Click the stars above to rate it or leave a comment down below! @mexplease
Want to see the latest recipe? It's these awesome Zucchini and Corn Vegetarian Quesadillas.
Still hungry?!
Want to receive Mexican Please recipes via email when they are posted?  Sign up below to subscribe.  All recipes are spam free.