If you're cooped up for a bit then I hope this Mexican Kitchen Guide will give you and your family endless meal options for the next couple months!
It's a comprehensive Guide, but there are two particular categories that I want to gently nudge towards you: Homemade Tortillas and Homemade Stock.
When life gets busy no one has time to make their own tortillas, let alone stock! Conquering these two categories will not only upgrade your kitchen with some good eats, but it will also give you a discerning palate for future purchases when things get busy again.
And if you'd prefer to buy things online then check out this Things I Buy page that will list some online spots to buy ingredients and equipment -- and you can also reference Where To Buy Dried Chiles Online if you have a specific chile in mind.
Okay, let's get started...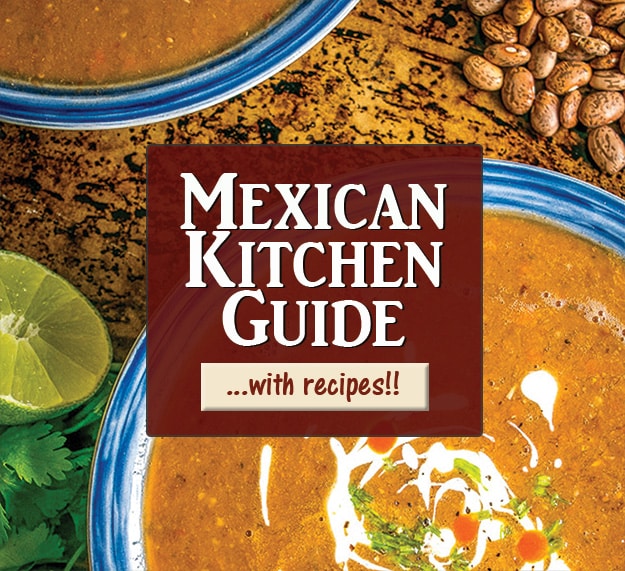 Make Your Own Tortillas
It's true, when you're busy the last thing on your mind is making your own tortillas. But maybe now is the time to give it a go!
You'll get a massive upgrade compared to store-bought versions, and you'll be able to compare local options to your homemade beauties.
First things first, get some Masa Harina in the house!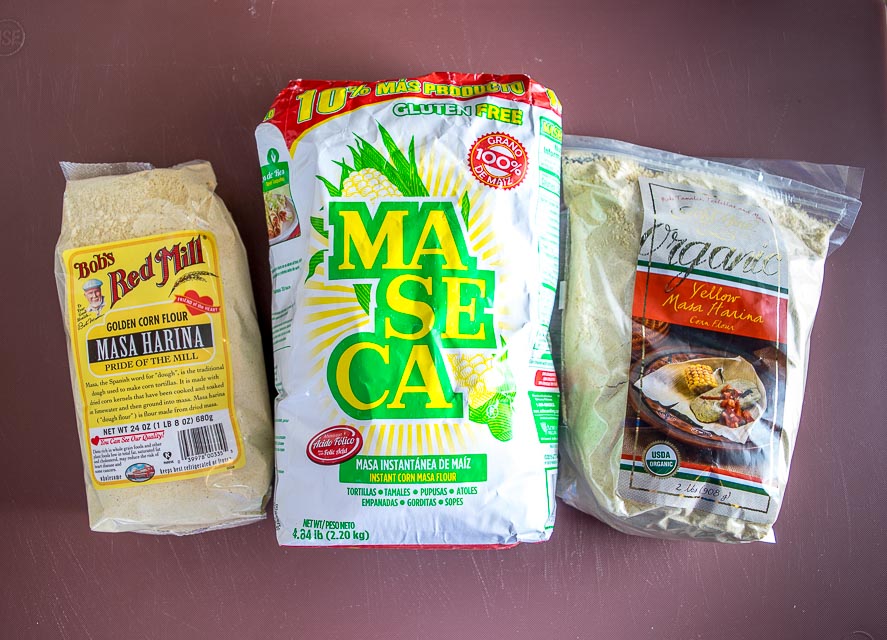 Masa Harina is de-hydrated masa dough and it's the easiest way to make corn tortillas at home.
Simpy add water and salt and you are ready to roll.
And don't worry if you don't have a tortilla press -- you can use a flat-bottomed skillet or casserole dish and get equally good results.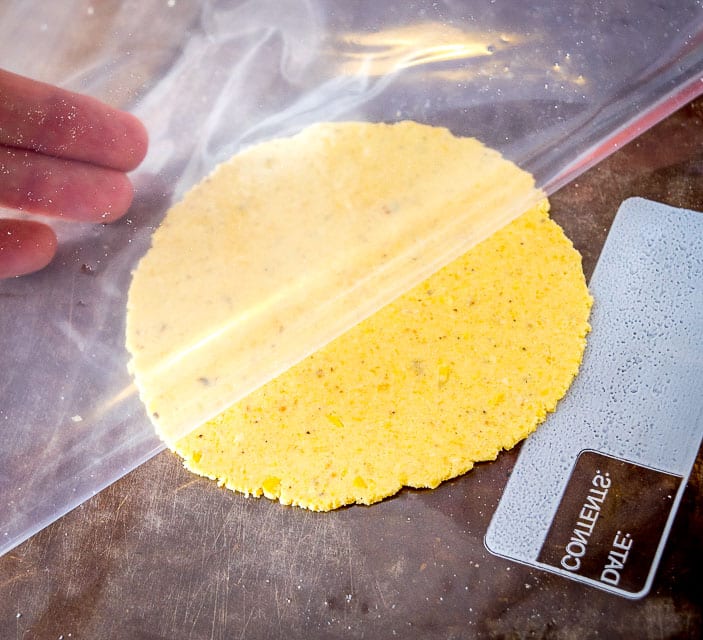 I use Bob's Red Mill Masa Harina lately, but Maseca is the brand you'll see most often in grocery stores. More info on different Masa Harina brands.
If you want detailed instructions for corn tortillas then this Homemade Corn Tortillas post will tell you everything you need to know.
But don't stop there as Flour Tortillas are also easy to make at home!
Here's a pic of the ingredient list for an authentic batch of flour tortillas: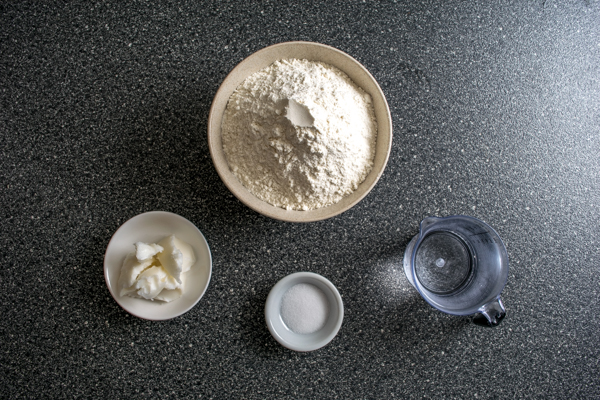 And yes, that's some lard you see up there!
I use home-rendered lard but you definitely don't need to do that for this recipe -- just try to stay away from the lard in the baking aisle as it is typically hydrogenated to make it shelf safe. More info on rendering lard and which types to buy.
Keep in mind that you won't get far with a tortilla press when making flour tortillas -- it's best to roll them out by hand.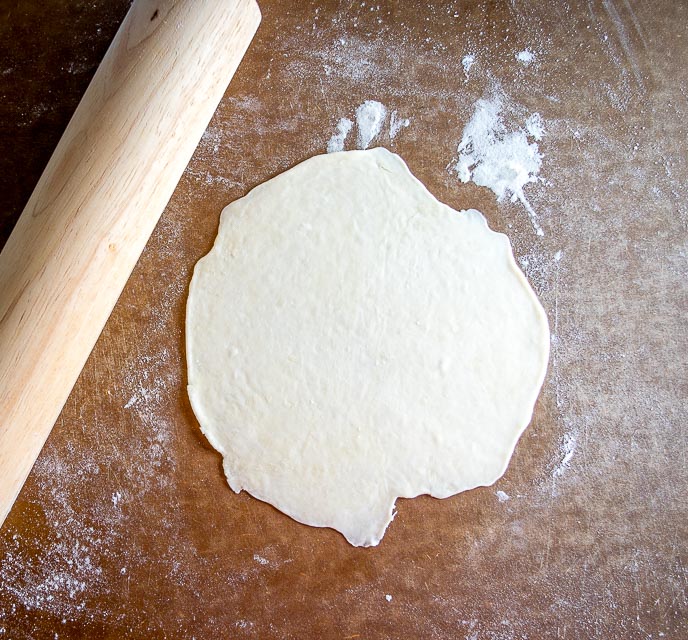 And then just give them a couple minutes in a dry skillet and say hello to soft, warm flour tortillas!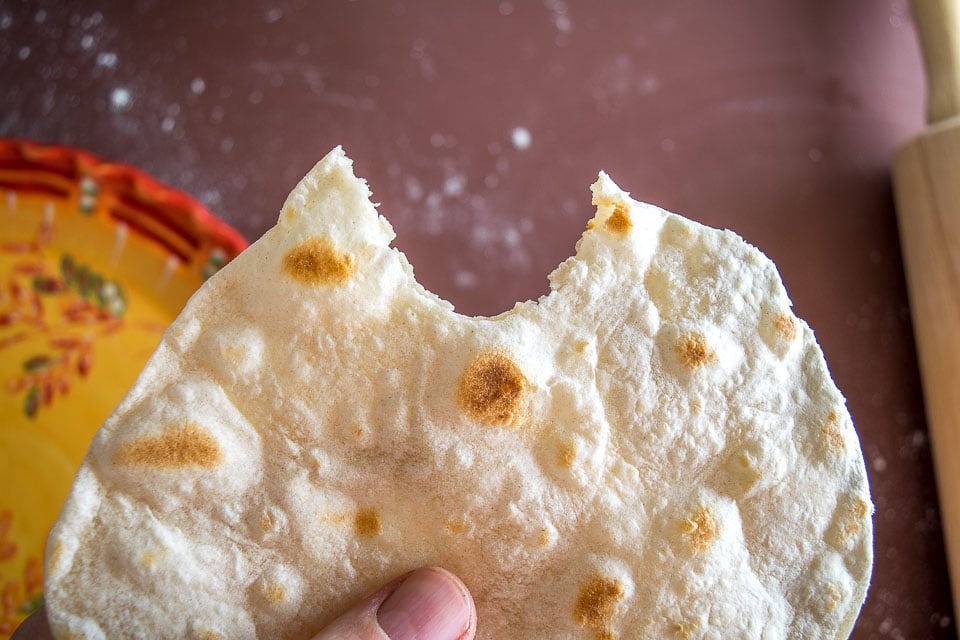 If you want to make these then check out the full instructions in this Homemade Flour Tortillas post.
But of course, based on the emails I get I know there are many of you out there who still run far away from anything to do with lard. And that's okay!
You can always use olive oil to make your flour tortillas as shown here: Flour Tortillas made with Olive Oil.
Or you can use bacon fat if that sounds more palatable than lard: Flour Tortillas made with Bacon Fat.
And yes, if you're feeling super adventurous you can always make masa dough using field corn instead of masa harina: Homemade Masa Dough Using Yellow Field Corn.
Make Homemade Salsa A Habit
If homemade Salsa isn't a habit yet then this is a golden opportunity!
It's super easy to make and you'll never go back to lifeless, store-bought salsa after making your own at home.
I think the no-brainer place to start is a simple Tomato Jalapeno Salsa: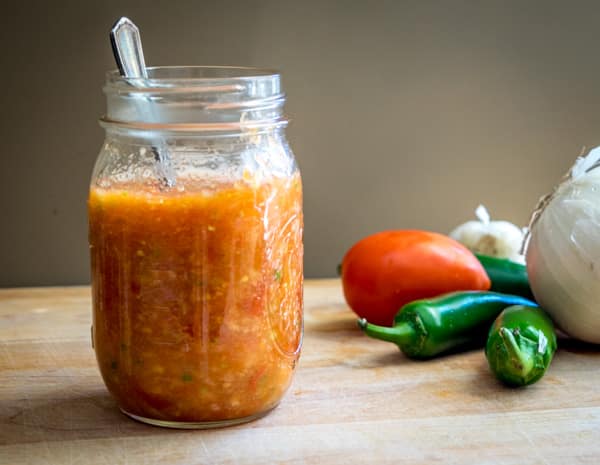 I'm always amazed how good this Salsa can be with such an innocent ingredient list:
3 plum tomatoes
1/2 onion
1 jalapeno
1 garlic clove
salt to taste
Sound too simple? Don't judge 'til you taste it!
Of course, that's assuming you keep two key tips in mind:
First, be sure to roast those tomatoes! Sustained heat will sweeten them up and lower the acidity. It also makes the salsa warm -- yes!!
I typically default to plopping them in the oven at 400F.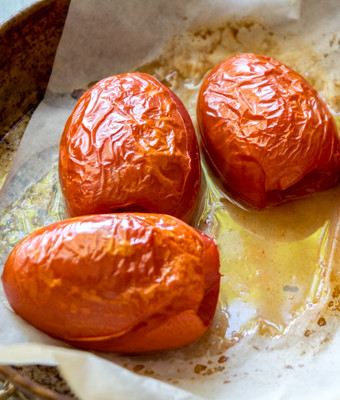 But keep in mind there are lots of ways to get there, with the grill and pan roasting being equally good options.
And Tip #2 is to add the heat (jalapenos) incrementally the first time you make it.
Everyone's heat tolerance is different, and since it's hard to put it in reverse once it's gone nuclear, just add slivers of jalapeno incrementally until it tastes right to you.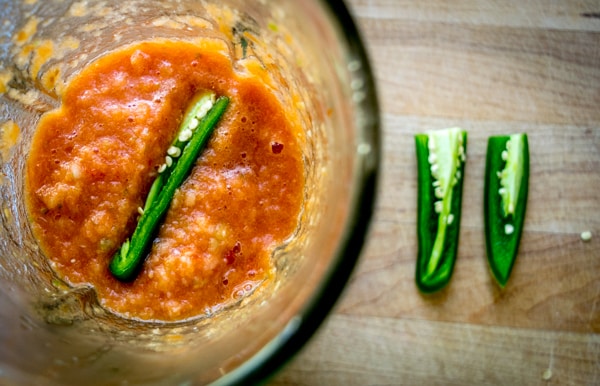 Easy right?
And the hidden benefit of making this Tomato Jalapeno Salsa is that it will give you instant access to loads of other Salsa recipes. Why?
Using different chiles and swapping out the tomatoes for tomatillos can create dozens of other combinations. Here's a pic of the ingredient list for a classic Salsa Verde: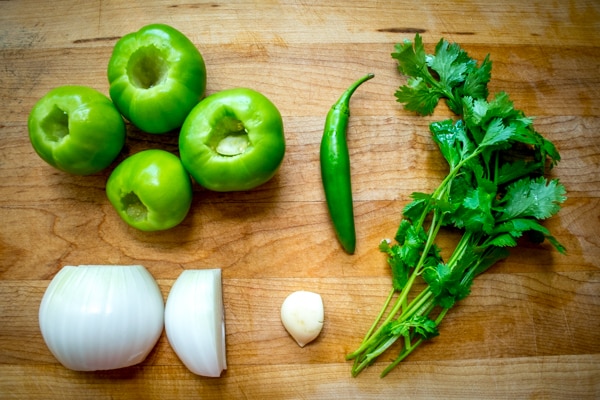 So now we are using tomatillos and a serrano pepper, but the process is the same!
As long as you roast those tomatillos and add the serrano incrementally you'll be a happy camper.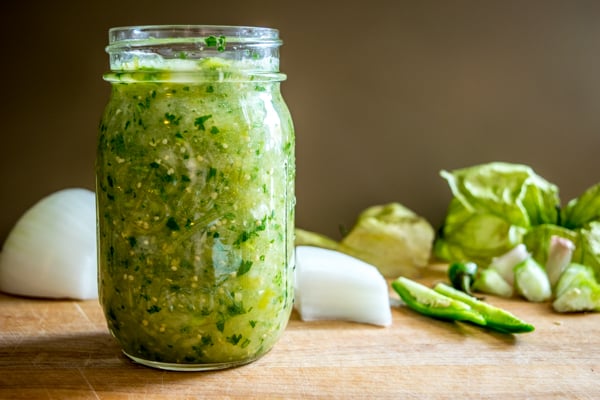 If you want to try out these two Salsas then here are the step-by-step instructions:
And here are my other two favorites that you can quickly add to your arsenal once you're familiar with the technique:
Roasted Tomato and Tomatillo Salsa
Okay, one last tip regarding homemade Salsas...
They will always taste best right out of the blender. Yes, they will store in the fridge for a few days, but they tend to lose some of their zip over time.
So I usually recommend making smaller batches more often, as opposed to larger batches. But if you do have a leftover batch in the fridge then you can easily bring it back to life by plopping it in the blender with a fresh slice of chile pepper and giving it a whirl. Take a taste and simply add another sliver of chile if you want more heat.
Okay, next up is beans!
Find A Refried Beans Recipe That You Love
Being able to whip up a delicious batch of refried beans will give you access to dozens of no-thinking-involved meals. Sound good?!
Two-minute meals like...warm crispy corn tortillas topped with refried beans, melted cheese, and any other fixings within arm's reach.
I make meals like this all the time and when the beans are good then everything else is just a bonus!
I almost always use these chipotle infused Refried Beans: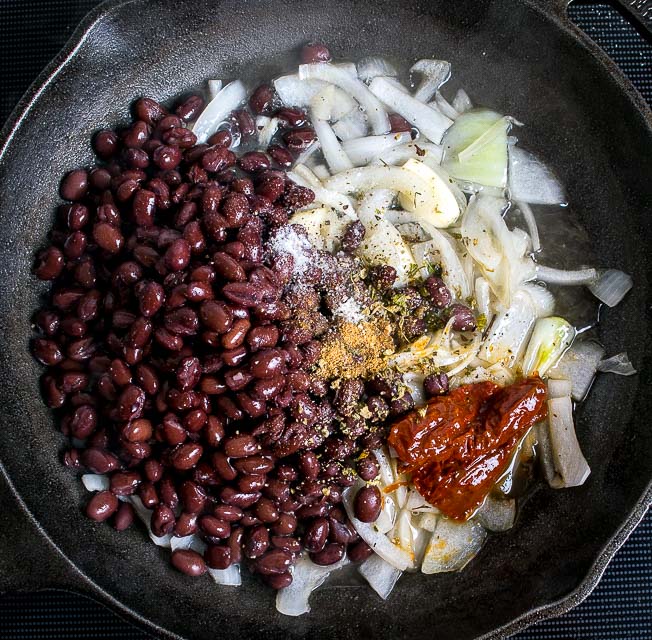 They have incredible flavor and it's easily one of the most viewed recipes on the site. Because beans rock.
It's also worth mentioning that when you're adding so much flavor you can get away with canned, whole beans to start with.
I know what you're thinking....wouldn't they taste better if I cook my own beans? For the above recipe I don't think it matters too much -- but when you're serving up whole, cooked beans as a side dish then yes, you will get a bump in flavor if you make your own.
See these Pot Beans -- Frijoles de Olla for more info on cooking your own beans.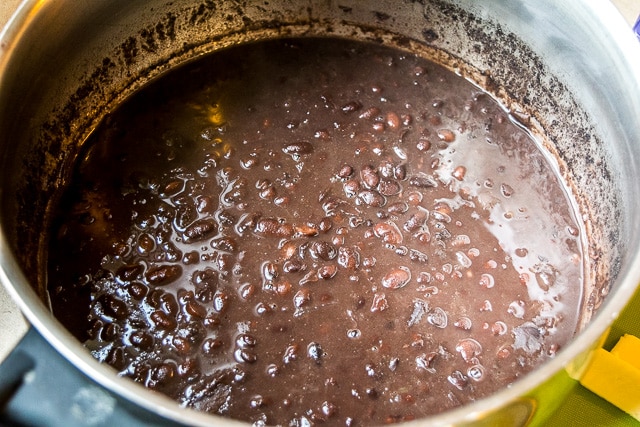 And for reference, you can use the above refried beans recipe with a wide range of beans: Black, Pinto, or Peruano will all do the job.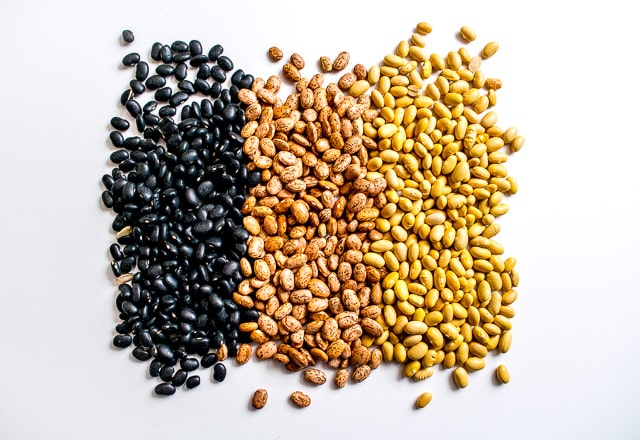 If you're new to Peruano beans then check out this Peruano bean post. Note that Peruanos are also referred to as Canary or Mayocoba beans.
Then once you've settled on a favorite refried beans recipe, you can simply plop them in a tortilla with some cheese for a quick meal, or you can use them to make some Molletes -- Bean and Cheese Sandwiches: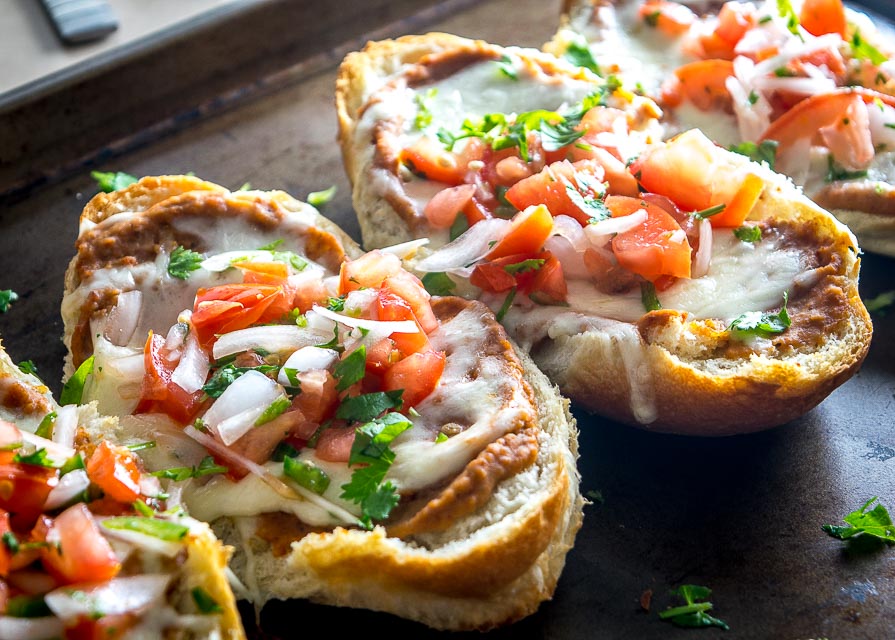 Or some Bean and Guac Tostadas: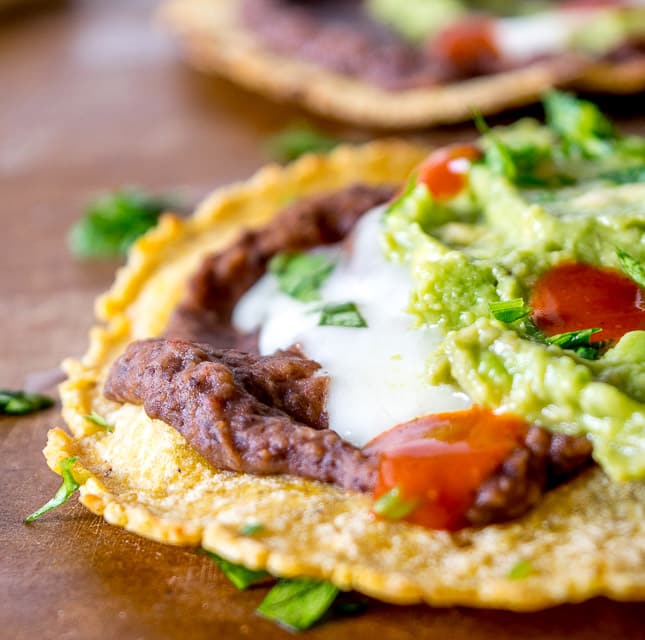 I also use a similar flavoring technique to make these unconventional Chickpea Tostadas: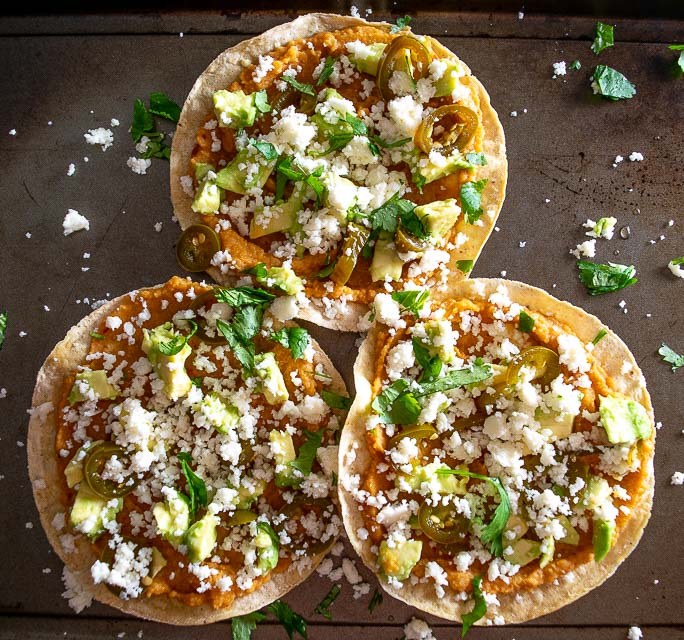 And these Peruano Enfrijoladas:
The Most Rewarding and Underrated Category -- Soup!!
I think these are some of the best recipes on the site -- and you can easily turn any of them into a meal by serving them next to some cheesy tortillas or quesadillas (possibly loaded with your refried beans!).
Of course, if you want to turn all your soups into winners there is a rarely used trick that gets overlooked in the bustle of daily life -- making your own stock!!
When I first started making stock at home I was concerned about finding the right ratios, the right ingredients, and simmering for the right amount of time. But not any more! Just by making your own stock you'll get a massive upgrade compared to store-bought versions, so don't sweat the details too much at first.
For example, in this Use What You Have Chicken Stock these are the veggies that get simmered along with the chicken carcasses:
I usually just save leftover chicken carcasses and bones in the freezer, and sometimes for bigger batches I'll buy carcasses from the local butcher.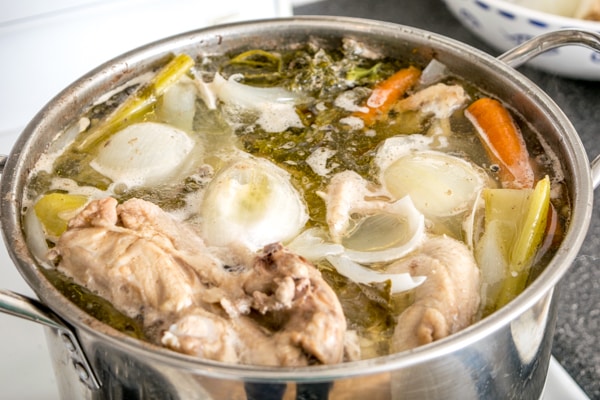 After 90 minutes of simmering you'll end up with something like this:
Yum! You could almost eat this stock as is -- it's got loads of flavor and depth compared to store-bought stocks, and I think everyone deserves some of this goodness in their home!
And by the way, stock freezes quite well -- that's the key trick!! You can make a big batch and pull cups of it from the freezer for the next few months. Awesome.
And don't forget that veggie stocks are just as rewarding! For reference, here's an easy veggie stock to try out that starts out looking like this:
Okay, got some good stock on hand?
Then I would head straight for this Pinto Bean Soup: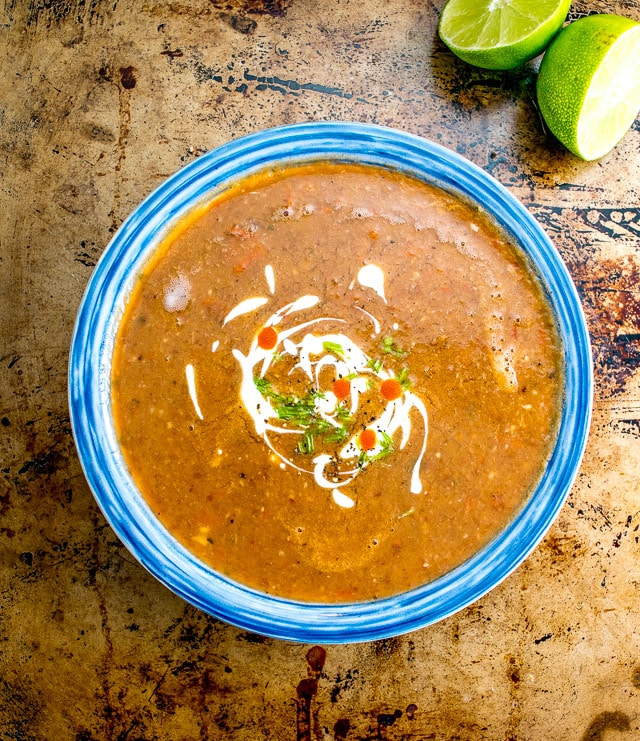 It's such a simple recipe, but when you're using quality ingredients it has tremendous flavor.
Dip a crispy, cheesy quesadilla in that bowl of goodness and all is well for a few minutes 🙂
I think this Chicken Tortilla Soup is equally as good: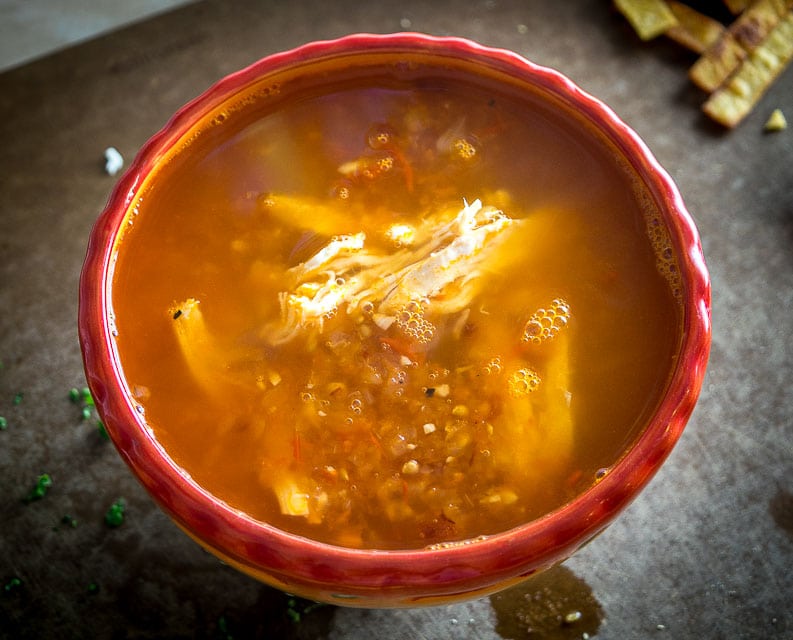 And making it will get you familiar with the Souper Base -- this is a simple but reliable soup base made from stock, roasted tomatoes, caramelized onions, and garlic.
When you're using good stock even this Souper Base is incredibly satisfying and everything else on top is just bonus material.
That Souper Base is also the foundation in this Albondigas Soup -- a delicious meatball soup that is the ultimate comfort food.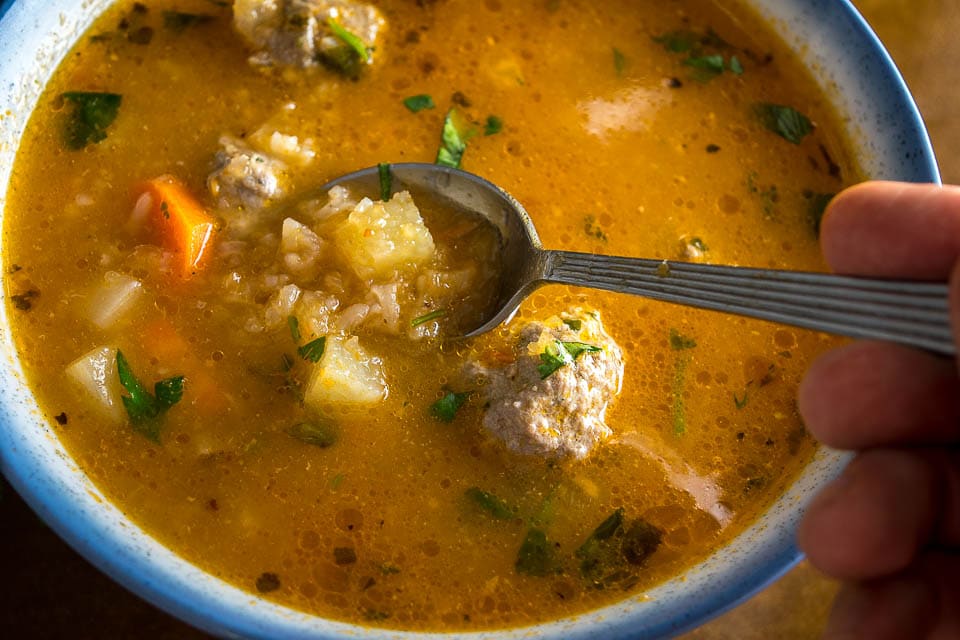 And last, don't forget this Roasted Poblano Soup: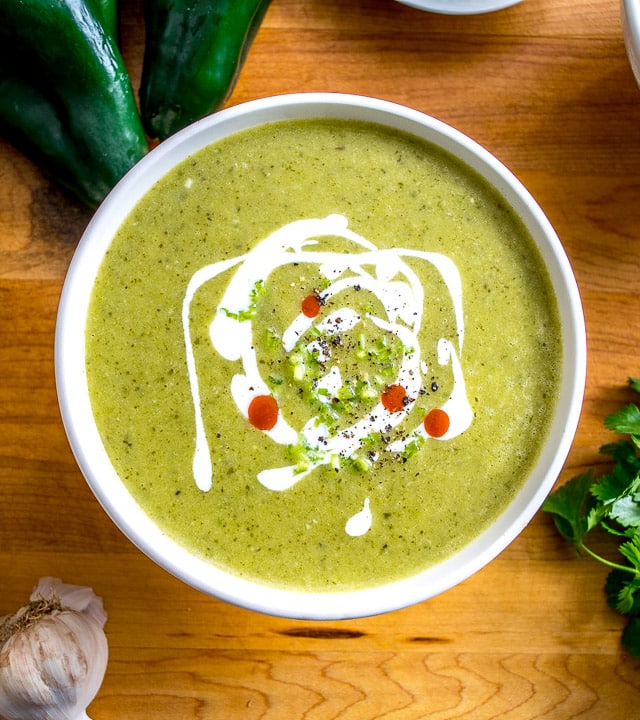 It's one of my favorite recipes on the site and I come back to it on a regular basis.
And yes, even though poblanos are relatively mild this Soup will still bring the heat, so consider yourself warned!
Add Some of these Main Proteins to Your Repertoire
In addition to being epic and tasty, these main protein sources are wildly versatile and can be served up in a number of ways. That means leftovers will lead to all sorts of easy meals in the ensuing days -- perfect!!
For example, let's say you make a big batch of Chicken Tinga. Be sure to add in those tomatillos and it will look like this: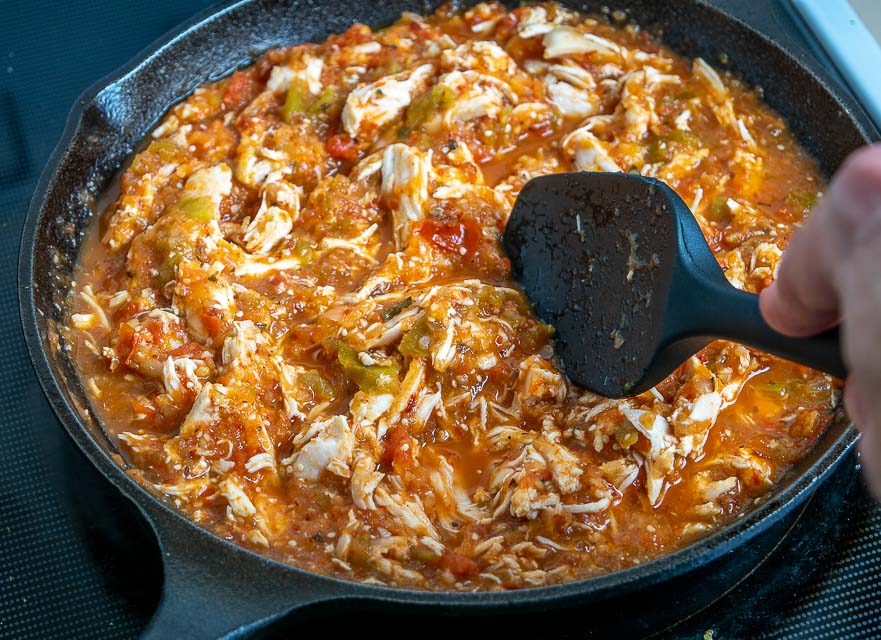 Yes, you are more than welcome to eat this straight out of the pan!!
But your Tinga is willing to be served up as Tinga Tacos: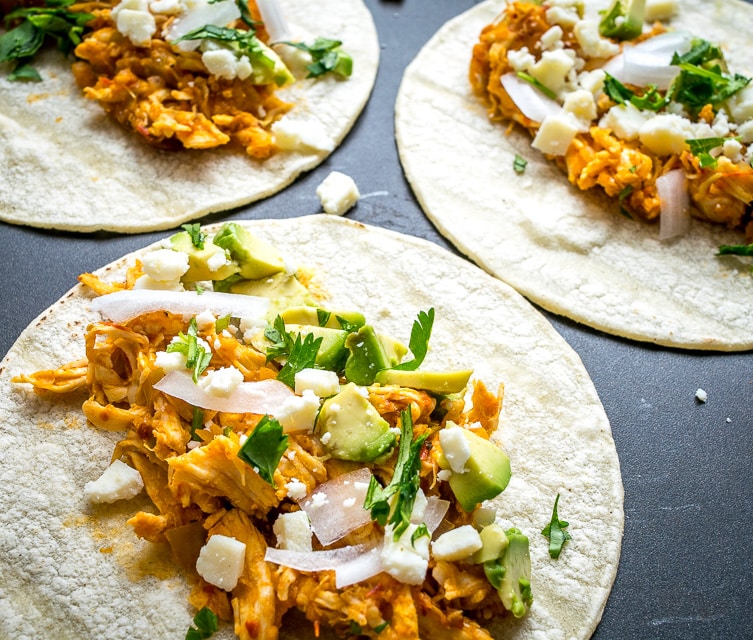 Or even quesadillas and enchiladas. And maybe for breakfast the next day straight out of the tupperware dish?!
You'll get the same versatility with this succulent Carnitas Recipe: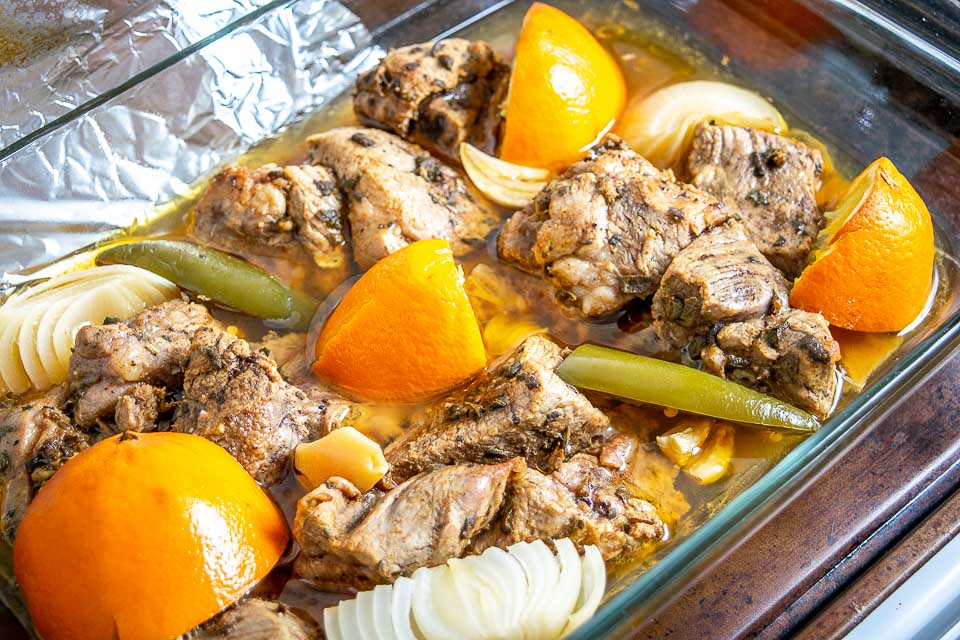 A couple years ago I tried giving the pork shoulder a quick brine and now it's a habit. Even a half hour soak in the saltwater brine gives your pork a serious bump in flavor.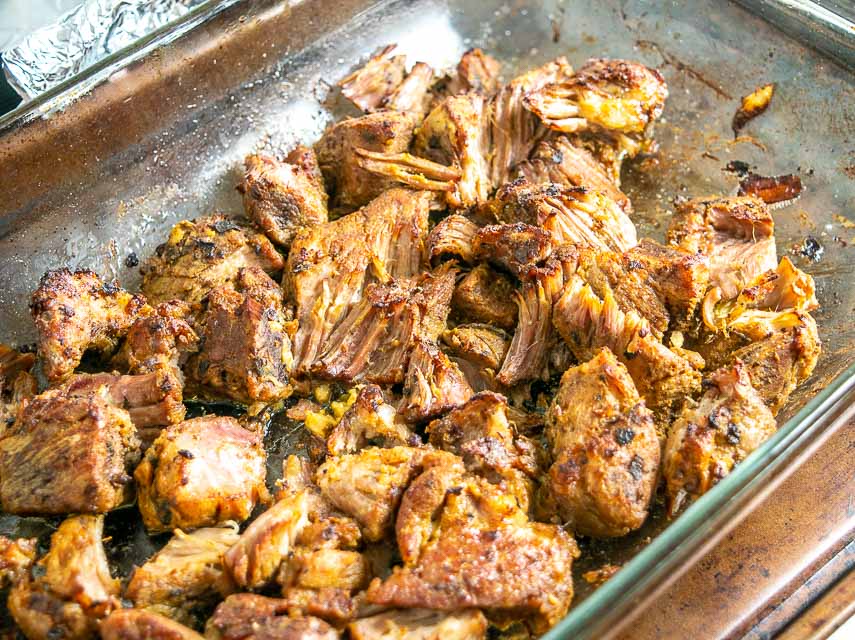 You can serve up your Carnitas in burritos, tostadas, or topped with Salsa Verde in some tacos: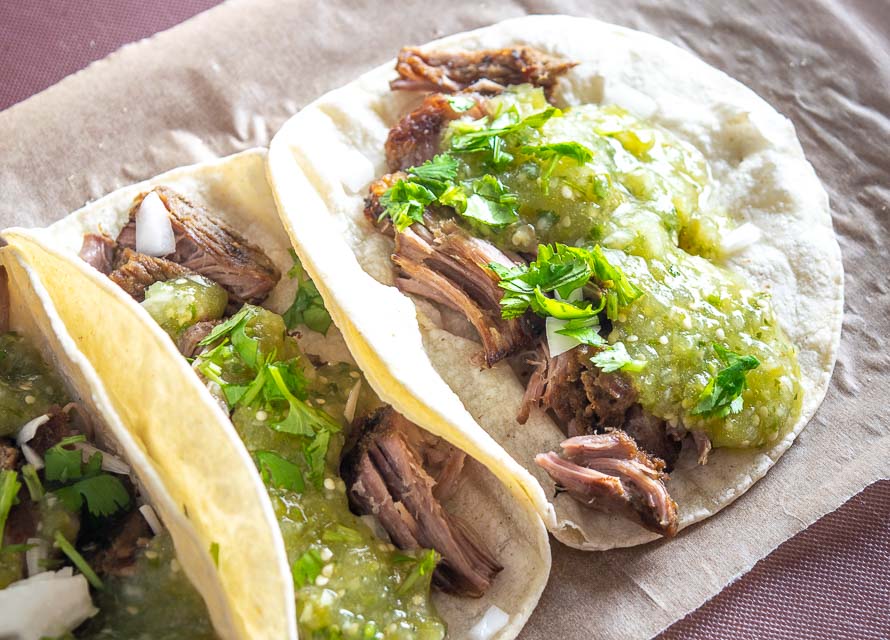 Yummers!
Carne Asada is equally happy in burritos, tacos, quesadillas, etc.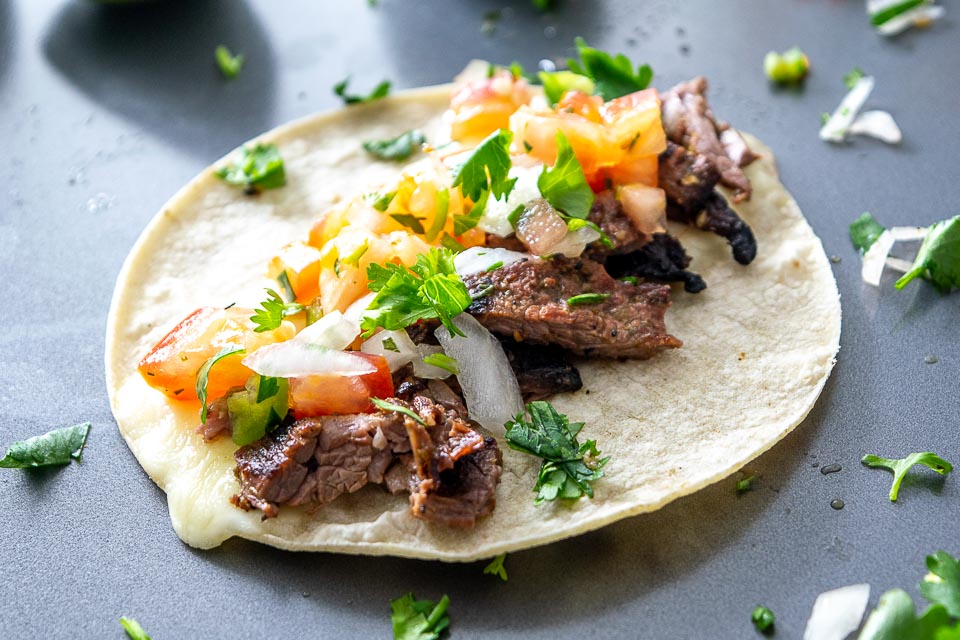 I have two versions of Carne Asada on the site.
If you have time for a marinade then use this simple, marinated Carne Asada: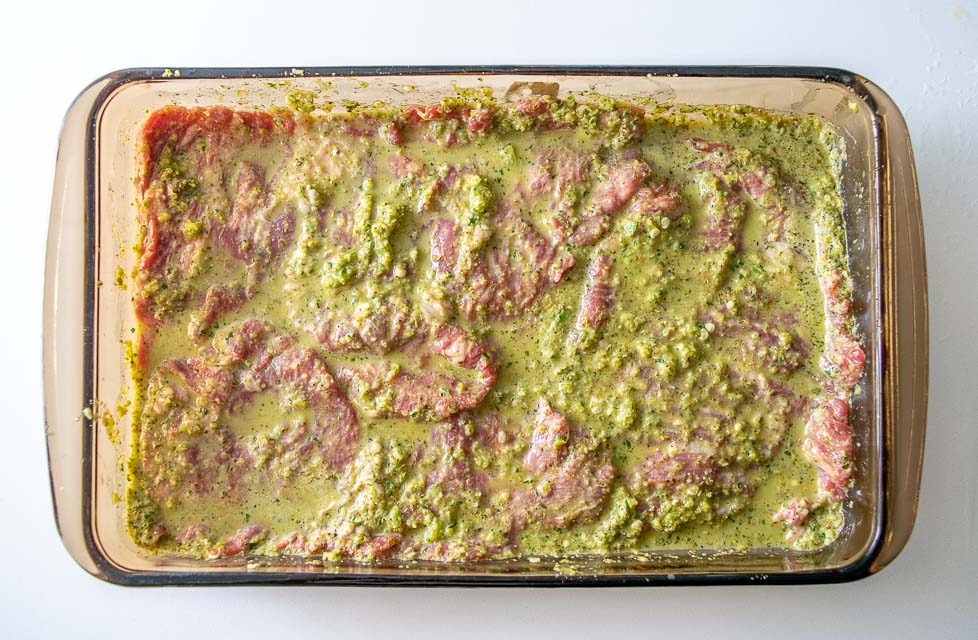 Or if you want food now then use this Express Carne Asada recipe that relies on chile powder for flavor: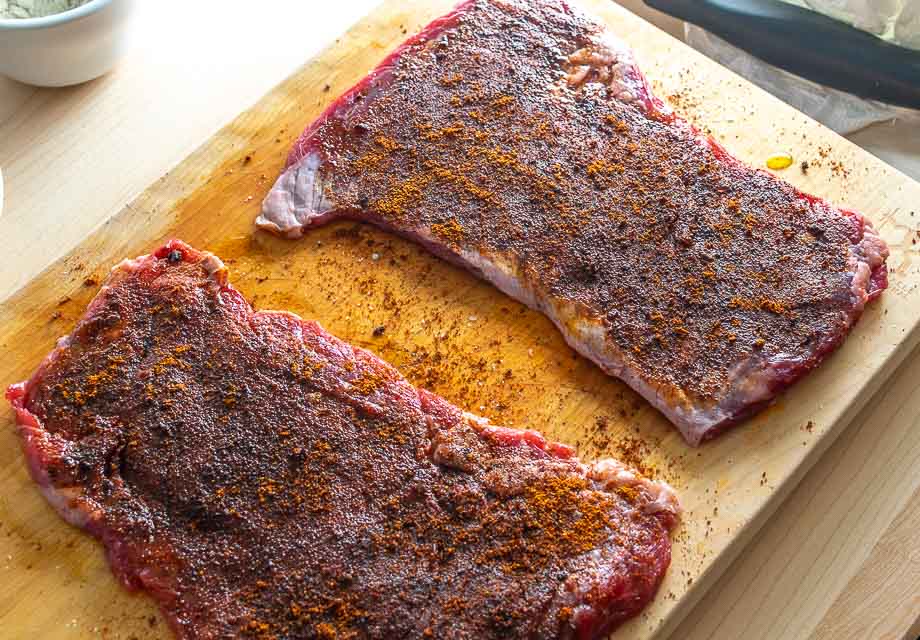 And here are some other Mexican heavy hitters to consider for your main protein source...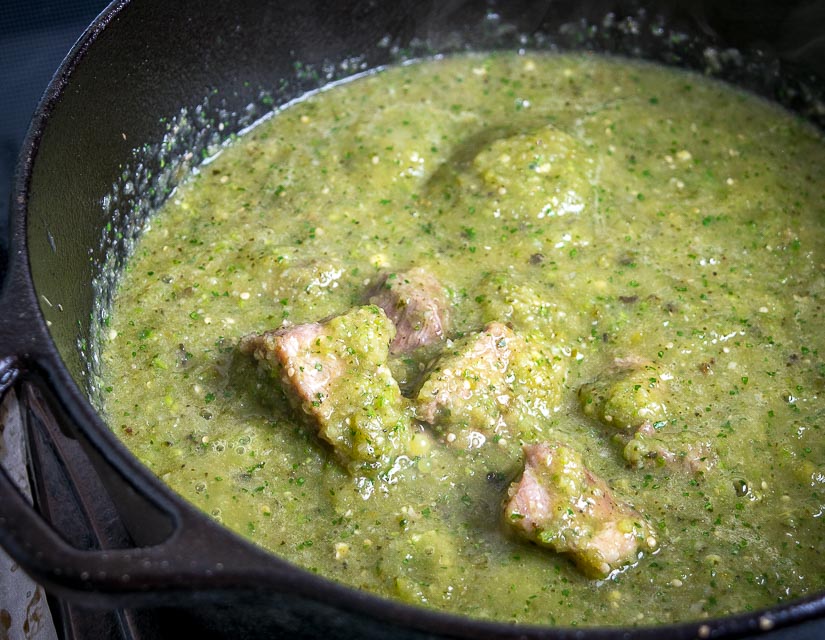 Chipotle infused Ground Beef as seen in these hardshell tacos: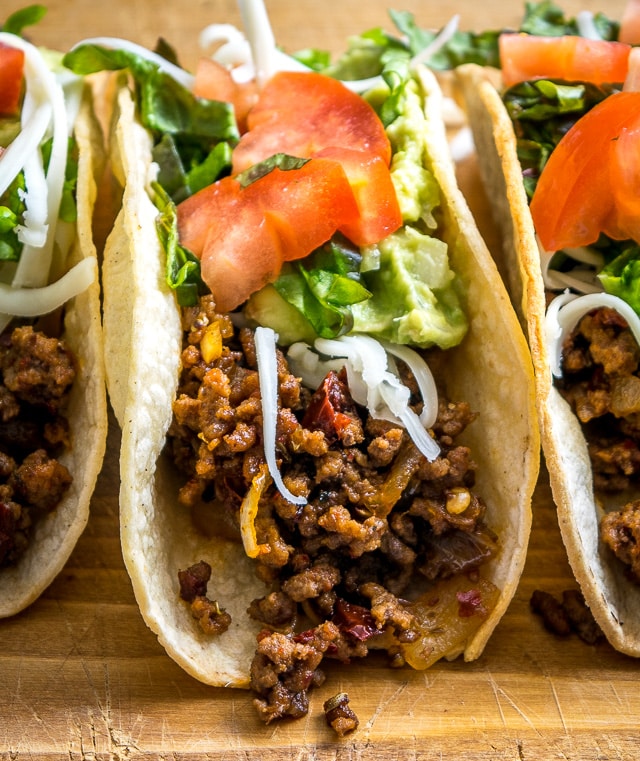 Fried fish as seen in these Baja Fish Tacos: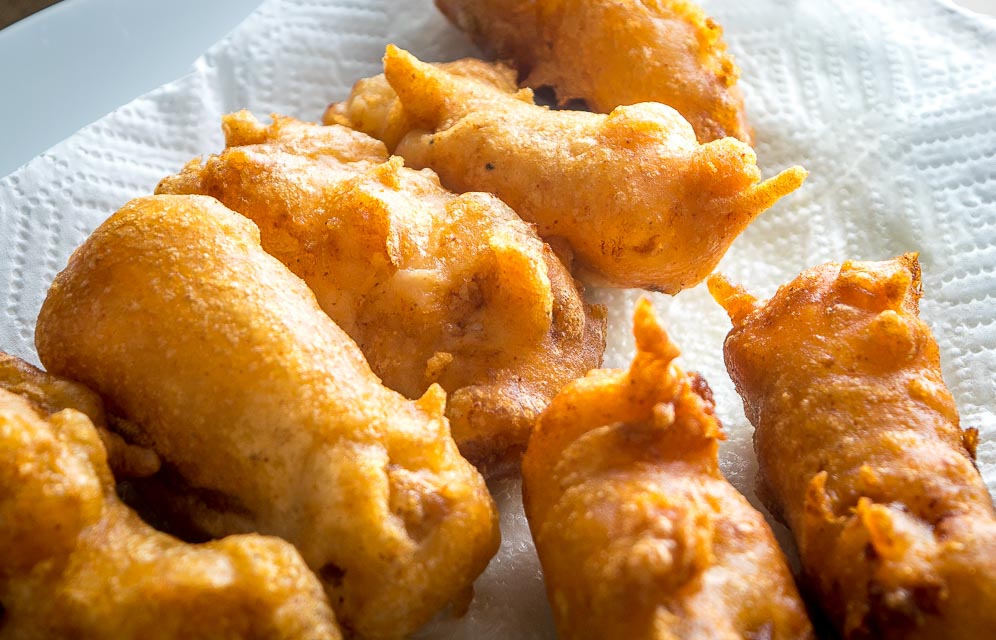 Mexican Breakfast is Good Any Time of the Day
Mexican breakfast dishes are so unique that your brain won't even register them as breakfast. In other words, feel free to have them for lunch and dinner too!
And now that you're an expert in homemade Salsas, you have everything you need to make some authentic egg dishes.
A freshly made Salsa Verde is the perfect topper for a fiery batch of Migas: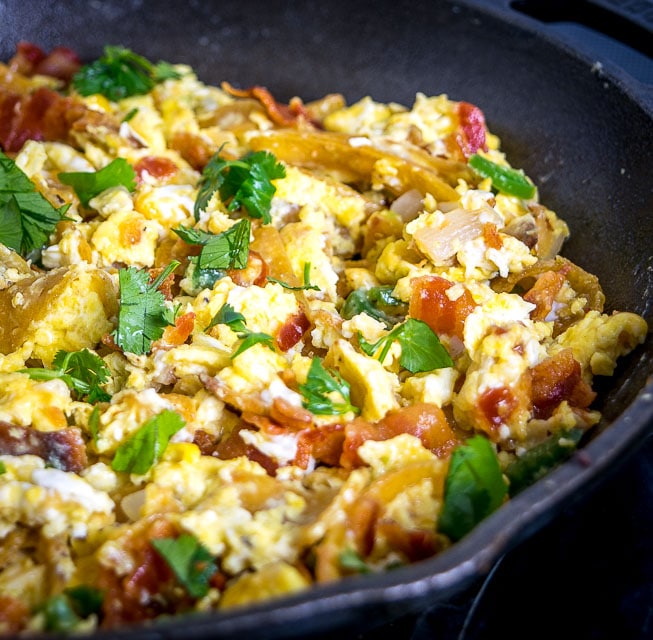 Migas are a classic egg dish mixed together with crispy tortilla strips. And when you add in some bacon then, well...bacon!
These Huevos Ahogados are poached in a simple Tomato Jalapeno mixture and they are divine: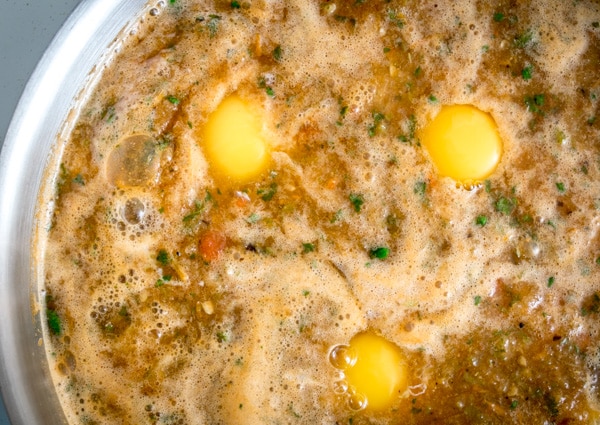 Especially if you use some of your homemade stock as the poaching base 🙂
And don't forget the universally loved breakfast burrito that doesn't care what time of day it is. I used chorizo and Tomatillo Chipotle Salsa in this batch and they were delicious: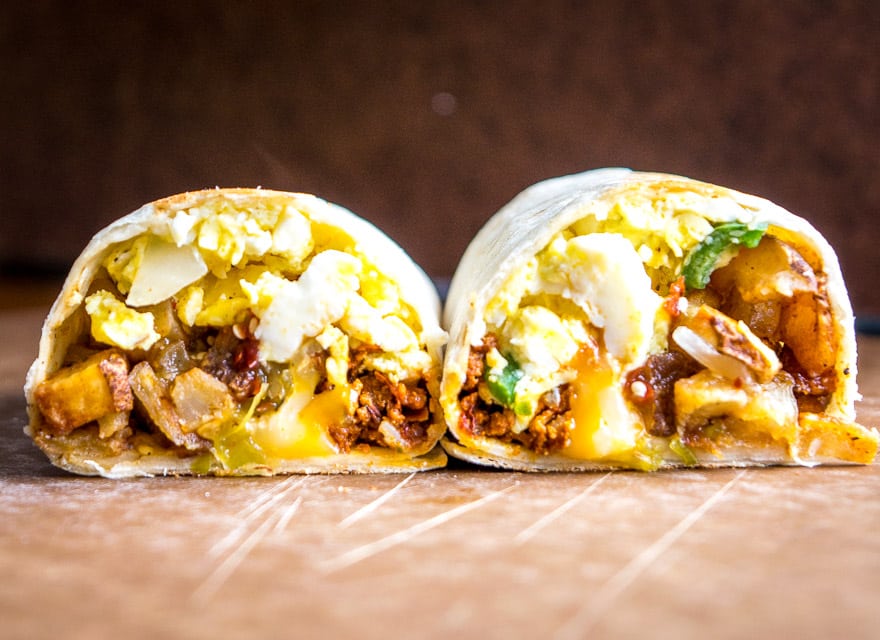 Mood Lifters
And finally, I want to offer up a group of recipes that I call Mood Lifters. These recipes will instantly change the dynamic in a stir-crazied house, so keep them in your back pocket for those days when everyone deserves a change of pace.
Remember those chipotle-infused Refried Beans? Well, you can use them to make a seriously epic batch of Vegetarian Nachos: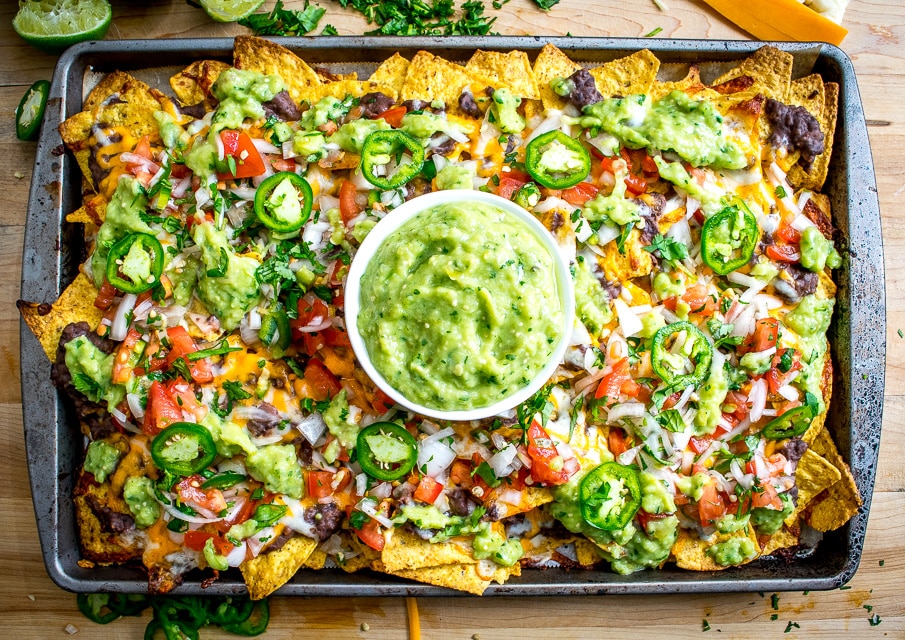 I have the most success with these Nachos when making single layer batches. If you make double or triple layer batches you will usually end up with a soggy mess.
And feel free to get creative with the fixings -- I used a freshly chopped Pico de Gallo and served them up with Avocado Salsa Verde.
Next up is this Chipotle and Cheese Bean Dip because, well, who doesn't love bean dip!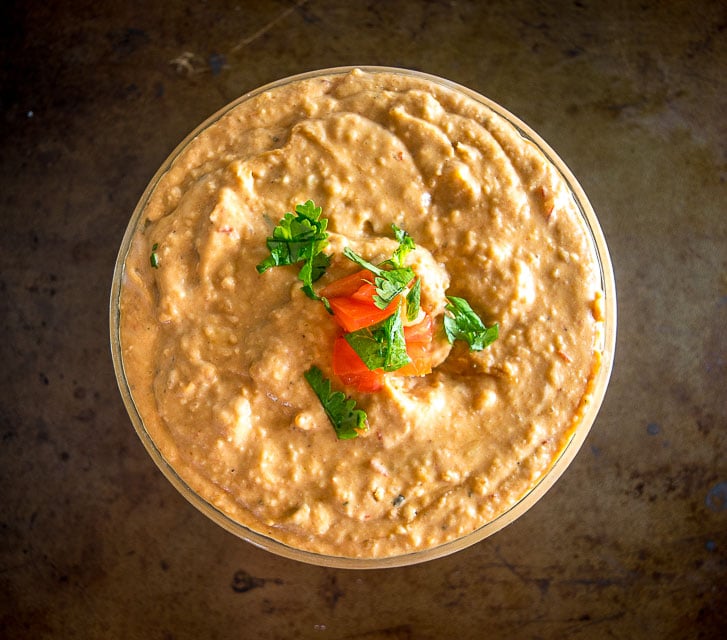 I really like a hint of Mexican Oregano in this dip, but it's still worth making if you don't have any on hand. What is Mexican Oregano?
Homemade Pickled Jalapenos are a great way to liven up your tacos, burritos, etc., so if you're new to this technique then maybe it's time to give it a go!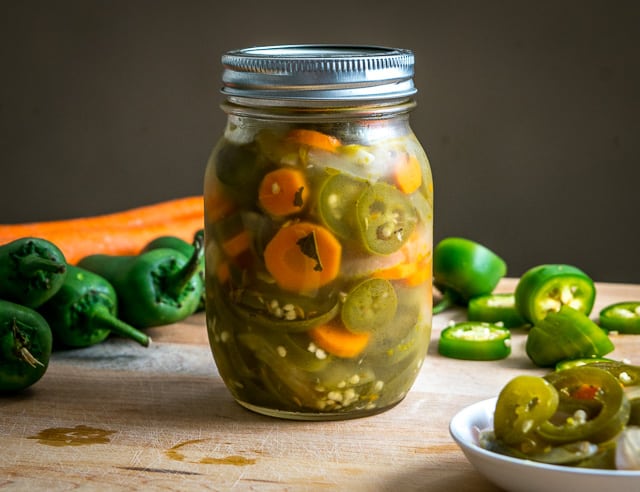 You're just letting the jalapenos rest in a flavored vinegar brine, and the next day they'll have a familiar acidic snap when you bite into them.
And once you get comfortable with that quick pickling technique you can use it to make batches of Pickled Onions, Pickled Tomatillos, or Pickled Cabbage.
And finally I want to mention this Easy Guacamole: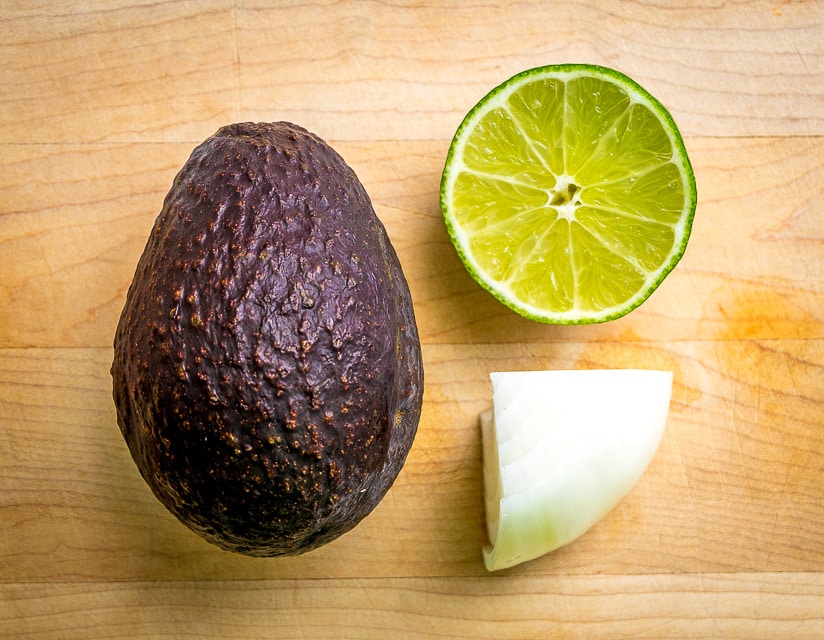 It is literally the world's simplest Guac recipe, but it's so satisfying that if you just keep a few avocados on hand then you can easily build some quick meals around it.
I use it on Easy Chicken Tacos, and on top of these lightning quick Chicken Quesadillas.
Honorable Mentions
Wait, I still have a few more options for you to consider!
Most of these recipes couldn't find a snug fit into the above categories, but they are some of my favorites and I wouldn't feel right creating this Guide without mentioning them!
I will just list them out here and let the photo do the talking, but if you want to know more about them simply give 'em a click and it will take you to a page on this site with the full recipe and instructions.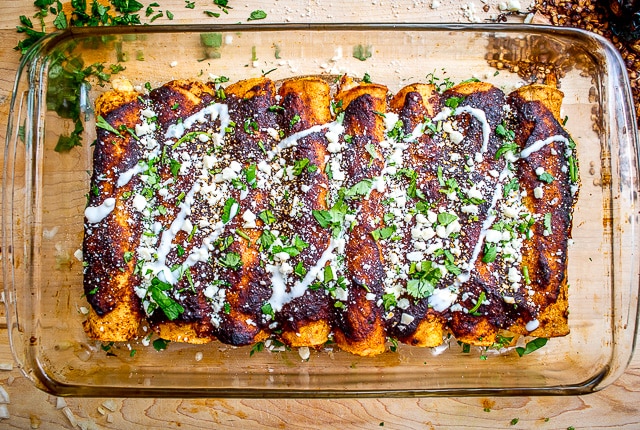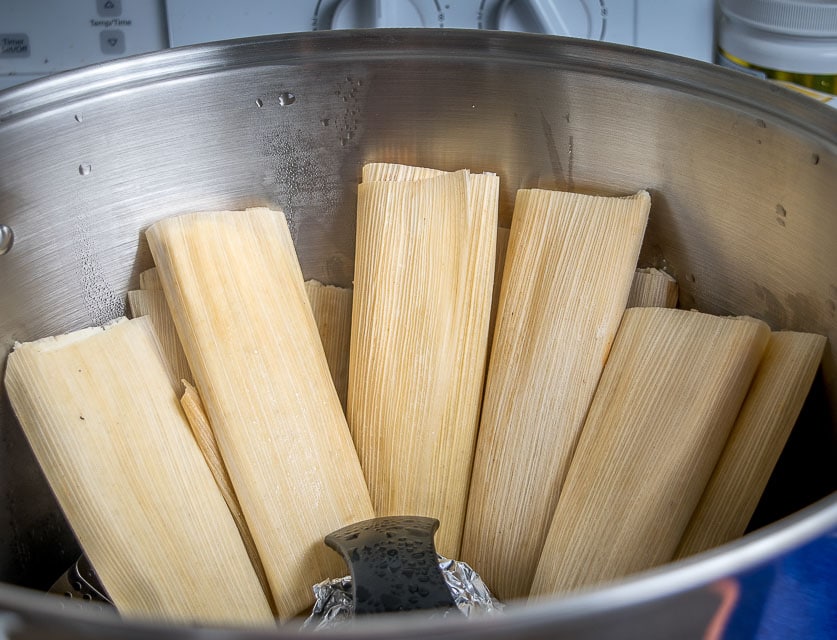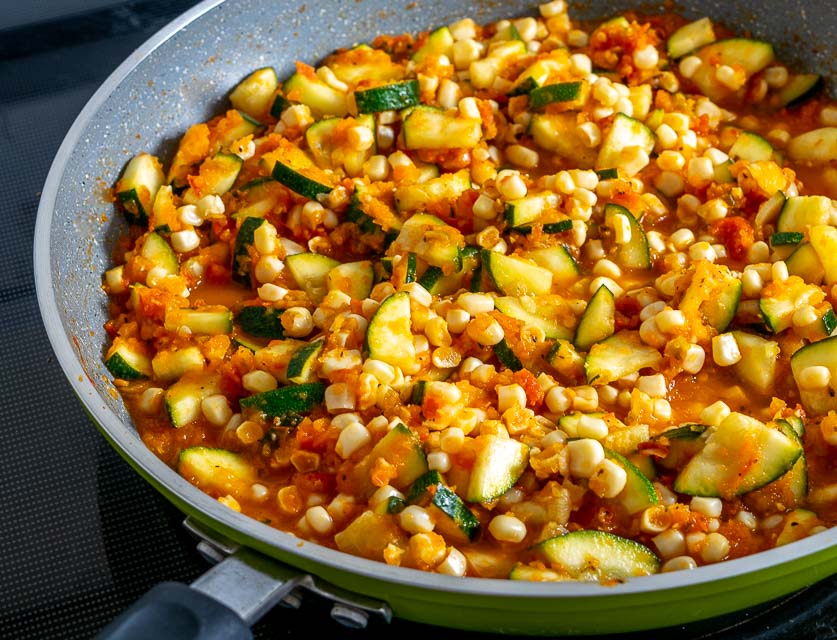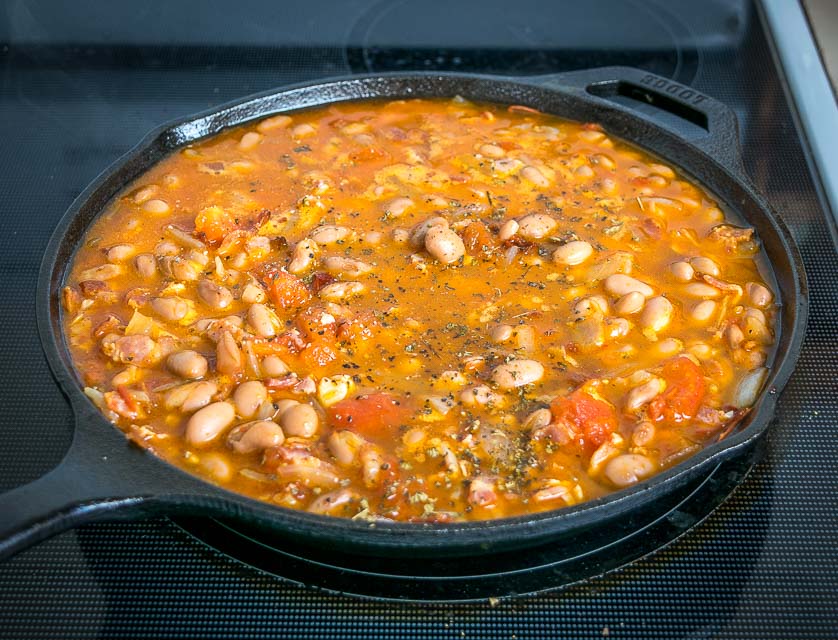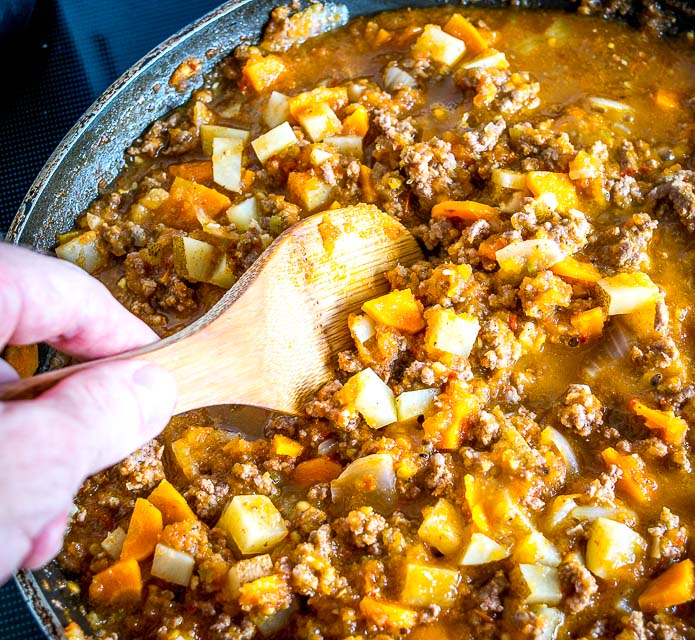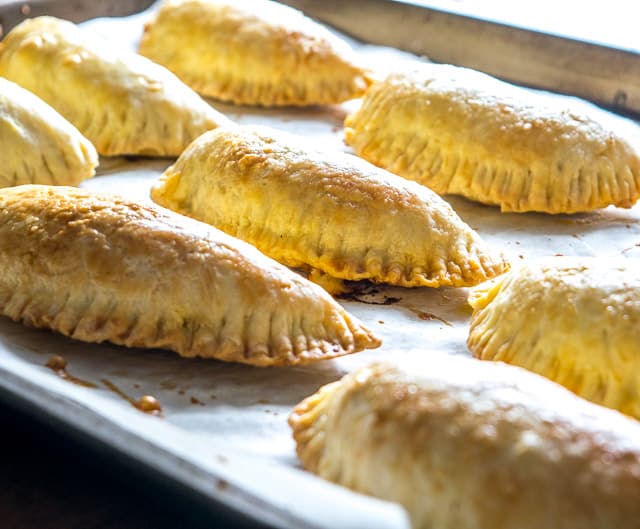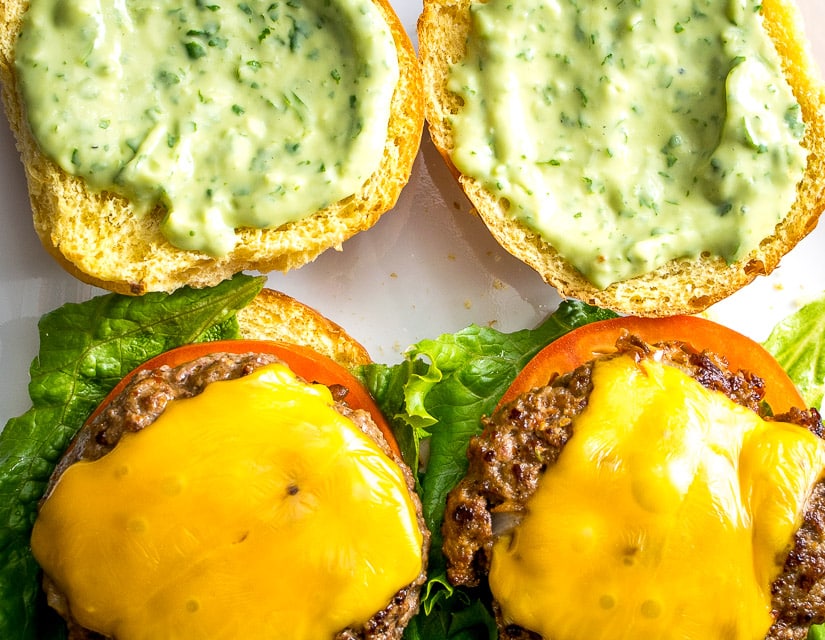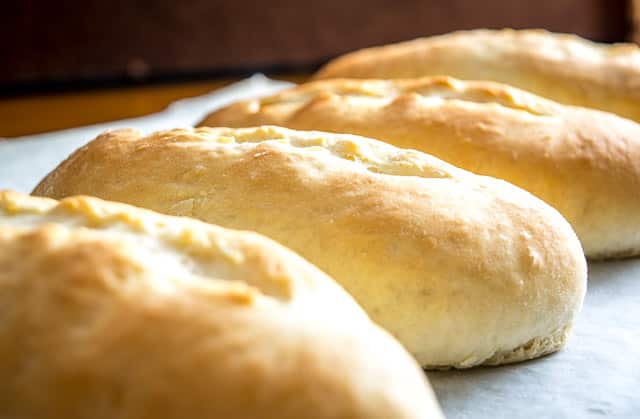 Okay, I hope you have loads of new ideas swirling around upstairs!!
Let me know if you have questions about any of these recipes -- I hope they bring you and your fam some welcome relief over the next couple months.
Buen Provecho.
Still hungry?!
Want to receive Mexican Please recipes via email when they are posted?  Sign up below to subscribe.  All recipes are spam free.