I've had a mondo batch of Chicken Chile Verde in the fridge all week and I've been using it to make some fiery, delicious Tortas.
When you've got leftovers on hand then these sandwiches will come together in a matter of minutes. Perfect!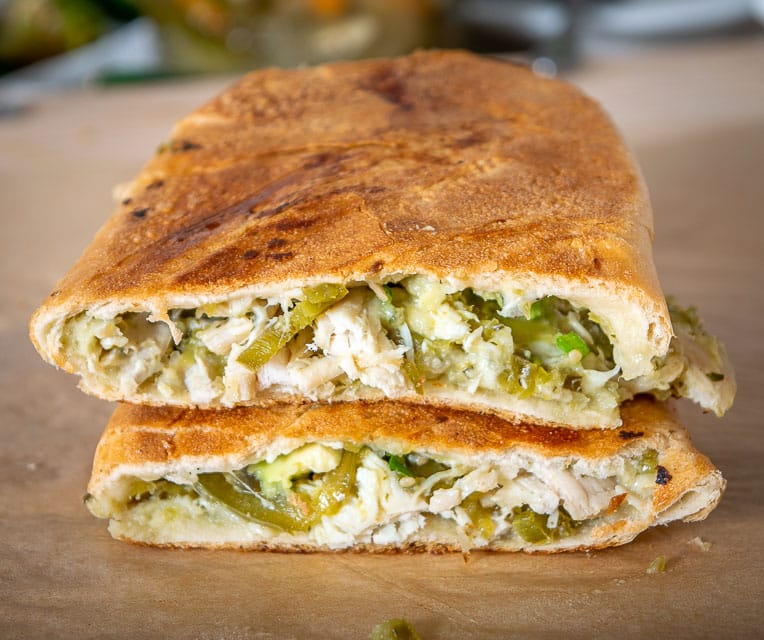 That's the beauty of making a big batch of this green goodness: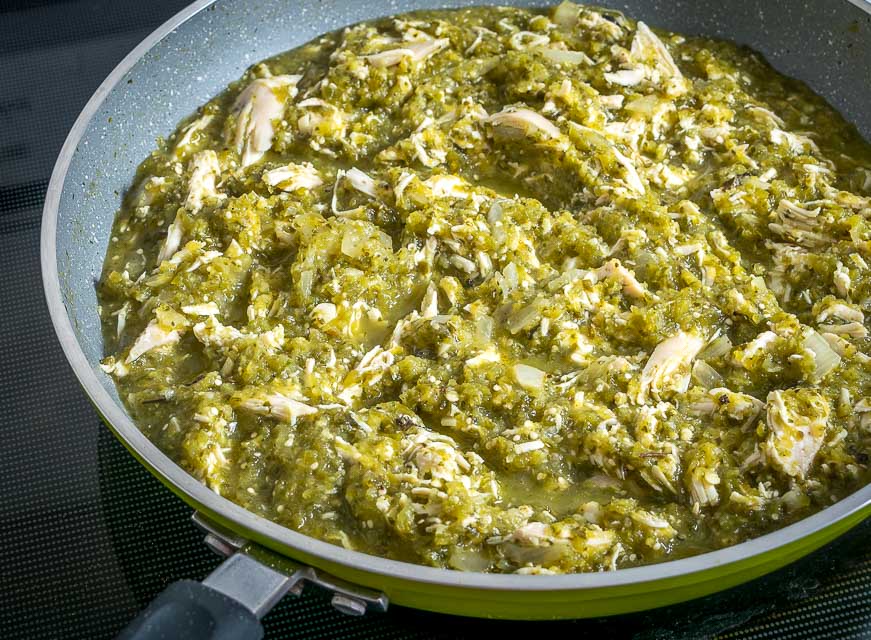 That's a pan full of savory Chile Verde Chicken that you can use for all sorts of quick meals.
I'll put detailed instructions for making this Chile Verde in the recipe box below, but I'll go over all the key steps here as well if you're new to it.
I usually start by brining the chicken: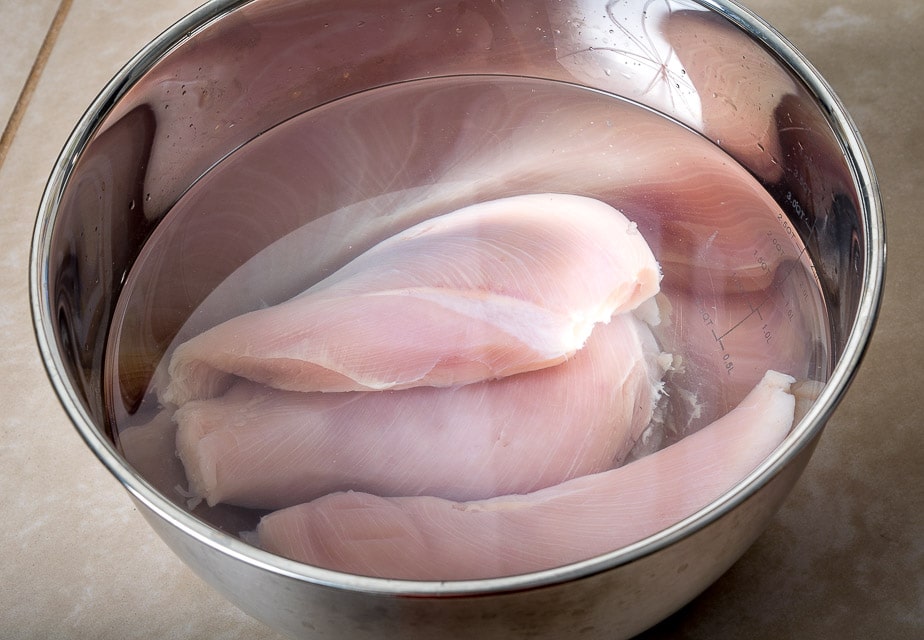 I've been using this brine-and-bake method more often lately and it really does the job when shredded chicken is called for. So that's three chicken breasts resting in salted water -- 2 quarts of water with 1/2 cup of salt dissolved into it. More info on brining.
Even a 30 minute swim in this mixture will give you a serious bump in flavor, so give it a whirl if you're new it. Brining pork will upgrade your Carnitas too.
Once you've patted the chicken breasts dry you can just plop them in a 400F oven for 20 minutes or until the inside temp registers 160F.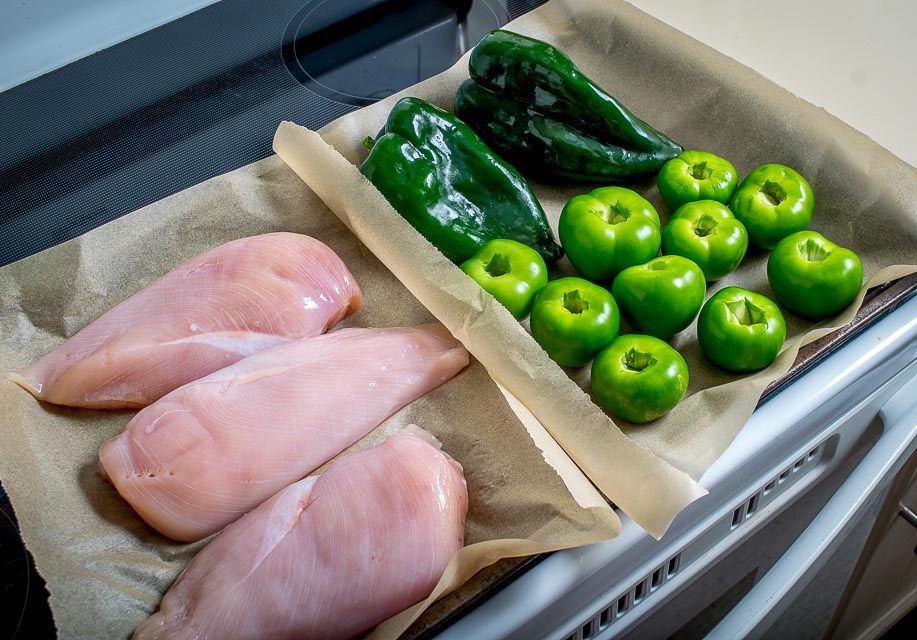 And since the poblanos and tomatillos also need to be roasted we'll put them in at the same time.
Poblanos typically prefer a half hour or so in the oven, so I usually take out the chicken after 20 minutes and then let the poblanos and tomatillos roast for a bit longer. Are poblanos spicy?
Once roasted, we'll combine the poblanos and tomatillos in a blender along with:
1-4 jalapenos
1/2 onion
4 garlic cloves
15-20 sprigs cilantro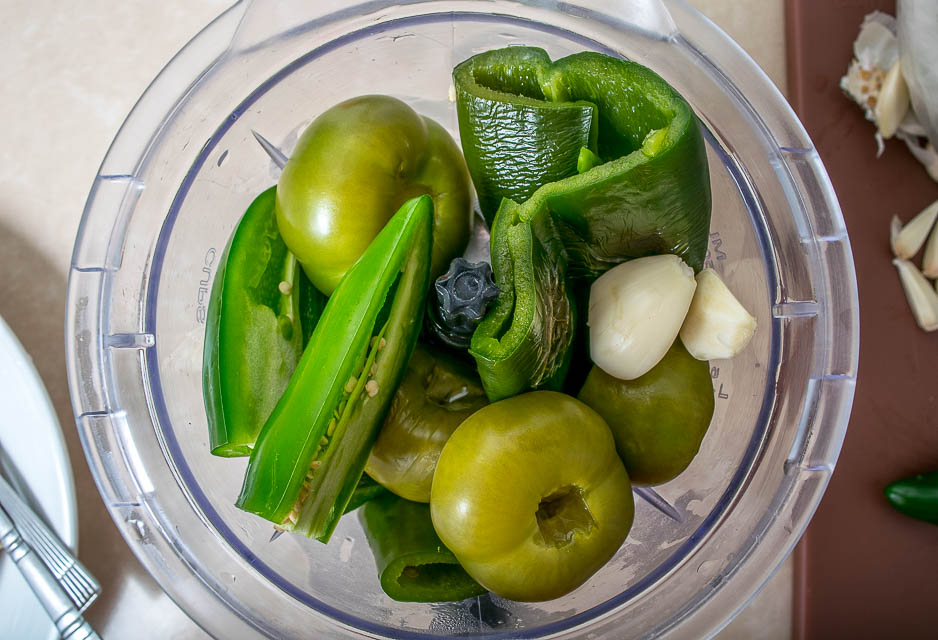 For a milder batch, start with a single jalapeno. After combining, take a taste for heat and keep adding jalapeno until it tastes right to you. I made this batch ultra-fiery using four jalapenos, but I wouldn't recommend that as a starting point!
We'll simmer this awesome green sauce over mediumish heat and add:
1 tablespoon Mexican oregano What is Mexican oregano?
1/2 teaspoon cumin
1/2 teaspoon salt (optional)
freshly cracked black pepper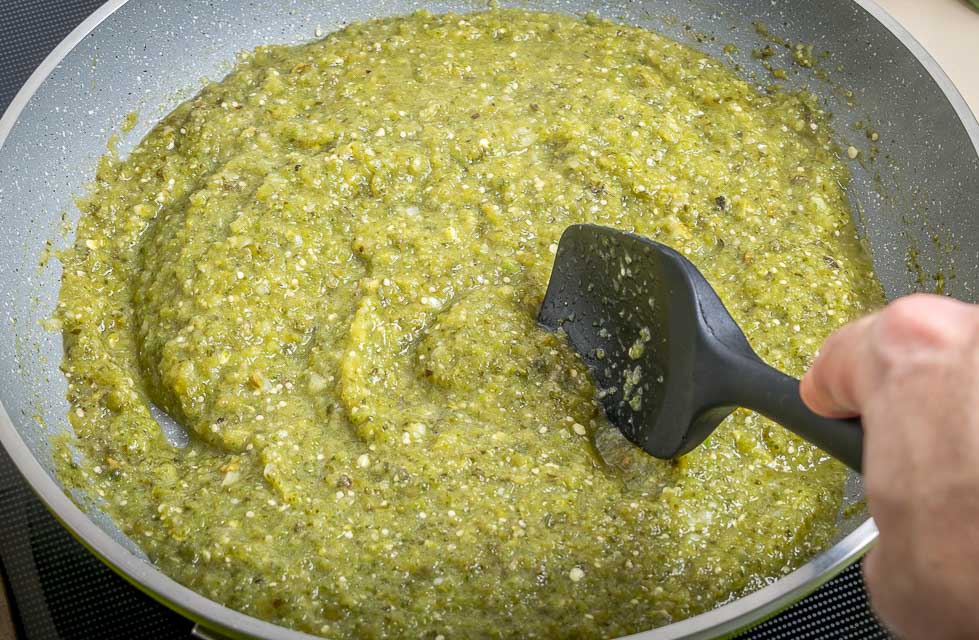 If you brined the chicken breasts then you probably won't need to add any additional salt.
Once you're happy with the flavor of the sauce you can add the shredded chicken -- I find it easiest to shred the chicken using two forks.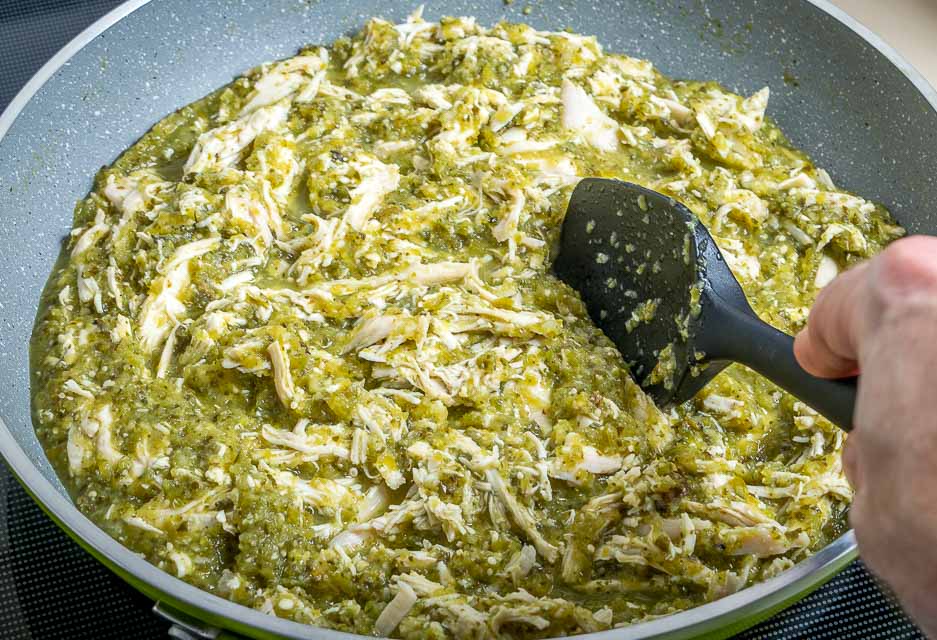 Yum!
For the Tortas, I have two methods that take turns depending on the day. Both methods pull out some inner chunks of bread to keep the filling-to-bread ratio high: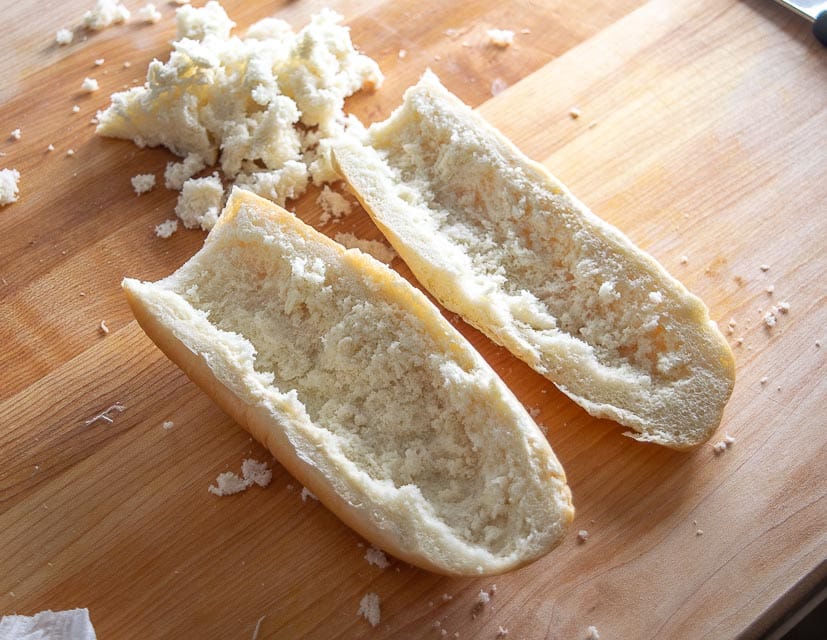 The first method is to add some cheese to these rolls and stick 'em in the oven for a few minutes. Want to make your own bolillo rolls?
Then once the cheese is melted you can add the Chicken Chile Verde to one side and the fixings to the other side: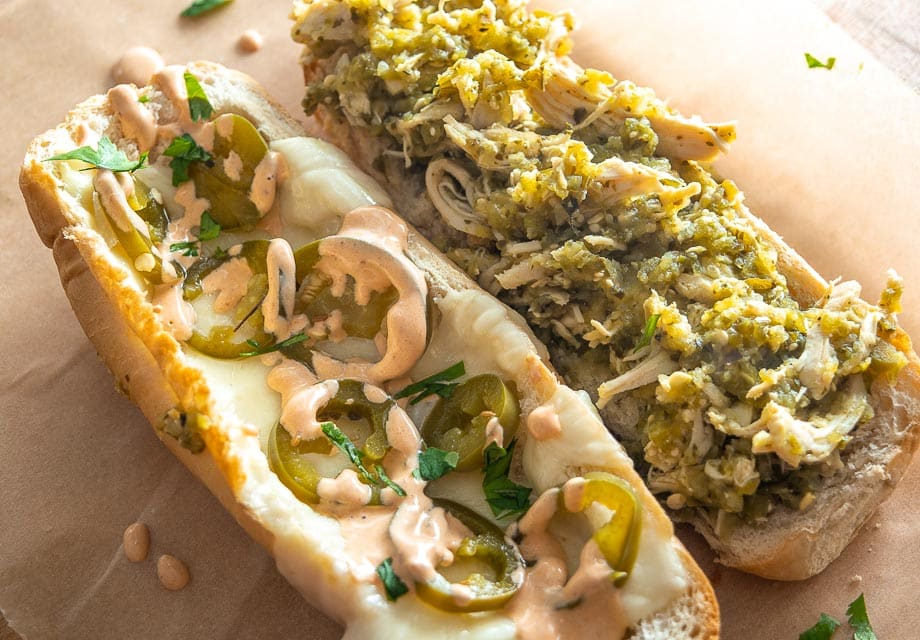 For this batch I used:
Pickled Jalapenos
Chipotle Mayo
Avocado slices
Freshly chopped cilantro
But you can consider all of these fixings optional as your Chile Verde will be providing most of the flavor.
Smash 'em together and chow down. Easy right?
Or your second option is to make them panini style by adding the chicken and cheese to a roll and giving them a few minutes per side in a skillet (mediumish heat).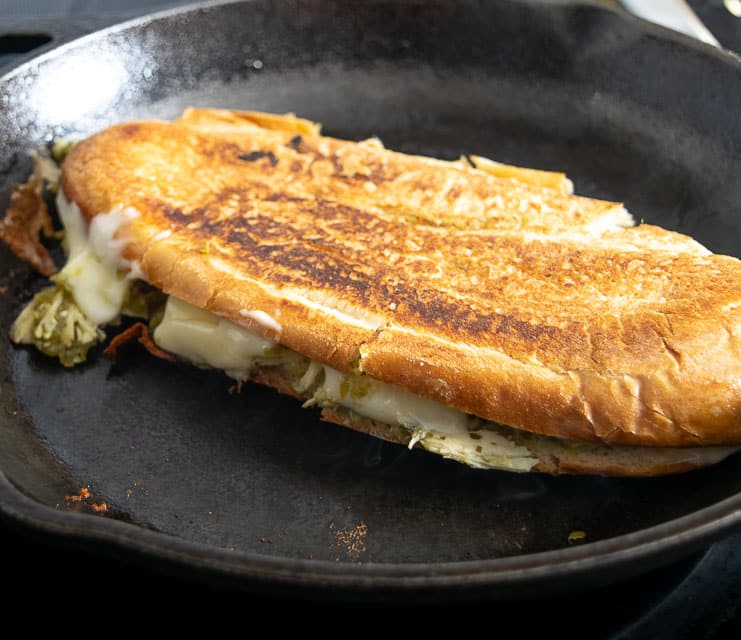 You can also put some butter (or lard!) in the skillet if you want to crisp them up more.
An easy way to flatten them is to put a piece of parchment paper or foil on top and push down with a casserole dish: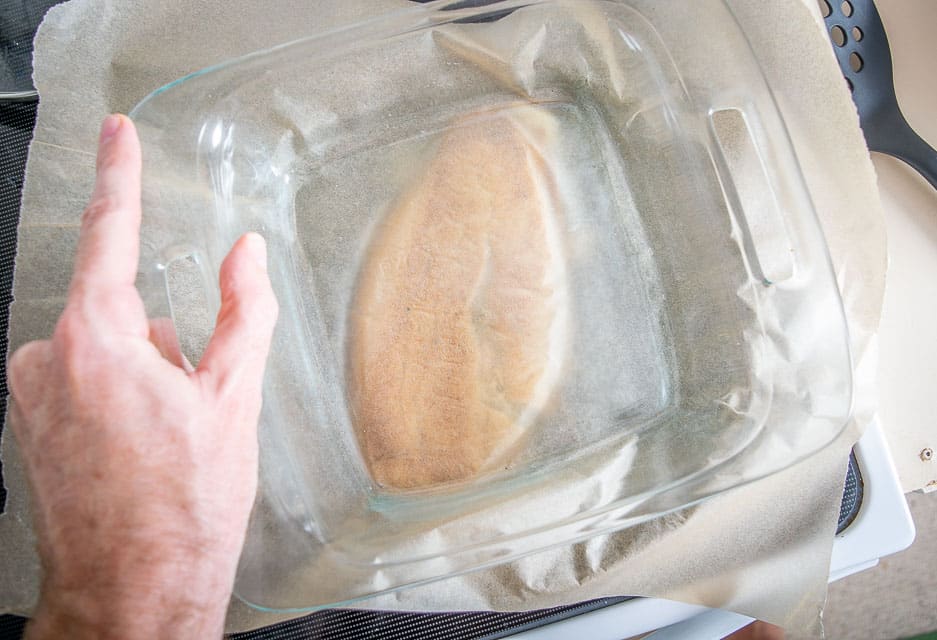 Once cooked, simply open them up and add your fixings of choice.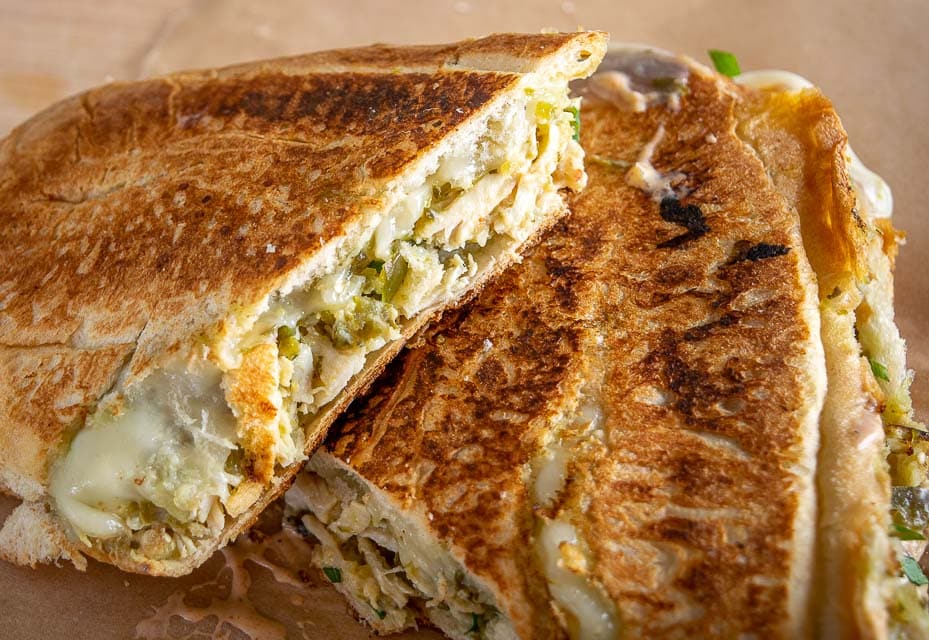 Either method will give you an ultra-satisfying sandwich. My stomach usually demands I take the quicker route, so lately I just plop the rolls in the oven with cheese and go from there.
And by the way, that Chipotle Mayo is super easy to make if you're new to it.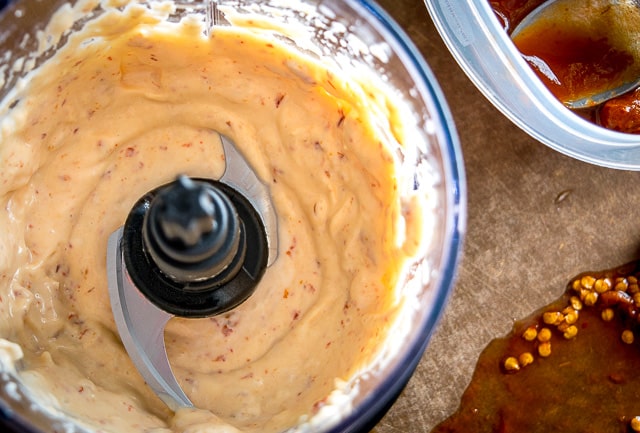 Here's a quick look at the ingredients:
1 cup mayonnaise
2 chipotles in adobo, stemmed and seeded
1 tablespoon adobo sauce
2 whole, peeled garlic cloves
pinch of salt (plus more to taste)
squeeze of lime
And you can always substitute plain Greek yogurt for some of the mayonnaise if you want. Just keep in mind that if you use all yogurt you'll get a bump in flavor if you add a smidgeon of fat. More info on making this Chipotle Mayo.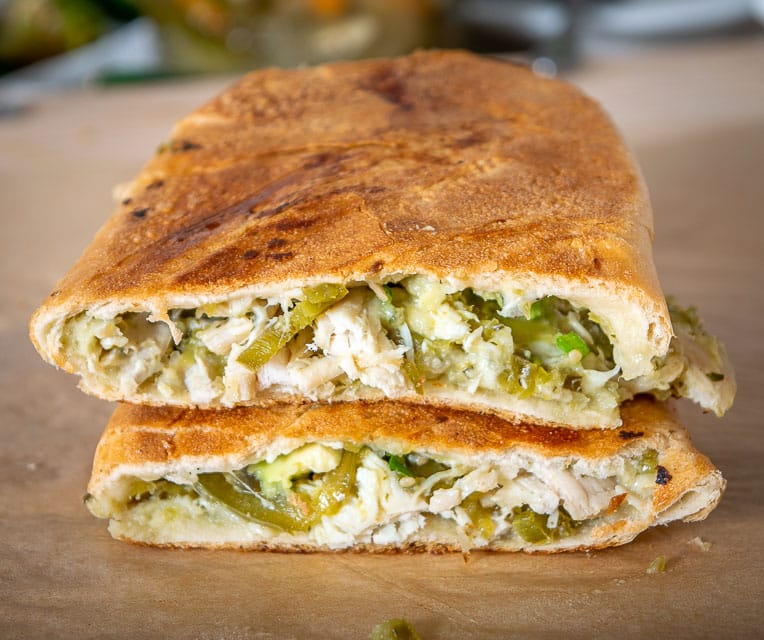 You can store the leftover Chicken Chile Verde in an airtight container in the fridge where it will keep for at least a few days. It'll probably be resting in some chunky liquid and it seems like that usually makes it last a bit longer.
To reheat I usually just plop it in a saucepan along with plenty of the green sauce and give it a few minutes to warm up.
And that means chowtime is always just a few minutes away 🙂
Buen Provecho.
Scroll down for the recipe box, and feel free to use the comments section below if you have questions or want to leave feedback on this recipe. For up-to-date recipes follow us on Instagram, Facebook, or Pinterest.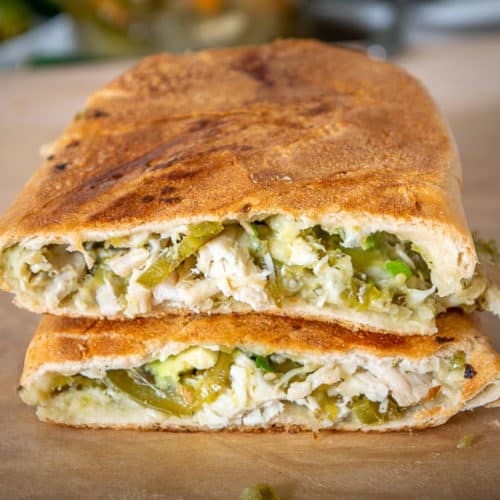 Chicken Chile Verde Tortas
I've been pulling Chicken Chile Verde from the fridge all week and whipping up these fiery, delicious sandwiches -- so good!!
Print
Pin
Rate
Ingredients
For the Chicken Chile Verde:
2

lbs.

chicken (3 boneless chicken breasts)

8-10

tomatillos

1-2

poblanos

1-4

jalapenos

1/2

onion

4

garlic cloves

15-20

sprigs

cilantro

1

tablespoon

Mexican oregano

1/2

teaspoon

cumin (optional)

1/2

teaspoon

salt (optional)

freshly cracked black pepper
Optional serving style:
6

sandwich rolls

pickled jalapenos

cheese

avocado slices

Chipotle Mayo
Instructions
If you have leftover Chicken Chile Verde, you can simply reheat in a saucepan over medium heat and jump ahead to making the sandwiches.

To make the Chicken Chile Verde from scratch, I usually start by brining the chicken. Add 1/2 cup Kosher or sea salt to 2 quarts of water in a mixing bowl. Stir to dissolve the salt and add the chicken breasts, letting them brine in the fridge for 30 minutes or so. If the chicken isn't fully submerged then add a bit more water. Once brined, pat dry the chicken and add it to a baking sheet.

Pull off the husks of the tomatillos and give them a good rinse, de-stemming them. Add the tomatillos to the baking sheet along with the rinsed poblanos (and the chicken) and roast everything in the oven at 400F. Cook the chicken until it registers 160F or until the insides are no longer pink -- this usually takes 20 minutes but sometimes it will take a couple extra minutes if there was an extensive brine. Remove the chicken once cooked and let the poblanos and tomatillos roast for an additional 10 minutes or so. I usually cover the cooked chicken breasts with foil until I need them.

De-stem and de-seed the roasted poblanos. Add the roasted poblanos and tomatillos to a blender along with 1/2 onion, 4 peeled garlic cloves, 15-20 cilantro sprigs, and 1-4 rinsed, de-stemmed jalapenos. If you want a milder batch start with 1 jalapeno, combine, and take a taste for heat level, adding more jalapeno to increase the heat. I used 4 jalapenos for this batch and it had some serious zip.

Simmer the green sauce in a dollop of oil (or lard) over mediumish heat. Add 1 tablespoon Mexican oregano, 1/2 teaspoon cumin (optional), 1/2 teaspoon salt (optional), and some freshly cracked black pepper. Taste for seasoning. If you brined the chicken you probably will not need to add salt at this stage.

Use two forks to shred the chicken breasts and then add the shredded chicken to the green sauce. Bring everything up to a uniform temp and serve immediately.

To make the sandwiches, I usually start by pulling out and discarding some of the extra bread inside the rolls. Put a few slices of cheese on each roll (I used Jack) and give them a few minutes in a 400F oven. Once the cheese is melted you can take the rolls out and add the fixings: the warm Chicken Chile Verde, pickled jalapenos, avocado slices, and Chipotle Mayo. Serve immediately.

Alternatively, you can add Chicken Chile Verde and cheese to a bread roll and smoosh it in a skillet panini style. I put parchment paper on top and press down with a casserole dish to mimic a panini press. Give it 3-4 minutes per side over mediumish heat. You can optionally add some butter or lard to the skillet to crisp them up even further. Once cooked, open it up, add all of your desired fixings, and serve immediately.

Store leftover Chicken Chile Verde in an airtight container in the fridge where it will keep for at least a few days.
Notes
Kosher or sea salt are typically recommended for brining as they don't have any additives.   It's also usually recommended to brine meats in the fridge. 
Here's the Chipotle Mayo recipe if you want to make it -- it's super easy and keeps well in the fridge. 
Like this recipe?
Click the stars above to rate it or leave a comment down below! @mexplease
Our latest post is testing out a batch of Yellow Indian Woman Pot Beans.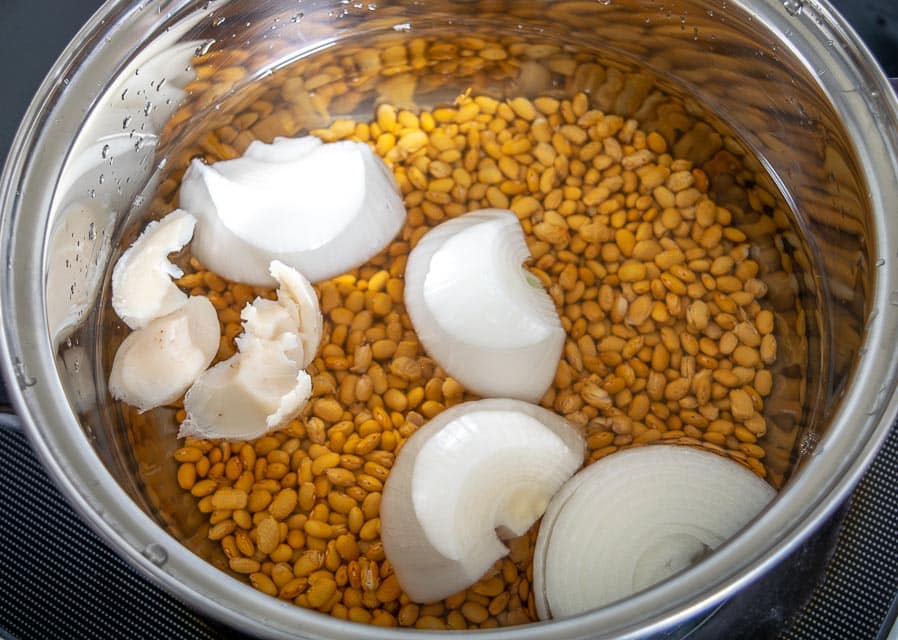 Still hungry?!
Want to receive Mexican Please recipes via email when they are posted?  Sign up below to subscribe.  All recipes are spam free.