I've been getting emails about these Yellow Indian Woman beans and I finally got around to trying them -- and I'm glad I did!
I've never seen them in my local stores so I bought some from Rancho Gordo:
I don't have any affiliation with Rancho Gordo, but I do buy stuff from them a couple times a year. They have a massive selection of heirloom beans and it's worth looking into if beans are in your diet.
If ordering beans online sounds annoying to you, don't let that stop you from making beans at home! You can use this authentic pot beans method with any varieties that you can buy locally. Including:
Black beans
Pinto beans
Peruano beans
And making them at home will give you an instant upgrade compared to canned beans. For realz.
I usually start by rifling through the beans to uncover any enemy stones. This was a single pound of beans and it came out to just over 2 cups' worth.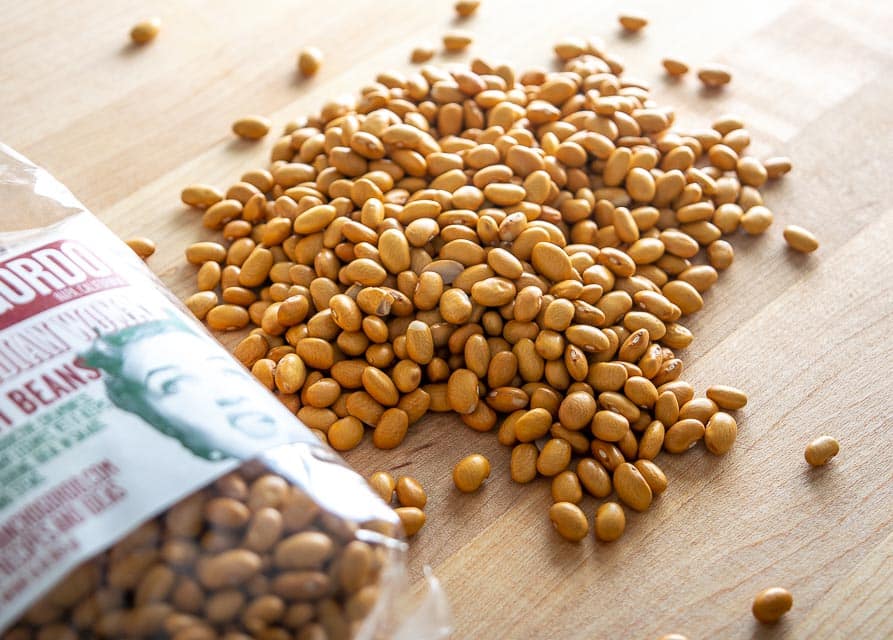 Give 'em a good rinse and discard any floaters or shriveled beans.
Frijoles de Olla (Pot Beans) are typically just given a backburner to simmer away, i.e. no soaking required and that's what we'll do with this batch.
Cover the beans with a couple inches of cold water. 2-3 quarts usually does the job -- for this batch I used about 10 cups.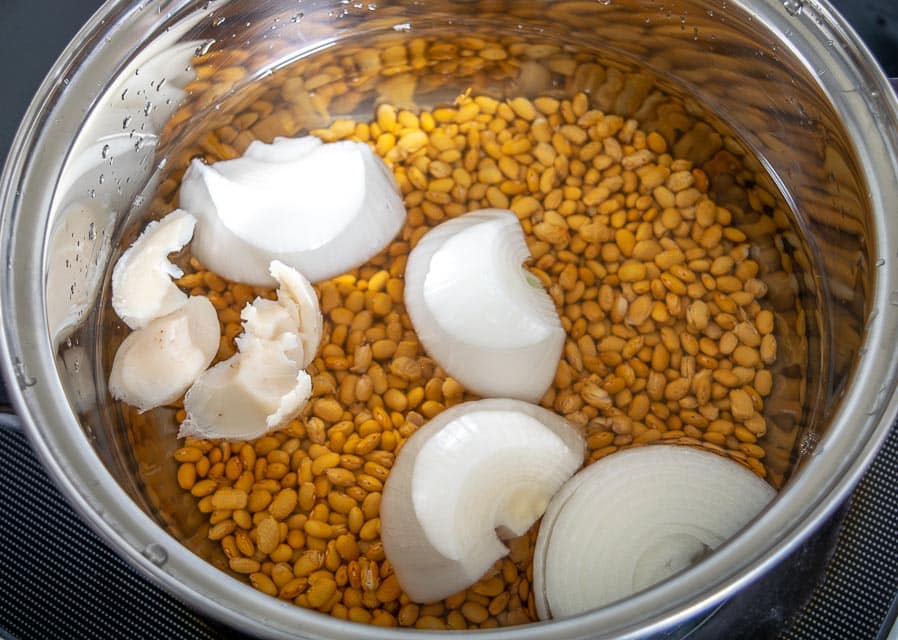 Add a roughly chopped small onion (or 1/2 of a larger onion) and 2-3 tablespoons of lard.
Yes, lard! That's the key to giving them some rich, authentic flava.
And if, like me, you're out of home-rendered lard but have been saving your bacon fat for the past week, then just use that! Even though it's technically from a different part of the animal it's close enough for these purposes.
By the way, I usually stay away from the lard on the baking shelf as it is typically hydrogenated to make it shelf safe. More info on rendering your own lard.
Bring to a boil and then reduce heat to a simmer, partially covering.
The exact cook time will depend on the mood of the beans, but I usually start taking bites after 90 minutes or so. Here's what this batch looked like after simmering for an hour and a half: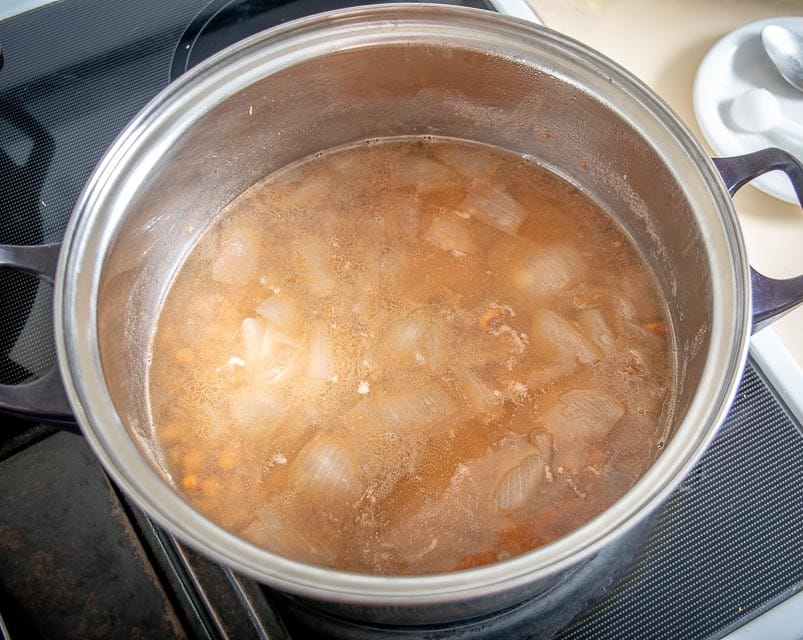 Still plenty of the delicious broth, but the beans were still a little hard so I gave them another half hour or so.
Once they are close you can add some salt -- adding salt towards the end will allow them to absorb water more readily during the simmer.
Over the course of a few tastings, I added about 2 teaspoons of salt total and gave them another 15 minutes to simmer -- this final simmer with the salt can make a huge difference in flavor so don't skip it!
And the result?
I thought they were awesome and felt like they could be a long lost sibling of Peruano beans. They have a creamy, almost buttery consistency and that's a trademark of the lauded Peruanos.
I think they'll make a great alternative to Black and Pinto, and I'll be reaching for them over the next few days for some quick meals.
Beans will only last a few days in the fridge, but they freeze quite well, so when making a bigger batch like this I usually send a good portion up North. Two cups of dried beans will typically give you 6 cups of cooked beans.
If you're feeling motivated you can partition them into 1 cup sized baggies for storage -- or if you're feeling lazy you can just plop half of them in a larger Ziploc for the freezer: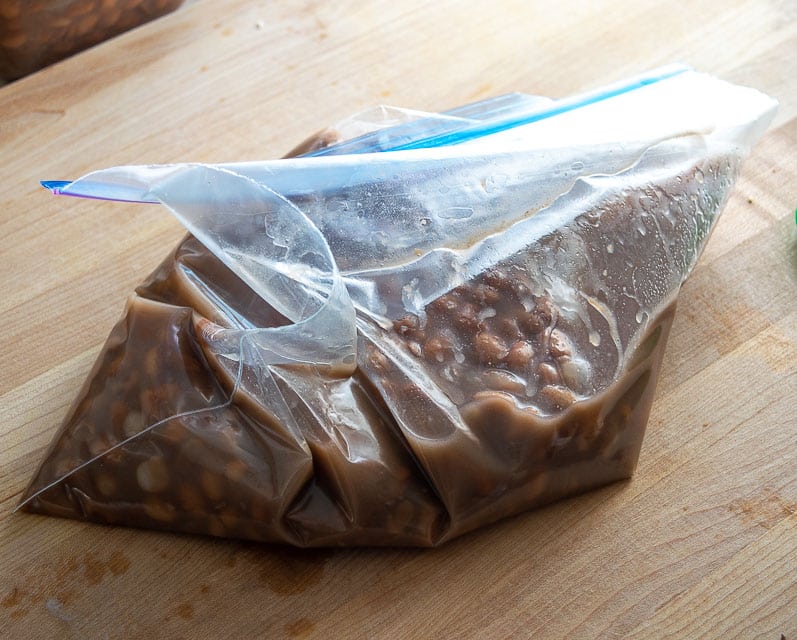 And keep the other half in the fridge 🙂
Be sure to store them in the delicious broth as it makes it easy to whip up some awesome refried beans. Simply plop a few spoonfuls of beans and broth in a skillet over medium heat -- once warm you can easily mash them with a spatula. When properly salted these bare bones refried beans can be uber-satisfying, and when you add in onion or other flavorings they get even better.
Okay, keep in mind that you can make traditional pot beans with any beans that you can find locally -- it's a great technique to have in your arsenal and your taste buds will appreciate getting familiar with some home-cooked beans.
Buen Provecho.
Scroll down for the recipe box, and feel free to use the comments section below if you have questions or want to leave feedback on this recipe. For up-to-date recipes follow us on Instagram, Facebook, or Pinterest.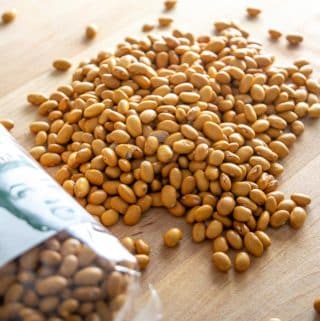 Yellow Indian Woman Pot Beans
I finally got around to making some pot beans from these Yellow Indian Woman beans -- and I'm glad I did!
Print
Pin
Rate
Ingredients
2

cups

dried beans

1

small onion

2-3

tablespoons

lard

1

teaspoon

salt (plus more to taste)

2-3

quarts

cold water
Instructions
Sort through the beans and discard any rocks. Rinse the beans and discard any floaters. Drain well.

Add beans to a pot and cover with 2-3 quarts of water, or so the water level is about 2" above the beans. Add the roughly chopped onion and 2-3 tablespoons of lard.

Bring to a boil, then reduce heat to a simmer and partially cover. Let simmer for 1.5-2 hours. Ensure that the water level is well above the beans by adding more water if you need to.

Start tasting them after 1.5 hours. If they are hard or grainy they need a little more time.

Once they are close add 1 teaspoon of salt and simmer for another 10-15 minutes. Salt to taste and add more if necessary -- I used a heaping 2 teaspoons total for this batch.

Serve immediately. Store in an airtight container in the fridge where they will keep for a few days. Or you can store in the freezer where they will keep for months at a time.
Notes
Be sure to store your cooked beans in some of the broth as it is delicious and makes it easy to whip up some refried beans. 
Beans are hyper-sensitive to salt amount so be sure to do lots of taste testing towards the end of the simmer -- I used a heaping 2 teaspoons of salt for this batch.
Like this recipe?
Click the stars above to rate it or leave a comment down below! @mexplease
You could use these beans to make a simple, delicious Bean Soup: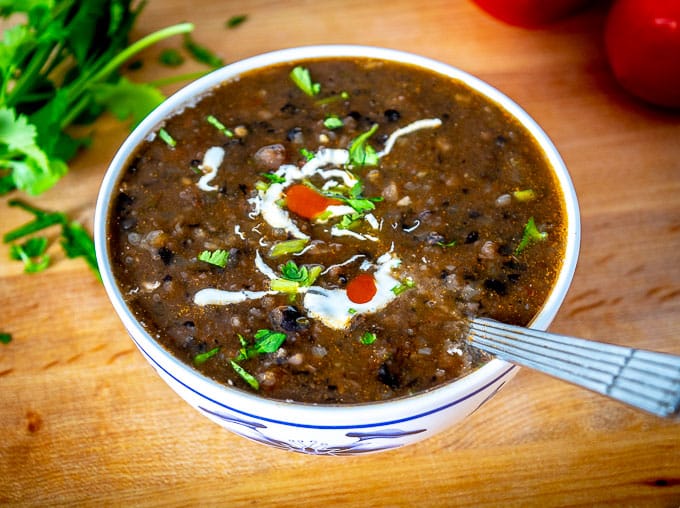 Our latest post is Short Ribs Carne Asada: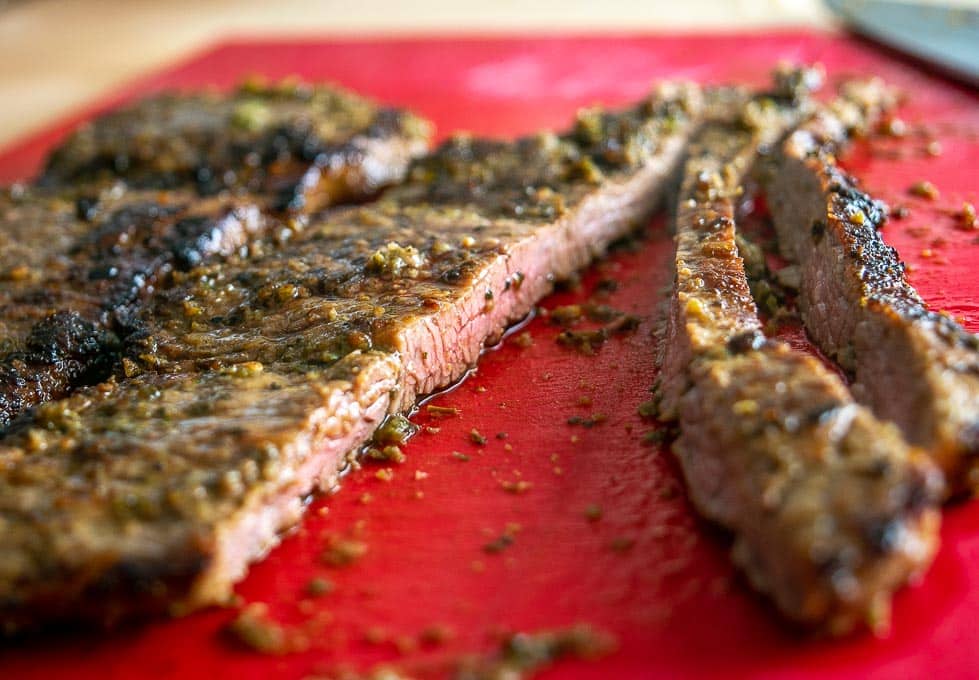 Still hungry?!
Want to receive Mexican Please recipes via email when they are posted?  Sign up below to subscribe.  All recipes are spam free.