For the past couple months I've been flipping through Meat by Pat LaFrieda in hopes of learning some new skills in the Meat realm.
There's loads of good info in this book, and it's been uber helpful to see details of any and every meat cut you can possibly imagine:
He's got a recipe in there for Korean-style sandwiches using short ribs. That's a cut of meat that I never use -- most likely because short ribs typically prefer an hours-long braise and that is rarely an option when the hangry is coming on.
This popular Korean barbecue method slices the short rib meat thin so you can grill it up in a matter of minutes. Sound appealing?
And guess what I walked past in the meat section last week: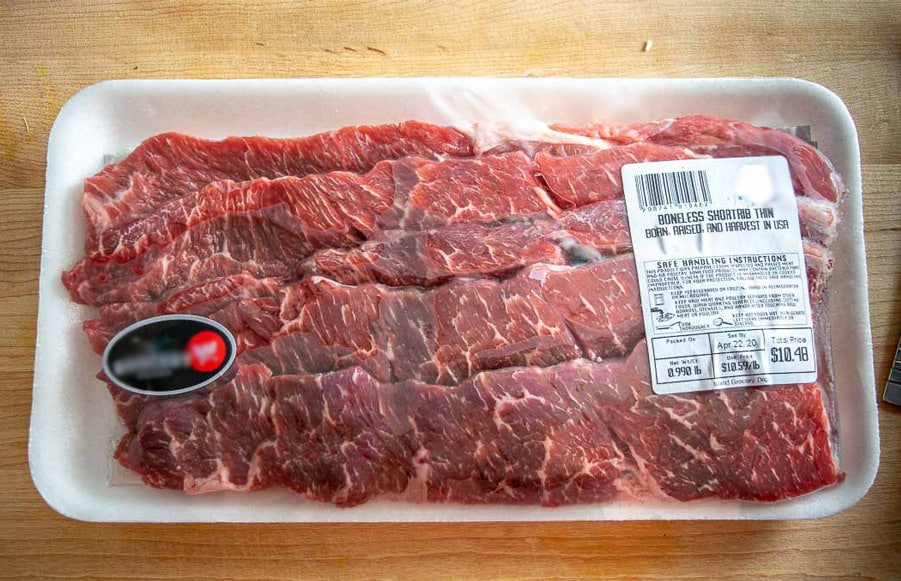 Boneless short ribs that were already sliced thin!
I think this cut is taken from directly above the ribs near the chuck, and it's got similar properties as skirt steak, i.e. plenty of marbling and big flavor.
Which instantly makes you think of making Carne Asada right? Me too!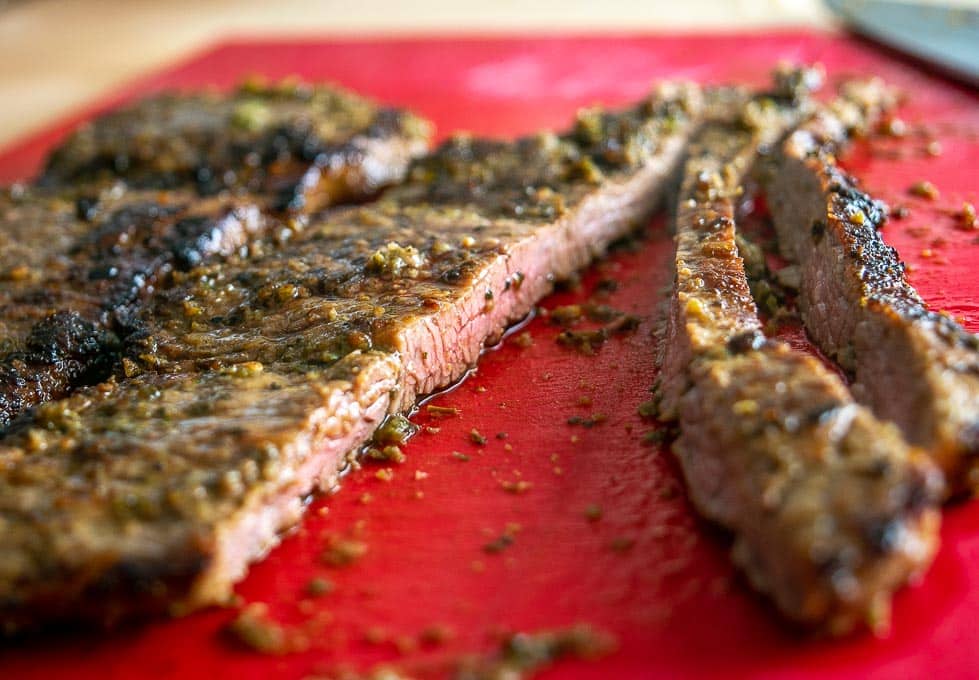 I've been relying on skirt steak for my Carne Asada lately, and I'm thrilled to add another quick-and-easy method for making Carne Asada when skirt isn't available.
These short ribs were between 1/4" and 1/2" thick -- if yours is sold as a full cut then simply slice into thinner strips.
If you don't see boneless short ribs in your area then it might be worth asking about chuck flaptail as I think there's a chance these two are equivalent in some areas.
A quick marinade will give the meat all the help it needs. Here is my current Carne Asada marinade:
juice of 1 lime
juice of 1 orange
4 garlic cloves
2 jalapenos
8-10 sprigs cilantro (optional)
2 tablespoons Mexican oregano
1 teaspoon cumin
1 tablespoon soy sauce
freshly cracked black pepper
1/4 cup oil
In the past I would chop up all that by hand, but lately I just plop everything in the blender.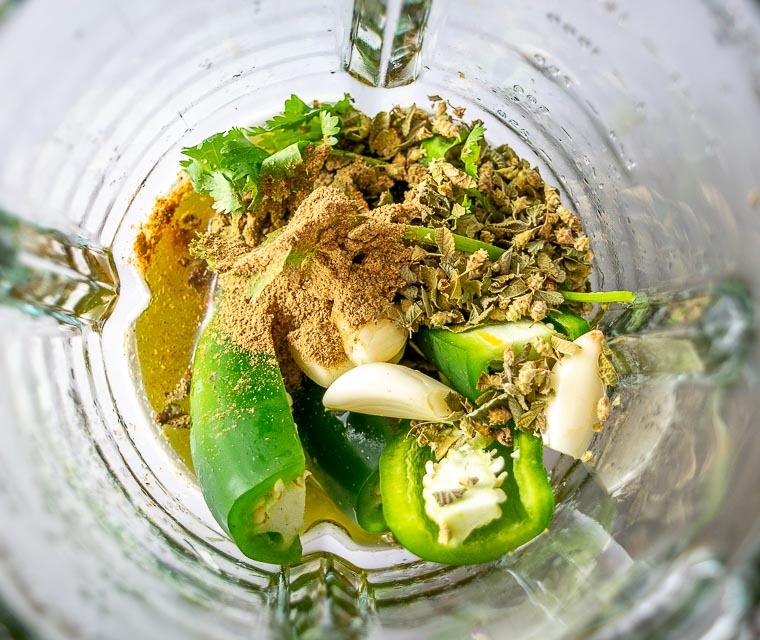 This is a potent marinade designed to give the meat enough flava after an hour or so.
I rarely marinate overnight as that is too organized 🙂
After an hour you can fire up the grill or the trusty cast iron pan. I used cast iron at just over medium heat.
Add some oil and once it's smoking hot you can pat dry the meat and add it to the pan.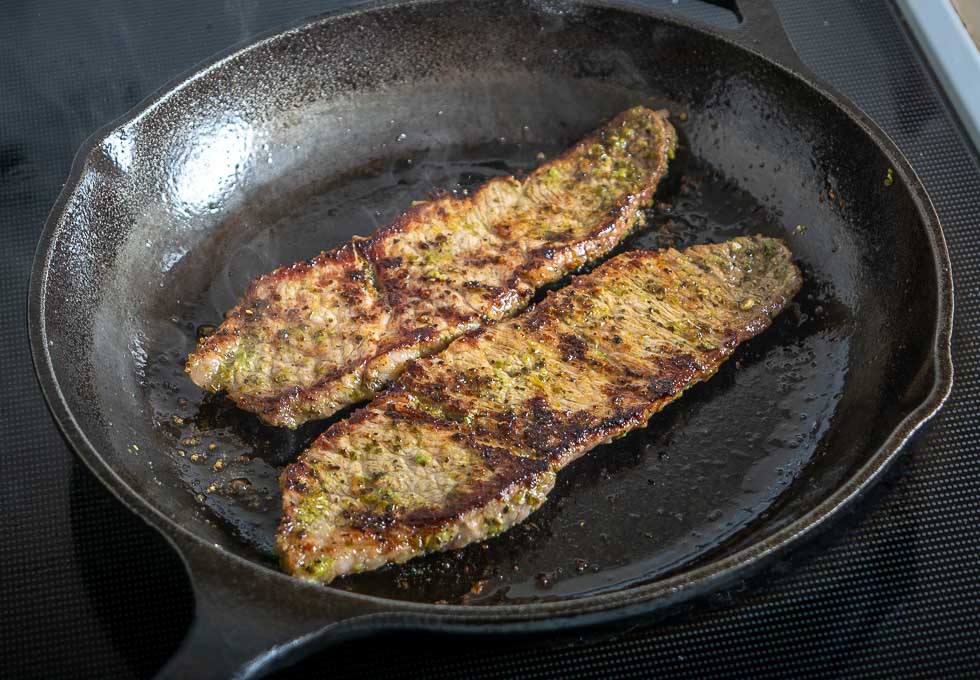 Similar to skirt steak, these boneless short ribs will cook faster than you think -- 2-3 minutes per side is a good starting point to keep in mind, but of course it depends a little on how thick they are.
This batch was about 3 minutes per side because I like to get the edges crispy!
This will take the interior temp to medium well and beyond, but I'm okay with that.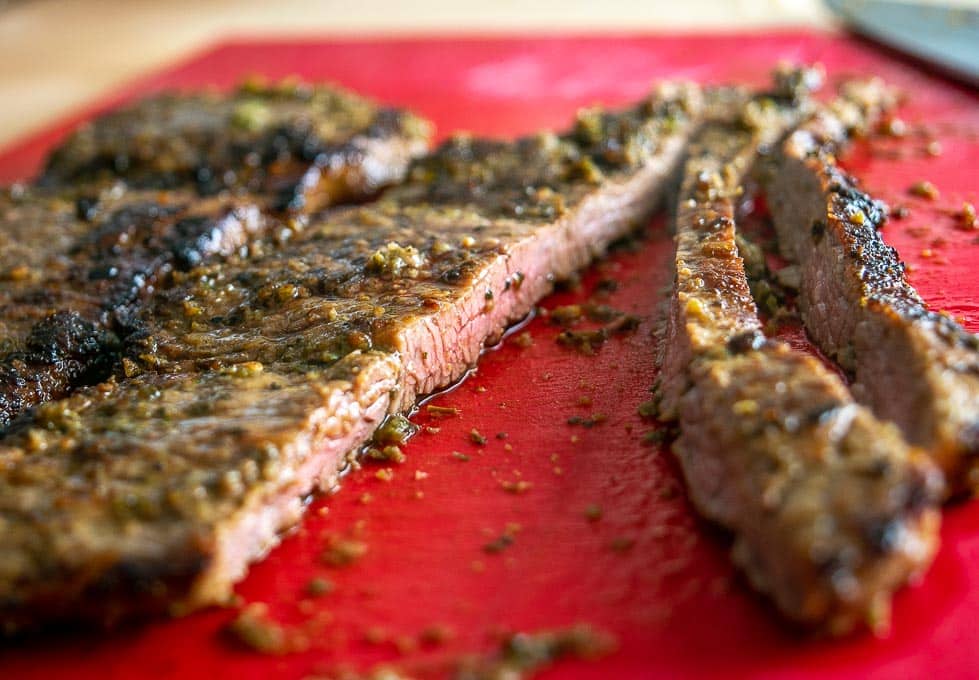 Yum! Big, meaty flavor with some heat and seasoning from the marinade.
Note: skirt steak, and potentially these short ribs too, will be at their most tender when served medium rare (130-135F). But I almost always cut my Carne Asada into bite-sized pieces, and when that's the case you don't lose too much by cooking them longer.
You've got lots of options for serving up this meaty masterpiece. I think it pairs well with a freshly chopped Pico de Gallo as seen in these Carne Asada tacos: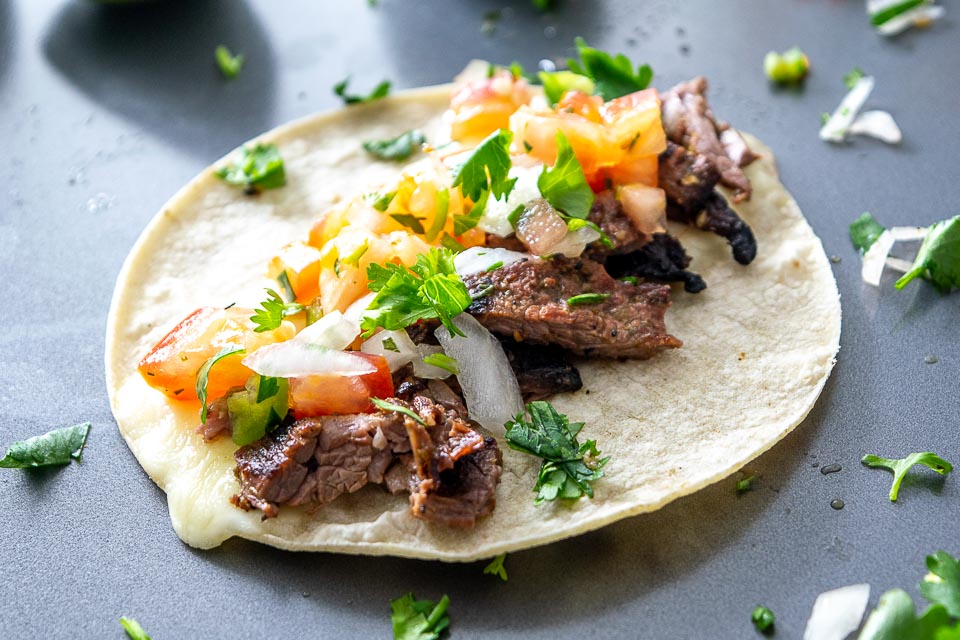 Or served up with a creamy, cool Salsa de Aguacate and some Pickled Onions: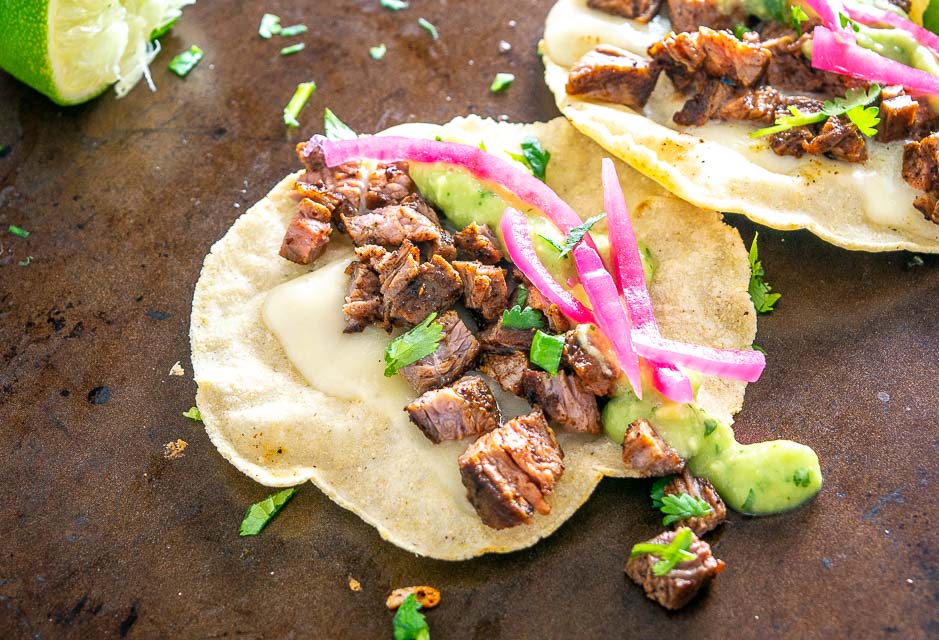 Or in your burrito of choice.
My latest burrito combo is Carne Asada, Cilantro Lime Rice, and Tomatillo Chipotle Salsa: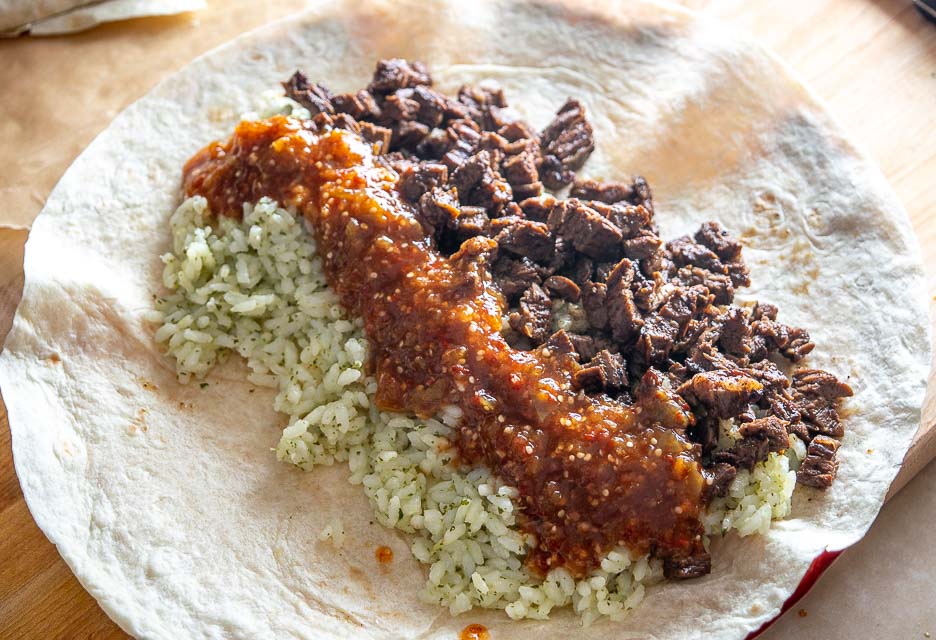 But for this batch I went with quesadillas, which is another way of saying "I used what my fridge had" 🙂
For the first one I used Jack cheese and Pickled Jalapenos:
Which makes me think I was unconsciously recreating a favorite steak-n-cheese sub from the past.
And for the second one I used Pico de Gallo and cheese: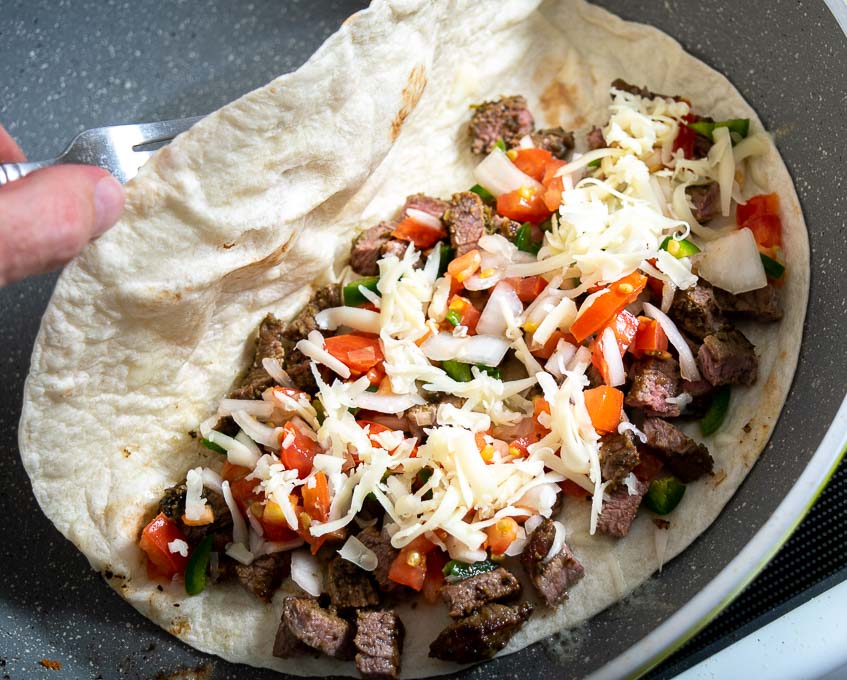 And it was yummers 🙂
I definitely preferred the one with the Pico -- there's something about Pico that seems to pair so effortlessly with Carne Asada, and you really don't need much beyond that.
Don't forget that there's a quick-and-easy way to make quesadillas...
Heat up a large, dry skillet over medium heat. Warm up a flour tortilla in it, and then add fillings to only half of the tortilla. Fold onto itself and cook each side until crispy and golden brown.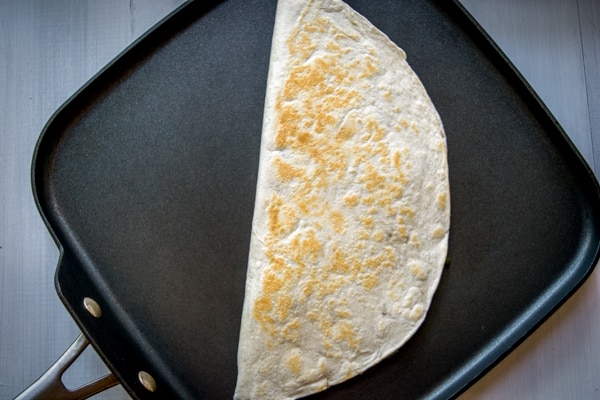 I find this method much easier than using two tortillas for a single quesadilla.
And last I want to mention that you can accelerate this meal even further by skipping the marinade and relying on pure chile powders for the heat and seasoning.
I do that in this Express Carne Asada and I think you can get away with it when using big, flavorful cuts of meat, i.e. the meat does most of the work and our job is to just give it some heat and proper seasoning.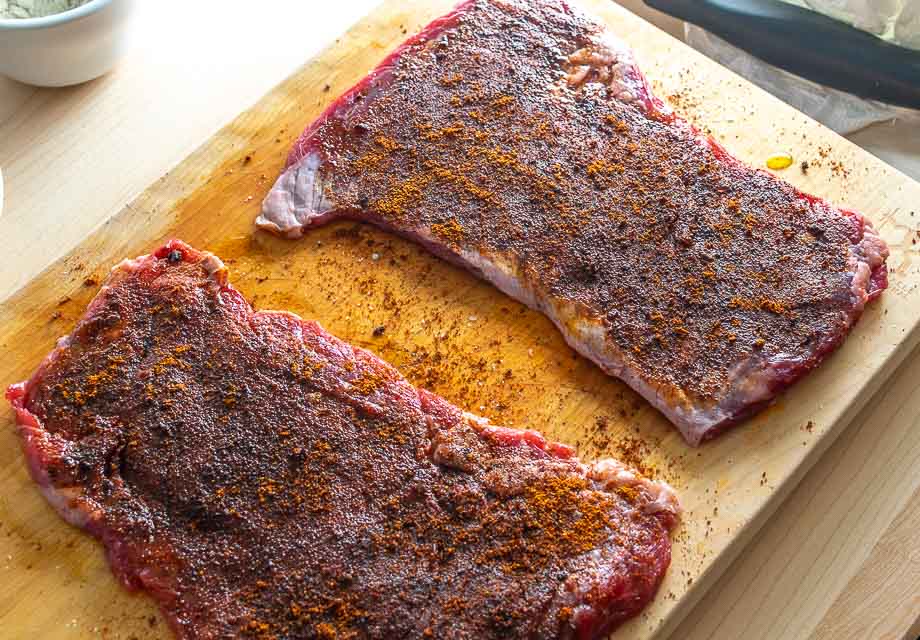 Okay, let me know if you have any questions about these boneless short ribs!
I think it's a great cut to add to the arsenal and it's definitely worth keeping an eye out for it at your local markets.
Buen Provecho.
Scroll down for the recipe box, and feel free to use the comments section below if you have questions or want to leave feedback on this recipe. For up-to-date recipes follow us on Instagram, Facebook, or Pinterest.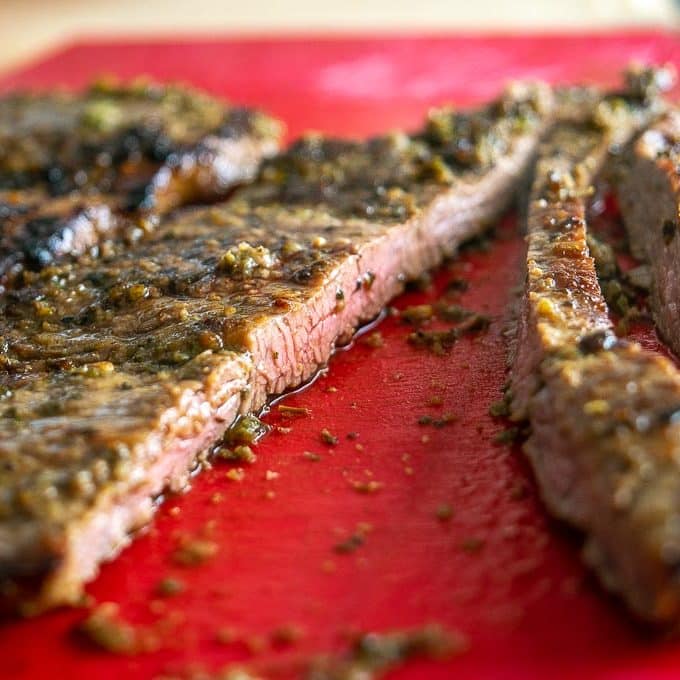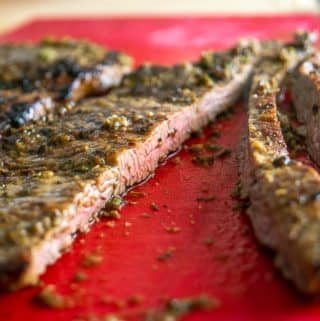 Short Ribs Carne Asada
I used boneless short ribs to make an awesome batch of Carne Asada -- then served it up in a quesadilla with Pico de Gallo and cheese -- yum!!
Print
Pin
Rate
Ingredients
1

lb.

boneless short ribs

4

flour tortillas, burrito-sized

cheese (I used Jack)

olive oil

salt
For the marinade:
juice of

1 lime

juice of

1 orange

4

peeled garlic cloves

8-10

sprigs

cilantro (optional)

2

de-stemmed

jalapenos

2

tablespoons

Mexican oregano

1

teaspoon

cumin

1

tablespoon

soy sauce

1/4

cup

olive oil

freshly cracked black pepper
For the Pico de Gallo (optional):
4

plum tomatoes

1

small onion

2

jalapenos

20-25

sprigs

cilantro

juice of

2 limes

1/2

teaspoon

salt (plus more to taste)
Instructions
Give the boneless short ribs a sprinkling of salt on both sides.

For the marinade, add the listed ingredients to a blender and combine well.

Create a single layer of the meat in a casserole dish. Cover with the marinade and be sure to get some underneath as well. Cover with plastic and marinate in the fridge for an hour or so.

For the Pico de Gallo (optional), start by giving the tomatoes, jalapeno, and cilantro a good rinse. Peel the onion and de-stem the tomatoes and jalapenos. I usually twist off and discard the bottom, thicker portions of the cilantro stems, but keep the upper portion of the stems that hold the leaves together.

Finely chop the tomatoes, onion, and jalapeno into 1/4" sized chunks. Finely dice the cilantro. For a milder version you can start by using only 1 of the jalapenos and adding more incrementally if you want more heat. Combine everything in a mixing bowl along with 1/2 teaspoon of salt and the juice of two limes. Mix together well and taste for seasoning. Add additional salt and lime if necessary (I added more salt to this batch).

Preheat a grill or cast iron pan. I used cast iron at just over medium heat and added a glug of oil to it. Once the pan is piping hot, pat dry the meat and cook each piece for 2-3 minutes per side or to your desired temp. Medium rare will be 130-135F but I cooked this batch towards well done to crisp up the edges.

Let the cooked meat rest for a few minutes before slicing. I usually cover it in some foil. Cut against the grain into thin strips. I cut these strips even further into bite-sized pieces.

To make a quesadilla, warm up a tortilla in a large, dry skillet over medium heat. Add the chopped Carne Asada, some Pico de Gallo (but not too much liquid), and plenty of cheese to only half of the tortilla. Fold onto itself and cook each side until crispy and golden brown. Cut in half and serve immediately.
Notes
I usually pat dry the cuts of meat after marinating.  Less moisture on the surface will help them char up quicker.
There is some leeway on the marinade, so if you don't have all the ingredients just go for it!  Alternatively, you can use this Express Carne Asada that relies on pure chile powders. 
Like this recipe?
Click the stars above to rate it or leave a comment down below! @mexplease
I recently used boneless short ribs to make some delicious Tacos de Alambre.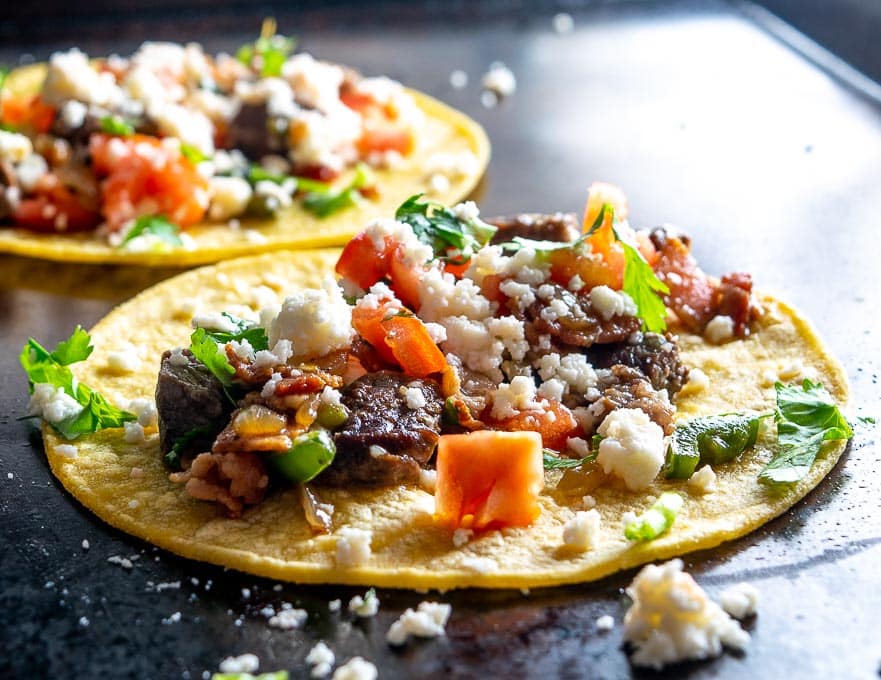 Our latest post is a batch of awesome Cinco de Mayo recipes to choose from:
And here's how to make a batch of Birria de Res (Beef Birria):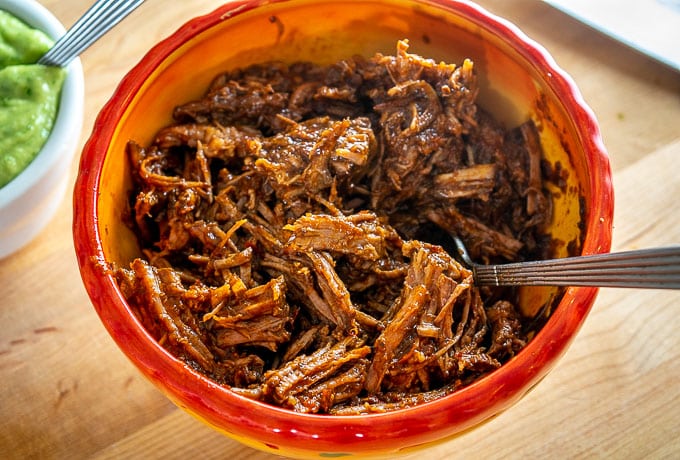 Still hungry?!
Want to receive Mexican Please recipes via email when they are posted?  Sign up below to subscribe.  All recipes are spam free.