I've been using Express Carne Asada to make some awesome burritos lately, but I should mention that these burritos will usually take a cue from what's in the fridge.
In other words....I'm hungry so what shortcuts can I take?!
I'll list out the ingredients as if everything is being made from scratch, but keep in mind that shortcuts are encouraged based on what's available (leftover Cilantro Lime Rice!), and how much time you have to cook.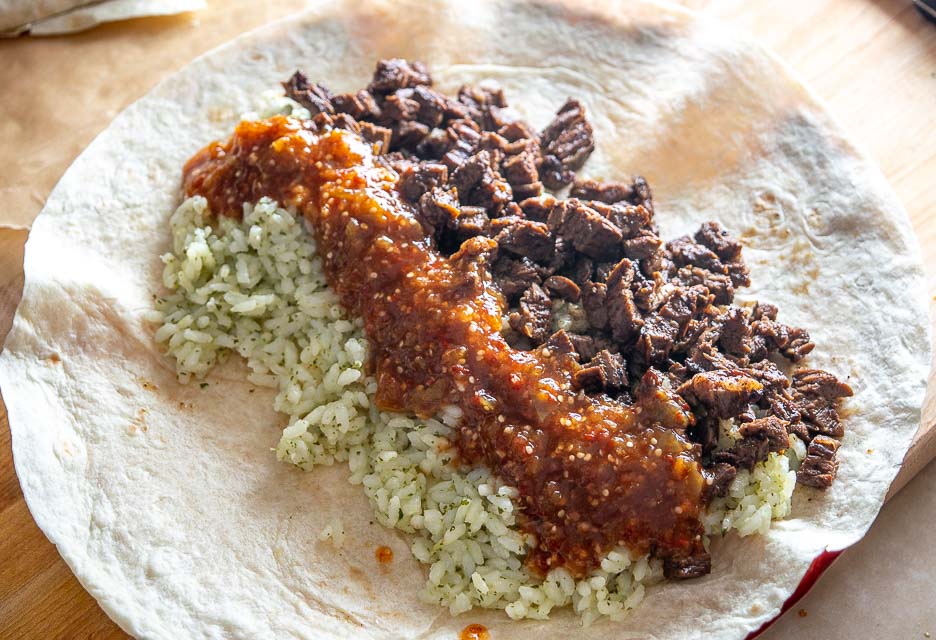 How To Make Carne Asada Burritos
And while the fiery steak is definitely the centerpiece of these burritos, the Tomatillo-Chipotle Salsa is a close second as it is one of the most satisfying Salsas you'll ever come across.
All you need is tomatillos, chipotles, and garlic -- yes, three ingredients!
Start by de-husking the tomatillos and giving them a good rinse. I usually cut out the stems as well. What's a tomatillo?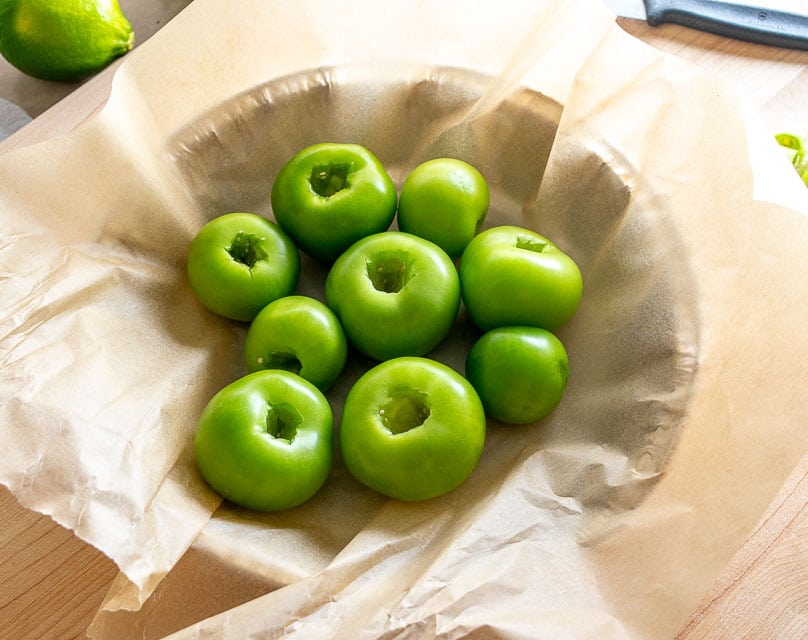 You can roast them any way that appeals to you, but I usually just put them in the oven for 15 minutes or so (400F). Other ways to roast tomatillos.
Once the tomatillos turn army green you can add them to a blender along with the chipotles and garlic.
Using 3-4 chipotles will definitely give your Salsa some heat! Feel free to start with 1-2 chipotles and then give it a taste test -- to increase the heat simply add more chipotles. More info on working with chipotles in adobo.
This is a fiery, addictive Salsa and I'm constantly recommending it to peeps who are new to it. Here are some other recipes on the site that use it:
Chilaquiles
Chorizo Breakfast Burritos
Easy Chicken Tacos
Okay, let's talk steak! You can always refer to the Express Carne Asada post for more detailed photos, but I'll list out the steps here as well.
Start with a single pound of skirt steak: (Update: we recently put up a recipe that uses boneless short ribs.)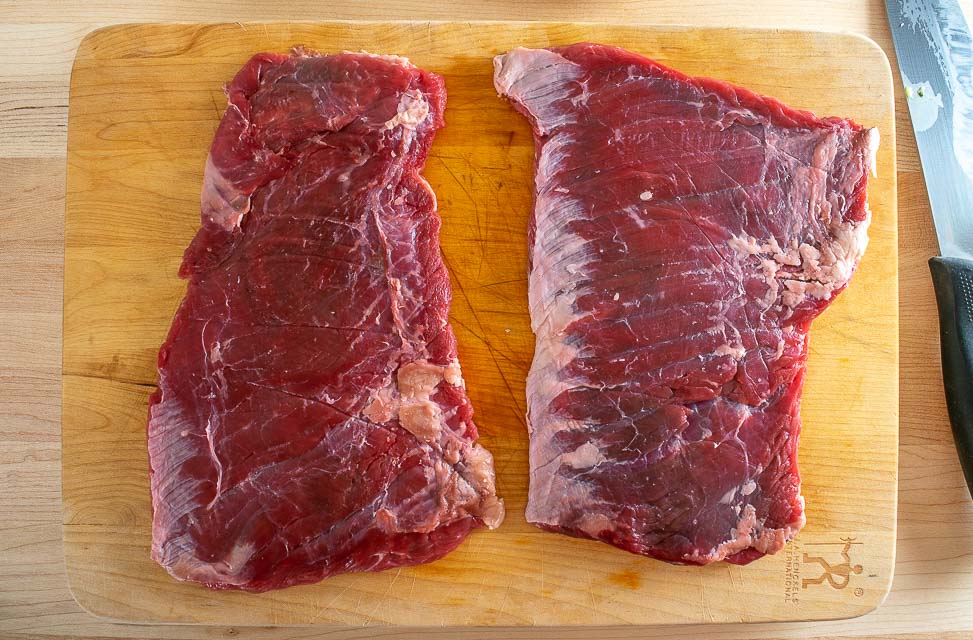 Season well with salt on both sides. I usually pound it down so it cooks evenly but this is optional.
Rub with oil and then coat it with a fiery spice mixture of your choosing. For this batch I used:
2 teaspoons New Mexican Chile Powder
2 teaspoons Chipotle Powder
1 teaspoon Ancho powder
1/2 teaspoon salt
freshly cracked black pepper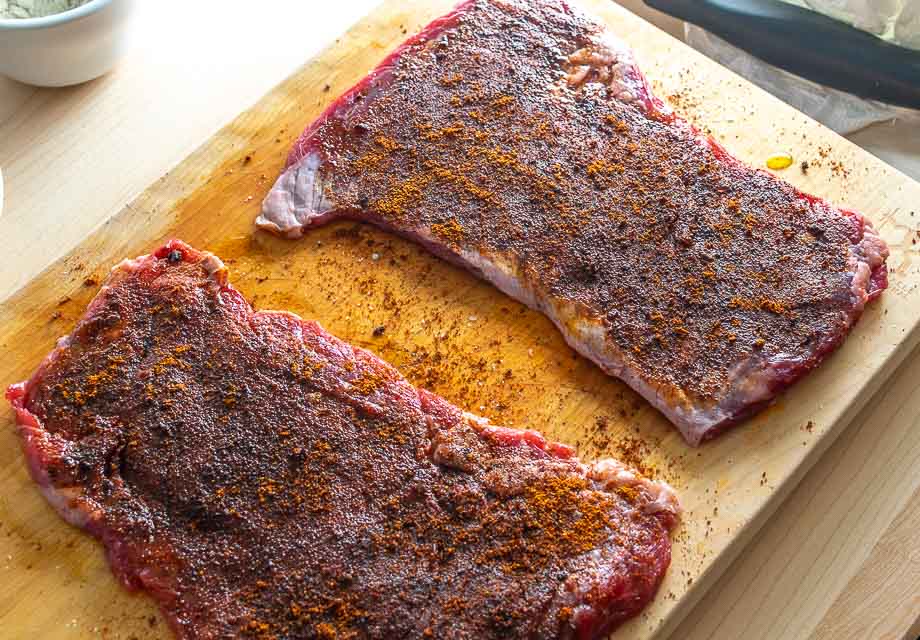 But the exact make-up isn't crucial so feel free to improvise based on what's available. If possible though try to use pure chile powders. More info on pure chile powders and the ones I'm using.
Skirt steak is thin and will only need a couple minutes per side in a cast iron skillet. I put the temp a bit over medium and give it 2-3 minutes per side. This gets it up to 135F (medium-rare) quite quickly and that seems to be the sweet spot for skirt steak.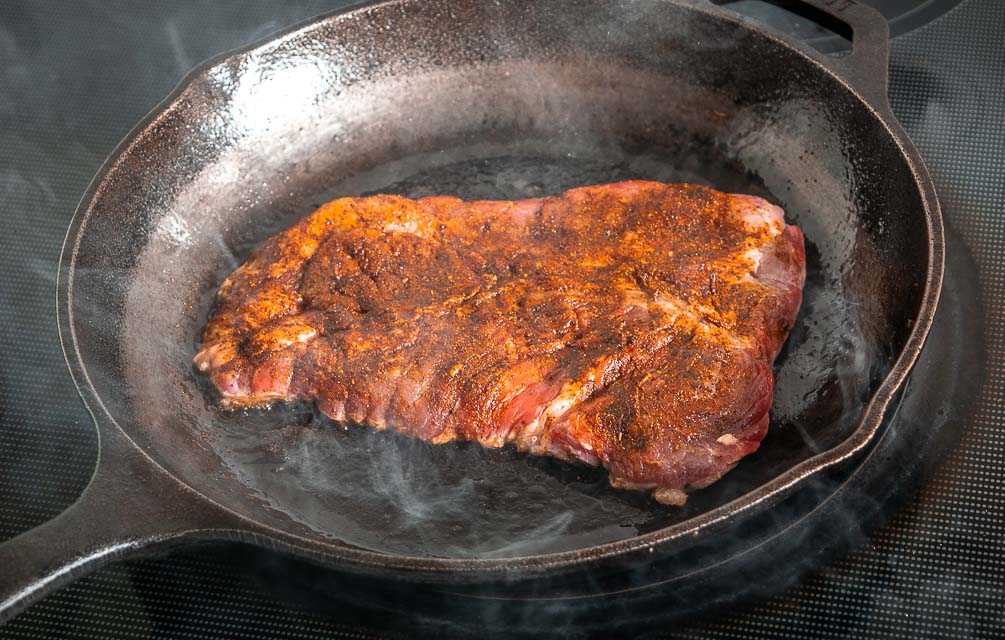 Once cooked I usually set it aside on a cutting board and lightly cover it with foil -- this will help it retain its juices. When slicing be sure to cut against the grain to avoid long, chewy strands -- and I usually take it a step further and cut it into small pieces for the burritos.
And if you have leftover Cilantro Lime Rice then things just got easier!
But if not then just start a plain ol' batch of rice cooking around the same time you're adding tomatillos to the oven for the Salsa. Once the rice is cooked we'll combine the following ingredients in a blender:
1/2 bunch cilantro
juice of 1 lime
1 garlic clove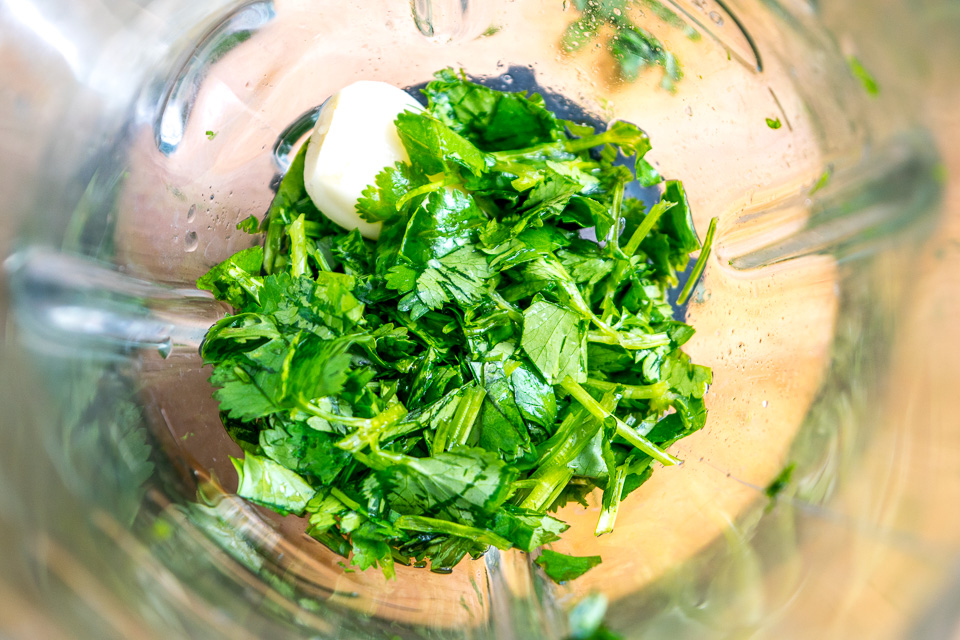 And then add the cilantro-lime mixture to the cooked rice. It's a super easy recipe and the rice has a light, vibrant flavor that also pairs well with beans. I added another generous squeeze of lime to this batch so definitely do some taste testing after combining.
For the burritos, I usually warm up the flour tortillas in a skillet before adding any ingredients -- this makes them easier to roll up.
Then give each tortilla a layer of:
Cheese (I used Jack)
Cilantro Lime Rice
Carne Asada
Tomatillo Chipotle Salsa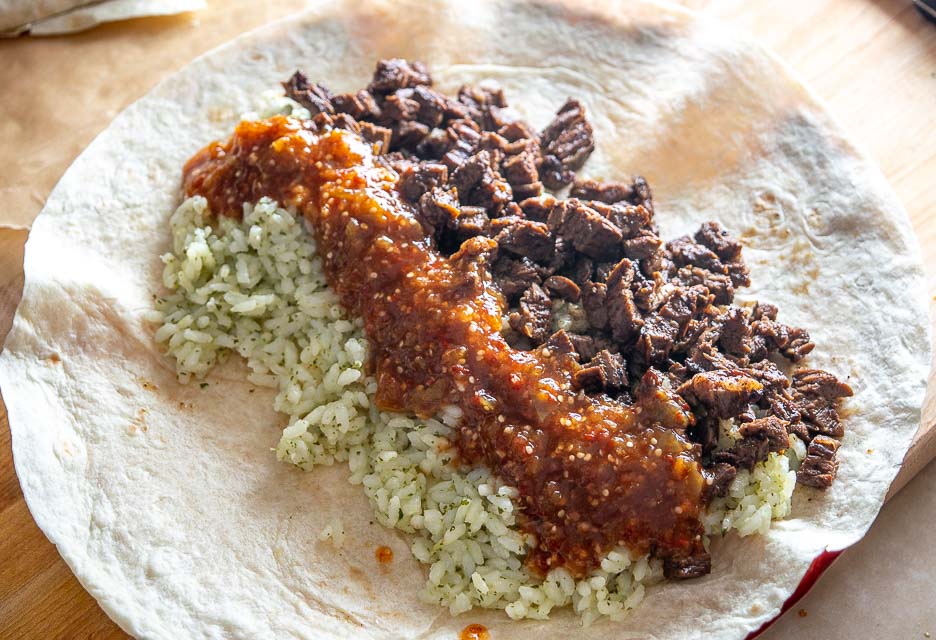 Roll tight and crisp it up in a dry skillet over mediumish heat. How to fold a burrito.
I usually give it 1-2 minutes per side and this will have it turning light brown in spots. More importantly, it melts the cheese!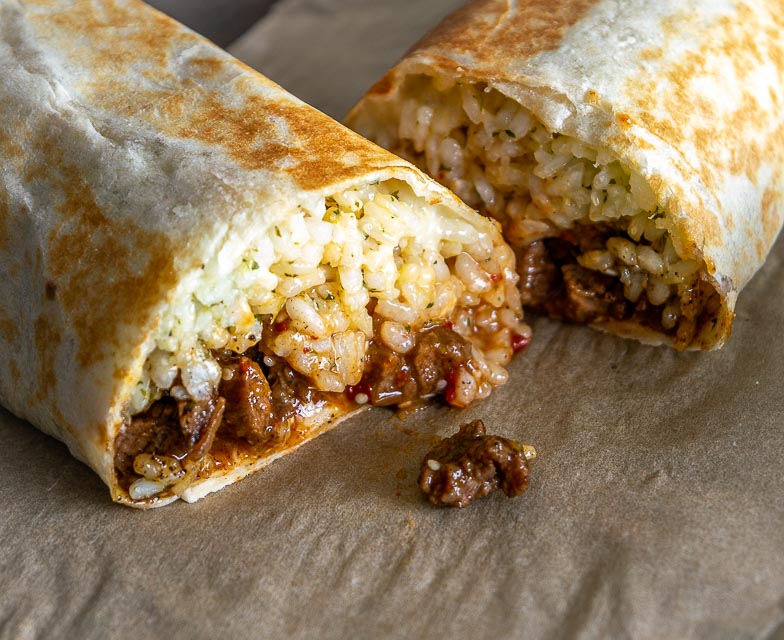 Yum! You'll get 3 mega burritos or 4 mediumish burritos if you follow the recipe below.
The combo of the Carne Asada and the chipootle-infused Salsa works quite well, so if it appeals to you in the slightest then go for it!
But as mentioned, these burritos are willing to adjust to your kitchen, so feel free to get creative with them. Here are some other elements to consider for your homemade burrito masterpiece:
Pico de Gallo
Salsa Verde
Pickled Onions
Arroz Rojo
Refried Beans
Roasted Tomato and Tomatillo Salsa
Pickled Jalapenos
Okay, I hope this post gets some Carne Asada Burritos in your kitchen! Don't forget that you can always use marinated Carne Asada if you're not happy with your chile powder options -- you'll get a slight bump in flavor when you marinate it, but of course it adds a bit of time to the process.
Buen Provecho.
Scroll down for the recipe box, and feel free to use the comments section below if you have questions or want to leave feedback on this recipe. For up-to-date recipes follow us on Instagram, Facebook, or Pinterest.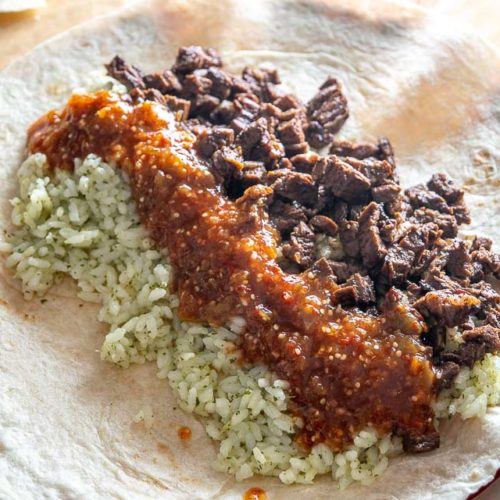 Carne Asada Burritos
Tomatillo Chipotle Salsa gives these Carne Asada Burritos some real flavor! I also used Cilantro Lime Rice for this batch -- so good!
Print
Pin
Rate
Ingredients
1 lb.

skirt steak

2

teaspoons

New Mexican chile powder

2

teaspoon

Chipotle powder

1

teaspoon

Ancho powder

1/2

teaspoon

salt

freshly cracked black pepper

olive oil

salt

4

burrito-sized flour tortillas

cheese (I used Jack)
For the Tomatillo Chipotle Salsa:
8-9

tomatillos

4

garlic cloves

3-4

chipotles in adobo
For the Cilantro Lime Rice:
2

cups

stock (or water)

1

cup

white rice

1/2

bunch

cilantro

1

lime

1

garlic clove

1/2

teaspoon

salt

olive oil

splash of water
Instructions
Start by de-husking and rinsing the tomatillos. I usually cut out the stems as well. Roast the tomatillos in the oven at 400F for 15 minutes or until they turn army green in color.

As the tomatillos roast you can add the other ingredients to the blender: 4 peeled garlic cloves and 3-4 chipotles in adobo. I usually de-stem and de-seed the chipotles. For a milder version start with less chipotles.

When the tomatillos are done roasting you can add them to the blender and combine well. Take a taste for heat, adding more chipotle if you want more heat.

If making the Cilantro Lime Rice you can start it right after adding the tomatillos to the oven for the Salsa. Heat up a dollop of oil in a saucepan on medium-high heat. Saute 1 cup of rice in the saucepan until lightly browned. Add 2 cups of stock and 1/2 teaspoon salt to the rice. Bring to a boil and then reduce heat to a light simmer. Let simmer until the liquid is absorbed. Once cooked, turn off heat and cover, letting the rice sit in its own steam for a few minutes.

As the rice is cooking you can prepare the other ingredients. Rinse 1/2 bunch of cilantro and twist off the bottom stems. Add to a blender along with 2 tablespoons lime juice (usually the juice of 1 lime) and 1 peeled garlic clove. Add a couple tablespoons of water and blend the ingredients together. Add the lime-cilantro mixture to the cooked rice and mix thoroughly. Taste for salt, adding more if necessary.

If the skirt steak arrives in one long strip I will usually cut it into smaller, more manageable pieces. You can optionally pound the steak thinner if you want a more even cut. I usually cover it in parchment paper and pound it down with a cast iron skillet.

Give the steak a healthy sprinkling of salt on both sides.

Combine the chile powder mixture in a small bowl. Keep in mind that you can use any chile powder combo that sounds appealing to you. I used 2 teaspoons New Mexican chile powder, 2 teaspoons Chipotle powder, 1 teaspoon Ancho powder, 1/2 teaspoon salt, and some freshly cracked black pepper.

Rub some oil into both sides of the skirt steak, then coat each side of the steak with the chile powder mixture -- I usually use my fingers to rub it in.

Preheat a cast iron skillet if available. I used just over medium heat for this batch. Cook each steak for 2-3 minutes per side or until the inside temp registers 130-135F. Once cooked set aside, cover with foil, and let it rest for a few minutes.

Once the steak has rested, cut it against the grain into thin strips. You can optionally cut the strips into bite-sized pieces.

It's best to warm up the tortillas before adding ingredients as this will make them easier to roll. Give them 30-60 seconds in a dry skillet over medium heat.

Each tortilla gets layers of cheese, Cilantro Lime Rice, Tomatillo Chipotle Salsa, and Carne Asada. Roll tight and give each burrito 1-2 minutes per side in a dry skillet to crisp up (and melt the cheese!). I usually put the skillet just over medium heat. Serve immediately.
Notes
Medium-rare (130-135F) seems to be the sweet spot for skirt steak.  If overcooked it will get a bit tougher. 
For the Carne Asada, feel free to use any chile powder combo that appeals to you.
I usually twist off and discard the bottom, thicker portion of the cilantro stems, but use the upper stems that hold the leaves. 
Like this recipe?
Click the stars above to rate it or leave a comment down below! @mexplease
Our latest recipe is a batch of these Chicken Chile Verde Tortas: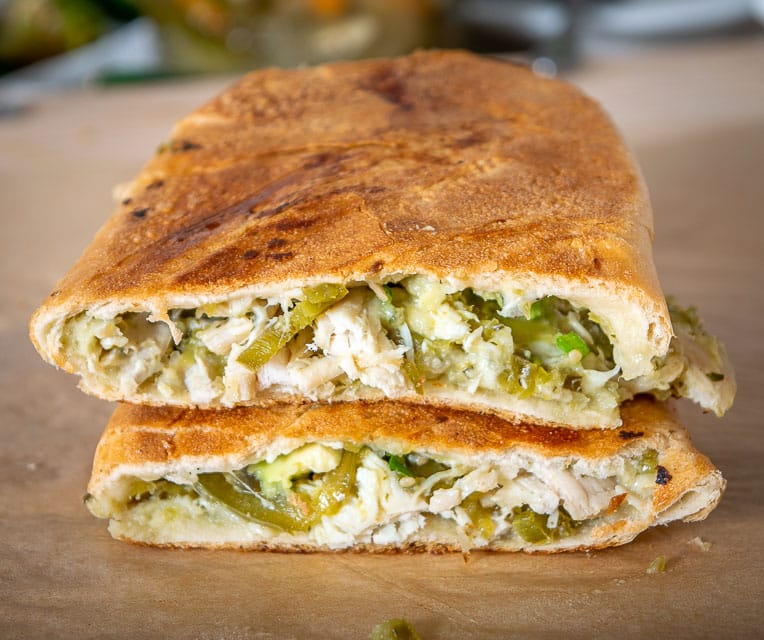 Still hungry?!
Want to receive Mexican Please recipes via email when they are posted?  Sign up below to subscribe.  All recipes are spam free.