I've been getting frequent questions on Shredded Chicken so hopefully this post will shred any doubt you have before making your next batch!
But please keep in mind that your taste buds are the boss and there are no hard set rules here. Once you find the cooking style you prefer then you can move on to the good stuff -- the flavor!
I'll go over the two common styles for cooking the chicken, and then offer up some flavor combos that have the potential to change faces at the dinner table 🙂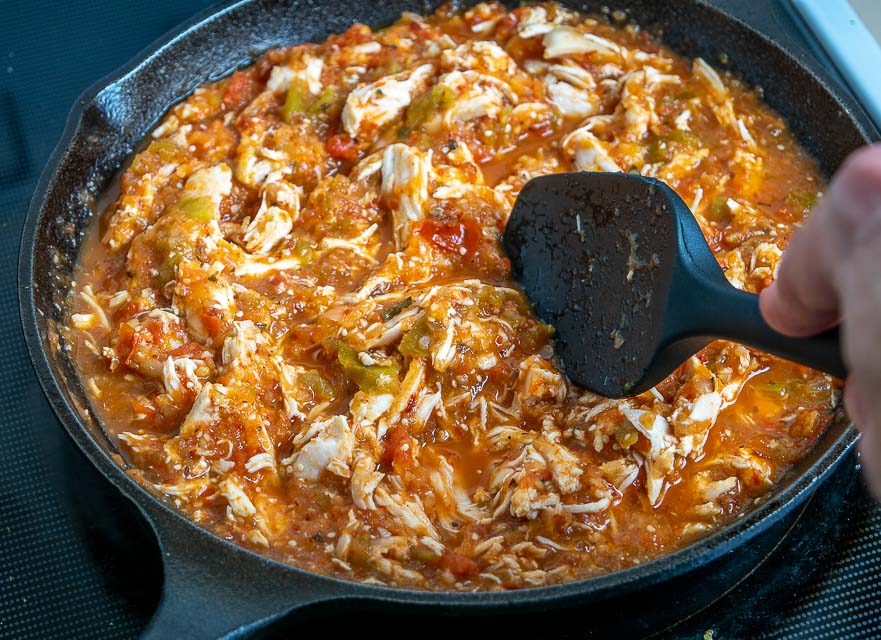 How To Make Mexican Shredded Chicken
There are two common techniques for cooking the chicken. The first is to poach the chicken.
Cover the chicken breasts with cold water. Add salt, onion, cilantro and any other aromatics that sound appealing.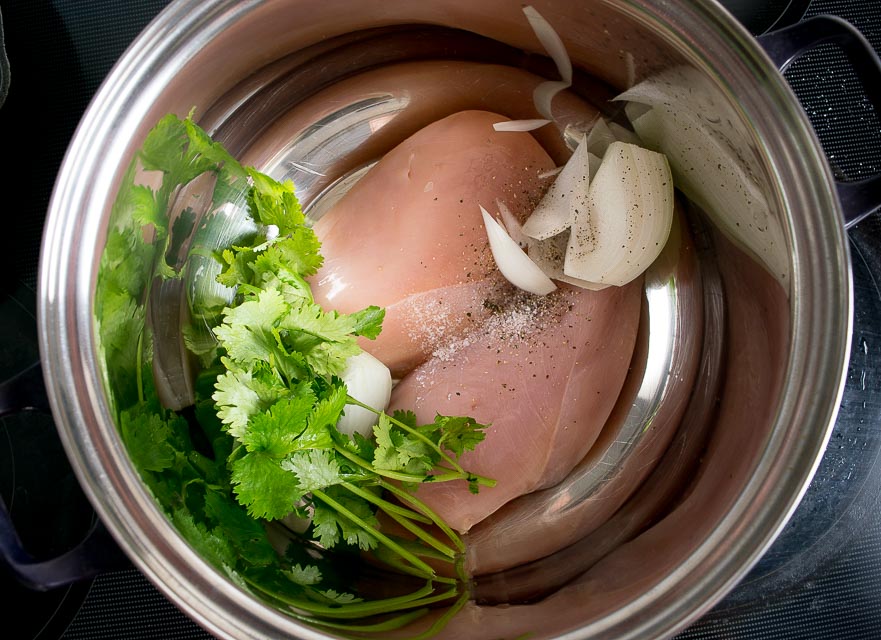 Bring to a boil and then reduce heat to a simmer.
Cook until the insides of the chicken register 160-165F. Normally this takes around 20 minutes, but it will depend on the thickness of the breasts.
Set aside for a few minutes and cover with foil. Then use two forks to shred the chicken.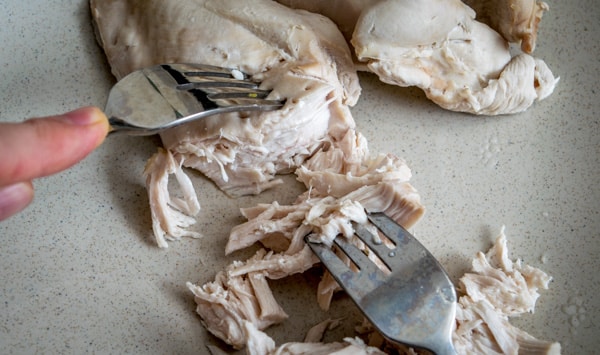 The flavor and seasoning of the poaching liquid won't penetrate into the chicken as much as you might think, so it's common to add splashes of the poaching liquid back to the shredded chicken to amp it up.
I used to use this poaching method all the time, but lately I prefer option #2, the brine and bake technique.
Let the chicken rest in some salted water for 30-60 minutes -- this will inject seasoning (salt) and moisture throughout the chicken breasts.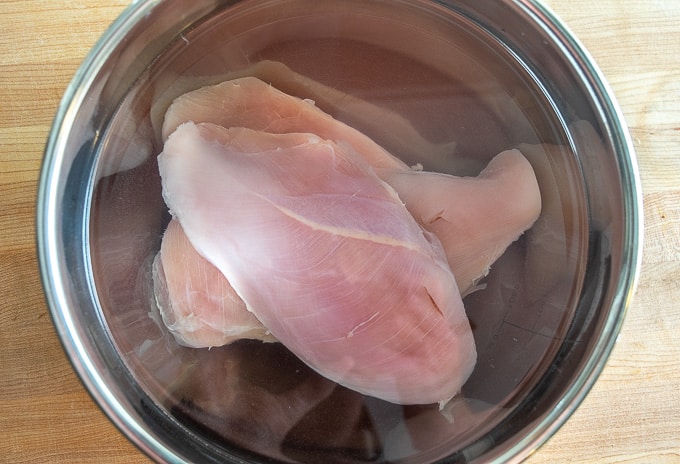 In the above pic I am brining three chicken breasts in two quarts of water (half gallon) with 1/2 cup Kosher salt dissolved into the water.
A typical brine ratio is one cup salt per one gallon of water -- sounds like a lot right?! But only a small portion of the salt makes it into each chicken breast so I usually stick with that ratio.
Even 30 minutes in the brine is enough for a significant upgrade in flavor, so I do this step whenever possible. I usually cover it and stick it in the fridge -- keep in mind that Kosher or sea salts are best for brining as they don't have any additives.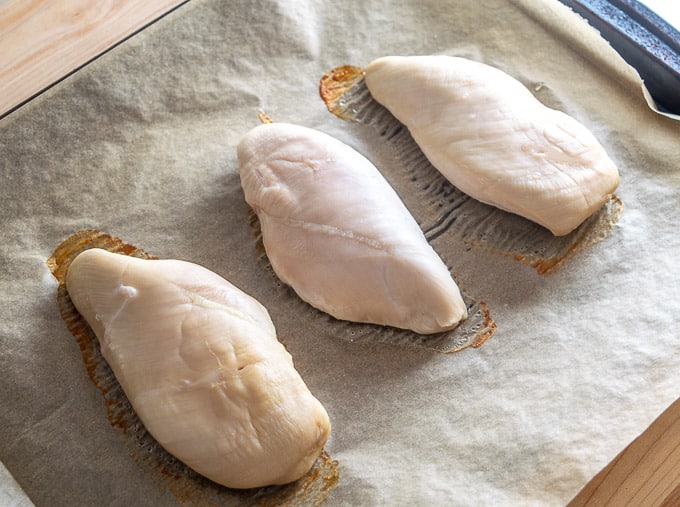 Once brined you can pat the chicken breasts dry and plop them in the oven (400F) for 20 minutes or so. I bake them as is, with no spices or oil, knowing that there is a massively flavorful sauce on the horizon.
When the insides register 160-165F you can set the chicken breasts aside to cool for a bit, covered with foil.
Then shred them using two forks and take a taste!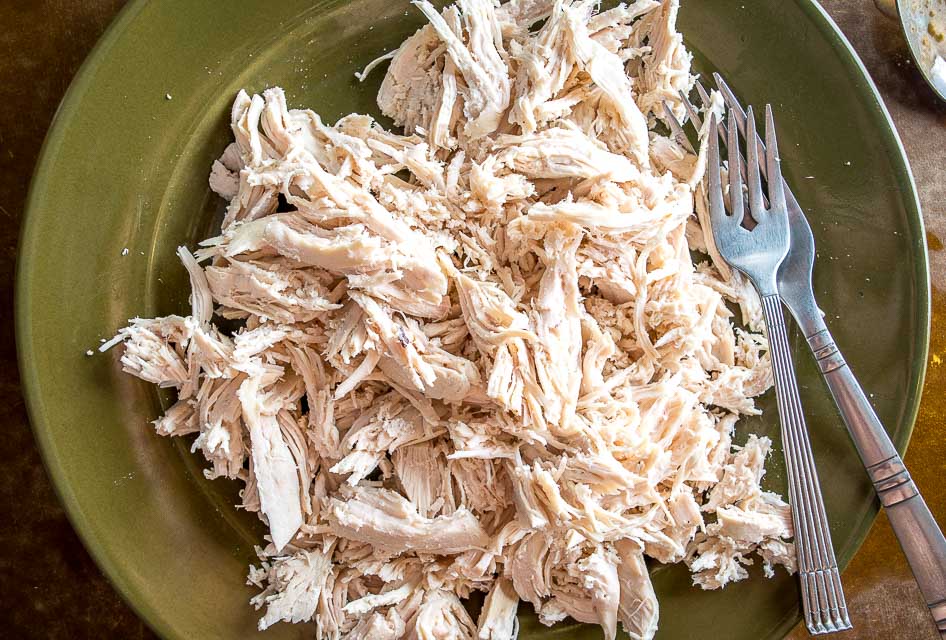 I'm always amazed how good this chicken tastes -- and it's only seasoned with salt so far, just wait 'til you add the other flavors 🙂
Okay, so you've got some shredded chicken on the counter -- now what?!
Well, there are two sauces that I make most often with this chicken. Either sauce will give you an epic batch so pick the one that is calling out to you.
The first is a spicy Tinga sauce: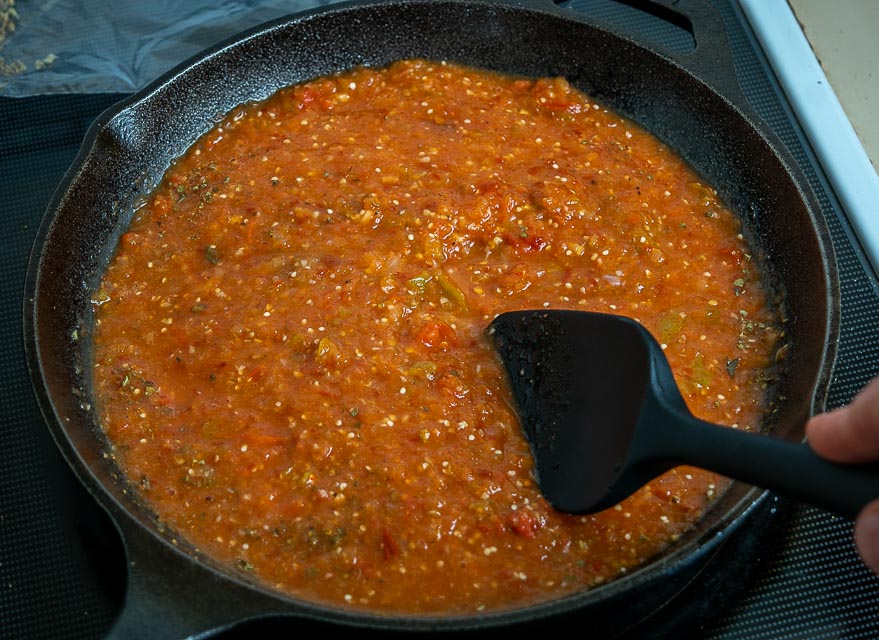 This is a delicious, fiery sauce that will probably taste familiar to you. As the chicken is baking in the oven you can build the chipotle infused sauce on the stove-top.
Here's a quick look at the ingredients for the Tinga sauce (for two chicken breasts):
2 plum tomatoes
4-5 tomatillos
1/2 onion
4 garlic cloves
3 chipotles in adobo
1-2 tablespoon adobo sauce
1 teaspoon Mexican oregano What is Mexican oregano?
dash of cumin
1/2 teaspoon salt
freshly cracked black pepper
Once the chicken is shredded you simply add it to the Tinga sauce and combine well.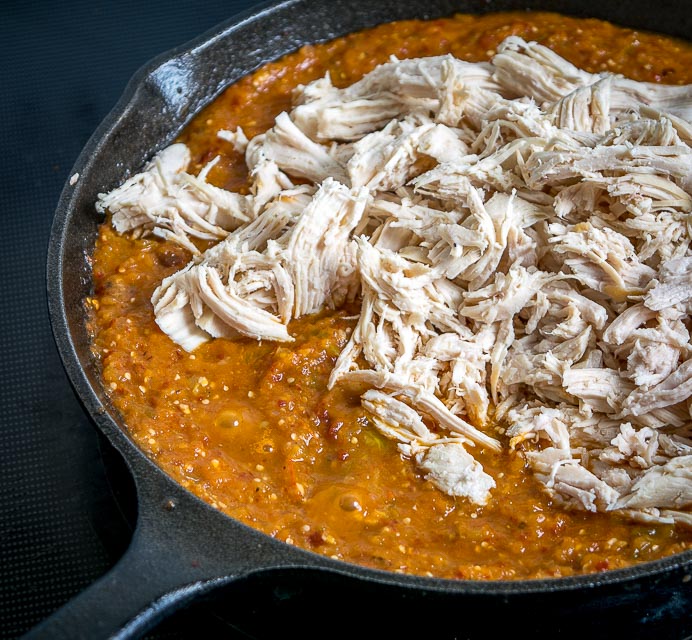 The combination of the fiery sauce and the well-seasoned chicken means you've got an extremely satisfying batch of shredded chicken that can lead to all sorts of delicious meals.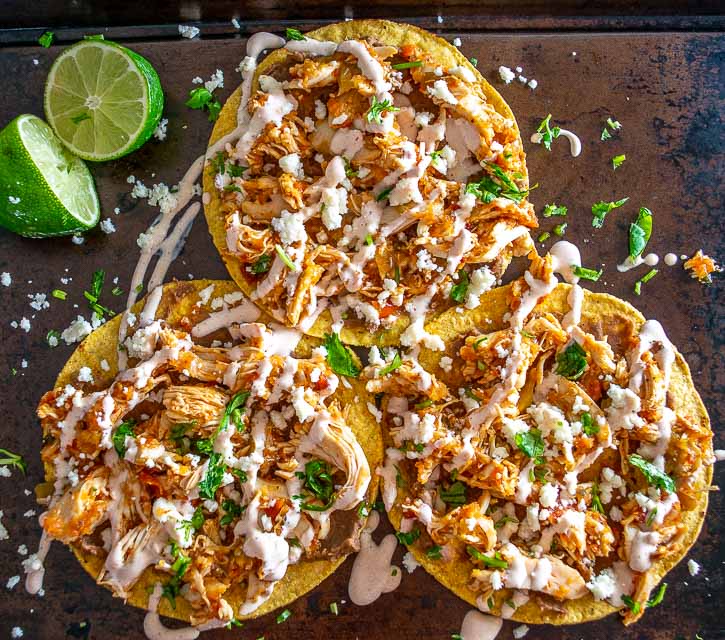 Awesome 🙂
Chile Verde is my other go-to sauce for shredded chicken.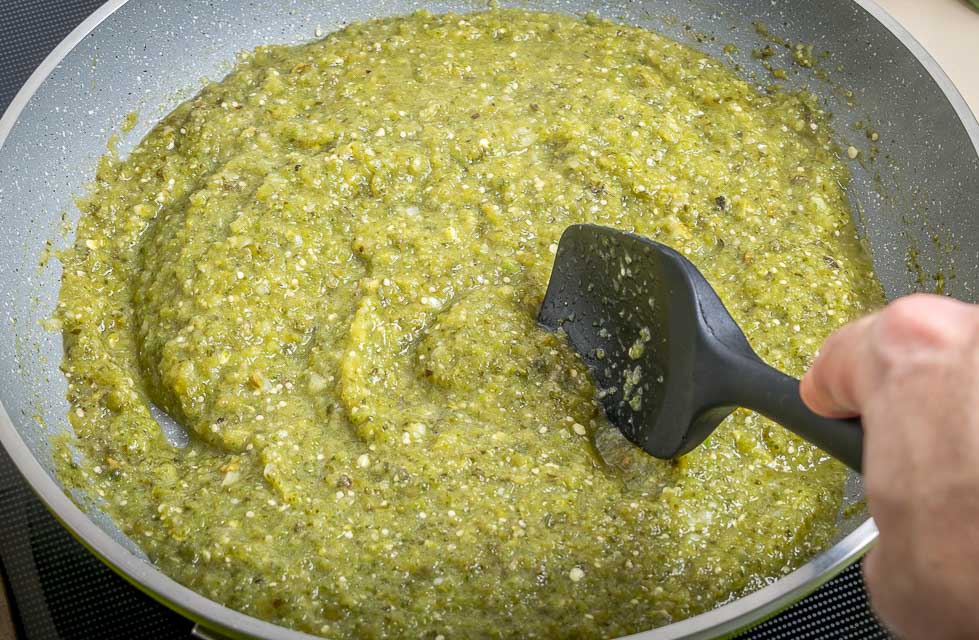 This is a great sauce to make when you've got Poblano chiles in the house. What are Poblanos?
The Poblanos give it a unique flavor but the method is the same as the previous Tinga sauce -- simply roast the ingredients and build the sauce as the chicken is cooking.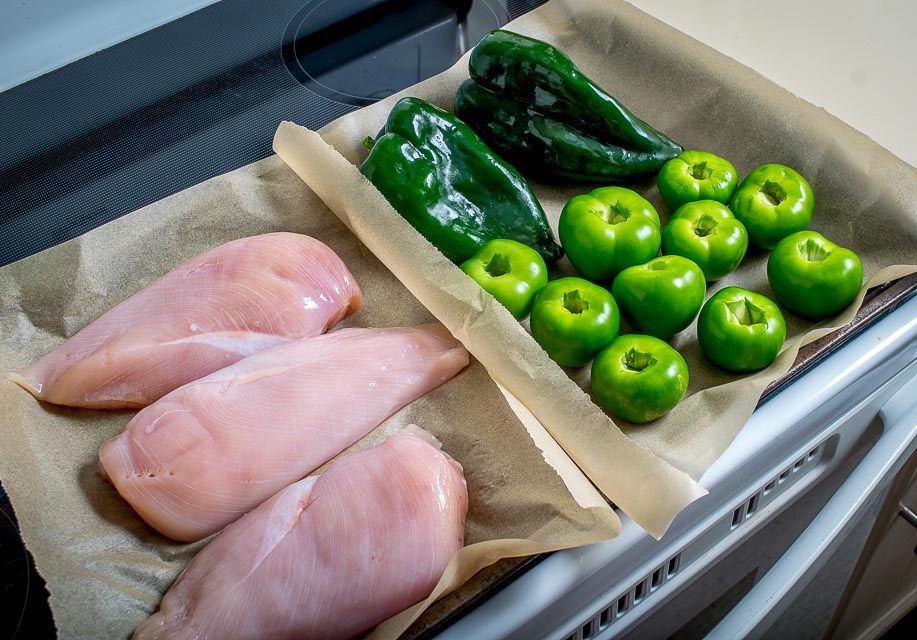 Here's a look at the ingredient list for the Chile Verde sauce (for three chicken breasts):
1-2 Pobano chiles
8-10 tomatillos
1-4 jalapeno chiles
1/2 onion
4 garlic cloves
15-20 sprigs cilantro
1 tablespoon Mexican oregano
1/2 teaspoon cumin
1/2 teaspoon salt
freshly cracked black pepper
Once the chicken is cooked and shredded you simply add it to the sauce and bring it up to temp.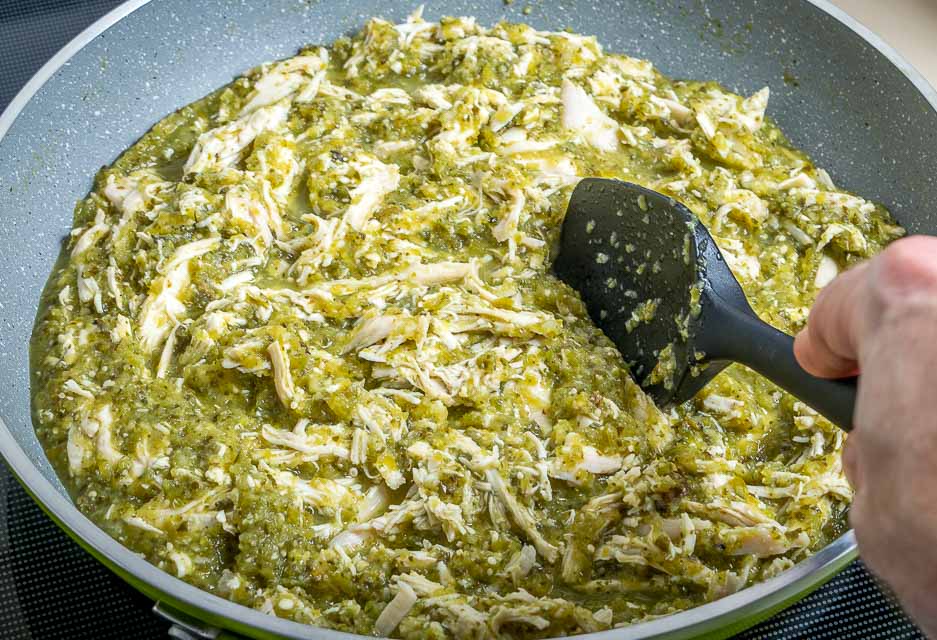 And do lots of taste testing 🙂
Those are the two sauces I make most often with shredded chicken. Both are great options and making a big batch will give you loads of options for some on-the-fly meals over the coming days.
UPDATE: I recently made a fiery batch of shredded chicken using just chile powder and adobo sauce for these Chicken Salads.
Let's switch gears and talk ratios for a moment...
A single chicken breast will give you a heaping cup of shredded chicken. And each cup of shredded chicken will need between 1/3 and 1/2 cup of sauce to thoroughly coat it with flavor (depending on how goopy you want it).
So a good ratio to keep in mind is 1 to 1.5 cups of sauce for three chicken breasts. Once you have that ratio in mind -- 1/3 to 1/2 cup of sauce for each shredded chicken breast -- then you'll probably find yourself getting quite creative when you don't have the time (or energy) to build an authentic sauce like Tinga or Chile Verde.
For example, I had leftover Birria sauce in the fridge this past weekend and used it to make a batch of shredded chicken. Even though it's a beef sauce 🙂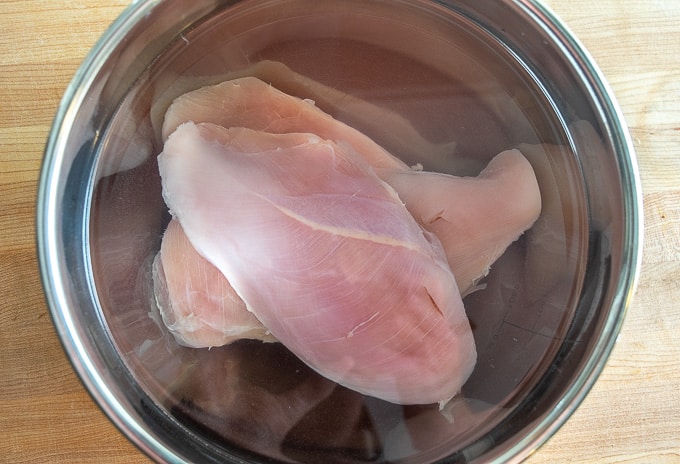 After giving three chicken breasts a quick brine and bake, I added a heaping cup of Birria sauce to the shredded chicken.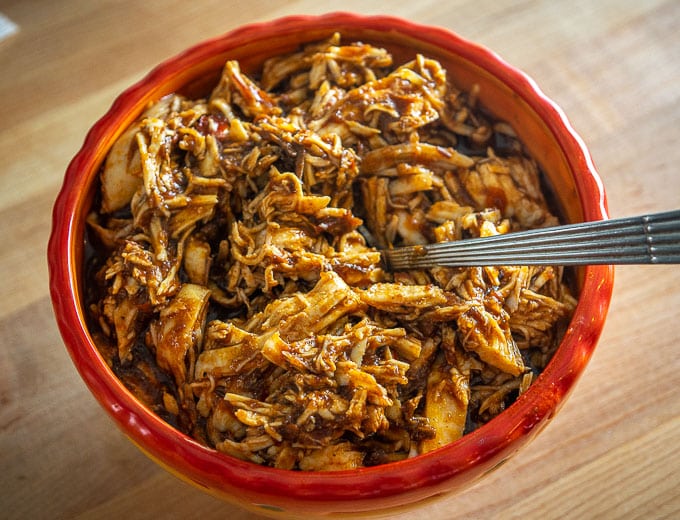 And it was epic.
And required almost zero energy 🙂
This unconventional combo is proof that you can get quite creative with the flavors in your Shredded Chicken -- especially if the chicken is already well seasoned from the brine!
Another example...
I usually have leftover Salsa in the fridge, either this Tomato Jalapeno Salsa or a traditional Salsa Verde.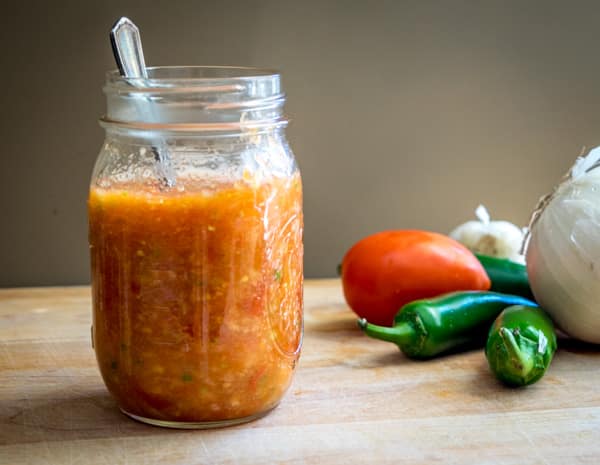 And yes, in the past I've stirred this leftover Salsa into shredded chicken for some quick, no-thinking-involved meals.
It's not going to have the depth of the Tinga or Chile Verde, but it's still an upgrade compared to local takeout options.
Getting hungry?!
Let's talk about ways you can serve up your delicious Shredded Chicken over the coming days...
You can use the Chicken Tinga to make some awesome Tinga Tacos loaded with avocado bits, Cotija cheese, and a squeeze of lime: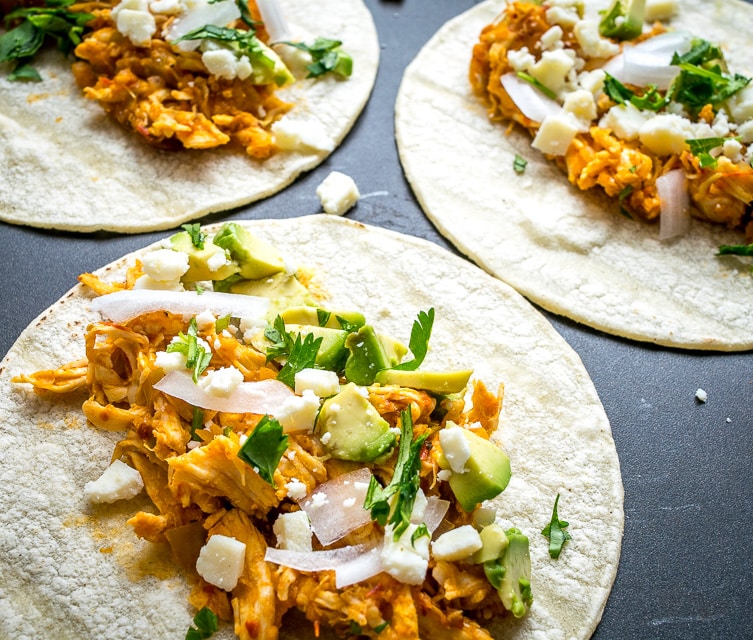 Or you can make Tinga Tostadas that are layered with refried beans, Queso Fresco, and Crema: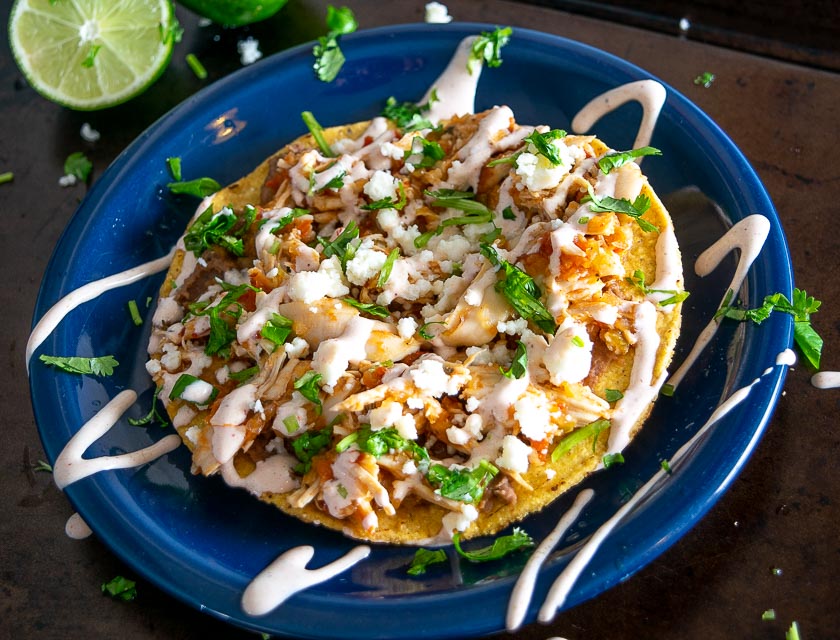 The Chicken Chile Verde is equally flexible and you can use it to make a batch of Chile Verde Tortas: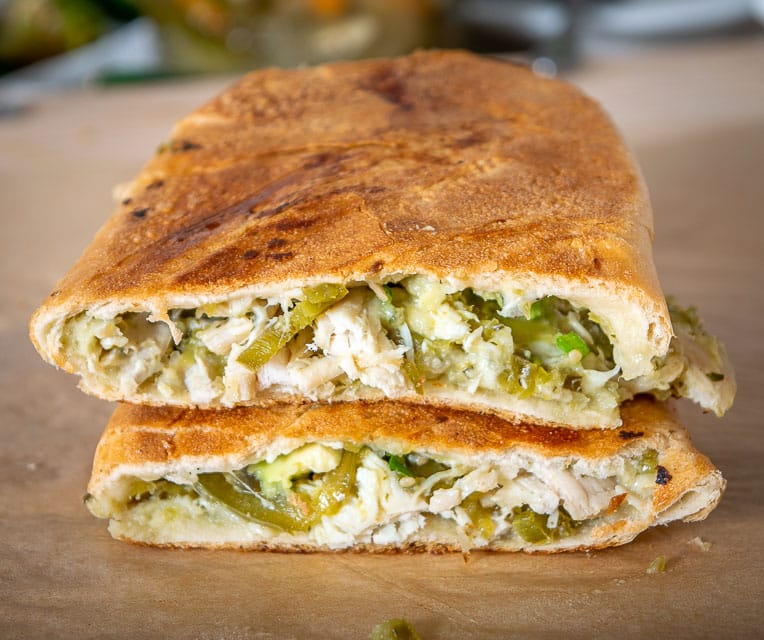 Or Chile Verde Tostadas made with refried beans, Cotija cheese, cilantro, and Pickled Jalapenos: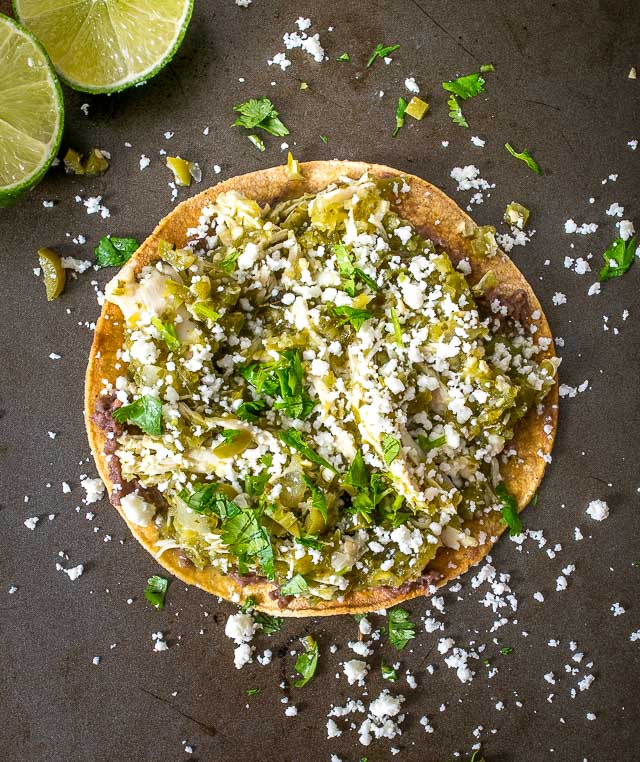 All of those recipes can be made using the flavored Shredded Chicken that you are now an expert at making.
And the possibilities quickly become endless. Simply vary the delivery vehicle for your Shredded Chicken:
Tacos
Tostadas
Burritos
Tortas
Quesadillas
Taquitos
Then add garnishes that work for your palate:
Avocado bits
Pickled Jalapenos
Queso Fresco
Pickled Onions
Jack or Mozzarella cheese
Freshly chopped cilantro
Hot sauce (Homemade or Valentina)
Refried beans
Mexican rice
Squeeze of lime
And you've got dozens of combos to keep your stomach busy over the coming weeks. That flexibility is the true advantage of a big batch of Mexican Shredded Chicken!
Okay, I hope this solves shredded chicken for you. Let me know if you have any questions about making it -- once you find your favorite technique it can lead to all sorts of savory, stress-free meals 🙂
Buen Provecho.
For up-to-date recipes follow me on Instagram, Facebook, or Pinterest.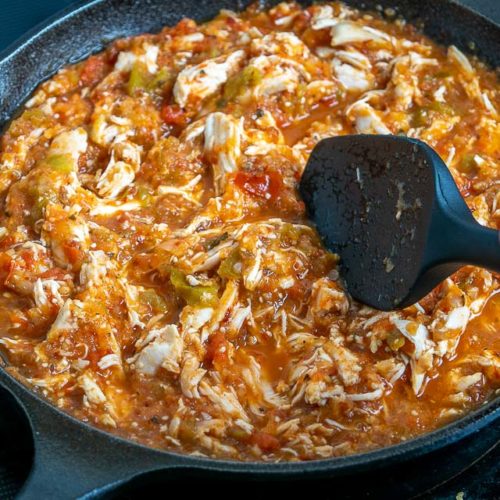 Mexican Shredded Chicken
You'll need about 1 cup of sauce to fully coat 2 chicken breasts worth of shredded chicken. I used a fiery Tinga sauce and brined the chicken for this batch.
Print
Pin
Rate
Ingredients
2

chicken breasts

2

plum tomatoes

4-5

tomatillos

1/2

onion

4

garlic cloves

3

chipotles in adobo

1-2

tablespoons

adobo sauce

1

teaspoon

Mexican oregano

dash of

cumin

1/2

teaspoon

salt

freshly cracked black pepper

olive oil
Instructions
To brine the chicken, add 1/4 cup salt to a quart of water in a mixing bowl.  Dissolve the salt and add the chicken breasts, letting them brine covered in the fridge for 30 minutes or so.  If the chicken breasts aren't fully submerged then add a bit more water.  Once brined, pat dry the chicken breasts and add them to a baking sheet.

Rinse and de-stem the tomatoes and tomatillos.  Add them to the same baking sheet and bake everything at 400F for about 20 minutes or until the chicken is no longer pink inside (160F). 

Once the chicken has cooled a bit you can shred it with two forks and set aside until you need it. 

Meanwhile, roughly chop a half onion and saute in some oil over medium heat.  Add 4 whole, peeled garlic cloves and saute until the onion is starting to brown.  

Add the onion-garlic mixture to a blender along with 3 chipotles in adobo and the roasted tomatoes and tomatillos.  I usually scrape out the seeds of the chipotles.   Combine well and take a taste, adding more chipotles if you want more heat. 

Add the Tinga mixture back to the same pan you used to cook the onion.  Add 1 teaspoon Mexican oregano, a pinch of cumin (optional), 1/2 teaspoon of salt, freshly cracked black pepper, and 1-2 tablespoons of adobo sauce (optional).   Bring to a simmer and take a final taste for seasoning. 

Add the shredded chicken to the Tinga sauce and let simmer until everything is at a uniform temp.  Serve as you see fit, with these Tinga Tacos and these Tinga Tostadas being good options.

Store leftovers in an airtight container in the fridge.
Like this recipe?
Click the stars above to rate it or leave a comment down below! @mexplease
Our latest post is a piping hot batch of Masa Harina Cornbread.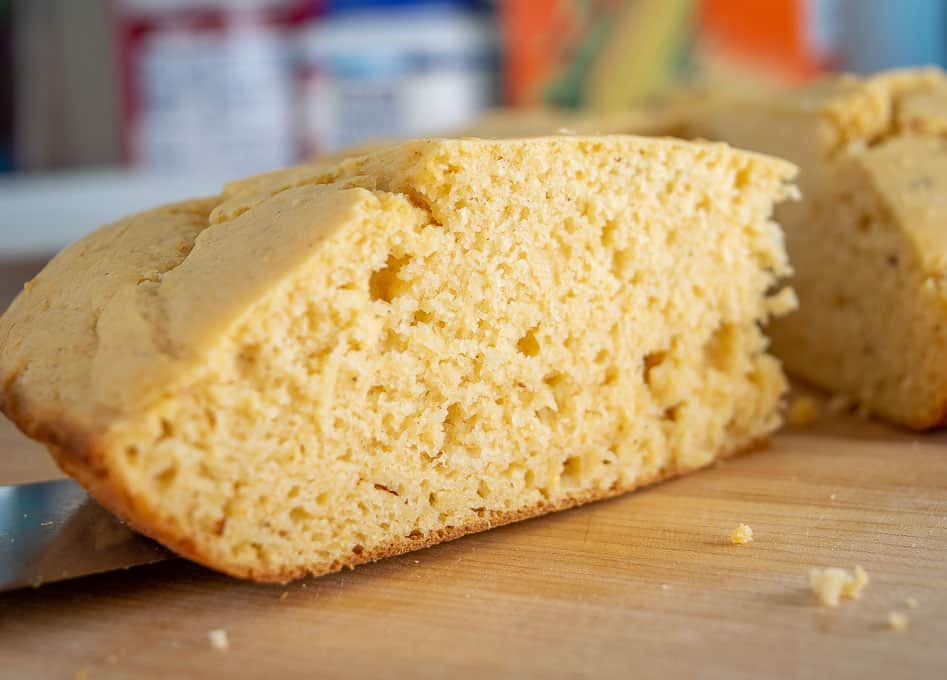 Still hungry?!
Want to receive Mexican Please recipes via email when they are posted?  Sign up below to subscribe.  All recipes are spam free.