Making your own hot sauce is super easy and you get a significant bump in flavor compared to store-bought versions -- so maybe it's time to give it a go?!
There's something remarkably satisfying about homemade hot sauce. Sure, they are fiery and explosive by nature, but they're also quite comforting because their goal is to improve each bite and make you happy 🙂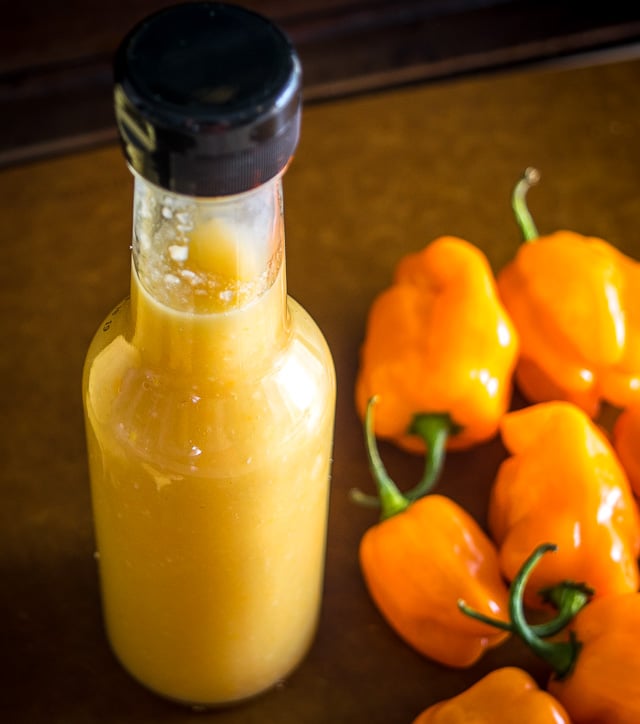 Making Your Own Hot Sauce
First things first, keep the hot sauce Mission Statement in mind and everything else will fall into place.
Your hot sauce only wants to be used a few drops at a time -- it's the final dash of heat and acidity that your food is craving.
This means it needs to be highly concentrated in both heat and acidity. If you find yourself dumping half a bottle on your tacos then most likely you are closer to a homemade Salsa than a homemade hot sauce.
For acidity I typically rely on plain ol' vinegar -- this is the easiest way to give each drop some pop.
I stick with white vinegar. Sure, you can experiment with flavored vinegars, but I prefer to rely on the other ingredients for the flavor.
And this is HOT sauce right? So you'll typically want to use chile peppers that are higher up on the Scoville scale -- in other words you'll need to use chiles that bring the heat!
You'll find that smaller chiles tend to be hotter than big chiles, and that's why you'll frequently see these peppers used to make hot sauce:
Habaneros
Chile Pequins
Jalapenos
Serranos
Chile de Arbols
Chipotles in adobo
Ghost Peppers
Heat and acidity -- once you've got those required components nailed down then there's plenty of room for getting creative and using your preferred flavors.
For example, here's the most popular hot sauce on this site: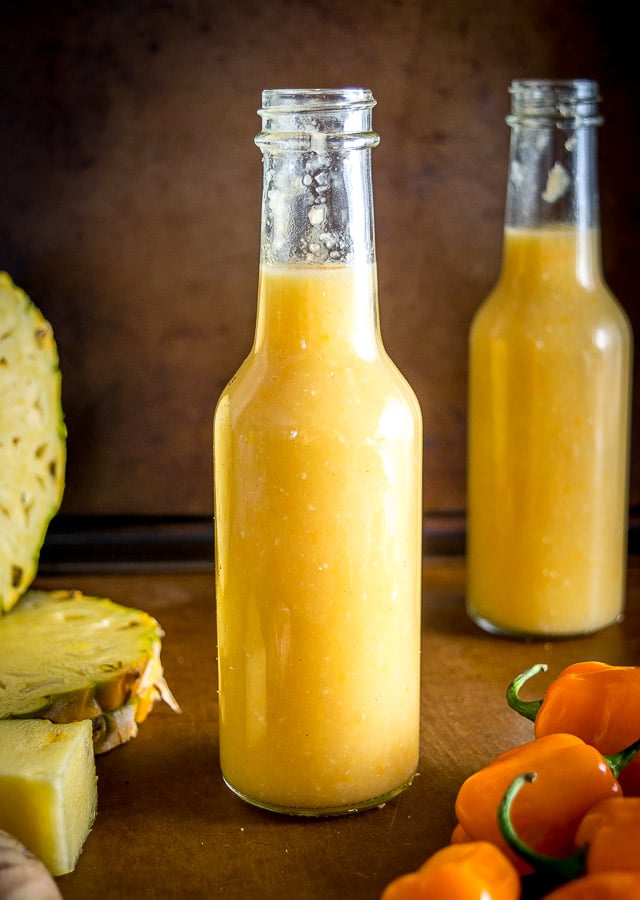 That's a fiery Habanero Hot Sauce that works great on Fish Tacos.
Here's a look at the ingredient list:
6 habanero peppers
3/4 cup sliced peaches
1/4 cup pineapple
1 small onion
2 garlic cloves
1″ piece of peeled ginger
3/4 cup white vinegar
1/2 cup water
1/2 teaspoon salt
dash of cumin (optional)
dash of agave or honey (optional)
I'm sure you've already spotted the heat and acidity in that list -- 3/4 cup of white vinegar will take care of the acidity, and 6 habaneros will bring da heat!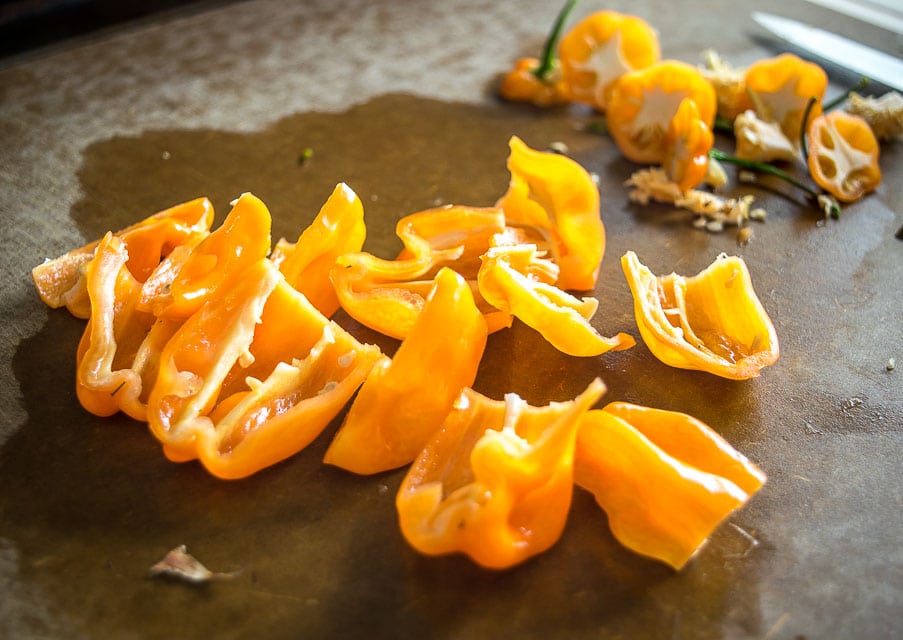 I used peach and pineapple for flavor in this recipe, but there is tons of leeway on the final flavor so feel free to experiment with any fresh fruit that sounds appealing to you.
I usually give the onion and garlic a quick saute and then after adding the other ingredients you can give it a whirl in the blender.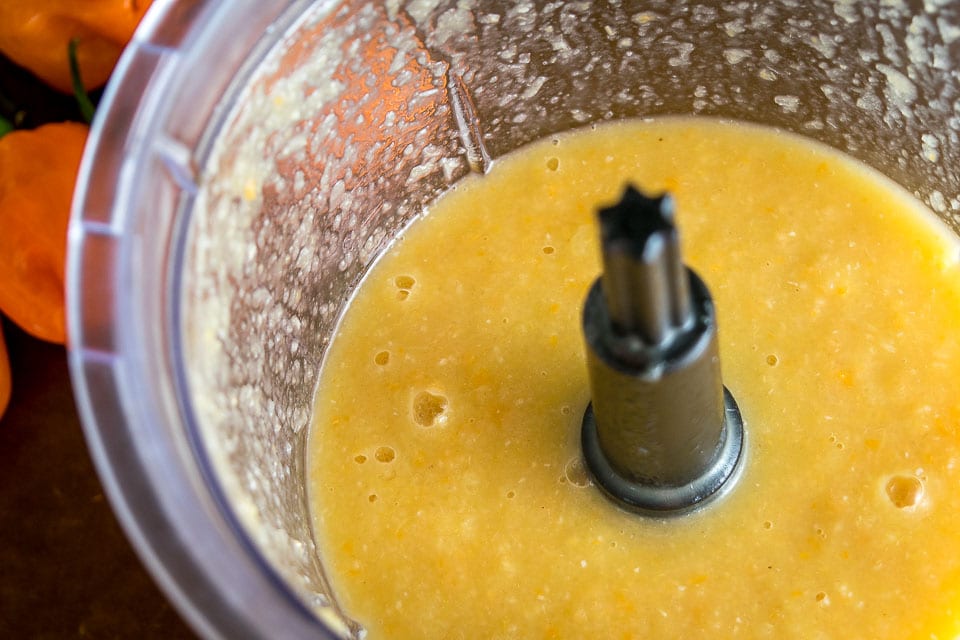 Hello Habanero Hot Sauce!
This will make 2 cups worth of deliciously fiery hot sauce-- that's enough for two 5 oz. bottles. And since it's loaded with acidity it will keep in the fridge for at least a month if not longer.
Once you get familiar with the basic process then you can hone in on the flavors that appeal to you most.
Here's a batch of Chipotle Hot Sauce that I make a few times a year: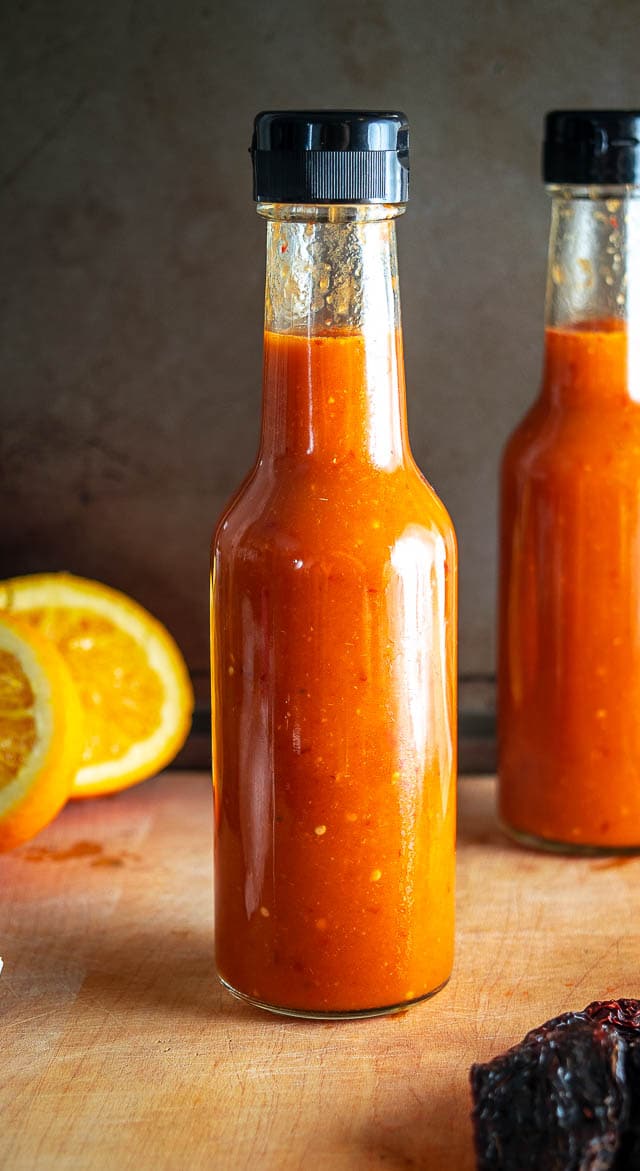 There are 7 chipotles in adobo in that bottle -- yes, seven!! That means the smoky, fiery flavor of the chipotles is highly concentrated and you'll only need a few drops at a time.
Here's a look at the full ingredient list for a single bottle:
7 -8 chipotles in adobo
1/4 small onion
1 garlic clove
1/3 cup white vinegar
1/3 cup water
juice of 1/2 orange
3/4 teaspoon Mexican oregano
1/4 teaspoon cumin
1/4 teaspoon sugar (optional)
pinch of salt
Once you saute the onion and garlic you can simply add everything to a blender and give it a whirl.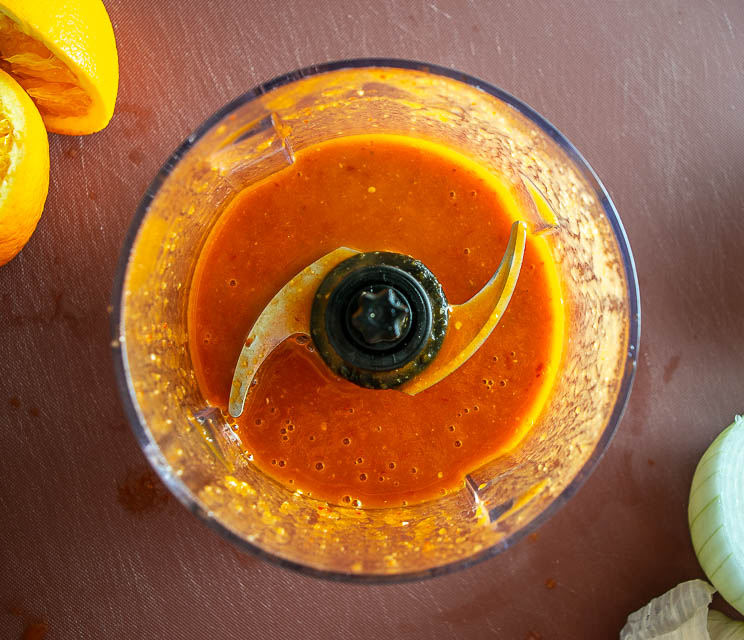 Easy right?
And for any green hot sauce lovers out there you can use a similar technique with a pound of jalapenos to make this Jalapeno Hot Sauce: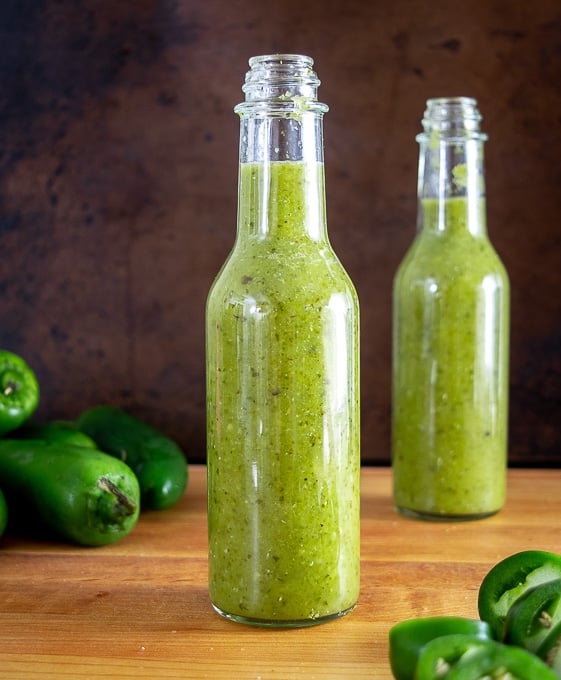 It's got a sharp, vibrant flavor and it works wonders on egg dishes 🙂
So which one of these homemade hot sauces appeals to you most?
Give one of 'em a try and you'll be amazed how vibrant they can be compared to store-bought hot sauces. And don't forget that there's room for creativity on the flavor once the heat and acidity are in place.
Here are links to full instructions for the hot sauce recipes mentioned in this post, plus a couple others:
Tiny Jar of Jalapeno Serrano Hot Sauce
Okay, let me know if you have any questions about making your own hot sauce. It's super easy and I highly recommend it if you find yourself reaching for the hot sauce bottle before each bite 🙂
Buen Provecho.
Want the latest recipe? Click your favorite from these options and follow me: Instagram, Facebook, Pinterest, TikTok, YouTube.
Still hungry?!
Want to receive Mexican Please recipes via email when they are posted?  Sign up below to subscribe.  All recipes are spam free.