Peruano beans are the quiet sibling when sitting next to Black and Pinto at the dinner table.
Black and Pinto do all the talking, constantly arguing their case for a coveted spot on your Mexican dinner plate. Peruano is happy to sit smugly next to them, confident in its case to overtake both of them in the near future.
Most likely it's their plain, unassuming appearance that has kept Peruano beans from becoming more popular outside of central and southern Mexico. It's certainly not for lack of flavor as they have a mild, buttery consistency that makes them delicioso, and at the very least puts them on equal footing with Black and Pinto.
So what's the deal with these beans?
It's true, they can be harder to find than Black or Pinto beans. If you have a market near you that stocks Goya products you might see them there in 4 lb. bags. I get them from a Latin market that stocks products from a local Mexican goods company.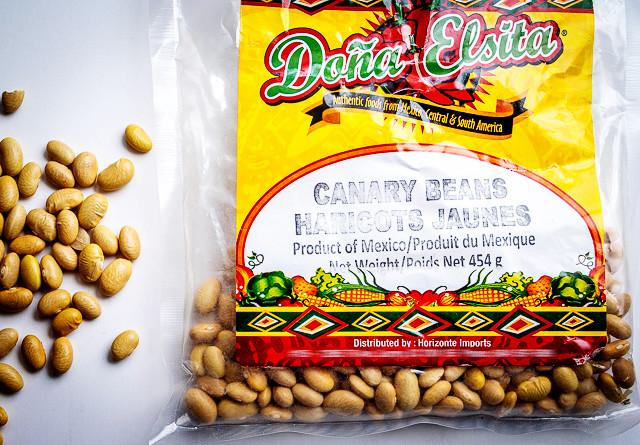 I also keep seeing people mention the Rancho Gordo Mayocobas. I don't have any experience or affiliation with Rancho Gordo, but if you need to buy them online they seem like a good place to start.
(Update: I recently made a batch of the Mayocobas here.)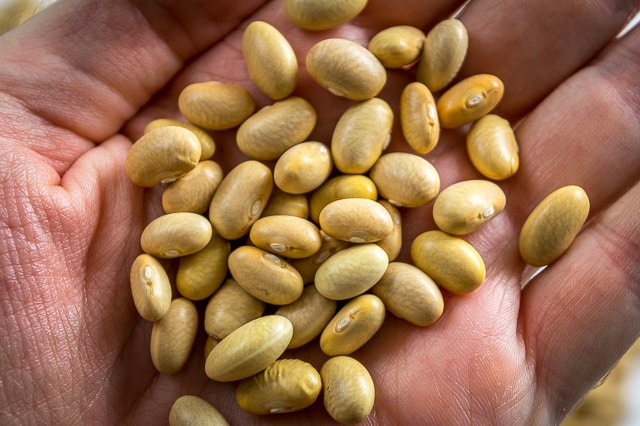 Canary beans are mild, thin skinned beans that have a creamier consistency then their brethren, and they can be cooked up in classic Frijoles de Olla style -- a big pot of beans taking their time on the stove.
Take a look for any rocks or shriveled beans, and then give them a good rinse. Cover 2 cups of beans with 12 cups of water (approximately), 1 small onion, and 2-3 tablespoons of lard (optional).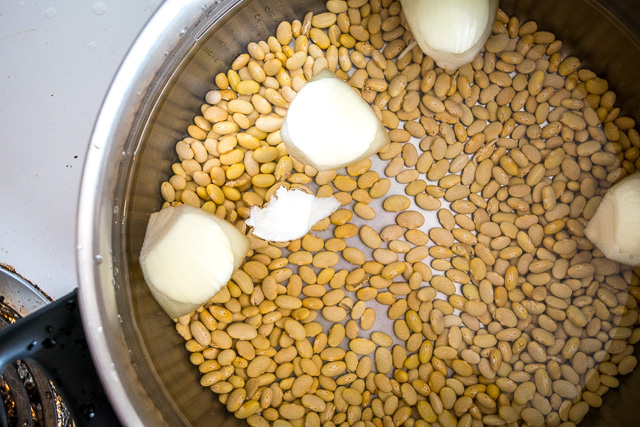 Bring to a boil and then let simmer for the next couple hours. Note that it's less common to soak beans in Mexico. Of course, that comes with a slightly increased cooking time, but not as much as you would think.
This batch took about 3 hours. I added a few cups of water twice to keep the water level above the beans (I also added one teaspoon of salt about 15 minutes before they were done cooking plus a little more at the end).
Ideally when they finish cooking they are resting in some liquid. This makes storage easy and leaves you some broth to make epic refried beans.
Which is probably what these beans are known for most: creamy, smooth, buttery Refried Beans. Here's 1 cup of cooked beans that were crushed with a potato masher and cooked on medium heat in a dollop of lard for about 7-8 minutes.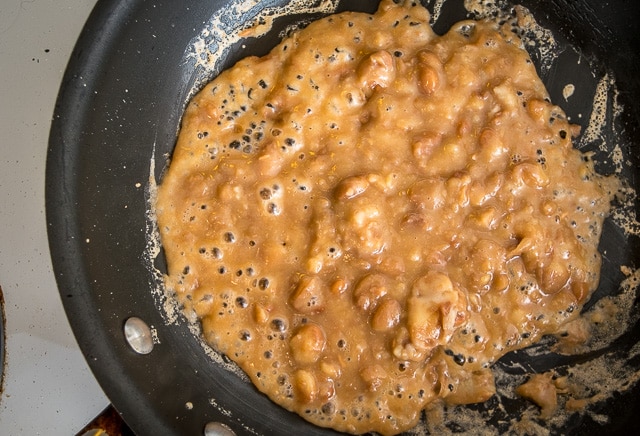 So good!
But the real advantage of a homemade pot of Canary Beans is the flexibility it gives your kitchen. Two cups of dried beans will make six 1-cup bags of cooked beans that will store in the freezer for months.
So when you're in a pinch, you've got the option of refrying that 1 cup of cooked beans and making an on-the-fly Huevos Rancheros.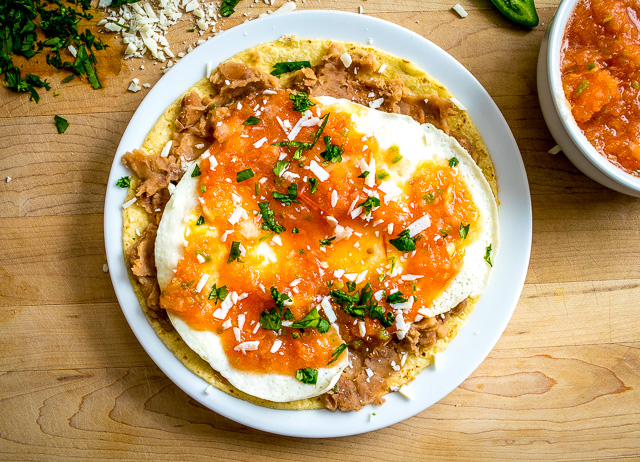 Coat a tortilla with the refried Canary beans and top with egg, salsa, Cotija, and cilantro.
The return on investment here is through the roof: it takes just a few minutes to make a meal like this and the result is otherworldly; beyond delicioso if that's possible.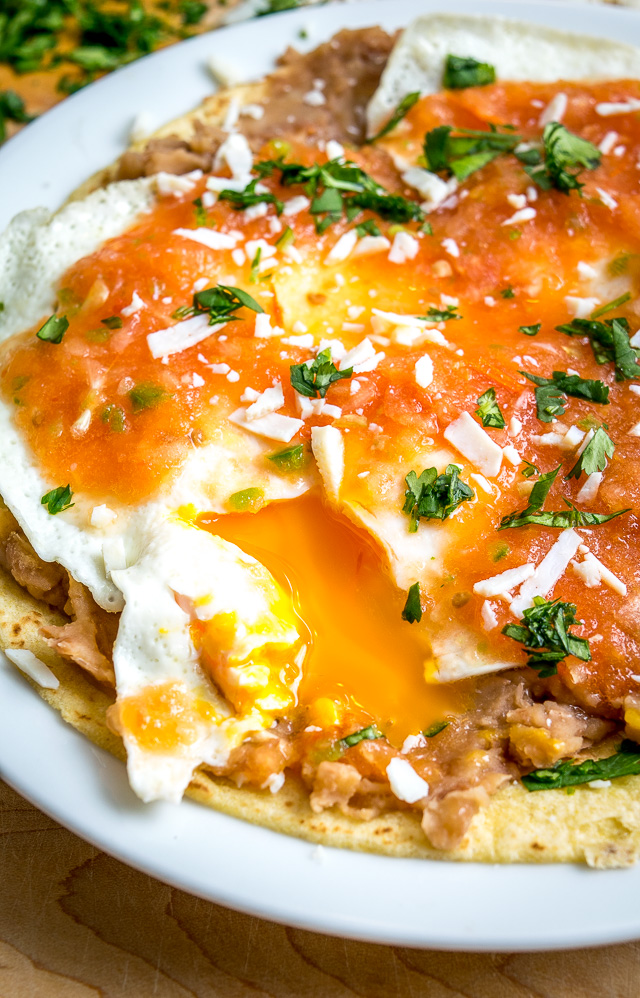 These will also work great in tacos, bean-and-cheese quesadillas, tostadas, burrito bowls....
And also a spoonful at a time on their own.
So yes, that might be the sound of Peruano beans speaking up at the dinner table, asking for just a bit more attention.
Keep an eye out for them and give 'em a try, it's worth your time.
(Here's some more info on cooking Frijoles de Olla and Refried Beans. Also, the salsa used here is a homemade Tomato-Jalapeno Salsa. I also recently made a batch of Enfrijoladas using Peruano beans.)
Creamy Refried Peruano Beans
Once you try refried beans using Peruano Beans you might never go back to Pinto!
Print
Pin
Rate
Ingredients
2

cups

cooked Peruano beans

1

Tablespoon

lard

(or oil)

salt to taste
Instructions
Add 1 Tablespoon lard to a skillet on medium heat

Add the cooked Peruano beans and smoosh with a potato masher (or the back of a spatula)

Cook for 4-8 minutes or until you have the desired consistency

Salt to taste
Notes
Since we are using cooked beans it takes just a few minutes over medium heat to turn them into refried beans.
You can always add bean broth or water to thin them out if necessary.
You could also use the cooked Peruanos to make this easy, delicious Mexican Bean Soup. 
Like this recipe?
Click the stars above to rate it or leave a comment down below! @mexplease
These Peruano beans are quite similar to this batch of Yellow Indian Woman Beans.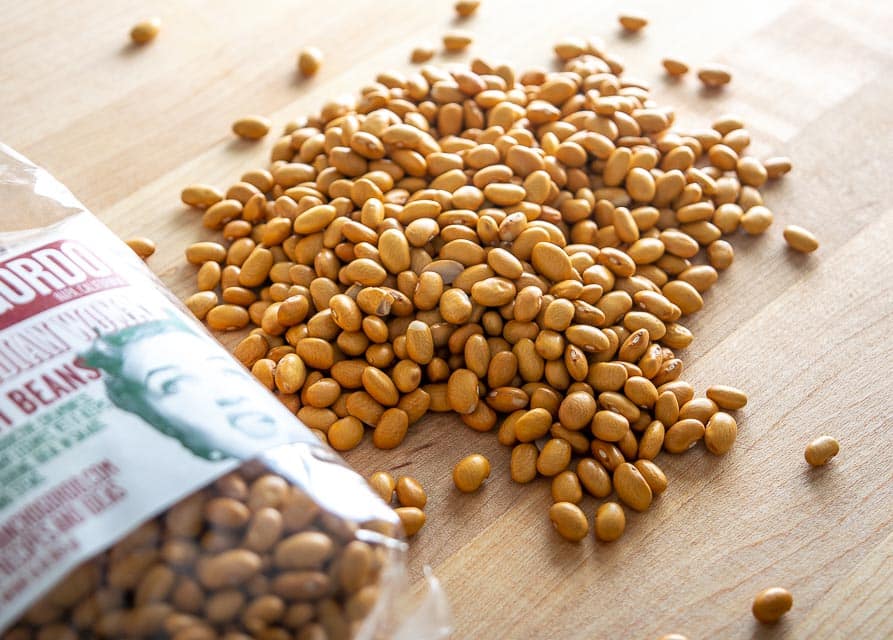 We also recently experimented with Cranberry Beans. Check out the post here.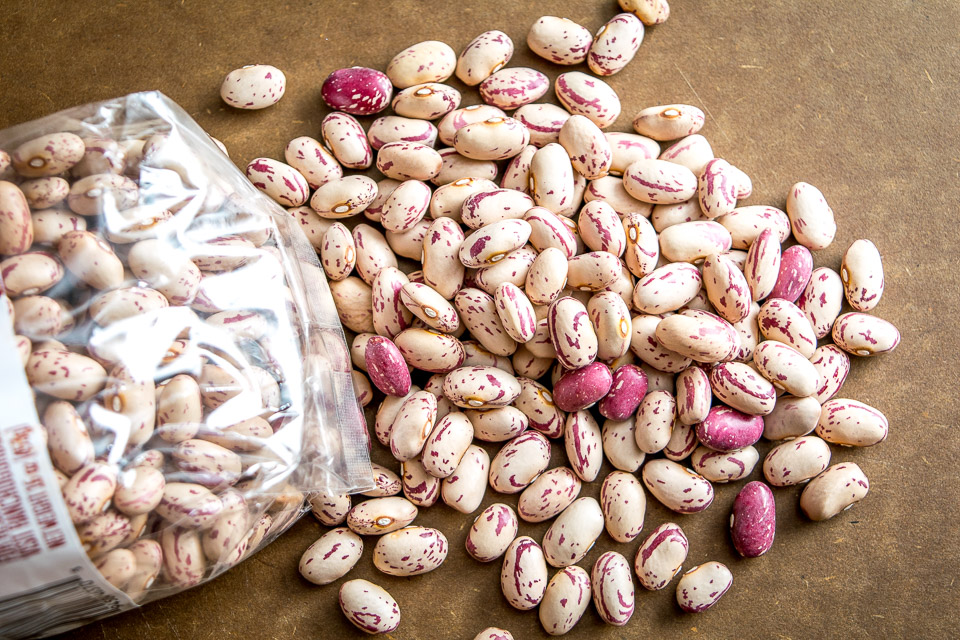 And our latest post is a batch of these unreal Charro Beans.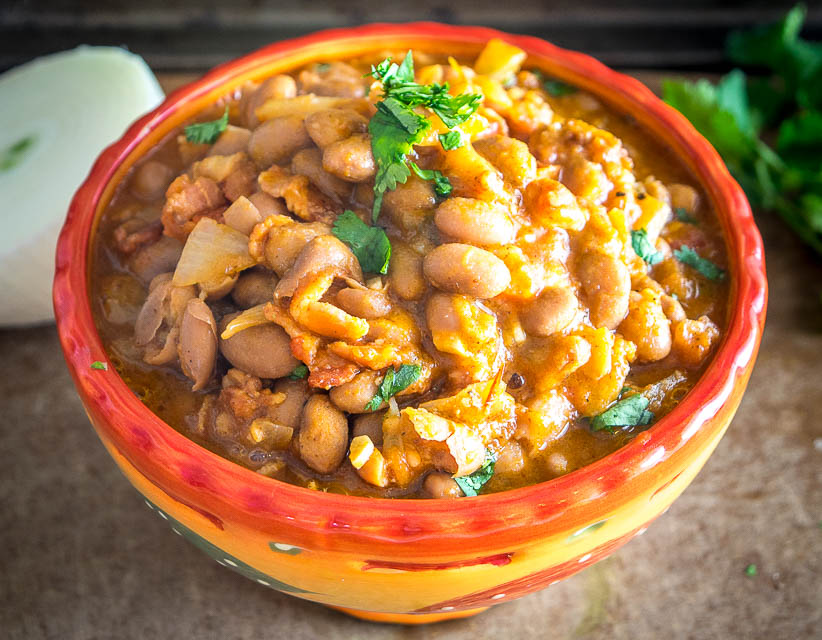 Still hungry?!
Want to receive Mexican Please recipes via email when they are posted?  Sign up below to subscribe.  All recipes are spam free.