Cranberry beans are a common substitute for pinto beans in some parts of Mexico. I've been looking forward to experimenting with them and finally opened up a few packs that have been sitting on the counter for the past couple weeks.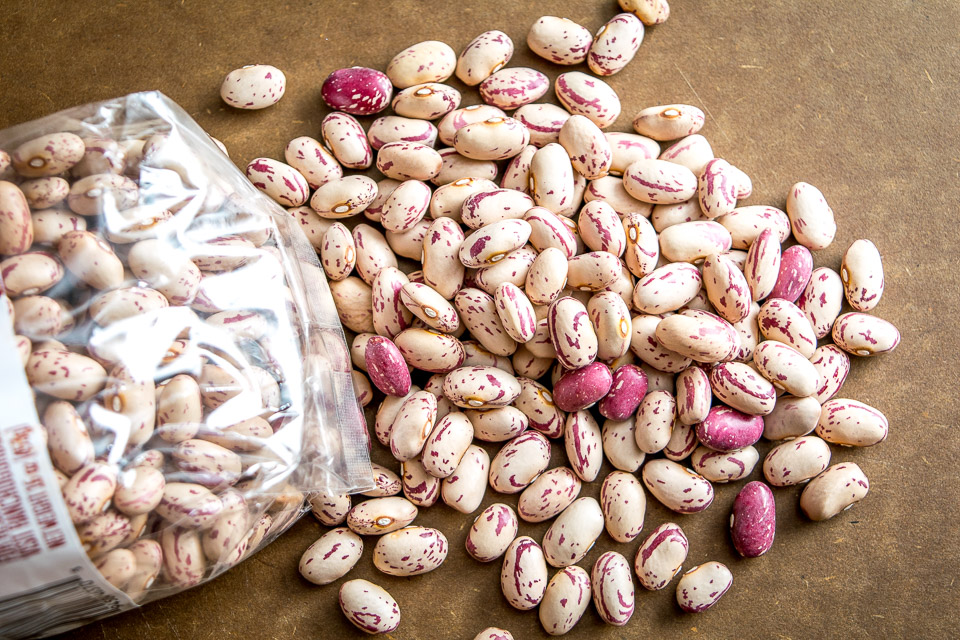 They're hard to come by in my neck of the woods so I ordered some from Rancho Gordo. I don't have any affiliation with Rancho Gordo, but people seem to rave about the quality of their heirloom beans.
They have similar markings as pinto beans but you'll quickly notice where they get their name as the cranberry colored splotches will even cover entire beans.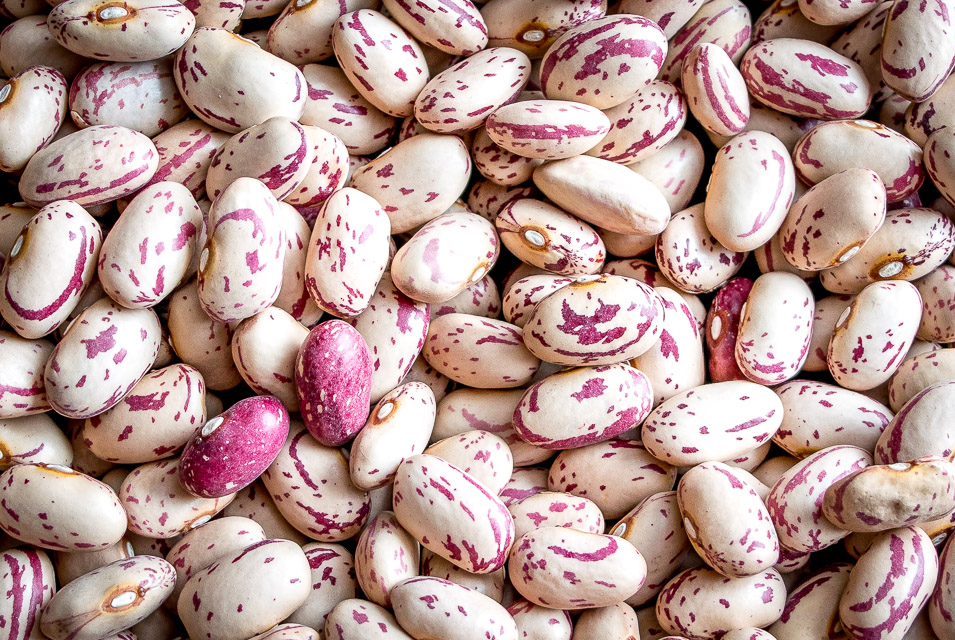 Making a batch of Cranberry Beans
You are welcome to soak the beans overnight but this batch was fresh out of the box so I didn't bother.
We rely on some home-rendered lard to make batches of beans, but you can always substitute oil for the lard and get an equally good result. I'll briefly describe the pot bean process here but it's worth checking out our Frijoles de Olla post if you want to make a batch of homemade beans in a similar manner.
Basically you start with 2 cups of dried beans. Rifle through them and discard any rocks or shriveled beans. Add water to give them a rinse and get rid of any floaters.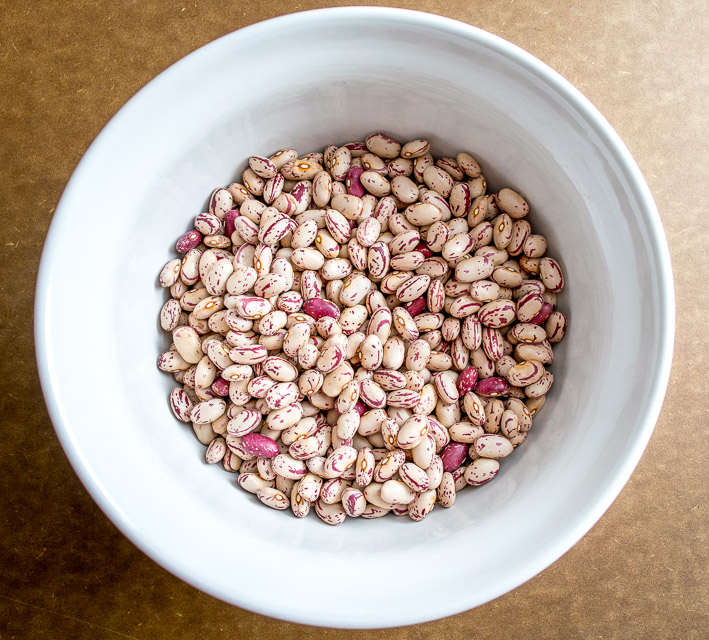 Drain the beans and add them to a wide saucepan or pot. Add enough cold water so that the beans are covered by at least 2" of water. For this batch that was around 12-14 cups of water.
Add 2-3 Tablespoons of lard and a roughly chopped half onion (or a single small onion). Bring to a boil and then reduce heat to a simmer. Let simmer for 2-3 hours, always making sure that the beans are covered by water. I added another 4-6 cups of water for this batch.
Beans are done when they're done and that's as specific as they'll ever be with you. Start biting into single beans after 1.5-2 hours; if it's still grainy or hard they need more time. After two hours this batch was mostly there.
Surprised to see their color? So was I! They eventually turned brown and did a great impersonation of cooked pinto beans.
Add 1 teaspoon of salt when they are getting close and let them simmer for another 10-15 minutes. Take a final taste for salt; I added another generous pinch of salt to this batch.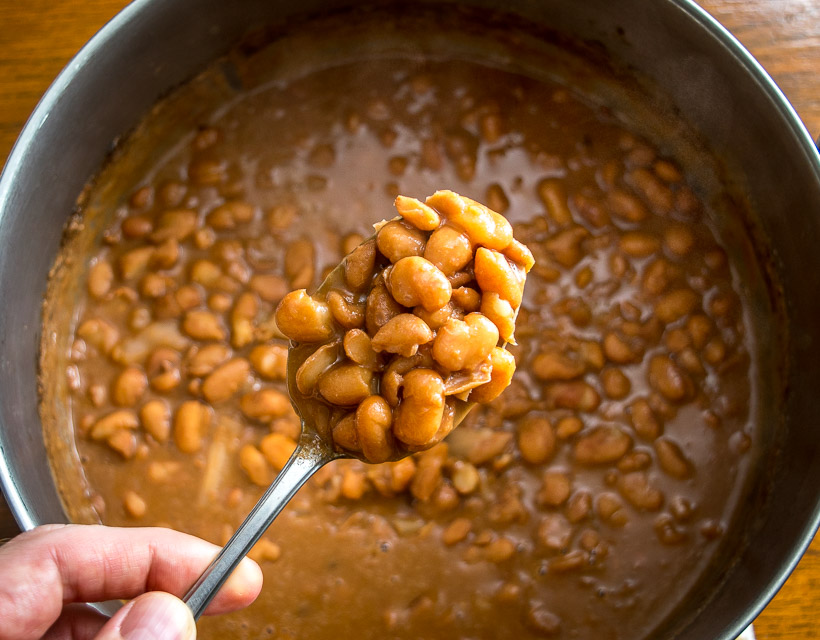 You're left with a delicious batch of homemade beans that will easily outdo any canned beans you bring home from the store.
And the flavor? The flavor also did a pretty good impersonation of pinto beans. They are milder, and a bit creamier, but overall I was surprised how similar they were to cooked pinto beans. I am calling them Pinto Beans Lite and I think they are perfect for people who want their beans a little less "beany".
They also make delicious refried beans. Since this was my first time working with them I wanted to try a mostly flavor-free batch of refried beans to get a better sense of their potential.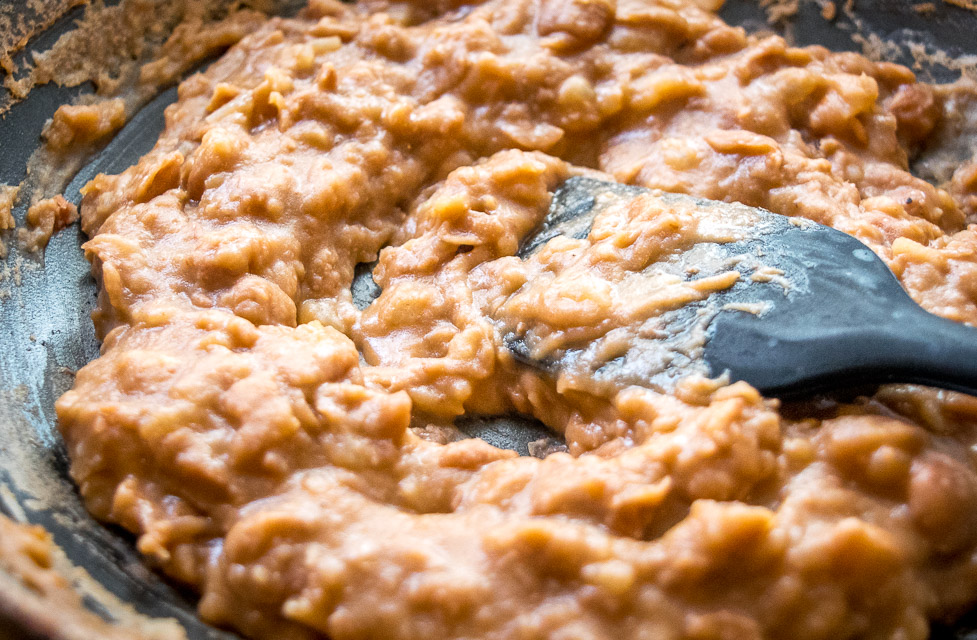 So this is one cup of beans and their broth sauteed off in a small dollop of lard with some finely chopped onion added in. You can use a potato masher to smoosh the beans but lately I just use a firm spatula to break them down in the saucepan over mediumish heat.
The result? Definitely good enough to be eaten on their own and far superior to canned refried beans. But of course it's worth seeing how well they work with others. Lately that means cheese, basic guacamole, cilantro stems and hot sauce in a warm, crispy corn tortilla.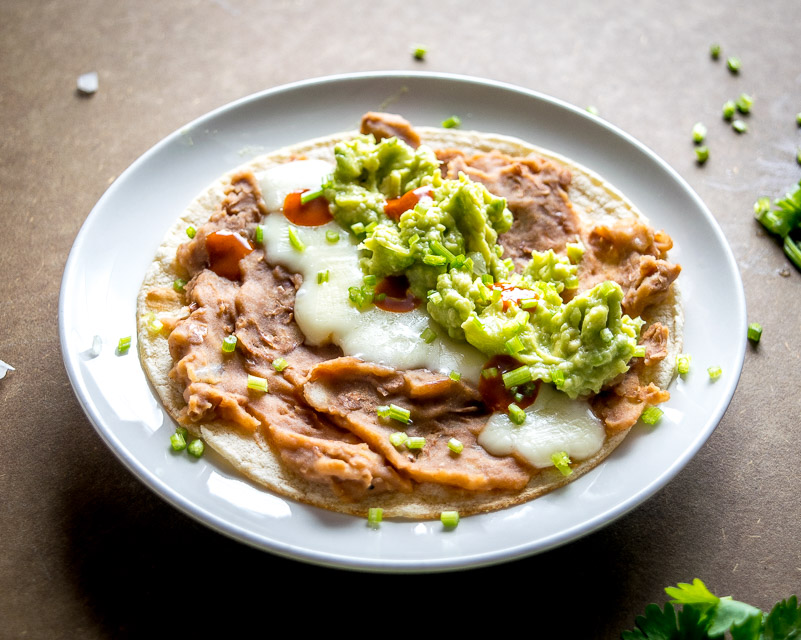 So good! Super easy to make on-the-fly meals like this if you keep a batch of these beans in the fridge (or freezer). These 2 cups of dried beans made six 1-cup sized portions of cooked beans along with some broth. See the Pot Beans post for more details on storing them.
I do have to admit that Peruano beans will still be at the top of my Favorite Beans list, but these Cranberry Beans are a great alternative when you're after a mildly flavored bean in the Pinto realm. I've been eating them all week and now getting curious how they would do in a batch of Enfrijoladas.
Buen Provecho.
Cranberry Pot Beans
You can think of these Cranberry Beans as Pinto Beans Lite. They have a similar flavor to pintos but are creamier and slightly less 'beany'. A great option for refried beans.
Print
Pin
Rate
Ingredients
2

cups

dried cranberry beans

2-3

tablespoons

lard (or oil)

1

small

onion (roughly chopped)

1

teaspoon

salt (plus more to taste)

2-3

quarts

cold water
Instructions
Sort through the beans and discard any rocks or shriveled beans

Rinse the beans and drain well

Add beans to a wide saucepan or pot and cover with at least 12 cups of water, or so the water level is 2" above the beans

Add the roughly chopped onion and 2-3 tablespoons of lard (or oil)

Bring to a boil. Reduce heat to a simmer and let simmer for 2-3 hours partially covered. Ensure that the water level is well above the beans by adding more water if you need to (I added an additional 4-6 cups of water to this batch).

Start biting into them after 1 1/2 hours. If they are hard or grainy they need a little more time.

Once done add 1 teaspoon of salt and simmer for another 10-15 minutes. Take a final taste for salt. (I added another generous pinch to this batch).

If you want, portion into 1 cup sized bags (or jars). Include plenty of the broth in the portion bags.
Notes
Beans are hyper-sensitive to salt amount so be sure to do lots of taste testing towards the end of the simmer and add more if necessary.
When adding additional water to the cooking beans, using hot/boiling water will reduce cooking time. 
Like this recipe?
Click the stars above to rate it or leave a comment down below! @mexplease
One of our most popular vegetarian recipes is this Spicy Avocado Hummus.
Still hungry?!
Want to receive Mexican Please recipes via email when they are posted?  Sign up below to subscribe.  All recipes are spam free.