The Aztec/Nahuatl word izquitl roughly translates as "toasted corn".
The word itself, izquitl, has morphed into its modern day version, esquites, and is still used in Mexico today. 
Esquites has now made its way north of the border too, mostly because corn slathered in creamy, Chili-Lime sauce is a dish that can quickly transcend culture boundaries.  In other words, it tastes really good.
And while you'll often see it sold using chargrilled ears of corn, you can use canned or frozen kernels and get a similar result, making this a year round delicacy that doesn't need to wait around for a batch of fresh corn.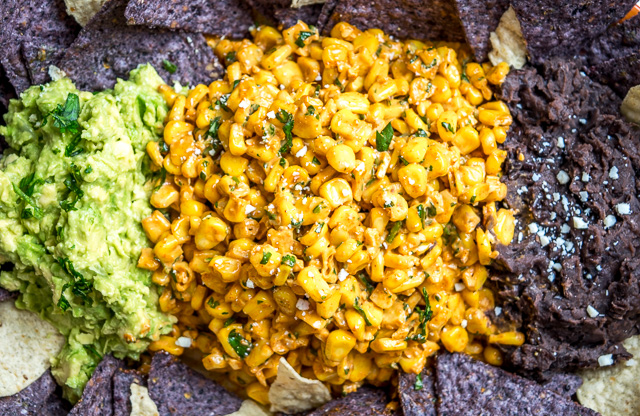 Mexican Street Corn Recipe
The idea is to create a creamy sauce that clings to the kernels while at the same time delivering a classic Chili-Lime one-two punch.
Mayonnaise and cheese take care of the creamy gooeyness, while fresh squeezed lime juice and chili powder take care of the rest.  (Feel free to substitute Mexican crema for the mayonnaise if available.)
I think some sharp, lip-smacking heat works well with the corn so I use chipotle powder.  You can use a standard chili powder and get similar results.
OK, start by cooking 3 cups of corn over medium-high heat in a dollop of oil.
Meanwhile, mix together 3 tablespoons of mayonnaise, 1 teaspoon chipotle powder, and the juice of one lime.
Once the corn is cooked (approx. 5-8 minutes) add it to the sauce mixture and stir to coat.
Add 2 tablespoons of Cotija cheese and 2 tablespoons chopped cilantro.
Mix well and give it a taste.
Ideally the chili powder and lime are repped in each bite, so feel free to add more of either.
Note that corn dip with corn chips does not maketh a meal 🙂
But if you serve it with guacamole and refried beans then dinner has arrived.
The corn mixture goes great with the guacamole.  And the guac goes good with the beans.  And the beans....you get the idea.
Note that I am using this Basic Guacamole and these homemade refried beans but you can substitute at will.  You can also roll any or all of the above into a tortilla.
And more importantly, now that you've made Mexican Street Corn into a meal you can justify making it for dinner any night you choose, whenever you want, for the rest of your life.  Because you deserve it.
Izquitl.
Esquites.
Isgood.
Buen Provecho.
Mexican Street Corn Dip
This versatile street corn dip is easy to make and is always one of the first things to disappear from the table.
Print
Pin
Rate
Ingredients
3

cups

corn kernels

(fresh, frozen, or canned)

3

tablespoons

mayonnaise

lime juice

(1 lime)

1

teaspoon

chili powder

(I used chipotle powder)

2

tablespoons

Cotija cheese

(Feta is a good alternative)

2

tablespoons

cilantro

corn chips
Instructions
Saute the corn in a dollop of oil over medium-high heat until cooked, approximately 5-8 minutes.

Meanwhile, mix together 3 tablespoons of mayonnaise, 1 teaspoon chili powder, and the juice of one lime in a bowl

Add cooked corn to the bowl and stir to coat well

Add 2 tablespoons Cotija cheese and 2 tablespoons chopped cilantro. Mix well.

Serve as is or with your choice of refried beans, guacamole, or sour cream.
Notes
You can use fresh, frozen, or canned corn.
If you want a lighter version you can cut back on the mayo and cheese and let the Chili-Lime flavor dominate.
Like this recipe?
Click the stars above to rate it or leave a comment down below! @mexplease
Still hungry?!
Want to receive Mexican Please recipes via email when they are posted?  Sign up below to subscribe.  All recipes are spam free.