You are 10-15 minutes away from authentic refried beans that will outperform anything you can get north of the border.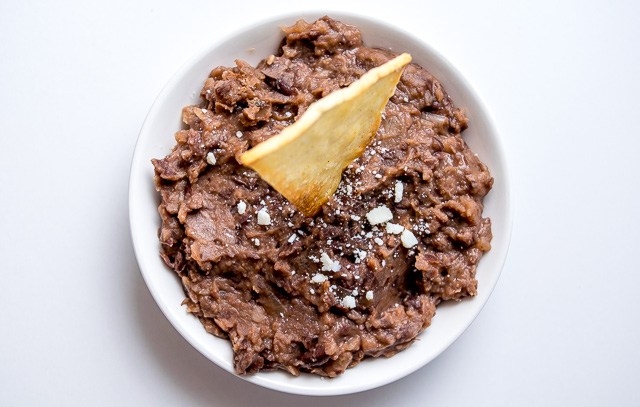 But the question is......where are you starting from?  Are you using homemade beans or canned beans?

If you're starting with homemade beans then give yourself a quick congratulations as most of the work is already done.
For example, these are 2 cups of homemade black beans that were simmered with onion and lard and they are already jam-packed with a rich flavor:
All that really needs to be done is a bit of re-formatting, so let's do that.
Saute a couple tablespoons of finely chopped onion in a dollop of oil (I used some homemade lard).
Note:  After dicing, I like to crush the onion with the back of a fork to release some of the dormant oils.
Ideally you've got beans that were stored in some broth, so we'll add most of that broth along with beans.
Use a potato masher (or a wooden spoon) to crush the beans.
Saute on medium-low heat.  Ideally you want them to start a bit runny and end a bit sticky.  You can use additional broth, or water, to control the consistency.
In 7-10  minutes you'll have beans that will stick to a spoon.
Season with salt and just like that you've got the coveted double whammy of refried beans (homemade using homemade) and they are delicioso.
But what about the times that you don't have homemade beans on hand?
Since canned beans don't have the rich, natural flavor of homemade beans, adding a bit of flavoring will really help them along.
Start by rinsing a can of whole beans under cold water.  The liquid in canned beans is where most of the sodium and dulled flavor resides.  They'll taste better if you add your own flavor.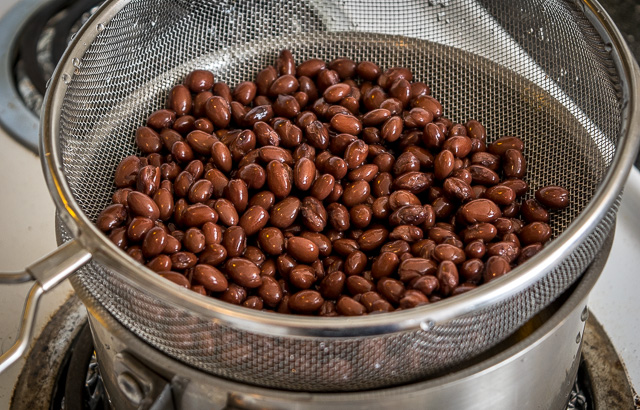 You can mash these as we did above, but I'm going to puree them in the blender just to show an alternative method that is just as good.
Add to a blender (or food processor) along with 1/4 onion, 1 garlic clove, 1/2 teaspoon of chili powder (I used chipotle powder), 1/4 teaspoon of cumin, and 1/2 cup of stock (I used chicken stock, but veggie, or even water, is OK.)
Pulse blend until mostly smooth.
Heat up a skillet with a dollop of oil and add the bean puree.
Cook on medium-low heat until they have thickened up considerably.
Since we took out all the sodium when rinsing the beans, you'll have to add some salt back in.  I added 1/2 teaspoon of salt to this batch and then another generous pinch after tasting.
This will give you a batch of refried beans that is far superior to canned refried beans and can be used in nearly every situation when refried beans are called for:  tacos, burritos, quesadillas, etc.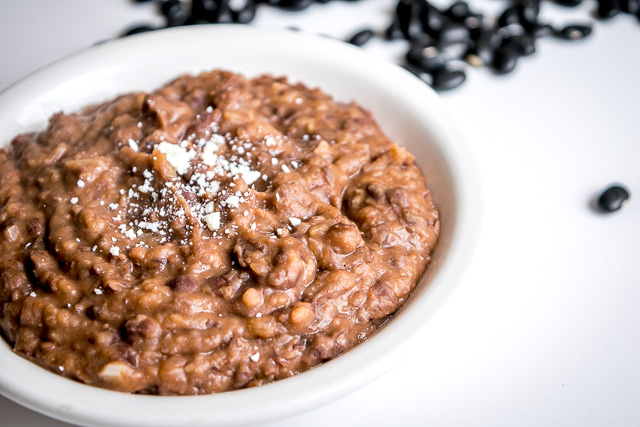 They will, however, develop a bit of an inferiority complex when compared to the flavor of the homemade version above.
Traditional garnish for refried beans is a sprinkle of Cotija cheese and sometimes a tortilla chip.  (What is Cotija cheese?)  You'll hear different reasons on why there's a chip in your beans.  Some say it's purely for looks, some say it's to prove the beans have the proper consistency, and of course the simplest reason of all is probably the best:  so it can be eaten.
Buen Provecho.
Simple, Epic Refried Beans
This recipe is for refried beans using canned whole beans. (If you are using homemade beans all you need to do is saute off the crushed beans in some onion and oil.)
Print
Pin
Rate
Ingredients
1

can whole beans

(black or pinto)

1/4

onion

1

garlic clove

1/2

teaspoon

chili powder

(I used chipotle powder)

1/4

teaspoon

cumin

1/2

cup

stock

(chicken or veggie, water is OK)

1/2

teaspoon

salt
Instructions
Rinse and drain the beans

Add to a blender (or food processor) along with the 1/4 onion, 1 garlic clove, 1/2 teaspoon chili powder, 1/4 teaspoon cumin, and 1/2 cup stock

Pulse blend into a rough puree

Heat up a dollop of oil in a skillet

Add the bean puree and cook on medium-low heat for 7-10 minutes, or until the beans have reduced to the desired consistency

Add 1/2 teaspoon of salt and taste. Add more salt if necessary

Serve immediately
Like this recipe?
Click the stars above to rate it or leave a comment down below! @mexplease
Don't forget that you can make great refried beans using Canary Beans.  You might also like our Pinto Bean Soup.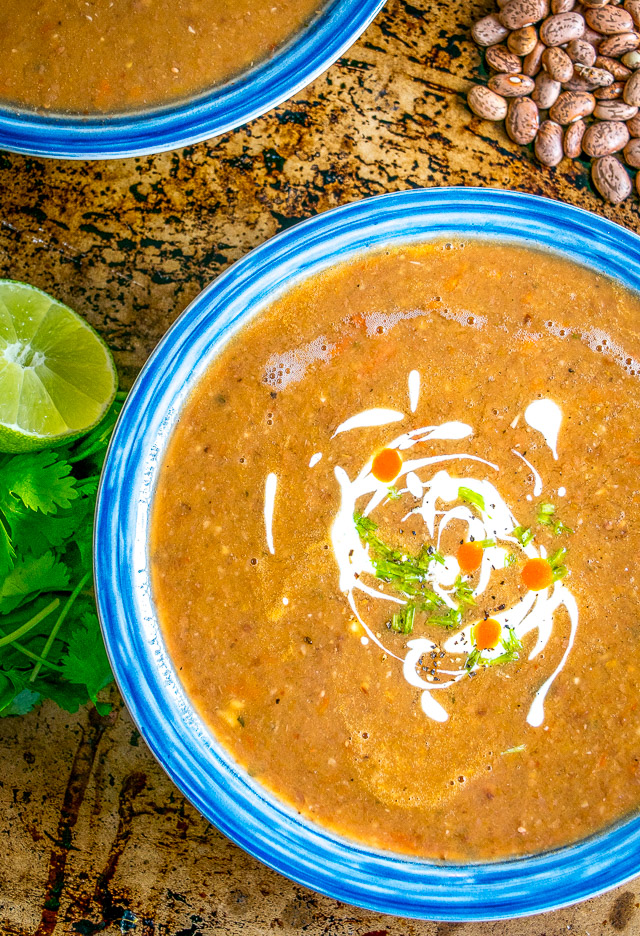 Or try these hearty Charro Beans.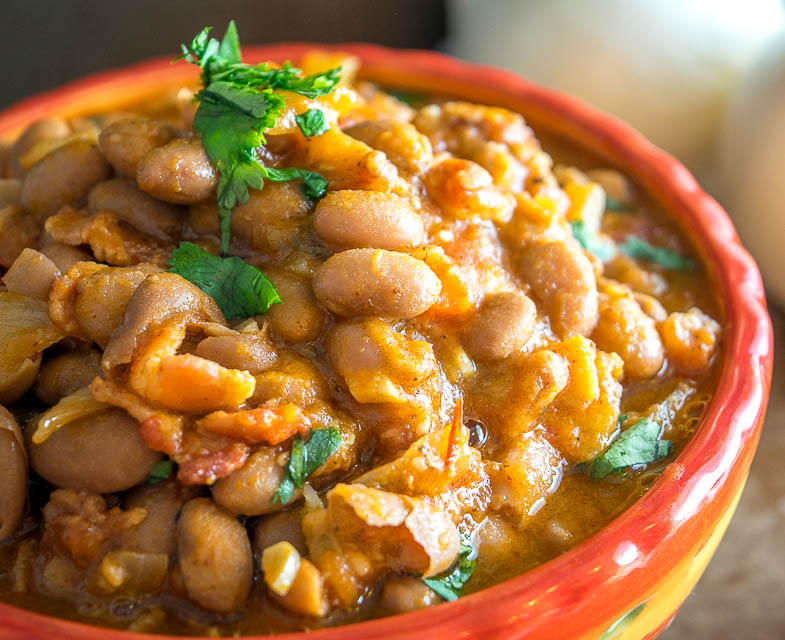 Still hungry?!
Want to receive Mexican Please recipes via email when they are posted?  Sign up below to subscribe.  All recipes are spam free.