Sopes in the house!
They may sound exotic, but if you've ever made corn tortillas at home then you're just a couple steps away from an authentic batch of Sopes.
I topped this batch with refried beans and Queso Fresco, but they are wildly versatile and willing to accommodate your palate.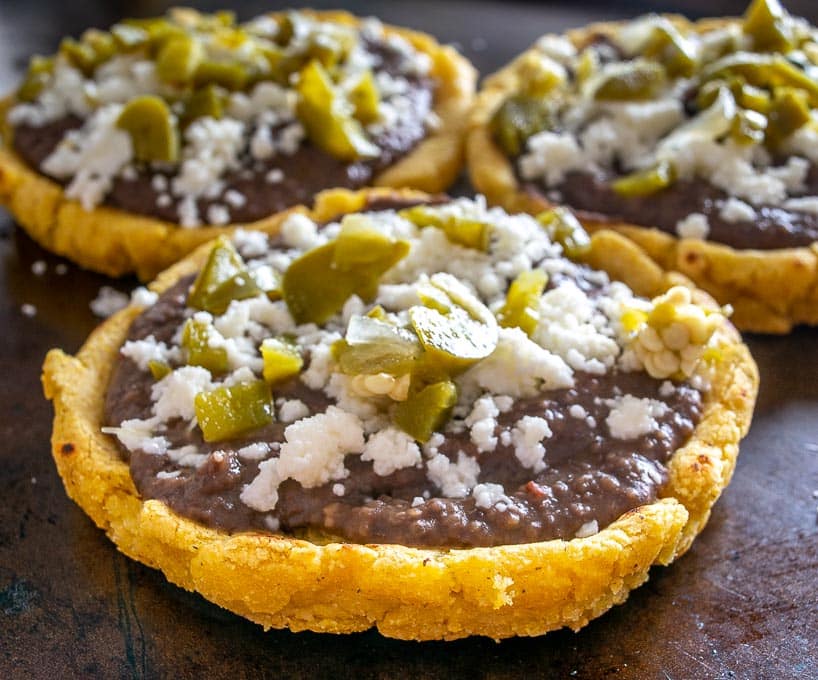 How To Make Sopes
Masa dough gives your kitchen loads of options for quick meals, and each serving style tends to get its own name.
Here's the progression that will lead you to Sopes...
Start with a golfball-sized chunk of masa dough. This will give you a tortilla that's about 4" in diameter after flattening it.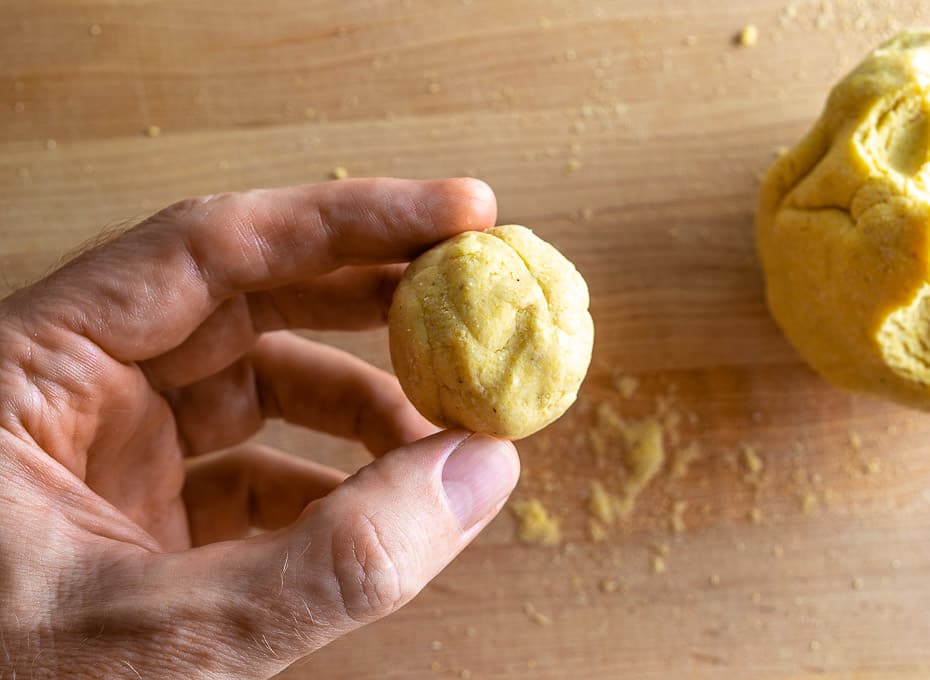 If you double this amount of masa dough you'll get a Gordita that's around 1/4 inch thick.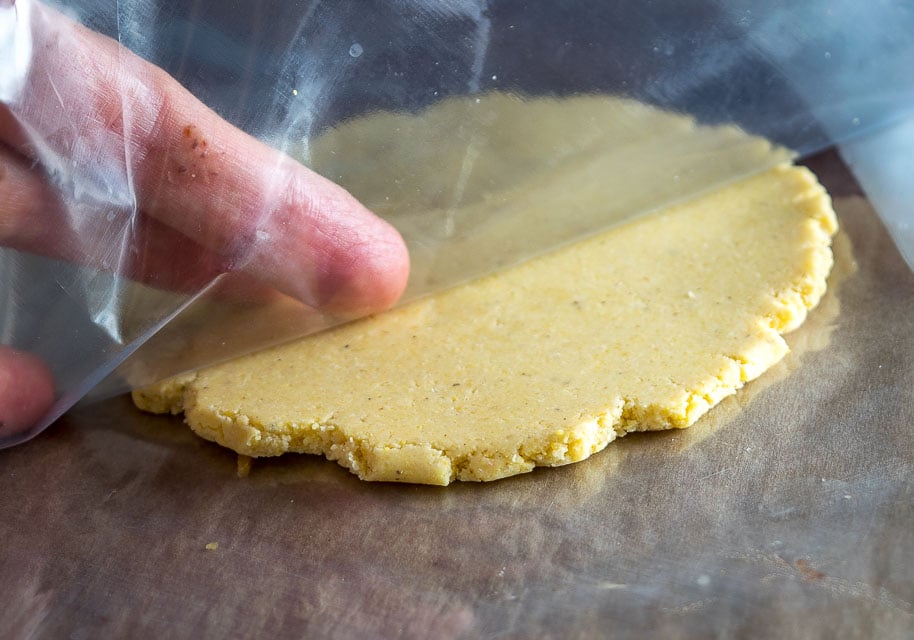 After cooking this Gordita in a dry skillet, use your fingers to pinch up the edges and now you've officially got a Sope on your hands.
Also known as a ridged Gordita 🙂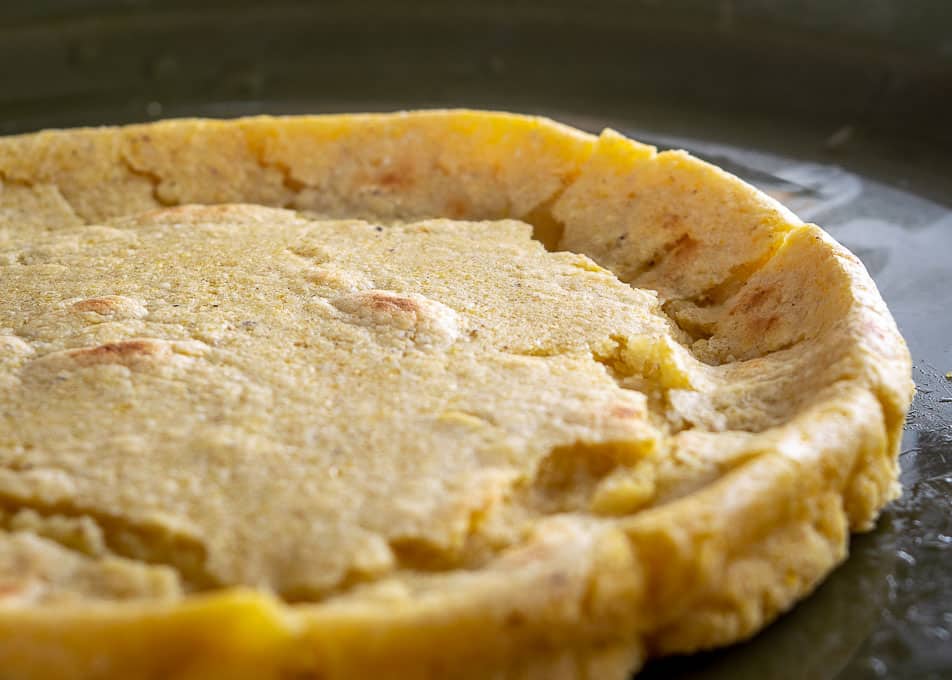 It's a unique serving method and these pinched edges were no doubt created to keep all your fixings from sliding off!
If you're new to masa dough please keep in mind there are lots of ways to get it in your home kitchen:
I'm making this batch of Sopes with Masa Harina.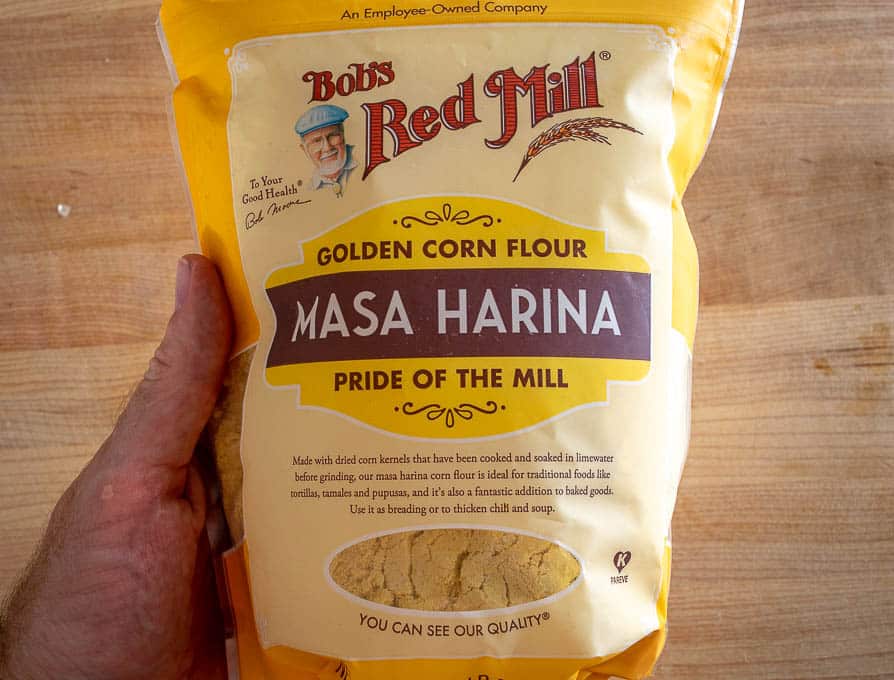 Using the same recipe that's used to make corn tortillas:
2 cups Masa Harina
1/2 teaspoon salt
1.5 cups warm water
We'll start by combining the Masa Harina and salt in a mixing bowl.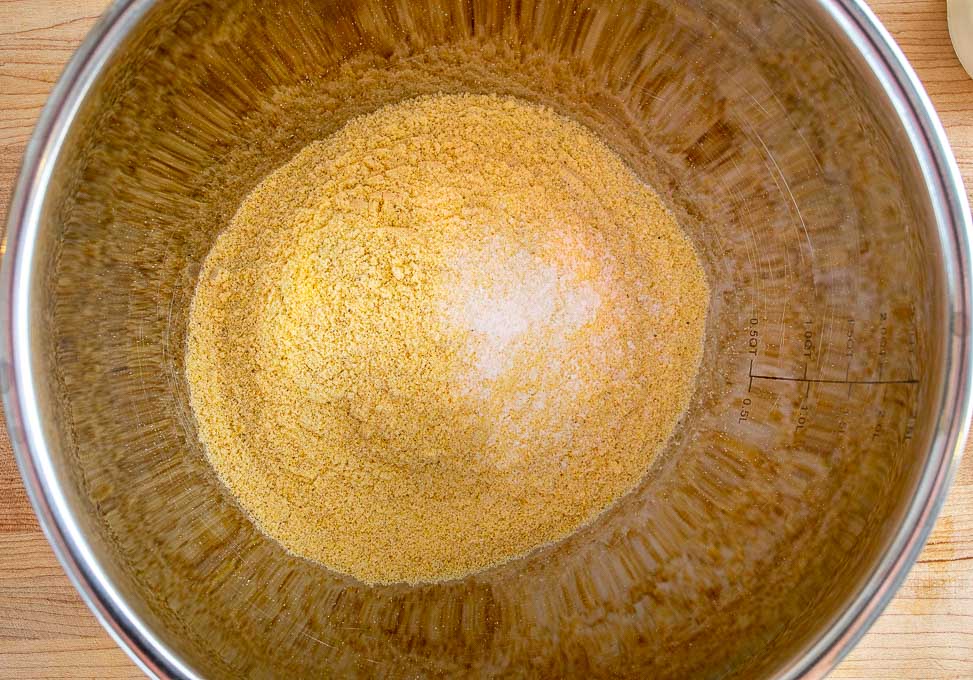 Add around 1 cup of the warm water and combine as much as you can.
Then I usually dump it onto a work surface and add the remaining 1/2 cup of water incrementally until a cohesive dough is formed, using my hands to finish it.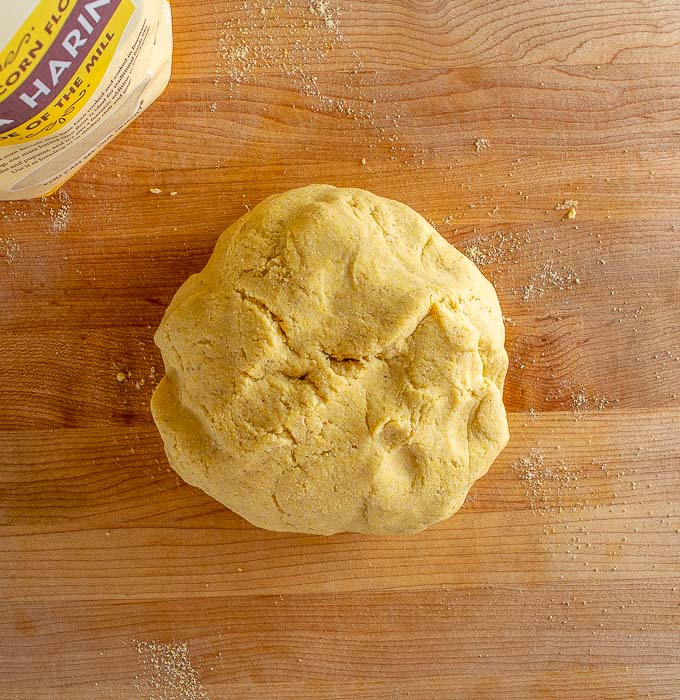 Pull off a 3 oz. chunk and roll it between your hands, something about this size: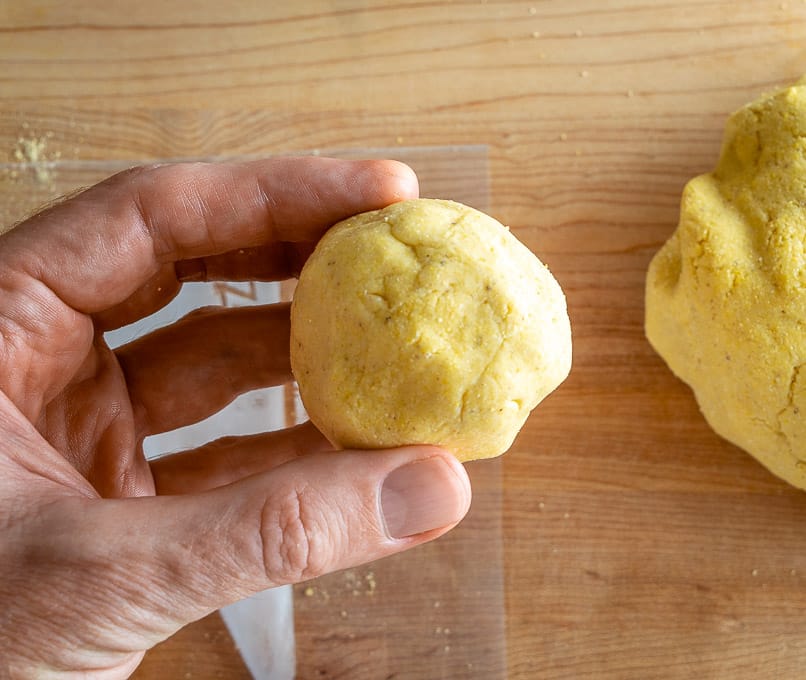 Since Sopes are thicker, you can use your hands to shape this chunk into a disc if you want.
Alternatively, just surround it with some plastic and give it a squish.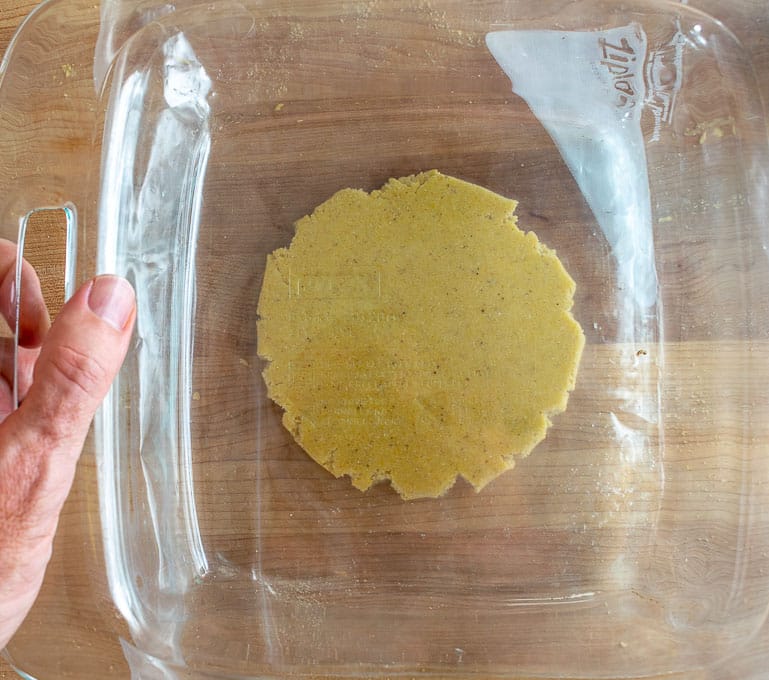 Keep in mind that these will need to cook longer than tortillas.
I use medium heat on my stove and that had brown spots forming on the underside in about 2 minutes.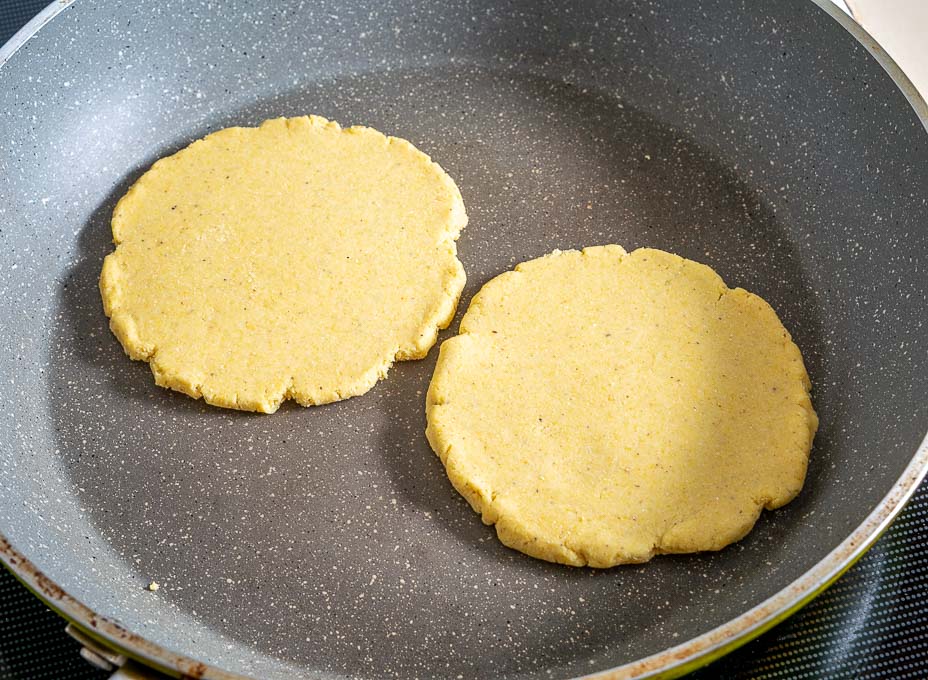 Cook both sides and then set aside to cool for a couple minutes. Then use your fingers to pinch up the edges, forming a ridge.
You're basically just pulling a little dough towards the outer edge and then pinching it upwards. This will keep your toppings onboard and it officially makes them a Sope!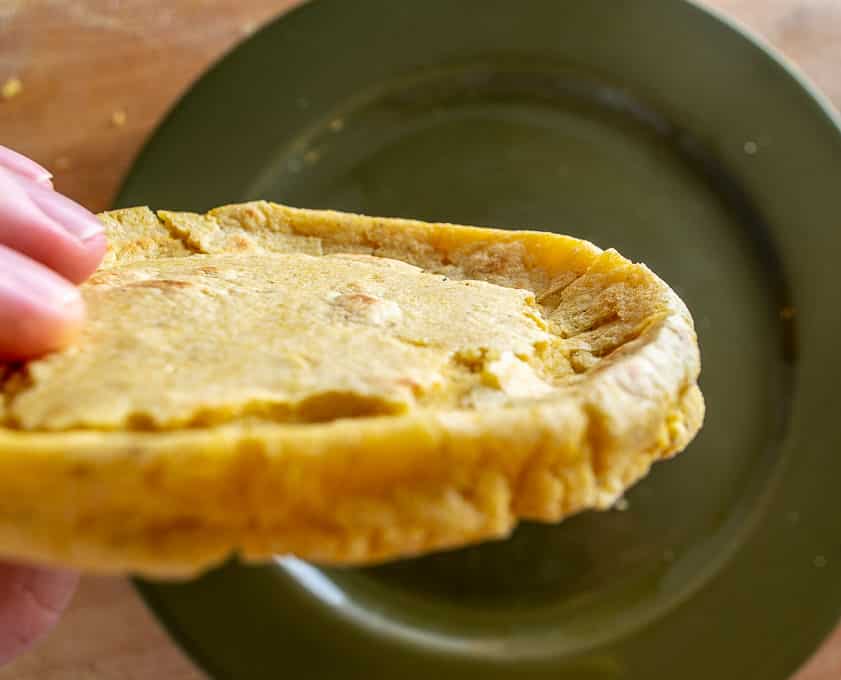 Although it's optional, I definitely prefer Sopes (and Gorditas) when they are finished with a shallow fry. This will crisp them up and I think it helps prevent them from being too dry.
A thin layer of oil is all you need -- just 1-2 tablespoons will do the job. I used medium heat to get the oil up to temp and then slid in the Sopes.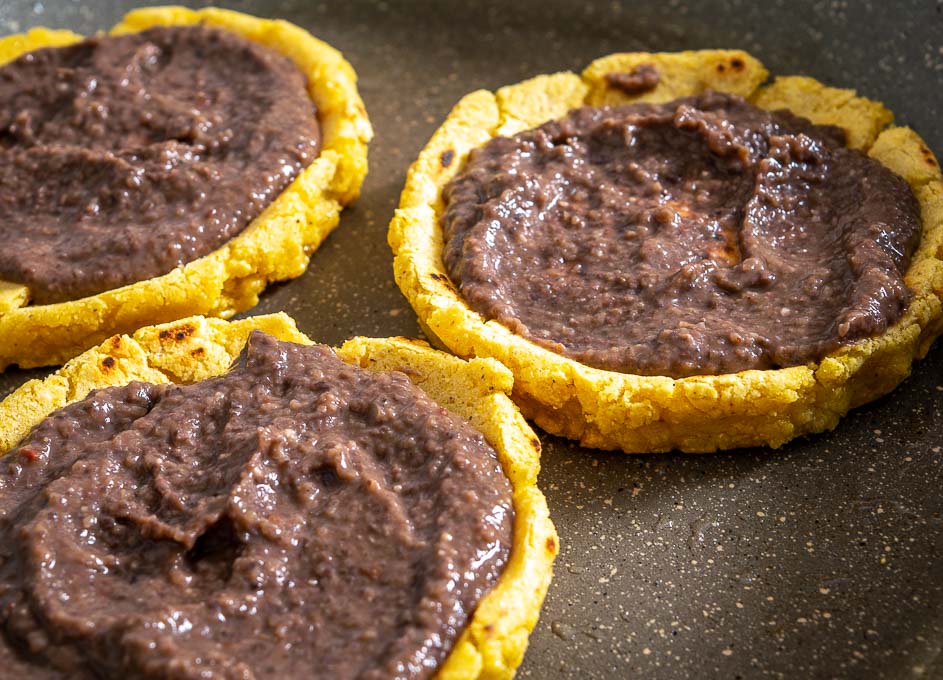 I usually only crisp up the bottom side as it's hard to crisp up the top side with the ridges.
I added the refried beans while they were in the pan to help heat up the beans. I always seem to have these refried beans in the fridge. I'll put instructions for them in the recipe box below, but here's a quick look at the ingredient list:
1 can black beans (drained and rinsed)
1/2 onion
2 garlic cloves
2 chipotles in adobo
1 tablespoon adobo sauce from the can
1/2 teaspoon cumin
freshly cracked black pepper
1/4 teaspoon salt (plus more to taste)
1/2 cup stock (or water)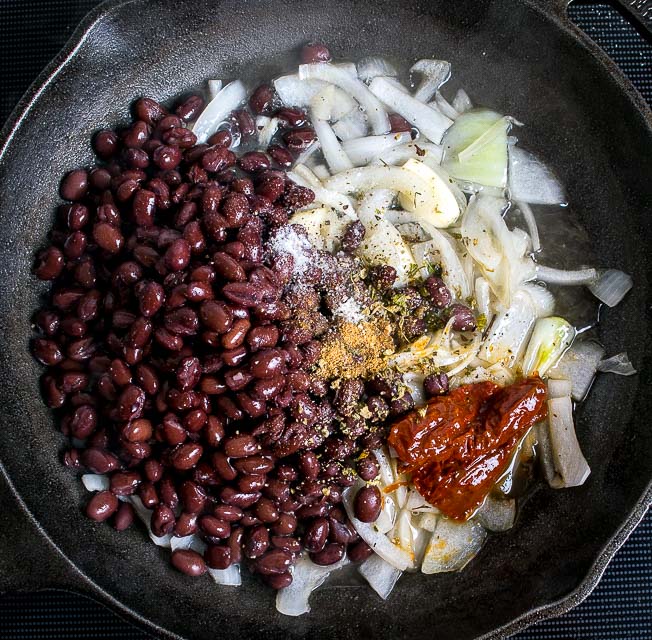 Once the bottom of the Sopes were crisping up and turner darker brown (approx. 2 minutes) I pulled them out and loaded them up with some more fixings:
Queso Fresco
diced Pickled Jalapenos
a squeeze of lime
freshly chopped cilantro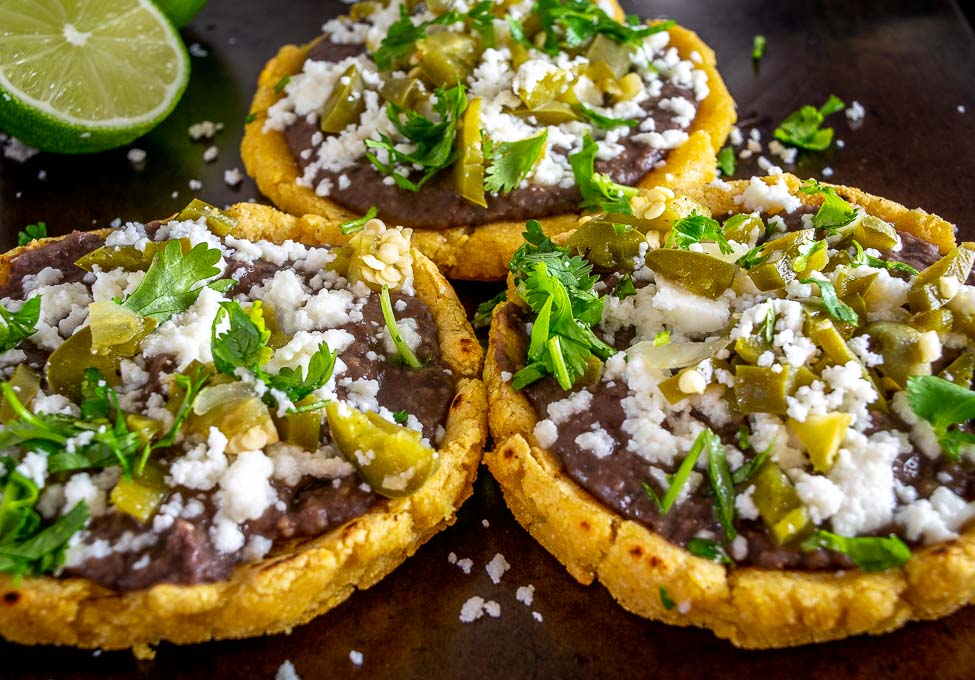 And they were delicious!
Thick, crisp masa delights with tons of flavor on top. And the fixings don't slide off 🙂
Please keep in mind that you can get creative with the toppings. Here are some other good options for toppers:
Okay, let me know if you have any questions about Sopes. It's a great technique to add to your arsenal, and it will help make masa dough a regular contributor in your kitchen 🙂
Buen Provecho.
To get up-to-date recipes follow me on Instagram, Facebook, or Pinterest.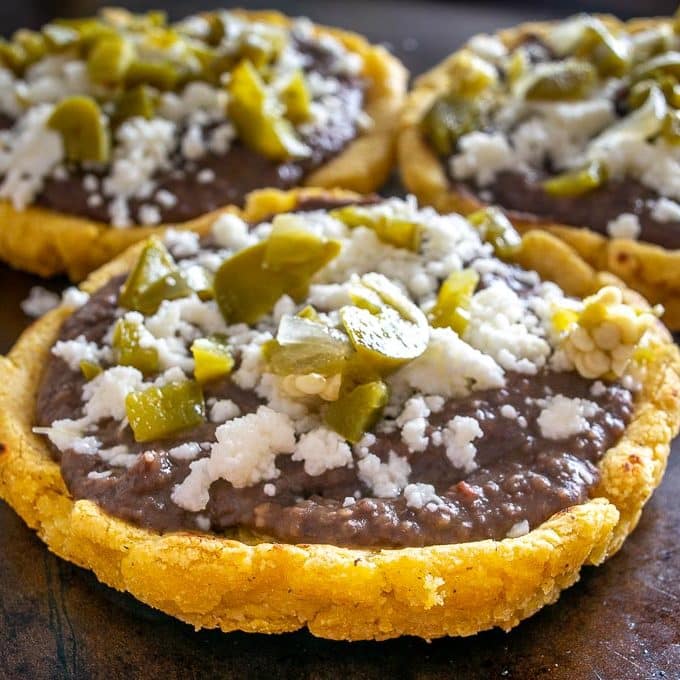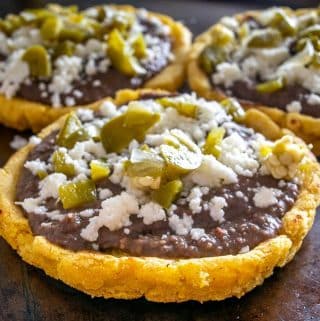 Sopes With Refried Beans and Cheese
Sopes are easy to make and wildly versatile!  I topped this batch with refried beans, cheese, and pickled jalapenos -- yum!!
Print
Pin
Rate
Ingredients
2

cups

masa harina

1/2

teaspoon

salt

1.5

cups

warm water

oil (for shallow frying)

Queso Fresco (optional)

pickled jalapenos (optional)

cilantro (optional)

lime (optional)
For the Refried Beans:
1

can

black beans (or pinto beans)

1/2

onion

2

garlic cloves

2

chipotles in adobo

1

tablespoon

adobo sauce

1/2

teaspoon

cumin

1/2

teaspoon

salt

freshly cracked black pepper

1/2

cup

stock (or water)
Instructions
In a mixing bowl, combine 2 cups masa harina and 1/2 teaspoon salt. Add only 1 cup of the warm water and combine as much as you can using a spoon or spatula.  Then I usually dump the mixture onto a work surface and add the remaining water (approx. 1/2 cup)  a few tablespoons at a time, kneading the dough until it comes together into a cohesive ball. Set aside and cover with a damp towel until you need it.

If you're making the refried beans, start by peeling 2 garlic cloves and roughly chopping 1/2 onion.  Cook the onion and garlic in a glug of oil over medium heat (you can leave the garlic cloves whole). 

Once the onion is starting to brown, add 1 can beans (drained and rinsed), 2 chipotles in adobo, 1 tablespoon adobo sauce, 1/2 teaspoon cumin, 1/2 teaspoon salt, freshly cracked black pepper, and 1/2 cup stock (or water). Let simmer for a few minutes until heated through and then add everything to a blender, combining well. 

Take a final taste of the beans for seasoning and heat.  Add more salt if necessary, and if you want more heat you can add more chipotles (or adobo sauce).

Pull off a 3 oz. chunk of masa dough and use your hands to roll it into a ball. (3 oz. is somewhere between a golfball and a racquetball.)

Surround the dough ball in plastic (or a Ziploc bag) and use a flat-bottomed baking dish to flatten it to 1/4" thickness. 

Pre-heat a dry skillet or comal to medium heat. Cook each side of the Sope until light brown spots are forming on the underside, approximately 2 minutes per side.

Once both sides are cooked, set aside to cool for a minute or so, then use your fingers to pinch up the edges to form an outer ridge. This will prevent the toppings from slipping off the Sope.

If you want to finish off the Sopes with a shallow fry, heat up a thin layer of oil in a skillet -- just 1-2 tablespoons will do the job. I use a thermometer to get the oil up to 360F, and this corresponds to a medium setting on my stove. Add the cooked Sope and shallow fry in the hot oil for 1-2 minutes or until the bottom side is brown and crispy. I usually put the beans on top while it's cooking to partially heat them up, but this is optional.

Top the Sopes with your choice of fixings. In addition to the refried beans, I topped them with Queso Fresco, diced Pickled Jalapenos, freshly chopped cilantro, and a squeeze of lime.

Serve immediately. This recipe will make 5-6 Sopes, depending on how thick you make them.
Notes
Sometimes it can take some fiddling to get the consistency of the masa dough right.  If the dough is sticking to your hands simply add a few sprinklings of Masa Harina to dry it out. Conversely, if the dough is still crumbly then add splashes of water until it becomes cohesive.
I used these Picked Jalapenos. 
Like this recipe?
Click the stars above to rate it or leave a comment down below! @mexplease
Want to see the latest recipe? It's this Easy Calabacitas Soup.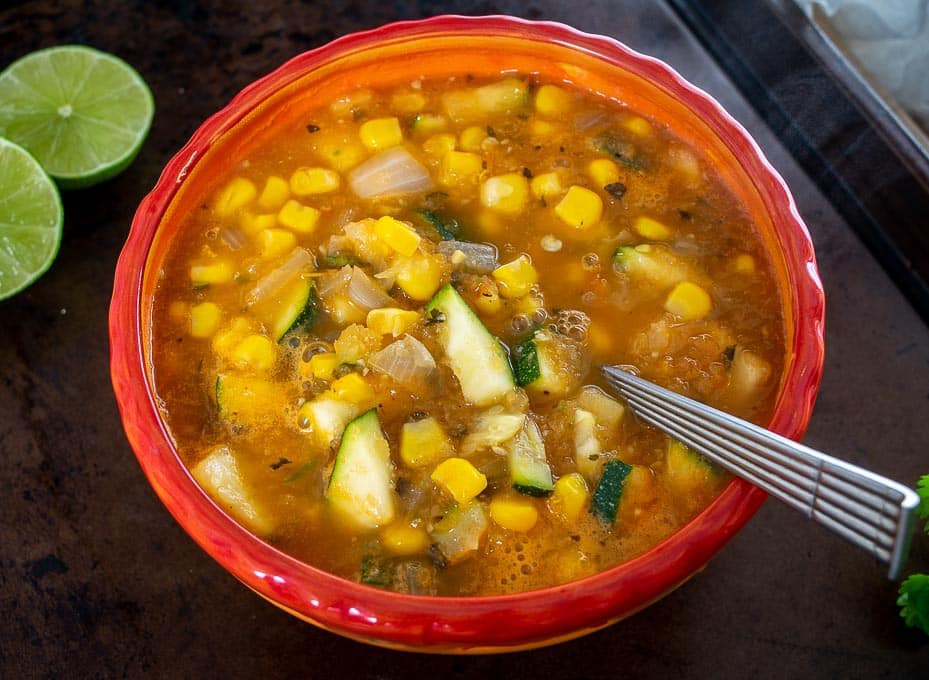 Still hungry?!
Want to receive Mexican Please recipes via email when they are posted?  Sign up below to subscribe.  All recipes are spam free.