Flour tortillas are made with fat, but corn tortillas aren't. That's one of the unspoken rules of Mexican cuisine.
But why? And what happens if you break the rules?!!
Let's find out...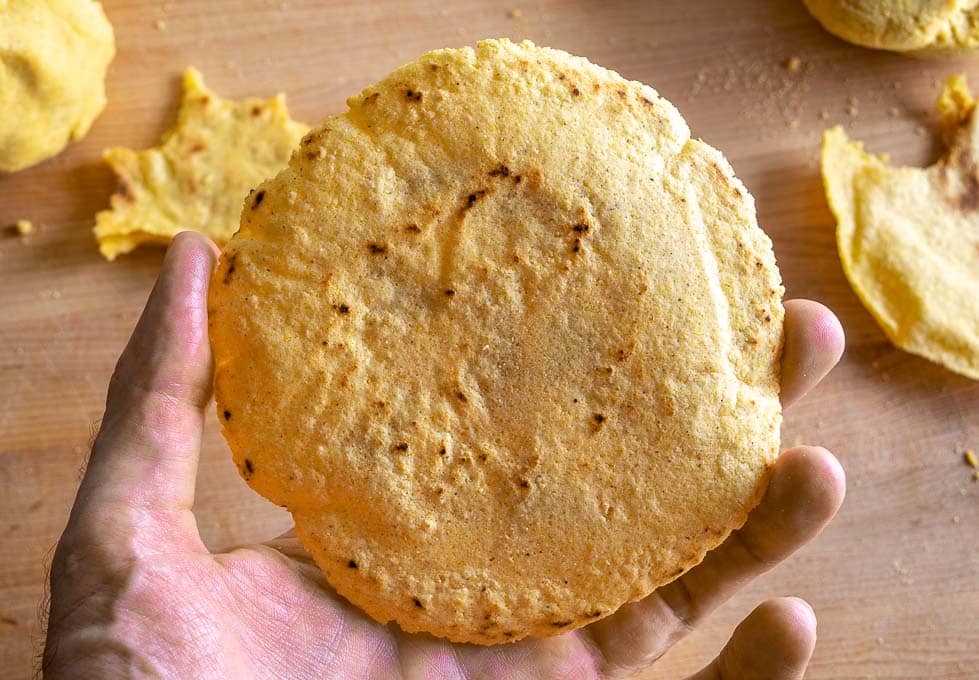 Making Corn Tortillas With Some Lard
I'll go through the process of making corn tortillas in this post, but if you're new to them then definitely check out the Homemade Corn Tortillas post as it has all the tips you'll need to make a frustration-free batch.
I've been going with Bob's Red Mill Masa Harina lately, but there are other brands that will give you good results too. Here are the 3 main brands you can choose from.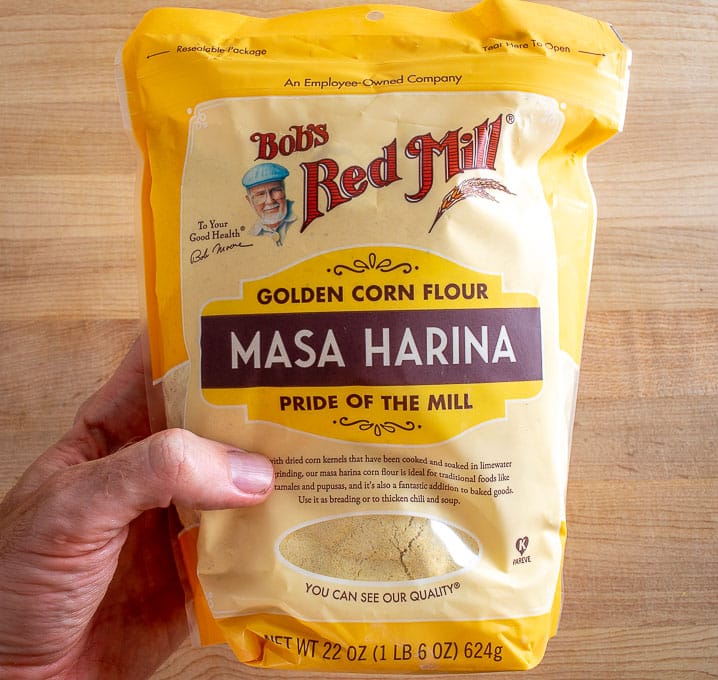 A traditional recipe for corn tortillas, fat-free, looks like this:
2 cups Masa Harina What exactly is Masa Harina?
1/2 teaspoon salt
1.5 cups warm water
So I'll use that as a starting point, but I'll cut it in half for all of these test batches.
First up we'll make a normal, fat-free batch and compare it to a batch made with some lard.
I'm using home-rendered lard. If you're curious about it then check out this lard post. Store-bought could work too, but I tend to stay away from the lard in the baking aisle as it is hydrogenated.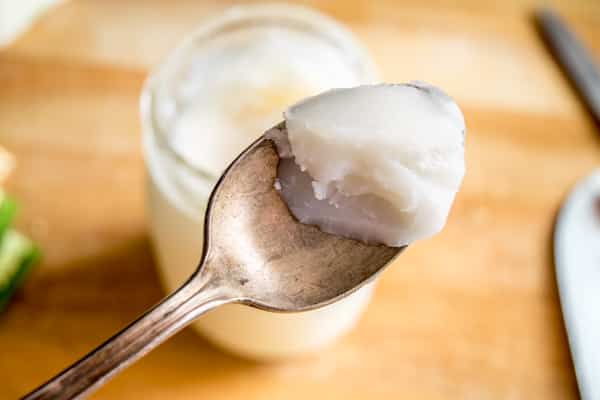 So each of these batches will use:
1 cup Masa Harina
1/4 teaspoon salt
0.75 cup warm water
And we'll add a single tablespoon of lard to the batch on the left.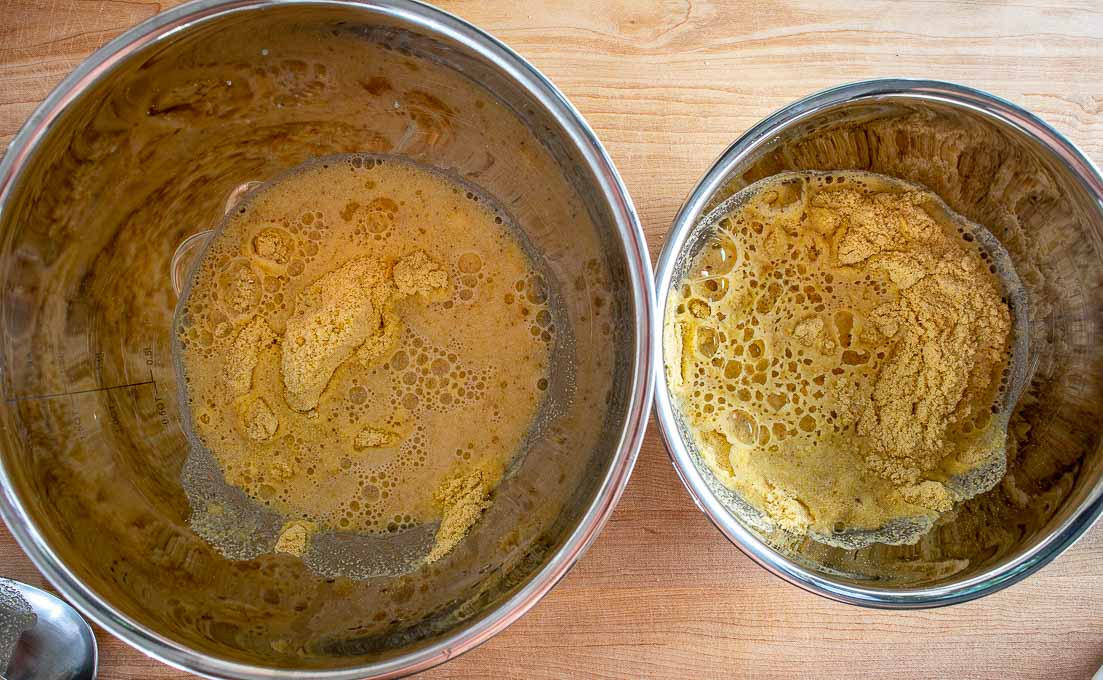 Combine using a spoon or spatula, and then I usually dump it onto a work surface and use my hands to finish it.
Sometimes it can help to add those final bits of water incrementally to help get the consistency of the dough right.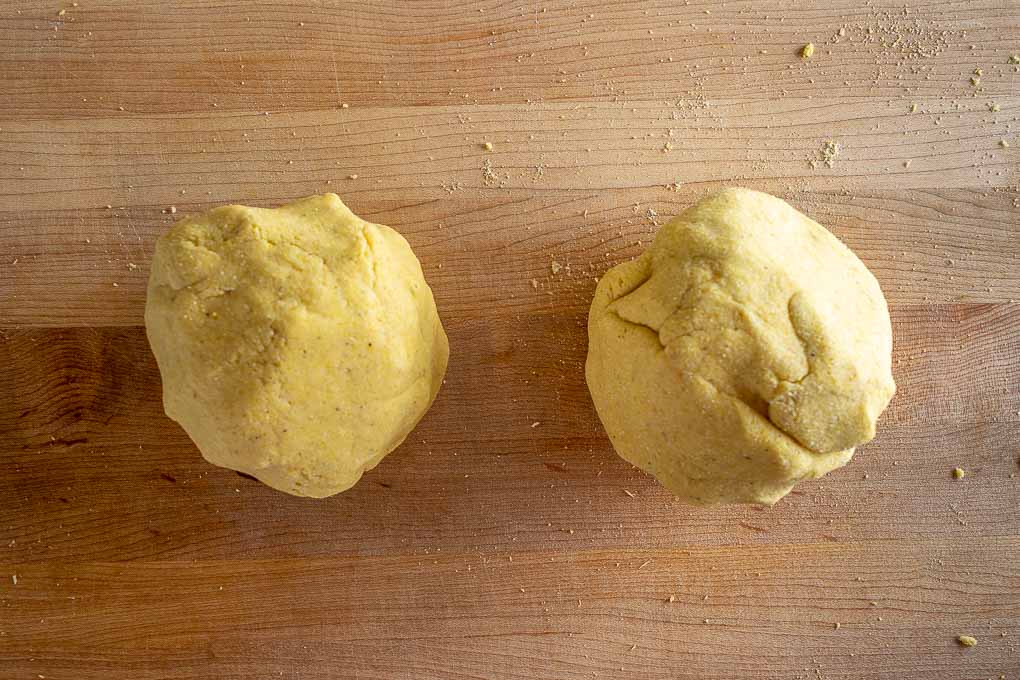 If it's sticking to your hands then there's a bit too much water and you can just add a sprinkling of Masa Harina to dry it out. Conversely, if it's crumbly and not coming together then you need to add more water.
Pull off a golfball-sized chunk and roll it between your hands.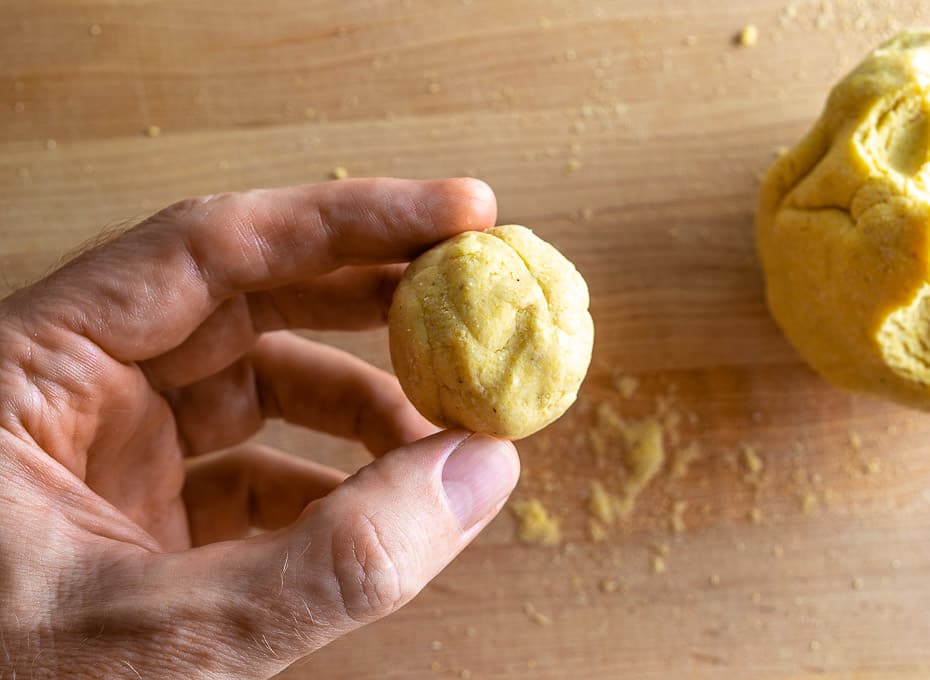 I use a Ziploc to surround the dough ball when flattening it.
And to prove that you don't need a tortilla press, I used a casserole dish to flatten these dough balls.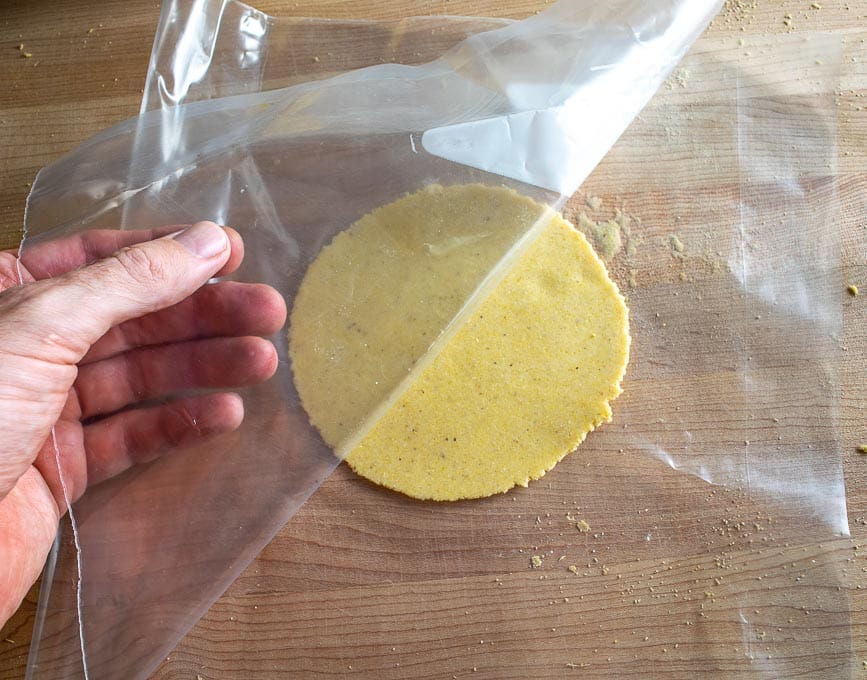 Add the flattened tortilla to a pre-heated dry skillet and flip after 10 seconds, then let each side cook for 45-60 seconds or until light brown spots are forming on the underside. Just over medium heat does the job on my stove.
So here they are side by side, with the lard batch on the left: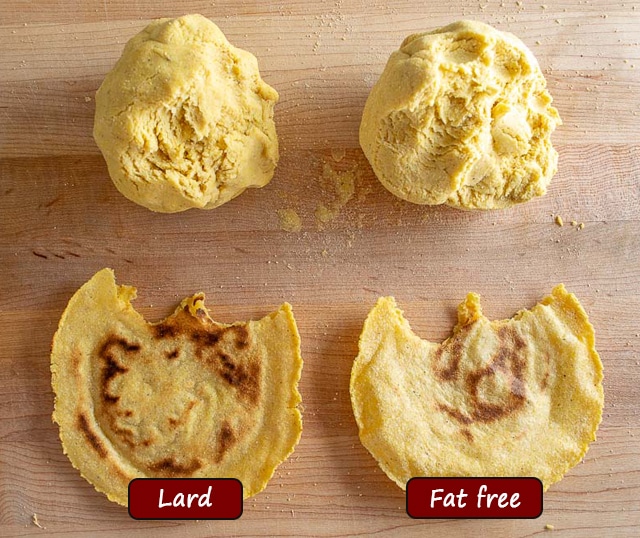 Yes, most of these batches will look identical, but what about the flavor?!!
First I should mention that both are significantly better than store-bought tortillas, so that's the baseline that we're starting with.
The batch made with lard definitely has a bump in flavor. They are a little more savory, almost a little more salty too, and they are definitely capable of being eaten on their own.
Good to know!
Next, I wanted to test out the lard amount so I made a batch with double the lard, i.e. two tablespoons of lard were added to a single cup of Masa Harina.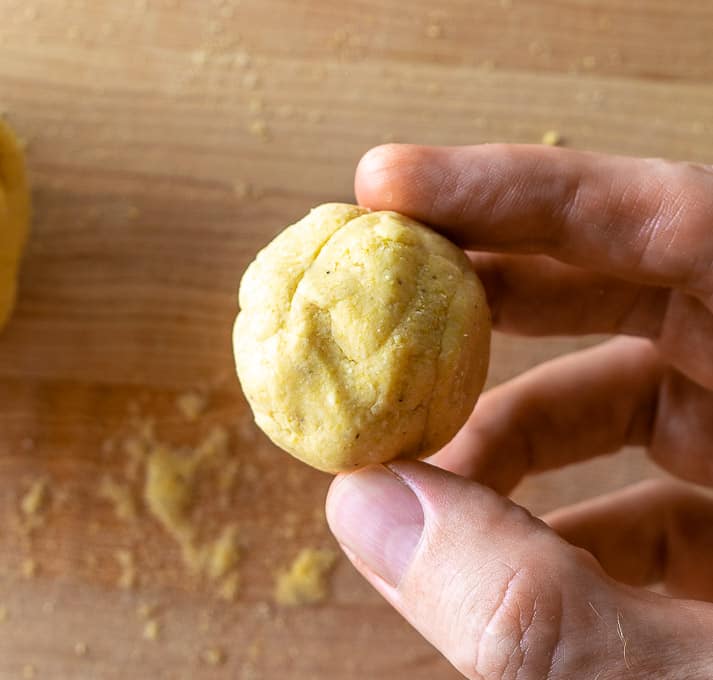 Doubling the lard made the dough lighter and almost a little fluffy, and it came together much more readily than fat-free batches.
But once cooked the flavor seemed nearly identical to the batch made with a single tablespoon of lard. I was a little surprised by this, but good to know!
I was also curious to see if doubling the lard would make them crisp up a little more in the skillet, with visions of a half tortilla, half tostada creation that would revolutionize my kitchen.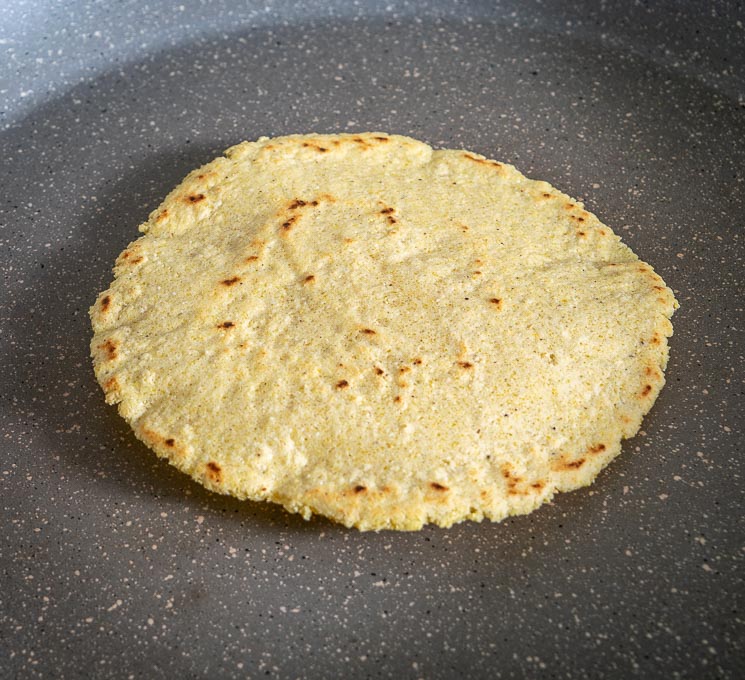 But alas, they did not crisp up at all in the skillet! In fact they seemed to cook almost identically to the batch made with a single tablespoon of lard.
I also wanted to test out different fats so I made batches with olive oil and butter.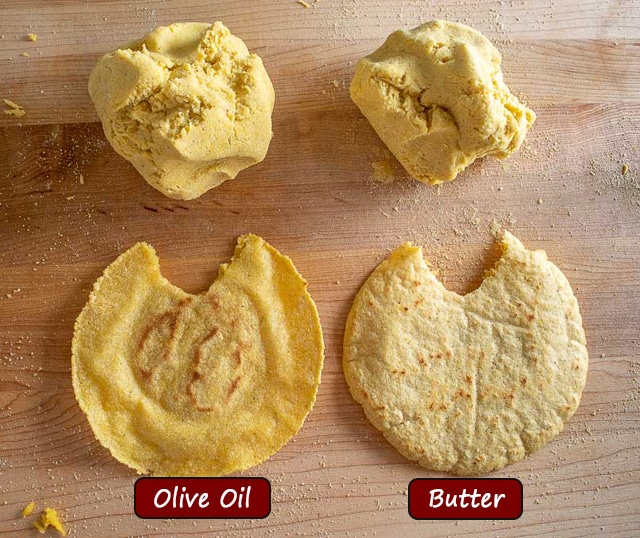 So in the above pic the batch on the left has a single tablespoon of olive oil, and the batch on the right has a single tablespoon of melted butter.
And the taste result?
Hmmm....there was no taste improvement at all for the olive oil batch. In fact I got a scent of the olive oil I used and now I know that I don't want that flavor in my corn tortillas 🙂
And the butter batch had some additional savoriness compared to fat-free tortillas, but not as much as the lard batch.
So what did I learn?
Well...homemade corn tortillas are awesome 🙂 Any of these batches will outperform store-bought tortillas.
But making a batch WITH fat does give you a slight bump in flavor, and this bump is most pronounced when using lard -- at least according to my palate.
I frequently make bare bones, on-the-fly meals like this: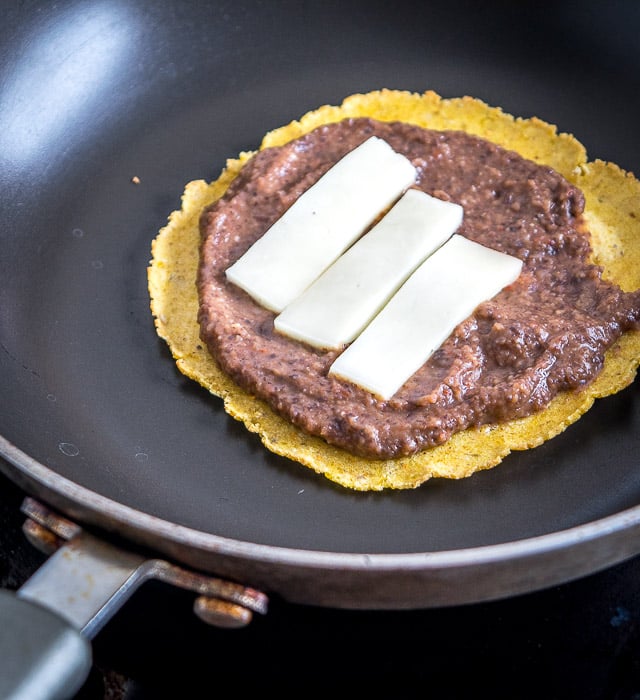 For simple meals like that I would definitely reach for a tortilla made with lard for some additional flavor. When the tortilla takes on a bigger role then you'll benefit by using a tortilla that is slightly more savory.
But for meals like Chicken Tacos where the tortilla is loaded up with fixings, then I'll reach for traditional batches of fat-free corn tortillas because you won't be able to tell the difference when there are so many competing flavors.
Most importantly though, all of this is kinda dependent on your taste buds, so feel free to experiment if it interests you.
And if you want to experiment NOW but don't have access to good lard, then just save your bacon drippings and use a tablespoon of that. It will be close enough to lard and it will instantly give you a sense of whether you like fat in your corn tortillas.
Buen Provecho.
Want the latest recipe? Click your favorite from these options and follow me: Instagram, Facebook, Pinterest, TikTok, YouTube.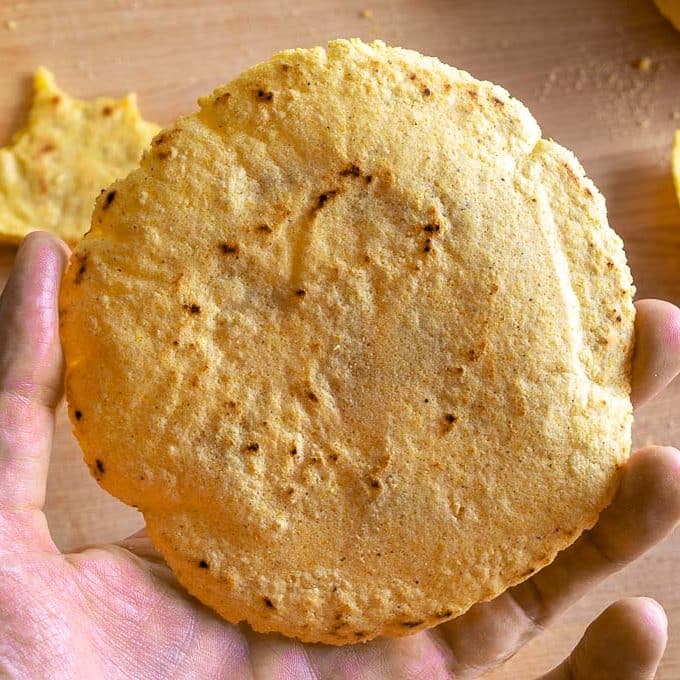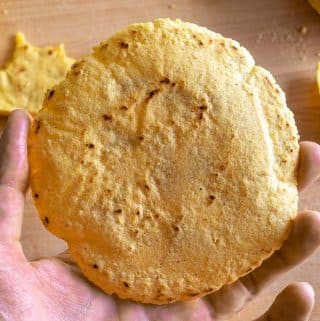 Corn Tortillas Made With Fat
Corn tortillas are traditionally made without fat, but what happens if you add some in?  Do they taste better?  Let's find out!
Print
Pin
Rate
Servings:
4
(12-16 tortillas)
Ingredients
2

cups

Masa Harina

2

tablespoons

lard

1/2

teaspoon

salt

1.5

cups

warm water
Instructions
Add 2 cups Masa Harina, 2 tablespoons lard, and 1/2 teaspoon salt to a mixing bowl.  Add 1 cup of the warm water and stir until the water is absorbed.  Add the rest of the water incrementally until the flour melds into a dough.  Use your hands to knead the dough into a cohesive ball.

Separate the dough into golf ball sized chunks -- this will make tortillas approximately 4 inches across. Flatten the dough balls using a flat bottomed pan or a tortilla press. Be sure to line each side of the dough ball with plastic or Ziploc pieces

Heat a skillet or comal to medium-high heat.  Add a tortilla to the skillet and flip it after 10 seconds. Then cook each side for about a minute or until light brown spots are forming on the underside. (Lately I use a tad over medium heat on my stove and this will have brown spots forming in about 60 seconds.)

Continue cooking the rest of the tortillas. I usually put one in the skillet and flatten the next one to expedite the process. Once cooked you can keep them warm by wrapping them in a tea towel or using a dedicated tortilla warmer. Serve immediately.

Store leftovers tortillas in an airtight container in the fridge. To reheat, cook them in a dry skillet over medium heat until warm and crispy.
Notes
Sometimes it can take some fiddling to get the consistency of the dough right.  If it's sticking to your hands simply add a few sprinklings of Masa Harina to dry it out. Conversely, if the dough is still crumbly then you can add splashes of water until it becomes cohesive.
See Homemade Corn Tortillas for additional step-by-step photos. 
Like this recipe?
Click the stars above to rate it or leave a comment down below! @mexplease
Want to see the latest recipe? It's these Sopes with Refried Beans and Cheese.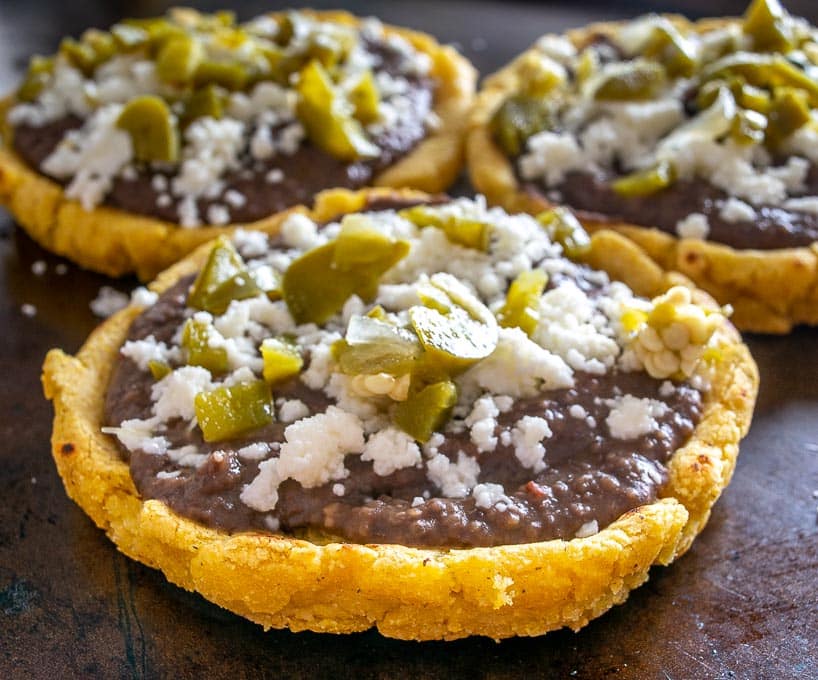 Still hungry?!
Want to receive Mexican Please recipes via email when they are posted?  Sign up below to subscribe.  All recipes are spam free.