Pork carnitas have never tasted this good to me.  Partly because carnitas are a natural fit for the slow cooker, and partly because I've been eating kale salads for the past couple weeks.
If carnitas are even slightly on your radar it's worth trying out a slow cooker version.  The lower temperature of a slow cooker helps keep the carnitas moist and you'll get a batch that will rival anything you can get North of the Border (or even South of the Border).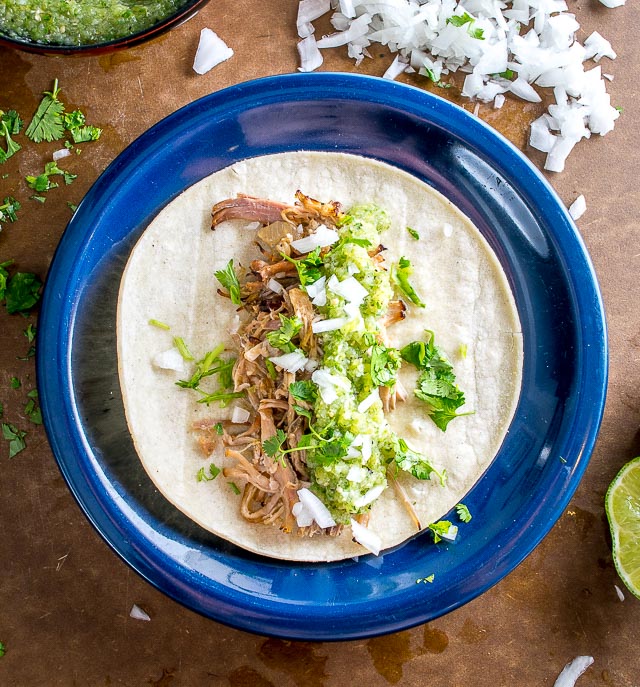 Pork Carnitas Slow Cooker Recipe
We're starting with a 2 lb. cut of pork shoulder.  This cut can be used in a wide range of pulled pork recipes;  it's also worth noting that sometimes you'll see pork shoulder referred to as pork butt.
Here's a snapshot of the spices we'll use to give the shoulder a quick massage.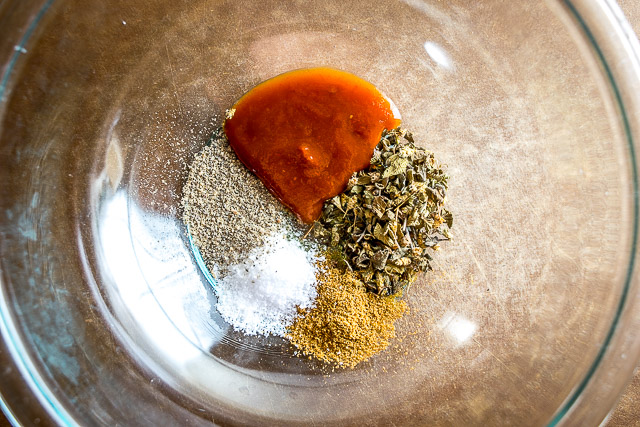 2 teaspoons Mexican oregano (regular oregano is fine)
1 teaspoon cumin
1 tablespoon chipotles in adobo sauce
2 teaspoons salt
freshly cracked black pepper
dollop olive oil
Don't fret if you don't have adobo sauce on hand as it isn't crucial here.  You can either omit it or substitute 1-2 teaspoons of chili powder.
Cut off any excess bits of fat and chop the remaining pork into big chunks, approximately 2-3 inches.   Thoroughly rub the spices into the chunks of pork while saying Carnitaaaaaaas...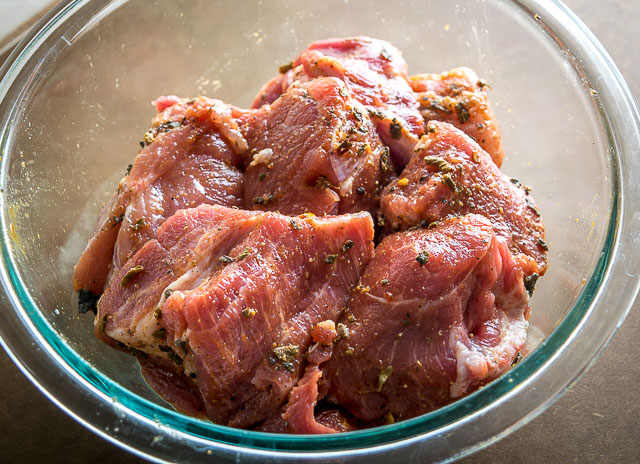 To sear or not to sear, that is the question.   Giving these chunks a quick sear in a skillet is commonly done to caramelize the surface and enhance flavor.  (Here is some info on searing).  But I think one of the advantages of the slow cooker is the ease of use.  It's so refreshing to just throw the ingredients in, flip it on, and head out for the day.  So I did not sear the pork for this batch but feel free to experiment with that.
As the pork cooks it will release quite a bit of liquid.  Flavoring these juices is the key to a vibrant batch of carnitas, so we'll add a host of fresh ingredients that will liven up the liquid and eventually infuse back into the carnitas.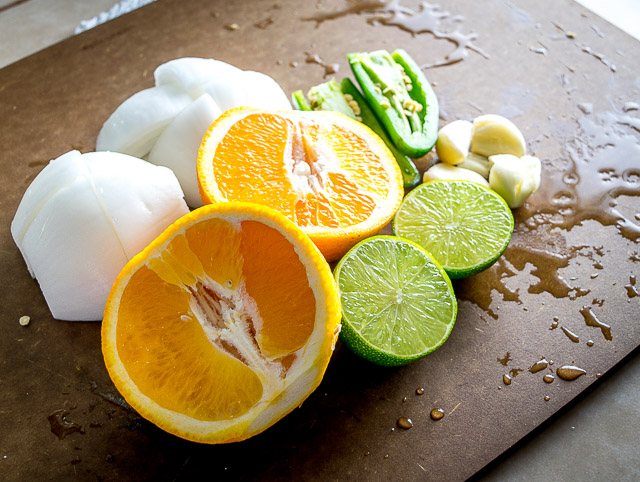 So we're using:
1 orange
1 lime
1 onion
1 jalapeno
4 garlic cloves
Of those ingredients I think the orange is the most important as the citrus undertone works really well in this recipe.
Add the pork, onion, jalapeno, and garlic to the slow cooker and then squeeze as much orange and lime juice onto them as you can.  I add the leftover orange pieces to the slow cooker as well but that is optional.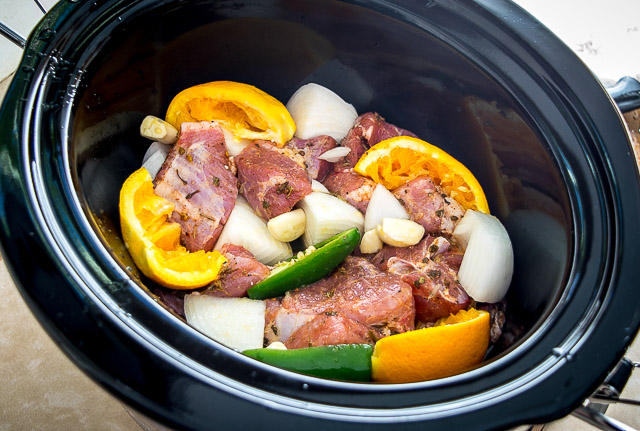 You can cook these carnitas on low for 6-8 hours or on high for approximately 4 hours.  I used the high setting for this batch and 4 hours later here's what they looked like: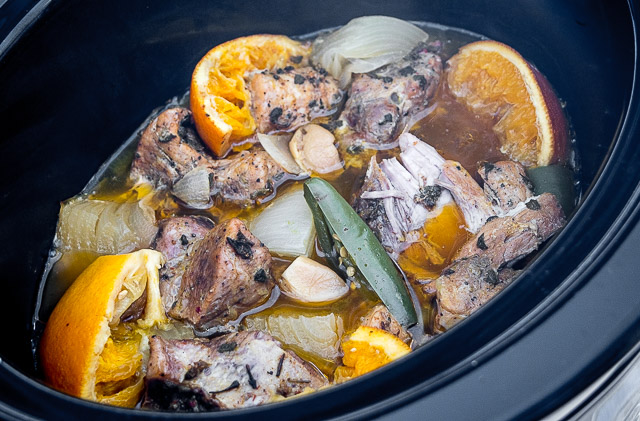 Tender, fall-apart pork swimming in a citrus pool of goodness.  Carnitaaaaaaaas...
It seems like the best way to know they're done is to pull one of the pork pieces apart.  If fully cooked inside and nearly falling open on its own then you are close to chowtime.
Remove the orange pieces and any other big veggie chunks you don't want in there, and then shred the pork using two forks or a spatula.  It will pull apart easily so you can do this directly in the slow cooker if you want.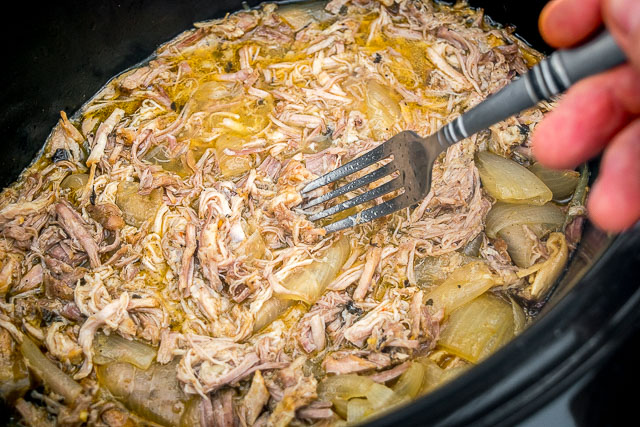 And now the crucial step:  taste for salt level.  Pork is hypersensitive to salt amount so it's worth taking a taste here to confirm it's properly seasoned.  If not, add a bit more; it's amazing how much this can enhance the flavor.
It's already delicious at this point and very tempting to just start gobbling it up, but  it's worth giving it another 10-15 minutes in the slow cooker to let the juices infuse a bit more into the shredded pieces.
Okay, one last decision to make.  Carnitas are frequently served crispy, or at least partially crispy.  While not required, there are two easy methods to accomplish this.  First, you can add them to a hot skillet with a thin layer of oil and cook them until the juices evaporate and they crisp up on one side.  Or you can put them under the broiler in your oven for five minutes or so.
Either method will work.  I put these under the broiler for about 3-4 minutes before getting hangry and pulling them out.
Okay, now you've got a batch of vibrant carnitas that can be used in wide range of dishes...
But there is one combo above all the others that is worth trying if you've never had it:  carnitas tacos loaded with Salsa Verde, raw onion, cilantro, and a squeeze of lime.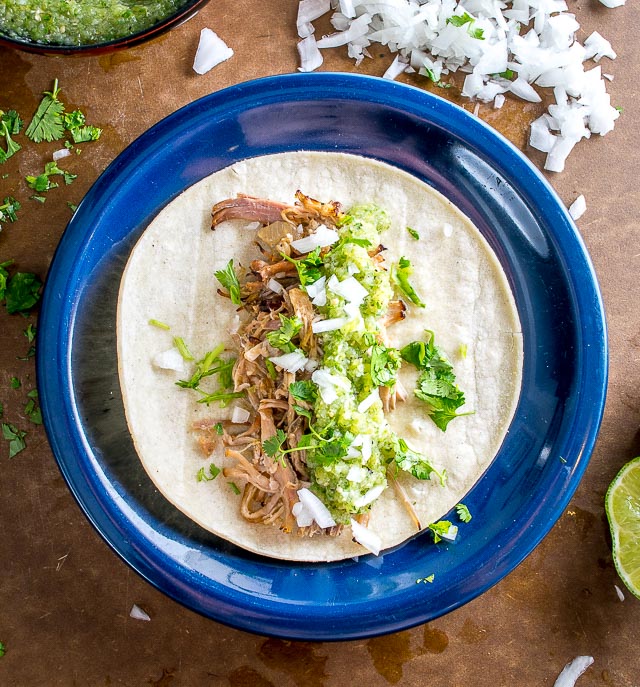 The best combos always seem to be the simplest and this one is no exception; it's easily one of the most rewarding taco combos I've ever had.
If you made the effort to make these carnitas I think it's worth it to make a homemade batch of salsa.  Tomatillos are a natural partner for pork so I guess it's no surprise that they work so well with these carnitas.
Here is the easiest way to whip up a batch of Salsa Verde.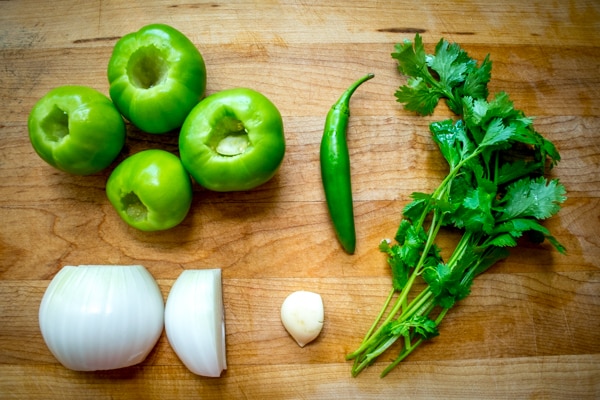 I'll put details in the recipe box below (or here), but basically you are just roasting the tomatillos and combining everything in a blender.  It's super easy and a freshly made Salsa Verde makes these carnitas tacos a homemade meal that you'll return to again and again.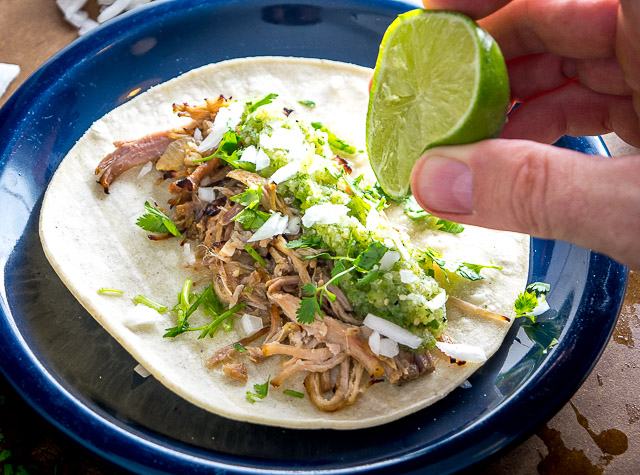 And don't forget one last squeeze of lime.  A burst of citrus acidity is the perfect final touch for these carnitas.
This batch will easily serve 5-6 hungry people if not more, so you'll probably have leftovers.  I think they keep best if swimming in the juices, so be sure to keep those.  For example, I only crisped up half of this batch and stored the other half in the juices in an airtight container in the fridge.  That would probably be conducive to freezing too but I haven't tried that with this recipe yet.  (You can also use the leftovers to make a mind-blowing Mexican Cuban Sandwich.)
Okay, enough chatting.  Feel free to use the comments section below if you have any questions, but now it's time to eat some Carnitaaaaaaaaaaas....
Buen Provecho.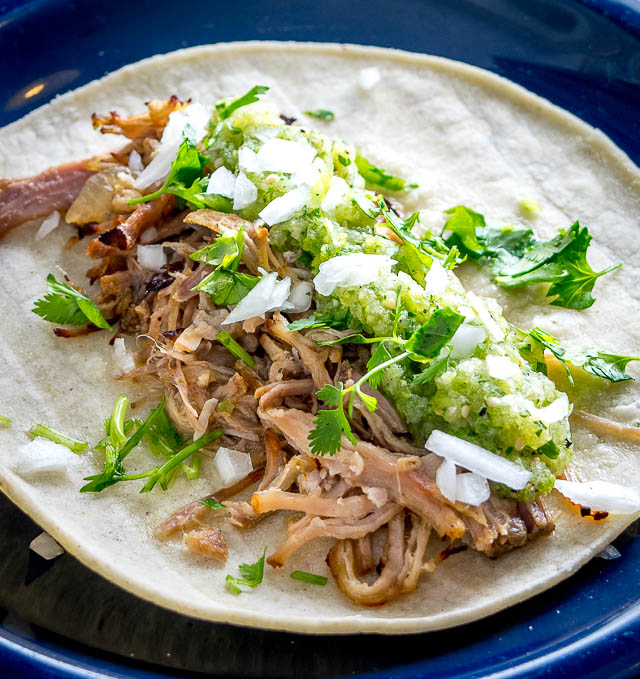 Pork Carnitas Slow Cooker Recipe
One of my all-time favorite recipes! The slow cooker keeps these carnitas moist and loads them up with flavor. Best combo for tacos is carnitas, salsa verde, onion, cilantro and a squeeze of lime. So good!
Print
Pin
Rate
Ingredients
2

lbs.

pork shoulder

1

onion

4

cloves

garlic

1

jalapeno

1

orange

1

lime

2

teaspoons

Mexican oregano

1

teaspoon

cumin

1

tablespoon

chipotles in adobo sauce

2

teaspoons

salt

freshly cracked pepper

olive oil
For the tacos:
12-16

corn tortillas

1/2

cup

finely chopped onion

finely chopped cilantro

3-4

limes
For the Salsa Verde:
4

tomatillos

1/2

onion

1

garlic clove

10-15

sprigs

cilantro

1

serrano pepper (jalapeno is fine too)
Instructions
In a mixing bowl combine the spice rub ingredients: 2 teaspoons oregano, 1 teaspoon cumin, 1 tablespoon adobo sauce, 2 teaspoons salt, freshly cracked pepper, and a dollop of olive oil.

Trim off any excess fat from the pork shoulder and chop it into large chunks, approximately 2-3 inches wide. Add to the mixing bowl and thoroughly rub the spices into the pork chunks.

Add the pork to the slow cooker, along with a roughly chopped onion, 4 peeled garlic cloves, and a jalapeno. Squeeze as much orange and lime juice into the slow cooker as you can. I add the leftover orange pieces to the slow cooker but this is optional.

Cook for 6-8 hours on low, or approximately 4 hours on high. When the meat pulls apart easily and is fully cooked on the inside it is done.

Remove any large veggie pieces and shred the pork pieces using two forks or a spatula. Taste for salt level and add additional salt if necessary (very important!). Let the shredded pieces cook for another 10-15 minutes in the slow cooker so the juices can infuse into the shredded meat.

To crisp up the carnitas, you can either cook them in a skillet over medium-high heat with a bit of oil until the juices evaporate and one side crisps up, or you can cook them under the broiler in the oven for 5 minutes or so.

To make pork carnitas tacos, warm up 12-16 corn tortillas. Each tortilla gets carnitas, Salsa Verde, finely chopped onion, cilantro, and a final squeeze of lime.

To make Salsa Verde, p

ull the husks off the tomatillos and give them a good rinse.

Cut the stems out of the tomatillos.

Roast the tomatillos in the oven for 10-15 minutes or until they start to turn army green.

Add tomatillos to a blender along with 1/2 onion, 1 garlic clove, 10-15 sprigs cilantro, and 1/2 of the serrano pepper. P

ulse blend and taste for heat level, adding more serrano if necessary.

Store leftover carnitas in their juices in an airtight container in the fridge.
Notes
I didn't sear the pork pieces before putting them in the slow cooker, but you are welcome to experiment with that.   
Don't forget to taste for seasoning after you shred the pork pieces; a final dash of salt can really enhance the flavors.   And definitely let the meat simmer in the juices for another 10-15 minutes once you shred it as this makes a huge difference!
If you are crisping up your carnitas under the broiler, try to strain some liquid off of them before adding to the oven.  This will help them crisp up quicker and you can always drizzle the liquid back over them after coming out of the oven. 
What Meat is Carnitas?
Like this recipe?
Click the stars above to rate it or leave a comment down below! @mexplease
Update:  here's a Carnitas recipe using the oven.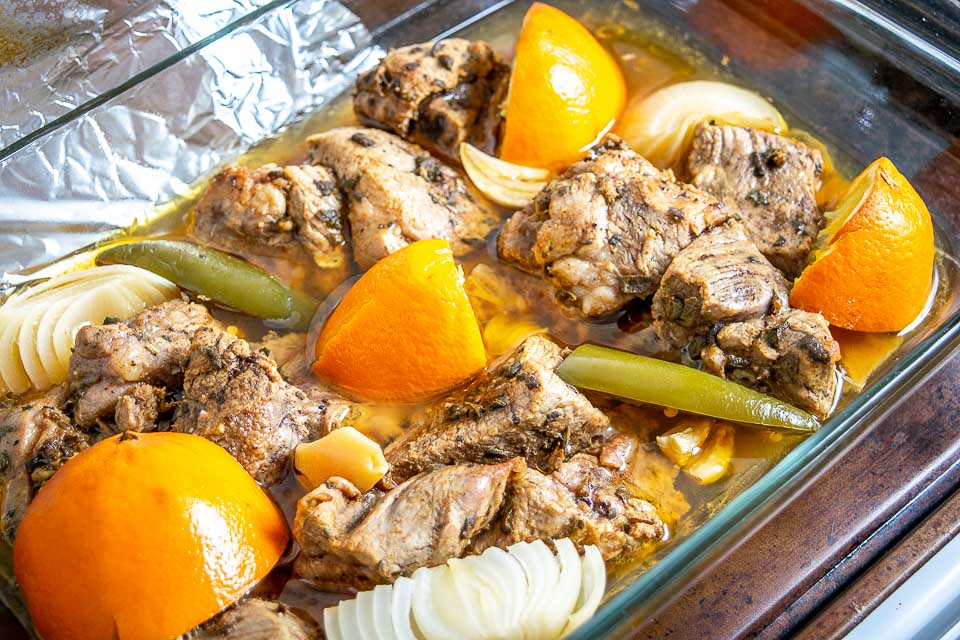 We also use pork shoulder to make some heavenly Chili Verde.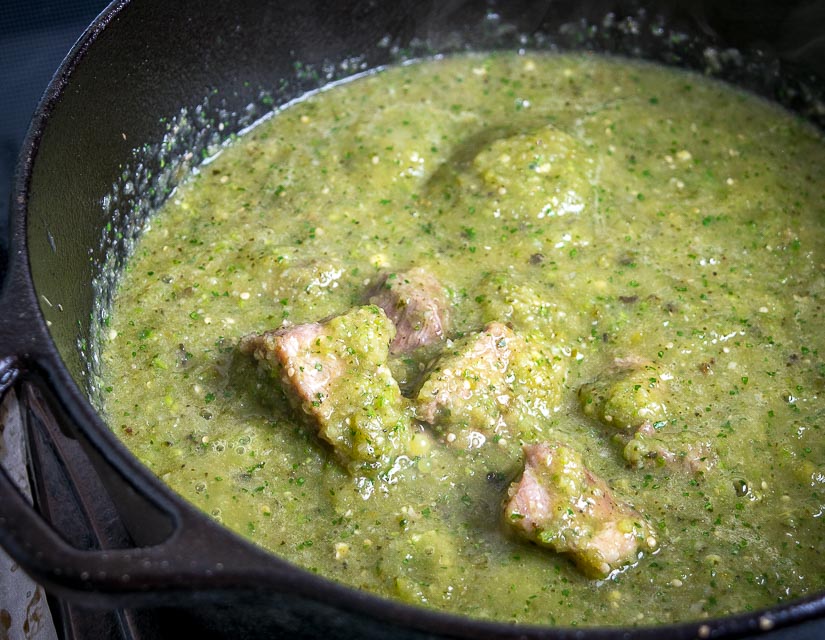 And our latest recipe is for these Barbacoa Beef Burritos.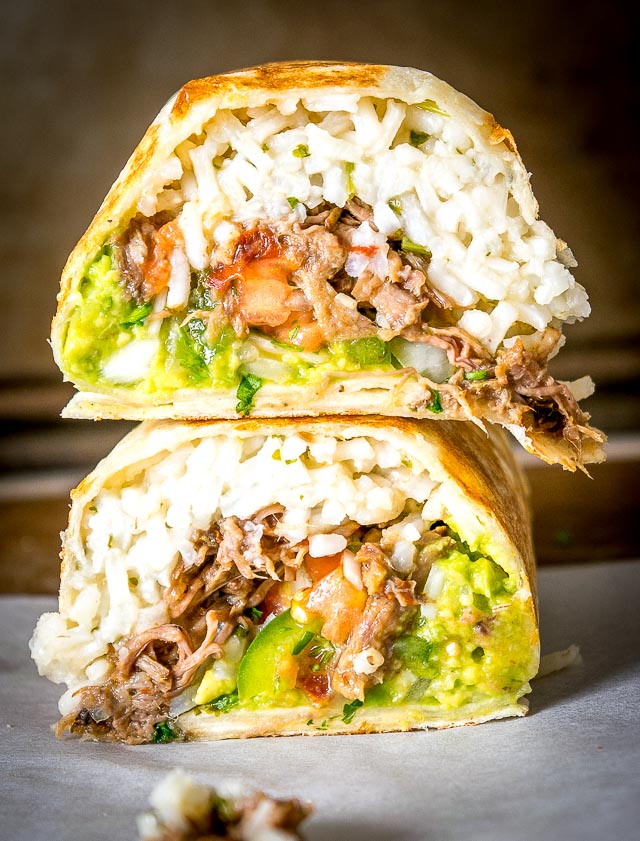 Still hungry?!
Want to receive Mexican Please recipes via email when they are posted?  Sign up below to subscribe.  All recipes are spam free.