While it's tempting to give all the credit to the slow-cooked barbacoa in these Barbacoa Beef Burritos, it's really the Pico-Guac-Beef combo that makes them sing.
Pico:  a freshly made Pico de Gallo with plenty of lime juice
Guac:  a lightning fast, well-seasoned Guacamole using some smooshed onion
Beef:  chipotle infused, slow cooked barbacoa
So feel free to use any steak or shredded beef you have on hand as the flavoring of the beef isn't nearly as important as pairing it with some freshly made Pico and Guac.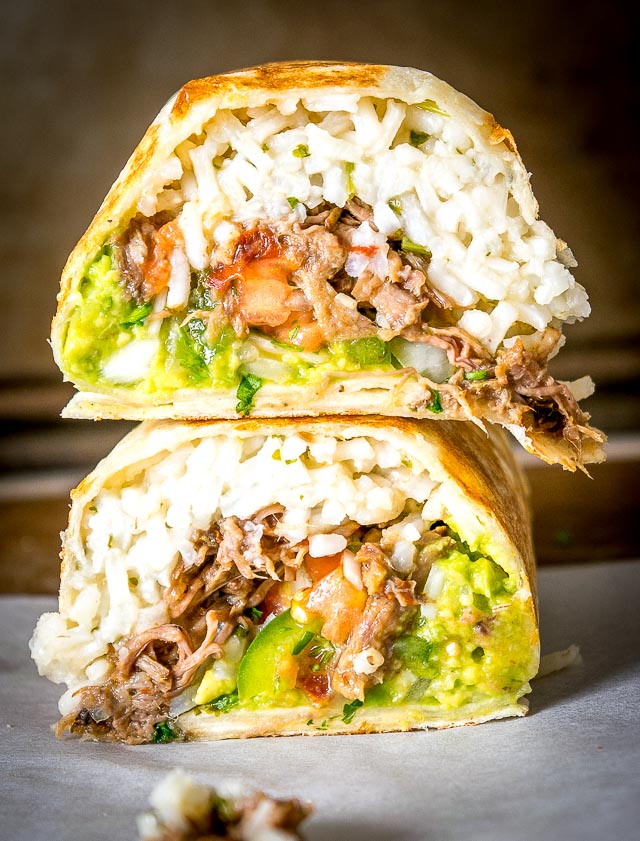 Barbacoa Beef Burritos Recipe
One of the side benefits of making these burritos is acquiring a no-thinking-involved Pico de Gallo recipe that you can use in a wide variety of dishes.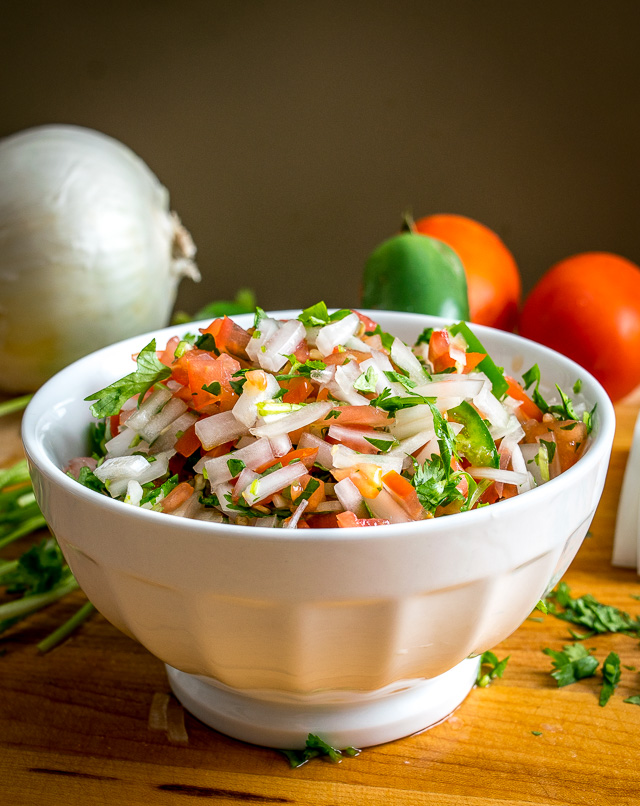 Pico can be finicky and if left unbalanced it will come out tasting like a dreary bowl of chopped tomatoes.  To keep it balanced we use these proportions…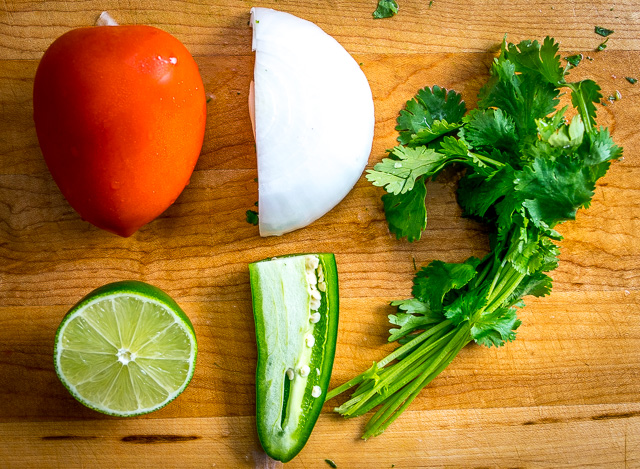 …along with 1/4 teaspoon of salt for each tomato.  After chopping everything up be sure to give a taste for seasoning; I usually add a bit more salt and lime juice.
But since we are making 3-4 burritos in this batch we'll double the above pic to make a bigger batch.  I'll put ingredient amounts for this in the recipe box below.
Even easier than the Pico is a quick batch of Basic Guacamole.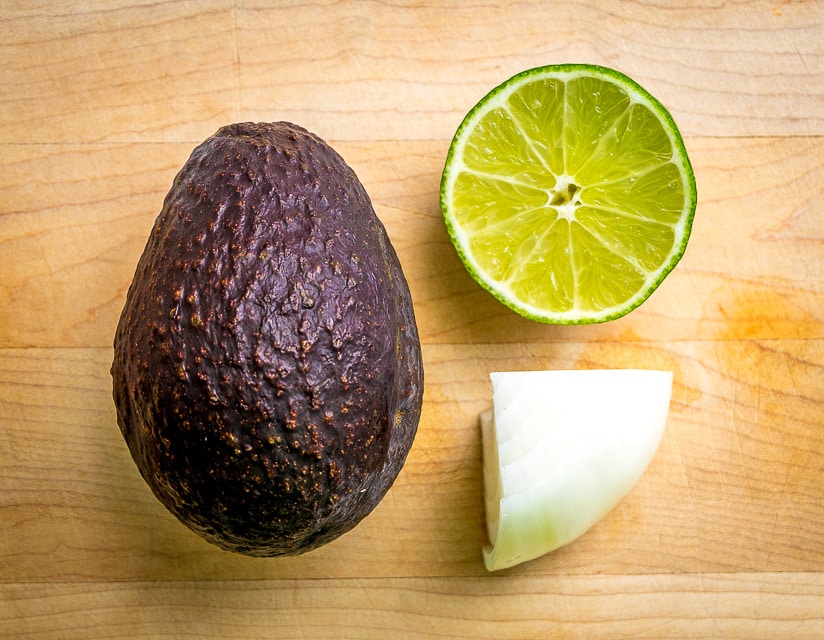 After chopping up the onion, smoosh it with the back of a fork.  This will release additional flavors and let them infuse into the Guac.  You'll also need at least 1/8 teaspoon of salt for each avocado used, but definitely take a taste after combining and add more if necessary.  (Instructions below).
As mentioned, we are using a batch of slow-cooked barbacoa for these burritos, but you can use any shredded beef or steak that you have on hand.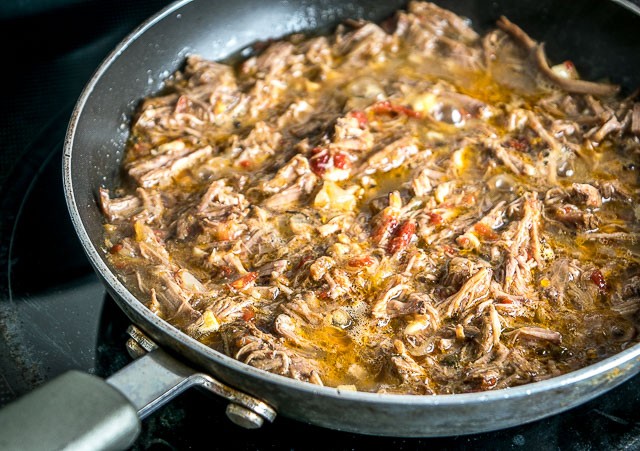 You'll need about 3 cups of beef to make 3-4 burritos and it's definitely worth heating up the meat before you build the burritos.
We're also using a batch of Cilantro Lime Rice in these burritos but I think this is the least important addition.  You could use a simple batch of white rice and still get a great result because you are getting so much flavor from the other components.
Then it's just a matter of building your burritos with all the components.  Something like this will give you a well proportioned delight:
Roll tight and saute in a dry skillet over medium heat until it's turning golden on the outside, 2-3 minutes per side.  How to fold a burrito so it doesn't fall apart.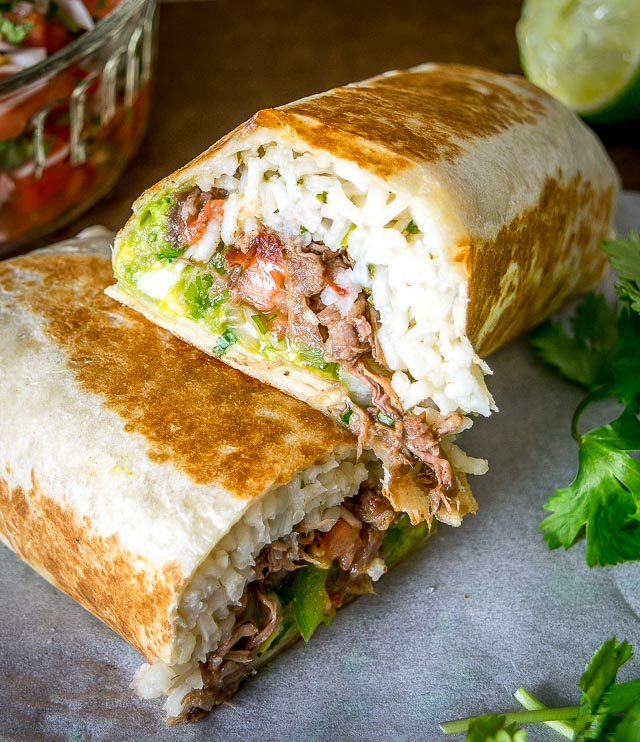 Serve immediately as these are best when piping hot and crispy.
If all went according to plan you've got a flavor bomb on your hands!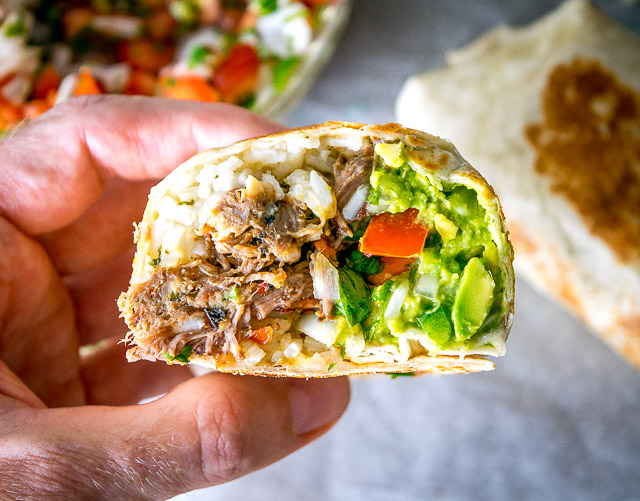 So good!
Normally I'm a fan of drenching burritos in a homemade salsa, but the Pico-Guac combo is so fitting here that all you really need is a dash of hot sauce to complete it.  For me, that means a few drops of Valentina, but you can experiment with adding salsa to these burritos if you want.  (Avocado Salsa Verde?!!)
Either way, it's worth finding a version of these Barbacoa Beef Burritos to fit your kitchen.  They are such a satiating and fulfilling meal to have in your arsenal, and they can actually make cooking at home something to look forward to (what?!!).
Let me know if you have any questions about these beauties.  You can send an email or use the comments section below.
Buen Provecho.
Barbacoa Beef Burritos
Freshly made Pico de Gallo combines with Barbacoa Beef and Guacamole to make these Barbacoa Beef Burritos sing! Slow cooker barbacoa works great but feel free to use any shredded beef you have on hand.
Print
Pin
Rate
Ingredients
3

cups

cooked shredded beef (or steak)

4

flour tortillas

2

cups

cooked rice
For the Pico de Gallo:
2

tomatoes

1/2

onion

1

jalapeno

1

lime

20

sprigs

cilantro

1/2

teaspoon

salt
For the Guacamole:
1

avocado

2-3

tablespoons

onion

1

lime

1/8

teaspoon

salt (plus more to taste)
Instructions
Heat up the cooked beef if using leftovers. We used 3 cups of

slow cooker barbacoa

, heating it up in a skillet over medium heat in a dollop of oil.

For the Pico de Gallo, g

ive the tomatoes, jalapeno and cilantro a good rinse.

Peel the onion.

Finely chop the 2 tomatoes, 1/2 onion, and single jalapeno into 1/4" sized chunks.

Finely dice the cilantro.

Combine the tomato, onion, jalapeno and cilantro in a mixing bowl.

Add 1/2 teaspoon salt and the juice of a lime.

Mix together well and taste for seasoning.

Add additional salt and lime if necessary.

For the Guacamole, f

inely chop 2-3 tablespoons of onion.

Use the back of a fork to smoosh the onion until it turns translucent.

Add onion to a bowl along with the avocado flesh, 1/8 teaspoon of salt, and the juice of a half lime.

Mush together and mix well.

Taste for salt level.

Keep adding tiny dashes of salt (and lime) until you like it.

If you want to build a batch of Cilantro Lime Rice, please see

here

.

To build the burritos, start by heating up the flour tortillas. I usually heat them up for a couple minutes in the skillet that will be used to cook the burritos.

Each burrito gets rice, beef, Pico de Gallo, and guacamole. (Please see above pic for a good starting point for proportions). Roll tight and saute in a dry skillet over medium heat for 2-3 minutes on each side, or until turning golden brown. Serve immediately.
Notes
We used Slow Cooker Barbacoa for these burritos but feel free to use any shredded beef or steak that you have on hand.    I used a batch of
Cilantro Lime Rice
for these burritos but this is the least important component so feel free to use any rice you have on hand.   One avocado is barely enough for three burritos.  Feel free to double the Guacamole recipe.
Like this recipe?
Click the stars above to rate it or leave a comment down below! @mexplease
Need more burrito options?  Try these Chicken Burritos with Avocado Salsa Verde.