Once again, the slow cooker is the perfect fit for this easy, stress-free batch of beef barbacoa.
Of course, that's assuming you don't want to dig a hole in the backyard and cover it with maguey leaves to make an impromptu oven.
The slow cooker has put these backyard ovens out of business, but they do share a key commonality: time. A few hours of low temp heat applied to a properly seasoned cut of beef will produce a rich, succulent flavor that works in a wide range of dishes.
Slow Cooker Barbacoa Recipe
Not only are we upgrading the backyard oven but we'll also simplify the spices used. Instead of foraging through the jungle for chili peppers, just buy a can of these: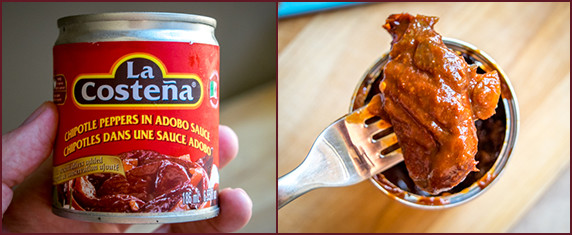 Chipotles in adobo are a natural fit for beef and they are the heart of our seasoning mix here.
Yes, there are more complex versions of barbacoa using dried chili peppers that we might delve into later on, but this version is designed to be hands off and beyond easy. Don't worry though, you'll be pleasantly surprised at how much flavor you can get from just a few key ingredients.
This version is also a great core recipe to have in your arsenal to compare to other more time consuming recipes. It has a rich, succulent flavor that belies the ease of its creation. No digging or foraging necessary.
Chuck roast is probably the most common cut used for cooking in the low-and-slow realm. This 2 lb. cut will easily serve 5-6 hungry people, if not more.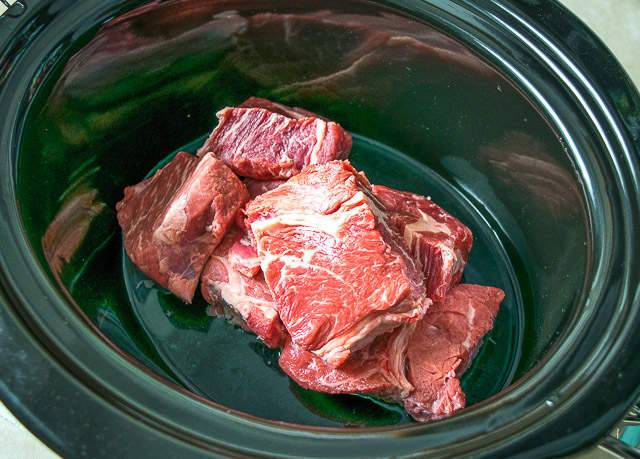 Note that tongue and cheek are frequently added to hardcore authentic barbacoa, but that's only required if you are digging an oven in the backyard.
Trim off any excess fat and cut the beef into 2-3 inch chunks. Then add:
3 chipotles in adobo
1 tablespoon adobo sauce
1 onion
5 cloves garlic
1 tablespoon oregano ( I used Mexican oregano but regular is fine)
2 teaspoons cumin
2 teaspoons salt
freshly cracked black pepper
juice of 2 limes
splash of water
Give it a good stir and cook on low for 6-8 hours or on high for 4 hours.
When the meat is cooked inside and fork tender it's ready to be shredded. I cooked this batch on high for 4 hours.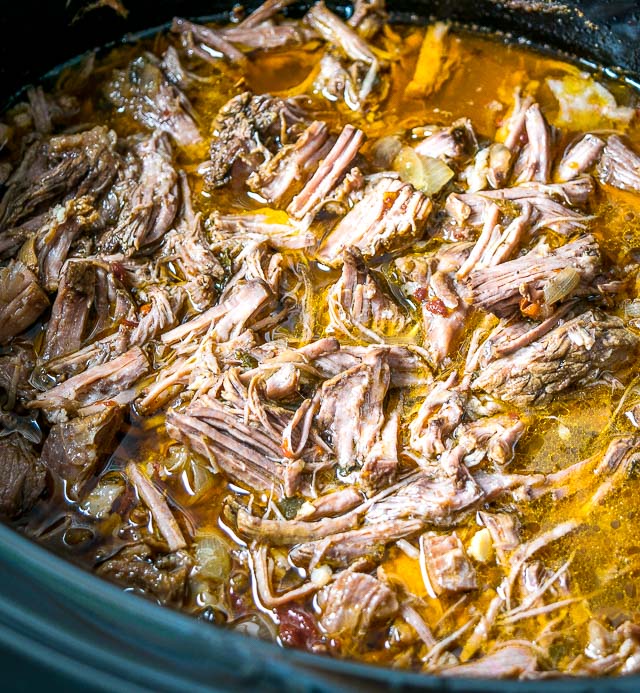 Yowsa!
The beef will nearly pull apart on its own; you can easily shred it using two forks or a spatula. (Note: it can be easier to discard excess fatty bits if you shred it on a plate.)
And now the most important part: take a taste. If it's slightly bland don't fret as the shredded bits will inherit loads of flavor as they rest in the juices. I added another generous pinch of salt to this batch and let it cook for an additional 15 minutes.
Please don't skimp on this final step no matter how hungry your family is! The juices are loaded with flavor and letting them seep into the shredded bits is the key.
And now you've got two pounds of chipotle infused juicy beef that can be used in a variety of ways. I've been using it in Barbacoa Burritos and will put up a recipe for that next week, but in the meantime it's worth considering a simple Barbacoa Taco.
It's worth trying out a no-frills taco to see how complete it tastes to you. It's like...if you've got a flavor-loaded batch of slow cooker barbacoa then you might not need a whole lot of fixings to make a rewarding taco.
This version uses Pickled Onions and freshly chopped cilantro in a warm corn tortilla. Pickled Onions aren't required but I highly recommend trying Pickled Something with barbacoa at some point as the burst of acidity seems to pair naturally with the beef.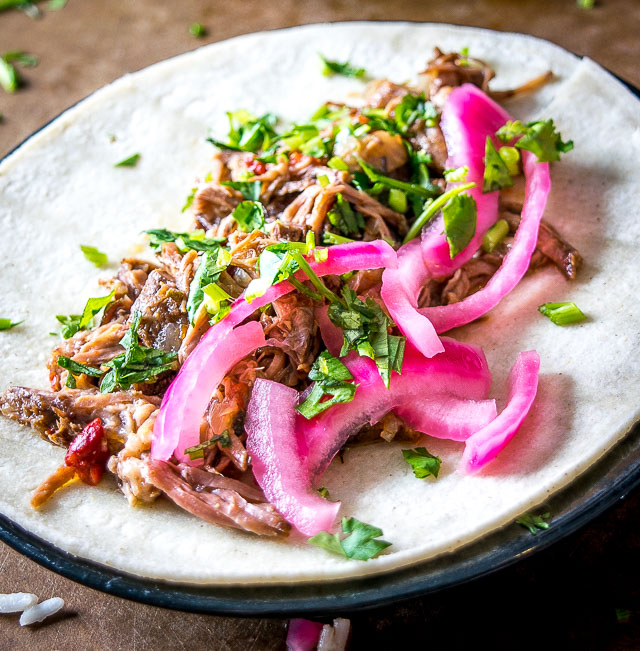 Definitely store any leftovers in the juices as this will help the barbacoa keep longer.
And now you can put your shovel away, errrr your slow cooker that is, and enjoy your succulent batch of barbacoa.
Buen Provecho.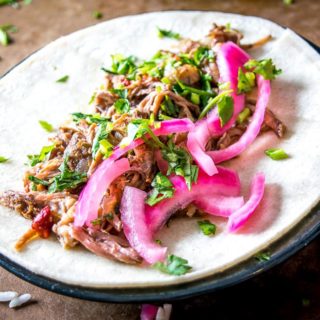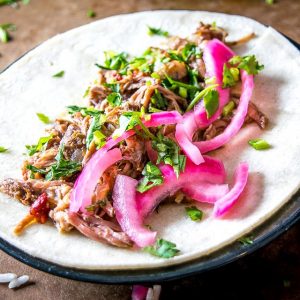 Easy Slow Cooker Barbacoa Recipe
This stress-free slow cooker barbacoa can be used in so many delicious ways: tacos, burritos, enchiladas -- you can even serve it over rice for an instant meal. So good!
Print
Pin
Rate
Ingredients
2

lb.

chuck roast

3

chipotles in adobo

1

tablespoon

adobo sauce

1

onion

5

cloves

garlic

2

limes

2

teaspoons

cumin

1

tablespoon

Mexican oregano

2

teaspoons

salt

freshly cracked black pepper

splash of

water
For the tacos:
12-16

corn tortillas

1

cup

pickled onions

freshly chopped cilantro
Instructions
Trim off any excess bits of fat from the meat and cut into 2-3 inch chunks.

Add the meat to the slow cooker along with: 3 minced chipotles in adobo, 1 tablespoon adobo sauce, 1 chopped onion, 5 minced garlic cloves, 2 teaspoons cumin, 1 tablespoon Mexican oregano, 2 teaspoons salt, freshly cracked pepper, the juice of 2 limes, and a splash of water.

Give everything a quick stir and cook in the slow cooker on low for 6-8 hours or on high for 4 hours. When the beef pieces are fully cooked inside and fork tender they are done.

Use two forks or a spatula to shred the beef.

Let the shredded beef cook in the juices for an additional 10-15 minutes (this is the most important part!). You can also taste for seasoning at this point. I added another generous pinch of salt to this batch.

Once the beef has stewed in its own juices it is ready to be served. For a simple barbacoa taco, serve the beef in a warm corn tortilla with pickled onions and freshly chopped cilantro.

Store leftovers in their juices in an airtight container in the fridge.
Notes
I didn't sear the beef pieces before putting them in the slow cooker, but you are welcome to experiment with that.   
Don't forget to taste for seasoning after you shred the beef pieces; a final dash of salt can really enhance the flavors.  And after shredding be sure to let the meat soak up the juices for 10-15 minutes. 
Like this recipe?
Click the stars above to rate it or leave a comment down below! @mexplease
Here's how the proportions look in our Barbacoa Beef Burritos.
You can also make a version of this beef using our homemade enchilada sauce. See our Mexican Shredded Beef recipe.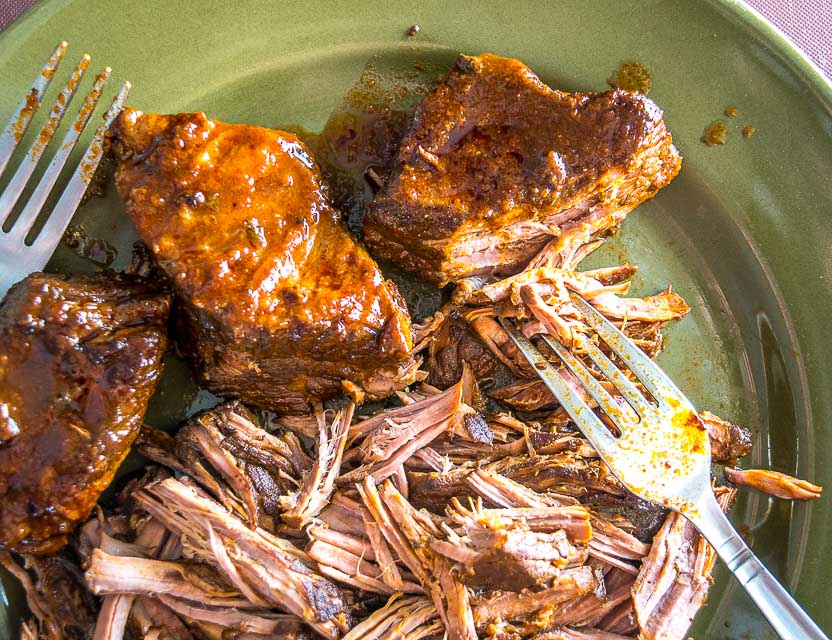 Still hungry?!
Want to receive Mexican Please recipes via email when they are posted?  Sign up below to subscribe.  All recipes are spam free.