What a treat to be able to whip up some Bean Tostadas for a quick, satisfying dinner!
I ate six of these for dinner a few nights ago. Yes, six 🙂
And it was one of the best meals I've had in awhile. I hope you decide to try out a version of these in your kitchen -- Tostadas loaded with fresh, vibrant ingredients are one of my favorite meals lately.
How To Make Bean Tostadas
Yes, I used some of the Improvised Pot Beans from last week, but I think it was this spoonful of bliss that was the key to these epic tostadas: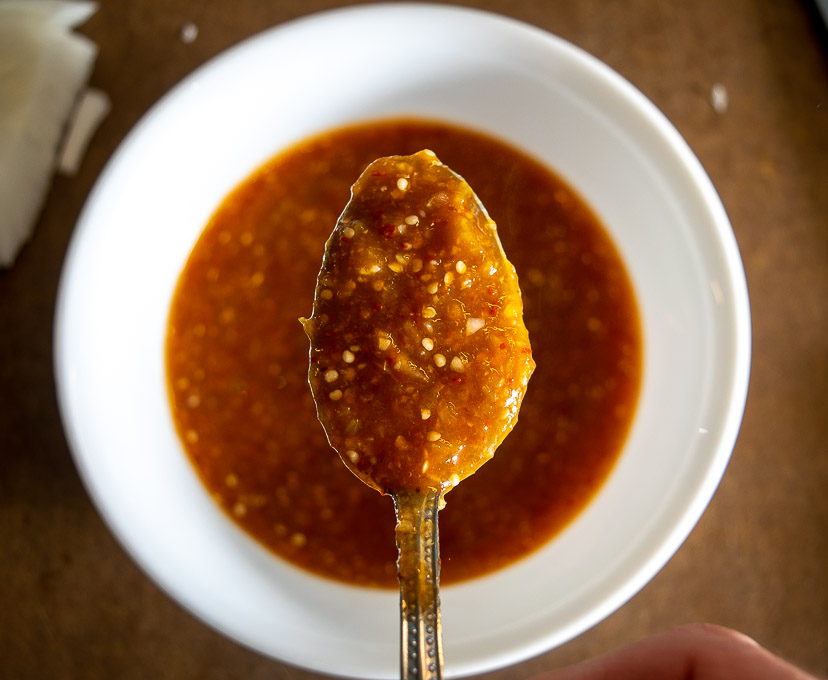 That's a fresh batch of Tomatillo Chipotle Salsa. The smoky, fiery chipotles are a natural fit with beans and this Salsa really keeps the flavor of the chipotles at the forefront.
It's gotta be one of the world's easiest Salsas to make, so please give it a go if you are making these Tostadas!
Note: I know many of you out there don't have access to fresh tomatillos -- if that's the case then the Tomato Chipotle Salsa would be an equally good option.
All you need to do is roast the tomatillos in the oven for 15 minutes or so (400F):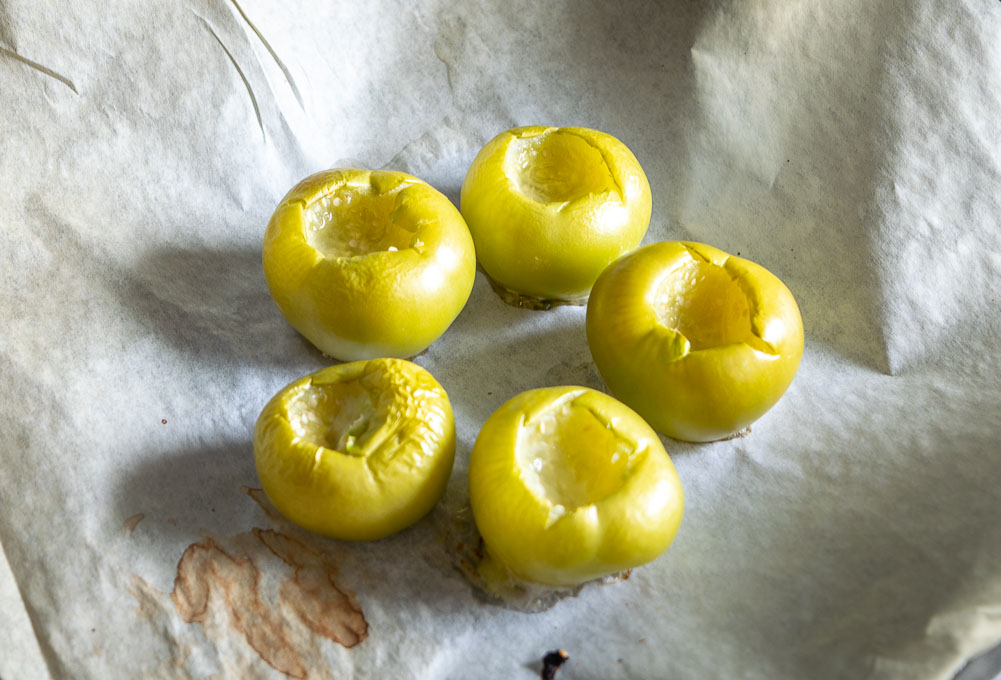 Then add them to a blender along with:
1-2 chipotles in adobo More info on working with chipotles
2 whole, peeled garlic cloves
a sliver of onion (optional)
Combine well: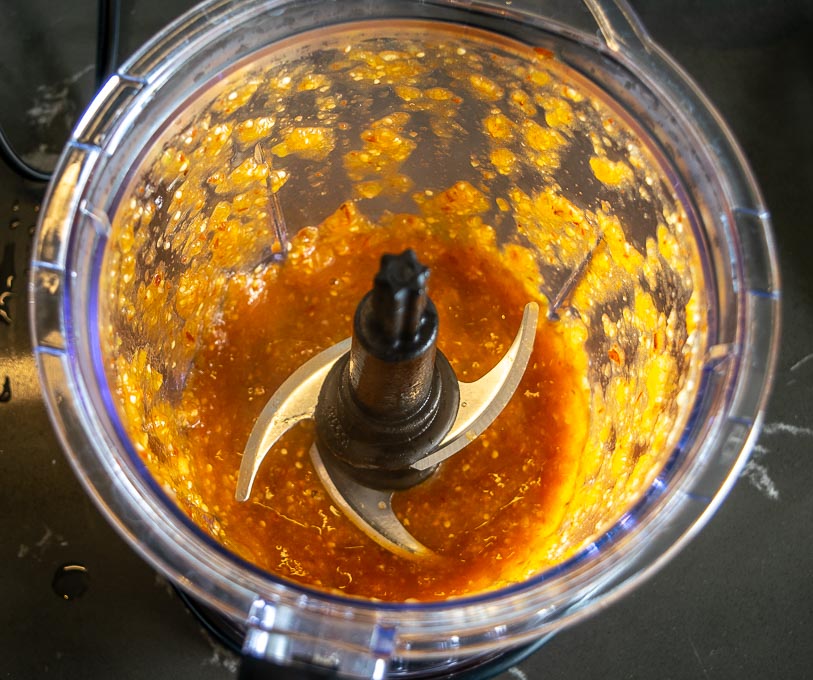 And give it a taste.
I make this Salsa super fiery, so that meant 2 large chipotles for this batch. For a milder version you can always start with a single chipotle (or even half). To increase the heat simply add more chipotle and taste test along the way.
The optional sliver of onion can also be used to further dilute the heat and give it a slightly different flavor profile, but for this batch I didn't add any onion.
I started with 2 cups of these Improvised Pot Beans.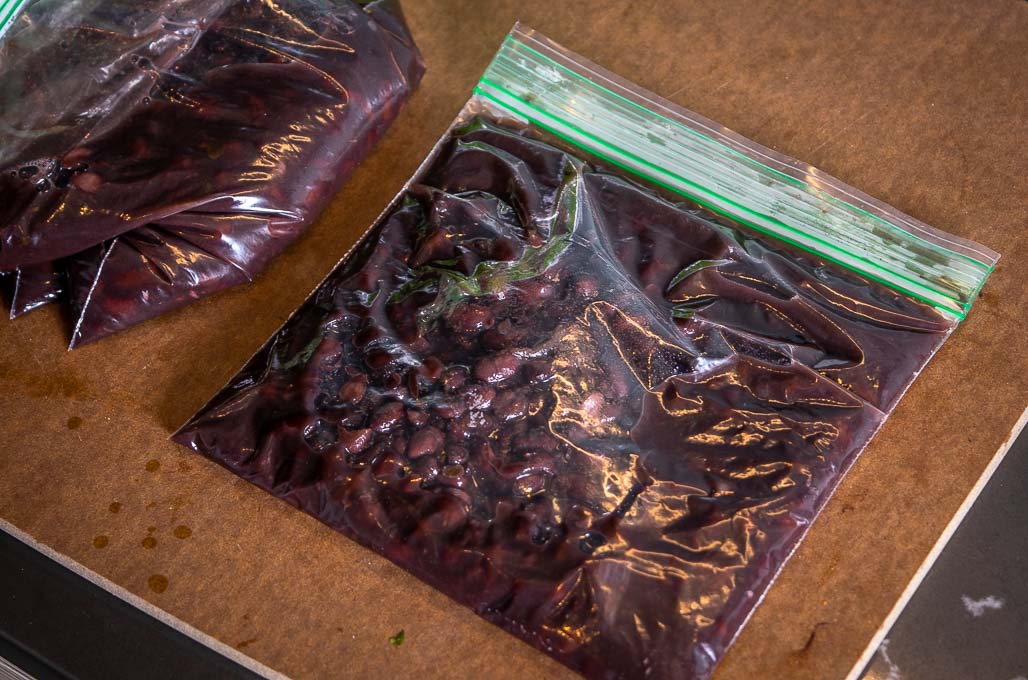 But you certainly don't need to use home-cooked beans for these Tostadas.
You'll be getting so much flavor from the other ingredients that you can easily get away with canned beans in this recipe. You could optionally add flavor to your canned beans using the Awesome Refried Beans recipe -- it uses chipotles to infuse your beans with fiery, smoky flavor and it's a good option to keep in mind.
These homemade beans were already quite flavorful, so I just put them in a skillet along with some of their broth and mashed 'em up with a spatula. Hello easy refried beans!
I used six of these homemade Tostada shells for this batch: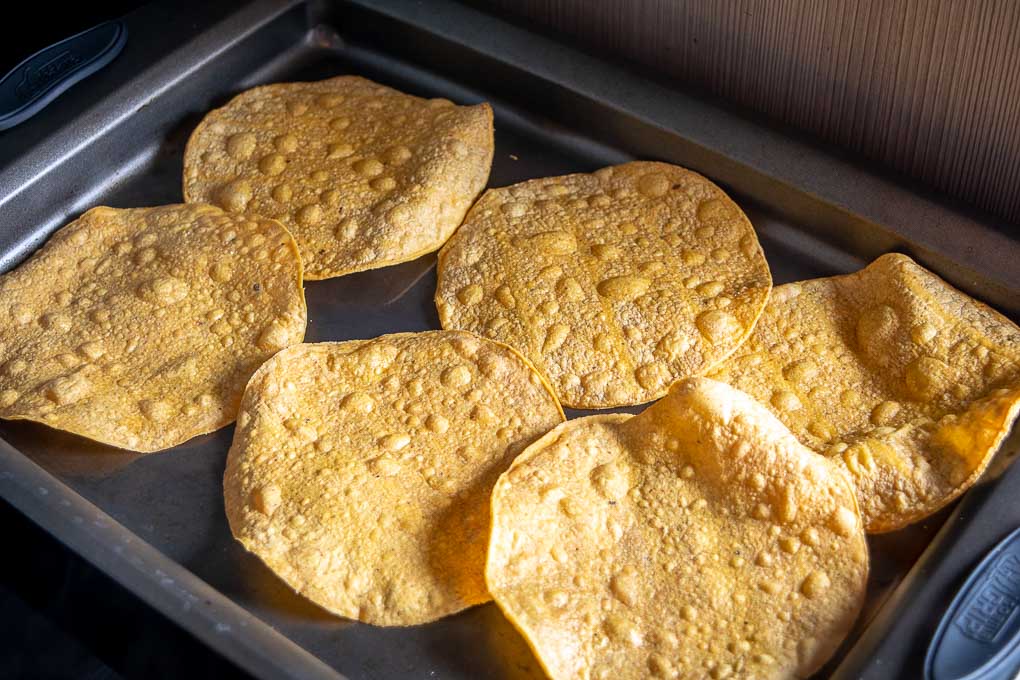 But you can also use store-bought Tostada shells for this recipe if you have them available.
If you want to make your own, keep in mind that thinner corn tortillas crisp up the easiest when using the oven. Just rub oil on both sides with your fingers or a pastry brush, then give 'em 4 minutes per side or until they have crisped up and turned a darker golden brown. More info on homemade tostada shells.
For the Avocado I combined the following ingredients in a bowl:
1 cubed avocado
glug of olive oil
juice of 1 lime
pinch of salt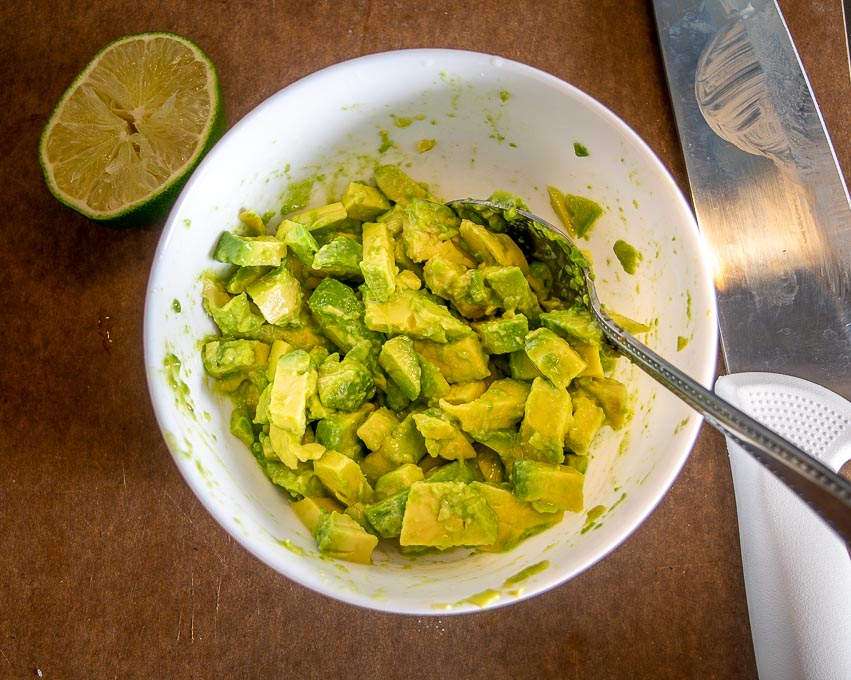 But you can consider this on-the-fly dressing optional. Lately I'm not a huge fan of that raw avocado flavor, so I've been coating them with this salty lime flavor and really liking it.
And of course, don't forget the cheese!
I used Queso Fresco for this batch and I thought it was the perfect fit.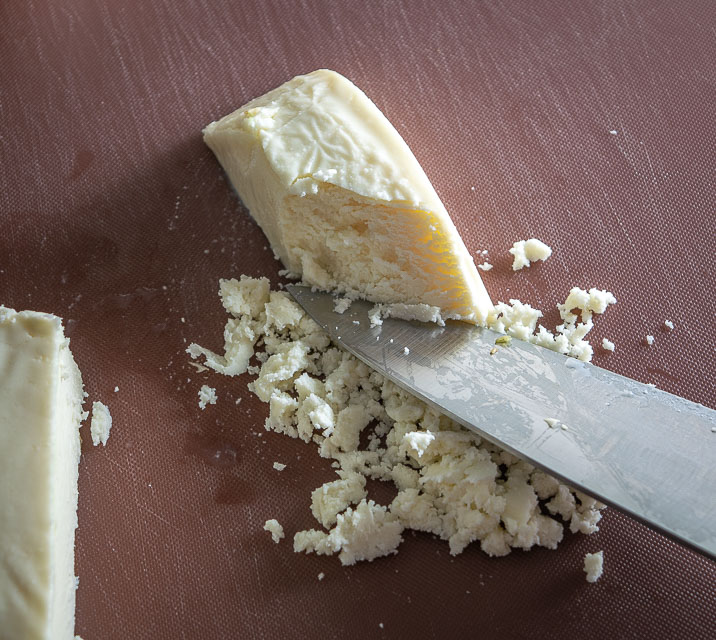 Queso Fresco is a light, milky cheese that's similar to farmer's cheese. I use it more frequently as of late, but I don't think the choice of cheese is crucial for these Tostadas so feel free to use what you have on hand. More info on Queso Fresco.
Each warm tostada shells gets:
A layer of refried beans...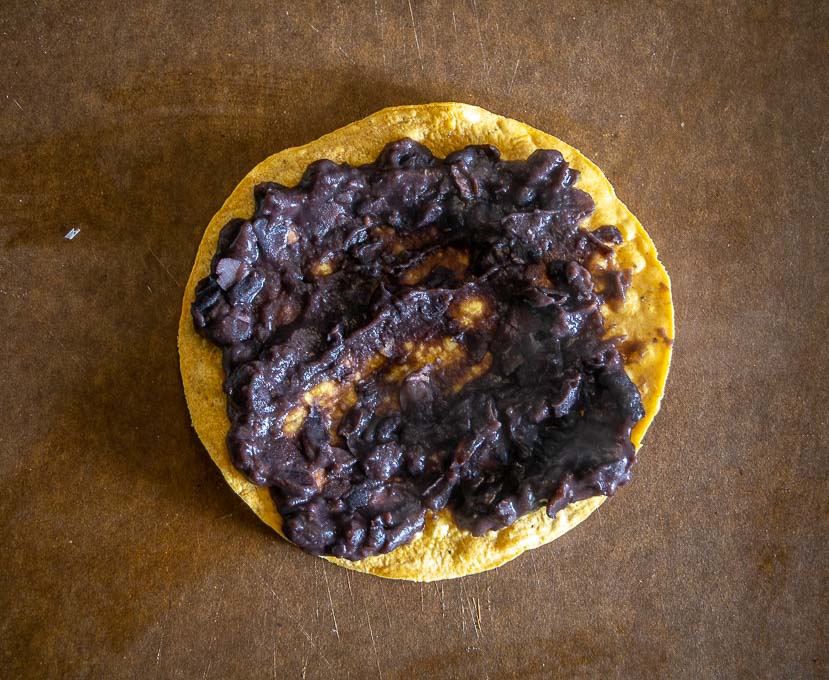 Avocado bits -- either raw or lightly dressed....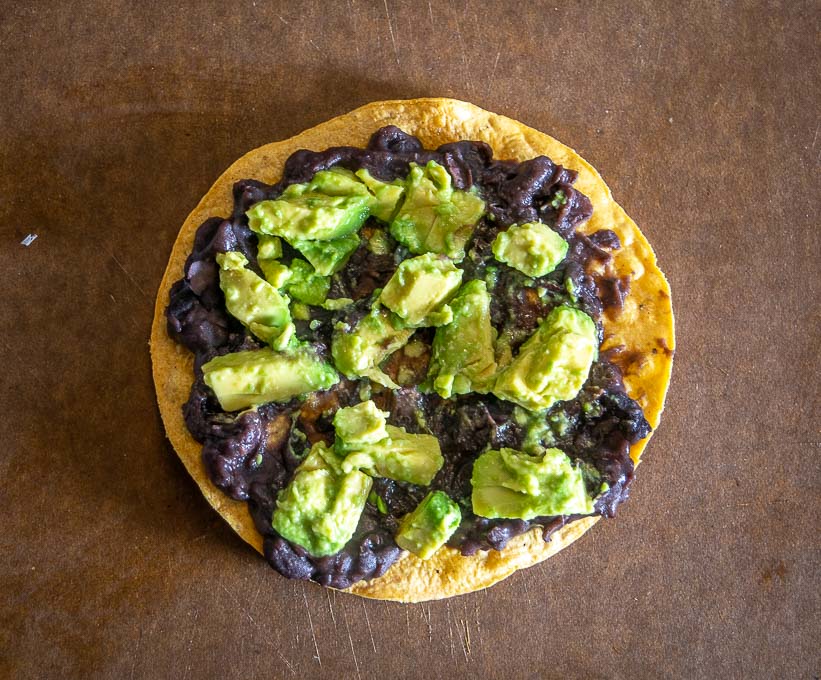 Plenty of Tomatillo Chipotle Salsa....
And for me the final toppings were:
Queso Fresco
Freshly chopped cilantro
Squeeze of lime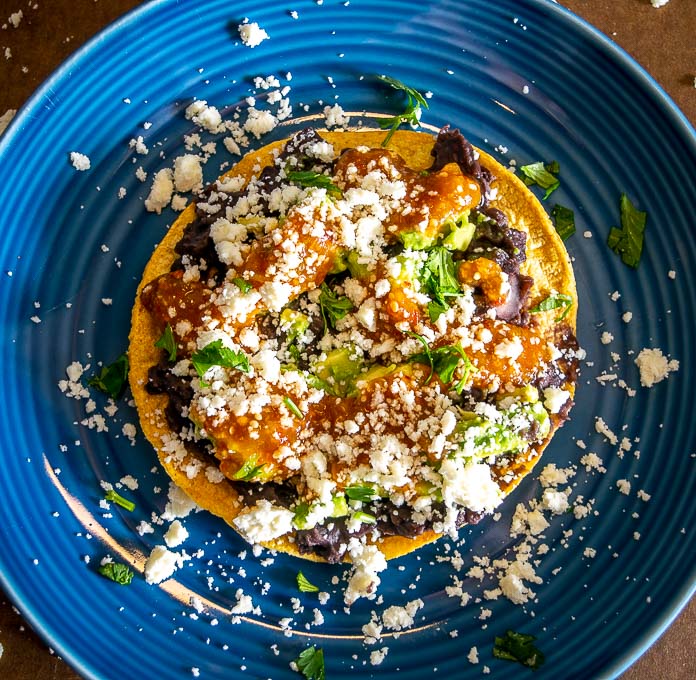 And they were an absolute delight.
So I ate six of them 🙂
Okay, I'll put the recipe box below with instructions on how to make everything I used for this batch, but keep in mind there is plenty of leeway on the fixings!
You can use what you available and still get a great result.....as long as you make your own Salsa 🙂
Buen Provecho.
For up-to-date recipes follow me on Instagram, Facebook, Pinterest, TikTok, YouTube.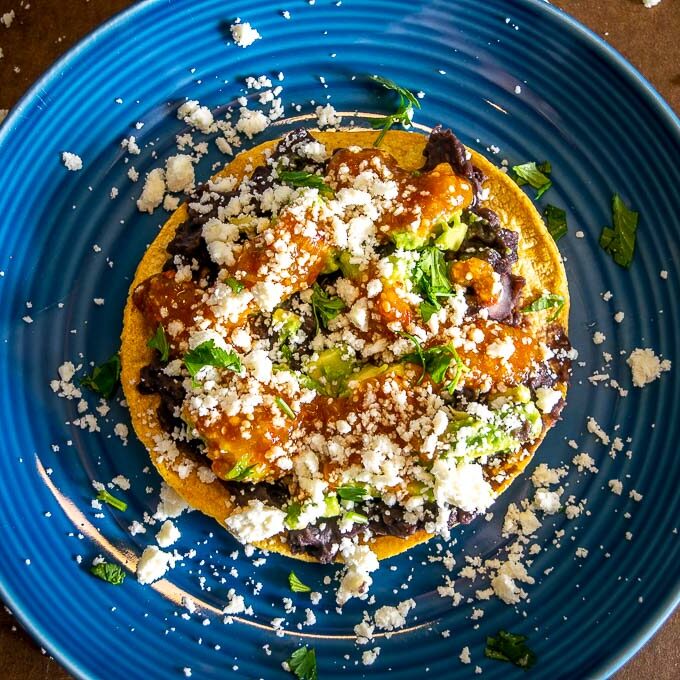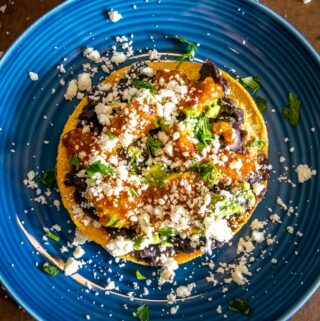 Bean Tostadas with Avocado, Queso Fresco, and Homemade Salsa
What a treat to be able to whip up some satisfying Bean Tostadas. Please try to serve them with some homemade Salsa, that's the key!
Print
Pin
Rate
Servings:
2
(6-8 tostadas)
Ingredients
6-8

tostada shells

2

cups

refried beans

1

avocado

1-2

cups

shredded cheese (I used Queso Fresco)

freshly chopped cilantro

2

limes

olive oil
For the Tomatillo Chipotle Salsa:
4-5

tomatillos

2

garlic cloves

1-2

chipotles

sliver of onion (optional)
Instructions
For the Salsa, start by husking and rinsing 4-5 tomatillos. De-stem the tomatillos and roast them in the oven at 400F for about 15 minutes or so. De-stem and de-seed two chipotles in adobo. Add the roasted tomatillos to a blender along with a single chipotle and 2 peeled garlic cloves. Combine well and take a taste for heat. If you want more heat add the second chipotle. I usually make this fiery and concentrated, but keep in mind that you can always dilute it a bit with the optional sliver of onion.

I used homemade pot beans for this recipe, but you've got plenty of leeway on the refried beans. I simply added 2 cups of beans to a skillet along with some of their broth and mashed 'em up over medium heat until they were a thicker consistency. If you are starting with canned, whole beans and want to give them some flavor, I typically use this refried bean recipe.

Chop the flesh of an avocado into bits. I tossed the avocado bits with an on-the-fly dressing: a glug of olive oil, the juice of 1 lime, and a pinch of salt. But you can consider the dressing optional.

Be sure to warm up the tostada shells if using store-bought shells. I crisped up some thin corn tortillas for some homemade tostada shells. To do that, rub a thin layer of oil on each side of the corn tortillas using your fingers or a pastry brush. Give them 4-5 minutes per side in the oven at 400F, or until they are crispy and just starting to turn a darker brown. See Homemade Tostada Shells for some pics on this process.

Prepare the remaining ingredients. For me that meant crumbling the Queso Fresco and chopping up some fresh cilantro. Feel free to use whatever cheese you have available.

Once the tostadas and beans are warm it's time to build your masterpiece! For me that meant loading each tostada with: a healthy layer of refried beans, avocado bits, Tomatillo Chipotle Salsa, Queso Fresco, freshly chopped cilantro, and a final squeeze of lime.

Serve immediately and enjoy!
Like this recipe?
Click the stars above to rate it or leave a comment down below! @mexplease
Craving more tostadas? Try out these Easy Ground Beef Tostadas.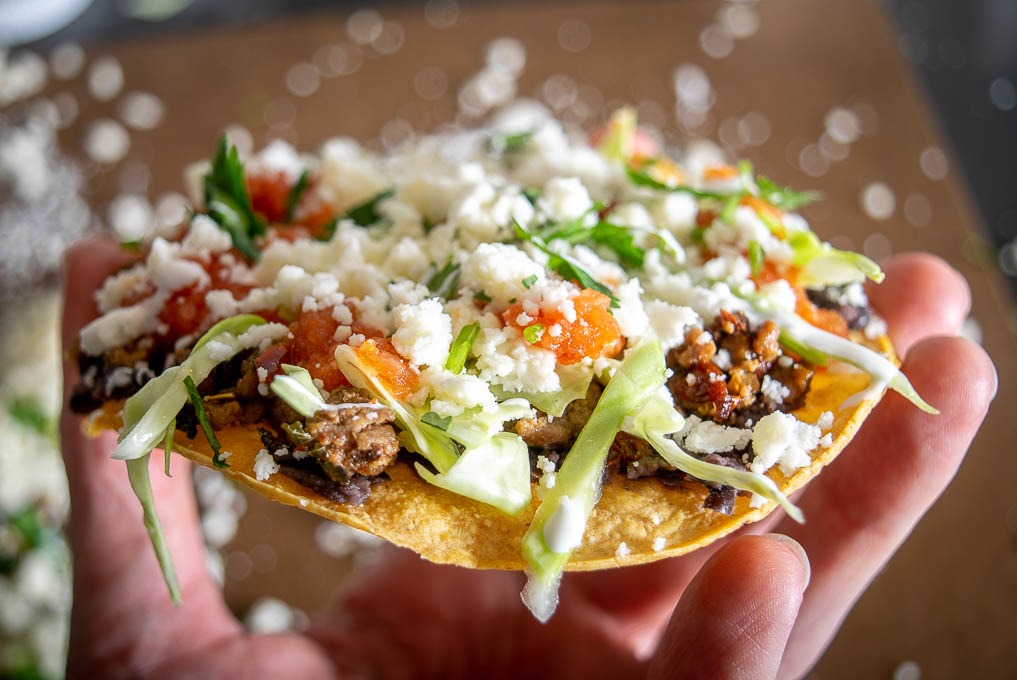 Still hungry?!
Want to receive Mexican Please recipes via email when they are posted?  Sign up below to subscribe.  All recipes are spam free.