This Serrano Hot Sauce is for those of you who need HEAT on standby in the fridge!
Not only do Serranos have more heat than Jalapenos, but I also added a Habanero to this batch and that really amped it up.
You can consider this recipe a good middle ground between the recent Jalapeno Hot Sauce and the more explosive Habanero Hot Sauce.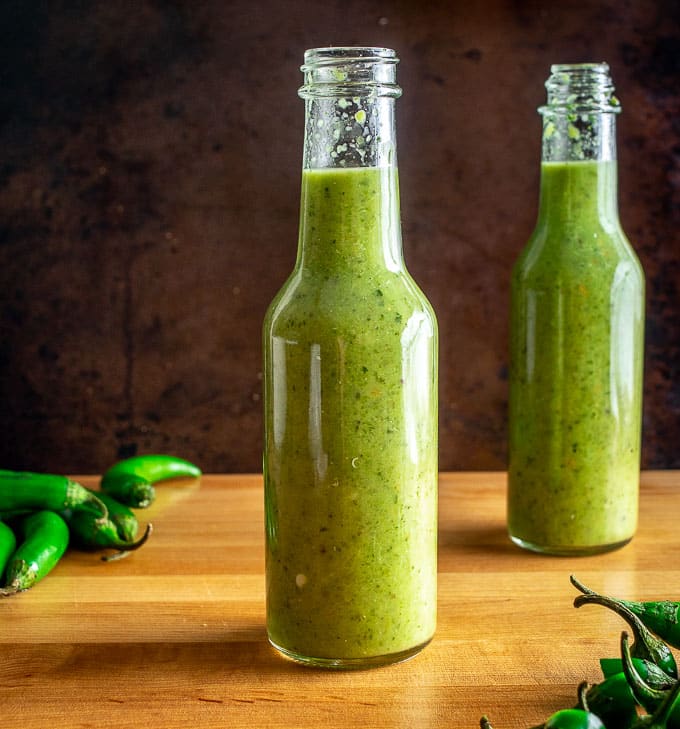 How To Make Serrano Hot Sauce
This pic is the best way to show the differences between Serranos and Jalapenos: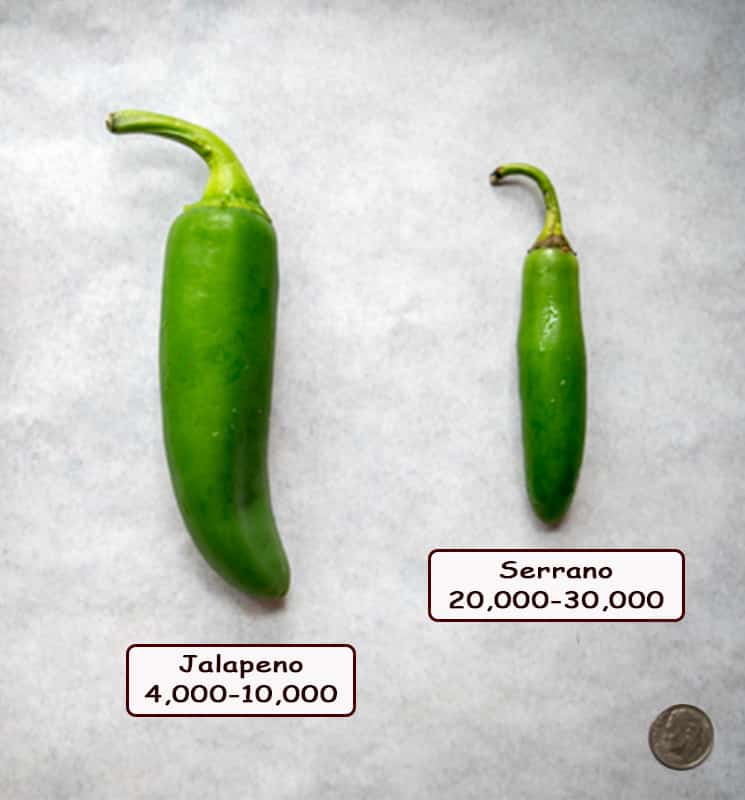 Chiles tend to get hotter as they get smaller, so the Serranos will typically pack quite a punch compared to Jalapenos. Those are Scoville units shown underneath the chiles and that's a quick way to gauge their heat level.
In day-to-day cooking you can consider these chiles interchangeable because you're typically only using a small amount.
But we're using a half pound worth of Serranos in this recipe, and that difference in heat really adds up when you're using 20 of 'em!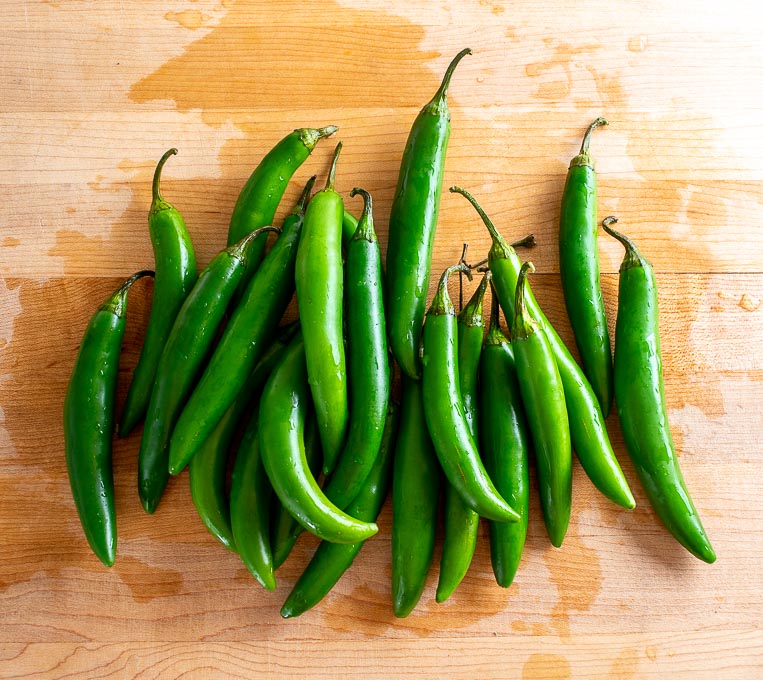 So for anyone looking for a mild hot sauce, this ain't it 🙂
I will also add a Habanero to this recipe when I have one on hand. The tiny, fiery Habanero will increase the heat even more so please consider it optional.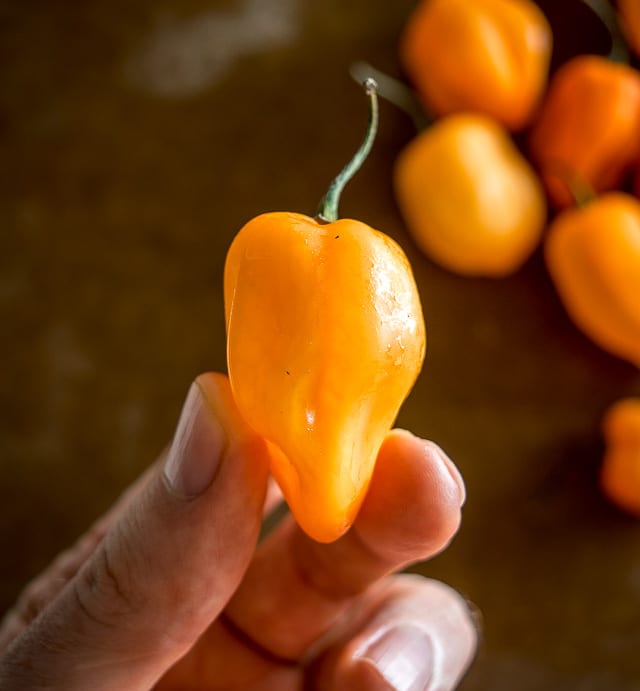 Be sure to use caution when handling hot chiles.
I typically just give my hands a good washing afterwards, but gloves are a decent option when handling fireballs like Habaneros. And no touching your eyes or nose unless you want to know what it's like to be pepper sprayed! More tips on working with hot chiles.
Start by cooking 1/4 roughly chopped onion in a glug of oil along with a whole, peeled garlic clove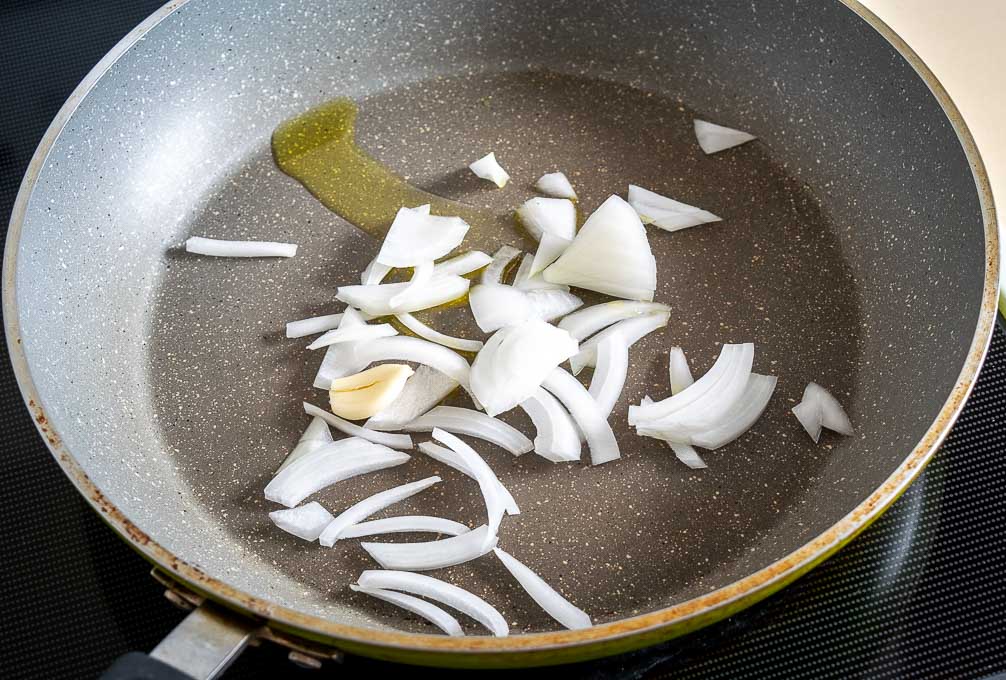 Once the onion has softened we'll add the following spices:
1 teaspoon Mexican oregano What is Mexican oregano?
1/4 teaspoon cumin
some freshly cracked black pepper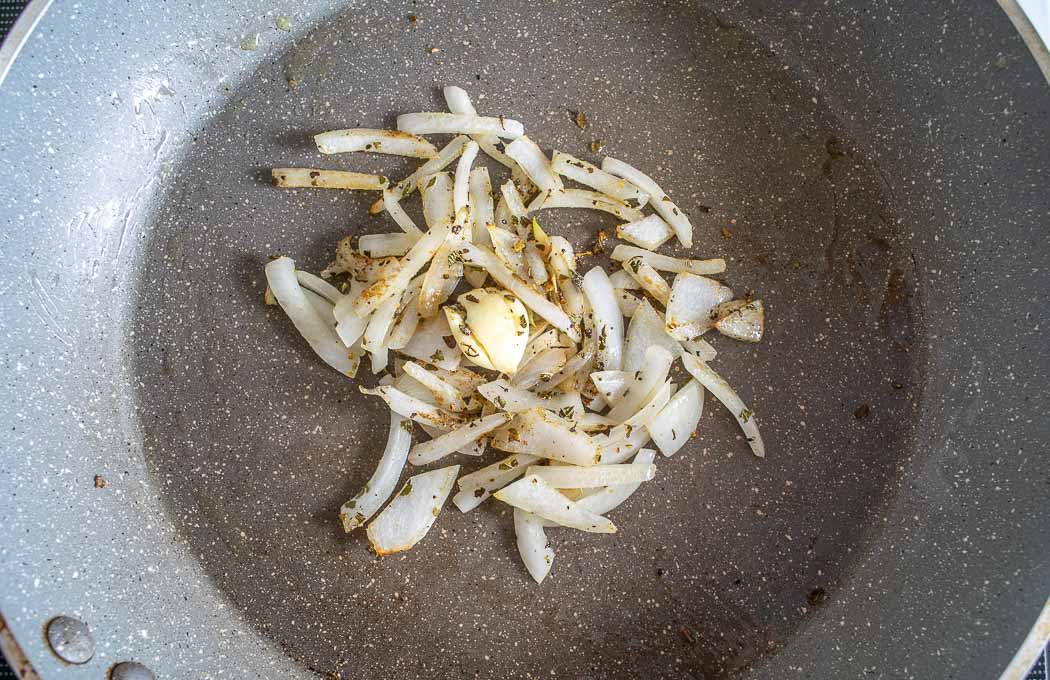 Let this cook briefly and then add the remaining ingredients:
the rinsed and de-stemmed Serrano peppers
a single Habanero (optional)
1/2 cup white vinegar
1/4 cup water
1/2 teaspoon salt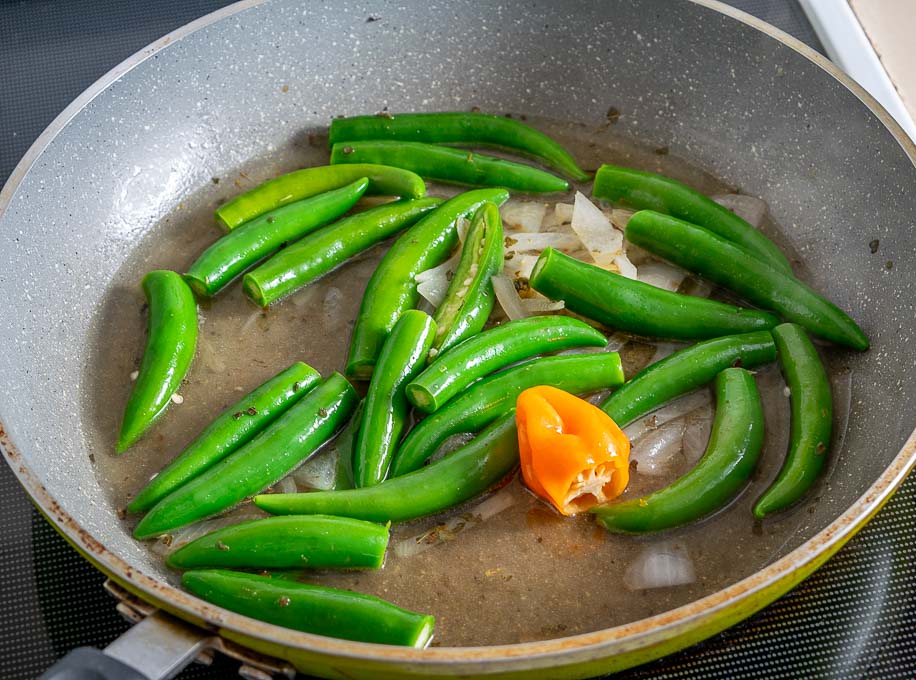 Bring this mixture up to a simmer and then add it all to a blender along with:
8-10 cilantro sprigs
juice of 1 lime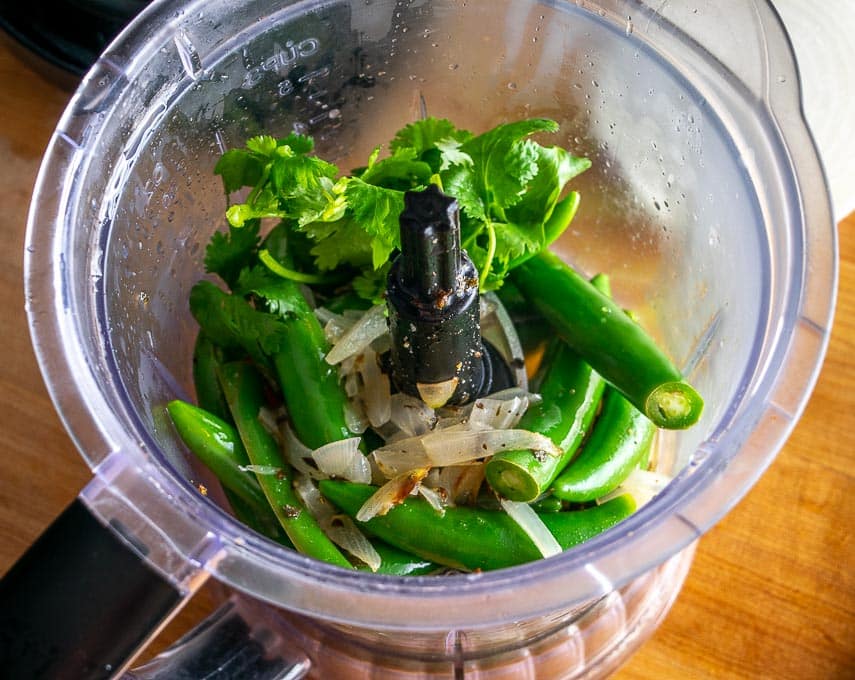 Combine well and take a taste, but consider yourself warned!
It has real zip so just try out a small drop at first to see how your palate reacts.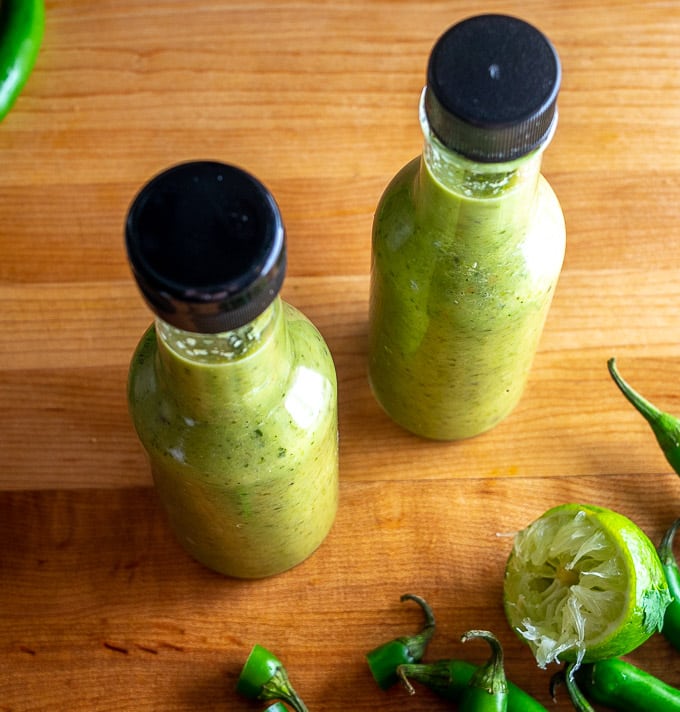 Zipppp!
You'll have enough for two 5 oz. hot sauce sized bottles.
If you don't have any of these bottles on hand be sure to check your fridge! Sometimes you'll find old, forgotten hot sauces in the back corner that are willing to be emptied out and cleaned.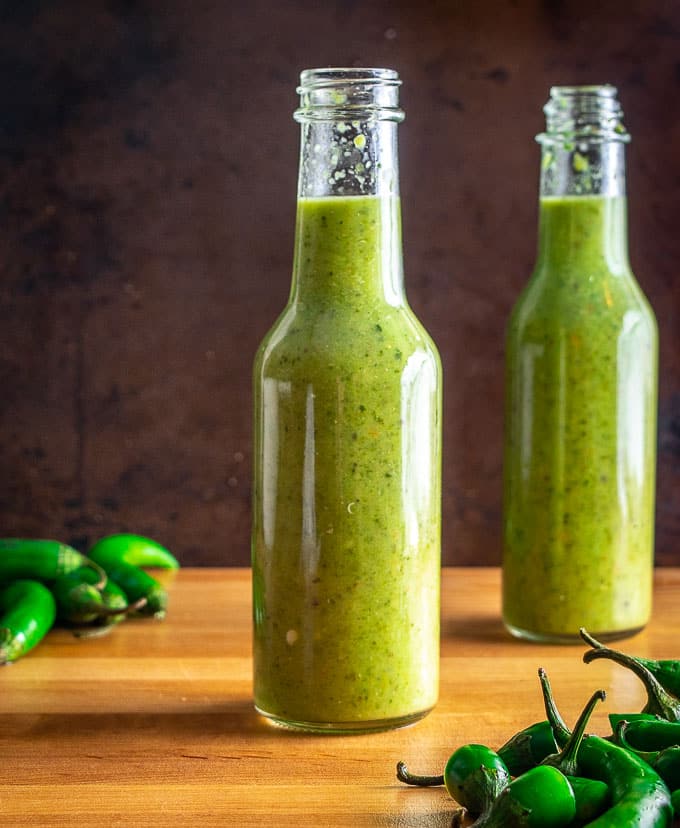 This Serrano Hot Sauce works great as a final burst on tacos, burritos, and enchiladas. And you'll find that most green sauces get along well with eggs dishes so don't forget those!
It'll keep for weeks at a time in the fridge and only takes a few minutes to put together. Sound like a good deal?
Buen Provecho.
Want the latest recipe? Click your favorite from these options and follow me: Instagram, Facebook, Pinterest, TikTok, YouTube.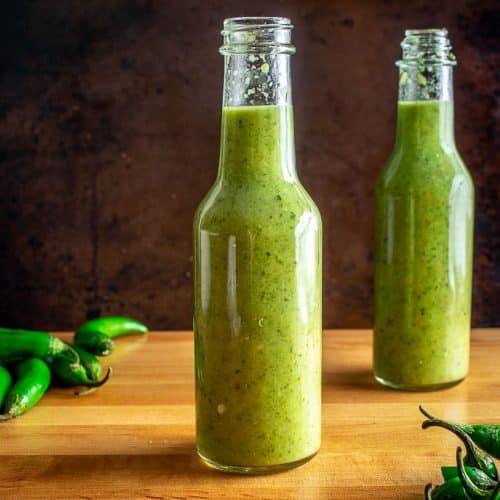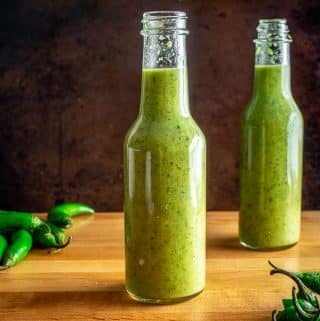 Serrano Hot Sauce
Here's an easy recipe for a wicked batch of Serrano Hot Sauce!  With a half pound of Serranos you'll get two 5 oz. bottles worth of delicious, fiery hot sauce.  Note: instructions not designed for long term canning.
Print
Pin
Rate
Ingredients
1/2

lb.

Serrano peppers (approx. 18-20)

1

Habanero pepper (optional)

1/4

onion

1

garlic clove

1/2

cup

white vinegar

1/4

cup

water

juice of

1

lime

freshly cracked black pepper

1/2

teaspoon

salt

1

teaspoon

Mexican oregano

1/4

teaspoon

cumin (optional)

8-10

cilantro sprigs
Instructions
Saute a roughly chopped 1/4 onion and 1 whole, peeled garlic clove in a glug of oil over medium heat.

Once the onion is browning you can add 1 teaspoon Mexican oregano, some freshly cracked black pepper, and 1/4 teaspoon cumin (optional). Briefly cook until fragrant and then add the de-stemmed Serranos, 1/2 cup white vinegar, 1/4 cup water, and 1/2 teaspoon salt. You can optionally add a rinsed and de-stemmed Habanero pepper. Bring to a simmer and then add everything to a blender.

Add 8-10 sprigs cilantro and the juice of 1 lime to the blender. Combine well or to your desired consistency. I usually leave it a bit chunky but you can always blend it thinner.

Add mixture to two 5 oz. bottles or a small Mason jar. Store in the fridge where it will keep for weeks at a time.
Like this recipe?
Click the stars above to rate it or leave a comment down below! @mexplease
Want to see the latest recipe? It's this Mole Poblano sauce.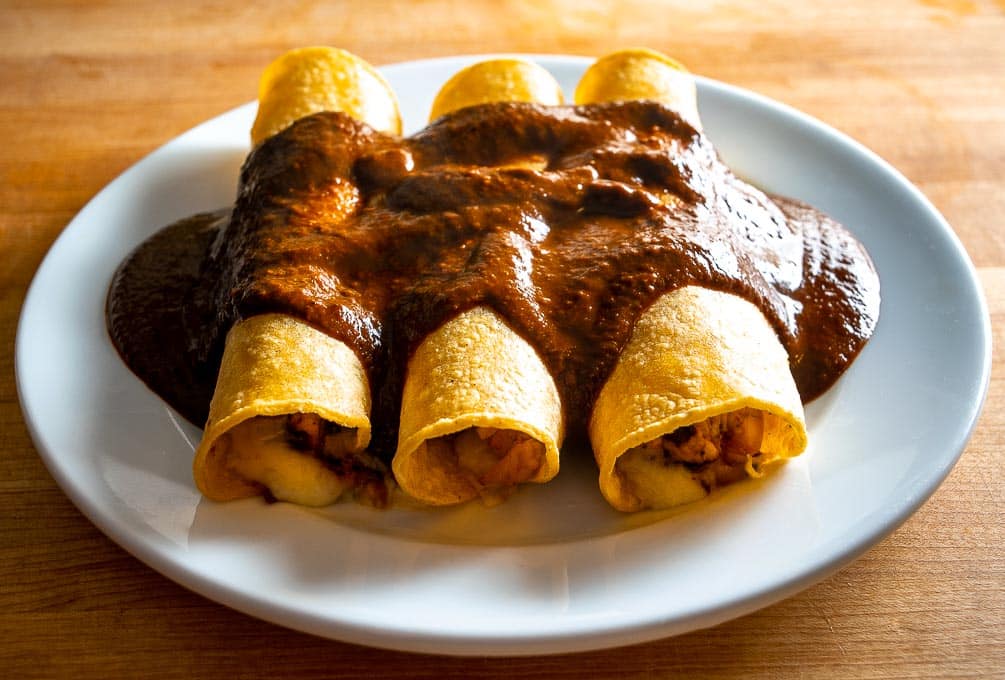 Still hungry?!
Want to receive Mexican Please recipes via email when they are posted?  Sign up below to subscribe.  All recipes are spam free.