Thus begins the quest for some homemade masa dough that will hopefully lead to mind-bending corn tortillas, tamales, and maybe even some pupusas.
We're taking some shortcuts here to prove that the process is accessible to anyone willing to give it a try, and so far the results are off the charts.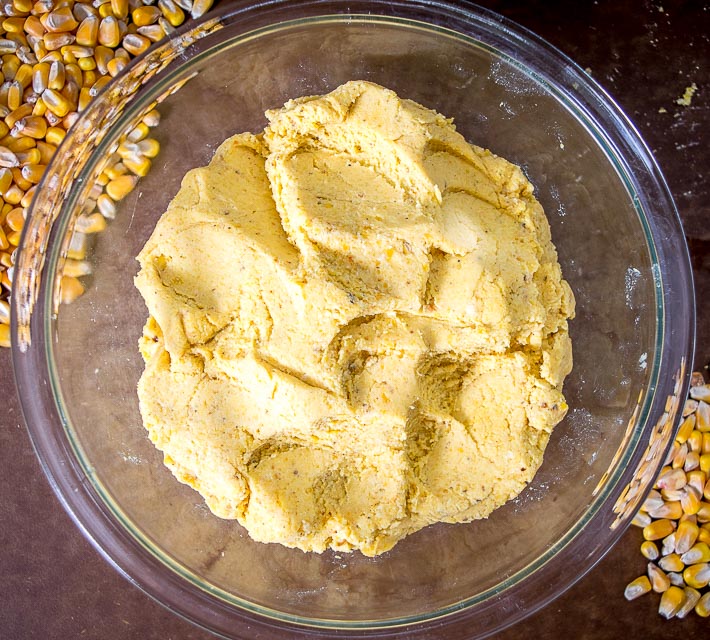 Homemade Masa Dough Recipe
First I want to mention that this method is new territory for me as well, so there might be some adjustments along the way. I'll update the posts as the process gets refined, so be sure to check back and re-read before starting a batch of your own.
For me, the Daniel Gritzer Serious Eats article on making masa using a food processor was the final impetus to get the dough rolling (worth a read). Masa dough is typically ground in a fine-grade industrial behemoth, but it's surprising how effective a standard food processor can be as long as you make a few tweaks to the process.
He also mentions a bag of organic corn that you can get on Amazon. And since dried field corn is surprisingly hard to come by this is what we're starting with. (Update: we recently made a batch using White Olotillo Corn and have also had success using plain ol' popcorn kernels.)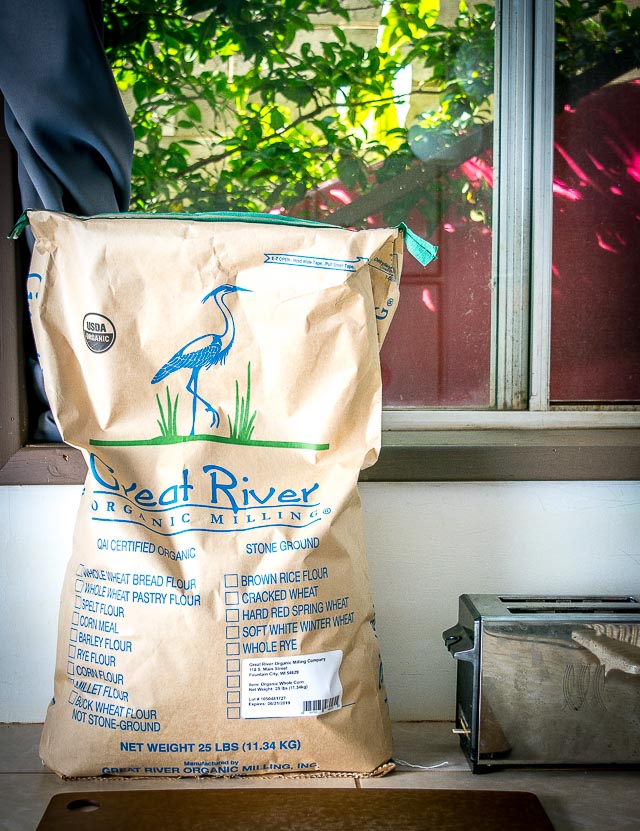 This is organic yellow field corn, and yes, that is 25 lbs. of corn, probably enough for more tortillas than you can eat over the next few years.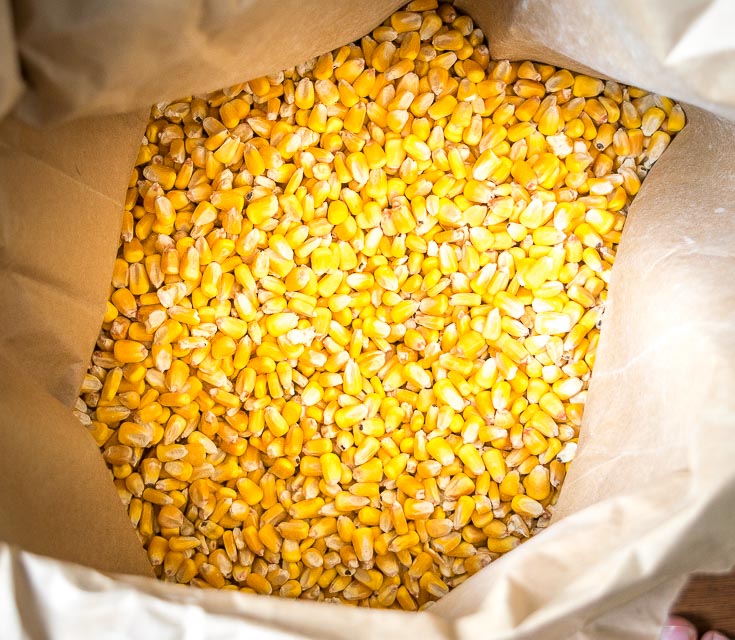 So how exactly does this transform into masa dough?
It's a good question and one that the ancient Meso-American cultures answered long before Chipotle colonized the process.
The nixtamalization process, in its simplest form, is treating corn with calcium hydroxide to make it more amenable to grinding. The outer skin of the kernel will partially dissolve and slip off after soaking in the calcium hydroxide. Beyond the reduction in labor, there's also an interesting health benefit in that the Cal increases not only the calcium content of the final product but also the niacin content.
Not to mention that nixtamalization creates that rich, authentic flavor that we tend to associate with traditional Latin cooking. So when asked in the quiz at the end of this post what the primary benefit of nixtamalization is...if your answer is "taste yum" then you are mostly there.
Okay, enough backstory...
Start by rinsing two cups of the dried corn in some cold water. Take a quick look for any stones or struggling kernels and discard them.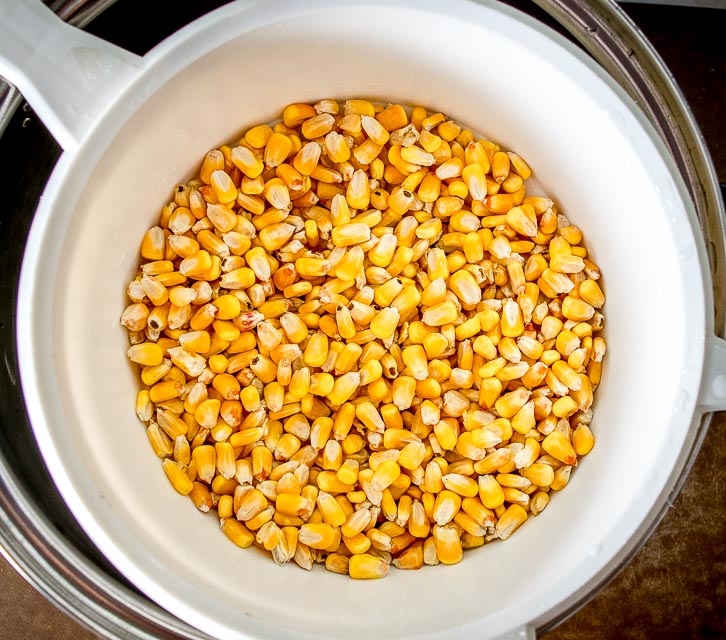 Add 1 tablespoon of the calcium hydroxide to 7-8 cups of water. You can get the calcium hydroxide at most Latin markets, and on Amazon you'll see it referred to as both Cal Mexicana and Pickling Lime.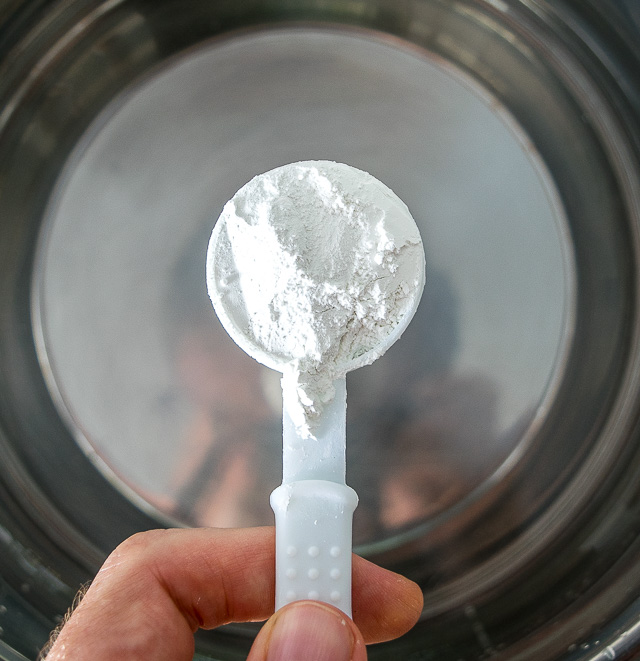 Combine well with the water and then add the corn. (Note: it's best to use a non-reactive pot when using calcium hydroxide.)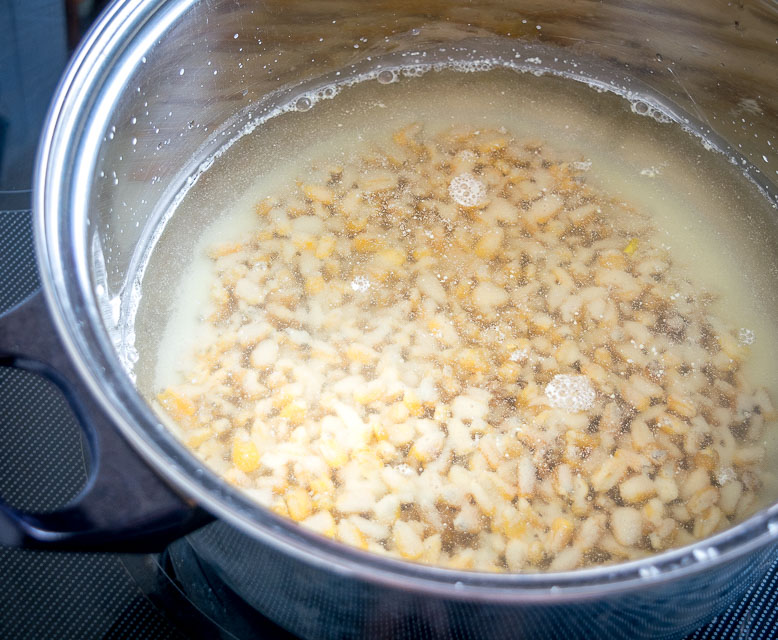 Bring to a boil and then reduce heat to a simmer. Let simmer for 30 minutes or so, stirring occasionally. Make sure the corn is always submerged in liquid; you can always add more water if your pan calls for it.
When the outer skin of the kernels slip off easily then it's had enough cooking time.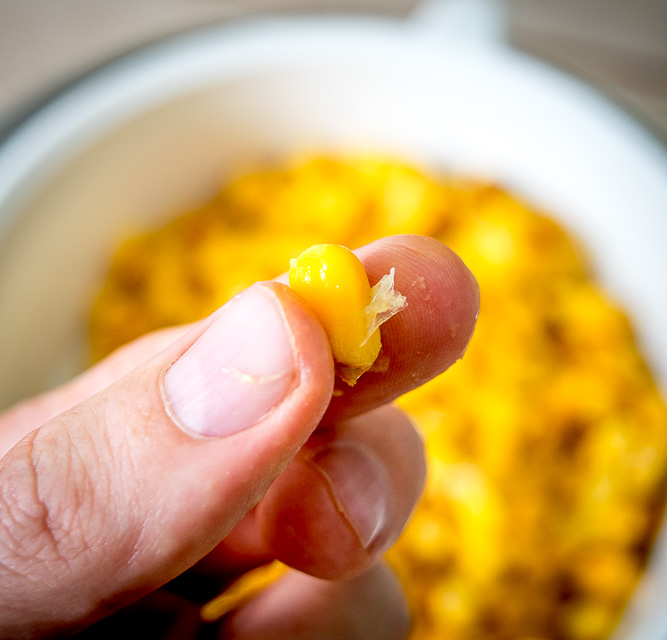 You can also bite into the kernel. The outer portion will be slightly cooked but the inner portion remains dry and uncooked. Perfect!
Remove the pan from the heat, cover, and let it sit overnight at room temperature. This gives the calcium hydroxide time to do its job.
No one knows for sure exactly how long it needs, a minimum would probably be 6-8 hours. So yes, you could start it in the morning and use it for dinner if you wanted to, but I've just been letting it rest overnight, anywhere from 12-16 hours. After which it looks like this...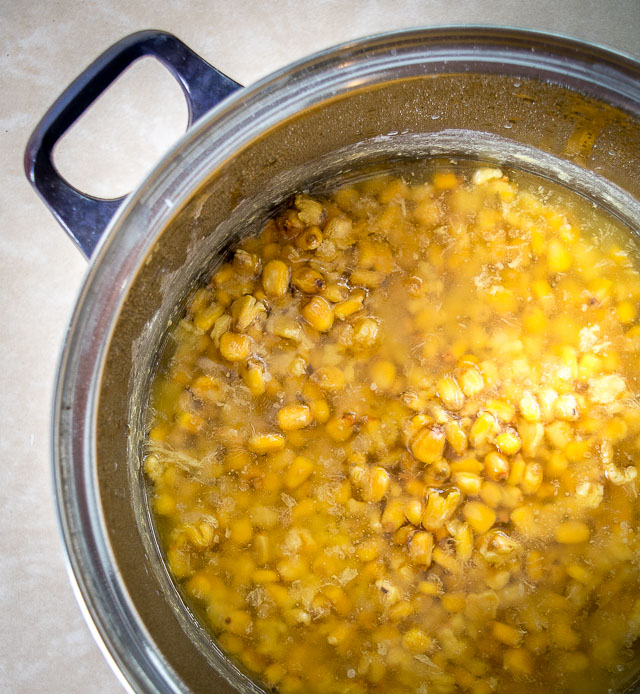 Drain the corn and then give it a good massage under some cold water.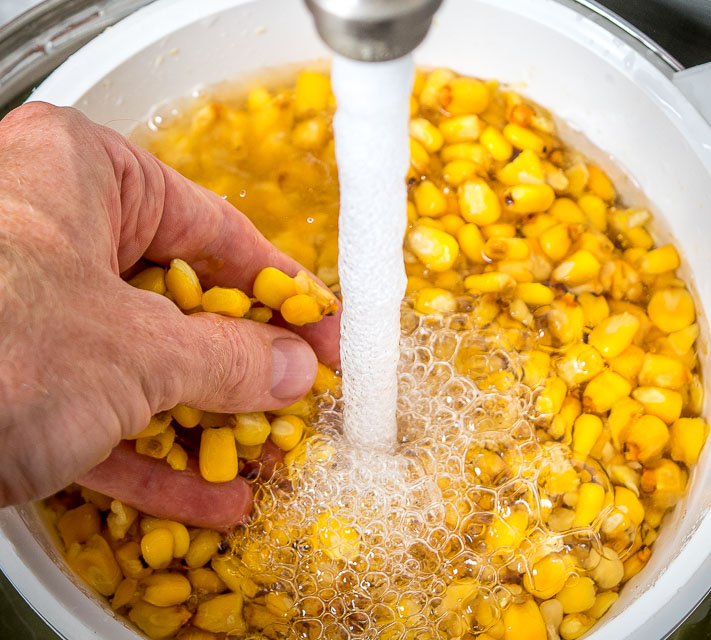 Rub the corn between your hands to force the skins off the kernels. Most of them will slip off easily, but don't worry about getting rid of every last one. It's also worth replenishing the standing water a couple times until it starts to run clear.
And now the shortcut.
Instead of buying a fine-grade grinder, you can get by using a simple food processor. I'm using a smaller food processor so I'll grind it in two batches.
After starting with 2 cups of dried corn, you've now got about 4 cups of hydrated corn. So I'm adding 2 cups of the hydrated corn to a food processor along with 1/2 teaspoon of salt and 1/4 cup of water.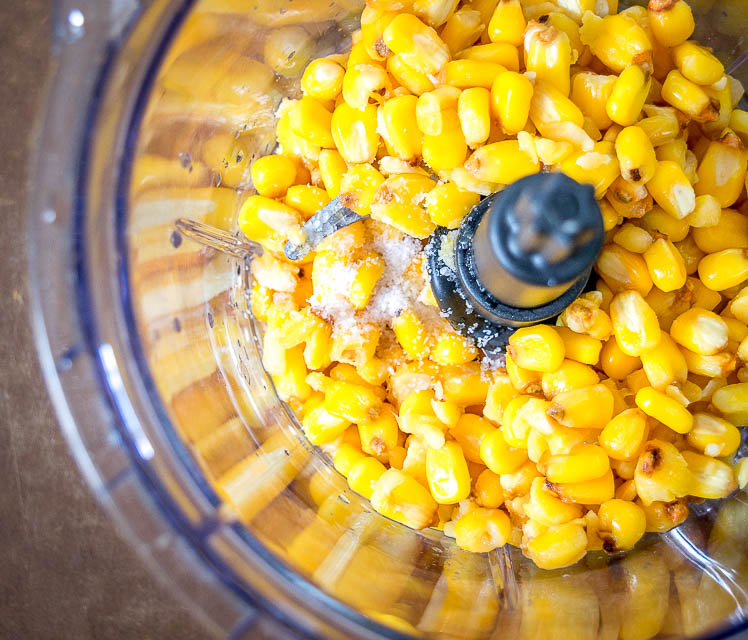 Give it a whirl. You might have to stop a few times to wipe down the sides.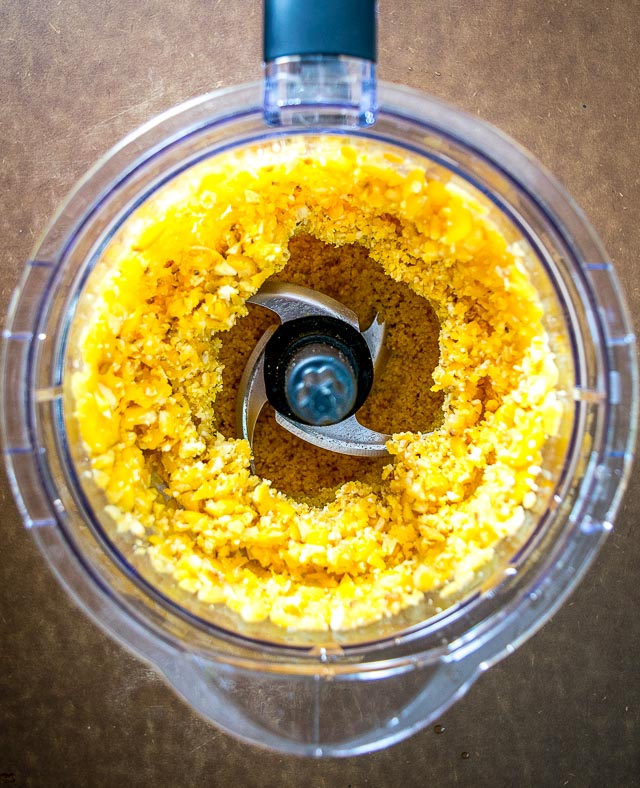 And if it's not combining you can some additional water, 1-2 tablespoons at a time.
Eventually it will combine into a thick, dough-like substance. These batches took about 4-5 minutes each in the food processor and eventually turned into this blast from the past...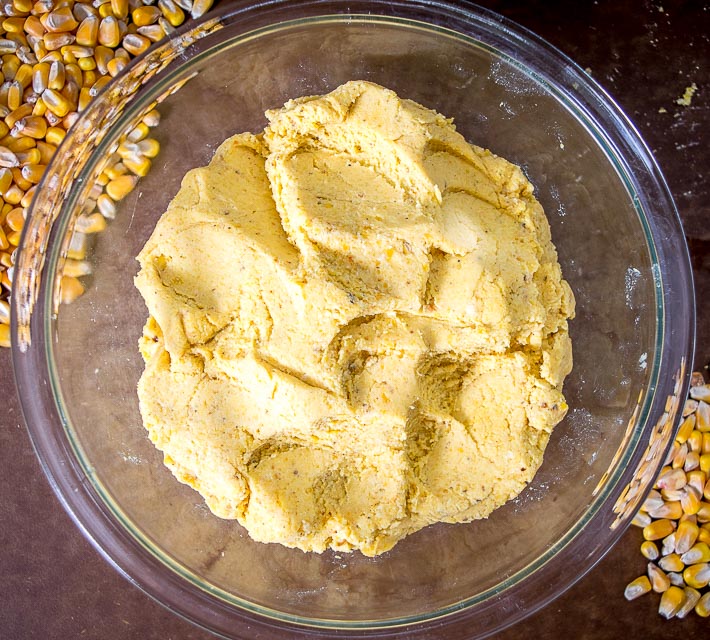 Look at the potential in that bowl! What do you see first? Tamales? Tortillas? The solution to all of life's problems?!!
The masa dough might be a little wet and that's okay, that comes with the territory of using a food processor to grind it.
And now I have both good news and bad news.
The good news is that I've already made a few batches of corn tortillas from this masa and they are delicioso. The bad news is that it would make this post way too long to include all the details here, so I'm going to do the corn tortillas in a separate post a few days from now (here it is). Here's what you'll end up with though if you've got corn tortillas on the brain...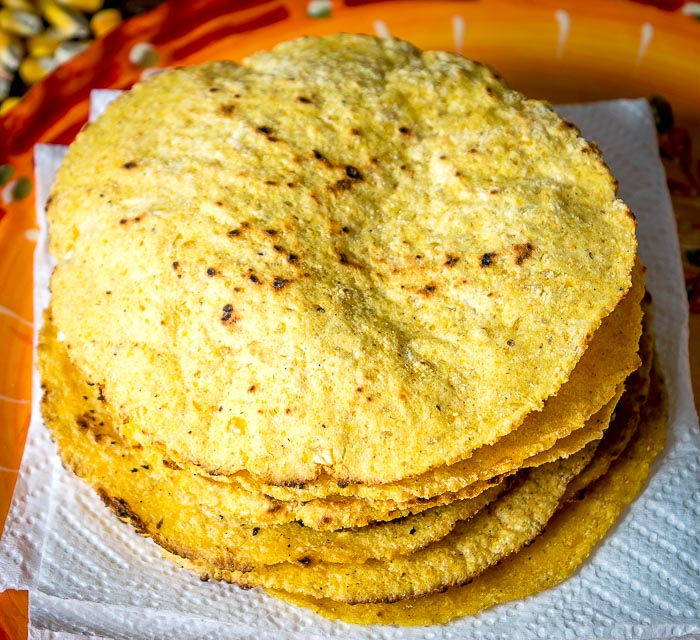 Yowsa!
It's a simple process, but if the dough is too wet they are difficult to handle. Once you dry out the dough a bit then it's just a matter of flattening golfball sized rounds with a tortilla press or casserole dish...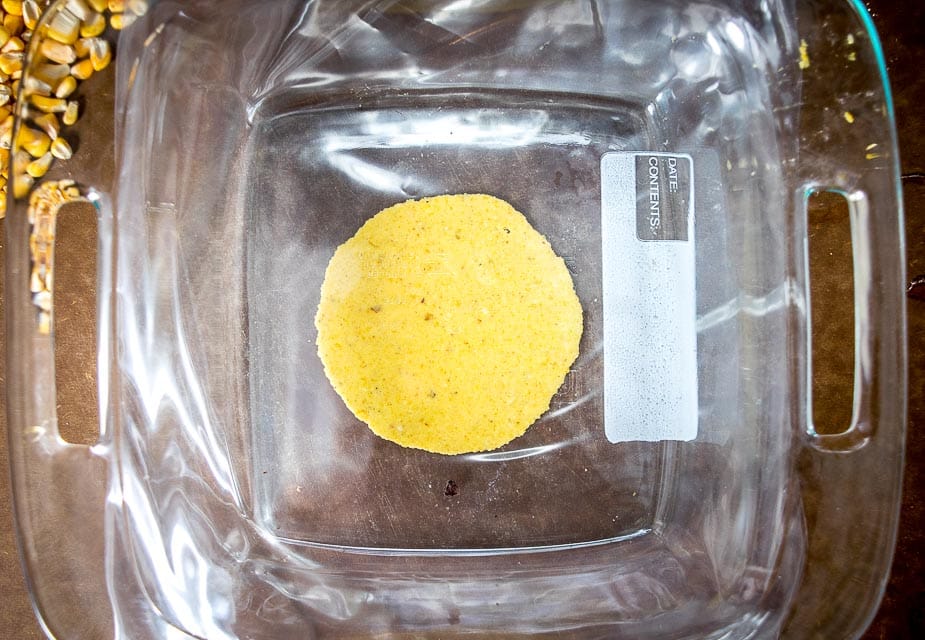 ...and cooking each side for 45-60 seconds.
And yes, after much experimenting (gorging), they can turn the simplest of tacos into something extraordinary.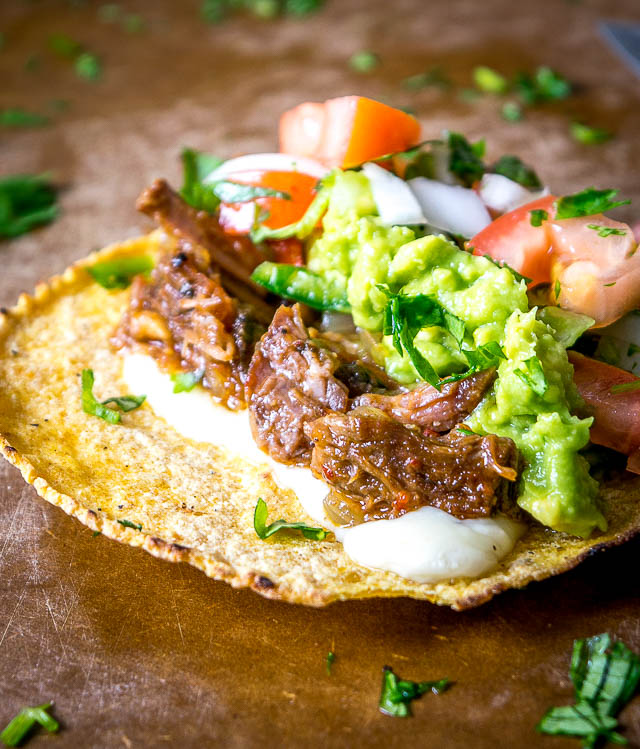 But first things first...
Get some masa dough in the house! It will open up so many possibilities for your kitchen. Time to keep an eye out for some dried field corn 🙂
I'll put instructions in the recipe box below, but feel free to get in touch if you have any additional questions.
Buen Provecho.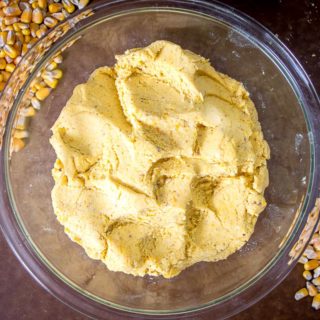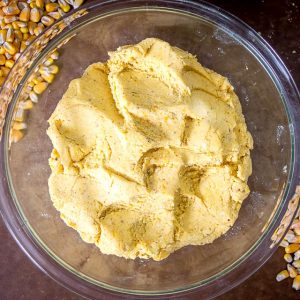 Homemade Masa Dough Using Yellow Field Corn
This masa dough is a great starting point for homemade corn tortillas and tamales.
Print
Pin
Rate
Ingredients
2

cups

dried field corn

1

tablespoon

calcium hydroxide

8

cups

water

1

teaspoon

salt

1/2

cup

water (to grind the masa)

1/2

cup

masa harina (optional)
Instructions
Rinse 2 cups of dried field corn in cold water. Remove any stones or struggling kernels.

Add 1 tablespoon of calcium hydroxide to 8 cups of water in a non-reactive pot (I used stainless steel). Combine well. Add the corn to this mixture.

Bring to a boil and then reduce heat to a simmer. Cook for 30 minutes or so, stirring occasionally. When the skins of the kernels slip off easily then it's had enough cooking time.

Remove from heat, cover, and let sit overnight at room temperature.

The next day (or at least 6-8 hours later) drain the corn and massage it under running cold water. Use your hands to remove the skins from the kernels. Change the standing water a couple times until it starts to run clear.

Drain the corn and add to a food processor. You'll need 1 teaspoon of salt and approximately 1/2 cup of water for the whole batch (as photographed above I ground it in two batches in a smaller food processor). Wipe down the sides of the food processor occasionally. It will need approximately 4-5 minutes to thoroughly combine, you can add splashes of water if it's not combining well.

Use immediately or cover with plastic/foil and store it in the fridge.

If you want to make tortillas with the masa dough, adding some masa harina to it will make it easier to handle. I added about 1/2 cup to this batch.
Like this recipe?
Click the stars above to rate it or leave a comment down below! @mexplease
Disclaimer: Yes, there are affiliate links on this page. That means I get a small percentage of the sale if you decide to try out one of the linked products, at no additional cost to you. But my opinion is not for sale and I only recommend products that I actually use and trust. Email me if you have questions about this.
Still hungry?!
Want to receive Mexican Please recipes via email when they are posted?  Sign up below to subscribe.  All recipes are spam free.