Okay, it's time for some homemade corn tortillas. Sound good?
Of course, that's assuming you have a bowl of masa dough waiting patiently on the counter.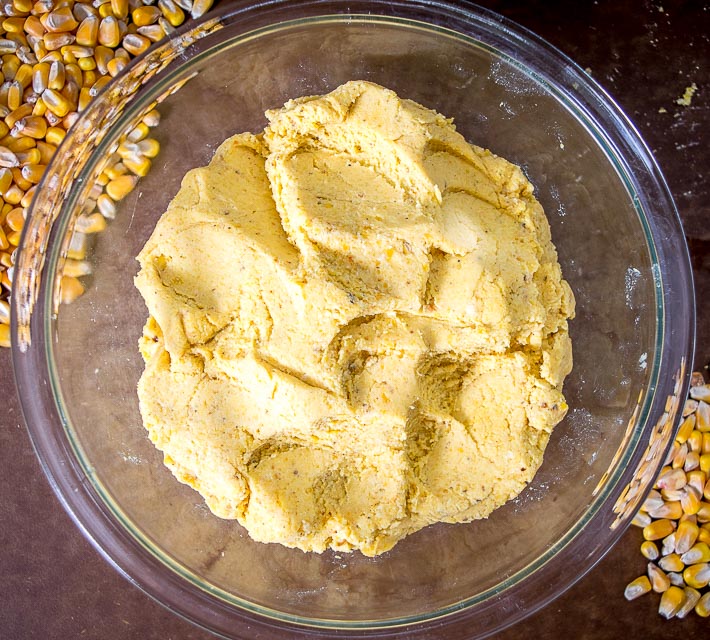 Corn Tortillas From Masa Dough
You can check here for our latest post on how to make masa from scratch. It's surprisingly easy and worth looking into if store-bought tortillas are messing with your mojo.
We also have another post on the site that details making corn tortillas from masa harina (dried masa). The process is similar and it's worth getting familiar with masa harina because we'll be using it in this recipe as well. Masa harina is basically dehydrated masa dough; you simply add water to form the dough. Maseca is the brand you'll see in most supermarkets.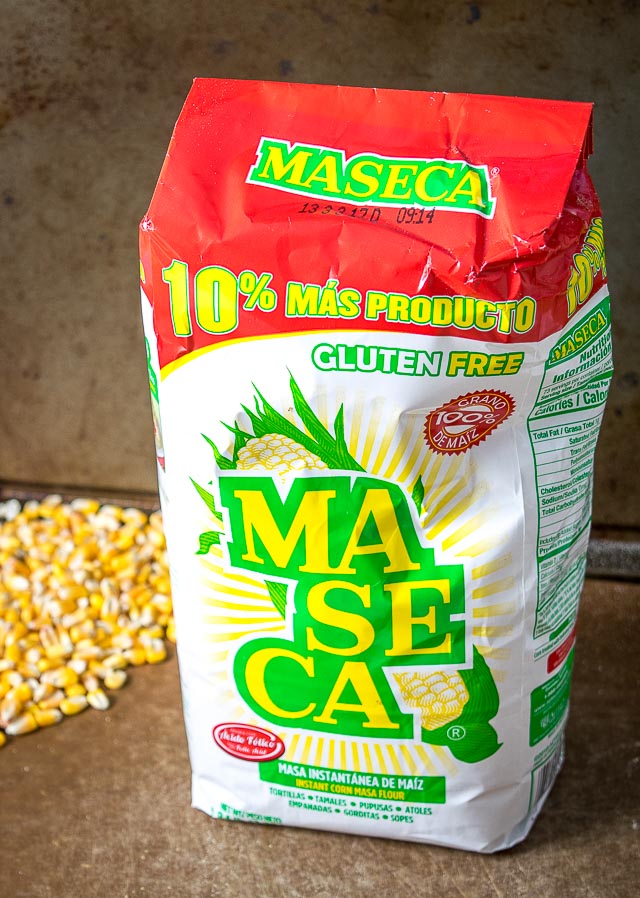 I know what you're thinking...why would I need masa harina if i I have a fresh bowl of masa dough on hand?
Good question!
Remember the shortcut we took in the Masa Dough post? We used a food processor to grind the masa dough, and to get the dough rolling it takes a bit of water. So now there's a chance your masa dough is too wet to form into tortillas. Adding a bit of masa harina can create the perfect consistency for making tortillas. (Note: this is suggested in the Daniel Gritzer article we referenced in our last post so it's worth checking out his article for more info on it).
But it's close. As in...you can almost get away without using it, but it does make the process less tedious. Adding some masa harina isn't affecting the flavor that much, so if it's your first time making these tortillas I would recommend having some on hand to simplify the process.
I added 1/4 cup masa harina to 2 cups of our masa dough. Combine well using your hands.
You'll know where you stand when you start rolling the dough into golfball sized rounds.
If the dough is sticking to your hands then you'll need to dry it out a little; that's where the masa harina comes in handy. The 1/4 cup was all I needed, but if your dough is still sticky then add a couple more tablespoons of masa harina.
I typically use a Ziploc with the top and sides cut out when flattening the dough balls, but you can use plastic wrap with similar effect.
And don't fret if you don't have a tortilla press. You'll get an equally good result using the bottom of a casserole dish.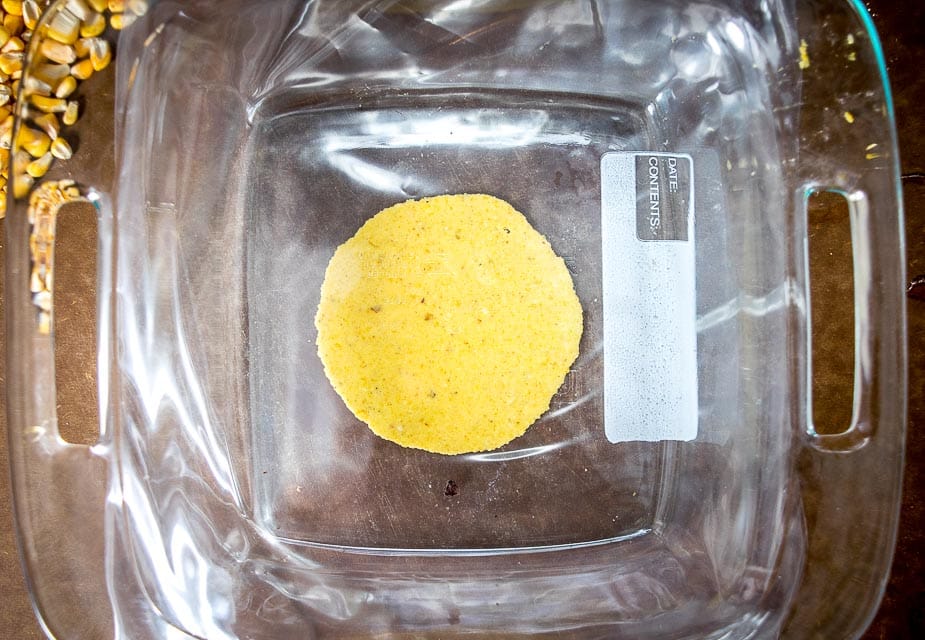 And now comes the real test to see if your masa is dry enough to work with. If the dough is too wet it'll stick to the Ziploc when you try to remove the tortilla. If the dough is the right consistency the Ziploc will peel away easily, no questions asked.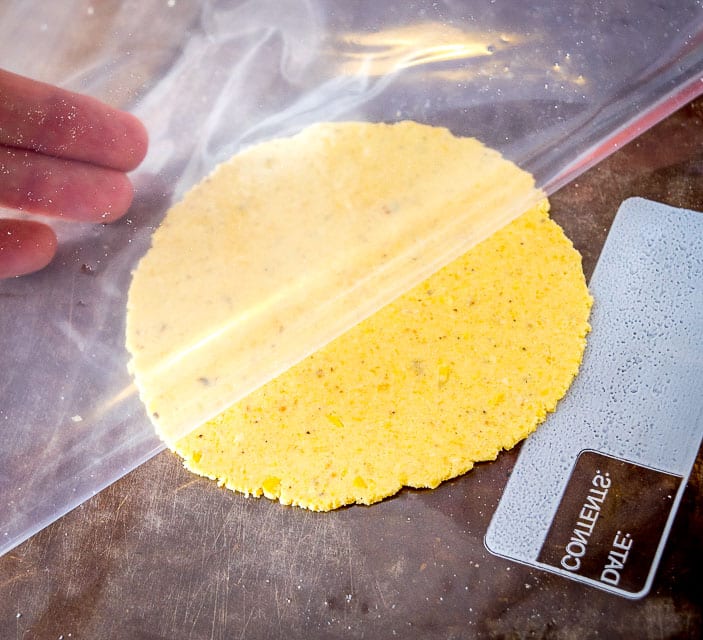 After peeling off the top layer, I find it easiest to then place the tortilla in the palm of the hand and peel off the bottom layer using your other hand.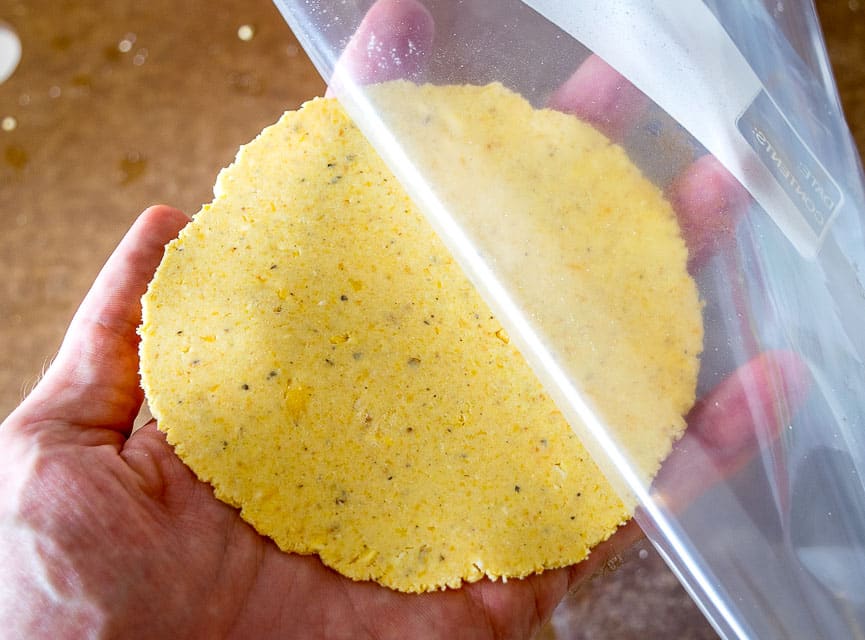 It's also worth mentioning that this process can be unbelievably frustrating when things start to go wrong. Trust me, I've been there. It might take a few tries to get it down but once you get familiar with the danger zones then it really is easy.
Plop this tortilla onto a skillet over medium heat. Comals, double griddles, and cast iron pans are all good choices to cook your tortillas, but lately I just use a nonstick skillet.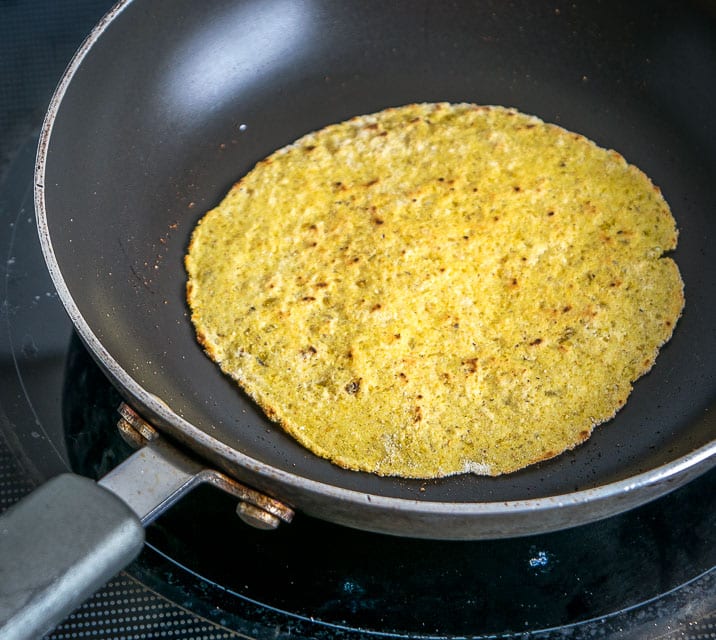 Why? The sloped edge of this pan makes it easy to flip them. So instead of using a spatula you can just use your fingers to slide the tortilla up the edge of the pan and give it a quick flip.
The other potentially frustrating part of the process is the heat level in the pan. It might take a couple tortillas until you find the right level of heat. Ideally you'll hear a tiny sizzle when the tortilla goes in the pan, and each side will need approximately 1-2 minutes before golden brown spots start to appear. On my stove the ideal heat level is dead center on medium, but your stove might vary a little bit.
Okay, you've got two options on cooking the tortillas.
The first option is to cook each side for 1-2 minutes or until brown spots start to appear.
The second option gives a quick flip after 5-10 seconds, and then cooks each side for 1-2 minutes. The idea is that a quick sear and flip will seal in some of the heat, helping the insides to cook faster. I tend to use this method (as mentioned in the masa harina tortillas post) because it seems to result in lighter, fluffier tortillas.
That's where the sloped edge comes in handy. 5-10 seconds after adding the tortilla it should start to slide around in the pan; you can use your finger to push it up the edge of the pan and give it a quick flip.
If all of that sounds like way too much work, then just start by cooking each side for 1-2 minutes and going from there. Don't be surprised if your setup needs even less time than that to cook the tortillas. And once you get familiar with the process you can add in a second pan so that you'll always be cooking two at a time, making the process go much faster.
Two cups of masa dough will make 12-16 delicioso corn tortillas that you'll be tempted to gobble up on their own.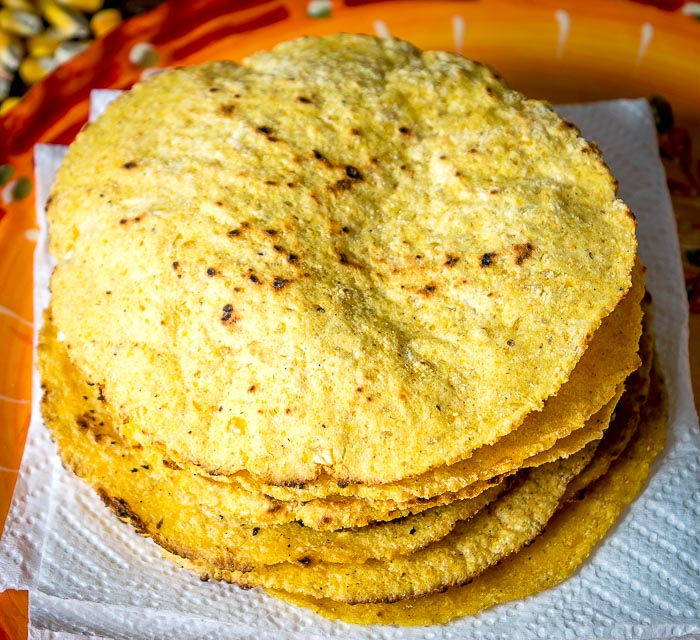 And it's true, they are best right off the skillet. Try to keep them warm before serving, using either a tortilla warmer or a kitchen towel.
I've been using these all week for some barbacoa tacos and they are delicious. They also work well in these black bean tostadas.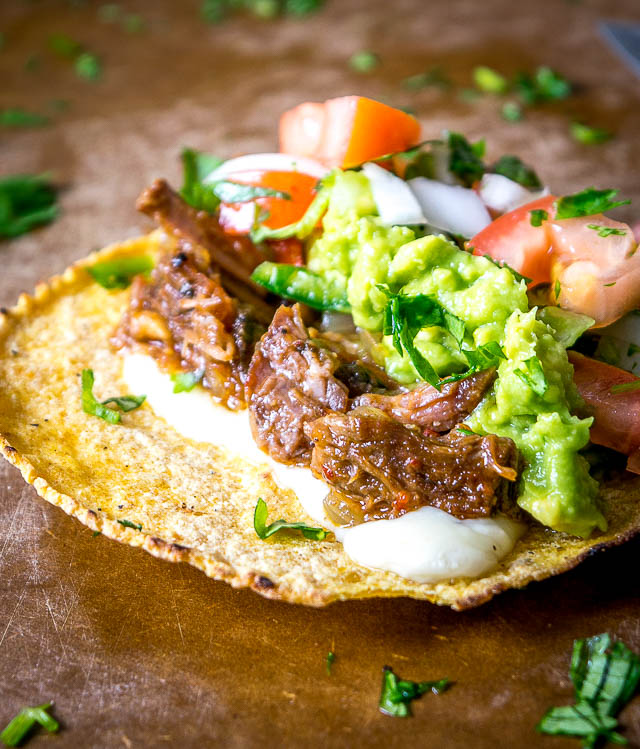 But similar to the tortillas made from masa harina, they will get a little gummy if you let them sit around too long before serving.
If that happens, or if you are using some that were refrigerated, then I highly recommend crisping them up before chowing down. For me, the microwave isn't sufficient to bring these back to life once they've cooled down. I like to add them to the skillet again, sometimes even with beans and cheese on top. This will not only warm them up but will crisp up the edges and give you some tiny charred spots. A bit of char on these tortillas makes them beyond delicious so please keep this in mind if yours have cooled down.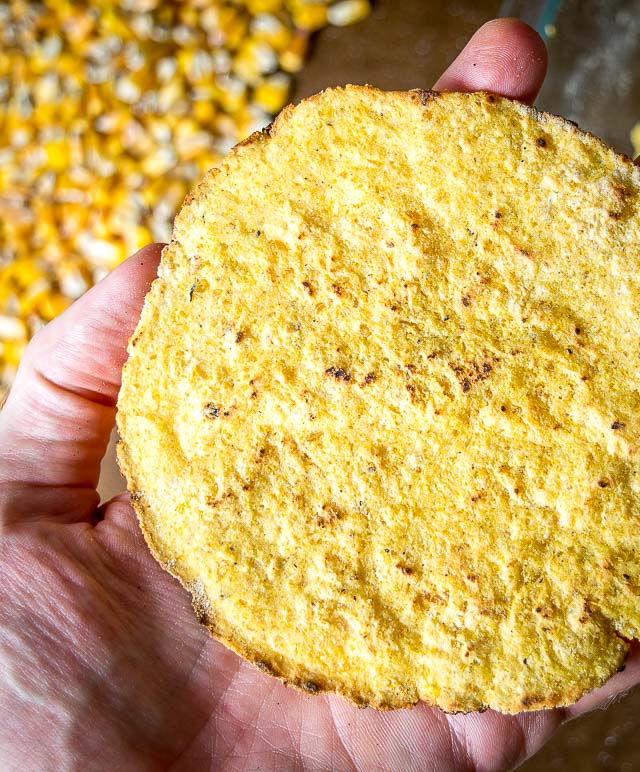 If your first attempt ends with dough sticking to ziplocs and visions of dinner up in smoke then feel free to get in touch with any questions. It might take a practice round, but once you eat a taco using a tortilla that's only been in the world for five minutes then it will all be worth it 🙂
Buen Provecho.
Want the latest recipe? Click your favorite from these options and follow me: Instagram, Facebook, Pinterest, TikTok, YouTube.
Corn Tortillas Using Homemade Masa Dough
We're using fresh masa dough to make a delicious batch of homemade corn tortillas! We also added some masa harina to the dough to make it easier to work with.
Print
Pin
Rate
Servings:
4
(12-16 tortillas)
Ingredients
2

cups

masa dough

1/4

cup

masa harina (plus more if necessary)
Instructions
First gauge how 'wet' your masa dough is. If it sticks to your hands you'll need to add some masa harina to dry it out. I added 1/4 cup masa harina to 2 cups of masa dough. Combine well using your hands.

Separate the dough into golfball sized rounds, this will make the tortillas approximately 4 inches across.

Flatten the dough balls using a tortilla press or a flat bottomed casserole dish. Be sure to line each side of the dough ball with plastic or ziploc pieces. The tortillas should peel off the ziploc easily; if not then you might need to add some masa harina to the dough.

Heat a skillet or comal to medium heat. Add a tortilla and flip after 10 seconds. Then cook each side for 1-2 minutes or until light brown spots are forming. Alternatively, you can skip the quick flip and just cook each side for 1-2 minutes.

Serve immediately, keeping them warm in a tortilla warmer or kitchen towel.
Notes
We're using masa dough from this recipe. 
Don't feel like you have to cook the tortillas for a full 1-2 minutes per side as your setup might need less time than that.  The best time to flip them is when brown spots are starting to form.
I like to use the skillet to re-heat the tortillas once they've cooled down.  This will crisp them up and give you some charred bits.  
Like this recipe?
Click the stars above to rate it or leave a comment down below! @mexplease
You can also build some tortilla pockets with the masa dough.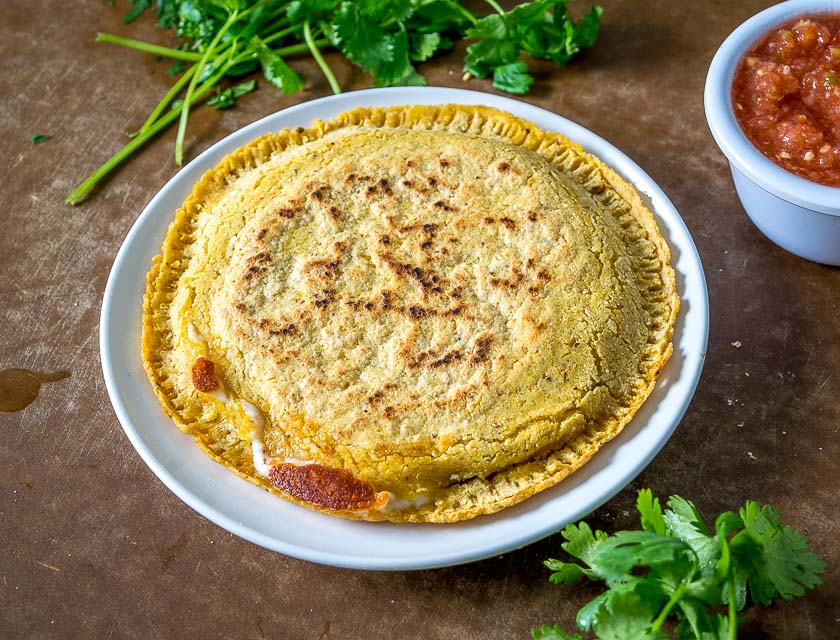 Still hungry?!
Want to receive Mexican Please recipes via email when they are posted?  Sign up below to subscribe.  All recipes are spam free.