These tortilla pockets have lots in common with pupusas, gorditas and tostadas, but they're kind of their own bird.
You can definitely put them in the "experimental" category, but I think it's worth keeping the technique in mind as it might save you one day when you are knee deep in masa dough.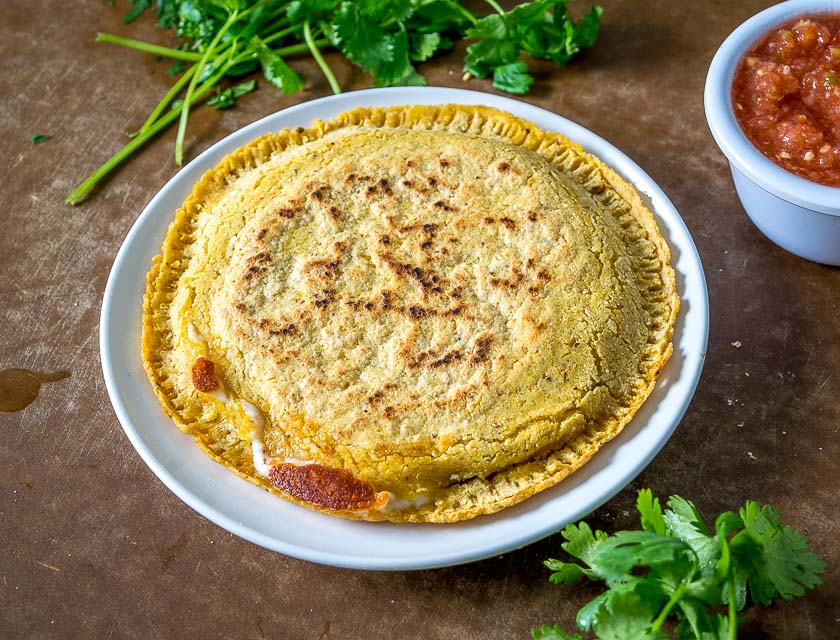 The original plan was to use some fresh masa dough to make pupusas.
Pupusas are the El Salvadorean equivalent to gorditas; they are essentially the same but it seems like it's more common for pupusas to be be cooked with the fillings inside.  Gorditas frequently add the fillings after the masa is cooked.  But keep in mind that nobody can agree on nothing these days and you'll hear the terms used interchangeably.
For example, this is how a pupusa is typically started:
A masa dough ball is flattened to 1/4" or so.  After pressing the fillings into the middle, the outer edges are pulled together and it's then flattened again.  This is then cooked in some oil and ideally you've got a crispy corn delight with your choice of fillings inside.
I tried this with a bean and cheese filling and was disappointed, similar to past disappointments I've had with gorditas.  I don't like them when the masa dominates the flavor profile.  I like them best when the masa complements the fillings, but it can be hard to get enough fillings inside without them falling apart.
If you ever find yourself in the same situation, here's an intermediate technique you can use...
Start with a golfball sized masa round.  You can use homemade masa or dough from masa harina.  And of course if you're in an area with a Hispanic market you can sometimes buy masa dough directly from them.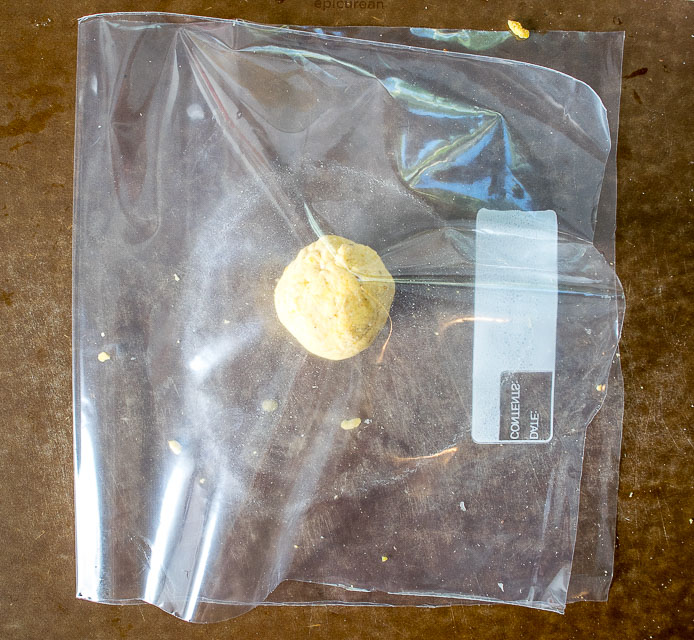 Surround the dough ball with plastic or a ziploc bag.  Then flatten it using a tortilla press or a casserole dish.
Set this one aside and do another.  Then load it up with all the fillings you're craving.  I'm using a spicy black bean puree and Mozzarella cheese.  I'll put instructions for the black bean puree in the recipe box below, or you can check it out in action in these nachos.
Place the other tortilla on top and use a fork or your fingers to pinch the edges together.
The idea is to keep the tortillas super thin to keep the tortilla-to-fillings ratio low.  It can be a little tricky to work with thin tortillas; the key seems to be the water content of the dough.  If you find they are sticking to the plastic then add a bit more masa harina to dry out the dough.  (There are lots of tips on working with masa dough in our Masa post and our Masa Harina post).
Add a thin layer of oil to a skillet over medium heat and cook the tortilla pocket for 3-4 minutes per side.
Having oil in the pan is important as this will give the fillings plenty of time to heat up without burning the masa dough.
Here's what this one looked like after cooking the first side for 4 minutes or so.
Nice!  When it starts to form heavy brown spots it's usually ready to be flipped.
Another advantage of keeping the tortillas thin is to ensure they are cooked all the way through despite having some cold temp fillings on the inside.
You can serve with your choice of sauce or salsa.  Here I'm using a freshly made Tomato Jalapeno Salsa and it was the perfect complement to the crispy corny cheesy bites.
If all went according to plan the masa is kept in check and you've got plenty of bean and cheese flavor in each bite.
If not, try to load them up with more fillings next time.  It's okay if they burst a little bit while cooking, sometimes a bit of charred beans and cheese can even improve their flavor.
Not only will you end with some crispy corn delights, but hopefully you get another equally important takeaway from this post.  That being...
There's always a solution in the kitchen!  So if you ever find yourself disappointed with a dominant masa flavor in your dishes, keep in mind that you can always use this technique to alter the masa-to-fillings ratio and create what you're craving.
Buen Provecho.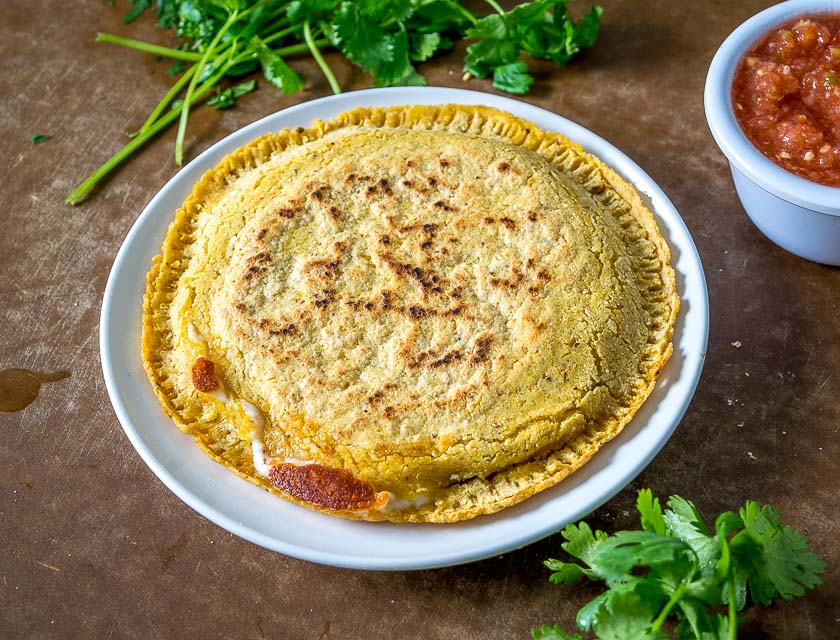 Black Bean and Cheese Tortilla Pockets
Two crispy corn tortillas surround a pocket full of spicy black beans and mozzarella cheese. Be sure to use a bit of oil when cooking them, this will help them crisp up.
Print
Pin
Rate
Servings:
2
(4-5 pockets)
Ingredients
2

cups

masa dough

1

cup

Mozzarella cheese

oil
For the Black Bean Puree:
1

can

black beans

1/2

onion

2

garlic cloves

2

chipotles in adobo

1

tablespoon

adobo sauce

1/2

teaspoon

cumin

1/2

teaspoon

salt

freshly cracked pepper

splash of

water
Instructions
Form the masa dough into golfball sized rounds.

Use two sheets of plastic or a ziploc to surround the masa round, and then flatten them one at a time using a tortilla press or a casserole dish.

Add a layer of black bean puree and cheese to one of the tortillas. Place another tortilla on top and use a fork or your fingers to pinch the edges shut.

Cook in a thin layer of oil over medium heat for 3-4 minutes per side. Serve immediately.

To make the black bean puree, roughly chop 1/2 an onion and peel 2 garlic cloves. Saute the onion and garlic in a dollop of oil over medium heat for 5-7 minutes. Drain and rinse one can of black beans. Add the black beans to the onion mixture along with 2 chipotles in adobo, 1 Tablespoon adobo sauce, 1/2 teaspoon cumin, 1/2 teaspoon salt, freshly ground pepper, and a splash of water. Simmer for a few minutes until heated through. Combine the bean mixture in a blender or food processor. Salt to taste (I added another pinch to this batch).
Notes
I served these with a freshly made Tomato Jalapeno Salsa.
For more tips on working with masa dough and making homemade tortillas, please see our Masa article and our Masa Harina article. 
I had best results when making the tortillas as thin as possible.  
It seems easiest to build these when the bean puree is paste-like.  If your puree is runny you can always heat it up in a skillet for a few minutes to reduce it down a bit. 
Like this recipe?
Click the stars above to rate it or leave a comment down below! @mexplease
Still hungry?!
Want to receive Mexican Please recipes via email when they are posted?  Sign up below to subscribe.  All recipes are spam free.