There is something remarkably satisfying about gobbling up a piping hot Chicken Flauta that's been drenched in a fiery Salsa Verde.
It's comfort food at its best and luckily it's an easy combo to make at home.  Flautas are also wildly versatile so feel free to customize the filling to your liking.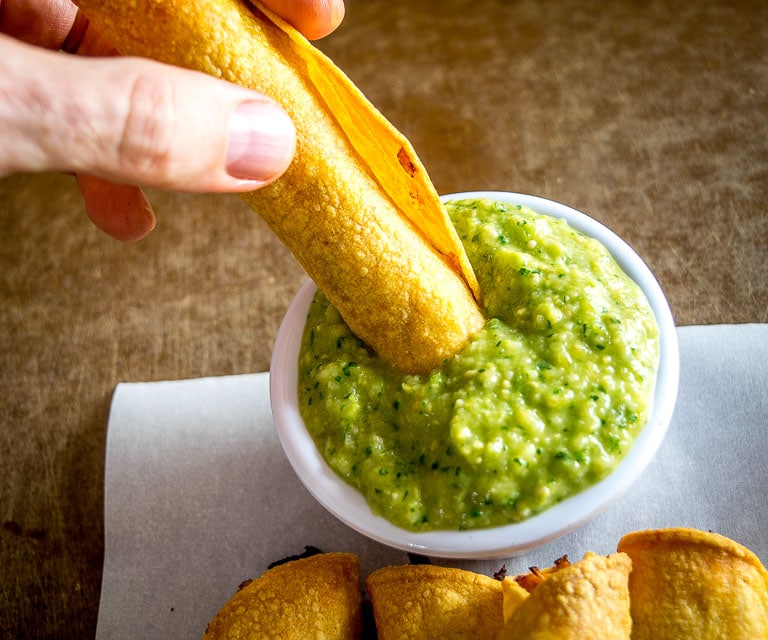 Chicken Flautas Recipe
Before we get started it's worth mentioning that Flautas sometimes moonlight as Taquitos, and vice versa.
In Mexico, Flautas are traditionally made with corn tortillas.  In the States, it's common to distinguish Flautas by their use of flour tortillas, and if using corn tortillas they'll be called Taquitos.
Confusing nomenclature aside, it's worth noting that I am sold on using corn tortillas and will rarely use flour tortillas to make Flaquitos.  But you'll still get a nice reward if you choose to go flour,  just keep in mind that you might have to decrease the baking time if  you head down that route.
First let's talk about the filling.  As mentioned, Flautas aren't too picky about their insides.  You can use rotisserie chicken to streamline the process if you want.  Or you can poach two chicken breasts in some salted water.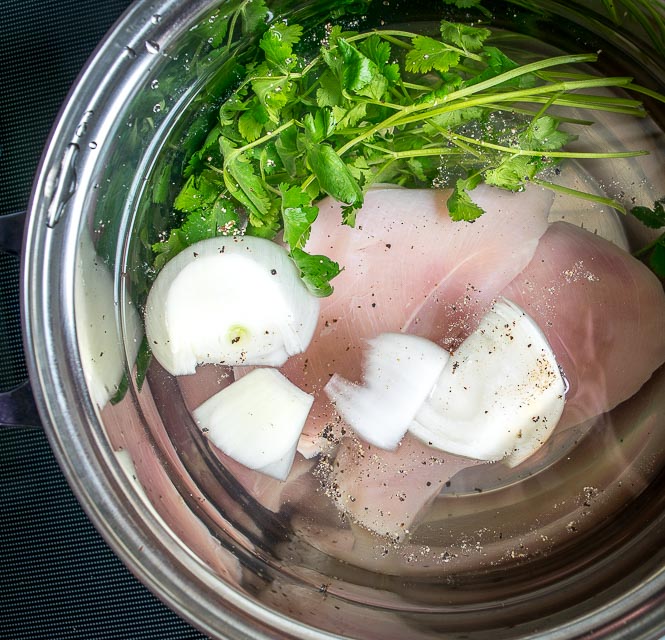 That's what we did for this batch.  Simply cover two chicken breasts with cold water and bring to a boil.  Reduce heat to a simmer and cook for 20 minutes or so -- I usually use a meat thermometer and take them out when they reach 160F.
Salt the water with a few generous pinches, and for this batch I also included onion, cilantro, and black pepper.  The onion and cilantro won't flavor the chicken as much as you would hope, but they do make the kitchen smell good!
Once the chicken is cooked, let it cool for a few minutes and then shred it using two forks.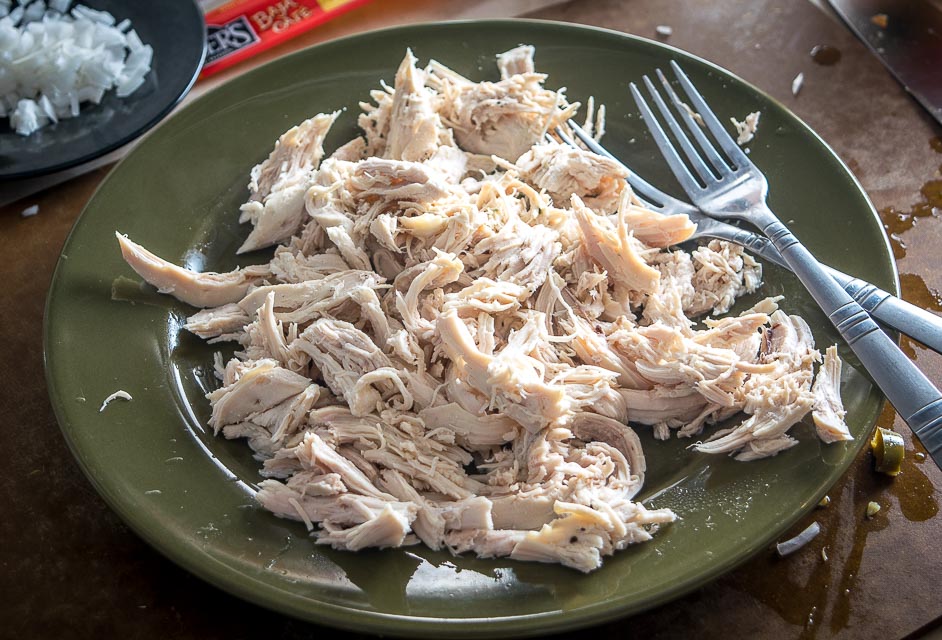 You'll get about 3 cups worth of shredded chicken from two chicken breasts.
Add the chicken to a mixing bowl and give it some flava.  Here's what we used for this batch:
1/4 onion
1/2 cup pickled jalapenos
2 teaspoons chili powder
2 teaspoons Mexican oregano
2 cups shredded cheese
1 teaspoon salt
freshly cracked black pepper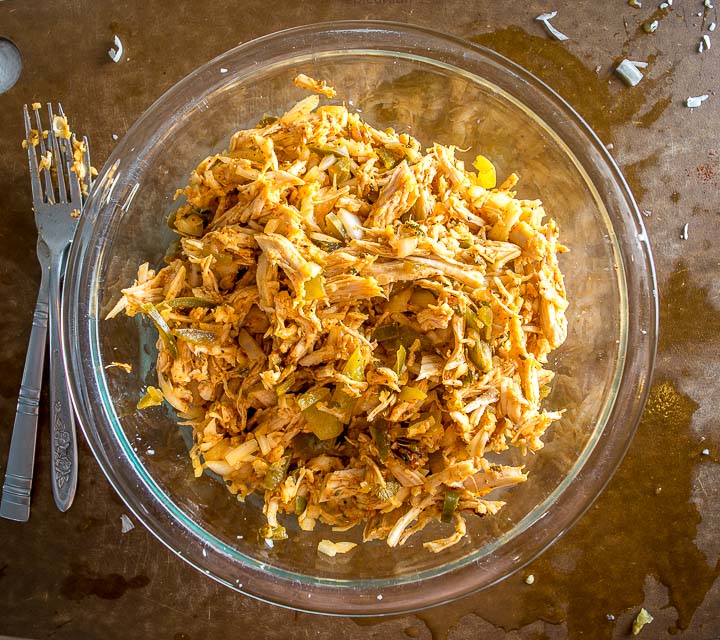 For reference, we're using some of these homemade Pickled Jalapenos: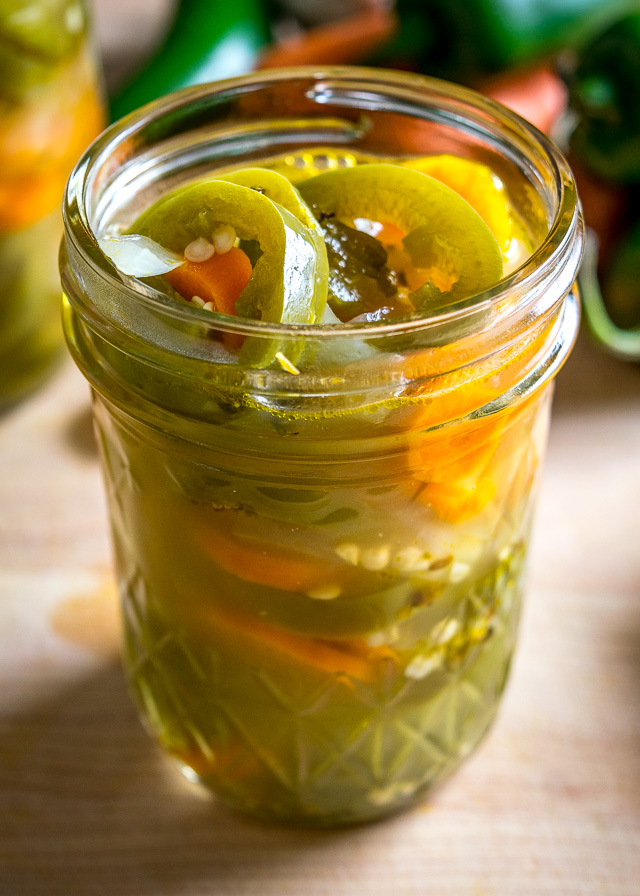 And some of this fiery chili powder: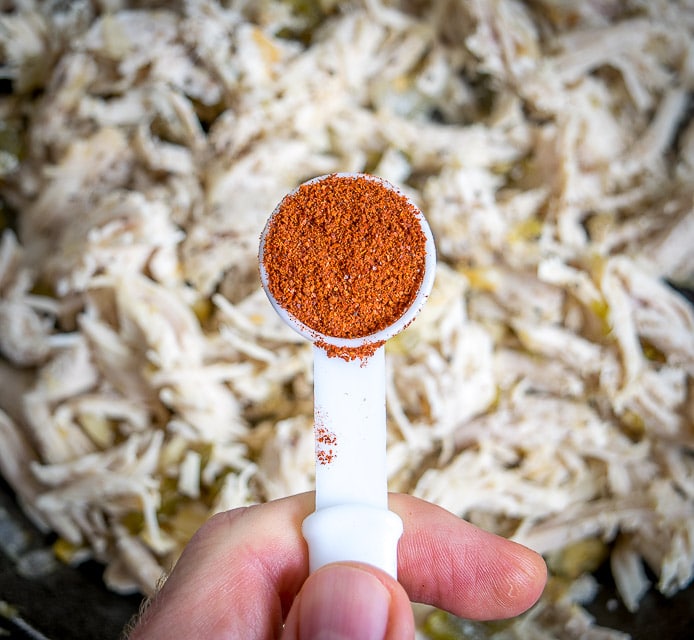 But don't fret about tracking down those exact items to make these Flautas.  If you give your chicken some flavor and add plenty of cheese then you'll be a happy camper.
Of course, that's assuming you'll be dipping your Flautas in a homemade Salsa.  You'll have time to make it once the Flautas go in the oven so give it a whirl.  You'll notice quite a difference compared to store-bought salsa.
And for some unknown, delicious reason I've found that these Flautas prefer a dipping sauce that is borderline volcanic.  So I added two serrano peppers to this Avocado Salsa Verde to give it some serious zip.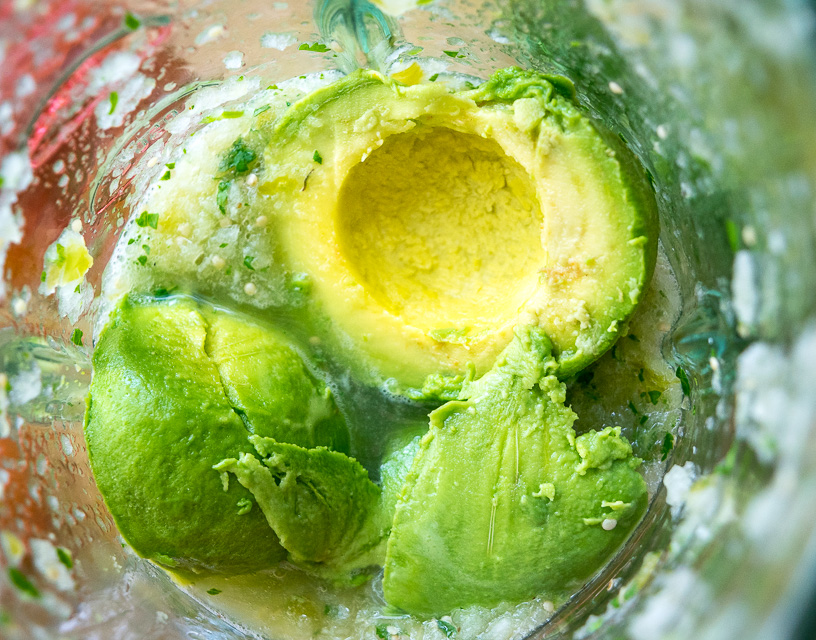 If you want a milder version you can always cut back on the serranos (using 1/2 serrano is my usual starting point for Avocado Salsa Verde).  I'll put instructions for this salsa in the recipe box below.
Okay, back to the Flautas...
There are a couple tricks to keep in mind that will keep you away from Flauta Failure.  There's nothing more frustrating than rolling up the Flautas and having them split open and expose your naked filling to the world.
To prevent this, you need to make sure the tortillas are pliable before using them.  There are a few ways to accomplish this...
You can heat up some oil in a skillet and flash fry the tortillas for 5-10 seconds.   Or you can put them in some foil and bake them in the oven for 1-2 minutes.  Or you can cover them with damp paper towels and nuke them in the microwave for 60 seconds or so.
The microwave is the easiest so that's what I recommend doing for this recipe.  You'll end up with a pile of steaming corn tortillas that will graciously roll up without a peep.
Add a couple tablespoons of your filing to one side of the tortilla:
Roll them up snugly.  To get them started, simply wrap the outer edge of the tortilla around the filling and give 'em a roll.
You should be able to rest these seam side down without them splaying open.  If not, you might need to nuke the tortillas for a little longer.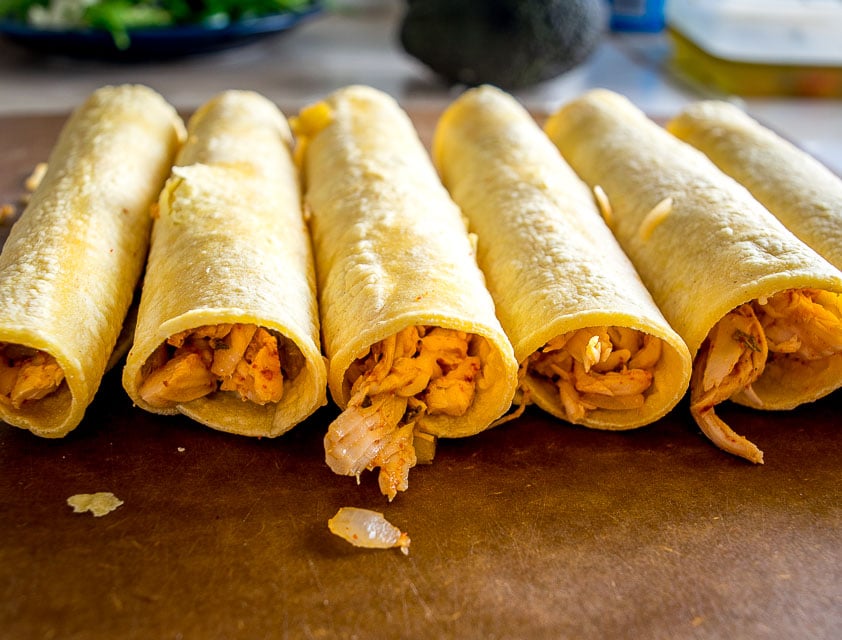 This batch made 14 Flautas.  I baked half of them and saved the other half for some on-the-fly meals over the coming days.
I usually just keep them in the fridge and use them over the next couple days, but these should freeze quite well too.
I almost always bake the Flautas instead of frying them; it just makes it a more sustainable recipe for me and you still get that same great flavor.
To crisp them up in the oven you'll need to add some fat.  The simplest method is to douse them with olive oil spray, or cooking spray.  That's what I did for this batch.  You could also use a pastry brush to give them a thin layer of oil, or if you want to turn Pro you can coat them with some lard.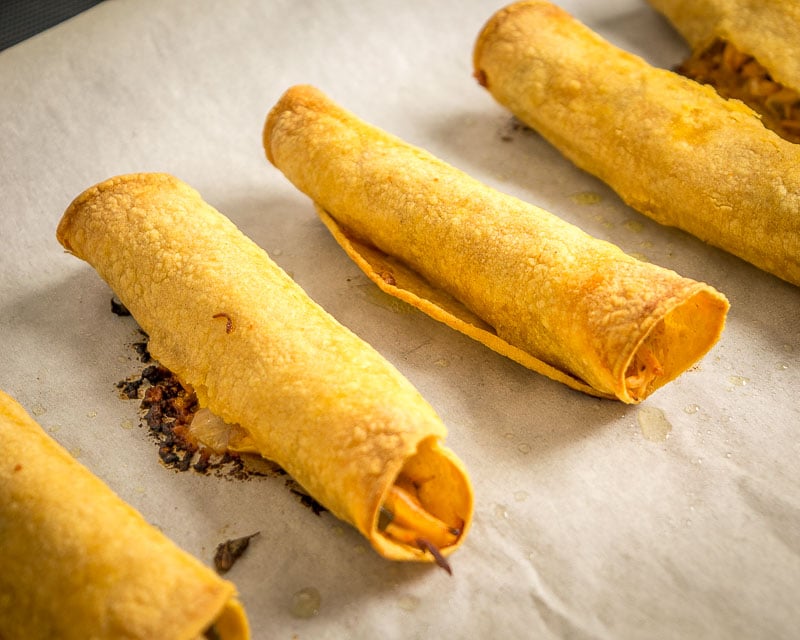 They'll need about 20 minutes in a 400F oven.  Take them out when the edges are starting to brown.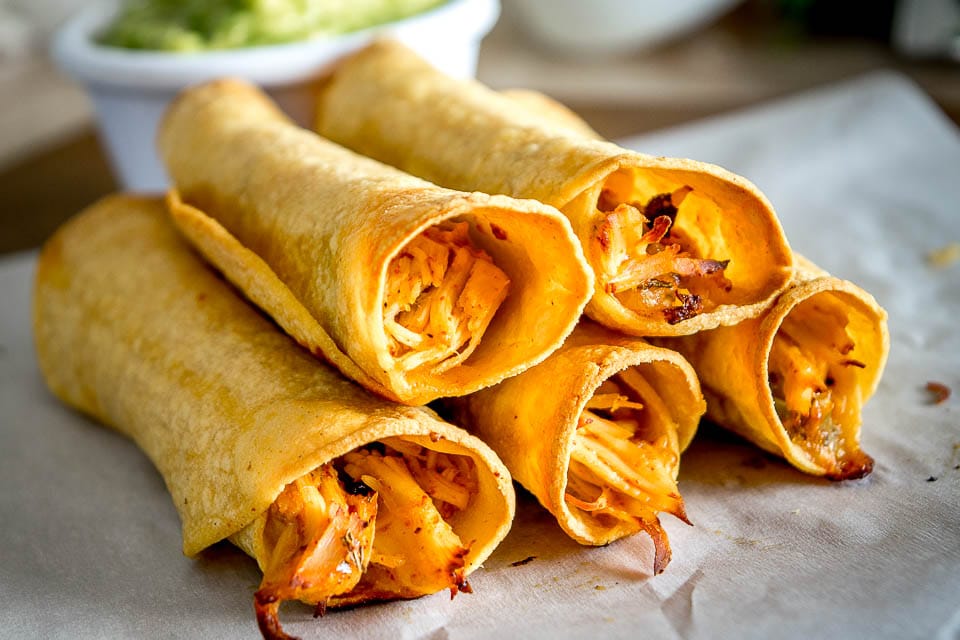 I used to try to cook these until the entire tortilla is crispy, but this makes the edges too brittle.  I've found it's best to crisp up the edges and keep the centers pliable.
If you find yourself eating them even though they're too hot to hold, then well done!  They are best served immediately so I usually make sure  the Avocado Salsa Verde is on the table before the Flautas emerge from the oven.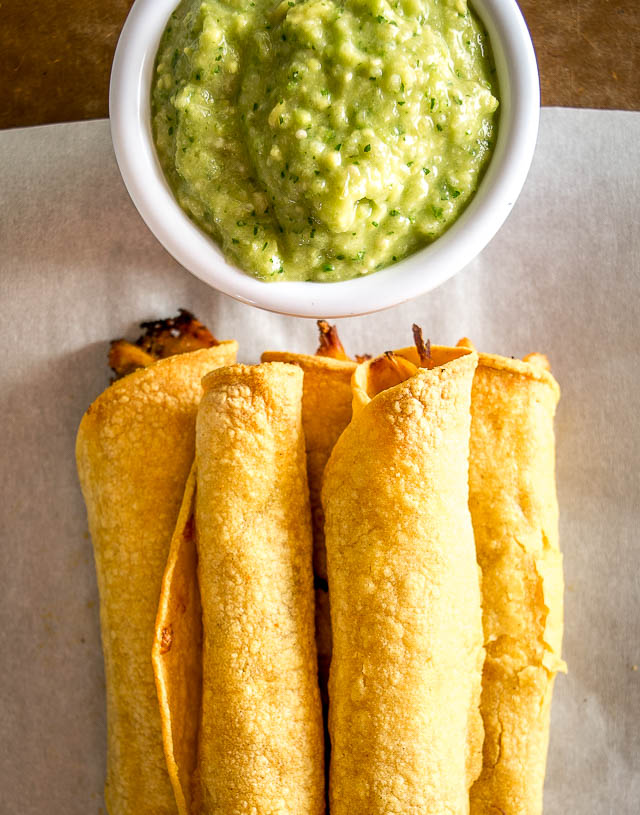 Double dipping is definitely allowed so be sure to give each bite plenty of the fiery sauce.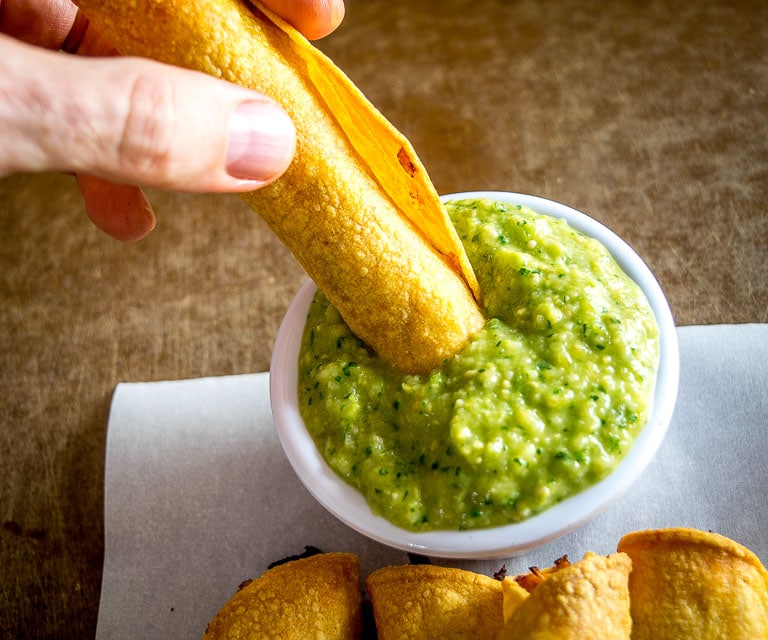 Taste good?
Chicken Flautas are such a great recipe to have in your kitchen repertoire.  Once you've got the technique down you can get creative with the fillings.  Here are the tricks to keep in mind:
The tortillas need to be pliable enough to prevent them from cracking open when you roll them.  I usually nuke them inside damp paper towels for 60 seconds or so.
Bake them to the point where the edges are turning brown and crispy, but the center is still slightly pliable.  I like this balance better than trying to make the whole tortilla crispy.
Serve them up with a sharp, fiery homemade Salsa.   The sauce is half the recipe so no skimping!
Keep those tips in mind and you'll always be able to rely on Flautas for  some rewarding comfort food.
Buen Provecho.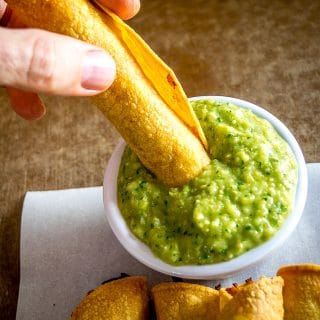 Chicken Flautas
A few simple tricks will ensure you end up with a crispy batch of Chicken Flautas. We're serving them with a fiery Avocado Salsa Verde. So good!
Print
Pin
Rate
Ingredients
3

cups

shredded chicken (2 chicken breasts)

12-16

corn tortillas

2

cups

shredded cheese (I used Mozzarella)

1/4

onion

1/2

cup

pickled jalapenos

2

teaspoons

chili powder

2

teaspoons

Mexican oregano

1

teaspoon

salt

freshly cracked black pepper
For the Avocado Salsa Verde:
4

tomatillos

1/2

onion

1

garlic clove

2

serrano peppers

10-12

sprigs

cilantro

1

avocado

salt to taste
Instructions
If you're poaching the chicken, add 2 chicken breasts to a saucepan and cover with cold tap water. Bring to a boil and then reduce heat to let simmer for 20-25 minutes or until the chicken is cooked through. You can optionally add some flavoring to the water -- for this batch I added salt, pepper, onion and cilantro. Once cooked, set the chicken breasts aside to cool and then use two forks to shred them.

To make the Avocado Salsa Verde, start by removing the husks and stems from the tomatillos. Give them a good rinse and roast them in a 400F oven until they start to turn army green in color, approx. 10-15 minutes.

Add the roasted tomatillos to a blender along with 1/2 onion, 1 garlic clove, 10-12 sprigs cilantro, and 2 serrano peppers (or less if you want a milder version). Combine well and taste for heat level, adding more serrano if you want more heat. Add the flesh of the avocado to the blender and combine well. Salt to taste.

In a mixing bowl, combine the shredded chicken with the following ingredients: 2 cups shredded cheese, 1/4 onion finely chopped, 1/2 cup pickled jalapenos finely chopped, 2 teaspoons chili powder, 2 teaspoons Mexican oregano, 1 teaspoon salt, freshly cracked black pepper. Mix together well.

Add the tortillas to a plate and cover with damp paper towels. Microwave for 60 seconds or until the tortillas are soft and pliable.

Add 2-3 tablespoons of chicken mixture to each tortilla. Roll tight and place them seam side down on a baking sheet. Add a thin layer of oil to each Flauta before baking them (I used an olive oil sprayer).

Bake for 20 minutes in a 400F oven or until the edges are turning darker brown. Serve immediately with the Avocado Salsa Verde.
Notes
This batch made 14 flautas.  I baked half of the batch and stored the rest in the fridge.  They should freeze well too (freeze before baking). 
I used an olive oil sprayer to give the flautas a thin layer of oil before baking.  You could also use a pastry brush to coat them with oil.
Be sure to microwave the tortillas long enough so that they are pliable.  If your tortillas are cracking open when you roll them then try microwaving them for longer.
I like these Flautas best when the edges are crispy but the center is still slightly pliable.  If you bake them for too long the edges become brittle. 
I highly recommend serving them with a sharp, fiery Salsa.  So good!
Toothpicks are a good backup to secure the Flautas after rolling them, but I've found this is only necessary if the tortillas aren't pliable enough yet. 
Like this recipe?
Click the stars above to rate it or leave a comment down below! @mexplease
Want to try these with some cream cheese?  Check out our Chipotle Cream Cheese Taquitos.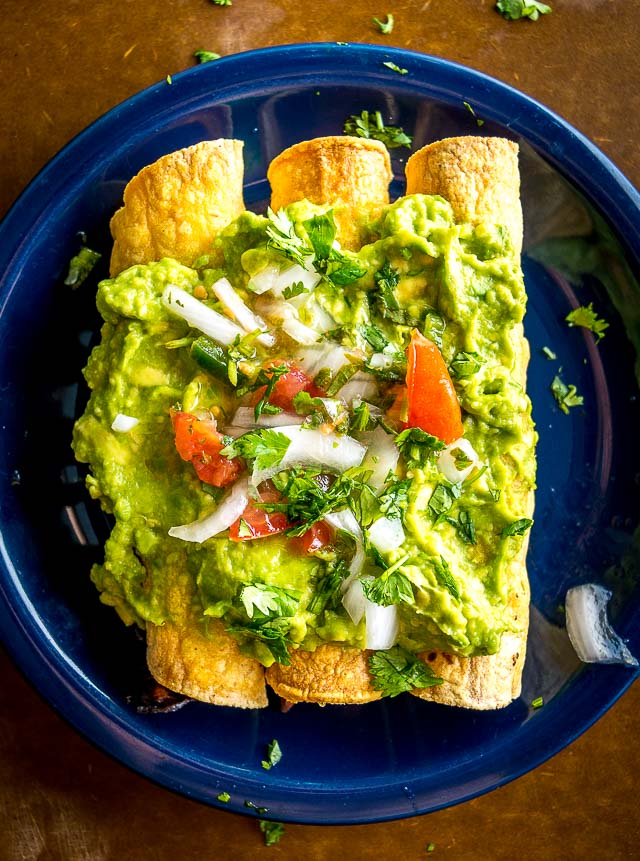 Our latest recipe is a batch of Migas!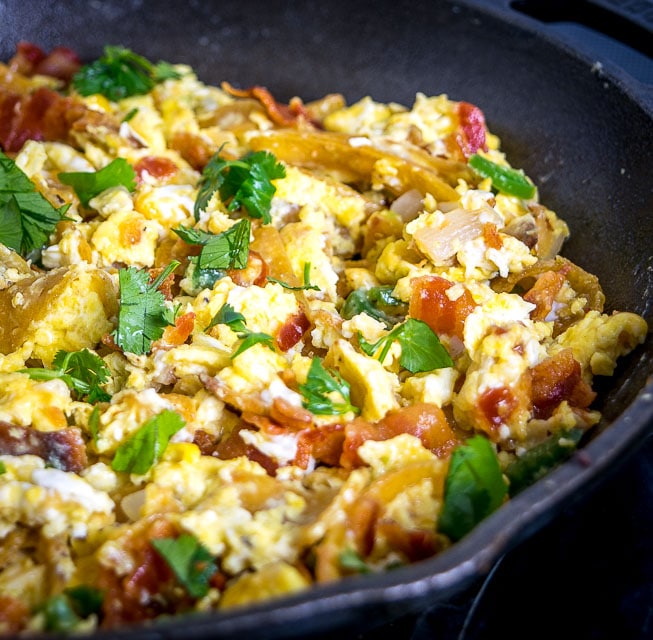 Still hungry?!
Want to receive Mexican Please recipes via email when they are posted?  Sign up below to subscribe.  All recipes are spam free.