It's been a year since you left behind the rat race and moved to a desert island.  But now you're bored with the top ten desert island books you brought along to keep you company.   And lately you've starting digging a tunnel to escape from having to watch #1 on your top ten desert island movies again (Shawshank Redemption).
All you really think about lately is food.   And not fish-on-a-spear type of food.  We're talking rich, flavor-bombed meals that are starting to make non-desert-island life look a bit more appealing.
And specifically, a gooey, creamy wet poblano burrito keeps creeping up in your sun soaked brain and is now officially #1 on your list of top ten real world meals you dream of importing to your distant island.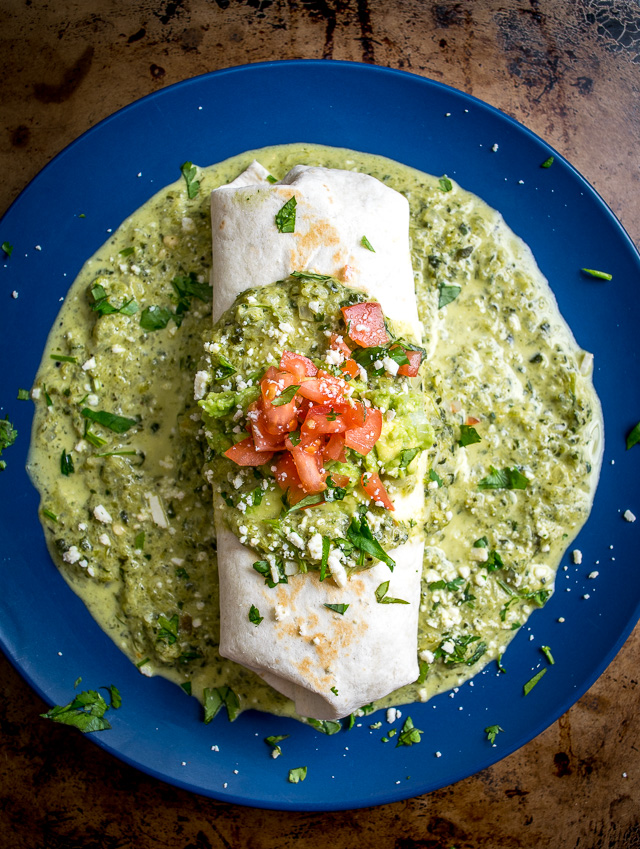 Chicken Poblano Burrito with Creamy Poblano Sauce Recipe
Luckily poblanos travel fairly well and you'll be able to make this otherworldly burrito in much less time than it takes Andy to find his freedom.
Yes, the guacamole and Cilantro-Lime Rice are great additions to this dish, but make no mistake, it's the presence of these two green beauties that turn this meal into a keeper: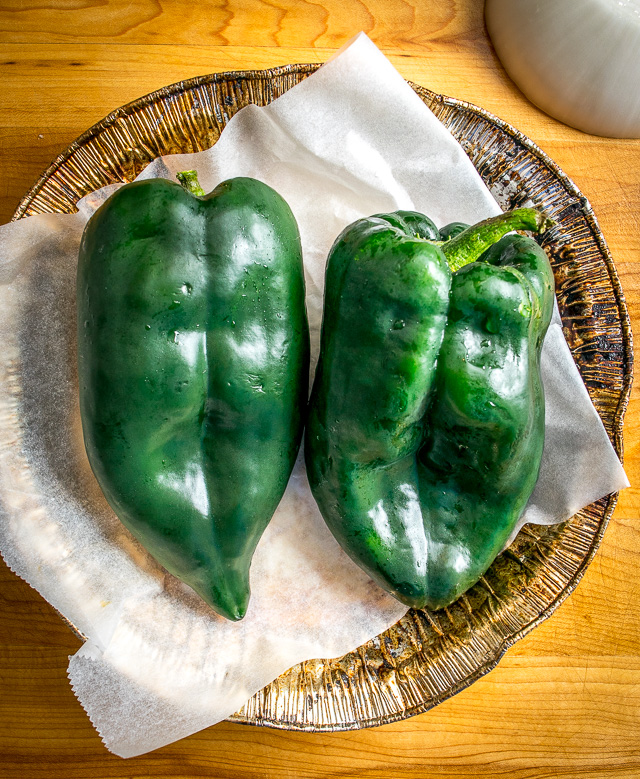 Poblano peppers  have a unique flavor that people latch onto immediately.  Of course, roasting them enhances their flavor even more so we'll put them in the oven at 400F until they are slightly charred.
Meanwhile, get 1/2 an onion and 2 garlic cloves cooking in some oil on medium heat.  Chopping roughly is fine as all of this is eventually going into the blender.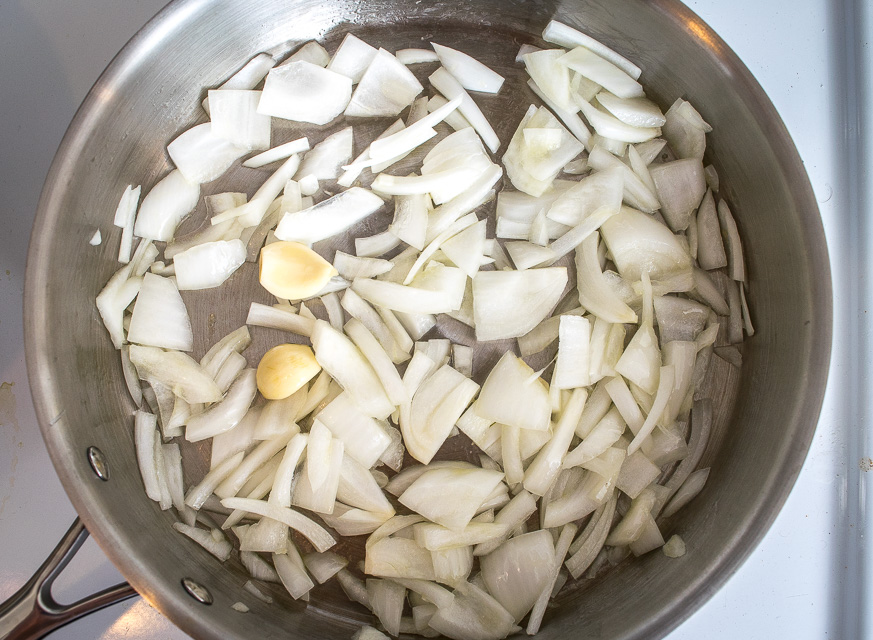 The poblanos will be roasted enough in about 15-20 minutes.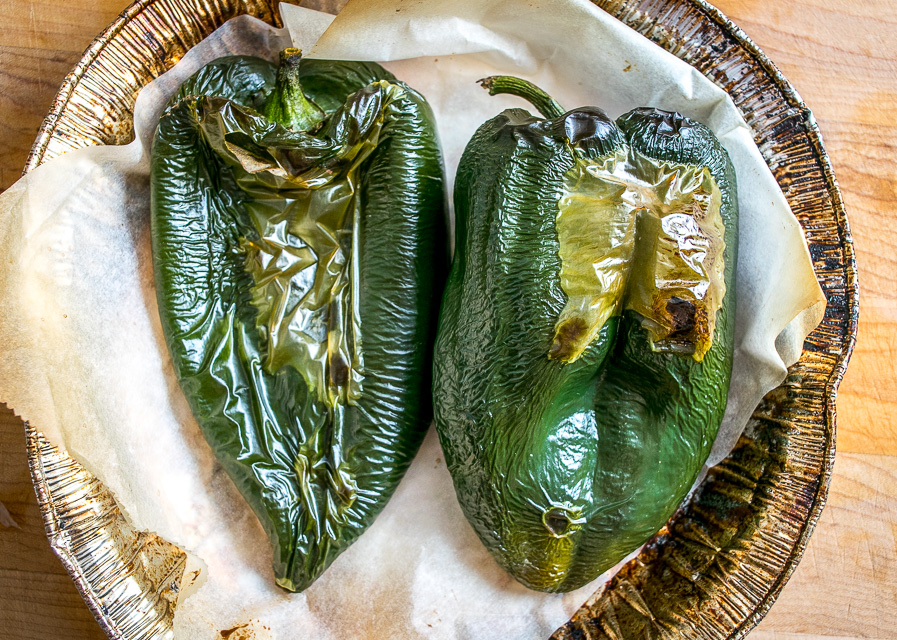 Peel off the charred bits of skin but don't worry about getting every last bit.  Then cut off the stems and de-seed, chopping roughly.
Add the poblano to the onion along with 1 cup stock, 15-20 sprigs of cilantro, 1/2 teaspoon cumin, 1/2 teaspoon salt and some freshly ground pepper.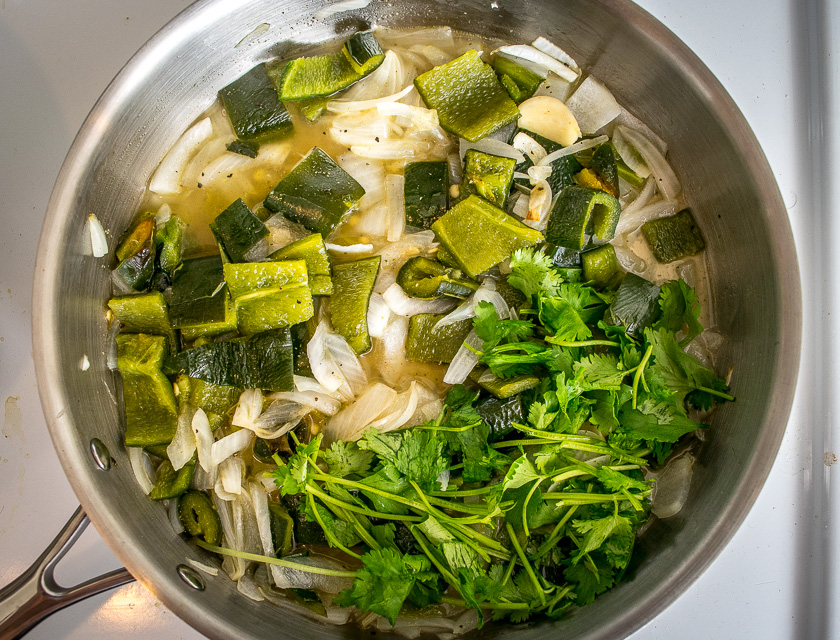 Saute briefly and then add to a blender and combine well.
Afterwards, return sauce to the pan on medium heat and add 1/2 cup heavy cream.  You can also use creme fraiche here or even some mild Mexican crema.
Mix well and simmer on medium-low heat until heated thoughout.  If the sauce seems thin you can let it reduce down a bit, but I usually don't wait around much longer than just heating it up.  You can also taste for seasoning here.  I added another generous pinch of salt to this batch.
You've got lots of options for the innards of the burrito so feel free to get creative.  This version uses a diced chicken breast seasoned with salt, pepper and ground New Mexican chile, but any seasoning will do here as the poblano sauce will be providing most of the flavor.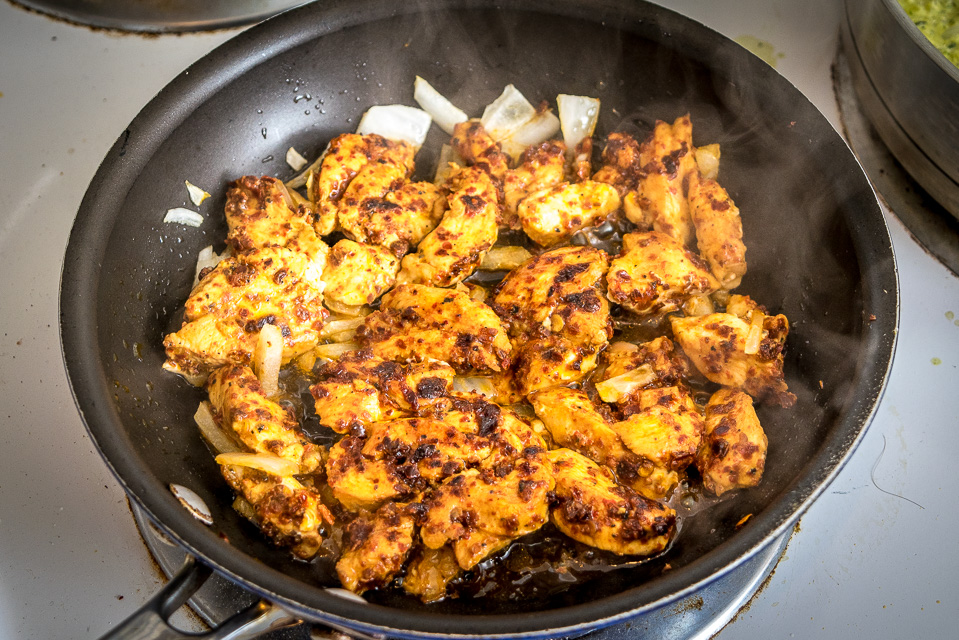 I'm using our recent Cilantro-Lime Rice and a Basic Guacamole to fill out the burrito.  I'll put recipes for these in the recipe box down below.
Each burrito gets rice, chicken, guac, cheese and a drizzle of the poblano cream sauce.
And then gets crisped up on a comal for 2-3 minutes.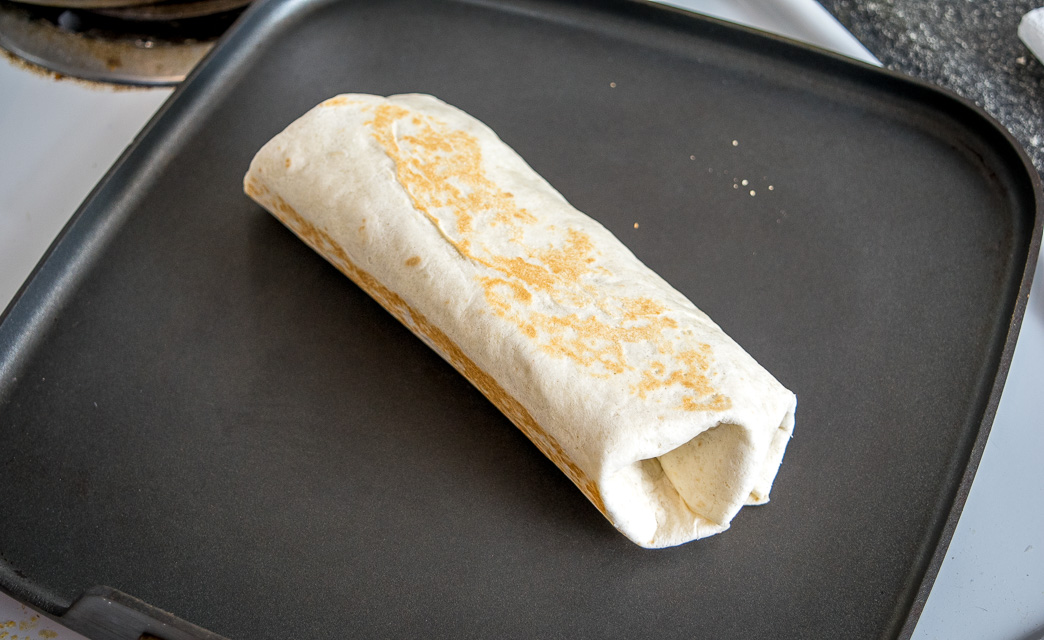 Wet burritos are typically loaded with sauce and that style works perfect for this dish.
Cover a plate with the poblano sauce.   Add burrito and top with another helping of the sauce.  Tomato, cilantro, more guac, and Cotija cheese are all worthy candidates for additional toppings.
Having a layer of poblano cream sauce down below means you have the option of dredging each bite in the rich sauce.  Yessssssssir.
So good!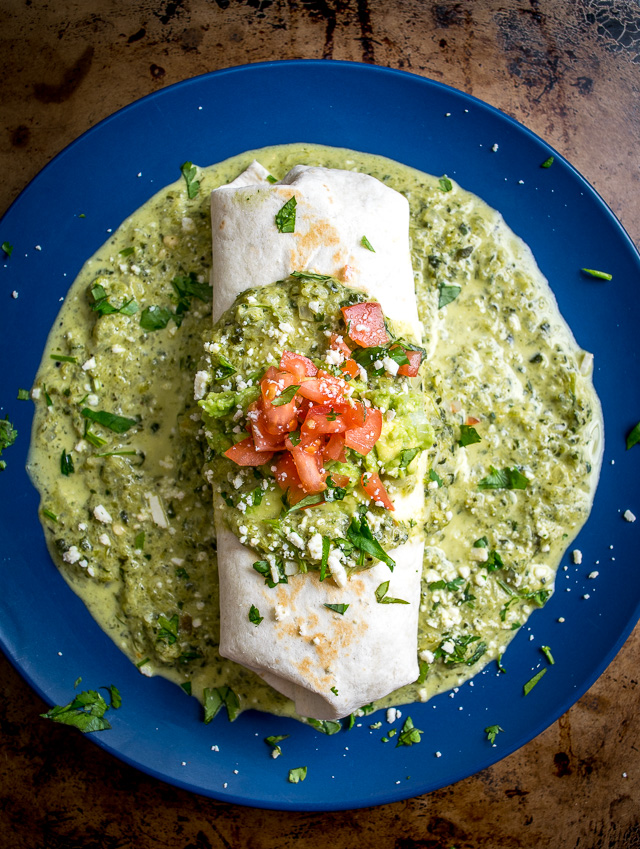 Give this creamy poblano burrito a try when you get a chance.  It will be instant proof that you've got it pretty good right where you are, no desert island needed.
Buen Provecho.
Wet Poblano Burrito -- Chicken Burrito With Creamy Poblano Sauce
Think of this as the ultimate comfort food. A chicken guacamole burrito swimming in a creamy, goopy poblano sauce with otherworldly flavor. Don't forget to roast the poblano peppers. So good!
Print
Pin
Rate
Ingredients
2

poblano peppers

1/2

onion

2

garlic cloves

1/2

teaspoon

cumin

1

cup

stock

1/2

cup

heavy cream

15-20

sprigs cilantro

1/2

teaspoon

salt

freshly ground pepper

1

chicken breast

1-2

Tablespoons

chili powder

3-4

flour tortillas

Monterey Jack cheese

tomato

(optional)

oil
Cilantro Lime Rice
1

cup

rice

2

cups

stock

1/2

cup

chopped cilantro

(approx 1/2 a bunch)

1

lime

1

garlic clove

1/2

teaspoon

salt
Basic Guacamole
1

avocado

2-3

tablespoon

finely chopped onion

1/2

lime

1/8

teaspoon

salt
Instructions
Roast the poblano peppers in a 400F oven for 15-20 minutes

Saute 1/2 of a roughly chopped onion and 2 garlic cloves in a dollop of oil

When poblanos are done roasting, pull off the charred bits of skin

De-stem and de-seed the poblanos, chopping roughly and adding to the onion

Add 1 cup stock, 15-20 sprigs cilantro, 1/2 teaspoon cumin, 1/2 teaspoon salt, and freshly ground pepper to the pan

Saute briefly and then combine the ingredients in a blender

Return mixture to the pan and add 1/2 cup heavy cream

Mix well until heated throughout (you can also let the sauce reduce a bit if you want)

For the chicken, season a chopped chicken breast with oil, salt, pepper and chili powder and saute with onion over medium high heat.

For the Basic Guacamole, start by finely chopping 2-3 tablespoons of onion. Smoosh the onion with the back of a fork until translucent and add to a bowl.

Add the flesh of the avocado, the juice of a 1/2 lime, and 1/8 teaspoon salt to the bowl. Mix well and taste for seasoning, adding more salt and lime juice if you want.

For the Cilantro Lime rice, start by lightly sauteing 1 cup rice in a dollop of oil over medium heat

Add 2 cups of stock and 1/2 teaspoon of salt to the rice. Bring to a boil and then reduce temp to a simmer, letting it cook until the liquid is absorbed.

Meanwhile, combine the juice of one lime (approximately 2 Tablespoons juice), 1 garlic clove, and 1/2 bunch of rinsed cilantro to a blender. Add a dollop of water and blend until combined. Add this cilantro-lime mixture to the cooked rice and taste for seasoning.

To build the burritos, start by warming the tortilla. Then add rice, chicken, guac, cheese and a drizzle of poblano sauce to each burrito.

Roll tight and crisp up on a comal for 2-3 minutes

Add a layer of poblano sauce to a plate. Add burrito to the plate and top with another helping of the poblano sauce.

Additional toppings for the burrito include guacamole, tomato, cilantro, and Cotija cheese
Like this recipe?
Click the stars above to rate it or leave a comment down below! @mexplease
Prefer a simpler Chicken Burrito?  Try these.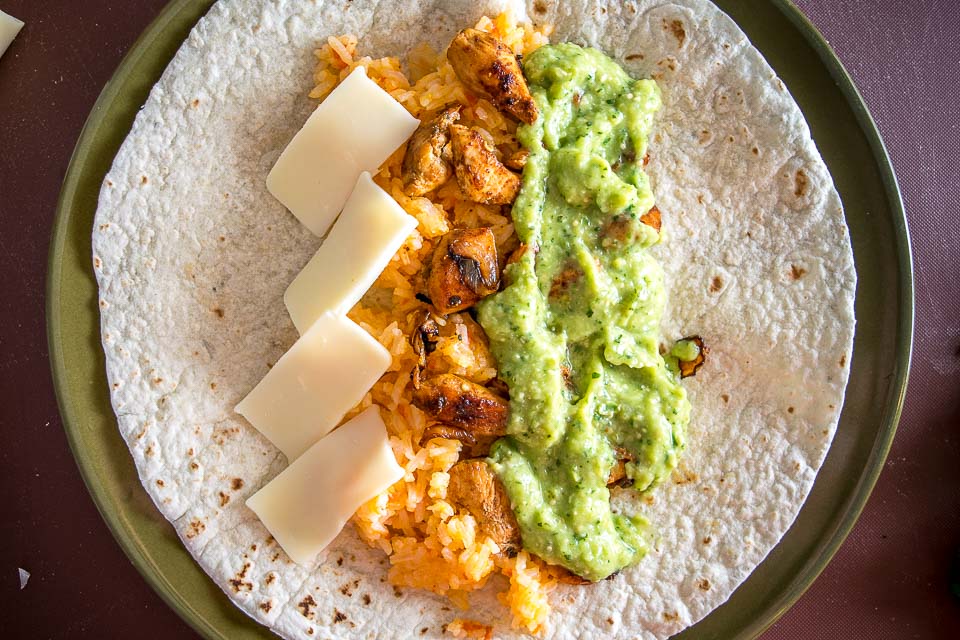 Still hungry?!
Want to receive Mexican Please recipes via email when they are posted?  Sign up below to subscribe.  All recipes are spam free.