Blue and yellow make green.
Yin and Yang make life.
Tomatillo and Chipotle make…..magic?
It's difficult to peg how so much goodness can come from so little in this Tomatillo Chipotle Salsa, but instead of trying to figure out how it happens we are better off just eating it.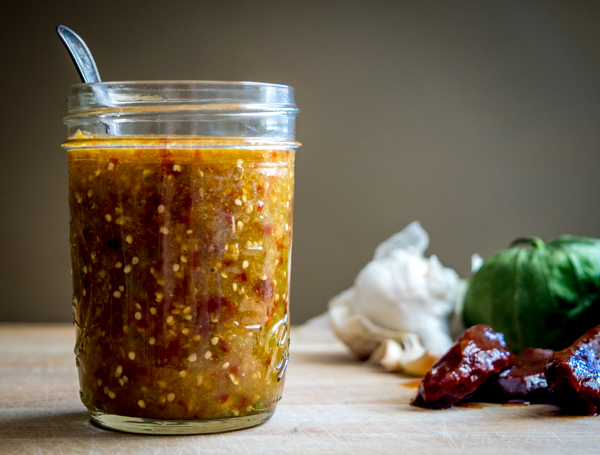 How To Make Tomatillo Chipotle Salsa
This salsa is so unique that no one will believe you when you show them the minuscule ingredient list. Maybe it's best not to tell them.
Of course, when your starting point is a few these beauties you don't need much else: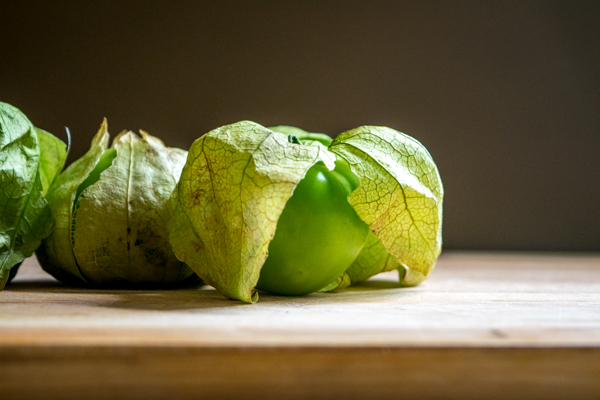 Note that we are omitting the onion here and the result is more of a topper sauce; slightly more concentrated than our standard sauces. So while I am normally a fan of drenching dishes in sauce, starting off with a more restrained portion of this Tomatillo Chipotle Salsa will serve you well.
Start by husking and rinsing four tomatillos.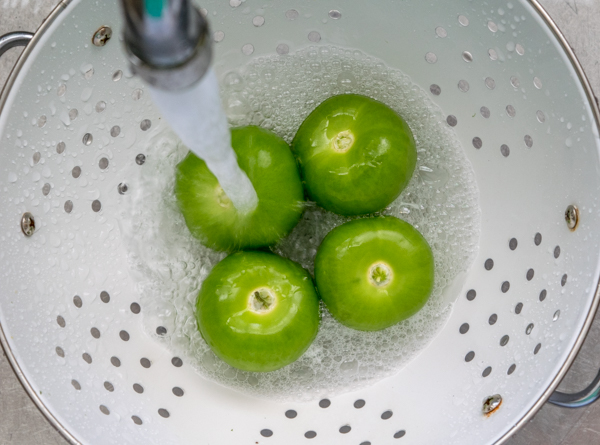 Roasting the tomatillos will tame the tartness so we'll put them in the oven at 400F.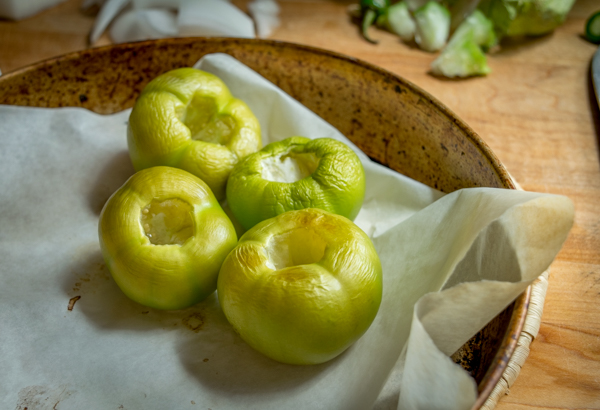 In about 10-15 minutes they'll turn army green in color, this means they're done.
Note that there are many ways to "roast" the tomatillos. You can boil them and get a similar result.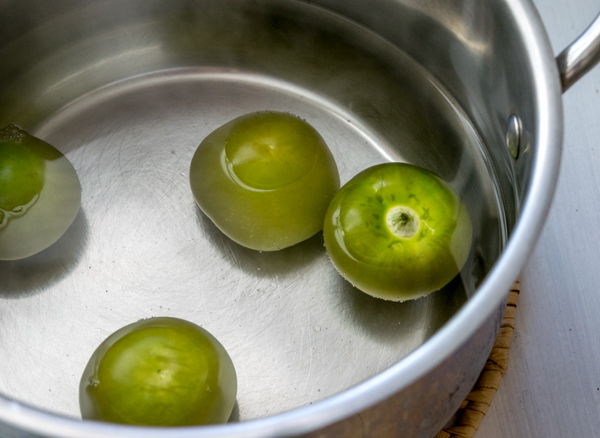 You can also line a skillet with foil and "roast" them on the stovetop. Any of these methods will work as it is the heat that is the most important component.
Rick Bayless has a version of this salsa that also roasts the garlic. This will still give you a great salsa, but lately I prefer the sharpness of the unroasted garlic we are using in this recipe. If you want a milder hit from the garlic you can consider roasting it.
I usually de-seed the chipotles, but don't worry if you leave a few seeds behind. If you are new to chipotles in adobo I list some tips for working with them in this article.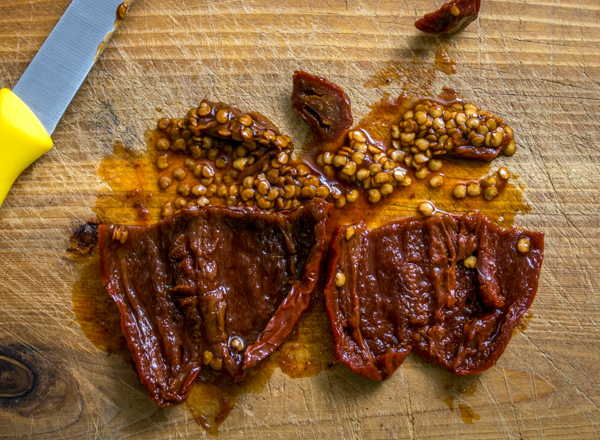 Add the tomatillos, 2 garlic cloves, and a single chipotle to a blender.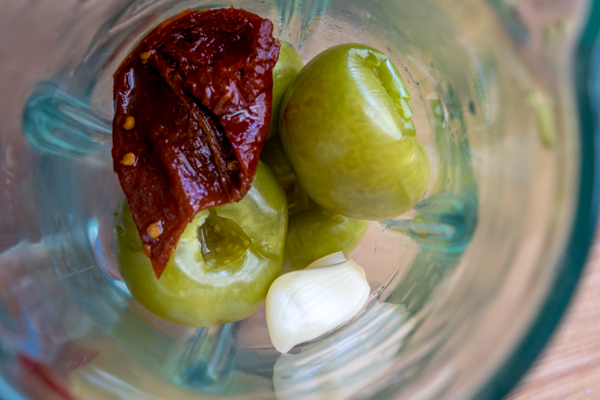 Pulse blend and taste for heat level. Half of you out there will think it's hot enough already, and the other half will want more heat. If so, add the second chipotle (I usually do).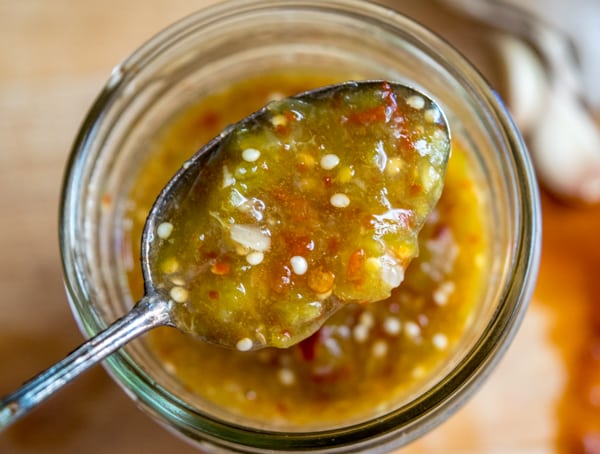 And depending on the tomatillos, you might need a couple tablespoons of water to get it to your desired consistency, but I usually leave it kinda chunky.
The final step is to hide the ingredient list and prepare to take all the credit for this simple, unique salsa. So good!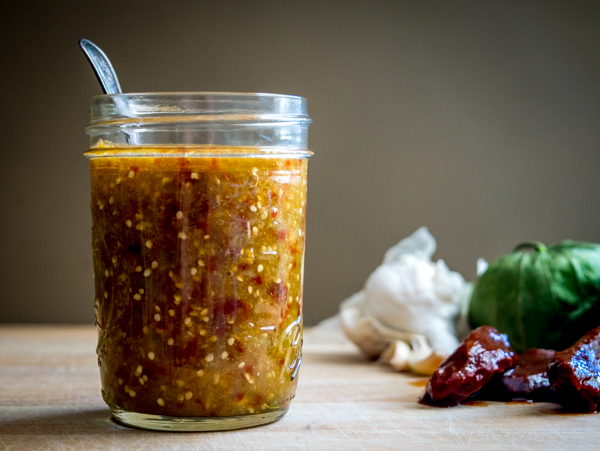 Any time you see Salsa Verde called for consider giving this Tomatillo Chipotle Salsa a chance -- it wants to be part of your expanding repertoire.
If you catch yourself trying to figure out how so much flavor can come from so few ingredients, it's best to just take another bite.
Buen Provecho.
Update: I just put together a list of 11 dishes that use this Tomatillo Chipotle Salsa. See the full list here.
For up-to-date recipes follow me on Instagram, Facebook, Pinterest, TikTok, YouTube.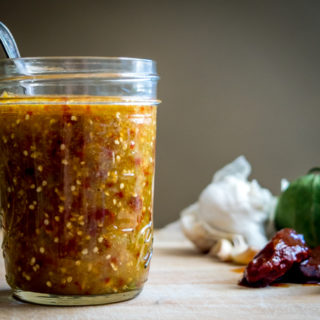 Tomatillo Chipotle Salsa
A rich Tomatillo Chipotle Salsa that's bursting with flavor. No one will believe you when you show them the tiny ingredient list. So good!
Print
Pin
Rate
Ingredients
4-5

tomatillos

1-2

chipotles in adobo

2

garlic cloves
Instructions
Husk and rinse the tomatillos, cutting out the stems.

Roast the tomatillos in the oven at 400F for 10-20 minutes or until they start to turn army green in color and wrinkle up.

De-stem and de-seed two chipotles in adobo.

Add the roasted tomatillos, 2 peeled garlic cloves, and a single chipotle to a blender and pulse blend.

Take a taste for heat level. If you want more heat add more chipotle.

If you want a thinner salsa you can add 2-3 Tablespoons of water or a sliver of onion.

Serve immediately and store leftovers in an airtight container in the fridge.
Notes
I will sometimes add a sliver of onion to this Salsa to dilute the heat a bit, but lately I just make it fiery and concentrated, omitting the onion. 
You can get by using canned tomatillos but you'll definitely get an upgrade if you use fresh tomatillos. 
I rarely add salt to this salsa but you can add a pinch at the end if you want.
Like this recipe?
Click the stars above to rate it or leave a comment down below! @mexplease
I've also made this salsa using these homemade chipotles in adobo and it was divine!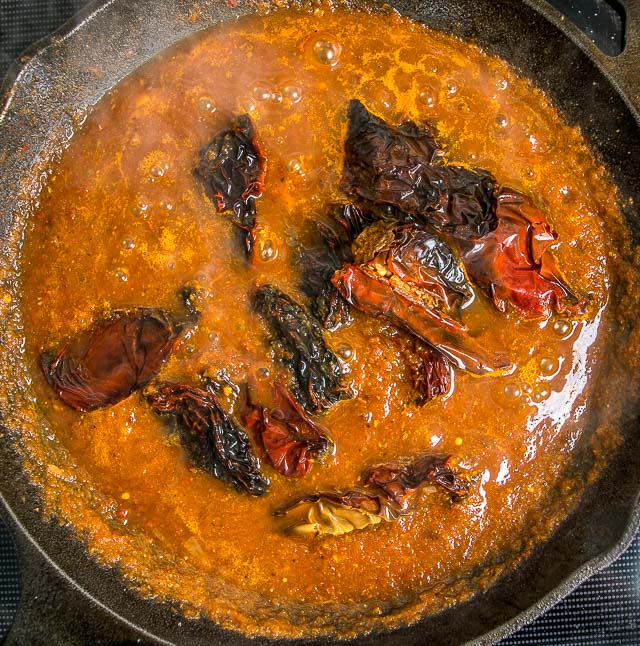 Still hungry?!
Want to receive Mexican Please recipes via email when they are posted?  Sign up below to subscribe.  All recipes are spam free.