Ready for a kitchen swap?  These 17 authentic Mexican entrees are the equivalent of snapping your fingers and replacing your humdrum kitchen with a cooking space that's bursting with fresh ingredients, exotic aromas and wait a second is that really cooking on MY stove... 
Scan through this list of Mexican entrees and you'll be instantly swapped.   Mark down the two or three dishes that really catch your eye and put them on your kitchen's menu for next month.  Your new look kitchen.
Some of the recipes are from this site, and some are from Latin-centric food blogs that I trust.   Together they create a formidable roundtable of authentic Mexican cuisine and they've left a seat open at the table for you.   Hungry?
List of Authentic Mexican Entrees
Enchiladas Suizas by Mexican Please
An authentic version of Enchiladas Suizas deserves to be at the top of most Mexican cuisine lists.  This recipe stars cheesy chicken enchiladas that are drenched in a creamy green sauce made from tomatillos and poblanos.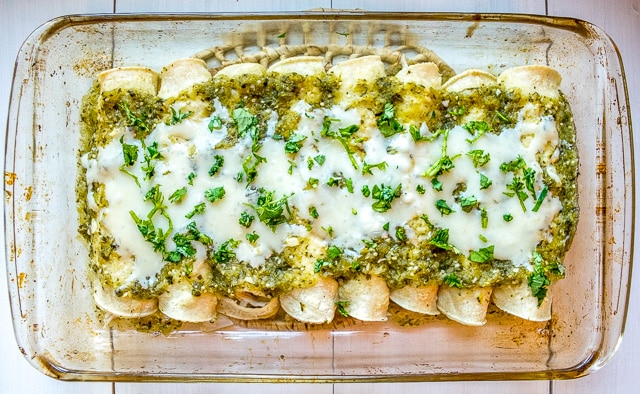 Chicken in Salsa Verde Tamales by Pati Jinich
Pati is the chef and creator of Pati's Mexican Table.  You'll find mouthwatering recipes from her acclaimed  TV show on her website, including this enticing tamale recipe.
Chiles Rellenos de Puerco by Mexican Food Journal
Douglas at Mexican Food Journal has a number of authentic dishes on his site and this Pork Stuffed Poblano Chiles recipe has some great step-by-step photos for working with fried poblanos.
Veracruz Style Red Snapper by Mexico In My Kitchen
Mely shares loads of great recipes over at Mexico In My Kitchen, including this Veracruz influenced dish that gives us a simple, versatile method for cooking fish in a tomato based sauce.
Tacos al Pastor by My Latina Table
Tacos al Pastor are traditionally prepared using a revolving spit.  Charbel at My Latina Table has put together this fabulous workaround for those of us without a revolving spit in the kitchen 🙂
Enfrijoladas by Mexican Please
Don't forget about beans!  They can quickly turn into a meal if you drench cheese filled tortillas with a chipotle infused black bean puree.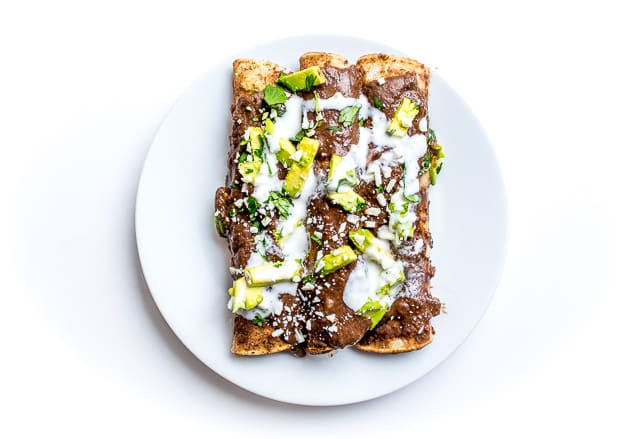 Chilaquiles Rojos con Cameron by La Pina en la Cocina
Got tortillas?  Then you can make chilaquiles.  Sonia from La Pina en la Cocina uses a Guajillo Chipotle Salsa for these Shrimp Chilaquiles.
Fish Tacos with Chipotle Lime Crema by IsabelEats
Isabel from Isabel Eats hits all the right notes with these fish tacos that are served with a Chipotle Lime Crema.
Arepa Boyacense by My Colombian Recipes
Arepas are a distant relative of tortillas and can be used to make a number of hearty meals.  Here is a simple cheese arepa recipe from Erica at My Colombian Recipes to help get arepas in your life.
Chicken Tinga Tacos by Mexican Please
Try making your Tinga with tomatillos and you are in for a delight.  This version is served up taco style with avocado bits and raw onion.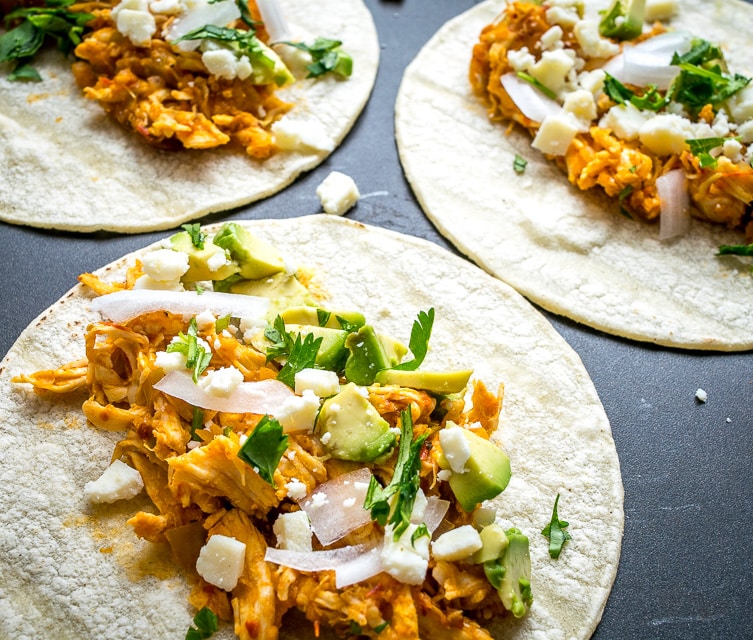 Hatch Green Chile and Cheese Empanadas by Muy Bueno
Empanadas might not look familiar to you but they are surprisingly popular in Mexico.  Yvette from Muy Bueno uses Hatch chiles and cheese to fill up these beauties.
To Die For Ceviche by Pati Jinich
The key to turning ceviche into an entree is to keep eating it.  This is Pati Jinich's favorite ceviche recipe and can be made with any mild flavored fish.
Mole Poblano by Mexico in My Kitchen
Mole Poblano is one of the signature dishes of Mexican cuisine.  This version from Mely at Mexico in My Kitchen has some step-by-step photos to help with the process.
Slow Cooker Pork Carnitas by My Latina Table
Charbel from My Latina Table details a super convenient way to make Pork Carnitas using a slow cooker.
Nopalitos con Rajas en Salsa Verde by La Pina en la Cocina
And this one from Sonia at La Pina en la Cocina is for all you cactus lovers out there!
Bistec a la Mexicana by Mexican Food Journal
A simple and rewarding dish from Mexican Food Journal that has the potential to become an old reliable:  beef simmered in a fresh tomato salsa.  Can be served entree style or used as a filling for tacos, tostadas, etc.
Huevos Ahogados by Mexican Please
And don't forget eggs!  If you've never had eggs poached in salsa you are in for a treat.  Serve these eggs with a piping hot quesadilla and dinner is on the table.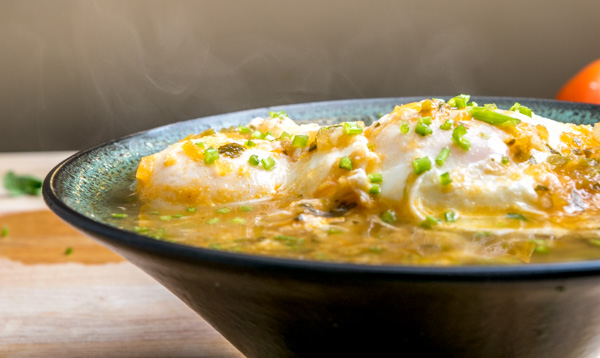 Want more Mexican entree options?  Try here.
Still hungry?!
Want to receive Mexican Please recipes via email when they are posted?  Sign up below to subscribe.  All recipes are spam free.