You may have noticed that most Salsa recipes on this site use either tomatoes or tomatillos as the base ingredient.
But what happens if you use both? Is that even legal?!
Luckily it is and the result is a completely unique Salsa that just might become one of your new favorites.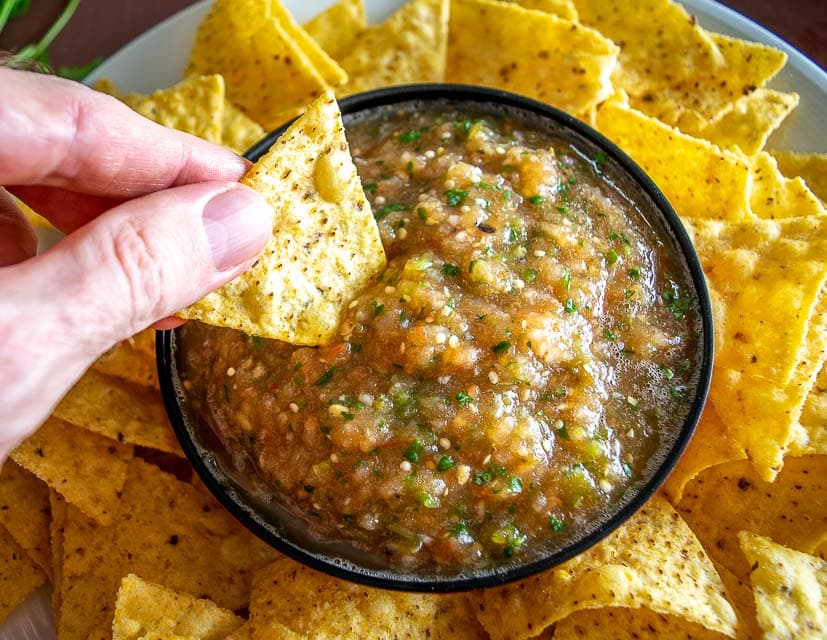 How To Make Tomato and Tomatillo Salsa
You'll get a delicious blend of roasted sweetness from the tomatoes and some lip-smacking tartness from the tomatillos. Perfect!
Here's a pic of the core ingredients: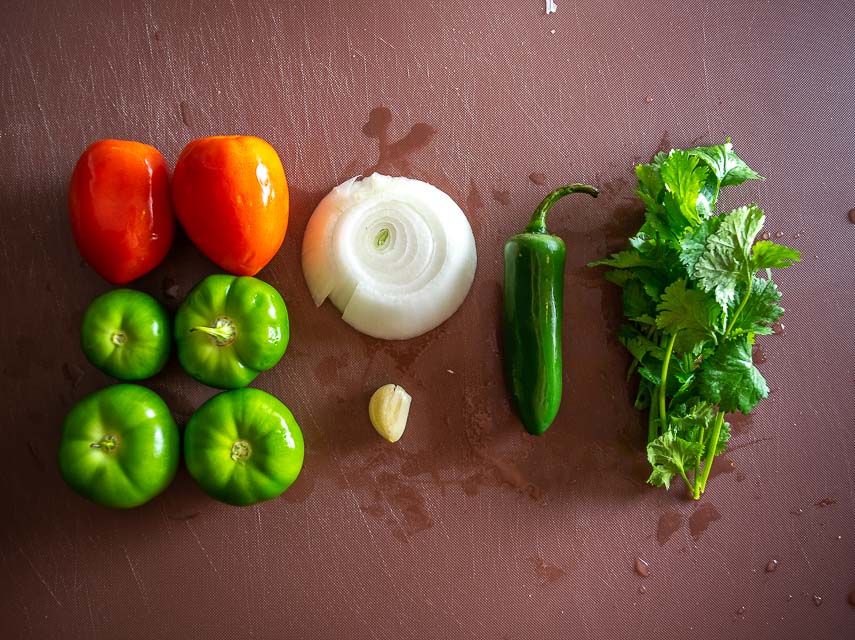 I also like making this Salsa super sharp so I added in some extra jalapeno, but you can dial back on the heat if you want. Using a half jalapeno (or serrano) is a good starting point if you want a milder version. Serrano vs. Jalapeno: What's the Difference?
Let's start by roasting the tomatoes and tomatillos. You'll need 2 plum tomatoes and 4-5 tomatillos. (What's a Tomatillo?)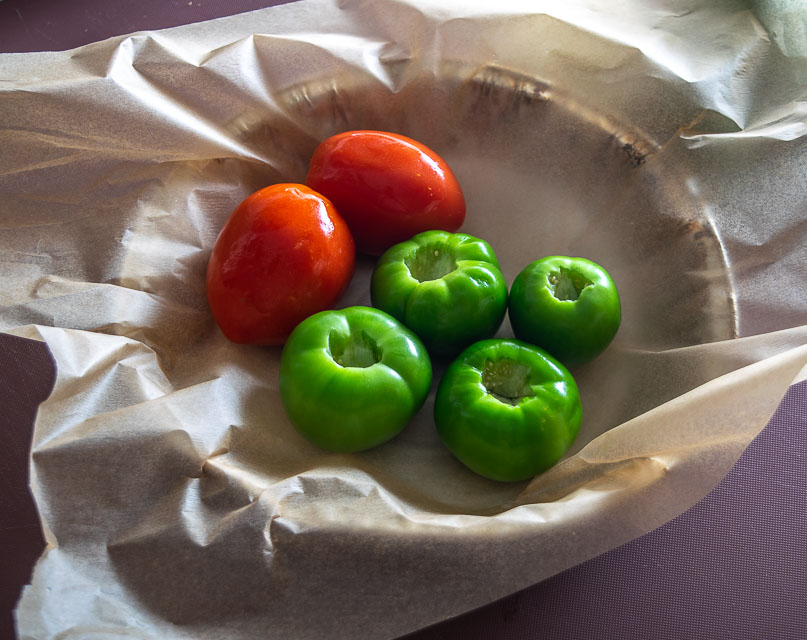 I put this batch in a 400F oven for 20-25 minutes. (Other ways to roast them.)
Yes, technically the tomatillos need less time than that to roast, but I usually just leave them in there knowing that all the juices in the roasting pan will go into the blender. Here's what they looked like after 20 minutes or so.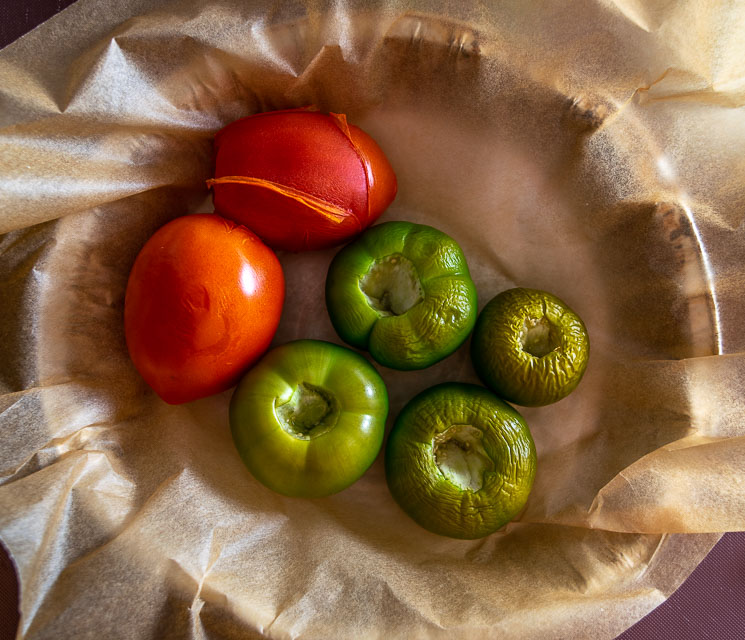 Add them to a blender along with:
1/3 small onion (I use white onion)
1 jalapeno
1 garlic clove
10-12 sprigs cilantro
pinch of salt (optional)
squeeze of lime (optional)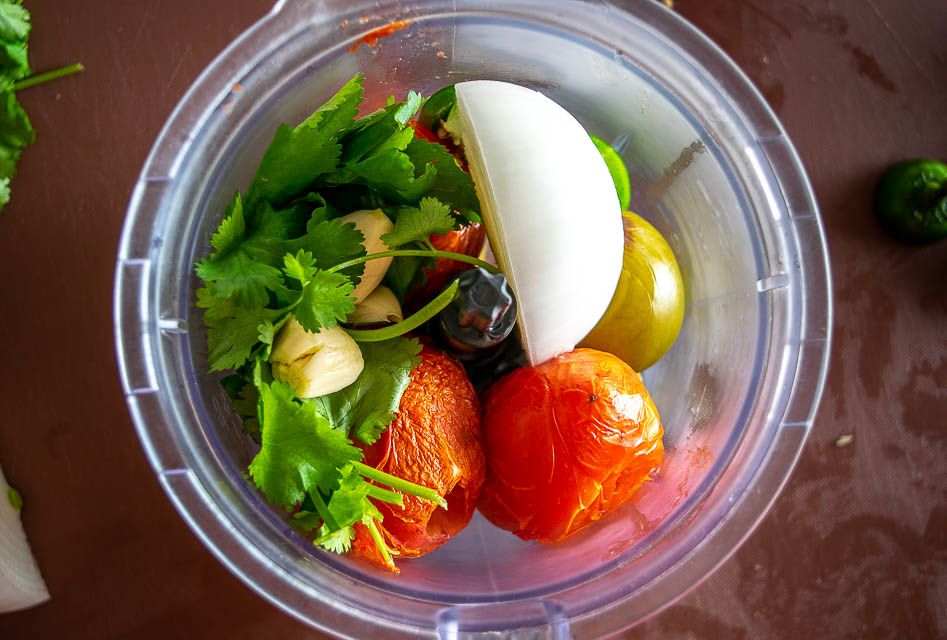 And give it a whirl. I usually leave it a bit chunky.
And now the important part -- taste testing!
I like this Salsa best when it's light, vibrant and sharp -- so I usually give it a squeeze of lime to brighten it up. It's rare for me to finish Salsa with a squeeze of lime but I think this one really benefits from it.
I also added a pinch of salt, and yes, a bit more jalapeno (about 2 total).
Combining red and green will give your Salsa a somewhat muddy appearance, but it's the inside that counts and this one has real personality!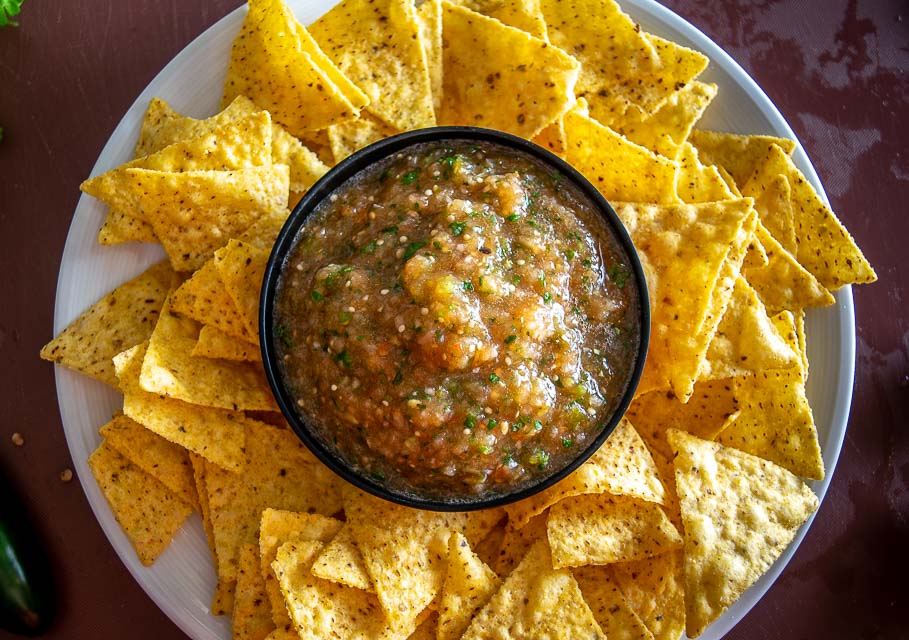 And even though I'm a huge fan of serving Salsas warm, I actually like this one best when it's chilled.
It'll be warm when it's right out of the blender, and it's definitely still tasty at that point, but when it chills in the fridge for a bit I like it even better. The light, vibrant flavor seems to pop a little more when served cool.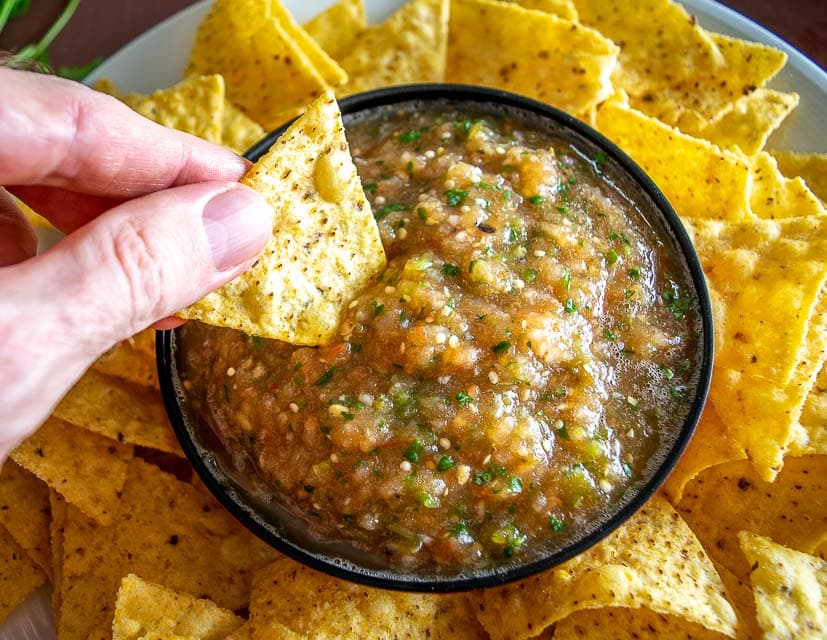 So how to use this delightful Salsa?
Well, you can use it pretty much anywhere you're using Salsa Verde or Tomato Jalapeno Salsa. That means it's a good option in these recipes:
Chorizo and Eggs
Migas
Chilaquiles
Huevos Rancheros
Chorizo Breakfast Burritos
Easy Chicken Tacos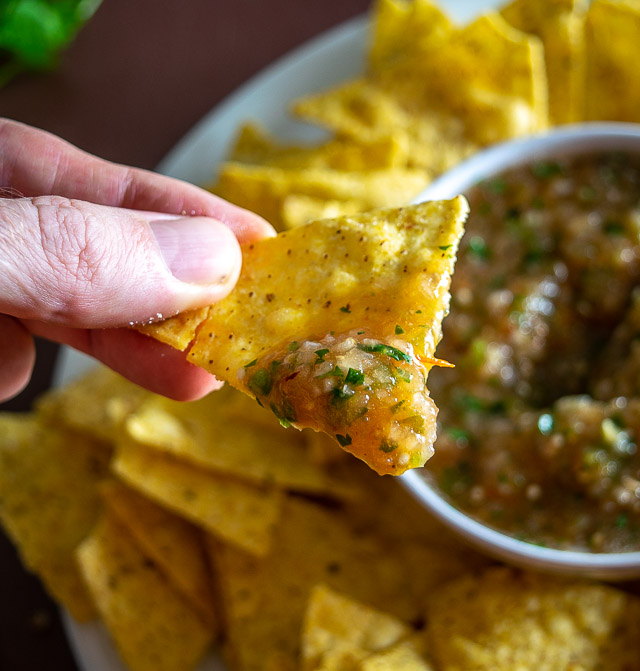 And yes, it even does well sitting humbly next to a bowl of chips.
Okay let me know if you have any questions about this Roasted Tomato and Tomatillo Salsa. It's a great combo to keep in mind for your next batch of homemade Salsa. And don't forget to test it out both warm and chilled to see which one you like best.
Buen Provecho.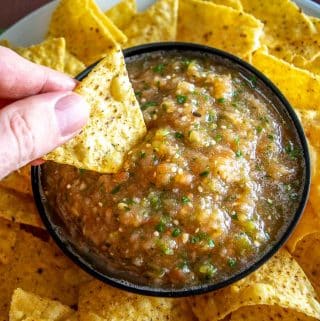 Roasted Tomato and Tomatillo Salsa
This is a delicious Salsa to add to your repertoire! It uses both tomatoes and tomatillos to create a completely unique flavor. Yum!!
Print
Pin
Rate
Ingredients
2

roma tomatoes

4-5

tomatillos

1/3

small onion

1

garlic clove

1-2

jalapenos (or serranos)

10-12

sprigs cilantro

pinch of

salt

squeeze of

lime
Instructions
Husk the tomatillos and then rinse both the tomatoes and tomatillos. I usually remove the stems from both of them knowing that any juices leftover in the roasting pan will go into the blender.

Add the roasted tomatoes and tomatillos to a blender along with 1/3 small onion, 1 peeled garlic clove, 1 rinsed and de-stemmed jalapeno (or less for a milder version), 10-12 sprigs rinsed cilantro. Combine well (I usually leave it a bit chunky.)

Take a taste for seasoning. I added another 1/2 jalapeno, a pinch of salt, and a generous squeeze of lime.

Serve immediately or chill in the fridge for a bit before serving.

Store leftovers in an airtight container in the fridge where they will keep for a few days.
Notes
Even though I'm a huge fan of serving Salsas warm, I actually like this Tomato and Tomatillo Salsa best when it's served cold.  
I usually twist off and discard the bottom, thicker portion of the cilantro stems, but use the upper stems that hold the leaves together. 
Like this recipe?
Click the stars above to rate it or leave a comment down below! @mexplease
Our latest recipe is a batch of Mayocoba Pot Beans.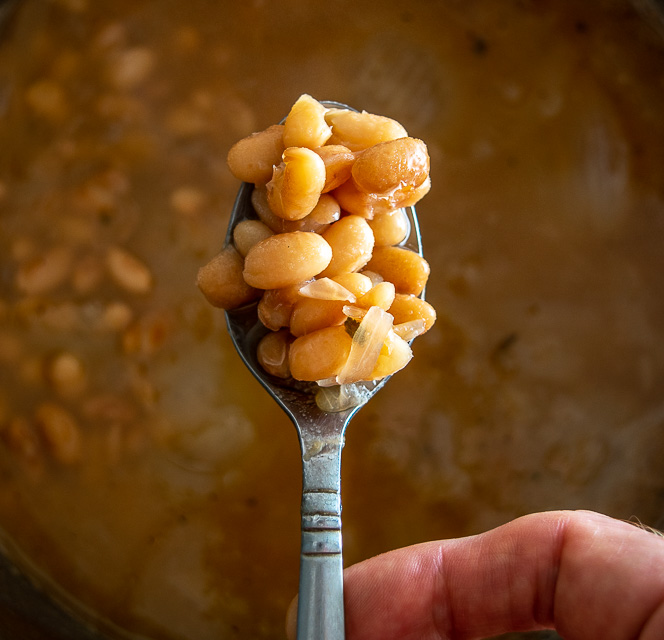 Still hungry?!
Want to receive Mexican Please recipes via email when they are posted?  Sign up below to subscribe.  All recipes are spam free.