I get regular questions about using gluten-free flour to make tortillas, and I finally got around to experimenting with some options!
Here's what my starting point looked like: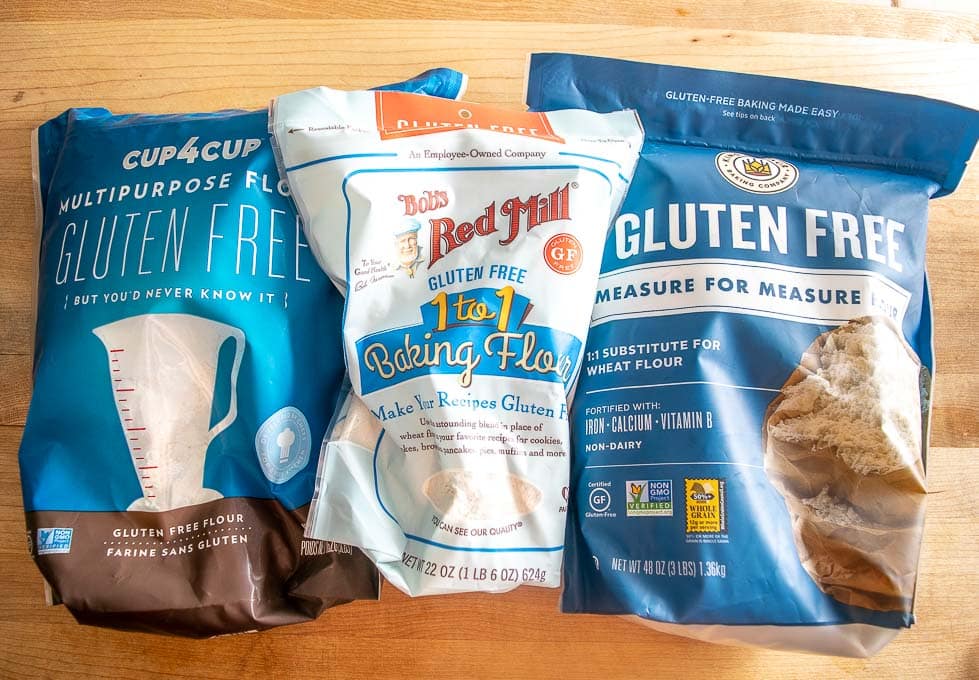 From left to right:
Cup4Cup Gluten Free Flour
Bob's Red Mill Gluten Free 1-to-1 Baking Flour
King Arthur's Gluten Free Measure for Measure Flour
If you're new to making flour tortillas I'll go over the process in this post, but you can always reference the original Flour Tortillas post to see a max gluten option.
That recipe uses just four ingredients:
3 cups flour
3 tablespoons lard I use this home-rendered lard
1.5 teaspoons salt
1 cup warm water
Traditional flour tortillas are made using lard so that's what I'll use for these tests, but keep in mind that you can always use oil as the fat as seen in Flour Tortillas Made With Olive Oil.
And since I'll be making three batches I'll cut the recipe in half:
1.5 cups flour
1.5 tablespoons lard
0.75 teaspoons salt
1/2 cup warm water
First up is Bob's Red Mill: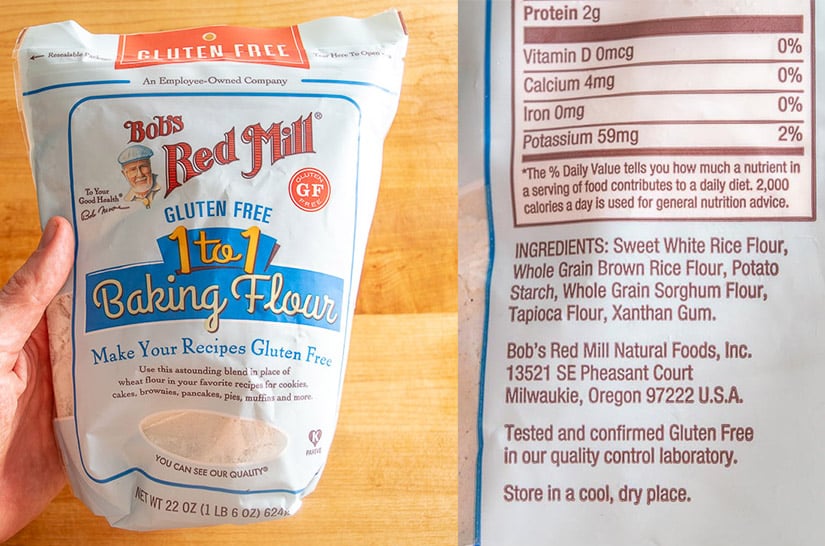 Start by adding the salt and gluten-free flour to a mixing bowl. Add the lard and use your fingers to crumble it into the flour mixture.
Add the warm water and combine it as much as you can with a spoon, then dumping it onto a work surface.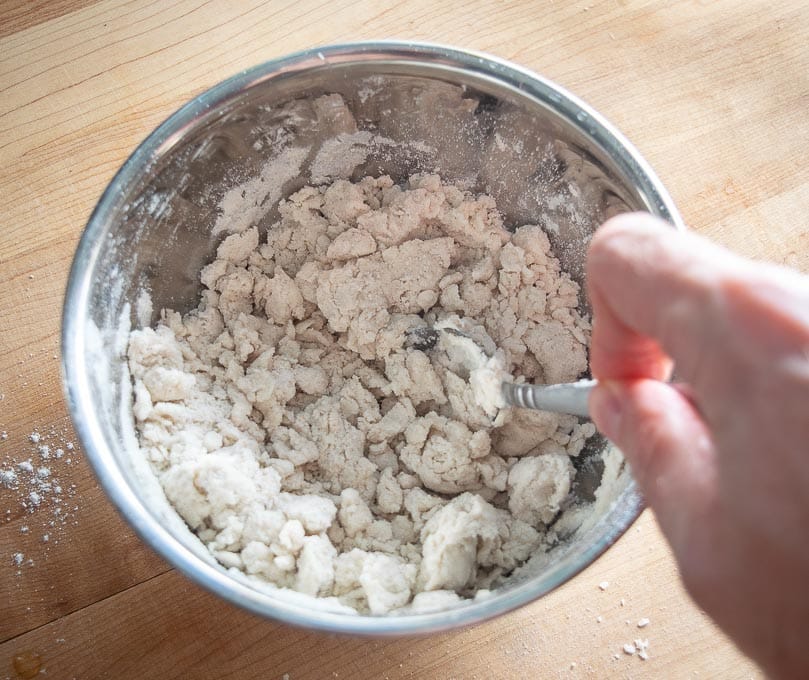 Normally you knead this into a ball but I quickly found that kneading is quite different when there's no gluten!
The dough behaves more like corn tortilla dough, so it's just a matter of getting the water-to-flour ratio right to get it to combine.
I added another splash of water to this batch to get it to form a cohesive dough.
With regular flour tortillas you'll normally let this dough rest to let the gluten relax, but not these!
You'll also normally use a rolling pin to flatten flour tortillas, but I was able to smoosh these like corn tortillas since there's no gluten.
Simply cover the dough ball with plastic to prevent sticking -- I used a Ziploc with the sides cut off.
And smoosh 'em with a casserole dish or flat-bottomed skillet.
If you've got the consistency right then the plastic will peel off the tortilla effortlessly.
If it's sticking then most likely your dough is too wet -- simply add a few sprinklings of flour to your mixture and re-knead.
We'll give these 45-60 seconds per side in a dry skillet, or until light brown spots are forming on the underside. For my stove I used a tad over medium heat.
Note that it can take some fiddling to get the temp of your stove right. If you're getting black spots forming quickly then you'll need to lower the heat, if it's taking minutes to get any color at all then you'll need to raise the heat.
Here's how the Bob's Red Mill batch looked after cooking:
And the flavor?
Not bad!
But not great!
They were a little chewy, but I think my expectations were quite low so I was pleasantly surprised to see that these were in the ballpark.
Next up was King Arthur's.
Here's how this batch looked after cooking:
And the result?
These had a lighter consistency compared to Bob's, but they also had a more prominent starchy flavor.
Last up was Cup4Cup.
The first thing I noticed about these was how the dough behaved. It was elastic and had the consistency of regular flour tortilla dough.
Note in the ingredient list above that Cup4Cup has milk powder in it. I'm not sure if this is what gives it that consistency, but that seems to be the only main difference between their ingredient list and the others.
These tortillas also cooked differently than the other brands, with the surface of the tortilla sizzling instantly when plopped into the skillet.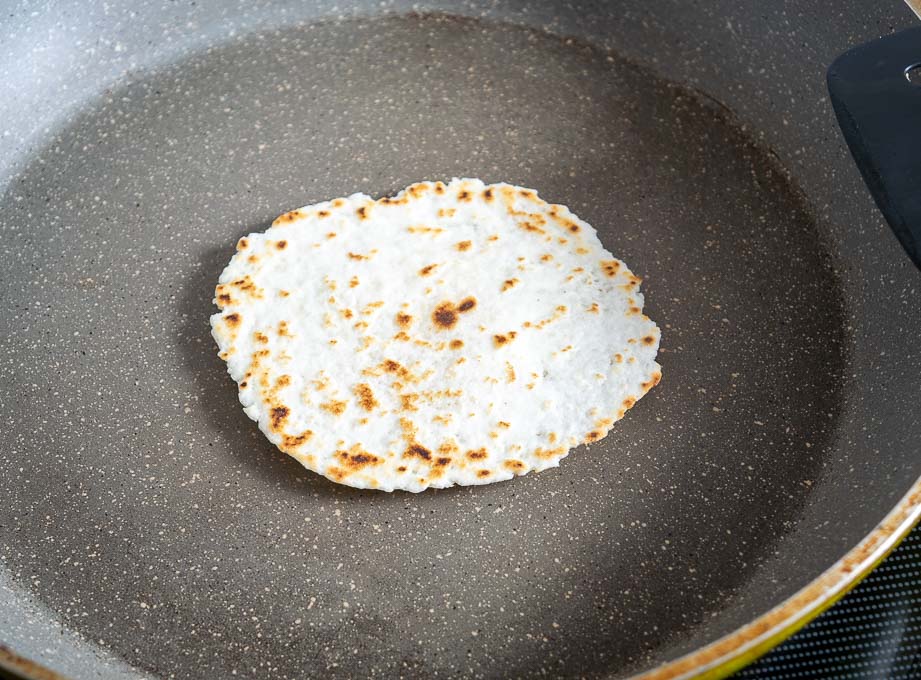 And the flavor?
These were my clear favorite for taste and I thought they did a respectable impression of traditional flour tortillas.
Note that these aren't truly vegan as they have that milk powder in the ingredient list, but it seems like the trade-off for that is a more savory and familiar flavor.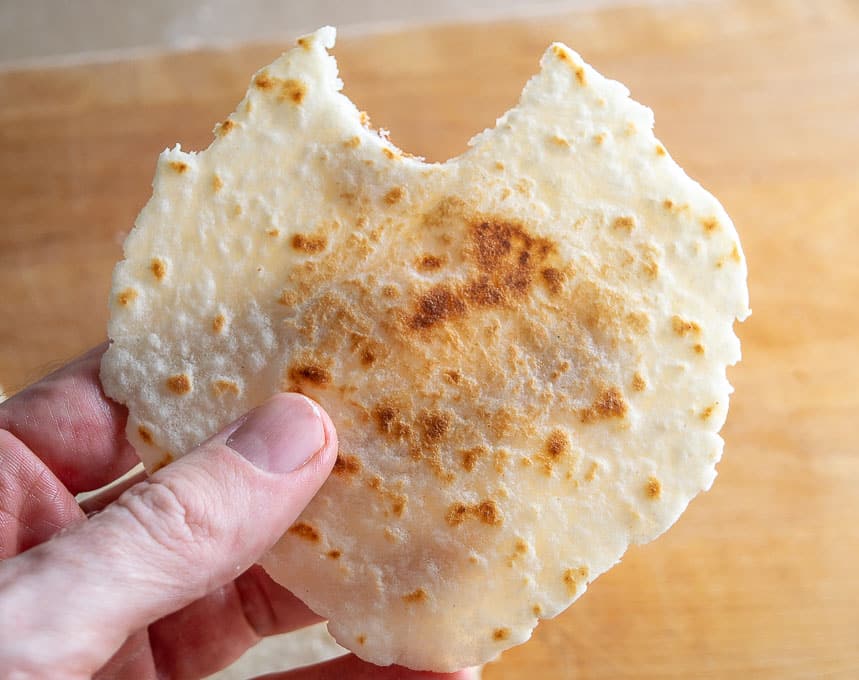 So now when I get asked about gluten free flour I'll point peeps to this Cup4Cup option as it was easily my favorite.
For a pure vegan option, I think either the Bob's Red Mill or King Arthur's will be a good starting point. I'm tempted to add a bit of Masa Harina to these choices just to give them a slight bump in flavor -- I'll add that to my recipe to-do list 🙂
Okay, I'll put relevant links below if you want to check out any of these gluten-free flours on Amazon. And feel free to use the comments section below if you have any other brands that you want me to experiment with.
Cup4Cup Gluten Free Flour
Bob's Red Mill Gluten Free 1-to-1 Baking Flour
King Arthur's Gluten Free Measure for Measure Flour
Homemade Flour Tortillas
Home Rendered Lard
Flour Tortillas Made With Bacon Fat
Buen Provecho.
Disclaimer: there are some affiliate links on this page which means I will get a small percentage of the sale if you make a purchase at no additional cost to you. But I only recommend products that I use and trust — feel free to get in touch if you have any questions about this!
Want the latest recipe? Click your favorite from these options and follow me: Instagram, Facebook, Pinterest, TikTok, YouTube.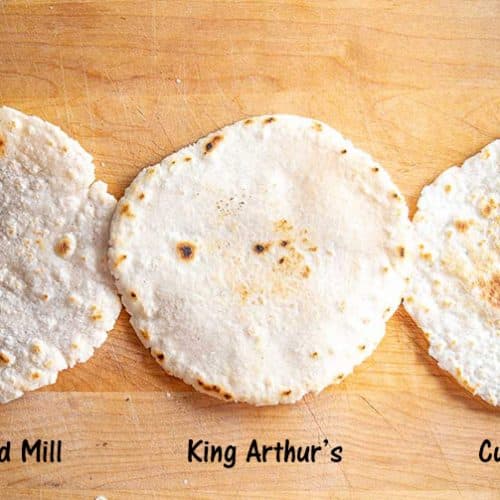 Gluten Free Flour Tortillas
I made homemade tortillas with 3 brands of gluten free flour and there was a clear winner for me!  
Print
Pin
Rate
Servings:
6
(12-14 tortillas)
Ingredients
3

cups

gluten free flour

3

tablespoons

lard (or oil)

1.5

teaspoons

salt

1

cup

warm water
Instructions
Add the salt to the flour and mix well.  Use your fingers to crumble the lard into the flour mixture.  Add 1 cup warm water and stir as much as you can with a spoon, then dump onto a work surface and knead into a cohesive ball. Feel free to add another splash of water if it's not combining readily.

A rolling pin is traditionally used for flour tortillas, but without gluten you can just smoosh these as you would corn tortillas. Pull off a golfball sized chunk of dough and roll it between your hands to form a smooth ball. Surround the dough ball with plastic -- I used a Ziploc bag with the sides cut off -- and smoosh it into a thin tortilla using a casserole dish, flat-bottomed skillet, or a tortilla press.

Heat a comal/skillet to medium high temperature. Once heated, add a tortilla to the dry skillet and cook each side for 45-60 seconds, or until light brown spots are forming on the underside.

As one tortilla cooks, roll out the next to expedite the process.
Notes
It can take a few tries to get the heat of the stove right.  If you're quickly getting black spots then your temp is too high.  If it's taking too long to get brown spots then your temp is too low.  I use a tad over medium heat on my stove. 
Like this recipe?
Click the stars above to rate it or leave a comment down below! @mexplease
Want to see the latest post? Here it is: 16 Craveworthy Mexican Chicken Recipes.
Still hungry?!
Want to receive Mexican Please recipes via email when they are posted?  Sign up below to subscribe.  All recipes are spam free.