I finally got around to testing the Masa Harina from Masienda -- and I'm glad I did!
They use White Olotillo heirloom corn to make their Masa Harina and it led to some ultra-satisfying homemade corn tortillas. Here's what 2 lb. bags of their Masa Harina looks like:
Note: I don't have any affiliation with Masienda, just a satisfied customer.
I'll detail the process for making corn tortillas from this box of goodness, but first I want to fill in any blanks you might have regarding Masa Harina.
If you start with some dried field corn...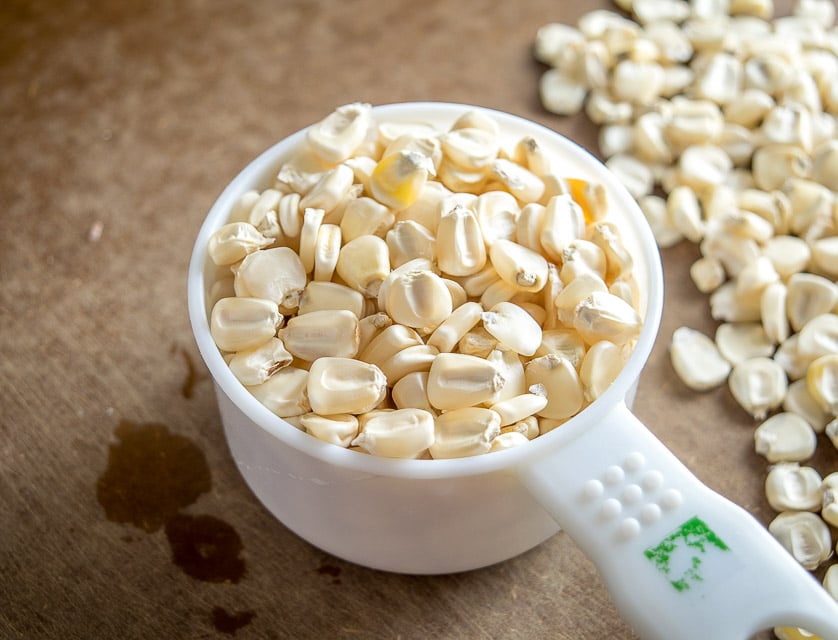 And soak it in an alkaline solution overnight...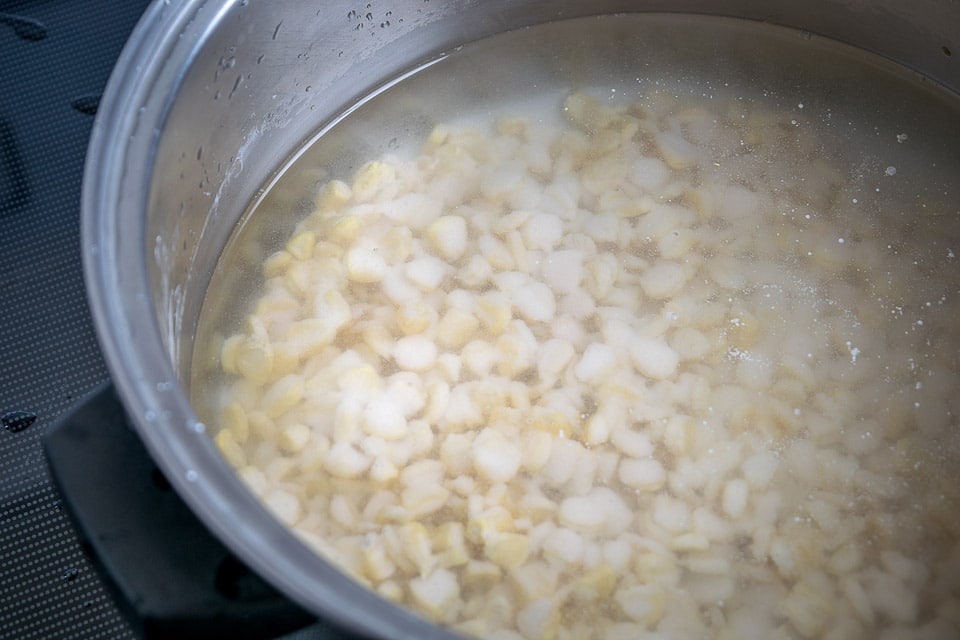 Give it a thorough grind and you'll end up with some masa dough on your hands...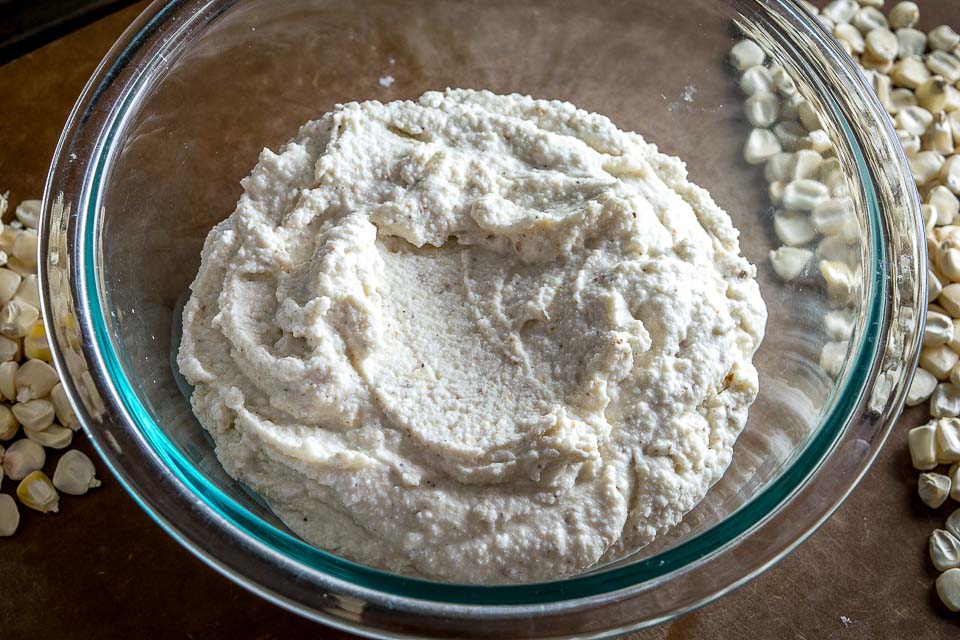 This masa dough is used to make corn tortillas and tamales. For tortillas the masa dough is used as is, for tamales you'll typically add some fat to it (lard!).
Producers then take this masa dough and de-hydrate it into powder form -- and this is Masa Harina! It's also sometimes referred to as corn flour.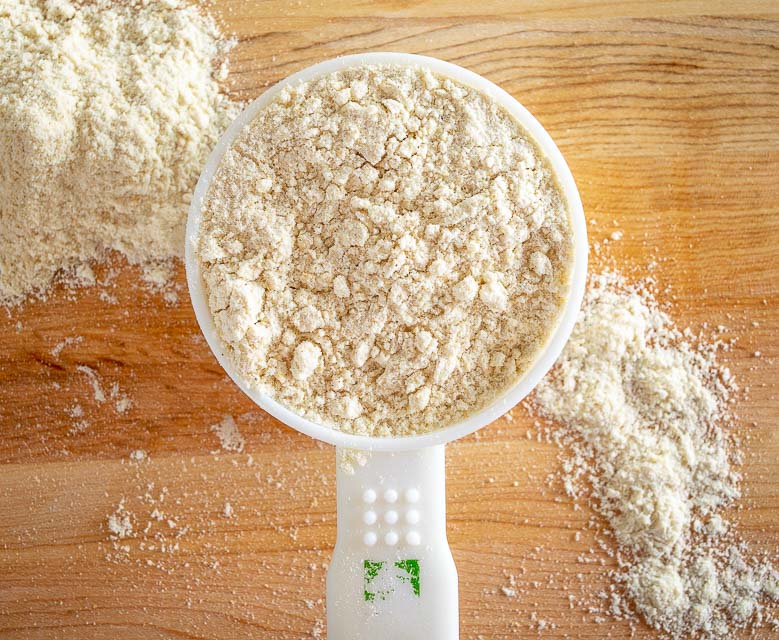 All you need to do is add water (and salt) and just like that you'll have some masa dough that you can use to make corn tortillas or tamales.
Easy right? So let's make some tortillas from it!
We'll add 1/2 teaspoon of salt to 2 cups of the Masa Harina from Masienda and combine well.
You'll need somewhere between 1.5 and 2 cups of warm water to turn this into dough.
I think it's easiest to add a single cup of water first, then add the rest of the water incrementally.
I usually dump it on the countertop after adding the first cup of water and then use my hands to combine it. I added another 1/2 cup of water, and since there were still dry bits I kept adding splashes of water until it formed into a cohesive dough.
Keep in mind that the first time you make tortillas at home there might be some frustration involved! It takes a bit of practice to get the consistency of the dough right.
If it's sticking to your hands then it has too much water -- simply add sprinklings of Masa Harina until you can handle it with no sticking.
If it's crumbly and not coming together then it needs more water -- simply add splashes of water until it forms a dough.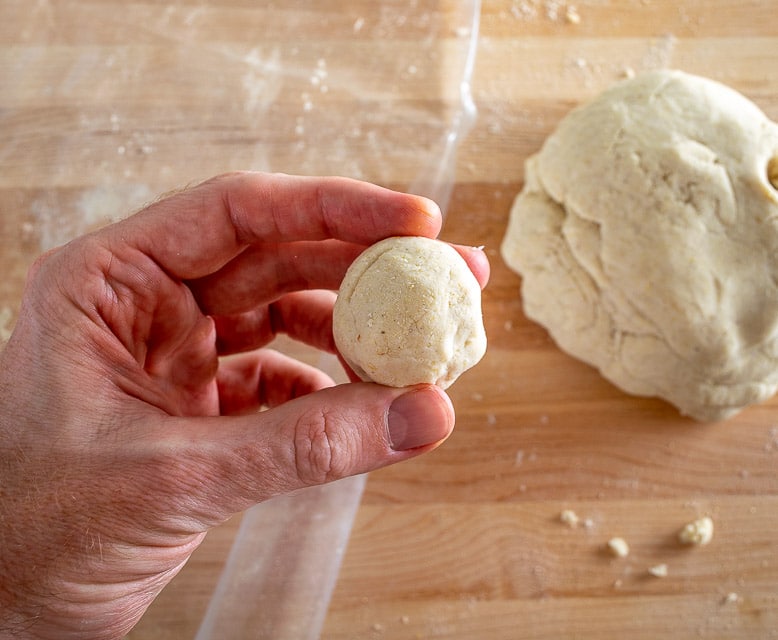 Once it's easy to form little dough balls with no crumbling or sticking then you'll know you've nailed the consistency.
Don't worry if you don't have a tortilla press as you can use any skillet or flat-bottomed casserole dish to make tortillas at home.
You'll also need plastic or a Ziploc to surround the dough when you flatten it. I usually just cut off the top of a Ziploc and makes slits down the sides so that you can easily surround the dough balls.
I probably make corn tortillas smaller and thinner than most peeps, so feel free to adjust the size based on your preference. These were probably less than 1/8" thick.
You'll also know if you have the consistency right when you peel the Ziploc off the flattened dough. If the Ziploc takes a chunk of tortilla along for the ride then most likely the dough is still a bit too wet.
Then it's just a matter of giving the flattened dough balls 1-2 minutes per side in a dry skillet.
Just over medium heat does the job quite well on my stove, but keep in mind that it could take a couple sacrifices to get the heat right.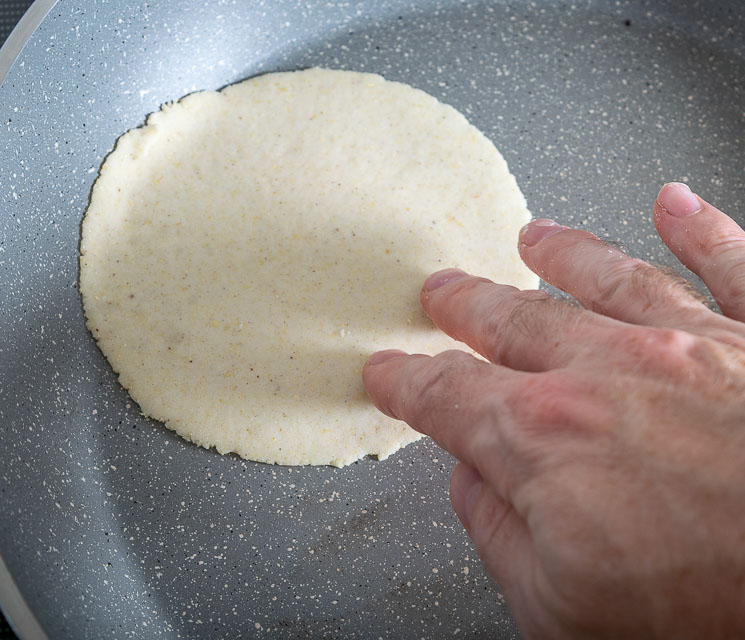 Ideally you'll have brown spots forming in about a minute.
If it's taking much longer than that you'll need to increase the heat. If you're getting dark brown spots in a matter of seconds then you need to lower the heat.
Hello corn tortillas made from Masienda Masa Harina!
How do you taste?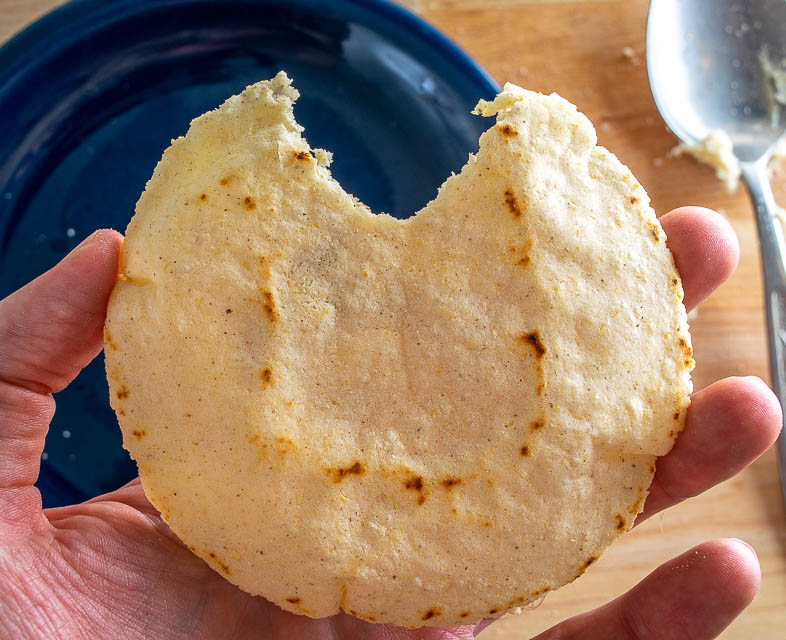 I thought they were awesome: light, good flavor, and significantly better than store-bought tortillas.
In the past I wrote a post comparing three brands of Masa Harina, with Bob's Red Mill being my go-to Masa Harina lately.
This Masa Harina from Masienda is just as satisfying and will be at the top of my list as well.
The only downside is going to be the cost as Masienda will be a bit more expensive once you add in shipping.
But for anyone who doesn't have a local option they trust then this Masa Harina will be a tasty option to buy online. It's the real deal and will lead to some ultra-satisfying tortillas and tamales.
For reference, a year ago I bought the White Olotillo dried corn from Masienda and nixtamalized it at home. You can see that process here.
And for full instructions on how to make corn tortillas from Masa Harina see our Homemade Corn Tortillas Recipe.
And one last thing...
Lately I will only make as many tortillas as I need, saving the rest of the corn dough in the fridge. They are so awesome when hot off the skillet and I always try to make them to order if I can.
For example, you'll get around 12-16 tortillas from 2 cups of Masa Harina. I made 7 tortillas from this batch and stored the rest of the masa dough in the fridge (wrapped in plastic and foil). It will keep for a few days and you can simply pull off a chunk, flatten it, and make a few tortillas on the fly when you need them. And no tortilla press required!
Okay, let me know if you have any questions about Masa Harina or the tortilla making process. Once you plow through it the first time you'll always have the option of making delicious corn tortillas at home.
Buen Provecho.
Masa Harina vs. Cornmeal: What's the Difference?
Do I Really Need a Tortilla Press?!
Want the latest recipe? Click your favorite from these options and follow me: Instagram, Facebook, Pinterest, TikTok, YouTube.
Still hungry?!
Want to receive Mexican Please recipes via email when they are posted?  Sign up below to subscribe.  All recipes are spam free.