There's a good chance you always roast your tomatillos before using them in Salsa -- and that's a good thing!
But raw tomatillos have benefits too, and this Tomatillo Pico de Gallo is a great recipe to get you familiar with their unique flavor --  tart, vibrant, and a hint of citrus.
If you've never taken a bite of a raw tomatillo then the time has come.  Rinse, cut in half, and take a chomp!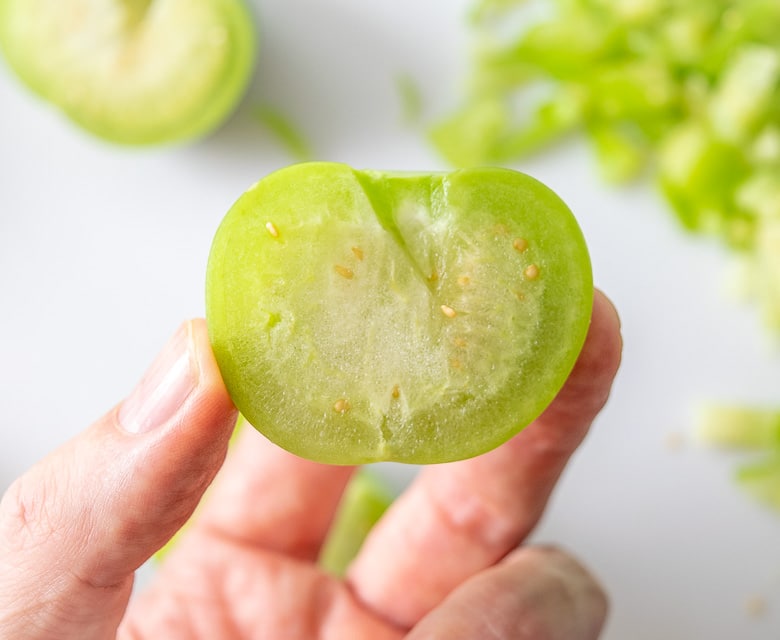 Tart, eh?
Normally you'll roast tomatillos to tame that tartness but we are using it to our advantage here.
For a lip-smacking batch of Tomatillo Pico de Gallo here's what you'll need: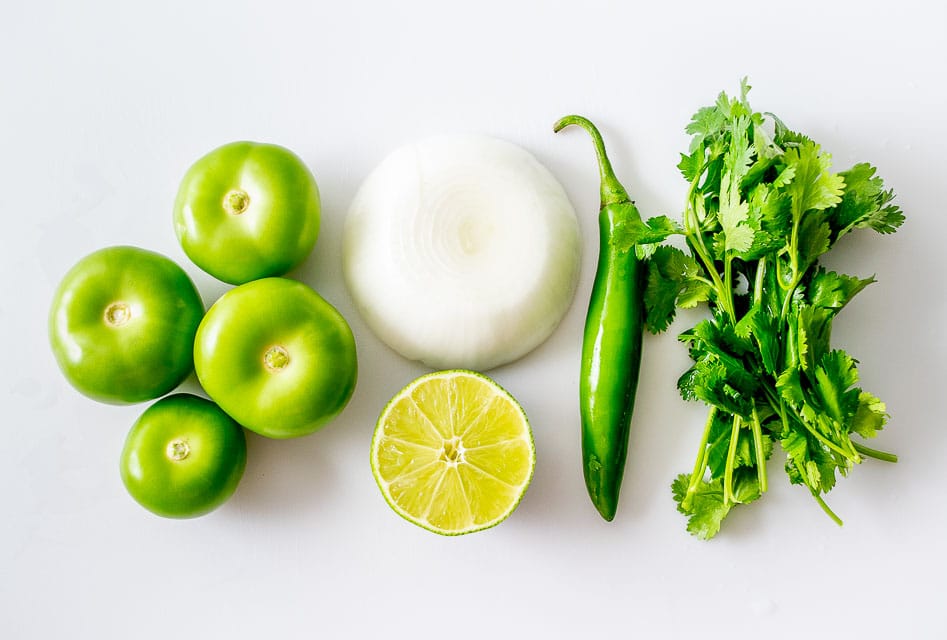 So in the above pic we're using:
4-5 fresh tomatillos
1/2 small onion
1 serrano pepper (or jalapeno)
15-20 sprigs cilantro
juice of 1/2 lime (plus more to taste)
Along with a 1/4 teaspoon of salt.
Be sure to give the tomatillos a good rinse before chopping them up.  And I'm in the habit of cutting out the stems.
And make sure your knife is sharp!  If it's slipping down the skin of the tomatillos then you know it's ready for a sharpening.
I like this Pico best when the heat is just as present as the tartness of the tomatillos.  In other words, I think it's best when it's ultra fiery!  That means I used a whole serrano for this batch and that will give it some real zip, but you can dial back for a milder version.
And keep in mind that you can always substitute a jalapeno for the serrano and you'll get an equally good result.  What's the difference between serranos and jalapenos?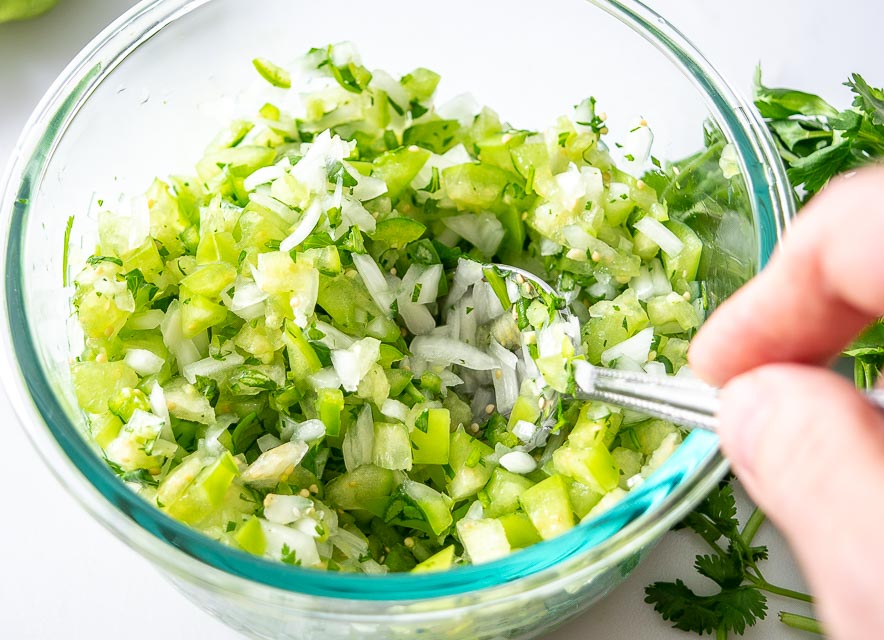 Give everything a good chop and combine in a mixing bowl.  As with our traditional Pico de Gallo, it's best to do some taste testing at this point to get it right for your palate.
The base recipe starts with the juice of 1/2 lime and 1/4 teaspoon of salt, but feel free to add a bit more.  You'll probably need less lime than Tomato Pico because the tomatillos already have some citrus undertones.
It'll be tempting to eat it straight out of the bowl, but lately I've been using it for some no-thinking-involved chicken quesadillas.
These are simple, easy-to-make quesadillas that are willing to adapt to your fridge contents, but for me it's usually chicken and cheese.
I usually chop up the Pico while the quesadilla is crisping up on the stovetop.  Once it's crispy you can open it up, give it a solid layer of Tomatillo Pico, and dinner is served!
It's a remarkably simple recipe, but when the Pico is freshly chopped it's a real treat.   More details on those quesadillas here.
You could also make some bean and cheese tacos.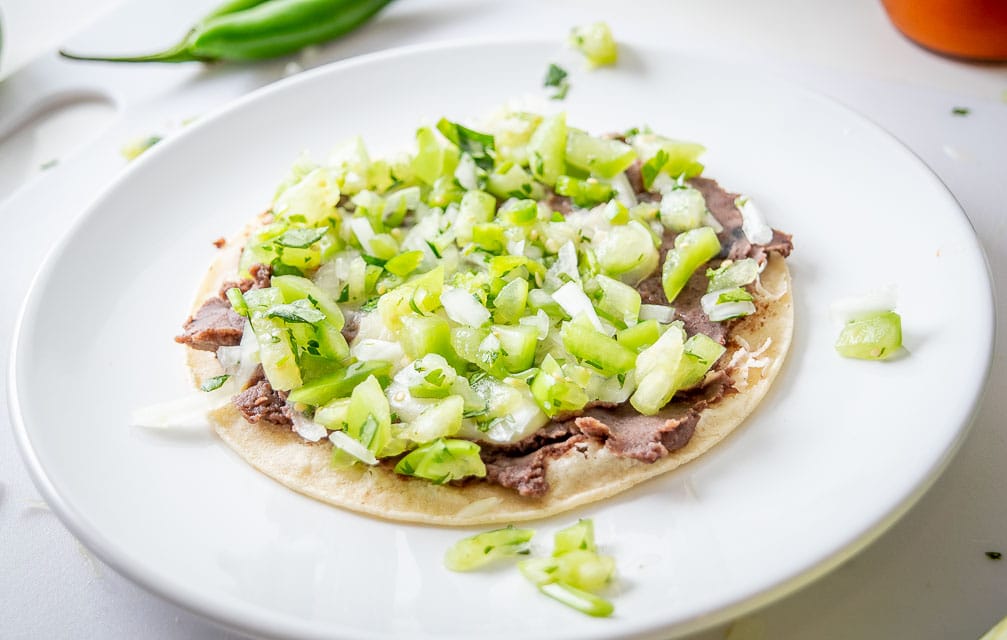 I usually keep some of these refried beans in the fridge and that makes for some quick meals.
Simply add layers of beans and cheese to a corn tortilla and let it crisp up in a dry skillet over medium-high heat.  If using a thin layer of beans you can let them warm up as the tortilla cooks, but if using a thicker layer of beans I will usually warm them up in a saucepan first.
And for further inspiration you could use the Tomatillo Pico in any of these recipes:
Molletes (Bean and Cheese Sandwiches)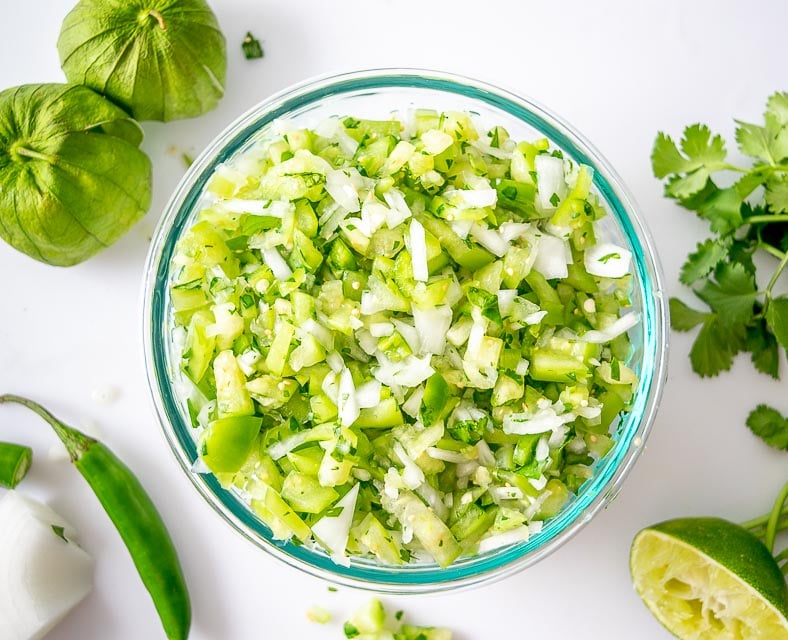 Okay, I hope you give this Tomatillo Pico de Gallo a try!  It has such a unique, vibrant flavor and when freshly chopped you can easily design meals around it.
Buen Provecho.
Tomatillo Pico de Gallo
This Tomatillo Pico de Gallo wants to be in your kitchen! Lately I use it for quesadillas and it's always a hit.
Print
Pin
Rate
Ingredients
4-5

tomatillos

1/2

small onion

1

serrano pepper (or jalapeno)

15-20

sprigs

cilantro

juice of

1/2 lime (plus more to taste)

1/4

teaspoon

salt (plus more to taste)
Instructions
De-husk the tomatillos and give them a good rinse. I usually de-stem them as well.

Be sure to give the cilantro a good rinse as well. I usually twist off and discard the bottom, thicker portions of the cilantro stems, but keep the upper portion of the stems that hold the leaves together.

Rinse and de-stem the serrano. For a milder version, start with only 1/2 of the serrano.

Chop up the tomatillos, serrano, cilantro, and the peeled 1/2 onion. Combine everything in a mixing bowl and add 1/4 teaspoon of salt and the juice of 1/2 lime. Give it a taste and add more salt or lime until it tastes right to you.

Serve immediately or store in an airtight container in the fridge.
Like this recipe?
Click the stars above to rate it or leave a comment down below! @mexplease
Our latest recipe is this Spicy Queso Dip.  Yum!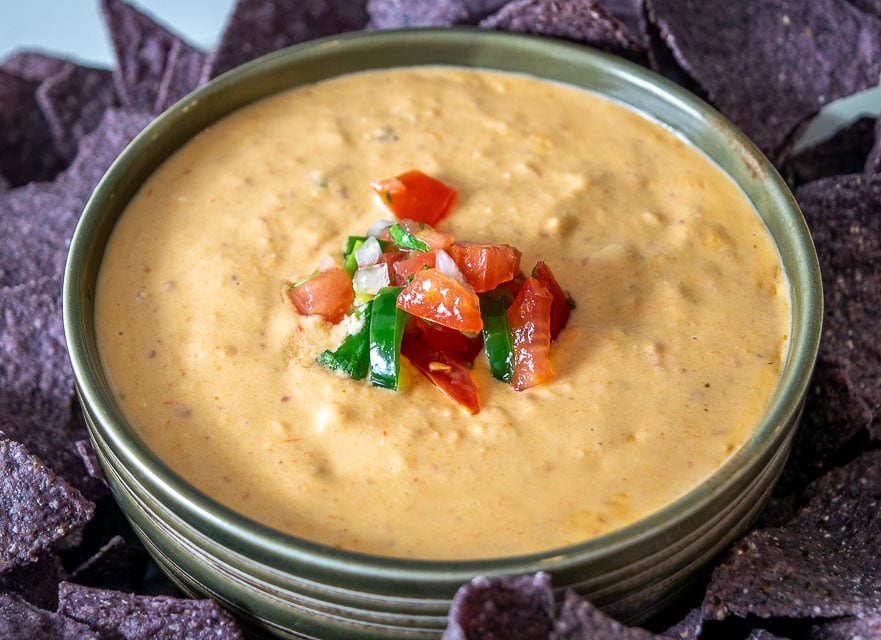 Still hungry?!
Want to receive Mexican Please recipes via email when they are posted?  Sign up below to subscribe.  All recipes are spam free.