Micheladas are becoming more popular in the States and for good reason — they are a remarkably satisfying way to light a fire under your weekly routine.
I think they're best served with a small dose of masochism, where the only thing that can quench that salty lip-tingling heat is another sip of the very thing that's causing it.
So please keep that in mind if you want to try this recipe out — they are magnificently fiery when done right and you might be surprised how satisfying they can be compared to some of the watered down versions on the market.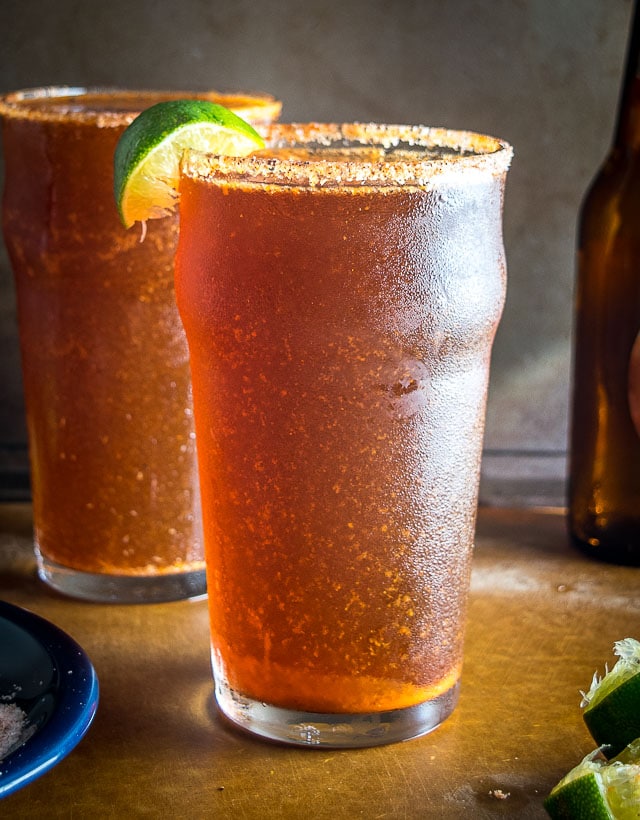 Michelada Recipe
Truth be told, the Michelada world is as divided as the rest of the planet.  One tribe prefers tomato juice in their beer.  The other tribe finds the thought of living like that unbearable.
The most common tomato juice version you'll find is Beer + Clamato = Michelada.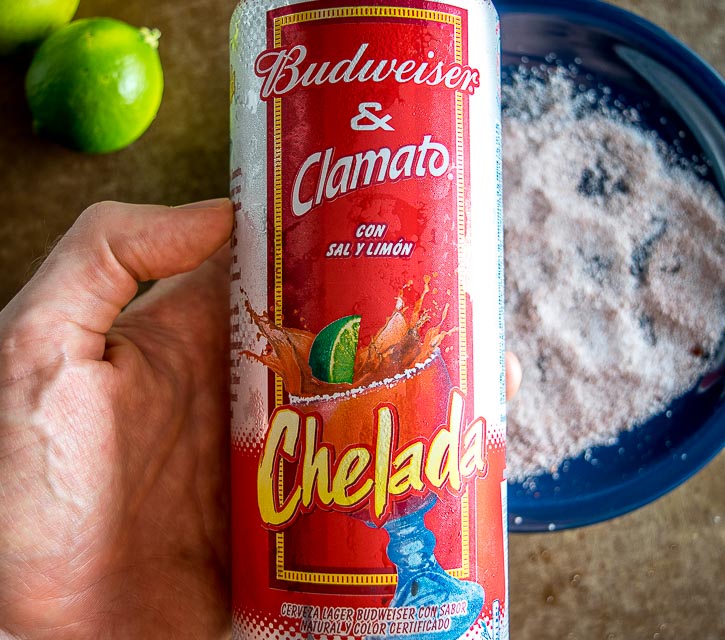 Clamato is basically tomato juice combined with clam juice and you'll find it in most supermarkets.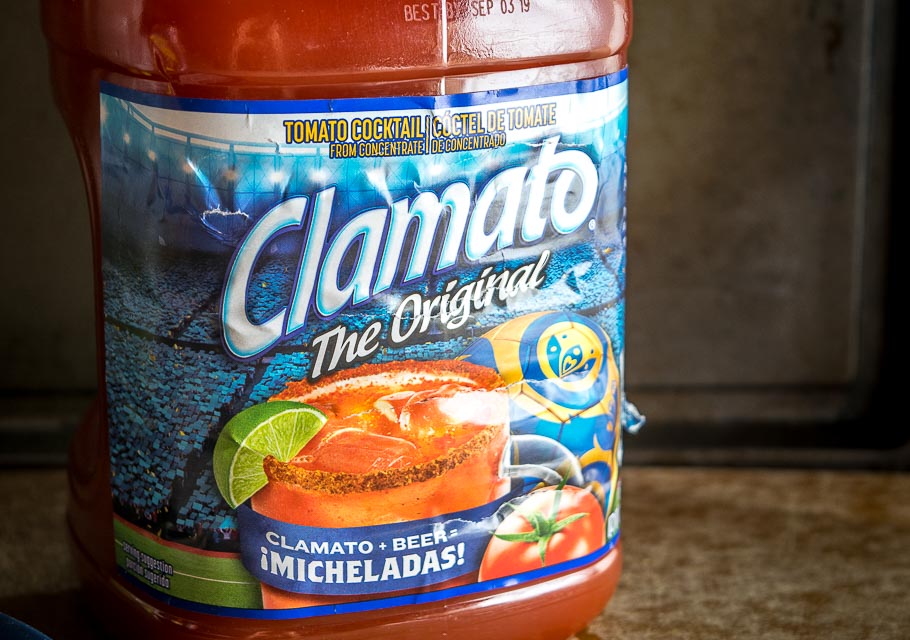 It's an incarnation from the cocktail world and it's not too far off from V8.  You can mimic it by combining tomato juice and Worcestershire sauce and that's why you'll frequently see Worcestershire in Michelada recipes.
But I am definitely in the second tribe so we are going to bypass this tomato juice option and make a version from scratch.  You can always add a splash of tomato juice to the version we're making here and you'll quickly discover where your allegiance falls.
We'll start by adding chipotle powder to a thin layer of salt on a small plate.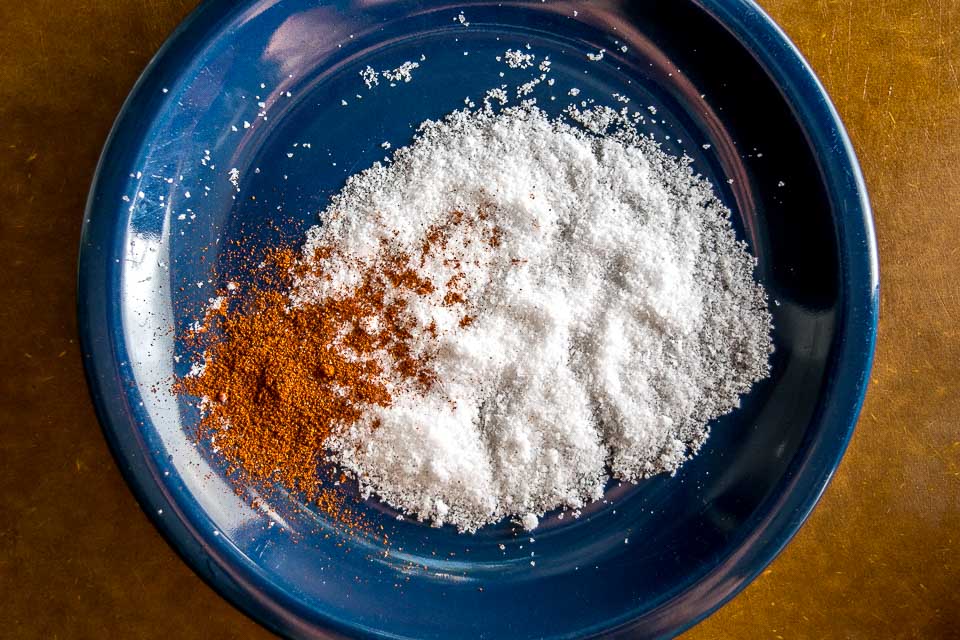 You can use any type of chili powder to season the salt, so don't rush out to buy chipotle powder if you don't have any on hand.  (See here for some good chili powder info.)
Rub a lime wedge around the rim of your glass and dredge it in the seasoned salt mixture.
An easy way to make the salt rim optional for people  is to only rub the lime around half of the rim: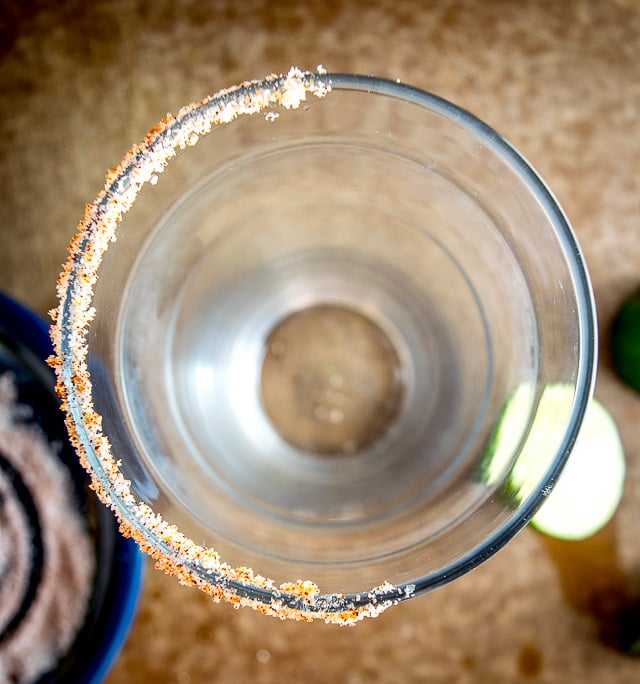 This will give you salt around half of the glass only and I prefer it this way — it makes it easy to control how much salt you get with each sip.
Valentina hot sauce provides most of the flavoring your Michelada will need so I consider it to be the secret ingredient of this version: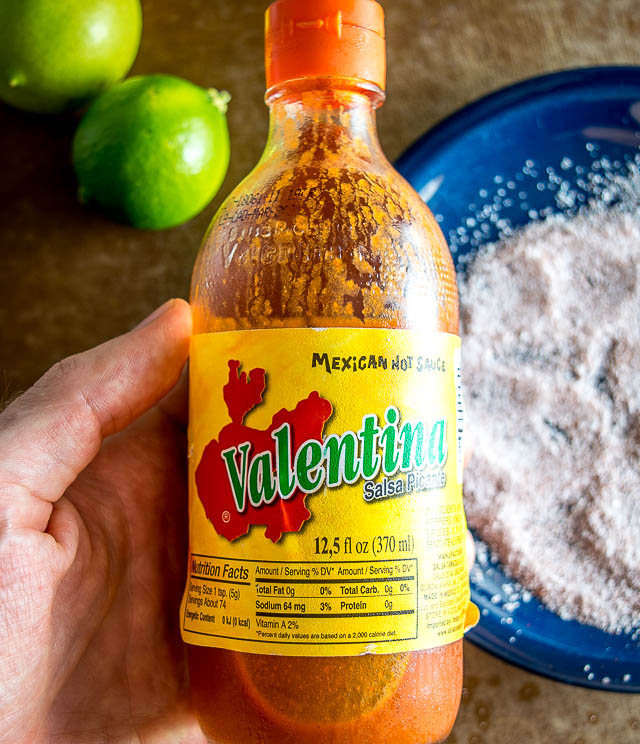 If you're new to Valentina you can hear me gush about it in this hot sauce article.  It'll give any dish a fiery twang and it's also thicker than most hot sauces so it clings to food more readily.  Most supermarkets are carrying it these days so it's worth keeping an eye out for it.
So in each glass we'll add:
2 teaspoons Valentina
1/4 teaspoon horseradish sauce
juice of 1 lime (approx. 2 tablespoons)
freshly cracked black pepper
dash of adobo sauce (optional)
And of course, 12 ounces of beer.  We're using Dos Equis Amber for this batch but the brand isn't important for this recipe, you can use any type of beer and get similar results.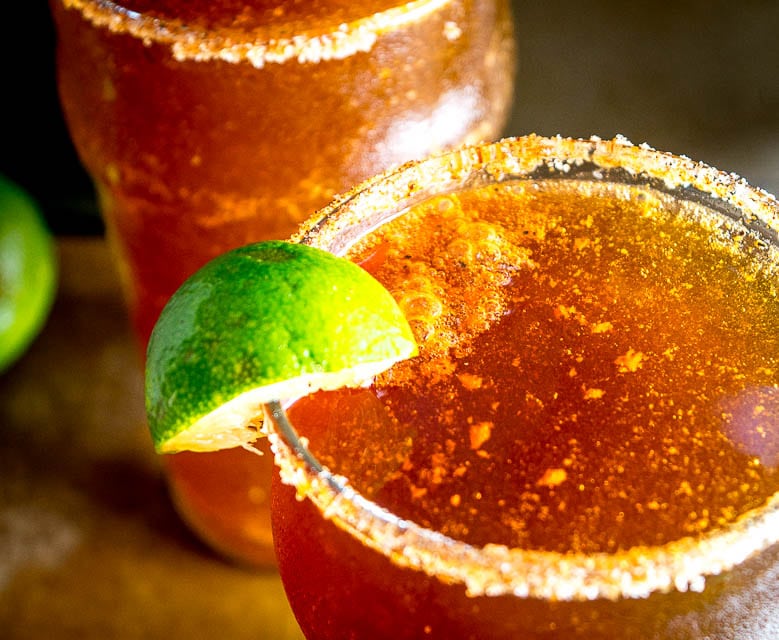 You can consider the adobo sauce optional but it does add another blast of welcome heat.  Simply add more Valentina if you are omitting it.  (More info on adobo sauce here.)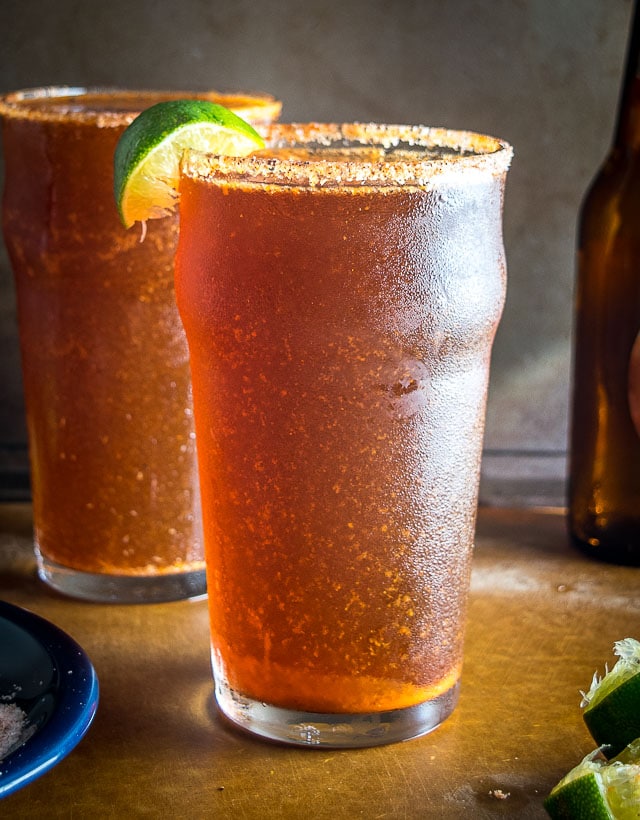 Give it a good mix and serve 'em up!  If all went according to plan you've got a limey, salty, lip-tingling delight on your hands.
Taking in the tiniest bit of salt with each sip seems to help my palate pick up on all the other flavors in the beer:
The piquancy from the Valentina.
The zing from the horseradish.
A burst of bright lime flavor.
And of course, there's beer involved too and that never hurts.
Nice!
If you get a delayed blast of lip-tingling heat that sneaks up you and demands another sip to quench it, well…
That's the way Micheladas are supposed to be.
Buen Provecho.
Michelada (Spicy Mexican Beer)
This is a fiery, easy-to-make Michelada recipe that is a great option for anyone disappointed in the watered down versions on the market.
Print
Pin
Rate
Ingredients
1

12 ounce beer

2

teaspoons

Valentina hot sauce

juice of

1 lime (approx. 2 tablespoons)

1/4

teaspoon

horseradish

splash of

adobo sauce (optional)

salt

chipotle powder
Instructions
Add a thin layer of salt to small plate along with dashes of chipotle powder. Combine well.

Rub a lime wedge around the rim of the glass and dredge it in the salt. (I usually only rub the lime around half of the glass.)

Add 2 teaspoons of hot sauce (Valentina) to the glass, along with the juice of 1 lime, 1/4 teaspoon horseradish sauce, freshly cracked black pepper, and a splash of adobo sauce (optional).

Combine well and serve immediately.
Notes
Tomato juice is commonly used in Micheladas.  I prefer them without the tomato juice but if you have some on hand it's worth adding a splash to see how your palate reacts. 
Like this recipe?
Click the stars above to rate it or leave a comment down below! @mexplease
Still hungry?!
Want to receive Mexican Please recipes via email when they are posted?  Sign up below to subscribe.  All recipes are spam free.