In Mexico lentils are typically paired with mucho meat to form hearty stews, with bacon and chorizo being the most common counterparts.  But for anyone leaning towards a plant-based diet, this vegetarian version of Mexican Lentil Soup retains all the flavor of the traditional stews and skips the meat.
It's easy to keep all of these ingredients on hand for last-minute meals, and it comes with a major hidden benefit:  solo un poco de dinero (it makes your wallet happy).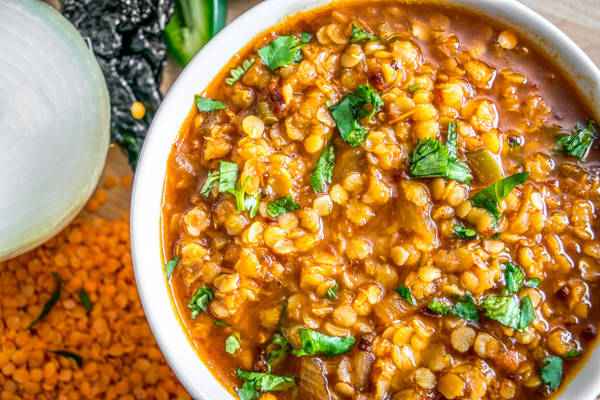 Mexican Lentil Soup Recipe and Instructions
Here are the dry ingredients (1 ancho pepper, 1 jalapeno, 1.5 cups lentils, 1/2 white onion, 2 cloves garlic, 1 teaspoon cumin):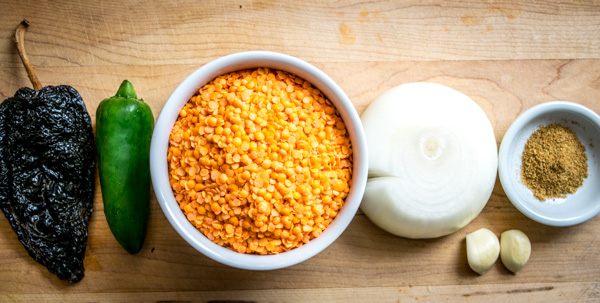 And for stock I am pulling a 4 cup container of this veggie stock from the freezer: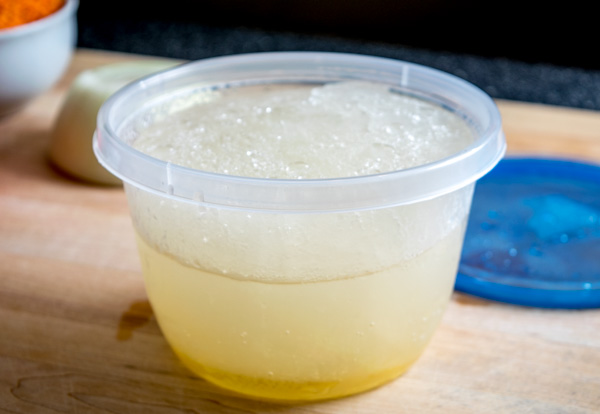 You've probably heard me harping on about how lackluster storebought stock can be, so in the absence of a stock base you trust I would default to using water with increased seasoning before using storebought stock.
A typical ratio for lentils is 3 cups liquid for every one cup of lentils.  Since we are starting with 4 cups of stock we'll use 1.5 cups of lentils knowing that we may have to add a bit of water to reach 4.5 cups of liquid.
Let the lentils soak in cold water for a few minutes to wash away any leftover debris.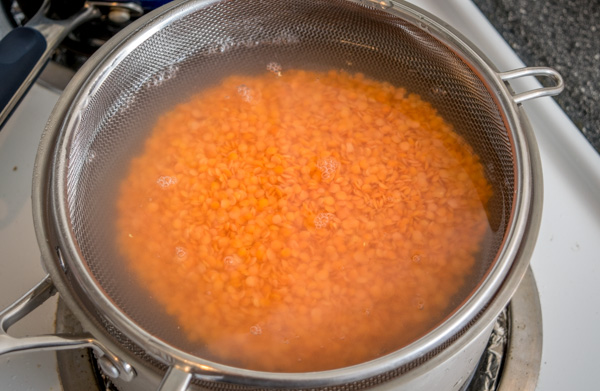 Slice open the ancho and remove the seeds and stem.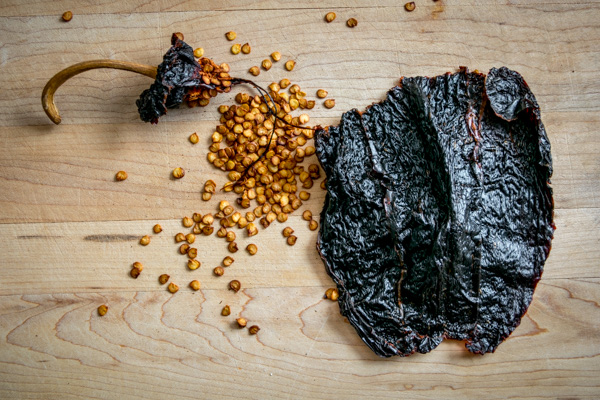 We're going to roast the ancho in the oven for a minute or two.  You'll hear all kinds of reasons for roasting dried chili peppers.  Basically it brings out flavors that lie dormant at room temperature, giving it a fuller, more complex flavor.
I typically throw them in the oven, but you can toast them on a hot skillet too.
1-2 minutes later you'll start to smell them.   This one was in the oven for less than two minutes, probably closer to one minute.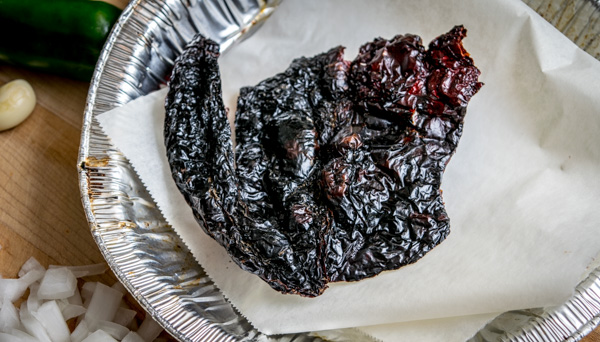 It doesn't take much and you definitely don't want to burn them or they'll end up tasting bitter.
Tear into smaller pieces and grind 'em up in a spice grinder or blender.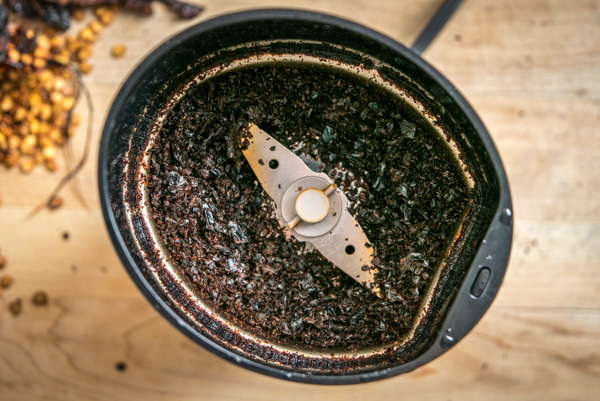 Each ancho will give you approximately 2 tablespoons of ancho powder: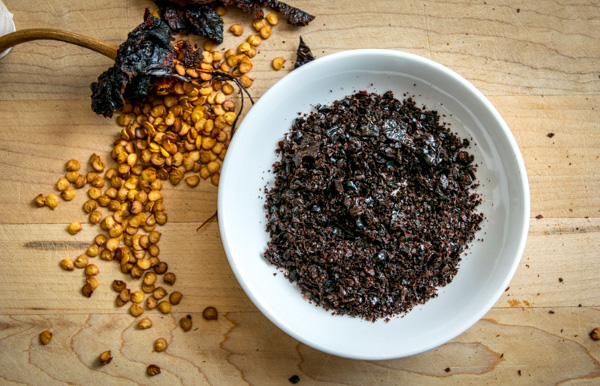 So if you don't have anchos on hand then 1-2 tablespoons of standard chili powder would be a viable substitute.
Dice up 1/2 white onion and 1/2 jalapeno and add to a saucepan along with a dollop of oil. (You can use 1/4 jalapeno if you want less heat.)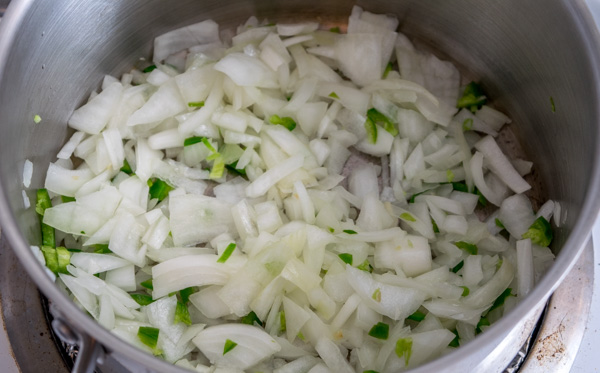 Saute until tender.
Add 2 cloves of diced garlic, the ancho powder, and one teaspoon cumin.  (I used pre-ground cumin but grinding your own cumin seeds will give you an even richer flavor.)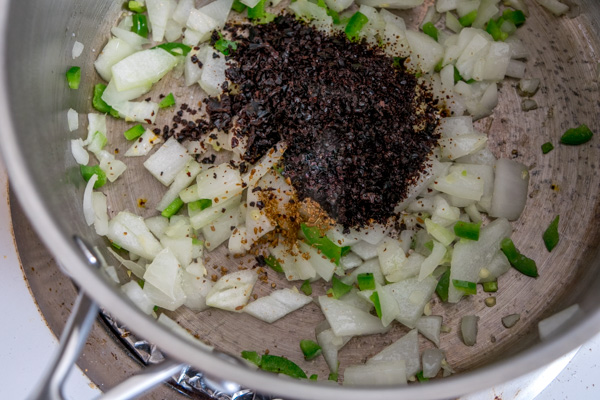 Saute for a couple minutes and then add the drained lentils and the stock.  (Note:  I had warmed up the stock so I wasn't adding frozen stock to warm veggies).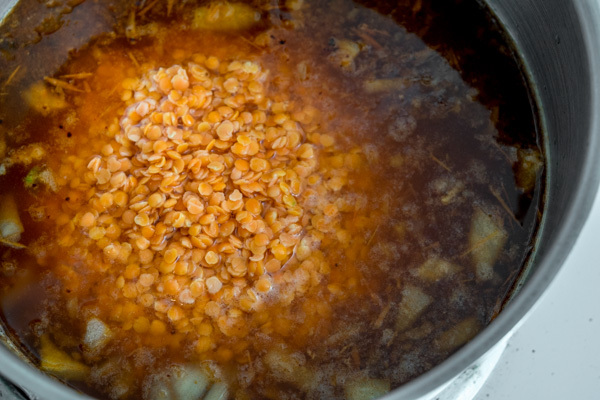 Bring to a boil and simmer for 20-30 minutes.
These lentils soaked up the stock quickly so I added one cup of water about 15 minutes into the simmer.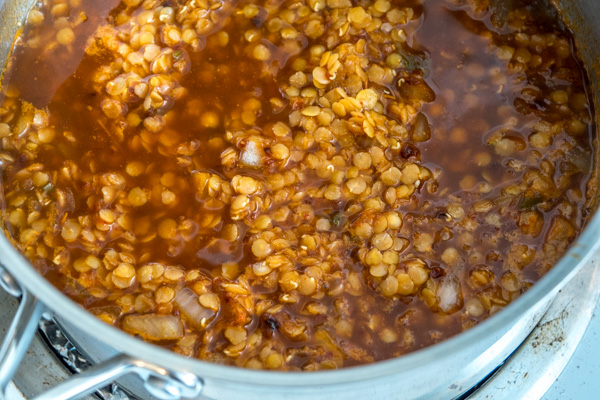 Once the lentils are tender they are done.
Season generously with salt and garnish with cilantro if you're expecting company.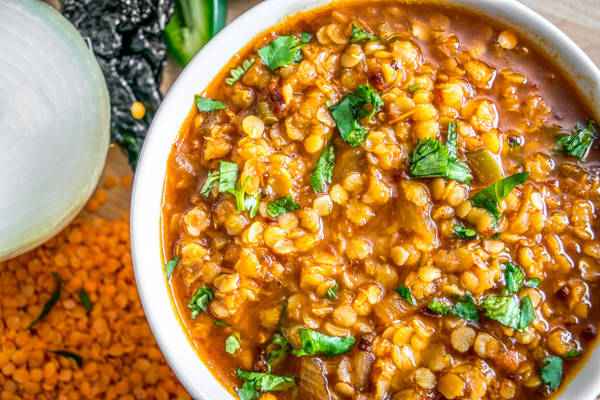 These little gems are nutritional powerhouses and giving them some traditional Mexican flavors can make this dish an old reliable in your kitchen.  Buen Provecho.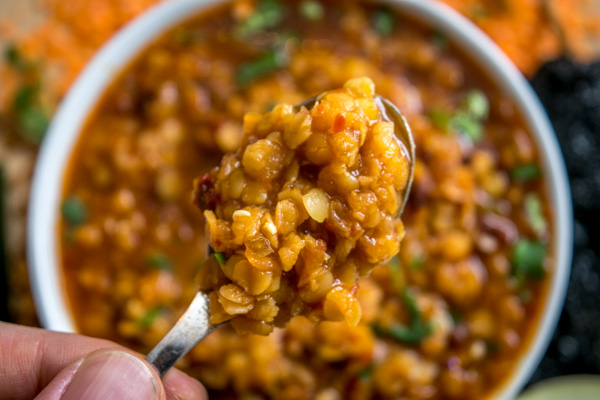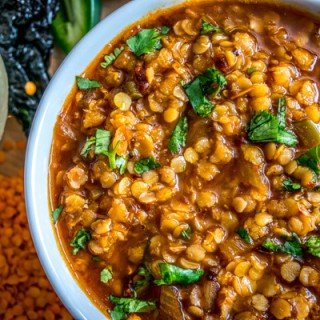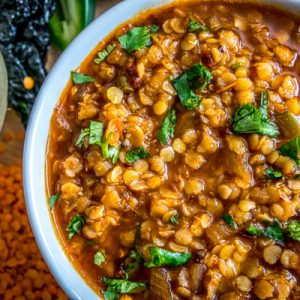 Mexican Lentil Soup (Vegetarian Version)
This vegetarian version of lentil soup retains all the traditional Mexican flavors and skips the meat
Print
Pin
Rate
Ingredients
1.5

cups

lentils

1

ancho chili pepper

1

jalapeno

1/2

white onion

2

cloves

garlic

1

teaspoon

cumin

4-5

cups

of stock

salt to taste
Instructions
Soak the lentils in cold water to wash away any debris

Remove the stems and seeds from the ancho pepper

Roast the ancho for 1-2 minutes

Grind ancho into a fine powder

Dice up 1/2 white onion and 1/2 jalapeno (use 1/4 jalapeno for less heat)

Saute onion and jalapeno in a dollop of oil until tender

Add diced garlic, ancho powder and cumin to the skillet and saute for a minute or so

Add the drained lentils and (warmed up) stock, stir well

Bring to a boil and then simmer for 20-30 minutes

Add an additional cup of stock/water if the lentils soak up all the liquid and are still a bit crunchy

Salt to taste

Garnish with cilantro
Like this recipe?
Click the stars above to rate it or leave a comment down below! @mexplease
Our most popular vegetarian dishes are Quinoa Avocado Salad.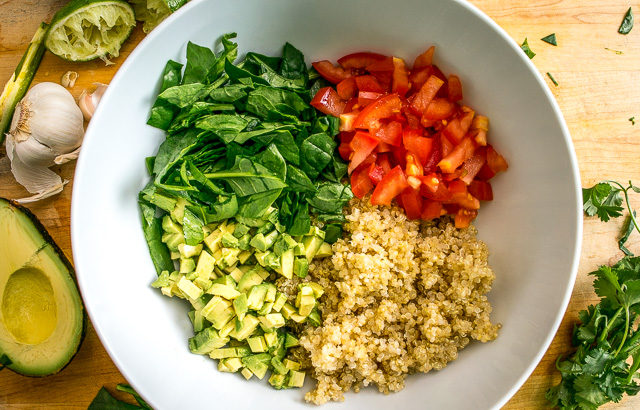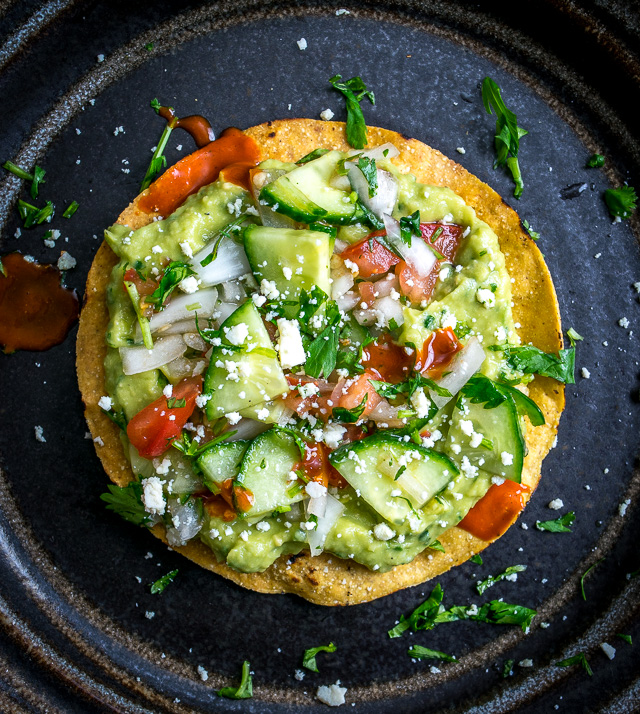 Still hungry?!
Want to receive Mexican Please recipes via email when they are posted?  Sign up below to subscribe.  All recipes are spam free.