A couple weeks ago we tackled a tough question:
Should Valentina salt be legal? (see post here) Or do we need laws in place to protect ourselves from abusing it?
Today we are looking at two brethren of the highly regarded Valentina salt. We'll be mimicking that same process but this time we'll substitute two distinct flavors that have serious potential to elevate any dish you use them on.
Chili Lime Salt
A dash of chili lime salt on some piping hot taquitos goes a long way. And the good news is it's super easy to make.
For each ¼ cup of salt you are using, add 1 teaspoon chili powder and the juice (and zest) of 1 lime.
Using standard chili powder is fine, but I'm going to grind an on-the-fly chili powder using ancho chiles. You'll notice a bump in quality if you grind your own chilis.
But first let's get the lime salt drying out before we add the chili powder to it.
Zest a lime.
Add ¼ cup sea salt to a small bowl. Coarse or flaky sea salts will work best here. We'll be using Maldon, a flaky sea salt (discussed here).
Mix well with the juice of one lime.
Add the zest and spread into a thin layer on a baking sheet.
We'll put this in the oven at 200F for 10-20 minutes. This will dry out the lime juice but leave the flavor adhered to the salt.
Meanwhile, wipe clean your Ancho chiles. Each chile will make approximately 2 teaspoons of chili powder.
Grind into a fine powder. You can use a blender, food processor, or a spice grinder.
Even the Anchos by themselves would be adequate, but I'll add a pinch of cumin seeds and a couple dashes of chipotle powder to enhance it.
OK, check on the lime salt. If it's still wet give it a stir and put it back in the oven. Keep an eye on it though, once dry it will tend to brown quickly and we don't want that.
After drying the zest will get flaky and darken.
Add 1 teaspoon of chili powder for each ¼ cup of flavored salt you are making. Mix well.
Store in an airtight container.
As photographed this is ½ cup of salt with 2 teaspoons of chili powder and the juice/zest of 2 limes.  It has a light, vibrant flavor with a kick from the chili powder.
Adobo Salt
A serious candidate to topple Valentina salt as king of the hill.
If you're new to chipotles in adobo sauce you're in for a treat.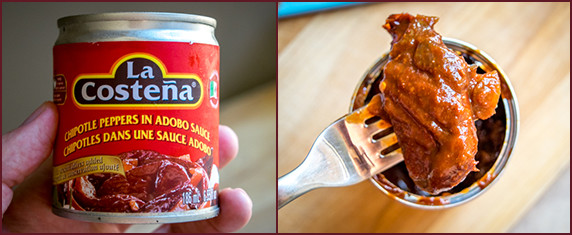 You can find these in most gourmet grocery stores, and sometimes in the ethnic food aisles of the major chains.
Inside each can are 8-10 chipotle peppers swimming in a sweet, tangy sauce. Over time the sauce takes on some of the heat of the chipotles. So what happens if you make a flavored salt with this adobo sauce? Let's find out.
We'll take 1 teaspoon of the adobo sauce from the can.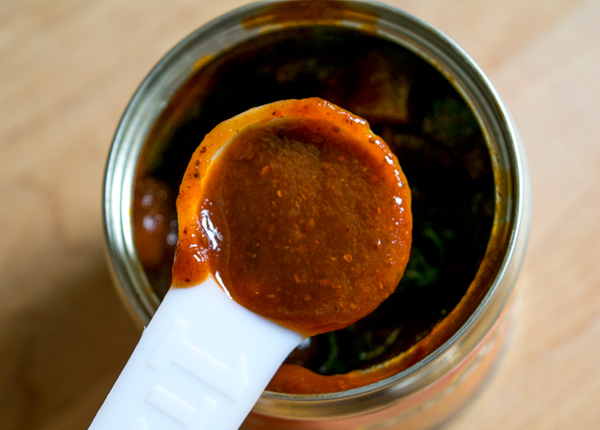 Add it to ¼ cup of salt. Mix well.
We need to dry this one out too. If it's moist it will clump in the jar and be unusable.
Add to a lined baking sheet and put in the oven at 200F.
In about 15-20 minutes it will be lighter in color and dry. If not, give it a stir and put it back in the oven for a few more minutes.
Here's what it looks like fully dry:
And the taste?
Sweet, smoky, salty flavor with heat that sneaks up on you. Que bueno.
You can leave the salt chunky and flaky, or you can grind (or mash) into a finer powder that will instantly cling to food. Store in an airtight container.
Results
Here's how the different versions look next to each other.
From left to right:
1 Chili Lime (recipe above)
2 Adobo (recipe above)
3 Valentina (recipe here)
4 Chile de Arbol (a total dud)
They are all ridiculously easy to make and instantly liven up eggs, soups, and sauces.   Give 'em a try and you'll end up with a rack of flavor boosters on standby in your kitchen.
(P.S.  You may have noticed there is no recipe for #4. That is no mistake as #4 was mostly a dud. I wanted to try a salt and capsaicin combination, thinking salt with just 'heat' added to it would be a good way to season certain dishes.
Chile de Arbols have a high capsaicin level so I ground a few up and added them to the salt. But the pepper itself doesn't have much flavor and it left the salt with a strange aftertaste. So I can't recommend that one. I might try it again using just the seeds and if it works I'll let you know.)
2 More Flavored Salts to Choose From
These flavored salts are a great way to add some instant oomph to your regular dose of seasoning
Print
Pin
Rate
Ingredients
1/4

cup

coarse or flaky sea salt
For the Chili-Lime salt:
zest and juice of one lime

1

teaspoon

chili powder
Instructions
The process is the same for both versions

Preheat oven to 200F

Add the lime juice and zest to 1/4 cup sea salt

(For the Adobo salt, add 1 teaspoon Adobo sauce to 1/4 cup sea salt)

Mix well

Spread into a thin layer on a lined baking sheet and add to oven

Stir once in 10-15 minutes

If salt is still wet and glistening put back in oven for 10-15 minutes until dry

For the Chili-Lime version, add 1 teaspoon chili powder to salt once dry

Store in an airtight container
Like this recipe?
Click the stars above to rate it or leave a comment down below! @mexplease
Still hungry?!
Want to receive Mexican Please recipes via email when they are posted?  Sign up below to subscribe.  All recipes are spam free.