The homemade flour tortillas from this recent post work great when they are acting as a supporting player in your meal. When you have a dominant sauce/salsa providing most of the flavor then you usually don't need any competing flavors from the tortilla.
But you are busy right? It's not easy to find time to make Mexican masterpieces with killer sauces each and every night.
So for those times when you need the tortilla to provide some extra oomph it can be good to have some flavor-infused tortillas on standby.
Chipotle Flavored Flour Tortillas Recipe
Today we'll be looking at two versions of chipotle flavored tortillas.  One version uses chipotles in adobo, the other uses chipotle powder.
Both versions are ridiculously easy to make. You can use the recipes as listed, or feel free to riff on the ideas and flavor away with your choice of peppers and aromatics.
We'll be using the same measurements (and lard) that we used in the homemade flour tortilla article.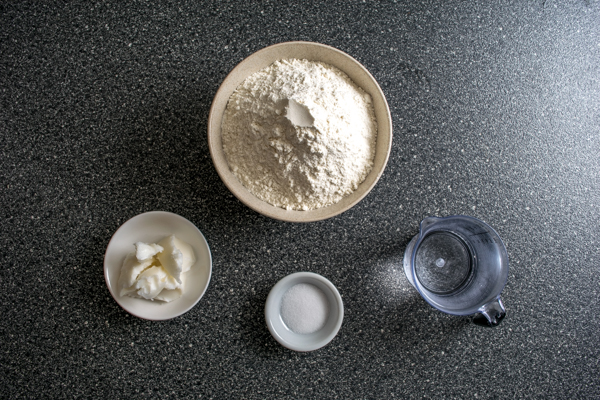 Add 1.5 teaspoons of salt to 3 cups unbleached all-purpose flour, mix well.
Add 3 tablespoons of lard and use your fingers to crumble it into the flour mixture.
This will make approximately 12-14 tortillas, so we are going to split this in half for testing purposes.   You can do the same with any flavor variations you want to experiment with before making a full batch.
The first half will use 2 chipotles in adobo.
Cut the stems off both chipotles and scrape out the seeds.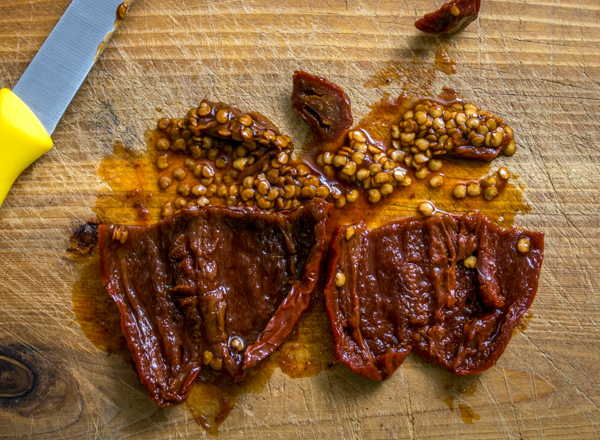 Blend the chipotles with ½ cup warm water (only ½ cup because we are making a half batch).
Add to the flour mixture and stir as much as you can with a spoon.
Then dump onto a flat surface and knead until you have a cohesive ball.
For the other half, we'll add 2 Tablespoons of chipotle powder directly to the flour mixture:
Add 1/2 cup warm water and stir/knead until you have a similar mound of dough.
Let these rest for 30 minutes or so, this will make the tortillas easier to roll out.
Then tear off golfball sized clumps and roll between your hands to make them smooth.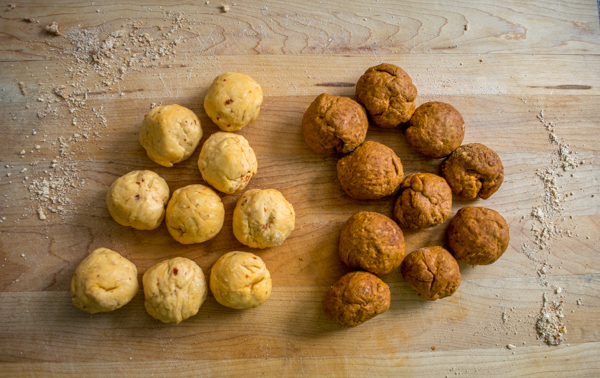 Roll out each tortilla on a flat surface. Using a tapered rolling pin will help you get them super thin if you want.
Keep flipping and rotating them so you are always rolling in a new direction.  If they are sticking to the surface add a few dashes of flour.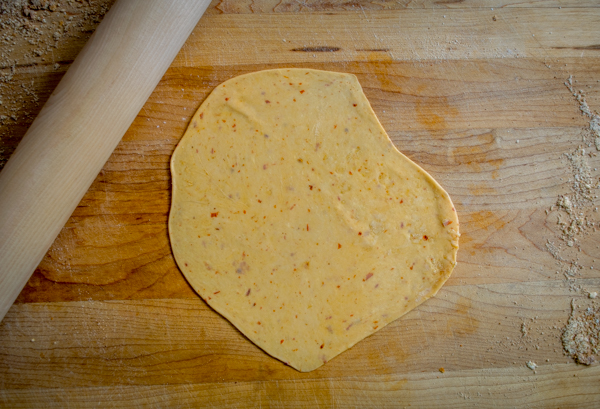 Heat a comal or griddle to medium high heat.  Place the tortilla on the comal.   Eventually you'll see bubbles forming.
Let cook a few seconds longer and then flip.  The other side will look like this: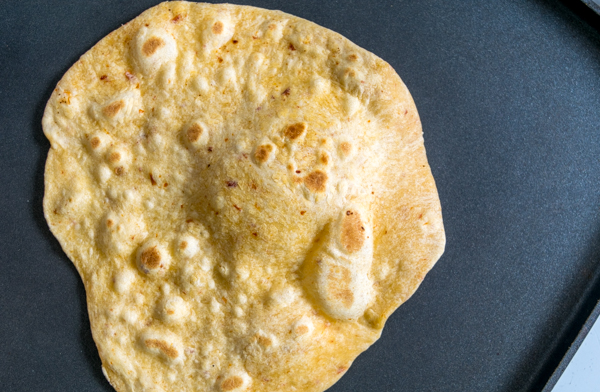 See those light brown spots?  That's what you want!
Ideally it will take 45-60 seconds to cook each side.  If it's taking longer to bubble you can raise the stove temp.  If bubbles are forming right off the bat you probably need to lower the temp.
Continue with the rest of the batch.  It'll go fast if you are always rolling the next one out while you have one cooking on the stove.
30 minutes later you'll have two stacks of the freshest flour tortillas you've ever had.  And they're flavored!
Results
OK, now on to the most important part.  How do these two different versions taste?
Both are muy bueno and could almost be eaten on their own.
The tortillas made with chipotles in adobo have a subtle chipotle flavor in the background.
The ones made with chipotle powder are more powerful, with an initial blast of smoky chipotle flavor quickly followed up by some heat.
I would be more likely to use the chipotle powder version if my photoshoot was taking longer than I thought it would and I needed a quick meal with some instant oomph.
But more importantly, once you have the proportions down for the plain flour tortillas (3 cups flour, 3 tablespoons lard, 1.5 teaspoons salt, 1 cup warm water) then the  possibilities for flavoring them to your liking are endless!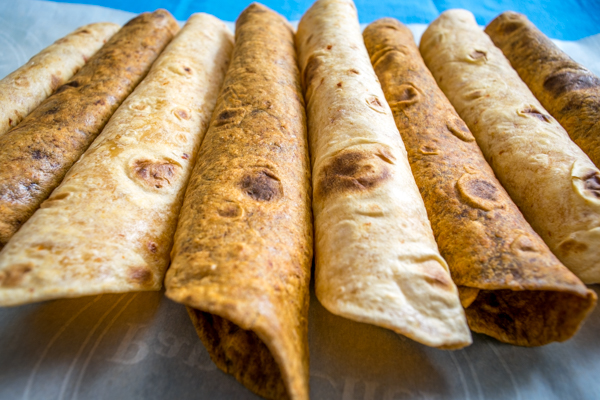 Let me know how it goes.
Buen Provecho.
Homemade Chipotle Flavored Flour Tortillas
Once you have the basic proportions for plain flour tortillas down, the possibilities for flavoring them are endless.
Print
Pin
Rate
Servings:
6
(12-14 tortillas)
Ingredients
Full batch:

3

cups

all purpose flour

3

tablespoons

lard

1.5

teaspoons

salt

1

cup

warm water

4

tablespoons

chipotle powder

(or 4 chipotles in adobo)
Instructions
Add the salt to the flour and mix well

Use your fingers to crumble the lard into the flour mixture.

Add the chipotle powder and mix well.

Add 1 cup warm water and stir as much as you can with a spoon, then dump onto a flat surface and knead into a cohesive ball.

Let rest for at least 30 minutes.

Tear into golfball sized chunks, roll between your hands to shape them into smooth balls.

Roll out to approximately 5-6 inches in diameter.

Heat a comal/griddle to medium high heat and add tortilla.

Cook each side for 45-60 seconds or until light brown spots form.

As one tortilla cooks, roll out the next one to expedite the process
Notes
Above recipe is for chipotle powder. When using chipotles in adobo, blend chipotles with water in blender and add to flour mixture.
Like this recipe?
Click the stars above to rate it or leave a comment down below! @mexplease
Don't forget that it's easy to make homemade corn tortillas too.  Click here for the article.
And if you want to make some flour tortillas using olive oil instead of lard click here.
Still hungry?!
Want to receive Mexican Please recipes via email when they are posted?  Sign up below to subscribe.  All recipes are spam free.