Migas in a matter of minutes!
This batch of Express Migas was heavily influenced by my fridge 🙂 A quick, early morning scan revealed:
leftover Baked Tostada Shells
leftover Tomatillo Chipotle Salsa
ham, onion, jalapeno, eggs
Queso Fresco
It was those tostada shells that started the Migas craving. Normally the first step for Migas is frying up some tortillas, but having some tostadas on hand can make the process even faster. Perfect!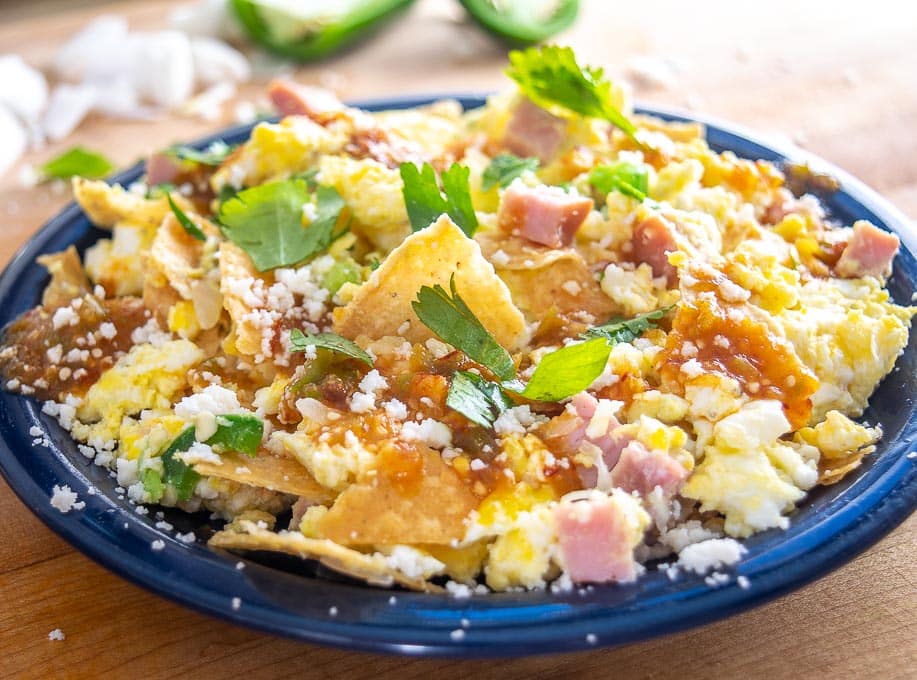 That Tomatillo Chipotle Salsa also caught my eye as any tomatillo-based salsa is a natural fit with eggs, and this one clocks in at just three ingredients:
4 tomatillos
2 chipotles in adobo
2 garlic cloves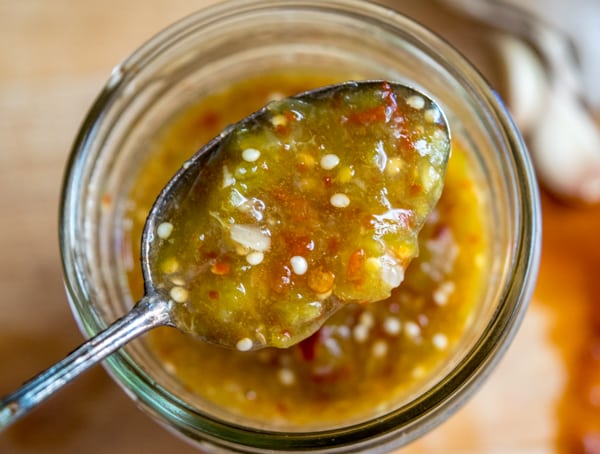 It's the world's easiest Salsa and it will give you loads of mileage in the kitchen, so please consider giving it a go if you're new to it! A traditional Salsa Verde would be a good choice as well.
I started by cooking the fixings in some butter:
1/2 cup cooked ham
sliver of onion
1 jalapeno
Once the onion had softened I added:
6 whisked eggs
pinch of salt
freshly cracked black pepper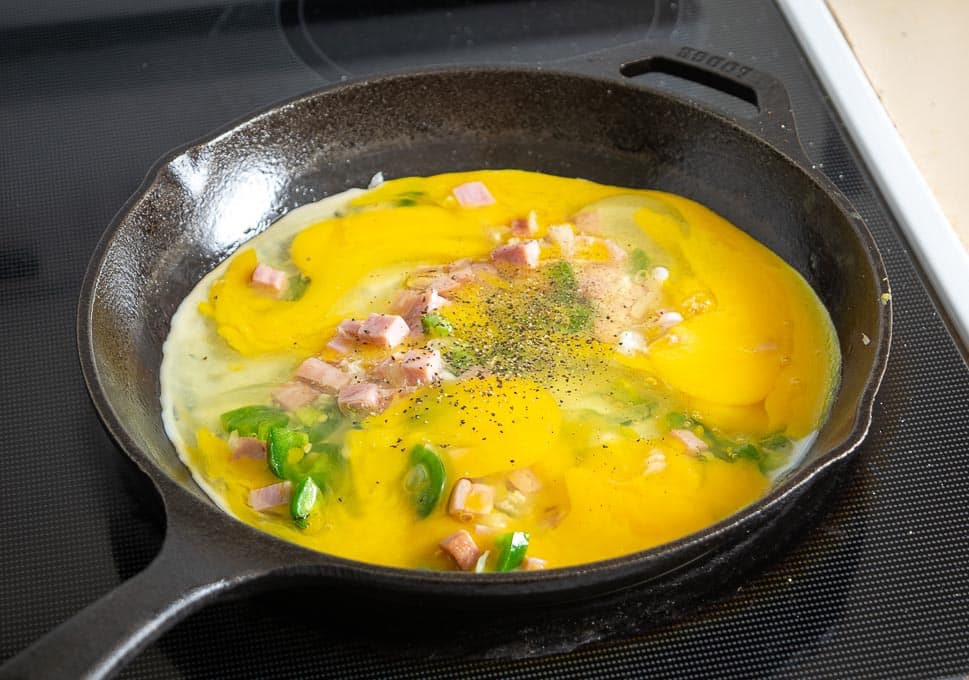 When the eggs are nearly cooked you can add the tostada shells. Or crispy tortilla strips. Or chips!
This will give them time to soften up a bit -- if they're too crispy you'll get some hard corners in your first bite.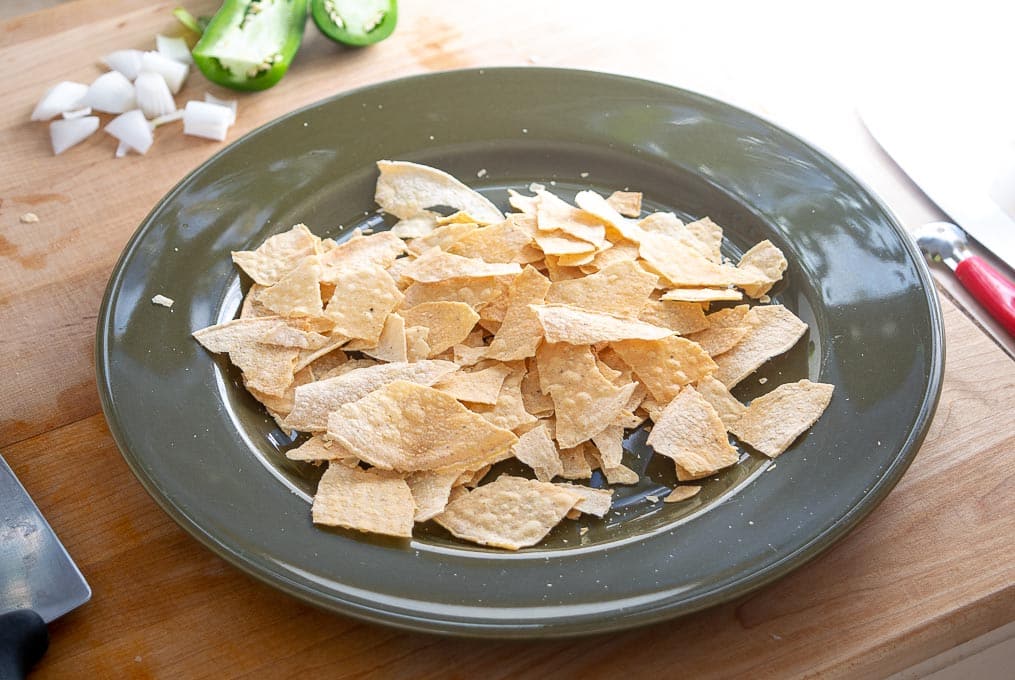 I used five tostada shells for this 6 egg batch -- a single tortilla per egg seems to be a good ratio to keep in mind.
Once the eggs are cooked you can serve 'em up.
I topped this batch with:
Queso Fresco What is Queso Fresco?
freshly chopped cilantro
Tomatillo Chipotle Salsa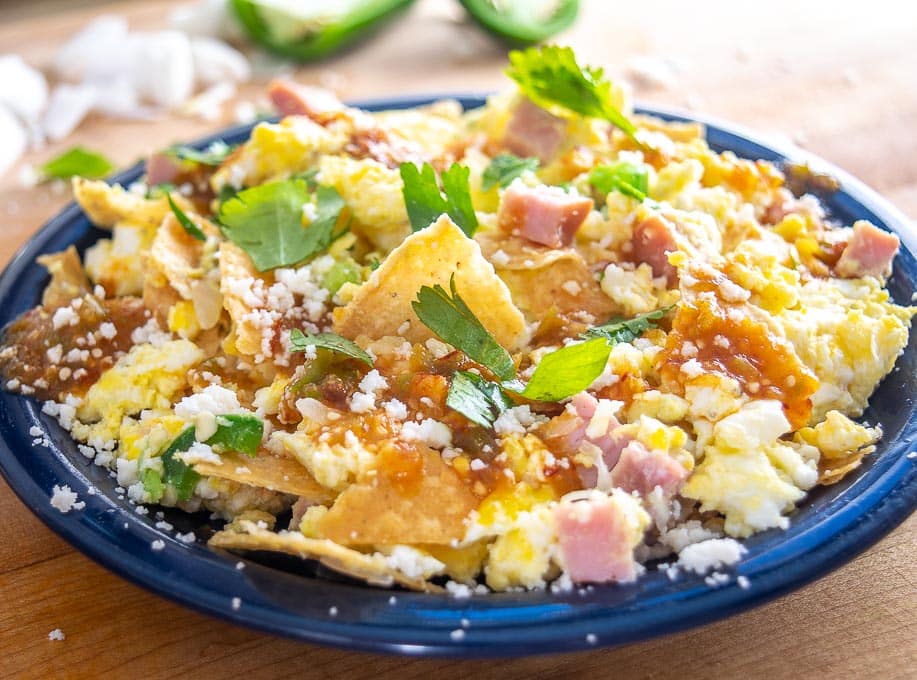 And they were absolutely delicious 🙂
And such a welcome change of pace for my breakfast routine.
Okay, don't forget that the simple combo of eggs and semi-crispy corn tortillas is already quite satisfying -- everything beyond that is just a bonus so feel free to get creative based on your fridge 🙂
I'll put some relevant links below and I hope this post inspires you to try out some Migas!
How To Make Crispy Tortilla Strips
Tomatillo Chipotle Salsa
Authentic Salsa Verde
Baked Tostada Shells
Migas with Bacon and Salsa Verde
Buen Provecho.
For up-to-date recipes follow me on Instagram, Facebook, or Pinterest.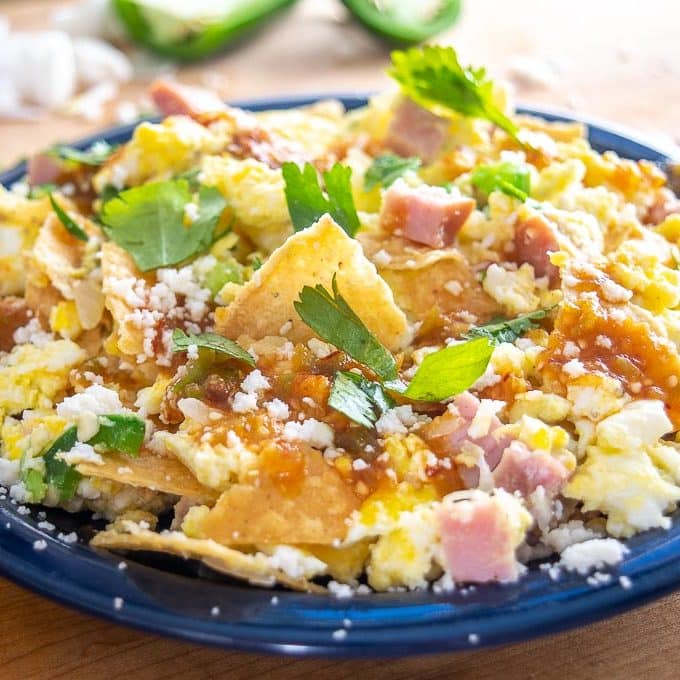 Express Migas
Migas in a matter of minutes!  I used tostada shells and homemade Salsa for this batch and they were delicious!
Print
Pin
Rate
Ingredients
6

eggs

1

sliver

onion (approx. 1/4 small onion)

1

jalapeno

1/2

cup

cooked ham

4-6

tostada shells (or corn tortillas)

1/2

cup

salsa

1/4

cup

cheese

freshly chopped cilantro

butter

salt

freshly cracked black pepper
Tomatillo Chipotle Salsa (optional):
4

tomatillos

2

chipotles in adobo

2

garlic cloves
Instructions
I started with some baked tostada shells on hand for this batch. If you are starting with corn tortillas you can crisp them up by baking them or by shallow frying them. For details see How To Make Crispy Tortilla Strips.

Making the Tomatillo Chipotle Salsa is super easy so please consider giving it a go if you're new to it! Simply husk and rinse the tomatillos, cutting out the stems. Roast the tomatillos in the oven (400F) for 20 minutes or so. De-stem and de-seed 2 chipotles in adobo and add them to a blender along with 2 peeled garlic cloves and the roasted tomatillos. Combine well. Note: for a milder batch use only one chipotle.

Finely chop the onion, jalapeno, and ham. Add them to a pan over medium heat along with a knob of butter. Cook for a few minutes or until the onion has softened.

Whisk together six eggs and add them to the pan along with a generous pinch of salt and some freshly cracked pepper. Stir regularly.

When the eggs are getting close to being cooked you can add the crispy tortillas. I crumbled five tostada shells by hand and added them to the pan. Cook until the eggs are done.

Serve immediately with your choice of fixings, but please try to use some homemade Salsa! I topped with Tomatillo Chipotle Salsa, freshly chopped cilantro, and a sprinkling of Queso Fresco.
Like this recipe?
Click the stars above to rate it or leave a comment down below! @mexplease
Looking for more breakfast options? Try these delicious Breakfast Tacos.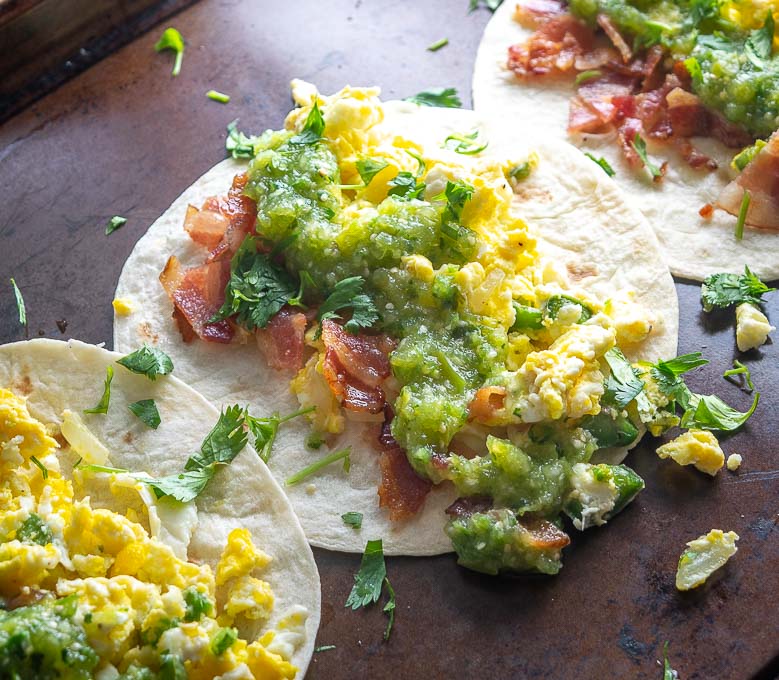 Want to see the latest recipe? It's these Mitad y Mitad (Half and Half) Homemade Tortillas: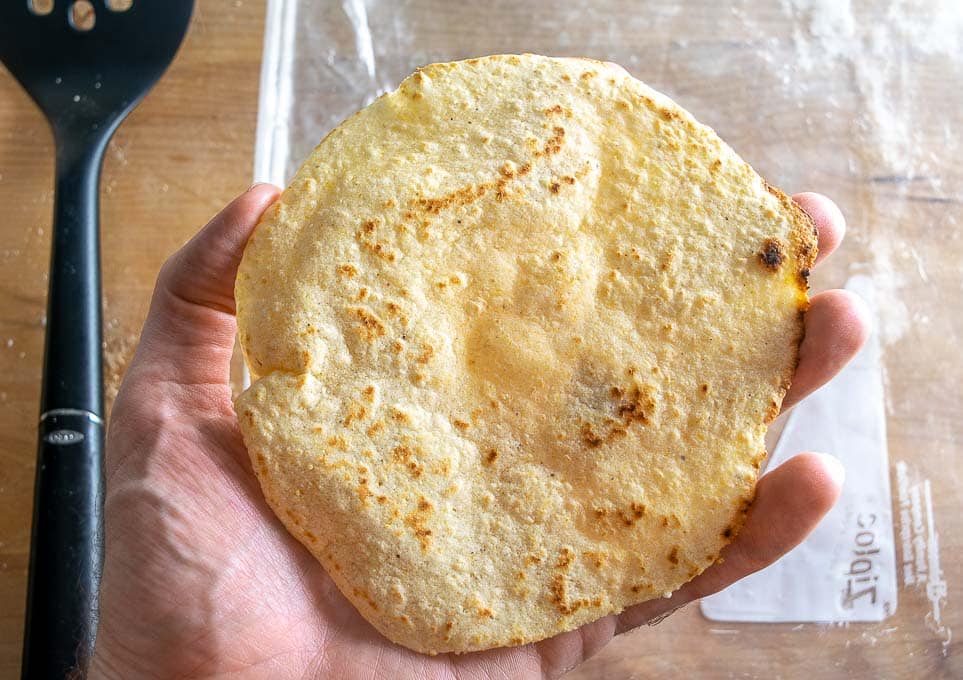 Still hungry?!
Want to receive Mexican Please recipes via email when they are posted?  Sign up below to subscribe.  All recipes are spam free.