I think this is one of the most rewarding Lessons in the Course, so buckle up!
Guacamole is universally loved and this recipe makes a remarkably satisfying batch -- there's a good chance you'll never need another Guac recipe for the rest of your life!
I use this Guac in dozens of different dishes -- it's so light and refreshing that you could simply stick it on a warm corn tortilla and all would be well in the world (at least for a moment).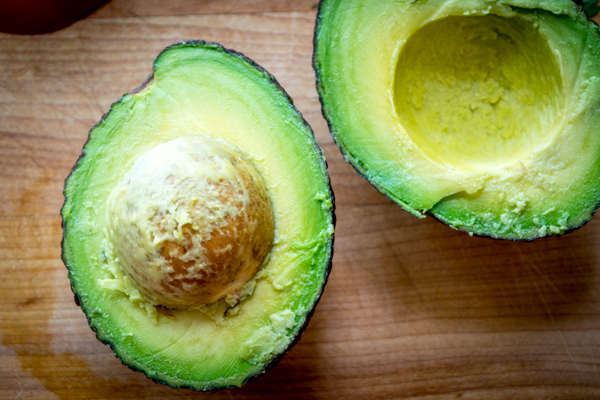 First up though let's go through a couple tips that will make it easier to keep ripe avocados on hand.
Avocados are finicky and have a small window of consumption.  Give 'em a squeeze when you're at the supermarket.  The darker ones that give a little when you press into them will be ripe and ready to eat.  If they're too firm you won't be able to cut into them, and if they're too mushy they'll be brown inside.
But instead of just buying the ripest avocados I think it's beneficial to keep a wide range on hand.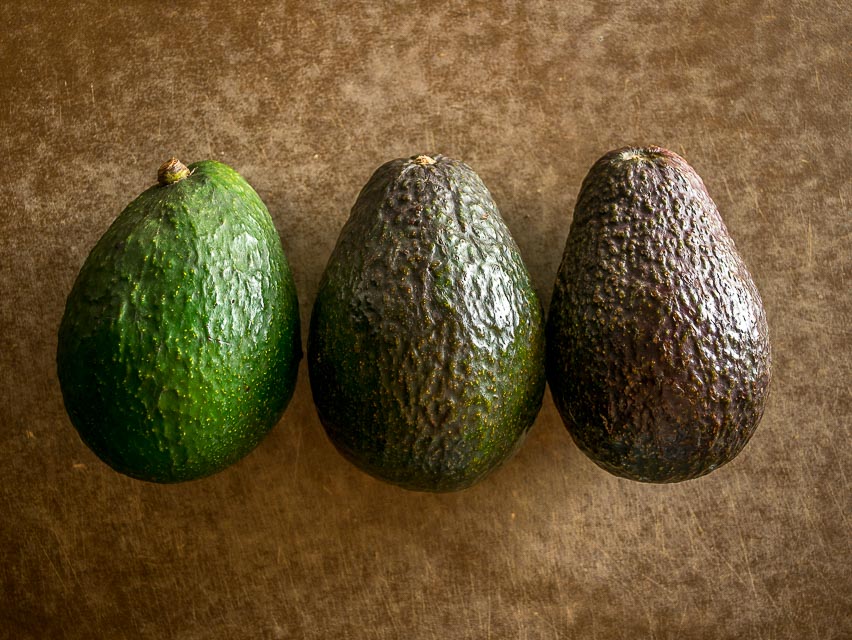 In other words, buy some that are fully ripe and some that are not even close (greener skin as seen in above pic).  That way in a couple days you'll wake up to a ripe avocado.
Keep the avocados that need to ripen on the counter, at room temperature.  And keep the avocados that are already ripe in the refrigerator (assuming you don't need them that day).  Keeping ripe avocados in the fridge will halt the ripening process and extend their life by at least a few days.  This is a great trick to keep in mind and I use it all the time.
Once you cut the avocado open, the easiest way to remove the pit is to pierce it with the knife, twist and lift up.  It will pop right out and you can pull it off the knife and discard.  (Or bang the handle of the knife against the rim of the trash can!)
If you need avocado bits you can give the avocado a quick score while it's still in the skin.  Then when you scoop it out with a spoon it will already be diced up.  I do this sometimes even when I'm making Guac because it makes it faster to mush it up.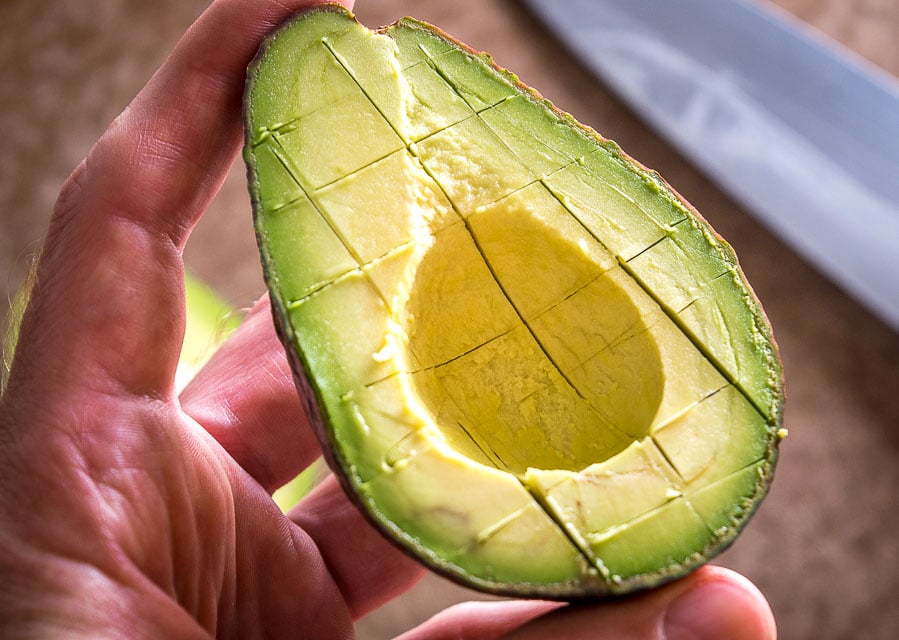 The thick skin of the avocado should keep the knife gliding along the inside of the avocado as you score it, but this technique definitely requires some practice so please be careful the first time you do it.
And finally...keep in mind that there is no ideal way to preserve the life of an avocado once you cut it open.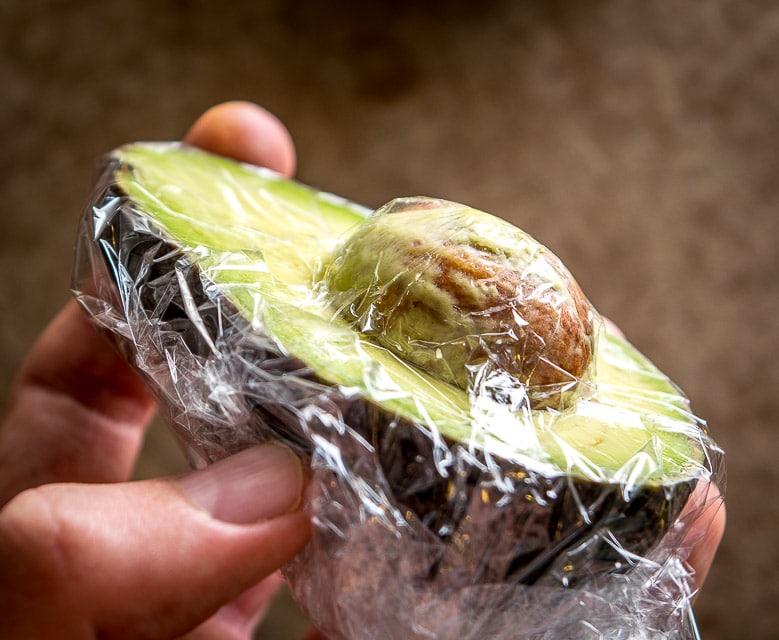 Just wrap it tight knowing that the top layer is going to oxidize a bit.
But the next day you can scrape off the brown, oxidized layer and most likely you'll find green avocado underneath.
Okay, ready to make some Guac?
Here's all you need: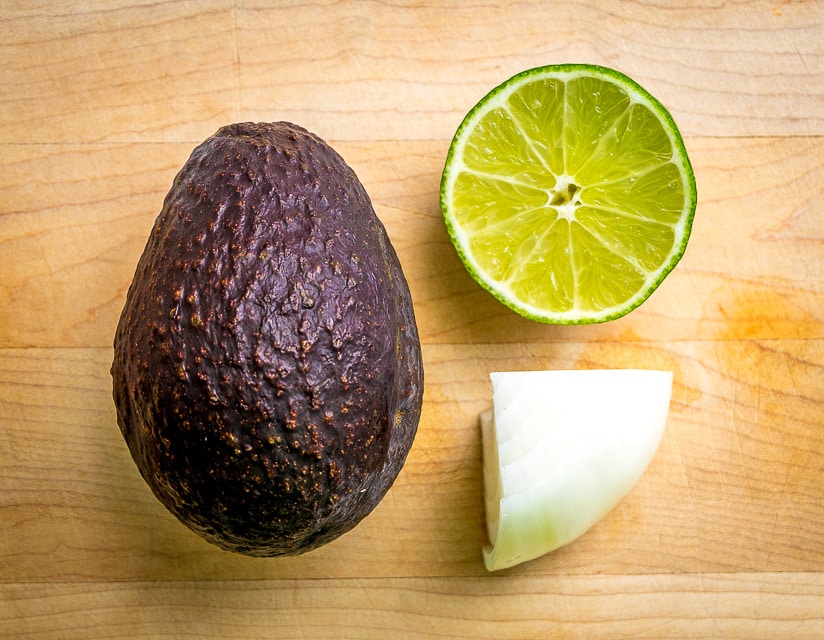 1 avocado
juice of 1/2 lime
2-3 tablespoons finely chopped onion
1/4 teaspoon salt (plus more to taste)
It's the world's simplest recipe but it is incredibly satisfying.  It will probably taste familiar to you, as if it's the way Guac was intended to taste.
Start by finely chopping 2-3 tablespoons of onion (white or yellow).  Then use the back of a fork to crush the onion until it flattens and turns translucent.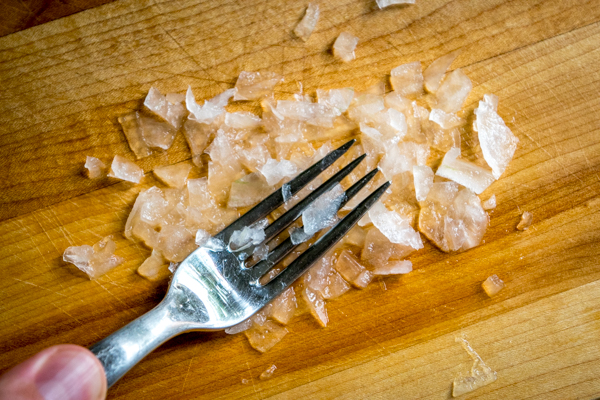 This onion smooshing trick will release additional flavor and infuse it into the Guac -- it mimics the old-fashioned way of making Guac in a molcajete (mortar and pestle).
Add the onion to a bowl along with the flesh of one avocado, 1/4 teaspoon of salt, and the juice of half a lime.  Combine well.
And now the most important part….taste it!
Guacamole is hypersensitive to salt amount and each avocado has its own personal seasoning needs.
Keep adding tiny dashes of salt (and lime) until you like it.  If it still tastes like an avocado you probably need a bit more salt.
Once you find the right balance for your taste buds you'll be able to whip up this recipe in about the same time it takes to grab a bag of tortilla chips from the pantry.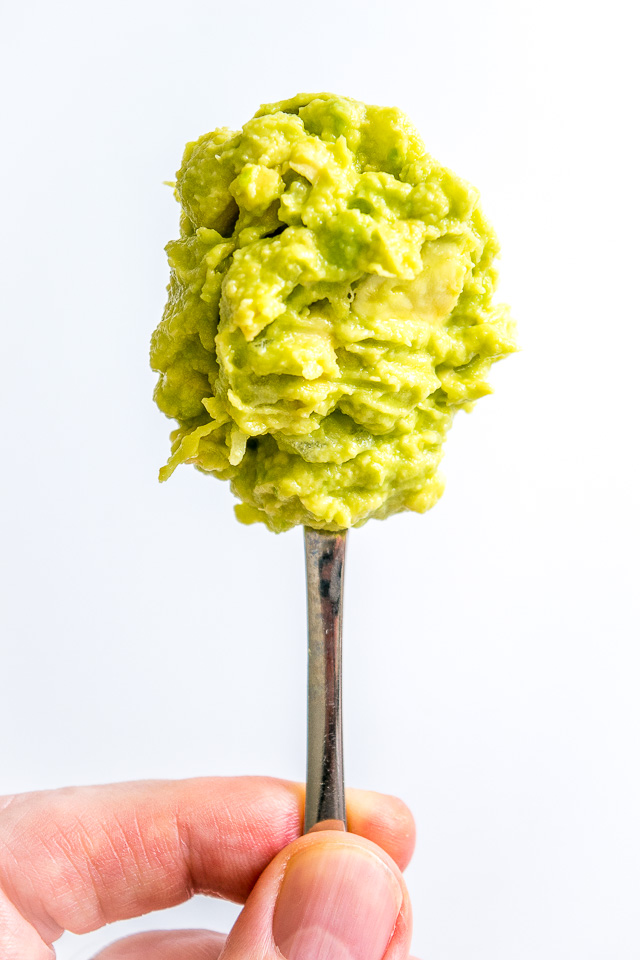 And now the good news...
I use this version of guacamole well over 90 percent of the time Guac is called for.  It's so good that you rarely ever need additional ingredients.
It also happens to be the foundation for just about every other Guac recipe in existence.   So if you crave tomatoes or cilantro in your Guac feel free to add some in as it will welcome them with open arms.
I'll put the recipe box for this Guac below, but there's one other combo I want to mention that you can easily add to your arsenal now that you're a Salsa expert.
Remember the Salsa Verde from the last Module?
Well...if you add a single, ripe avocado to a batch of that Salsa Verde and blend them together, you'll end up with a sauce that has the potential to save humanity.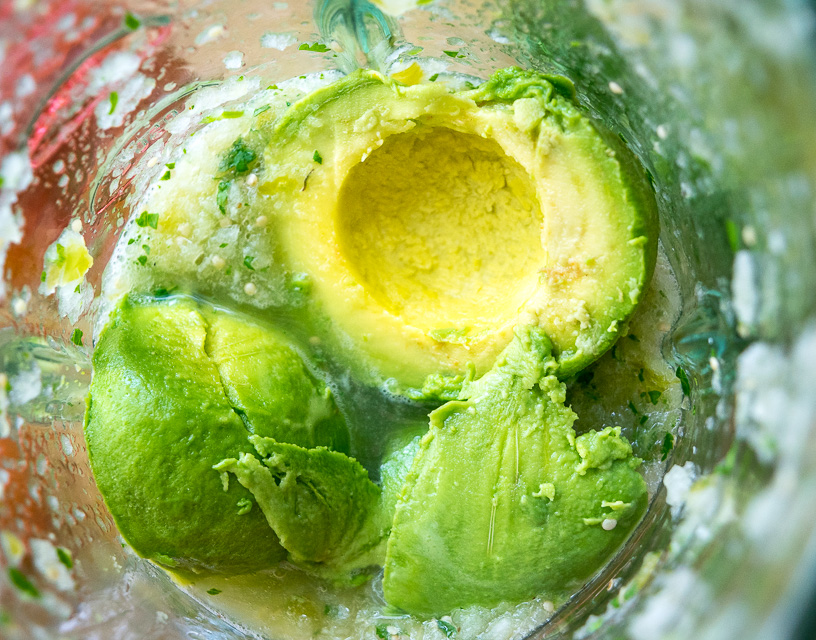 This is an incredibly delicious concoction that works wonders on tacos and burritos.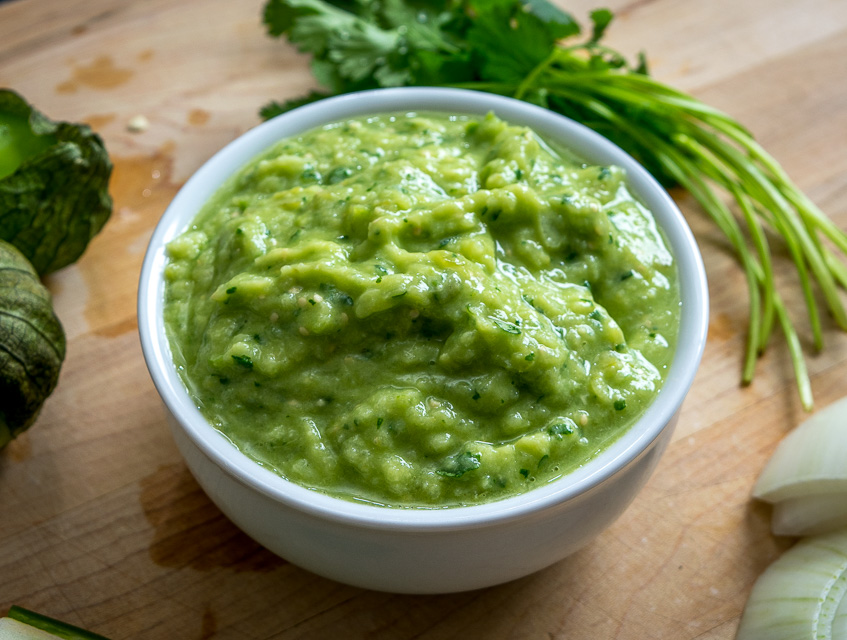 You can use the same recipe for the Salsa Verde from the last Module.  Simply add it to a blender, plop in an avocado, and combine well.
I call this sauce Avocado Salsa Verde and once you unleash it you'll be asked for the recipe again and again, so consider yourself warned!
Okay, you've added avocados to the mix, well done!  This simple Guac and the Avocado Salsa Verde are two great recipes to keep in mind for your blossoming kitchen.  I use them all the time so definitely consider making them at some point.
I'll put the recipe box for the Guacamole down below.
Click 'Next Recipe' down below to continue.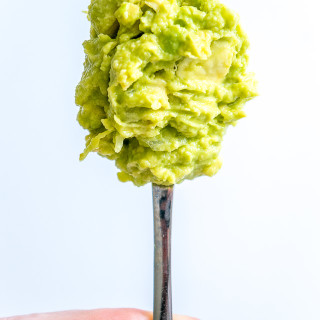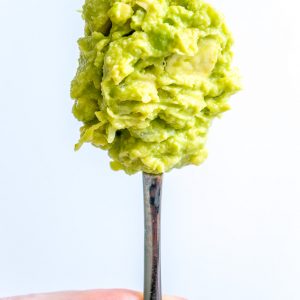 The Only Guacamole Recipe You'll Ever Need
You'll be surprised how good this guacamole tastes. Easy to make too!
Print
Pin
Ingredients
1

ripe avocado

1

lime

2-3

tablespoons

of finely chopped onion

(white or yellow)

1/4

teaspoon

salt

(plus more to taste)
Instructions
Finely chop 2-3 tablespoons of onion. Use the back of a fork to smoosh the onion until it turns translucent.

Add the onion to a bowl along with the flesh of one avocado, 1/4 teaspoon of salt, and the juice of a half lime. Mush and mix well.

Taste for salt level. (Avocados vary and some need more salt than others.)

Keep adding tiny dashes of salt (and lime) until you like it. If it still tastes like avocado add another dash of salt.
Notes
The easiest way to keep ripe avocados on hand is to use the refrigerator. Once ripe, put them in the fridge and they'll keep for another 4-6 days.  How I use unripe avocados. 
This core recipe is the foundation for countless other variations that involve additional ingredients.
Like this recipe?
Click the stars above to rate it or leave a comment down below! @mexplease