Okay, let's get cooking!
Your first Salsa recipe has a deceptively simple ingredient list, but it will be one of the most important you'll ever make.  Excited?!!
It showcases two key techniques that will help you build a foundation for dozens of other authentic salsas.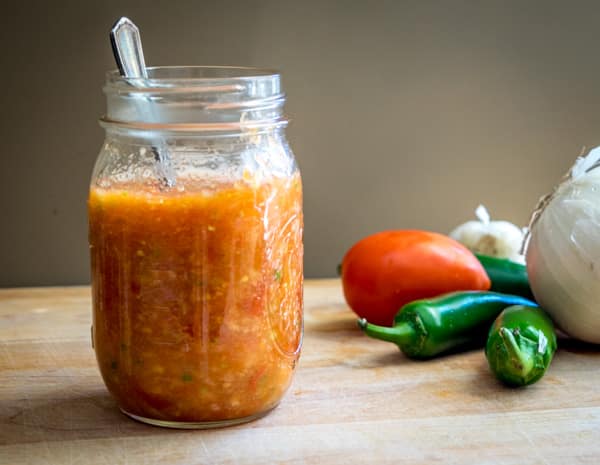 And while technically you could call this Salsa Roja, I usually refer to it as Tomato Jalapeno Salsa.  It's become my kitchen's default Salsa and I've made it at least a few hundred times -- gooping it all over tacos, burritos, eggs, etc.
Here's all you need to get started: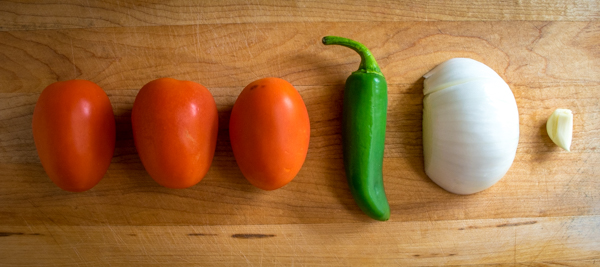 3 Roma tomatoes
1 jalapeno
1/2 onion
1 garlic clove
Most importantly, you MUST roast the tomatoes if you want it to taste  like real deal Mexican salsa.  Roasting the tomatoes will lower the acidity and sweeten them up; this is one of the tricks that will become habit once you taste the difference.
I typically put the tomatoes in a 400F oven for 20-30 minutes.  You could also char them in a skillet on the stovetop, or put them underneath the broiler.  The exact roasting method doesn't matter too much as long as it accomplishes the main goal of applying sustained heat to the tomatoes.
Rinse the tomatoes, cut out the stems, and plop them in the oven.   (Note:  I typically cut out the stems knowing that any juices leftover in the roasting pan will be used as well.)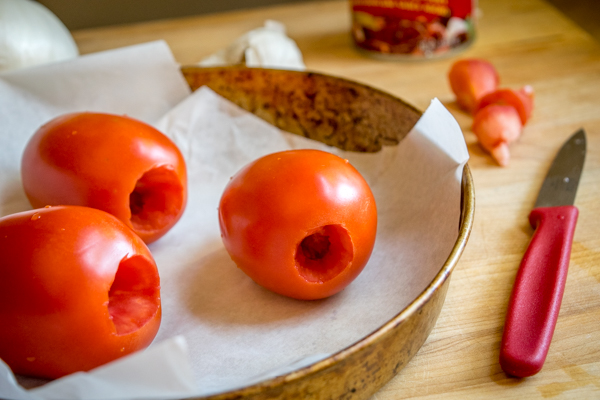 In 20-30 minutes they'll look like this: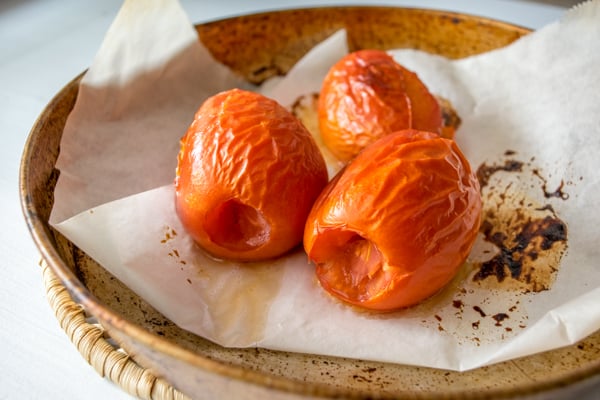 You can leave the skins on if you want; it won't affect the flavor too much either way.  But if the skins char considerably then I tend to pull them off.
Into the blender they go, along with ½ onion, 1 clove garlic, and only one quarter of the jalapeno.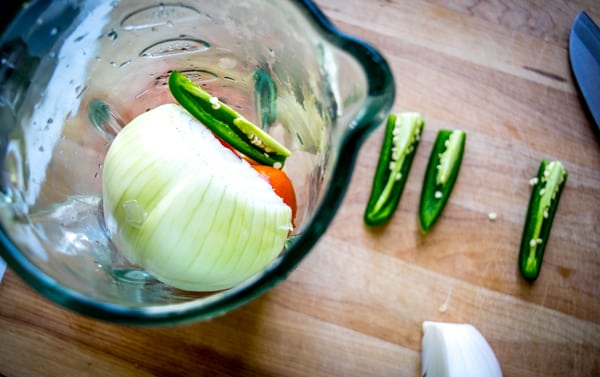 Getting the heat level to your liking is the second key technique we're learning in this recipe.   There's nothing more disappointing than spending an hour on a sauce only to have it turn nuclear when you add too much heat.
You'll quickly find that your favorite salsas and sauces have a delicate balance between the flavors of the main ingredients and the level of the heat.  Too much heat overwhelms the other flavors.  Too little heat and it doesn't taste 'Mexican'.
And since everyone's taste buds differ, we're going to add the heat incrementally until you have a good sense of how much spice you like in your salsa.
Start by pulse blending.  I think it's served best a little chunky, so give it just enough of a pulse until it's combined.
Now it's time to taste it!  Be honest about the heat level: not enough, just right, or too much?
Most people will say not enough.  If so, add in another ¼ of the jalapeno, give it a pulse blend and try it again.   Heat level good?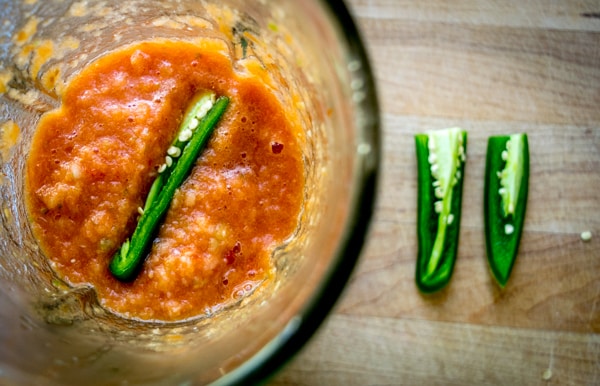 Keep going until it tastes right to you.  If you don't yet know what heat level you like, feel free to go too far and keep adding jalapeno.  It will eventually become so spicy that you lose the flavor of the other ingredients.
I like things on the spicy side so I usually start by adding ½ of the jalapeno, tasting it, and then adding more if it's not enough for me.  You'll get good at knowing where your starting point is too.
OK, you've got the heat level to your liking, the sauce is pureed roughly, and now you can add some salt to taste.  Most of the time when I make this sauce I don't add salt because the flavor is already rich enough for me.  If you have tomatoes that were struggling, it may take a bit of salt to bring out their flavor.  If that's the case, start by adding a generous pinch and increasing if necessary.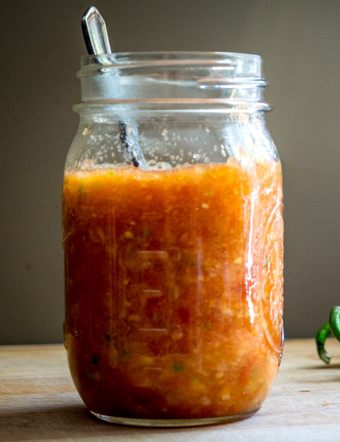 And that's it!  This is the world's easiest salsa to make but don't let the simplicity fool you.  Freshly roasted ingredients blended together moments ago is one of the secrets of authentic Mexican cooking.  Store-bought salsa simply cannot compete with versions like this.
One last note...
Tomatoes can vary quite a bit from season to season, dependent on where you live.   If you have a favorite canned tomato that you use in the off-season you are welcome to use those as well, just be sure to roast them!
Okay, the recipe box for this Tomato Jalapeno Salsa is down below.  You can print it out if you want to reference it in the kitchen, simply click the Print button.
There's also a 'Mark Complete' button down below the recipe box, towards the bottom of this page.  Once you've read through a recipe, the easiest way to move on to the next recipe is to click this 'Mark Complete' button.  This also helps the Course keep track of your progress.  Scroll down a bit to click it and you'll be taken to the next recipe page where we're going to make a delicious Salsa Verde!
Tomato Jalapeno Salsa
Roasting the tomatoes and adding the jalapeno incrementally is the key to finding your perfect homemade salsa!
Print
Pin
Ingredients
3

tomatoes

1/2

small onion

1

jalapeno

1

garlic clove

salt to taste
Instructions
Rinse and de-stem the tomatoes. Roast the tomatoes in the oven at 400F for 20-30 minutes.

Add the roasted tomatoes to a blender along with 1/2 onion, 1 garlic clove, and only 1/4 of the jalapeno. Pulse blend until combined.

Taste for heat level. Add another 1/4 of the jalapeno if you want additional heat. Keep adding additional quarters of the jalapeno until you find a heat level that works for your taste buds.

Salt to taste. Serve immediately.

Store leftovers in an airtight container in the refrigerator.
Notes
A quick simmer can bring this Salsa to life if you are dealing with out of season tomatoes.  Simply add a dollop of oil to a skillet over medium heat and simmer the Salsa for 5-10 minutes.
I highly recommend adding the jalapeno pepper incrementally the first few times you make this Salsa.  This will give you a good idea of the heat level your palate prefers.
Typically I do not add salt to this salsa but it depends on the tomatoes.
Pan roasting the tomatoes works too if you don't want to roast them in the oven.
You can always substitute a serrano for the jalapeno, just know that it's got more heat.  Serrano vs. Jalapeno:  What's the Difference?
Want to add tomatillos?  See our Roasted Tomato and Tomatillo Salsa.
Like this recipe?
Click the stars above to rate it or leave a comment down below! @mexplease