Before we launch into the Salsa Verde recipe, take a moment to pat yourself on the back.  You just dove head first into a new cuisine and your effort is already paying dividends.   You've already added Mexico's #1 Red Salsa to your repertoire, and you're on the verge of conquering Mexico's #1 Green Salsa!
Salsa Verde seems to be universally loved.  It's got such a unique flavor that most people assume the recipe must be complex or inaccessible.
But it's not!  It's just as easy as the Salsa we made in the previous lesson.  But when you roast the veggies and get the heat level to your liking then it becomes something otherworldly (and delicious!).  We're using those same techniques in this recipe but simply swapping out a few ingredients.
Okay, got your tomatillos handy?  As mentioned earlier, try to buy tomatillos that are green and taut on the inside; you can pull back the husks and take a peek inside while at the grocery store.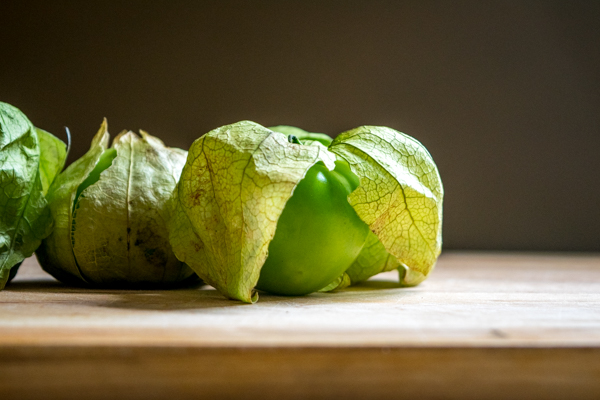 Salsa Verde uses five core ingredients:
4-5 medium sized tomatillos
1 serrano pepper
½ onion
1 clove garlic
10-12 sprigs cilantro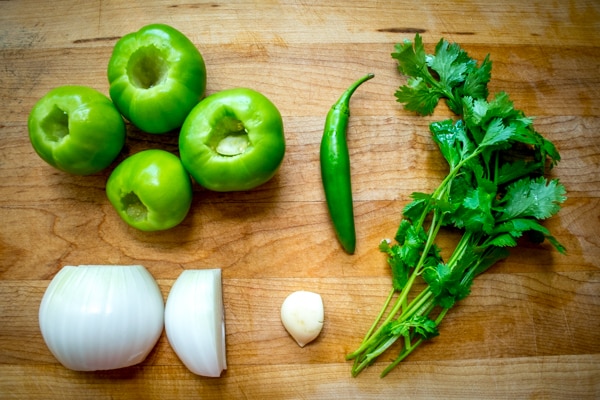 Pull the husks off the tomatillos.  They're a bit sticky on the inside, right?  Give them a good rinse and cut out the stems.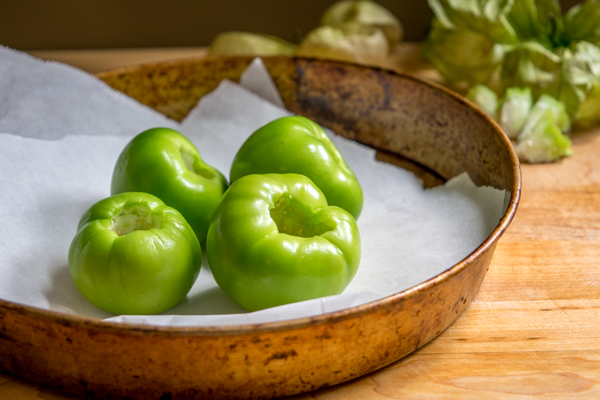 And you guessed it, these are going in the oven for 10-20 minutes.  Raw tomatillos are tart; roasting them will have a similar effect as it does on tomatoes, lowering their acidity and sweetening them up.
Roast them in the oven at 400F until they start to wrinkle and turn army green in color (they typically need less time in the oven than tomatoes).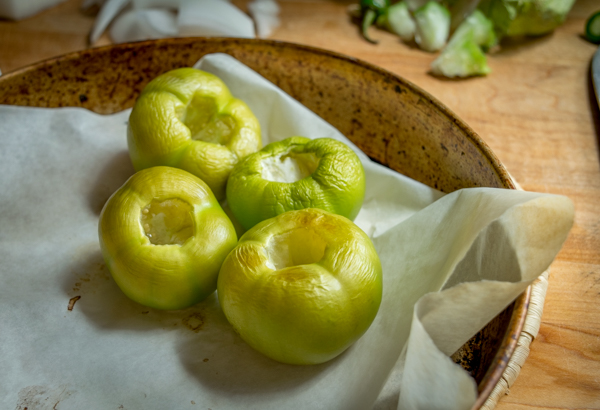 Into the blender they go along with  ½ onion, 1 garlic clove, ¼ of the serrano pepper, and 10-12 cilantro sprigs.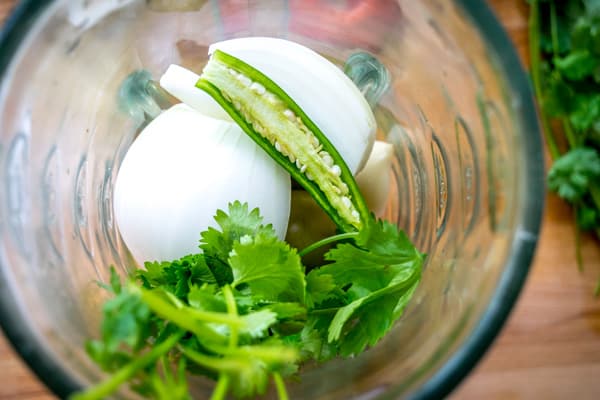 Adding only one quarter of the serrano will ensure you get the heat level to your liking in your first batch.
And don't forget that in Mexico it's common to use the cilantro stems, so don't worry about pulling off the individual leaves!  Simply twist off and discard the thicker, bottom portion of the stems and keep the upper stems that hold the leaves.
Pulse blend and take a taste.  Not enough heat?  Add another ¼ of the serrano and keep going until you like it.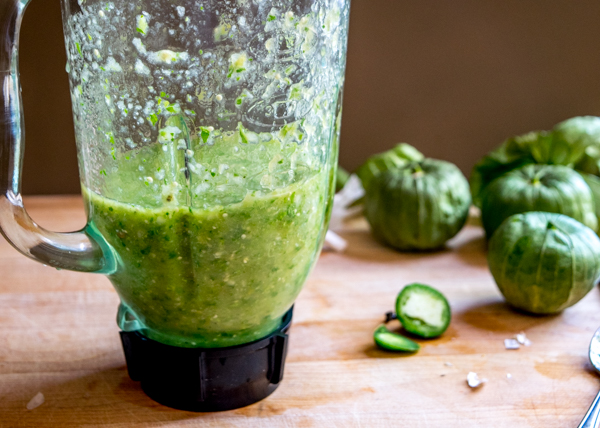 And that's it.  Easy right?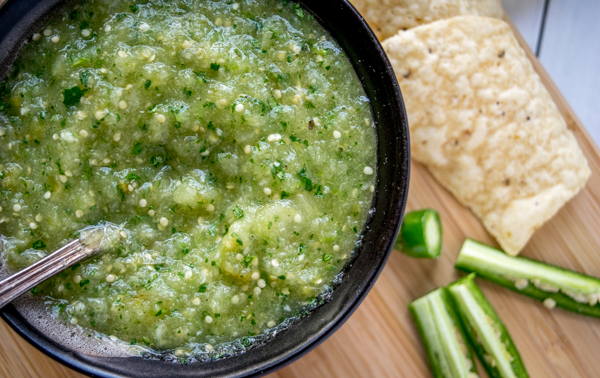 You just made one of the most popular Salsas in all of Mexican cuisine.  Using only five ingredients!
The techniques are becoming familiar, right?  We just swapped out tomatillos for tomatoes, serranos for jalapenos, and added some cilantro.  But we still roasted the veggies and added the heat incrementally.  Salsa Verde in the casa!
It's worth mentioning that serranos have always been associated with Salsa Verde, but you can use jalapenos in place of the serranos and you'll still get a great result.  I do this all the time.  Serranos are sharper and have more of a grassy flavor, but in the big picture they are very similar to jalapenos, so don't sweat it if you can't find fresh serranos.
Okay, the recipe box for Salsa Verde is down below.  Feel free to print it out if you want to reference it in the kitchen.
Don't forget to click the 'Mark Complete' button down below; you'll find it past the recipe box and towards the bottom of this page.   Clicking it will take you to the next recipe page where we're going to add chipotles to your repertoire!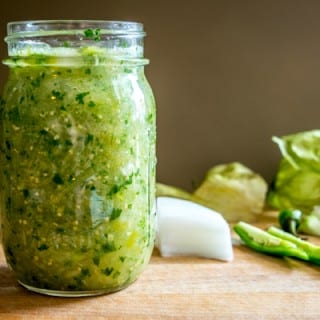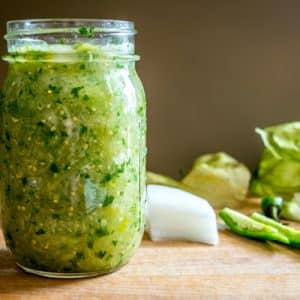 Tomatillo-Serrano Sauce (Salsa Verde) Step-by-Step
Getting good at whipping up this Green Sauce opens up loads of possibilities in the kitchen. Use it generously on eggs, enchiladas, carnitas and burritos.
Print
Pin
Ingredients
4-5

medium-sized tomatillos

1

jalapeno pepper (or serrano)

1/2

small white onion

(yellow is OK)

1

garlic clove

10-12

sprigs cilantro

salt to taste
Instructions
Pull the husks off the tomatillos and give them a good rinse. Cut the stems out of the tomatillos.

Roast the tomatillos in a 400F oven for 10-20 minutes or until they start to turn army green in color.

Add the tomatillos to a blender along with 1/2 small onion, 1 peeled garlic clove, 10-12 sprigs cilantro (using the upper stems is fine), and 1/4 of the serrano pepper.  (Be sure to give the cilantro and serrano a good rinse.)

Pulse blend and taste for heat level. If you want more spice add another quarter of serrano. Keep adding serrano until it tastes "right" to you.

Salt to taste (I typically do not add much salt).

Serve immediately and store leftovers in an airtight container in the fridge.
Notes
Always use caution when handling hot chiles.  I use my hands and just avoid touching my eyes or nose.  More tips on handling hot chiles. 
I highly recommend adding the serrano pepper incrementally the first few times you make this sauce.  
After you are happy with the heat level you can salt to taste, but when using fresh tomatillos I rarely add salt.
It's OK to substitute jalapenos if your local markets don't carry serranos.
I typically twist off and discard the bottom, thicker stems of the cilantro, but I use the upper stems that hold the leaves. 
Like this recipe?
Click the stars above to rate it or leave a comment down below! @mexplease