Okay now we're rolling!  Let's use the same techniques as the previous recipes, but this time we're going to introduce chipotles in adobo to the mix.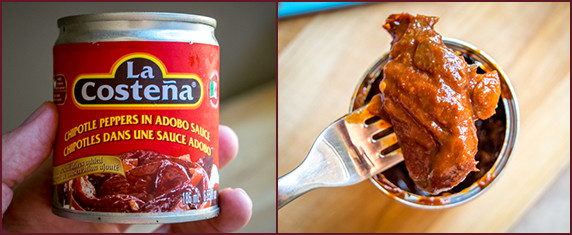 These are dried jalapenos canned in a tangy vinegar sauce.  They have a fantastic smoky flavor and we'll be using them quite a bit in the Course.
If you've never bought them before, keep an eye out for them in the ethnic food aisles of the chain supermarkets.  If no luck there, then gourmet stores and Latin markets will have piles of them on the shelves.
Each can has around 6-8 chipotles inside.  They have real kick so you'll usually only need one or two at a time.  After opening the can, I usually dump them in a small tupperware container and store them in the back of the fridge where they'll keep for weeks if not longer.
I typically cut off any remaining portion of stem left on the pepper, and then slice them in half to expose the insides and scrape out some of the seeds.
The seeds harden over time so I think it's worth discarding them, but don't worry about getting rid of every last one of them as it won't affect the flavor too much.
Here's a look at the other ingredients you'll need for this lip-smacking salsa:
3 Roma tomatoes
1/2 onion
1 garlic clove (or 2 smaller garlic cloves)
1-2 chipotles in adobo
Of course, you know where we're starting right?  Plop those tomatoes in the oven and give 'em a good roasting.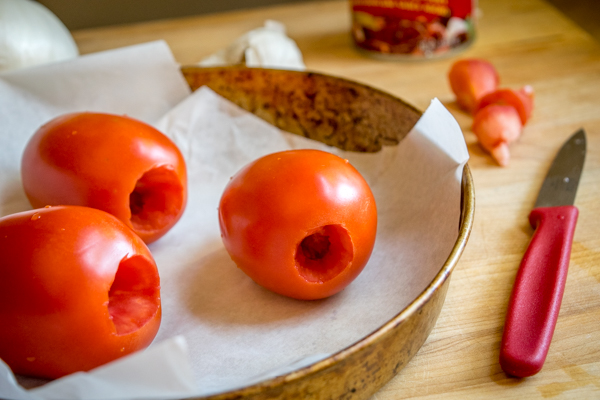 In about 20 minutes they'll look like this: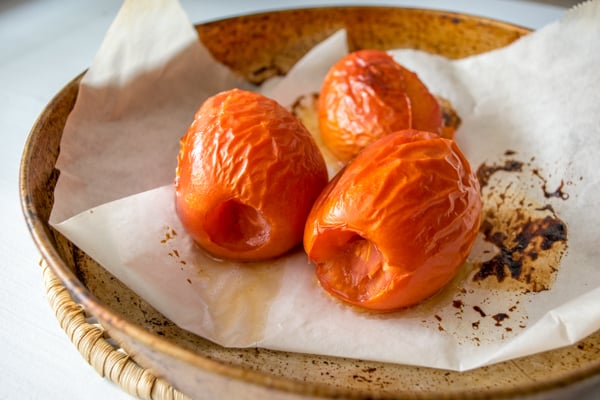 Add them to a blender along with 1/2 white onion and 1 clove of garlic.
Slice the chipotle into quarters and add only 1/4 of it to the blender.
Pulse blend and taste for heat level.
Most of you will want a little more heat.  Add another quarter, or half, of the chipotle.
Pulse blend and keep adding chipotle until you like it.
For me, that means adding a full chipotle to a 3 tomato batch, but please remember that everyone's preferred heat level is unique and it's worth spending some time finding your sweet spot.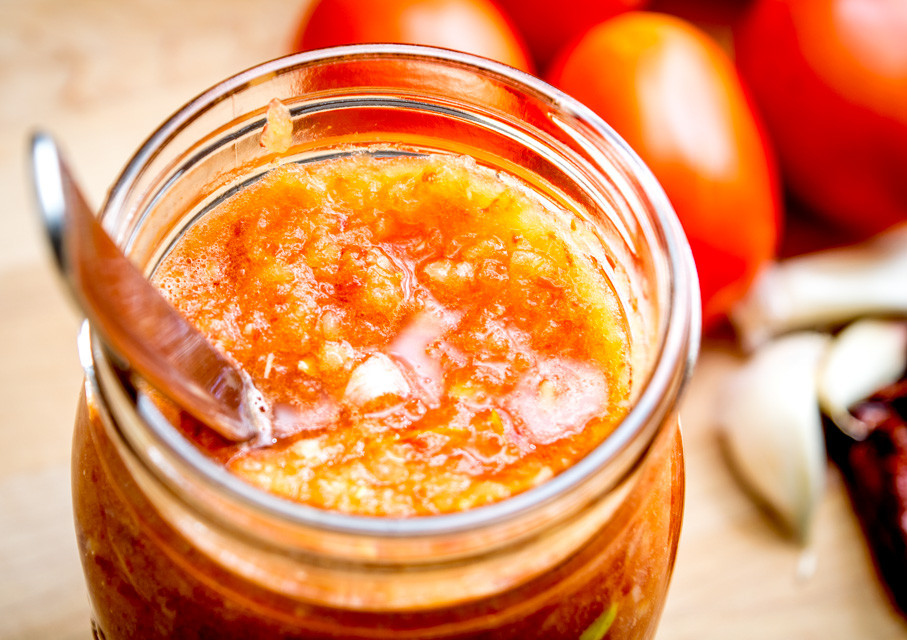 You're left with some warm smoky deliciousness.  Yum!
All we did was swap out the jalapeno for a chipotle and we have a completely unique salsa.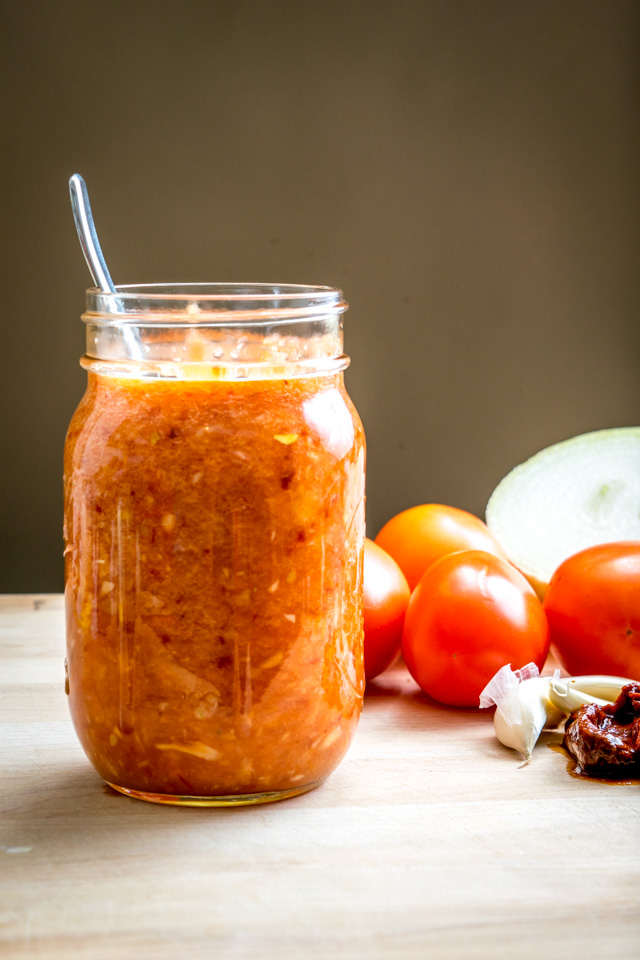 Chipotles can be a secret weapon in your kitchen and this salsa is proof of that!
Leftovers will keep in the fridge for a few days, after that I usually just make a new batch.  You will too once you see how easy it is.
And there's one other reason that I won't hesitate to make a fresh batch anytime I have the opportunity.  Roasting the tomatoes makes the salsa warm.  Yes!  This adds another dimension to homemade salsas that will gobsmack your family and friends.
Okay, the recipe box for this Tomato Chipotle Salsa is down below.   Don't forget to click the 'Mark Complete' button down below to be taken to the next page where we'll tackle the final Salsa for this Module -- Tomatillo Chipotle Salsa!
Tomato-Chipotle Salsa Step-by-Step
Keep some chipotles-in-adobo in your pantry and you'll always be 20 minutes away from a rich, warm Tomato-Chipotle Salsa.
Print
Pin
Ingredients
3

tomatoes

1/2

white onion

1

clove

garlic

1-2

chipotles in adobo

salt to taste
Instructions
Rinse and de-stem the tomatoes. Roast the tomatoes in the oven at 400F for 20-25 minutes.

De-stem and de-seed the chipotles in adobo.

When the tomatoes are done roasting (20 minutes or so), add them to the blender along with 1/2 white onion and 1 garlic clove. Add only 1/4 of the chipotle in adobo. Pulse blend and taste for heat level.

If you want more heat, add another 1/4 or 1/2 of the chipotle. Keep adding chipotle until it tastes "right" to you.

Serve immediately and store leftovers in an airtight container in the fridge.
Notes
Store the chipotles-in-adobo in a sealed tupperware container in the fridge where they'll keep for weeks, if not longer. 
A quick simmer can bring this Salsa to life if you are dealing with out of season tomatoes.  Simply add a dollop of oil to a skillet over medium heat and simmer the Salsa for 5-10 minutes.
Like this recipe?
Click the stars above to rate it or leave a comment down below! @mexplease