Every kitchen needs a no-thinking-involved Pico de Gallo recipe.
Because if you don't have to think about how to make it, you can focus on the infinite number of ways you can use it.
I've used this Pico recipe hundreds of times and it always delivers the goods.  It's a delightful, time-tested combo that you can use to create all sorts of on-the-fly meals.
There's a recipe sheet at the bottom of this page that can be printed out, but if you sear the following pic into your memory banks you'll always have what you need to make it.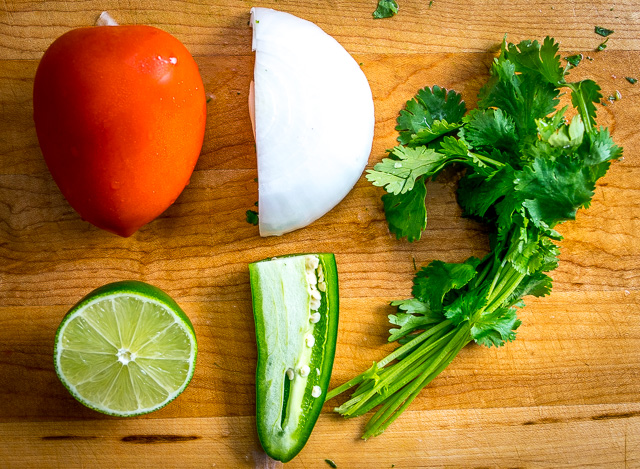 So the basic proportions are:
1 tomato
1/4 onion
1/2 jalapeno
10-12 cilantro sprigs
juice of 1/2 lime
And of course, a bit of salt.
Give the tomato, jalapeno, and cilantro a good rinse.
Finely chop the tomato, 1/4 onion, 1/2 jalapeno, and 10-12 cilantro sprigs, and add them to a mixing bowl.
Add the juice of half a lime and 1/4 teaspoon of salt.  Mix well.
And now the most important part:  taste it!
Pico de Gallo reaches its full potential when the tomatoes are kept in check by the other ingredients.  So if you take a bite and get a mouthful of tomatoey flavor you can balance it out by adding more lime juice, salt, and maybe a bit more onion.
I typically add a bit more salt and lime juice after the first mixing.   This batch started with 1/4 teaspoon of salt and then got another generous pinch.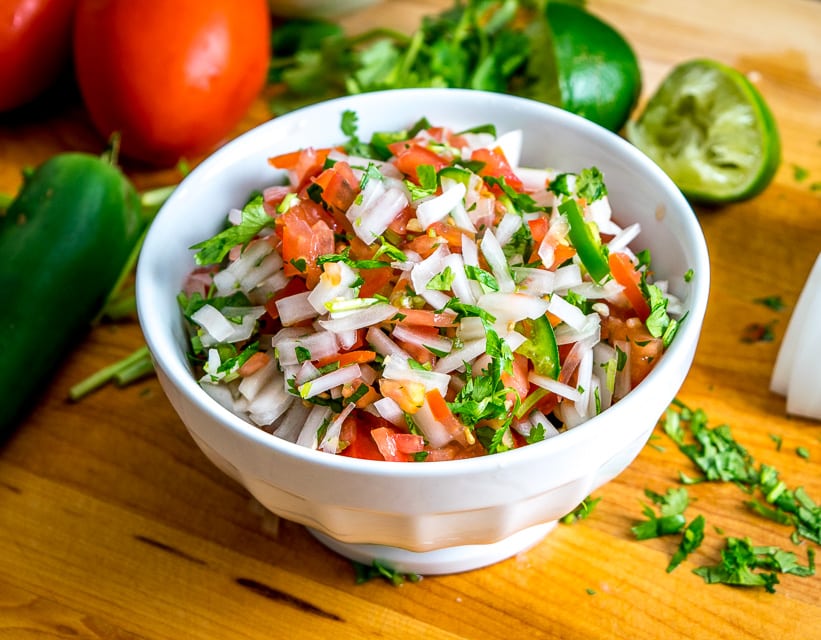 When the ingredients are in balance, Pico has a light, effervescent flavor that will work wonders on tacos, quesadillas, and yes, even on nachos.   It's the perfect example of the sum being far greater than the individual parts.
And now you don't have to think about how to make it, you can just eat it!   I use it all the time for on-the-fly meals.  For example, add layers of bean puree, cheese, and Pico de Gallo to half of a flour tortilla.  Fold onto itself and cook each side in a dry skillet over medium heat until turning golden brown.  Lunch is served!
There are a couple more recipes in the Course that use this Pico but we'll take a look at those in later Modules.  For now, let's make another crowd-pleasing appetizer...Chipotle and Cheese Bean Dip.  Click the 'Mark Complete' button down below to continue.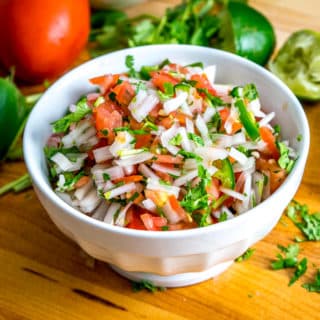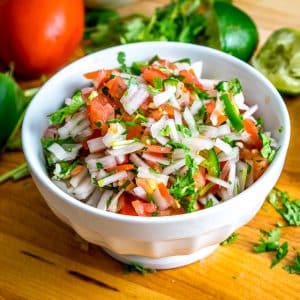 Authentic, Well-Balanced Pico de Gallo
This well-balanced Pico de Gallo is wildly versatile and can be used in an infinite number of ways.
Print
Pin
Ingredients
2

tomatoes

1/2

onion

1

jalapeno

15-20

sprigs cilantro

juice of

1 lime

1/4

teaspoon

salt (plus more to taste)
Instructions
Give the tomatoes, jalapeno, and cilantro a good rinse. Peel the onion and de-stem the tomatoes and jalapeno. I usually twist off and discard the bottom, thicker portions of the cilantro stems, but keep the upper portion of the stems that hold the leaves together.

Finely chop the 2 tomatoes, 1/2 onion, and jalapeno into 1/4" sized chunks. Finely dice the cilantro. For a milder version you can start by using only 1/2 of the jalapeno and adding more incrementally if you want more heat.

Combine the tomato, onion, jalapeno and cilantro in a mixing bowl. Add a heaping 1/4 teaspoon of salt and the juice of a single lime. Mix together well and taste for seasoning. Add additional salt and lime if necessary (I added more salt to this batch).

Serve immediately or store in an airtight container in the fridge.
Notes
If your first taste has a lot of tomato flavor, try adding more onion, jalapeno, or lime juice.  Pico tastes best when the tomato is kept in check by the other ingredients.
Like this recipe?
Click the stars above to rate it or leave a comment down below! @mexplease