This fireball Chipotle Meco Salsa is a great way to get familiar with these beauties: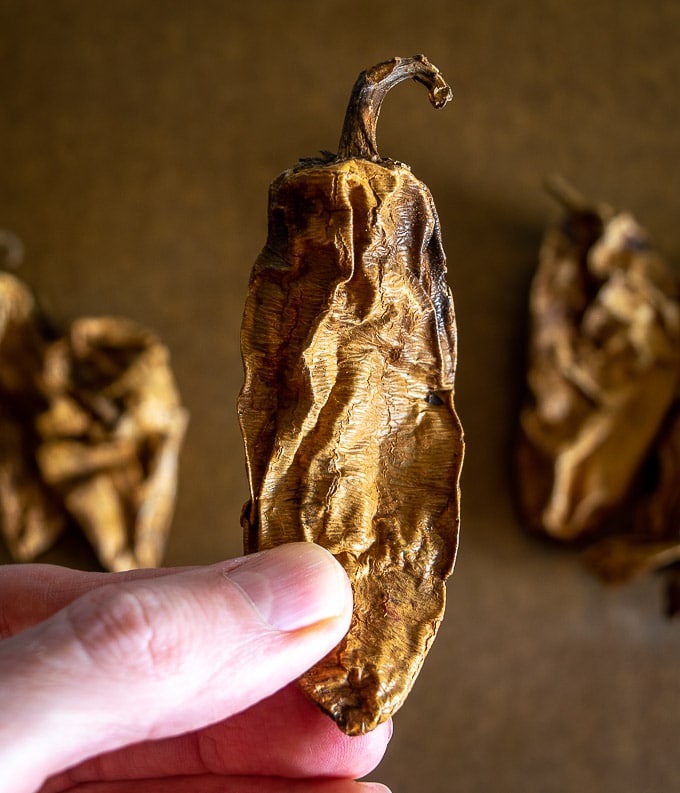 Have you used these before? These are Chipotle Meco chiles.
They're a close relative of Chipotle Morita chiles, but these Mecos are smoked for significantly longer than Morita chiles.
For reference, here's what a Chipotle Morita looks like: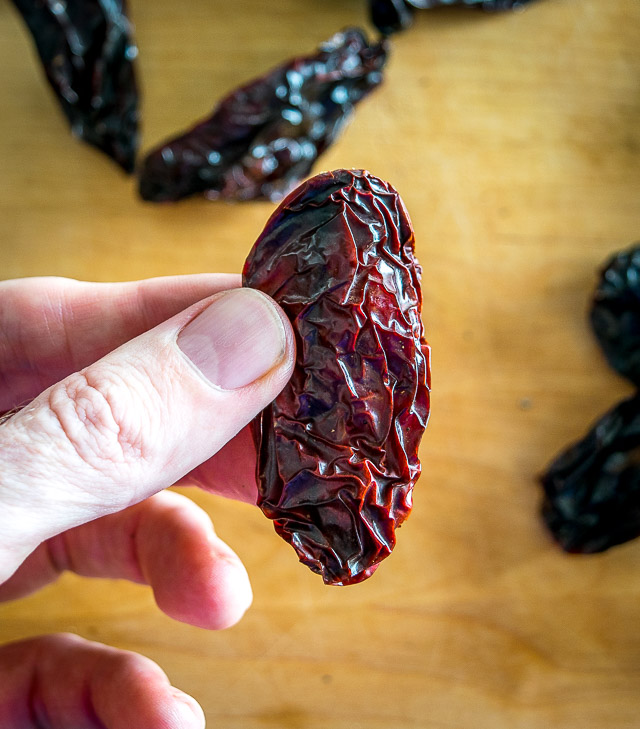 That's a ripened red jalapeno that's been de-hydrated and briefly smoked.
But if you smoke them longer they'll lose their reddish color and take on a tan hue, as seen here: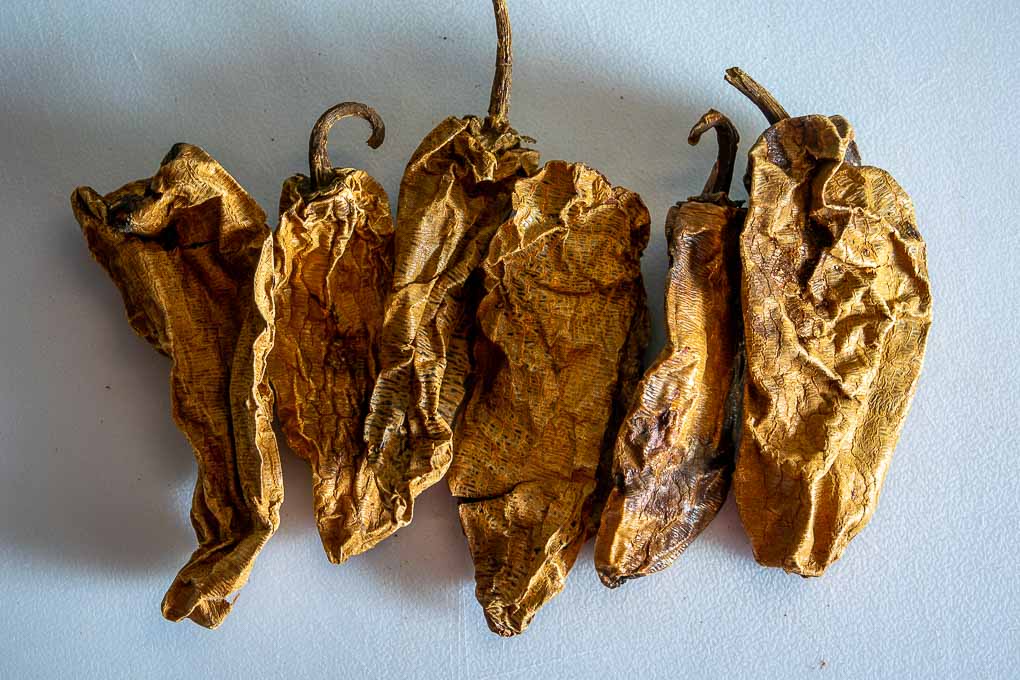 This extra time in the smoker gives them loads of smoky heat and I like using them to make flavorbomb Salsas.
So consider yourself warned on this one! This Salsa is exploding with eye-watering heat and smoky awesomeness -- for a milder version consider starting with only a single Chipotle Meco.
But I'm going to use three 🙂
As usual, you'll get a bump in flavor if you roast these Meco chiles first. I plopped these beauties in the oven (400F) for a couple minutes. Other ways to roast dried chiles.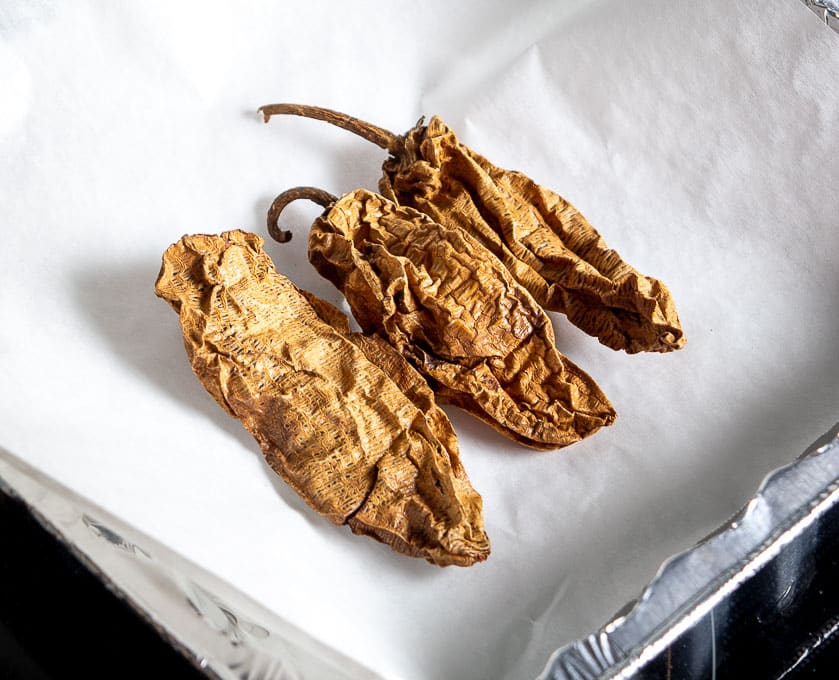 And then soaked the roasted chiles in some hot tap water.
This will make them easier to grind up and help their flavor infuse into the Salsa. More info on reconstituting dried chiles.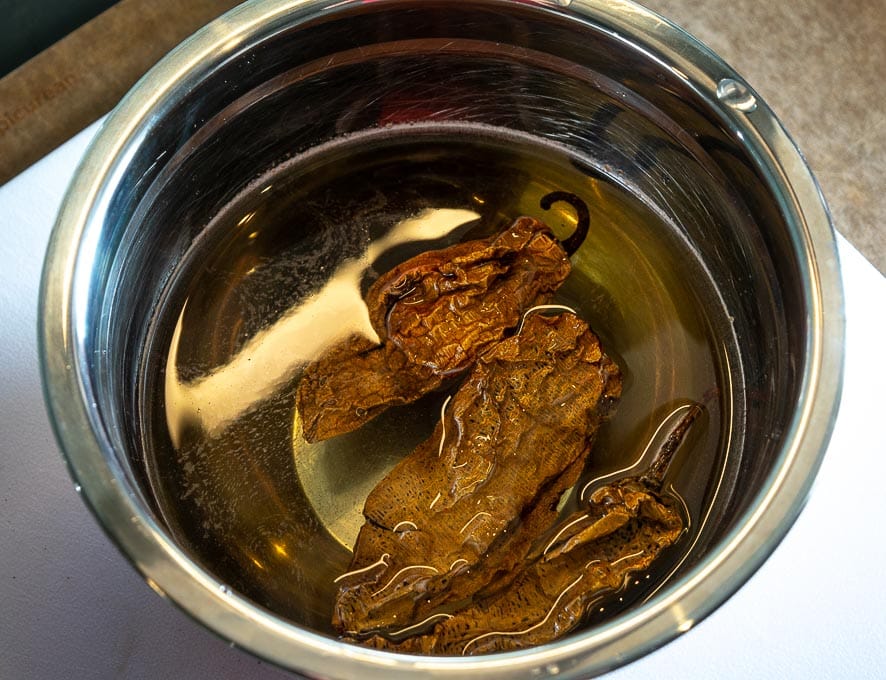 As the chiles reconstitute you'll have time to roast the tomatillos.
I put these de-stemmed tomatillos in the oven for about 20 minutes. Is it better to boil or roast tomatillos?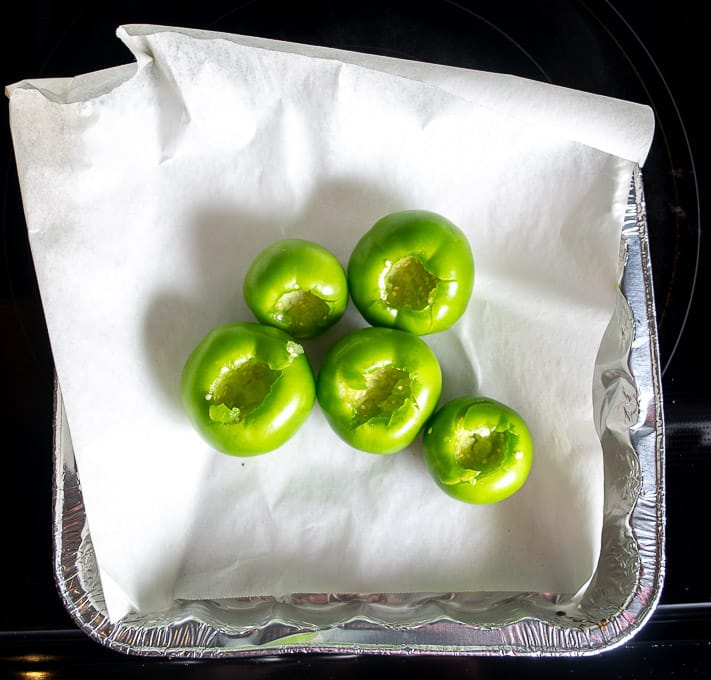 When the chiles have softened up considerably you can de-stem and de-seed them.
This will reveal their reddish inner color.
And since we're going for max taste bud explosion on this Salsa, I used 3 garlic cloves. But you are welcome to use less 🙂
Then it's just a matter of combining everything in a blender:
3 Chipotle Meco chiles
4-5 roasted tomatillos
3 peeled garlic cloves
a sliver of onion (approx 1/8 onion)
Give it a whirl and say hello to your flavorbomb Chipotle Meco Salsa!
It's exploding with flavor and the smoky heat of the Mecos is a natural fit with the roasted tomatillos.
Sure, you can serve it up next to some chips if you want.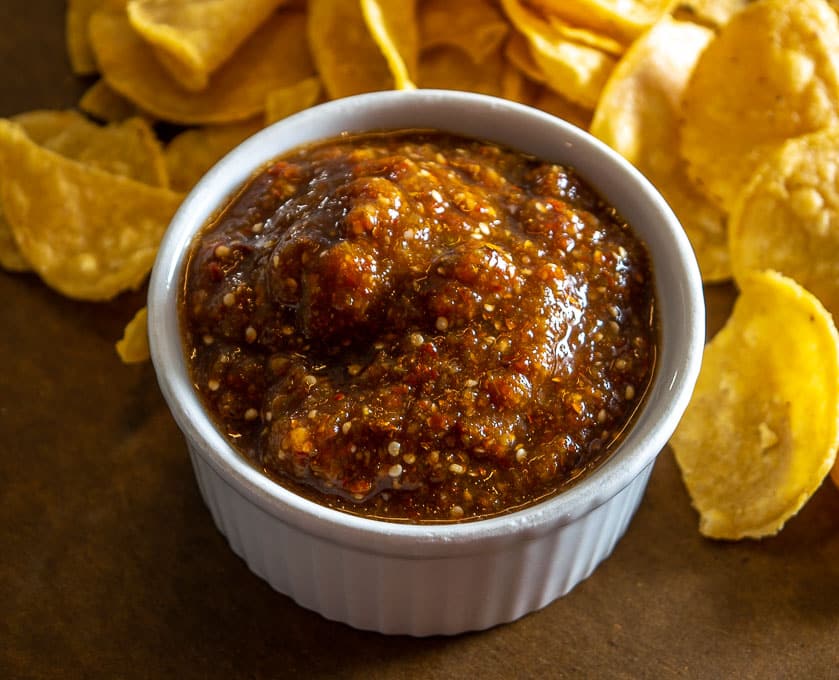 Or even dip in Guac first and then the Meco Salsa.
But lately I've been using it for some quick chicken tacos.
When your Chicken Tacos are loaded with a freshly made Meco Salsa they'll be off-the-charts delicious.
Crispy, cheesy chicken tacos topped with firebomb Chipotle Meco Salsa are a real treat. I make quick meals like this all time, especially when there's leftover Salsa in the fridge. Here's the recipe for these Easy Chicken Tacos.
Okay, I hope this post inspires you to buy some Chipotle Meco chiles the next time you come across them! If you don't have a good source for dried chiles in your area then you can always order some of these Mecos from Amazon.
Buen Provecho.
Want the latest recipe? Click your favorite from these options and follow me: Instagram, Facebook, Pinterest, TikTok, YouTube.
Chipotle Meco Salsa
This Chipotle Meco Salsa is a flavorbomb! It's got loads of smoky heat so consider yourself warned! Feel free to use only a single Meco for a milder version.
Print
Pin
Rate
Ingredients
3

Chipotle Meco dried chiles

4-5

tomatillos

3

peeled garlic cloves

sliver of

onion (approx. 1/8 onion)

pinch of

salt (optional)
Instructions
Start by roasting the dried Meco chiles. I usually put them in the oven (400F) for a couple minutes, but you are welcome to flash roast them in a skillet for 15-30 seconds per side (medium-high heat).

Add the roasted chiles to a bowl and cover them with hot tap water. Let them reconstitute for 20-30 minutes. If they float to the surface just use a small plate or bowl to keep them submerged.

De-husk the tomatillos and give them a good rinse. I usually de-stem the tomatillos as well. Roast the tomatillos in the oven (400F) for 20 minutes or so.

Drain the reconstituted chiles, then de-stem and de-seed them. Don't worry about getting rid of every last seed, you're mostly removing them for texture purposes.

Add the Meco chiles to a blender along with the roasted tomatillos, 3 peeled garlic cloves, and a sliver of onion (approx. 1/8 onion). Feel free to use only a single Meco chile, and less garlic, for a milder version. Combine well.

Note: you can also consider adding the Meco chiles incrementally if it's your first time making this Salsa. Roast and reconstitute all three Meco chiles, but when you are blending the Salsa just start with a single Meco chile. Combine and taste for heat level. For more heat simply add another Meco chile (or half of one), combine well, and taste test from there.

I rarely add salt to this Salsa but you are welcome to add a pinch at the end.

Serve immediately. Store leftovers in the fridge where they will keep for a few days.
Like this recipe?
Click the stars above to rate it or leave a comment down below! @mexplease
Disclaimer: there are some affiliate links on this page from Amazon which means I will get a small percentage of the sale if you make a purchase at no additional cost to you. But I only recommend products that I use and trust — feel free to get in touch if you have any questions about this!
Want to see the latest post? It's these Easy Ground Beef Burritos.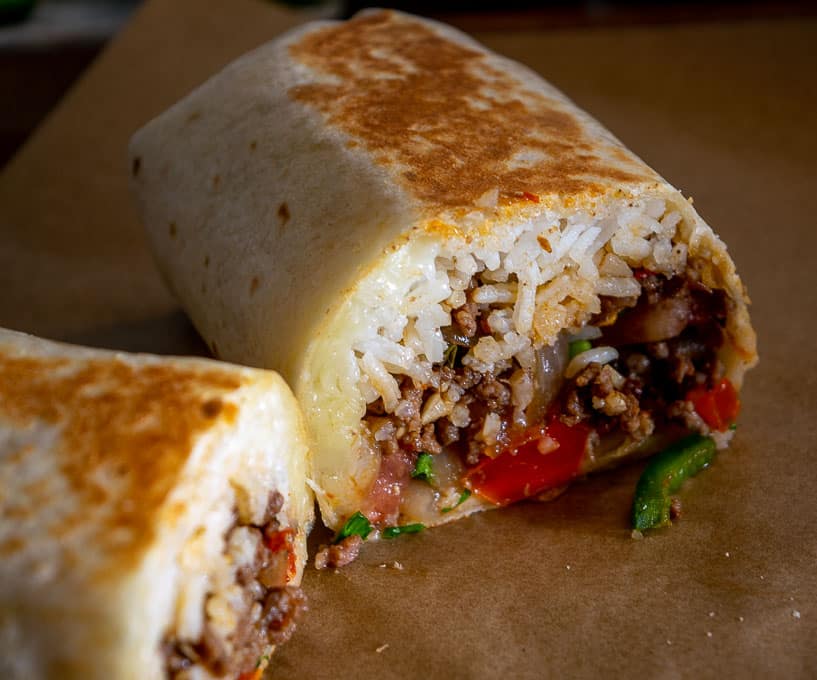 Still hungry?!
Want to receive Mexican Please recipes via email when they are posted?  Sign up below to subscribe.  All recipes are spam free.