Chipotle Mayo is one of the most useful no-thinking-involved recipes you can have in your arsenal.
Frequently referred to as Chipotle Crema or Chipotle Aioli, this is a Secret Sauce that will have your friends and family giving your kitchen skills all the credit for its addictive flavor.
Once you get the salt and heat levels to your liking, you'll always have the option of whipping up this delight in just a couple minutes.  But you are welcome to let people continue to think there is some epic kitchen sorcery happening in this remarkably simple recipe.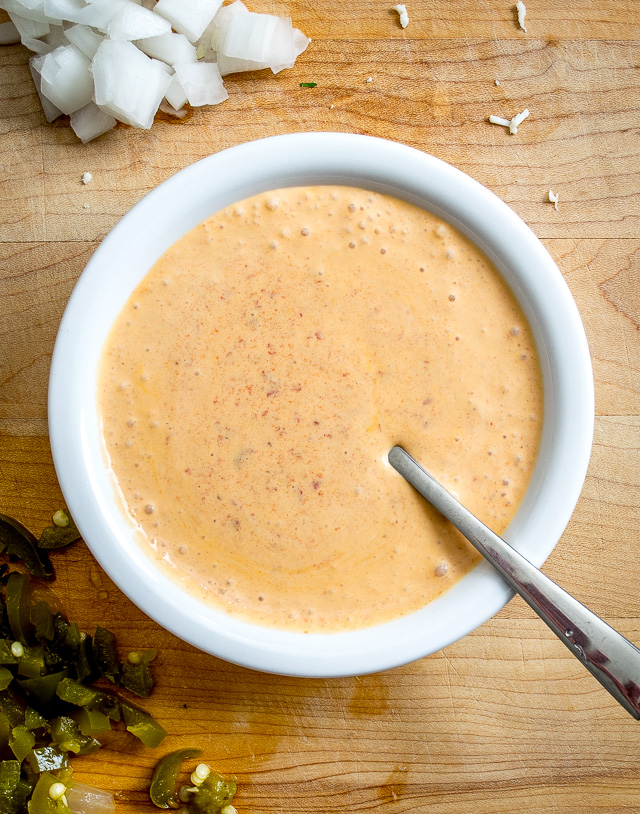 Chipotle Mayo Recipe
Chipotles in adobo are the key to making this sauce worthy of being eaten on its own.  Sure, maybe chipotle powder would get you there, but you'll get a superior product if you use the real thing: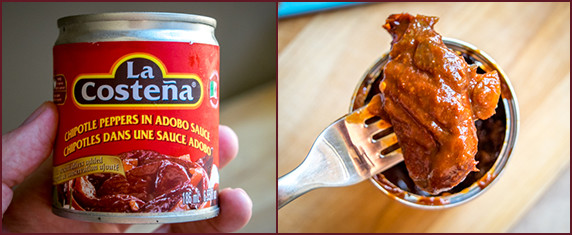 If you're new to chipotles in adobo, you'll usually find them in the Latin section of your grocery store.  You can also get them online quite easily.  Are chipotles spicy?
I typically cut off the stems and scrape out the seeds of the chipotles.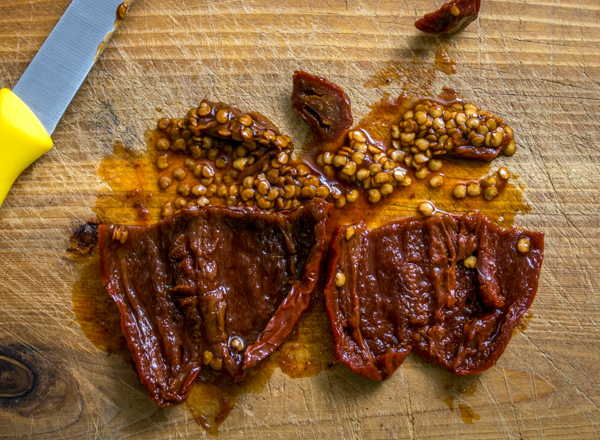 You don't have to get rid of every last seed because it won't affect the flavor too much, but they harden over time so I like to get rid of most of them.  We have a page on working with chipotles in adobo if you want more info on them.
Add the following ingredients to a blender or food processor:
1 cup mayonnaise
2 chipotles in adobo, stemmed and seeded
1 tablespoon adobo sauce
2 whole, peeled garlic cloves
pinch of salt (plus more to taste)
squeeze of lime
And give it a whirl: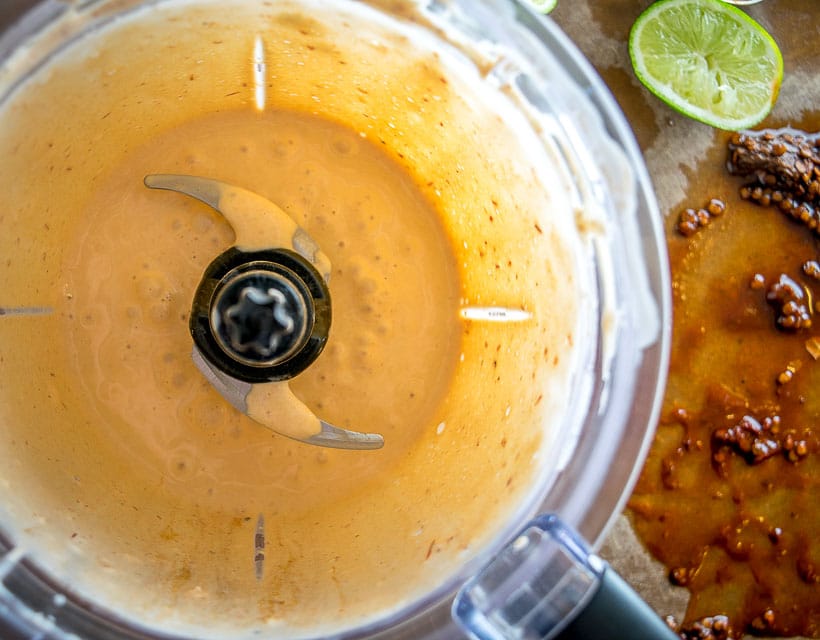 Take a taste for seasoning, adding more salt and lime if you want.  A dash of acidity from the lime really brightens it up so don't skimp on that step!
The adobo sauce is a great way to quickly add more heat if you want to amp it up even further.  You can take the sauce directly from the can.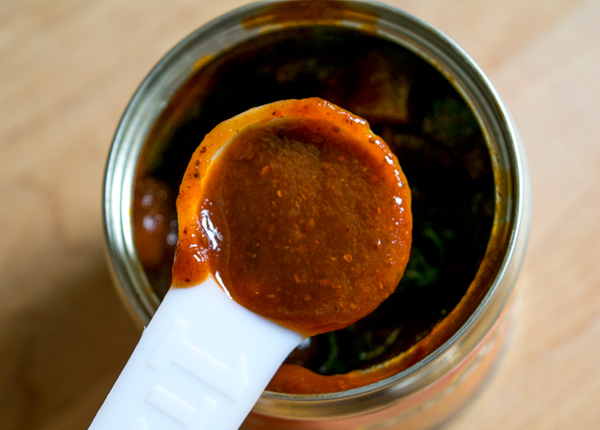 Each can usually comes with a few tablespoons of sauce so there should be plenty in there.  If not, your backup is to add another chipotle for some more heat.  (Note:  once opened, I typically empty the chipotle can into a small tupperware container and store it in the fridge where they will keep for weeks at a time.)
You're left with a creamy chipotle sauce that works wonders on Baja Fish Tacos, Mexican Cuban Sandwiches, and even plain ol' veggies.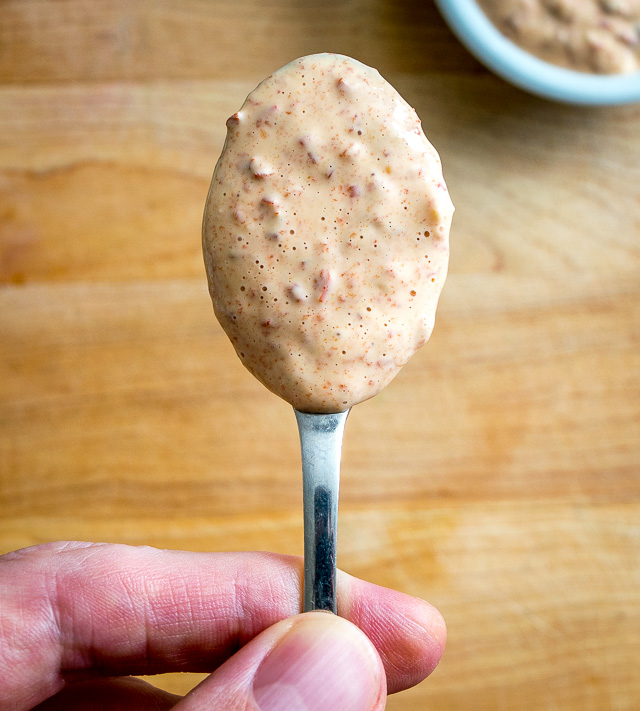 Yum!
You can easily make a lighter version of your Chipotle Mayo by substituting some, or all, of the mayonnaise for plain Greek yogurt.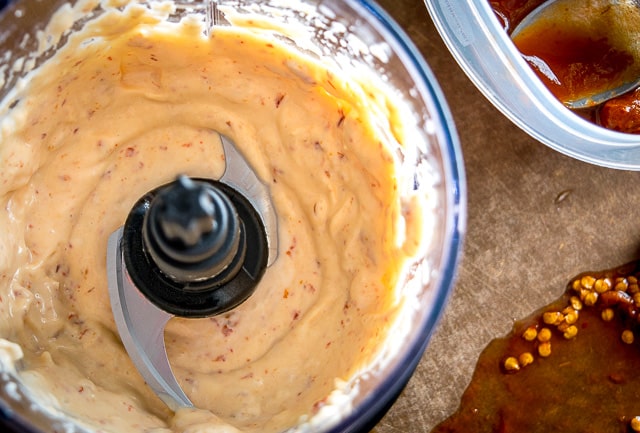 But keep in mind that adding a little bit of fat will go a long way if you are substituting Greek yogurt for the mayo.   Here are some combos to keep in mind if you want to experiment with using Greek yogurt:
3/4 plain Greek yogurt, 1/4 cup mayonnaise
1 cup Greek yogurt, 1 tablespoon heavy cream
1 cup Greek yogurt, 1-2 tablespoons Mexican Crema
All of those combos have a bit of fat in them and that seems to be the key when using yogurt as the base -- it really does make a huge difference.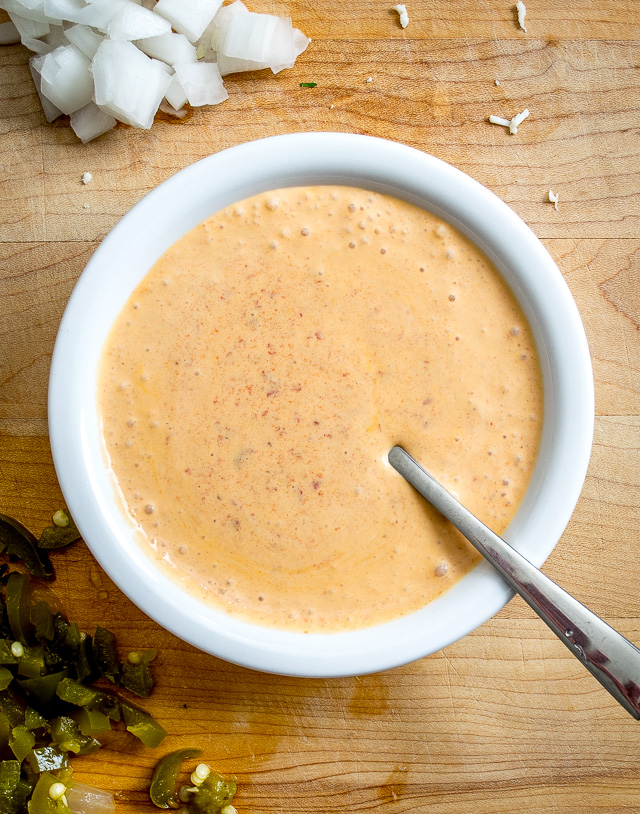 Store your Chipotle Mayo in an airtight container in the fridge where it will keep quite well, or at least until you gobble it all up.
I hope this post has turned Chipotle Mayo into a no-thinking-involved recipe for you.   Keep some in the fridge and you'll always have some Secret Sauce on standby that you can unleash on your friends and family.  Just don't tell 'em how easy it is to make.
Buen Provecho.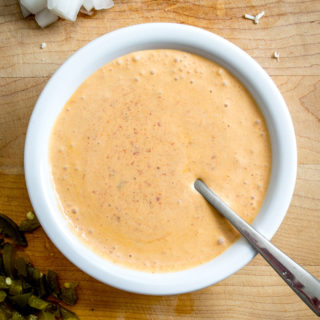 Chipotle Mayo
This is a great recipe to keep in mind for a quick batch of Chipotle Mayo. You can always substitute Greek yogurt for the mayo.
Print
Pin
Rate
Ingredients
1

cup

mayonnaise (or plain Greek yogurt)

2

chipotles in adobo

1

tablespoon

adobo sauce

2

garlic cloves

pinch of

salt

squeeze of

lime
Instructions
Start by de-stemming and de-seeding the chipotles in adobo. Add them to a blender or food processor along with 1 cup mayonnaise, 1 tablespoon adobo sauce, 2 peeled garlic cloves, a pinch of salt, and a squeeze of lime.

Combine well and take a taste for seasoning, adding more salt and lime if you want. You can also quickly add some more heat by adding more adobo sauce.

Store in an airtight container in the fridge.
Notes
Keep in mind that if you are substituting Greek yogurt for the mayo then you will get an upgrade in flavor if you add a small amount of fat.  Heavy cream, Mexican Crema, or mayo are all good options to add to the Greek yogurt.   For example, 1 cup Greek yogurt and 1 tablespoon heavy cream would be a good combo to consider. 
Like this recipe?
Click the stars above to rate it or leave a comment down below! @mexplease
We use this Chipotle Mayo to make some wicked Mexican Avocado Toast.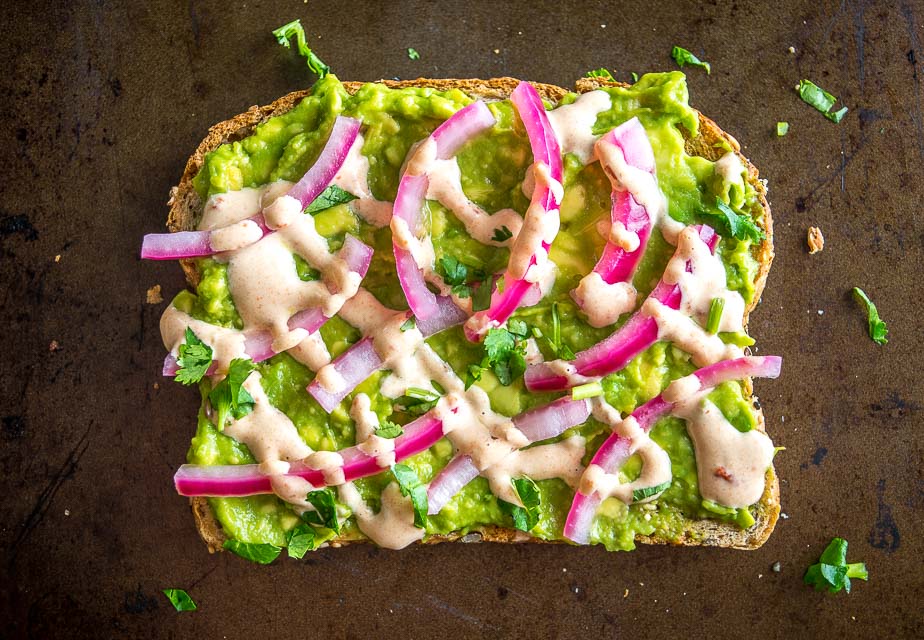 Still hungry?!
Want to receive Mexican Please recipes via email when they are posted?  Sign up below to subscribe.  All recipes are spam free.