I've been making the same vegetable stock for years, and then a few months ago someone emailed me and said...
Have you ever used nutritional yeast in your veggie stock?
Nutritional what?!!
Supposedly this mystery ingredient will fill in the meatless void of your veggie stock. Said another way...veggie stocks typically lack the depth and savoriness of meat stocks, but the heavy dose of umami from nutritional yeast can save your savoriness. No bones involved.
I had no idea this "nooch" was so popular in the vegan world. Producers use heat to deactivate the yeast cells and then package it for flavor purposes only. Here's the bag I snatched up on Amazon: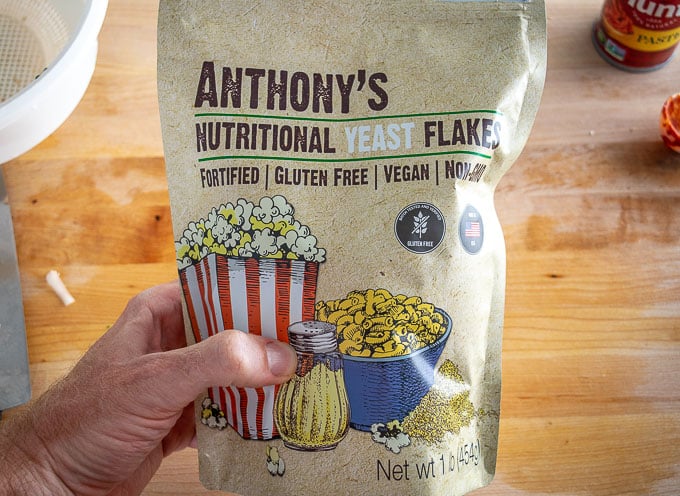 And yes, some people put it on popcorn 🙂
Give it a taste and you'll know why it's a good candidate for veggie stocks -- it has a rich, cheesy, almost nutty flavor that hits all the umami nerves on the palate.
Do some Google research and most articles will point towards Andrea Nguyen's "The Pho Cookbook" where she uses a concentrated nutritional yeast mixture to enrich her Pho broth. I'm not sure if this is a recent phenomenon started by Ms. Nguyen, or if it's just recent to me, but you can see that Asian-style recipe here if you're curious.
She creates a concentrated mixture and adds it in after the fact, but I'm just gonna plop some in my standard veggie stock recipe at the beginning and let it simmer away. Because with stock I've found that easier is usually better 🙂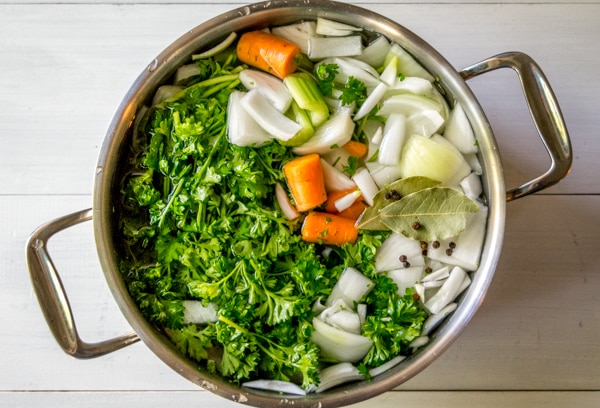 How To Make Homemade Vegetable Stock
There are also a couple other ingredients I've been meaning to experiment with -- mushrooms and tomato paste. Both of these are heavy hitters in the umami world, and I'd like to see how much savoriness they can bring to a traditional veggie stock.
So I'll make two batches: one with the nutritional yeast and one using tomato paste and mushrooms.
Both batches will use the traditional mirepoix: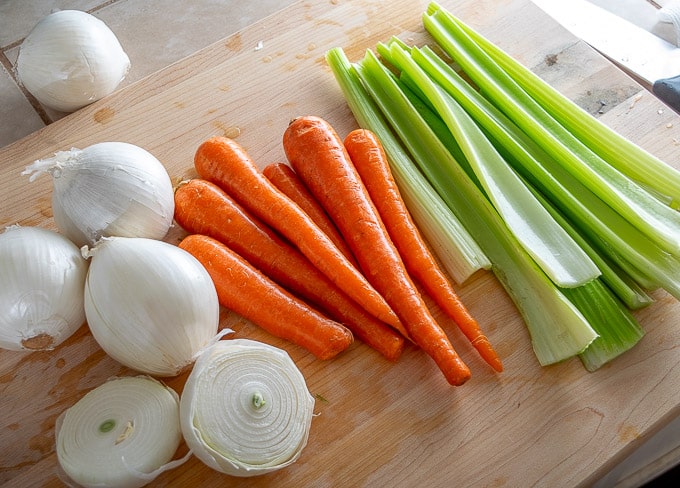 For a single gallon of stock you'll want to be in the neighborhood of:
1 pound onions (approx. 2 large onions)
1/2 pound carrots (approx. 2-3 medium to large carrots)
1/2 pound celery (approx. 3-4 celery stalks)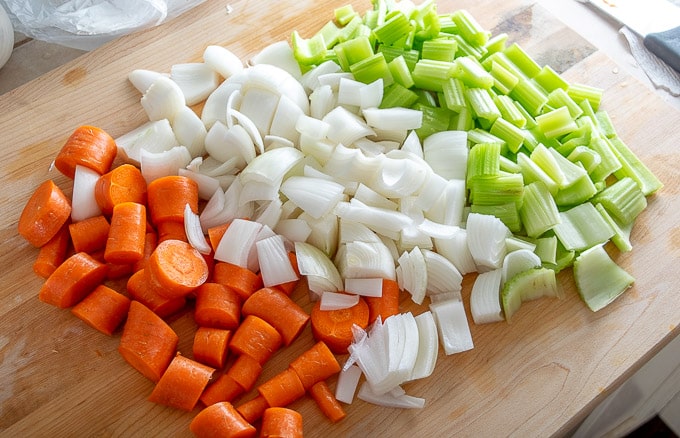 But don't sweat the exact weights too much as a "recipe" for stock is always willing to accommodate what you have in your kitchen. In other words....just make it!
Be sure to give the veggies a good chop as this will increase the surface area that gets exposed to the simmering water.
I'll start by browning the mirepoix in some oil at just over medium heat.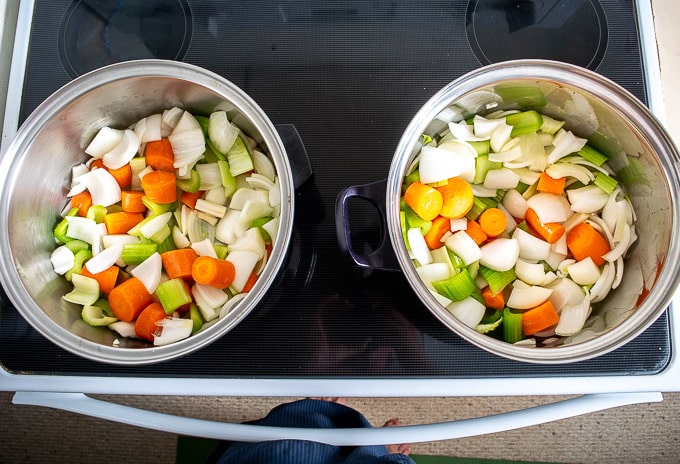 It seems like I let this cook longer each time I make stock as the additional browning gives you a bump in flavor, so don't be afraid to let some color develop over a 10-15 minute sweat.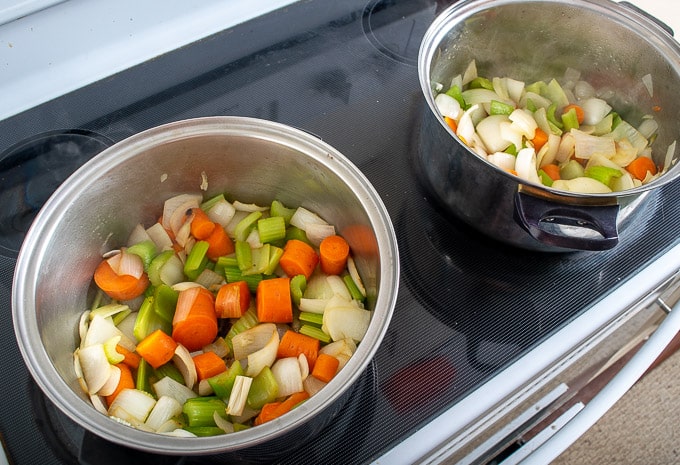 Once browned, each pot will get:
1/2 bunch parsley
1 teaspoon black peppercorns
1 gallon cold water
The pot on the left gets 3 tablespoons nutritional yeast.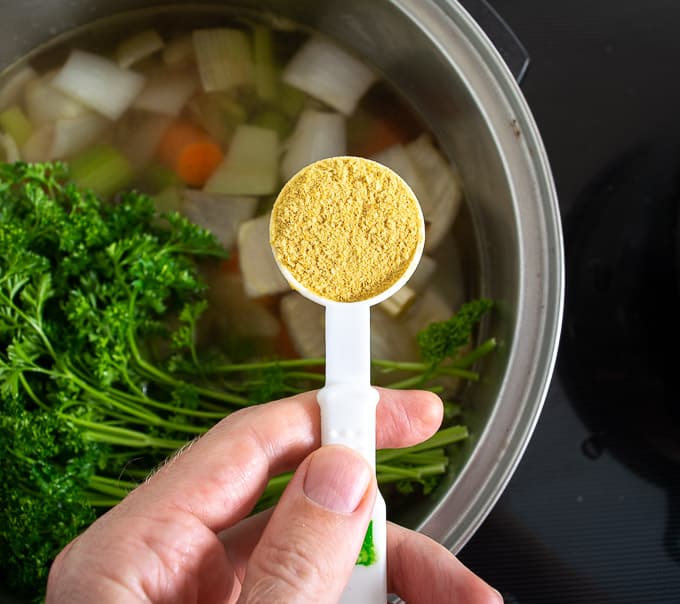 And the pot on the right will get:
2 tablespoons tomato paste
1/2 pound mushrooms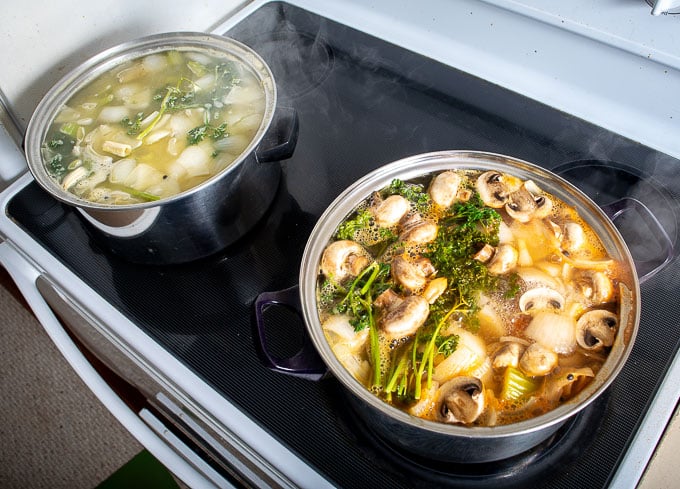 Bring this to a boil and then reduce heat to a simmer, partially covering.
Big Important Note: I probably add less salt to stock than most peeps because I think it gives you more leeway down the road. So I salted the veggies when they were sweating, but there's no additional salt in these pots yet -- if that grates you then you can add 1/2 teaspoon salt to a gallon sized pot for the simmer, and then add more to taste when it's done.
Simmering for 60-90 minutes will extract the majority of the flavor from the veggies. Here's how these batches looked after 90 minutes: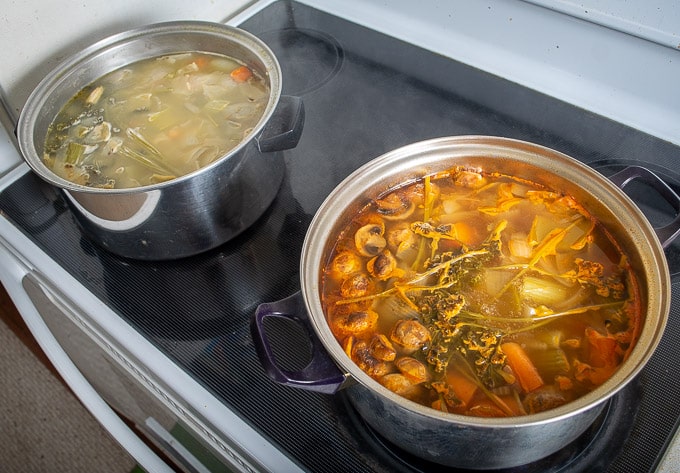 And the flavor?!
Even though the tomato/mushroom batch on the right looks more enticing, the taste battle was not even close and the nutritional yeast batch was a clear winner.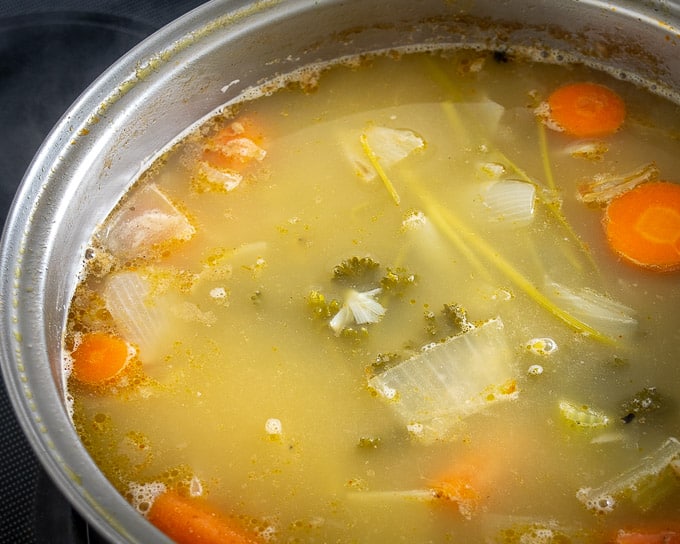 I have to admit I was a little shocked at the improvement in flavor from this simple ingredient. More depth, more savoriness, and just plain better -- awesome!
The nutritional yeast will cloud up your stock if you add it in at the beginning, but I think that's a good trade-off for the improved flavor.
I added 1/2 teaspoon of salt to this 3/4 gallon of stock and then slurped down an entire bowl of it. It's quite satisfying as is, and when you consider that this is only the starting point for your soups and sauces then the possibilities become endless.
Again I want to mention that I typically only partially season homemade stock. A half teaspoon of salt at this point will get you going, but you'll need more to fully season it down the road -- I just think it's better to wait to fully season it until you know which recipe you're using it in.
And the tomato/mushroom mixture?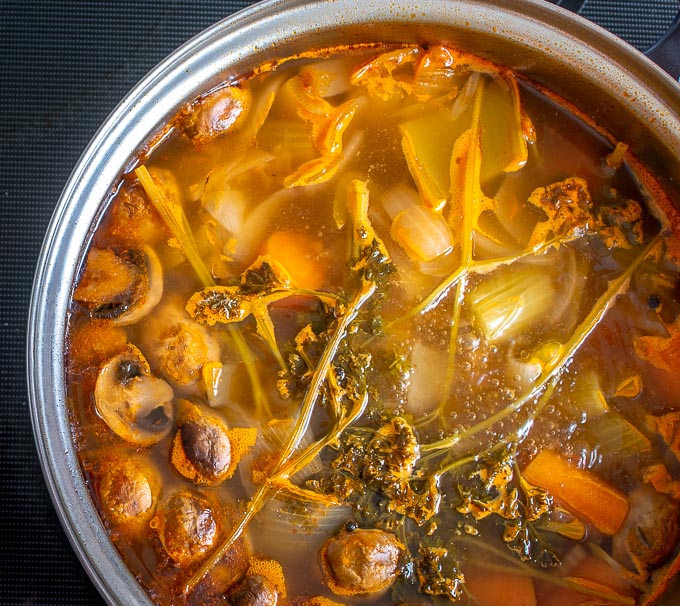 I have to admit I was quite disappointed with it.
There was a slight increase in savoriness but it was tiny compared to the nutritional yeast version. I also didn't like having such a present tomato flavor in my stock as I could see this conflicting with certain recipes.
So for now I am completely sold on adding in nutritional yeast to my veggie stocks, but I will skip the tomatoes and mushrooms.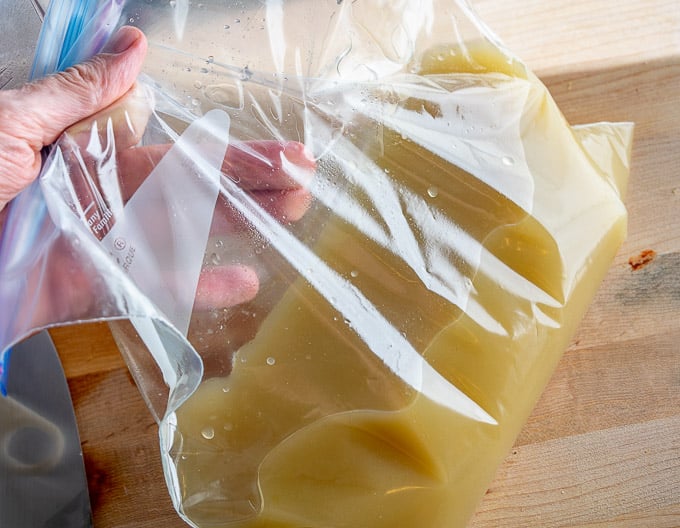 As with most stocks, this one will freeze quite well. If you freeze it in cup-sized portions you can pull them out of the freezer for months to come. Or you can always use a larger Ziploc for storage.
I've been using this stock in a simple Mexican bean soup for the past few days and it is absolutely delicious 🙂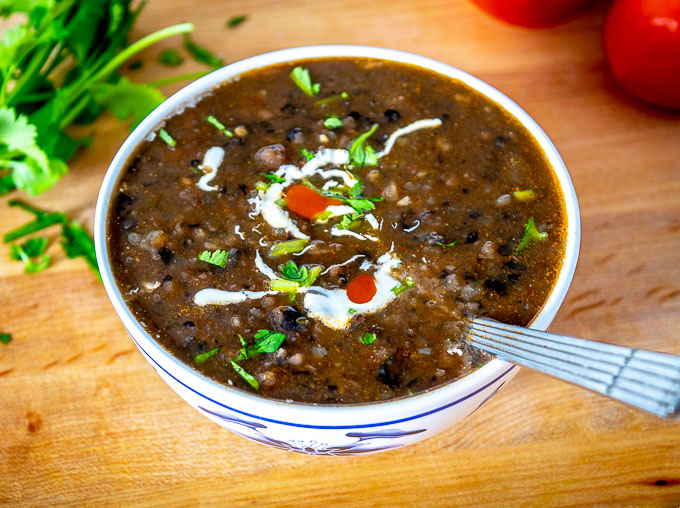 I'll put up a recipe for that bean soup next week (see here), but in the meantime please keep this Better Vegetable Stock recipe in mind!
It's such a massive improvement compared to store-bought stock, and it will send your soups and enchilada sauces through the roof.
And who knows, maybe you'll sprinkle some of that nutritional yeast on your popcorn too 🙂
Buen Provecho.
Scroll down for the recipe box, and feel free to use the comments section below if you have questions or want to leave feedback on this recipe. For up-to-date recipes follow us on Instagram, Facebook, or Pinterest.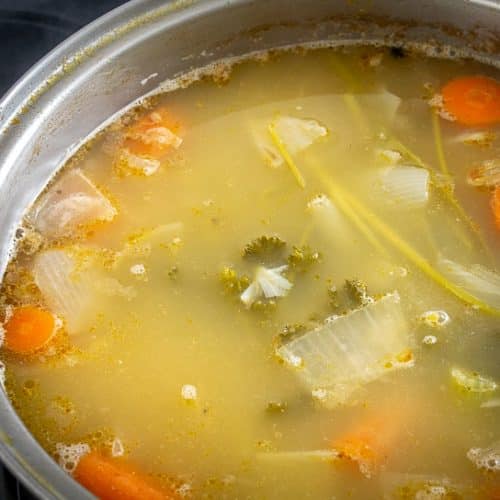 Better Vegetable Stock
I added nutritional yeast to my standard veggie stock recipe and I have to admit I'm surprised how much it improved the flavor!
Print
Pin
Rate
Ingredients
1

lb.

onions (approx. 2 onions)

1/2

lb.

carrots (approx. 2-3 carrots)

1/2

lb.

celery (approx. 3-4 stalks)

1/2

parsley bunch

1

teaspoon

black peppercorns

3

tablespoons

nutritional yeast

1

gallon

cold water

olive oil

1/2

teaspoon

salt (optional, plus more to taste)
Instructions
Chop up the onions, carrots and celery into evenly sized chunks. Give 'em a good sweat over medium heat in some oil. Cook for 10-15 minutes or until they are browning. You can optionally add a sprinkling of salt.

Add the remaining ingredients: 1/2 parsley bunch, 1 teaspoon black peppercorns, 3 tablespoons nutritional yeast, and 1 gallon cold water. Bring to a boil, then reduce heat to a simmer and partially cover.

Simmer for 60-90 minutes.

Strain the stock to remove the leftover veggies. I added a half teaspoon of salt at this point, but keep in mind this will only partially season the stock -- this will give you some leeway when using it in various recipes.

Portion into 2-cup or 4-cup sized containers (or use muffin tins for smaller portions). Freeze the portions you won't immediately need and store the rest in the fridge where it will keep for a few days.
Notes
1/2 teaspoon of salt for a gallon of stock will only partially season it.  Depending on which recipe you use the stock in you'll need to add some additional salt. 
Don't worry about conforming to the mirepoix weights exactly as there is lots of leeway -- you can keep old veggie trimmings in a bucket in the freezer and when it's full then it's time to make stock 🙂
What The Heck Is Nutritional Yeast?
Like this recipe?
Click the stars above to rate it or leave a comment down below! @mexplease
Want to see the latest recipe? It's this Jalapeno Hot Sauce: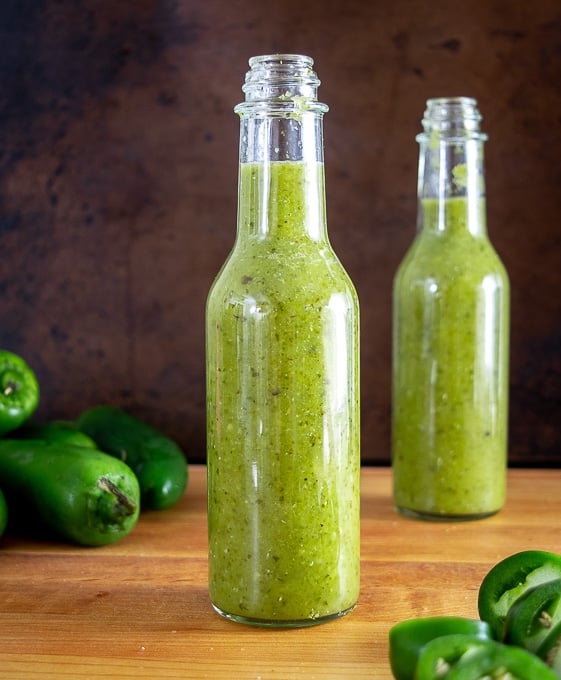 Still hungry?!
Want to receive Mexican Please recipes via email when they are posted?  Sign up below to subscribe.  All recipes are spam free.