I got awesomely bombed with emails after posting last week's Chile Verde Rice and Beans. I didn't know there were so many bean lovers out there and it's good to hear from you!
So I put together this list of all-star Bean recipes that appear most often in my kitchen.
Mexican cuisine provides ample opportunity to get creative with beans and these 15 recipes are a great way to add some crave-worthy vegetarian dishes to your arsenal. I hope you find some keepers in this list!
15 Mexican Bean Recipes
Keep in mind that most of the bean varieties are interchangeable in Mexican dishes.
You'll frequently see me use Black beans, but Pinto or Peruano are equally good choices for these recipes. More info on Peruano beans.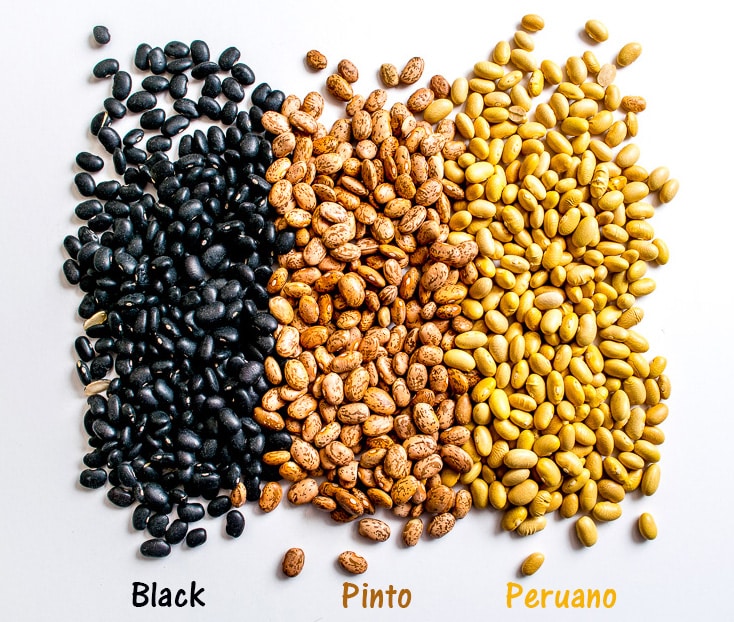 And while it's super easy to make a batch of home-cooked beans, I'll be the first to admit that I don't use home-cookers in all of these recipes!
We're adding TONS of flavor to the beans in most of these dishes, and when doing that you can easily get away with canned beans.
So feel free to go canned if your stomach is making the rules on a rushed weeknight. Then when you have more time you can make a home-cooked batch and decide if the labor is worth the flavor.
Okay, here are the recipes...
Click the recipe name and it will take you to a page with full instructions.
This is the most important recipe in the list! Once you add these Refried Beans to your arsenal then you get instant access to lots of quick meals.
Infusing your beans with chipotle is the key -- this gives them incredible flavor and will keep you coming back for more. I usually keep some of these in the fridge as they lead to so many easy and satisfying meals.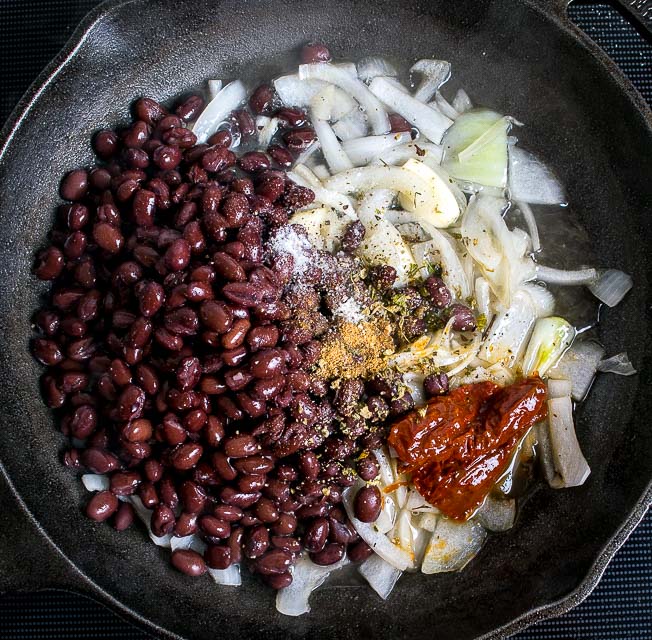 Exhibit A! Once you've got some Refried Beans in the house you can easily whip up these Spicy Bean and Egg Burritos. This recipe makes 8 mini-sized burritos that I put on standby in the freezer for some quick, no-thinking-involved meals.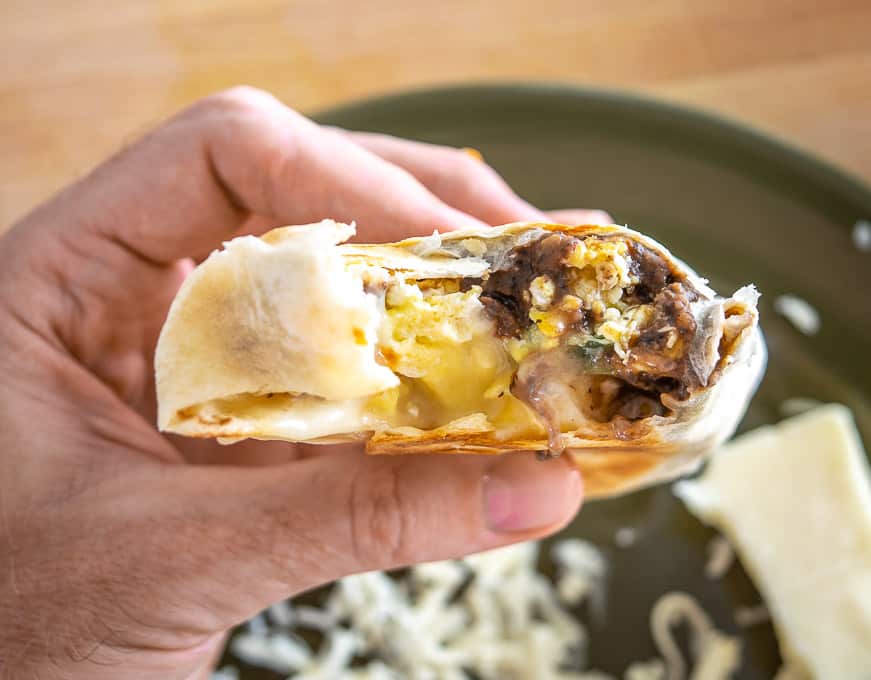 This is my go-to recipe for Mexican Bean Soup. It uses simple, healthy ingredients, and when made with good stock it is wonderfully satisfying. I used black beans, but the recipe will work equally well with Pintos or
Peruanos
.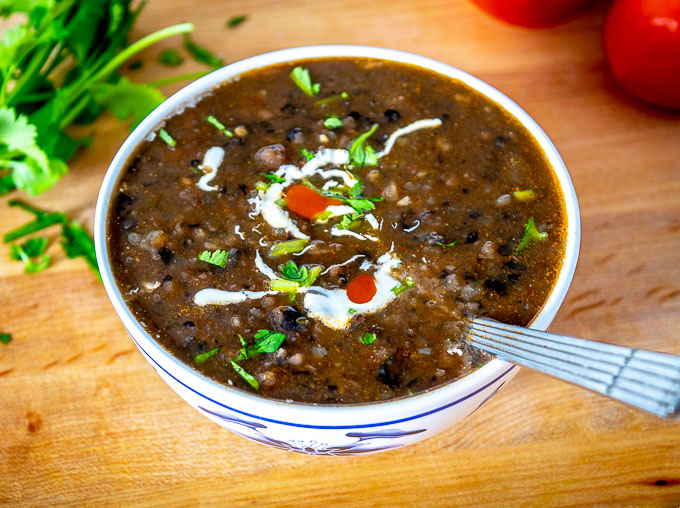 Corn tortillas drenched in a chipotle-infused black bean puree? I'm in!
Enfrijoladas are wildly versatile and once you get familiar with them you'll find all sorts of ways to customize them to your liking. I topped this batch with avocado bits, cilantro, and Crema.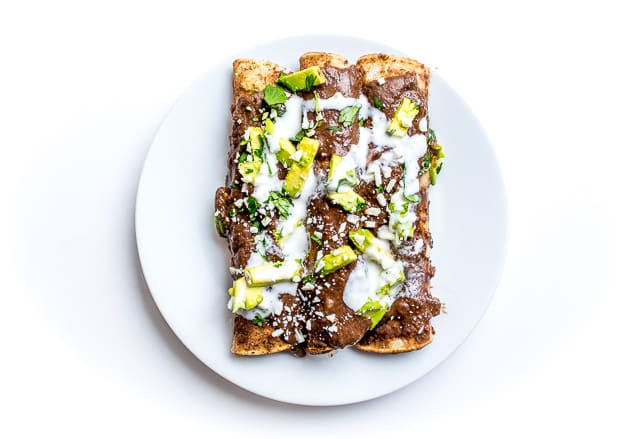 Even though these Nachos are topped with all sorts of goodies, it's the black bean puree that turns them into a keeper for me. You really don't need much beyond the beans and the cheese so feel free to keep it simple!
Expert Nacho advice: I usually make single layer batches so the chips stay crispy — the double or triple layer batches will turn into a soggy mess before you can finish eating them.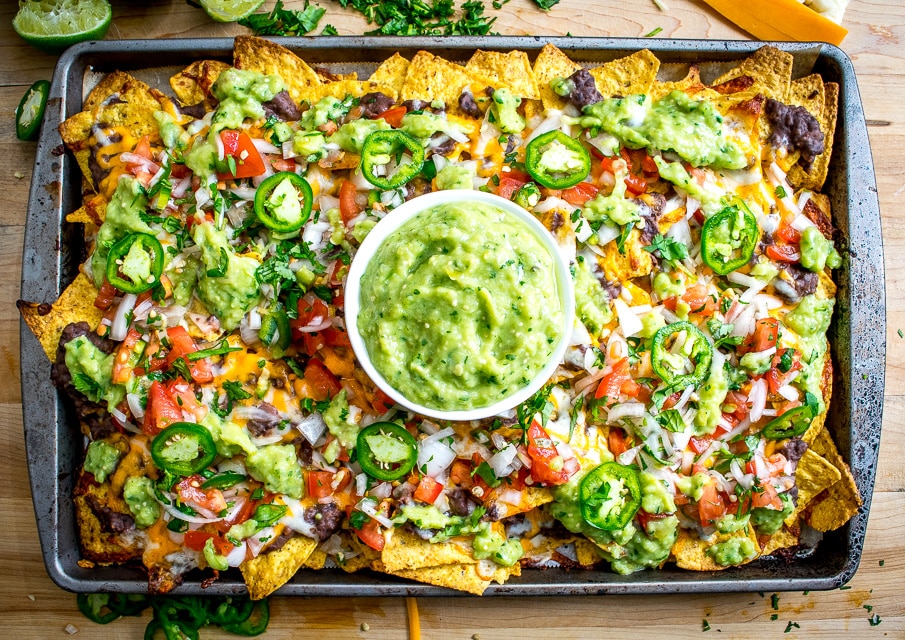 You probably already have all the ingredients you need for Molletes. These are open faced bean and cheese sandwiches that can be made in a matter of minutes. Try them with some freshly made
Pico de Gallo
-- so good!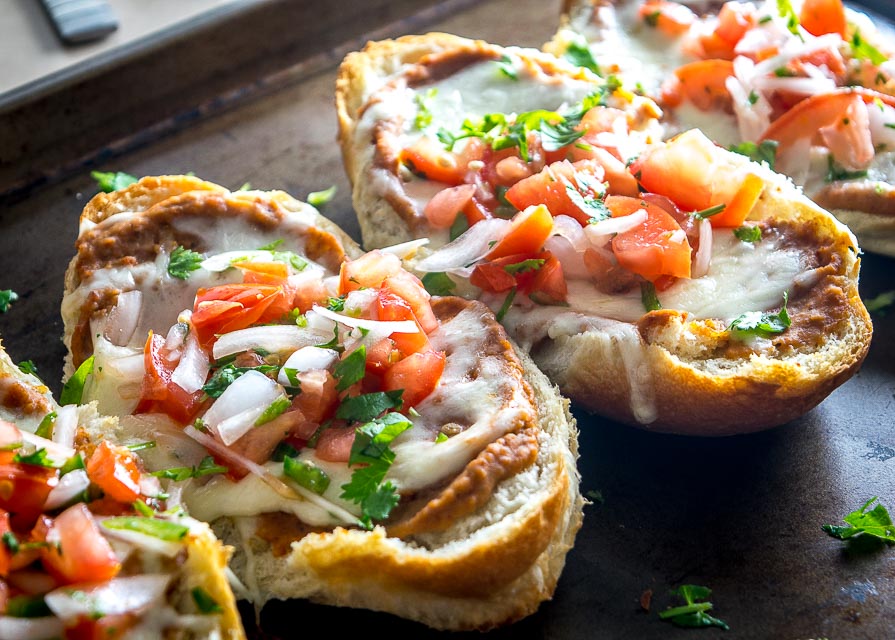 Ahh bean dip, the great peacemaker. This is a cheesy, chipotle-infused concoction that usually sells out quick. I'm a big fan of
Mexican oregano
in this bean dip, but you'll still get a good result if you don't have any on hand.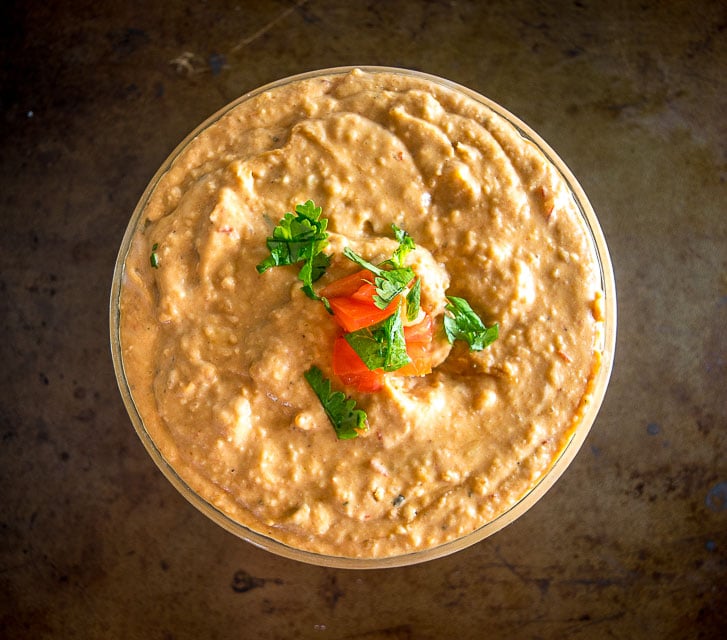 These are some of the most rewarding frijoles you'll ever taste — that's the power of bacon! I will sometimes even puree these beans and spread them on corn tortillas for quick meals — it's a real treat to open up the fridge and remember you've got leftover Charro Bean puree 🙂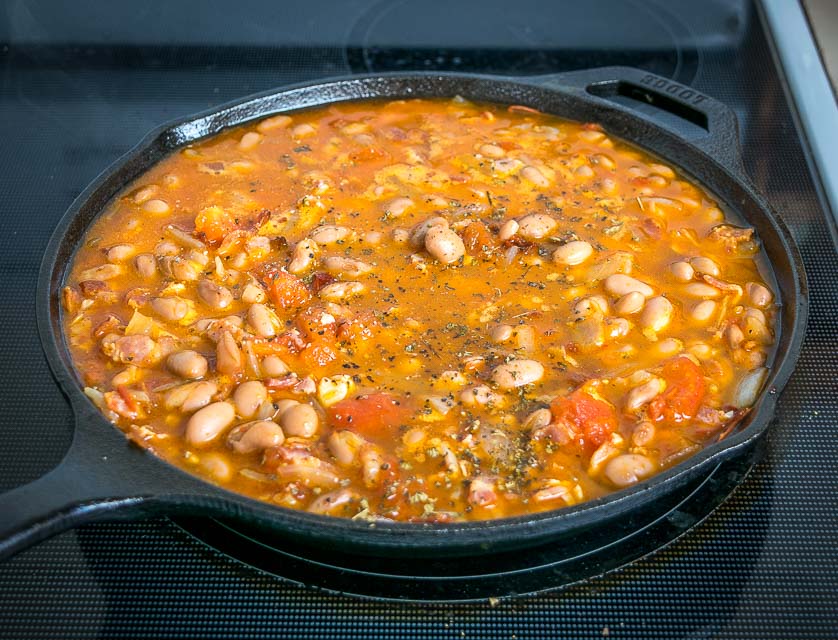 This versatile Black Bean and Corn Salsa will have you dreaming up all sorts of ways to consume it. Lately I use it for taco salads -- simply add some chopped romaine and dinner is served. Don't forget a final squeeze of lime as a burst of acidity really makes it come alive.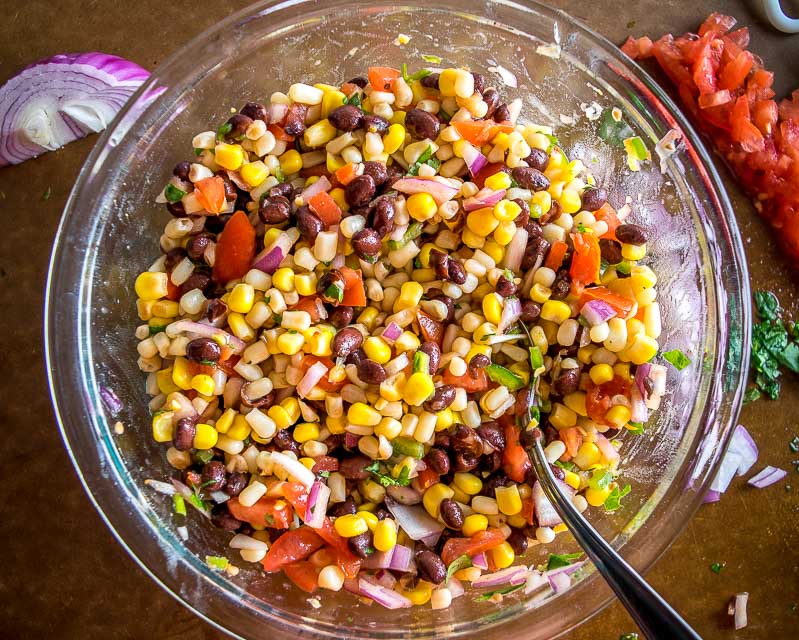 Serious reward to effort ratio in these tostadas! We're crisping a corn tortilla and loading it up with spicy black bean puree and a refreshing guacamole. So easy and satisfying!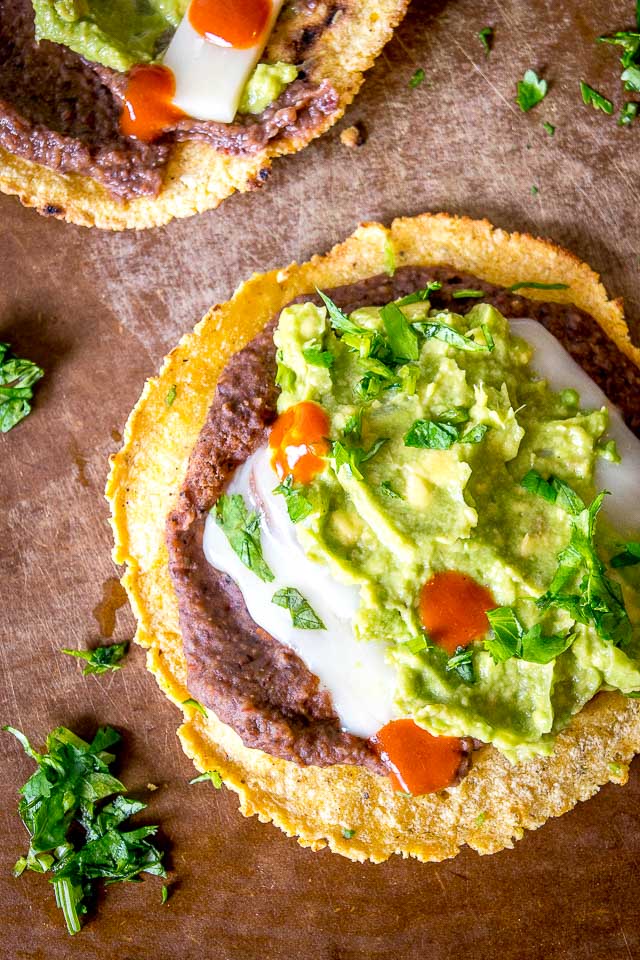 This is the original recipe if you'd like to make some Pot Beans from scratch. Cooking the beans with onion and lard is the traditional method. Yes, lard! Be sure to taste test for salt level at the end as they really come alive when properly seasoned.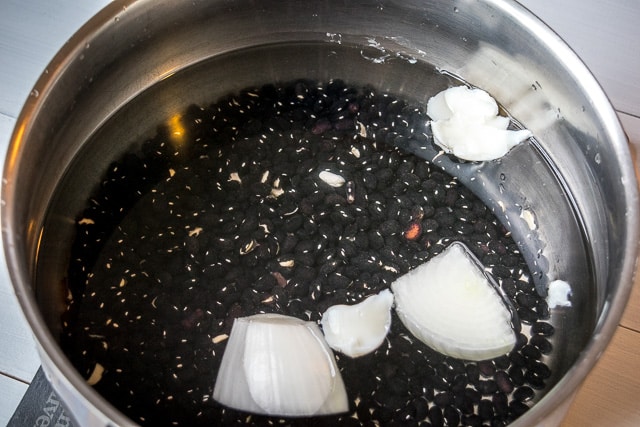 Black beans with mango? Yes! This is a wildly satisfying combo and a great change of pace for your kitchen. I served this batch on crispy tostada shells along with a dusting of chile powder, but feel free to get creative with the serving style.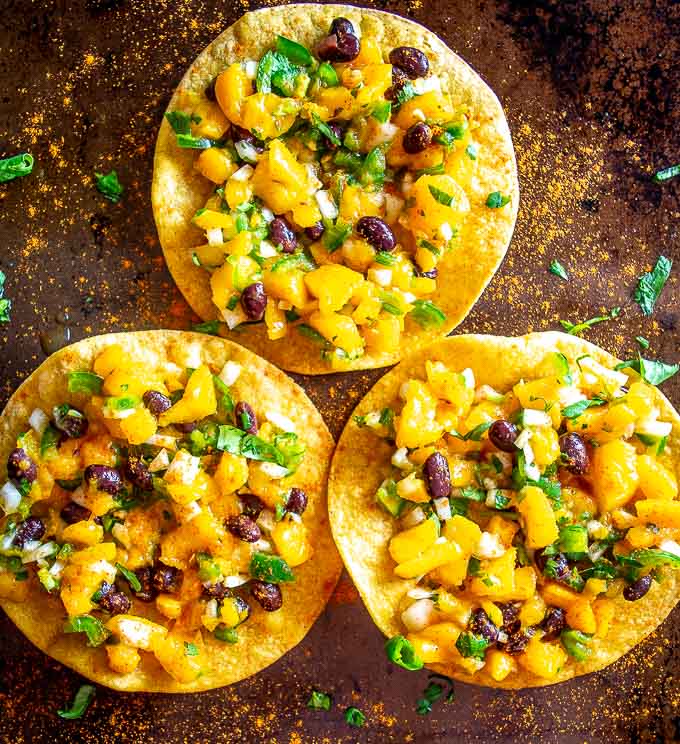 Wait a sec...pizza?! This is a crispy, thin crust pizza that relies on your familiar black bean puree and a thin layer of garlic oil to create a vegetarian delight. Yes, pizza 🙂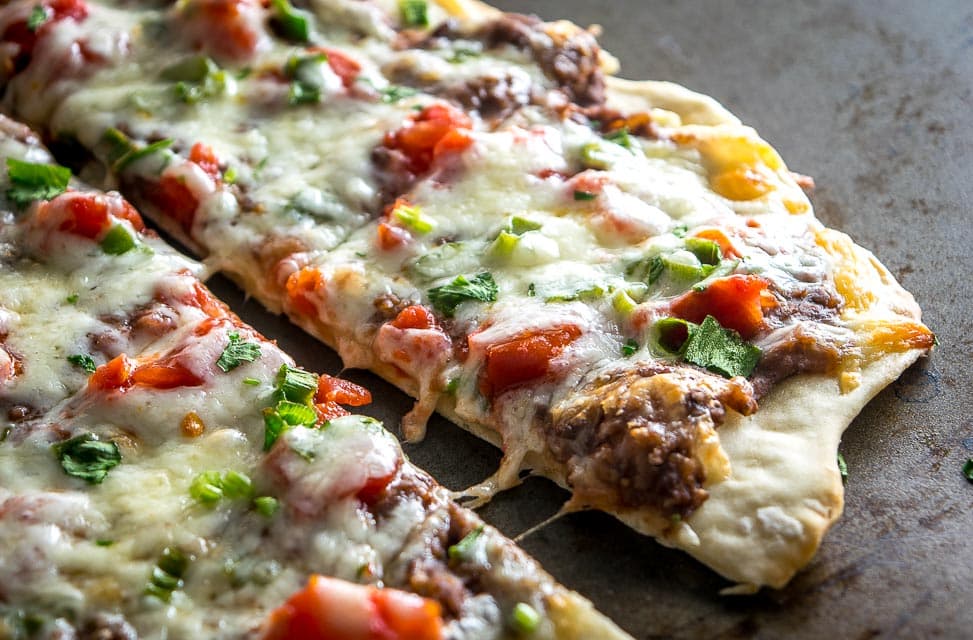 I think this Pinto Bean Soup is one of the best recipes on the site, but of course I might be biased 🙂 You'll get quite an upgrade in flavor when using some good stock so please keep that in mind when making this soup.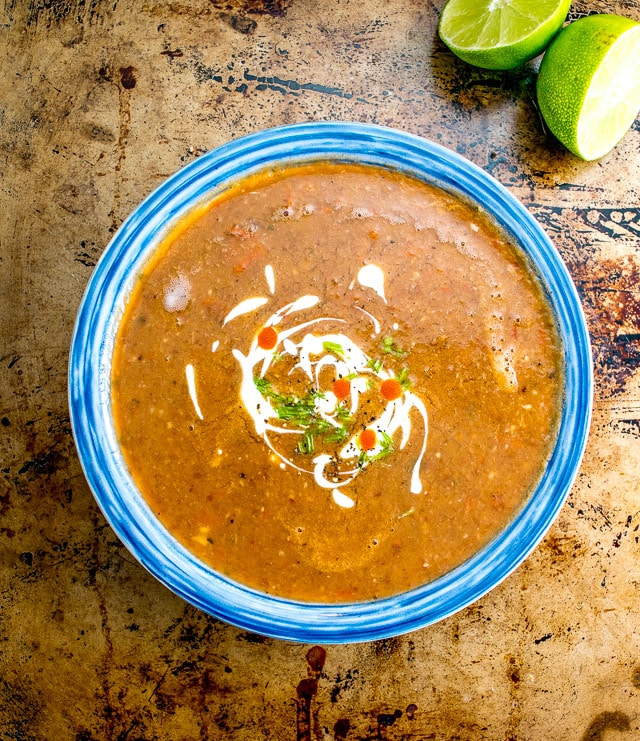 And don't forget the Chile Verde Rice and Beans from last week! The Chile Verde sauce is exploding with flavor and will pair well with plain ol' rice and beans.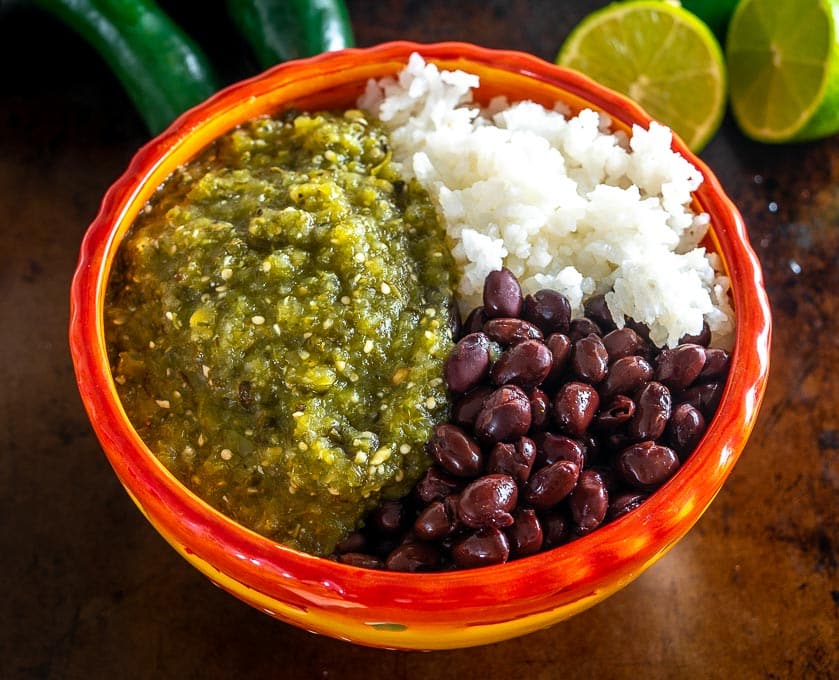 Update: I've been making this impromptu Bean Dip for dinner over the past couple weeks. You can easily serve it up next to some chips, but I dip crispy, cheesy corn tortillas in it and that turns it into a meal for me. Keep this easy recipe in mind for weeknights when nothing sounds good -- it's fast, easy, and wildly satisfying.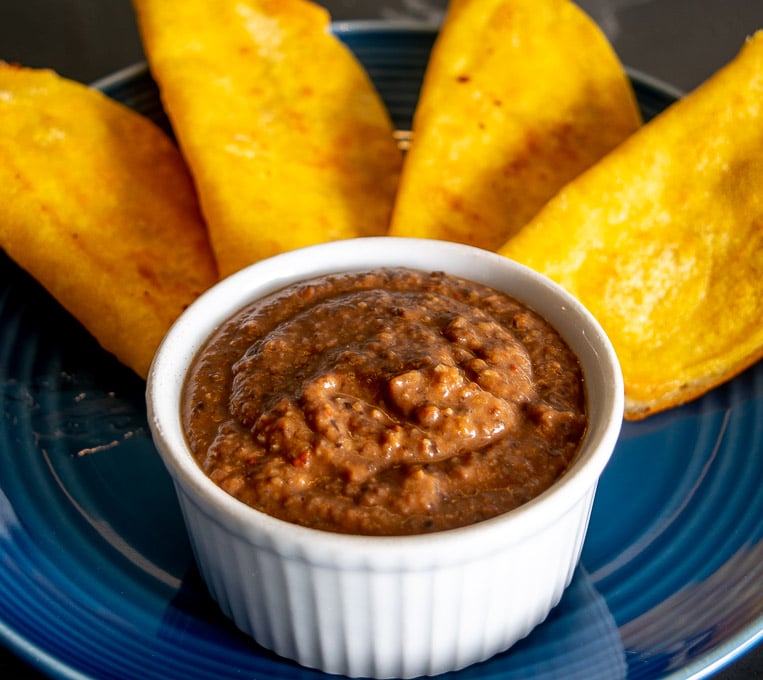 Okay, I hope you find some inspiration in this list!
Be sure to try out Entry #1 -- the
Killer Refried Beans
-- as that will lead to all sorts of good things 🙂
Buen Provecho.
Still hungry?!
Want to receive Mexican Please recipes via email when they are posted?  Sign up below to subscribe.  All recipes are spam free.