I've become completely addicted to Mexican pickled goods and have been munching on them for the past 2-3 years -- no more canned versions for me!
Quick pickling is such a simple technique and you get incredible return for very little effort, which I really appreciate 🙂
All you need to do is let your veggies rest in a vinegar brine long enough to give them that familiar acidic crunch that so many of us crave. Sounds easy right?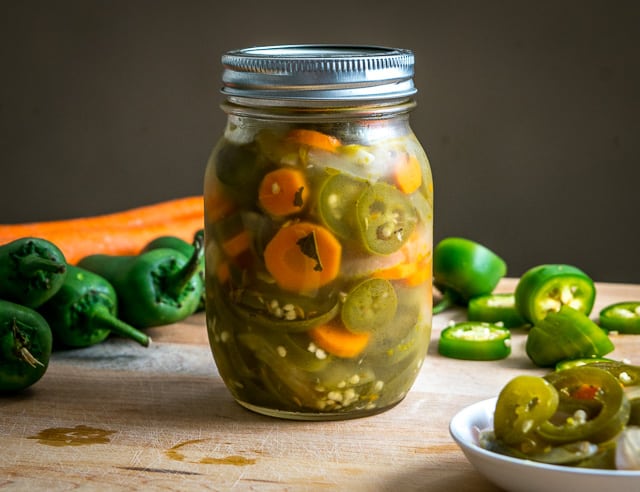 Before we get to the recipes, here are a few tips to keep in mind:
Kosher, sea, or pickling salt are recommended for pickled goods. Table salt is not recommended as it typically has additives and this can negatively affect the brine.
A 1:1 vinegar-to-water ratio is a good ratio to keep in mind for the brine. I almost always use a simple white vinegar.
You'll need to let your goods rest overnight to get full pickle! But I will sometimes use them same day because you'll still get a decent preview even if they aren't fully pickled.
A non-reactive container is best to house the vinegar brine, with glass being the preferred choice. It's also best practice to use a non-reactive pan when heating up the vinegar.
And please keep in mind that these recipes are not designed for long term canning. I don't do any long term canning myself so I can't offer up any details for that method. These jars of pickled goods will keep for weeks at a time in the fridge, but they aren't meant for long term storage.
Okay, the easiest recipe to start with is Pickled Onions. It's also one of the most rewarding!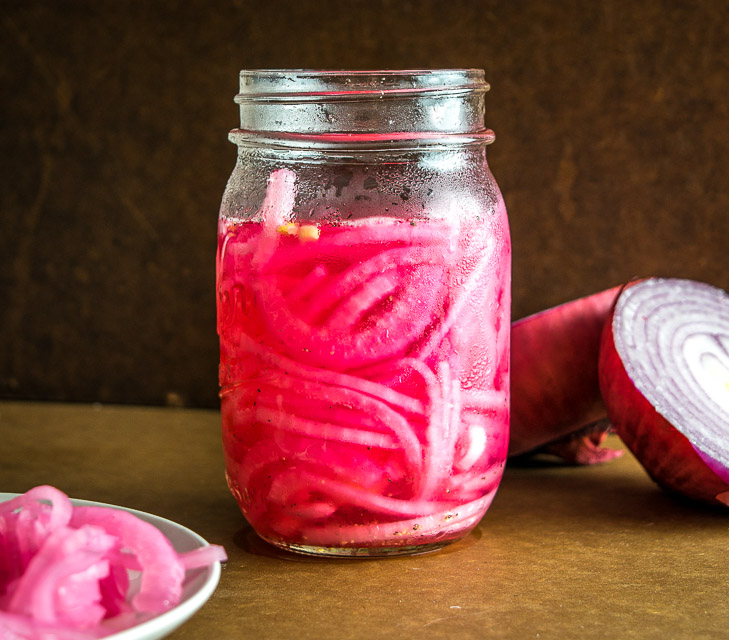 Slice up some red onion, add it to a Mason jar, and top it with the boiled brine along with a bit of flavoring. And that's it!
There's a video on the recipe page here that shows how easy they are to make. Red onions are most frequently used but I've used white onion in the past and still got a tasty result.
These work great as a final topping for tacos and tostadas, and note that I typically add a pinch of sugar to these Pickled Onions but I tend to skip the sugar on most of the other Pickled Recipes.
Next up is Pickled Jalapenos and Carrots.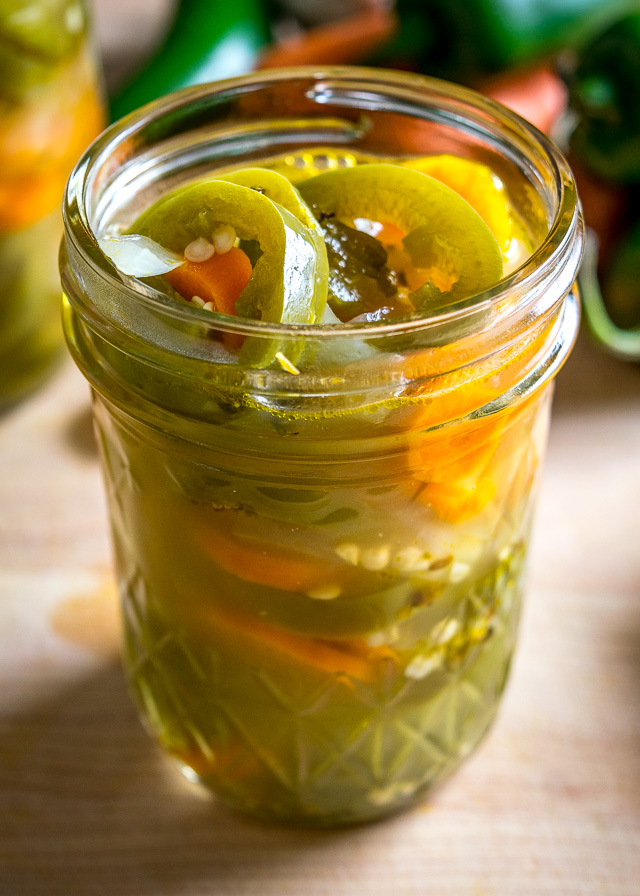 This is one of the most popular recipes on the site and for good reason! I munch on these straight from the jar as they are loaded with flavor.
Note that the jalapenos are cooked beforehand to add some additional flavor.
If you're in the habit of using the Pickled Jalapenos at your local taco joint then definitely try making these at home -- you'll get an upgrade in flavor and you can use them on all sorts of dishes. (Like Chilaquiles or even Jalapeno Pizza.)
Update: I recently experimented with adding papas to these Pickled Jalapenos. You can see more about that in the Pickled Potatoes recipe.
Next up is Pickled Tomatillos. Yes, tomatillos!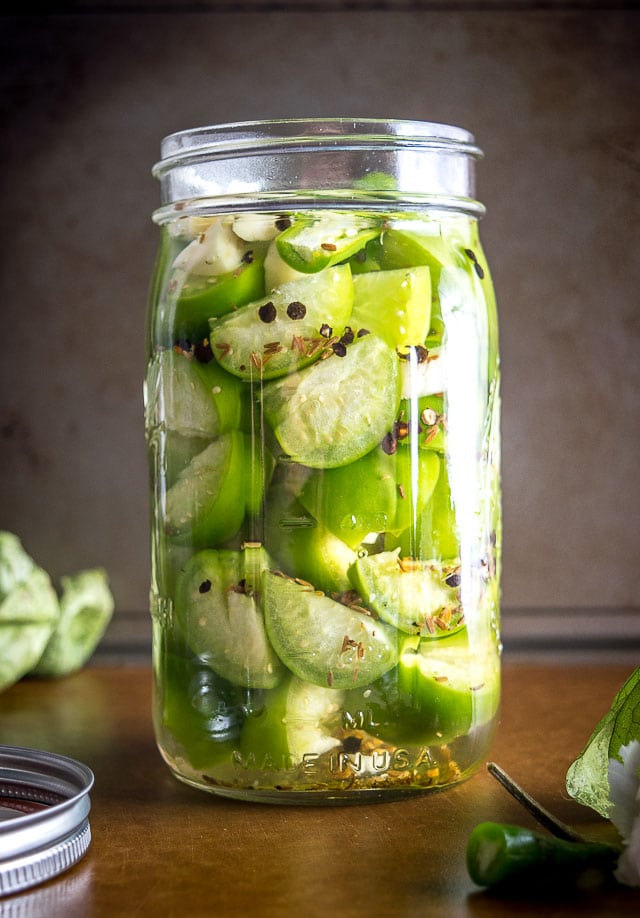 These beauties have only recently come on my radar but I am head over heels for them. They have a tart, acidic bite that makes them a great final touch on tacos, but you can use them just about anywhere.
I use this Spicy Pickled Cabbage (Curtido) for Baja Fish Tacos.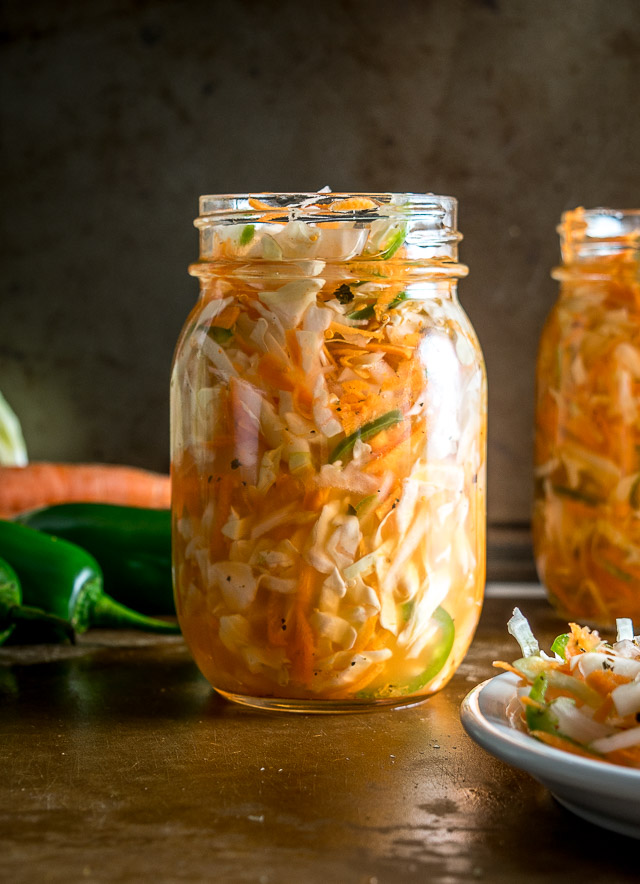 It's an easy way to give your cabbage some real pop so keep it in mind if you ever find yourself slicing cabbage for tacos. I usually add plenty of heat to the jar too.
And just a couple weeks I experimented with a batch of Pickled Everything.
Yes, in the above jar you've got jalapenos, carrots, tomatillos, and onions. It's a good trick to keep in mind when you're out of everything, but keep in mind that the flavors will homogenize a bit when combined like this. I will usually default to the individual recipes when given the chance.
Okay, let me know if you have any questions about any of these recipes. Most of them only take a few minutes to put together and for the next few weeks you can open up the fridge and munch on some spicy, satisfying pickled yummies. Sound good?
Here are links to the recipes with step-by-step instructions:
Buen Provecho.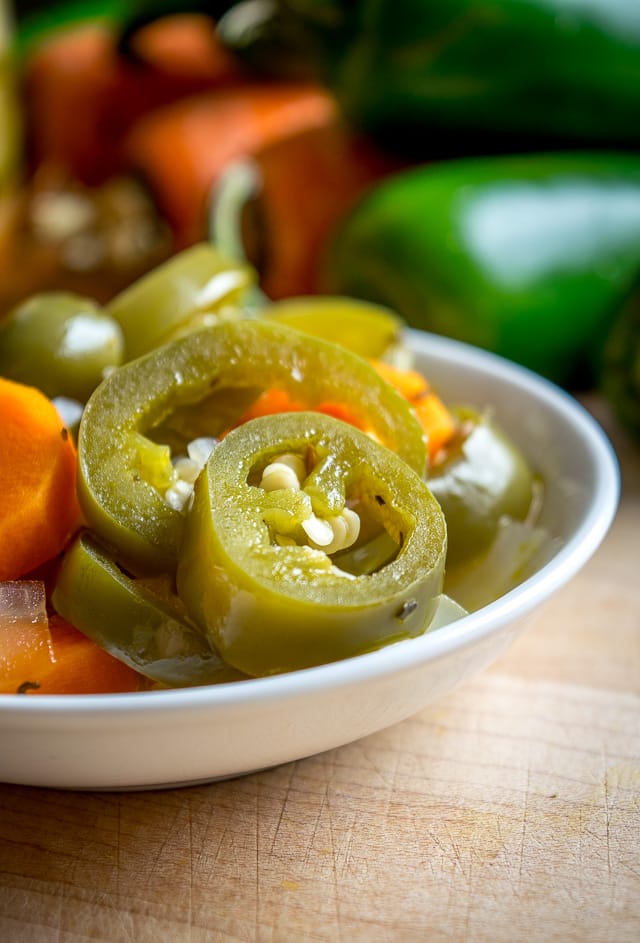 Still hungry?!
Want to receive Mexican Please recipes via email when they are posted?  Sign up below to subscribe.  All recipes are spam free.